There are many things to do in Mombasa – an island along the Swahili coast. Mombasa is home to some stunning beaches, an amazing culture, and numerous tourist attractions that appeal to many tastes.
It's one of the most beautiful cities in Kenya; filled with places to visit, buildings, and tourist sites that date back to the 1500s. It's also the gateway to neighboring beach destinations like Watamu and Diani.
I've been to Mombasa several times for holidays, and the city has always been a charm – it's one of my favorite places to visit in Kenya.
For you to make the most of your trip, I've prepared this guide for the best things to do in Mombasa. For the best advice on where to stay in this city, click here.
15 Best Things To Do in Mombasa
Mombasa has so much more on offer to explore than its rich history and culture. It also boasts magnificent beaches, wildlife attractions, and vibrant nightlife.
Let's explore the 15 best things to see in Mombasa, Kenya.
1. Join the Old Town Walking Tour
Exploring Mombasa Old Town is the best way to start your trip along the coast. It gives you a glimpse of how different cultures have lived harmoniously on the island for ages.
You'll spot old buildings along the narrow alleys reflecting the inhabitants' rich heritage – locals, Arabs, Asians, and Europeans. With fine curved doors and beautiful balconies, the old houses symbolize rich history and architecture.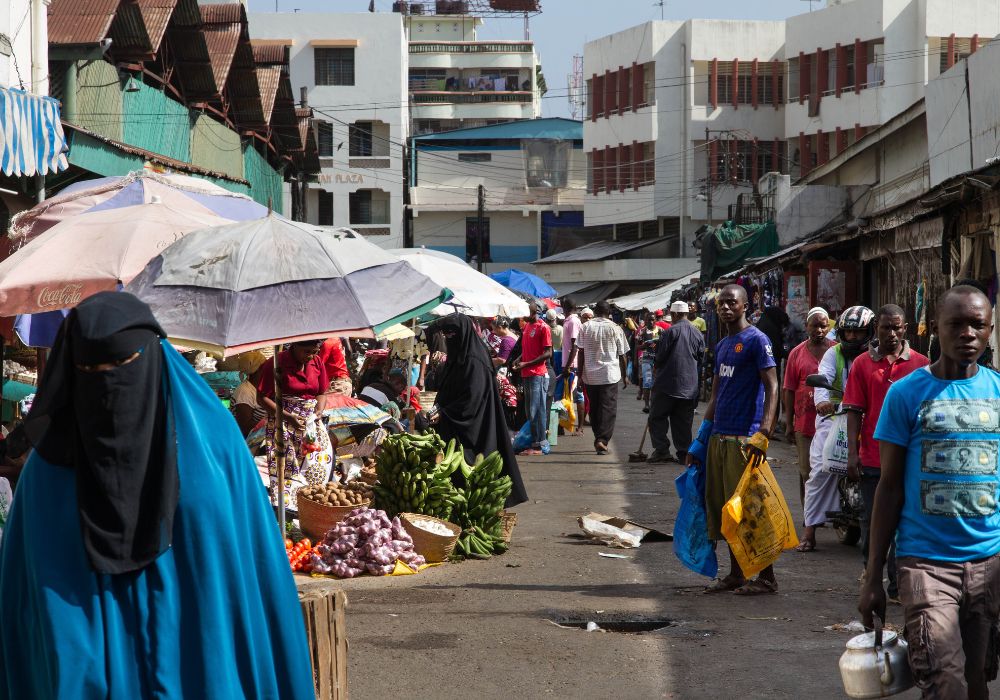 During the stroll, you'll see the Old Post Office, Africa Hotel, and more interesting sites. Make sure you walk along the main street (Ndia Kuu).
You don't need a guide to explore Mombasa Old Town. However, if you want to see the old suburb with knowledgeable locals, join this exciting tour, or this one.
☞ SEE ALSO: 15 Best Things To Do in Naivasha
2. Explore Nyali Beach (One of the Best Places to Visit in Mombasa)
I was born and raised in the Kenyan hinterland, where the sunset is ever beautiful. Now I live close to Laikipia Plateau, and not a week goes by without me seeing free-roaming wildlife. What I don't experience often is sandy beaches and the sound of breaking waves.
If you're like me and love the ocean, there's no better place for a coastal experience than Nyali Beach. The beach is close to Mombasa and offers a serene environment for relaxation. Besides walking along the beach, you can go surfing, swimming, and sunbathing at Nyali Beach.
The beach is clean, less crowded, and scenic. It also hosts several beach resorts and hotels, restaurants, and bars for more enjoyment.
3. Have a Street Food Experience
The Swahili cuisine is a beautiful blend of different cultures that live along the Kenyan coast. It includes local, Arabic, European, and Indian influences. Trips to Mombasa are made all the better when you sample the local Swahili food.
A typical Swahili dish consists of rice and various spices, like cloves and coriander. The rice is prepared with different ingredients such as fish, chicken, and beef to make the dish delicious.
If you like trying local cuisines, make sure you try pilau (spiced rice) or wali wa nazi (rice cooked in coconut milk).
I particularly love eating at the Mombasa Dishes. They serve delicious Swahili meals at affordable prices (starting at $5). Other good restaurants in Mombasa include Barka, Forodhani, and Char-Choma.
4. Learn to Cook a Swahili Meal
It's one thing to eat a local meal, but another experience entirely to prepare one for yourself. If you'd like to get busy in the kitchen and cook your favorite Swahili dish, join this cooking experience.
You'll visit a local market to shop for ingredients and prepare the dish. This is also a great opportunity to learn about the Swahili culture from your local guide.
5. Visit Fort Jesus Museum
A guided tour of Fort Jesus Museum is highly recommended. The museum is located in the Old Town and was built between 1593 and 1596 as a Portuguese fort to guard the Old Port of Mombasa.
Gaspar Rodrigues used the designs of Giovanni Battista Cairati to build the fort under the orders of King Felipe II of Castille.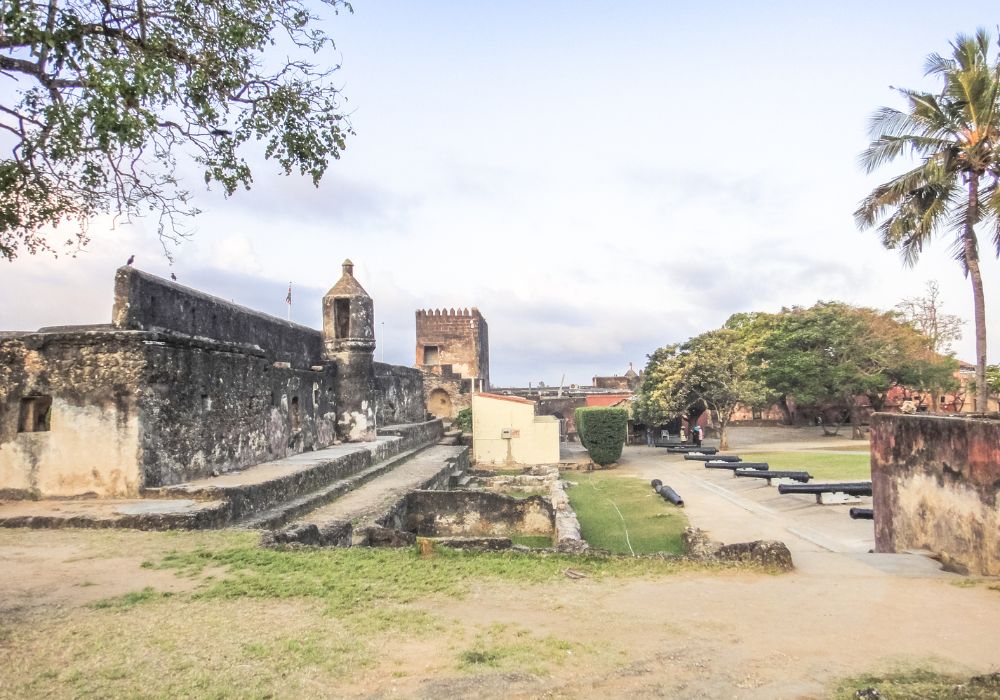 The Sultan of Mombasa captured the fort around 1631. Since then, Fort Jesus would change hands between the Portuguese, Omani Arabs, and the British.
In 1962, it became a museum, and in 2011, it was declared a UNESCO World Heritage Site. Since then, Fort Jesus has become the most famous tourist attraction in Mombasa.
While there, be sure to also visit the Mombasa Butterfly House.
6. Explore a Local Market
Kongowea Market is located a short drive from Mombasa town. The market is more than simply a place to buy affordable clothes, household items, groceries, and fruits. It's a meeting point, an unofficial cultural center, and the home of delicious food.
A walking tour of Kongowea Market is one of the best activities in Mombasa. It allows you to engage with locals and learn about their way of life. You can also shop for fresh fruits and vegetables and test your bargaining skills.
☞ SEE ALSO: 25 Best Things To Do in Nairobi
7. Relax at the Mama Ngina Waterfront
There are many fun things to do in Mombasa, but nothing gives me more joy than relaxing by the seaside at Mama Ngina Waterfront. The ocean breeze, freshly fried cassava crisps, tugboats pulling ships, and sights of beautifully lit ferries in the evening – once experienced, these things live forever in one's mind.
Mama Ngina Waterfront is a public park that overlooks Kilindini Harbour. It's a beautiful place to relax and unwind and is one of the most affordable places to visit in Mombasa.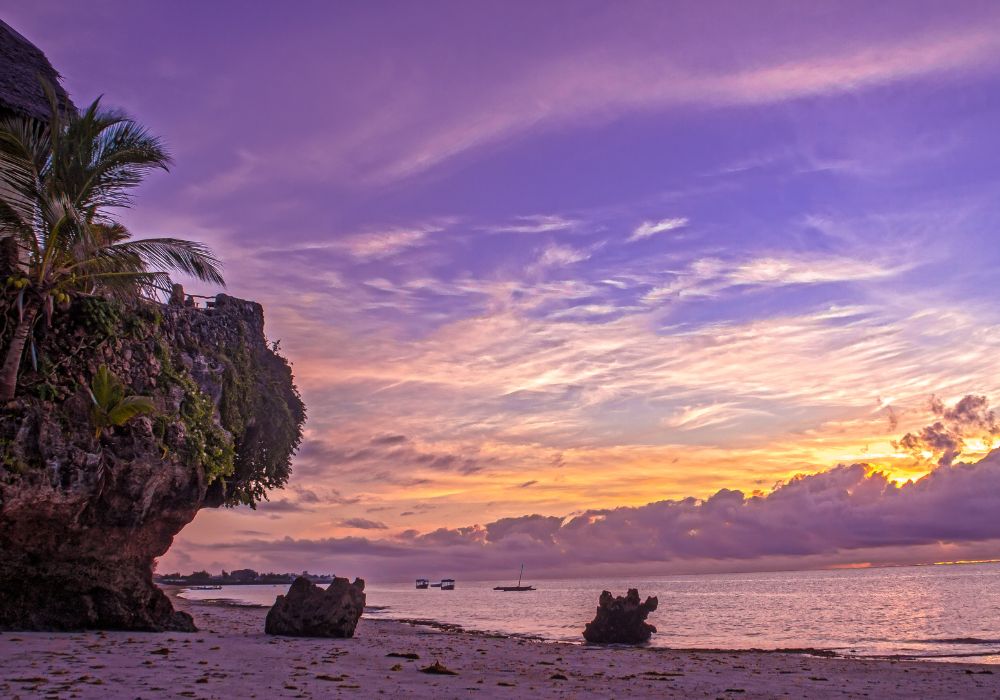 If I were to recommend just one place to visit in Mombasa, it would be this breathtaking waterfront. Whilst there, ride on one of the Likoni ferries to see the enchanting beauty of the coast in the evening.
For more information on visiting this incredible country, don't miss our detailed travel guide to Kenya. This guide includes everything you need to know about traveling here, including the best safaris, must-sees, dos and don'ts, health and safety, how to get around, the costs, and much more.
8. Go Diving and Snorkeling
The best beaches, historical sites, markets, and other tourist sites in Mombasa are easily accessible. This is why the city's a good choice for travelers looking to do some sightseeing.
Mombasa is also an amazing diving destination in Kenya, thanks to Mombasa Marine National Park and Reserve. The park is home to various marine attractions, including coral reefs, sea urchins, many different fish species, turtles, and migratory birds.
If you intend to go diving in Mombasa, the best dive sites include the MV Dania and the MV Globe Star wrecks. Diving trips can be arranged from your hotel or through a reputable operator like Peponi Divers.
Besides viewing marine life and diving in Mombasa Marine Park, you can engage in other activities like swimming, snorkeling, and windsurfing. The park can be accessed by boat from different points along the coast, including Nyali Beach and Serena Beach.
This is a great half-day snorkel tour that includes a guide, lunch, dolphin spotting, transportation and more. Click here for details and to book.
9. Join a Scenic Bike Tour
Mombasa is one of the best places to visit in Kenya because of its relaxed atmosphere, pristine beaches, and rich culture. You can explore the city with a motorized vehicle, by boat, or on foot.
However, if you'd like to get a different perspective and try a method of traveling that's sure to get you closer to local life, consider cycling.
A cycling tour is a convenient way of sightseeing and is one of the best things to do in Mombasa for adventure seekers. It takes you along quiet back roads, through Swahili villages, and amidst breathtaking scenery.
It's also an opportunity to escape city crowds, busy roads, and the comfort of your beach bed for an authentic experience.
☞ SEE ALSO: 10 Best Things To Do in Nanyuki
10. Walk Among Giraffes at Nguuni
Nguuni Nature Sanctuary is one of the few places in Mombasa where you can connect with nature and view wildlife. Situated in the Nguu Tatu Hills, the sanctuary is a paradise hidden away in a wilderness near the Indian Ocean.
You can immerse yourself in nature by taking a walk, picnicking, or going on a game drive. The sanctuary is home to ostriches, giraffes, oryx, elands, waterbuck, and over 250 bird species.
Other activities at Nguuni include bike riding, camping, and watching the sunset paint the sky above the Nguu Tatu Hills with a cold beer.
The sanctuary is about 10 minutes from Bamburi and 35 minutes from Mombasa city. Check out the sanctuary's website for the latest entrance fees and operating hours.
11. Enjoy a Rare Wildlife Experience
Similar to the Nguuni Nature Sanctuary, Haller Park (Bamburi Nature Trail) was once a wasteland, now turned into a diverse and unique ecosystem.
Today, the park is home to a wildlife sanctuary, animal orphanage, reptile park, fish farm, butterfly pavilion, botanical garden, and forest trail.
It's an ideal place to visit for nature lovers and travelers looking for a different experience in Mombasa. You can expect to see monkeys, tortoises, waterbucks, giraffes, hippos, buffalo, elands, and plenty of bird species. Click here for a fun half-day tour of Haller Park with transportation and guide.
12. Go-Karting (One of the Best Things to Do in Mombasa)
One of my favorite places to visit in Mombasa is the popular Mombasa Go-Kart. While I don't always race, watching friends compete while I enjoy a cold Tusker is a great sight.
If you love exhilarating adventures, make sure to visit the Mombasa Go-Kart. Their track is well designed, the go-karts are of high quality, and the staff is very helpful.
Besides karting, there are other fun activities to do here including paintballing, archery, zip-lining, mini golf, and bowling. The center also has a family-friendly restaurant and a bar.
If you're wondering where to stay near the Mombasa Go-Kart, I recommend the Cowrie Shell. It's my favorite accommodation in the area because of its homely atmosphere and proximity to the beach.
13. Have Fun at the Wild Waters Kenya
If you're looking for more fun activities in Mombasa, there's no better place than Wild Waters Kenya. The water park (located in Nyali) offers thrilling entertainment to individuals, groups, and families.
Their full-day activities include swimming and taking a plunge down water slides. You can also float and chill in a pool or hang out in their food courts or bar.
The different slides and play areas are for everyone. Kids can have fun in the kid's pool, on the family slide, and play station. The thrilling spiral slide (my favorite) is great for adults seeking to unleash their adventurous spirit.
There are several nice places to stay close to Wild Waters Kenya, including the Nyali Beach Holiday Resort.
14. Visit the Bombolulu Workshops and Cultural Center
If you're still looking for more things to do in Mombasa, Bombolulu Workshops is the place to be. Opened in 1969, the center aims to empower and support people with disabilities. It consists of a workshop for producing handmade items and a cultural center.
Visit Bombolulu Workshops and learn more about Swahili culture. You'll also see how people with different abilities utilize their gifts and creativity to make cool items.
To support the project, make sure you buy their handmade items such as jewelry, wood carvings, bags, and textiles. The center is located about 40 minutes from Mombasa town, along Nyali road. It's easily accessible by matatus (minibusses), taxis, and tuk-tuks.
15. Party at the Moonshine Beach Bar
Mombasa is home to some of the best nightlife spots in Kenya. If you have a spare evening after your Mombasa tour, a night out in the city or its outskirts is not to be missed.
If you're looking for a bar where you can hang out and enjoy your favorite drink, try the Moonshine Beach Bar.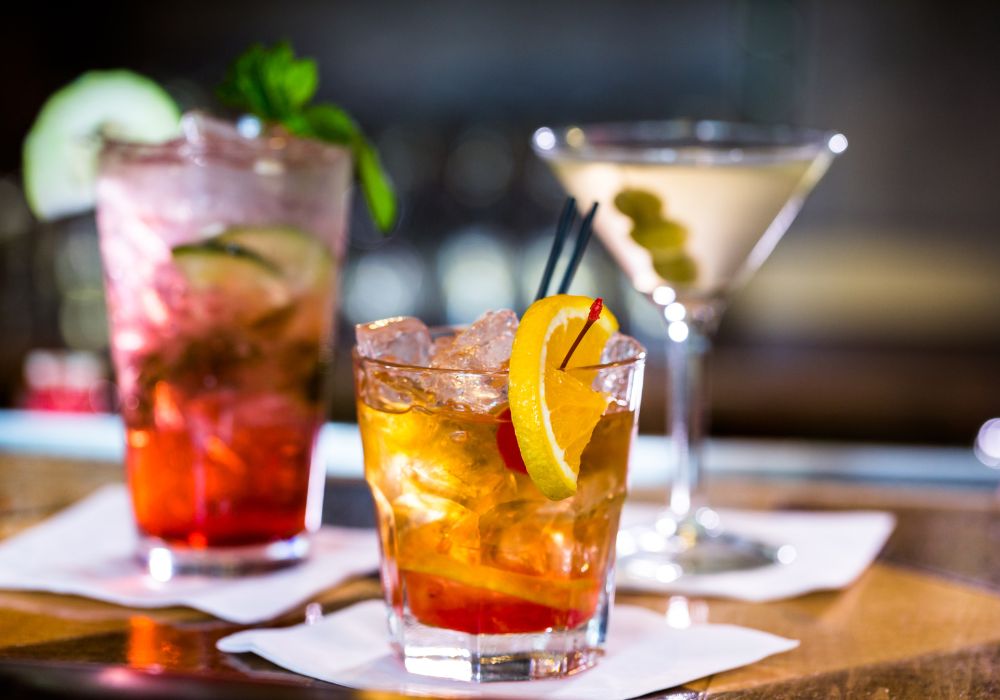 Located along Mount Kenya road in Nyali, the bar is one of the coolest spots in Mombasa. It's situated directly on the beach and serves everything from local beers to premium cocktails.
If you prefer a less thumping environment, go to the Bistro Restaurant and Pool Bar. Here you can enjoy delicious food and drinks while being entertained by live music. It's located in the Reef Hotel (a nice place to stay in Nyali).
Other Things to Do in Mombasa
Here are other exciting things to do and places to visit in Mombasa.
Take a Photo With the Mombasa Tusks
Located over Moi Avenue, Mombasa Tusks are M-shaped giant elephant tusks made from aluminum.
The tusks were first installed in 1952 to commemorate a visit by Queen Elizabeth II to Mombasa. After the expansion of the road into two lanes in 1956, new tusks were constructed.
Another reason for the new tusks was to commemorate Princess Margaret's visit to the city that year. Today, these tusks are famous tourist attractions in Mombasa.
Day Trip to Tsavo National Parks
Besides historical sites and beaches, there are other attractions near Mombasa, including national parks and reserves. These wildlife parks are home to some of Kenya's rarest species of flora and fauna.
If you want an authentic safari experience in Mombasa, take a day trip to Tsavo National Parks.
Tsavo East National Park is home to the big five (the lion, leopard, rhino, elephant, and buffalo), Lugard Falls, and various bird species. On the other hand, Tsavo West is famous for wildlife viewing and attractions such as Mzima Springs.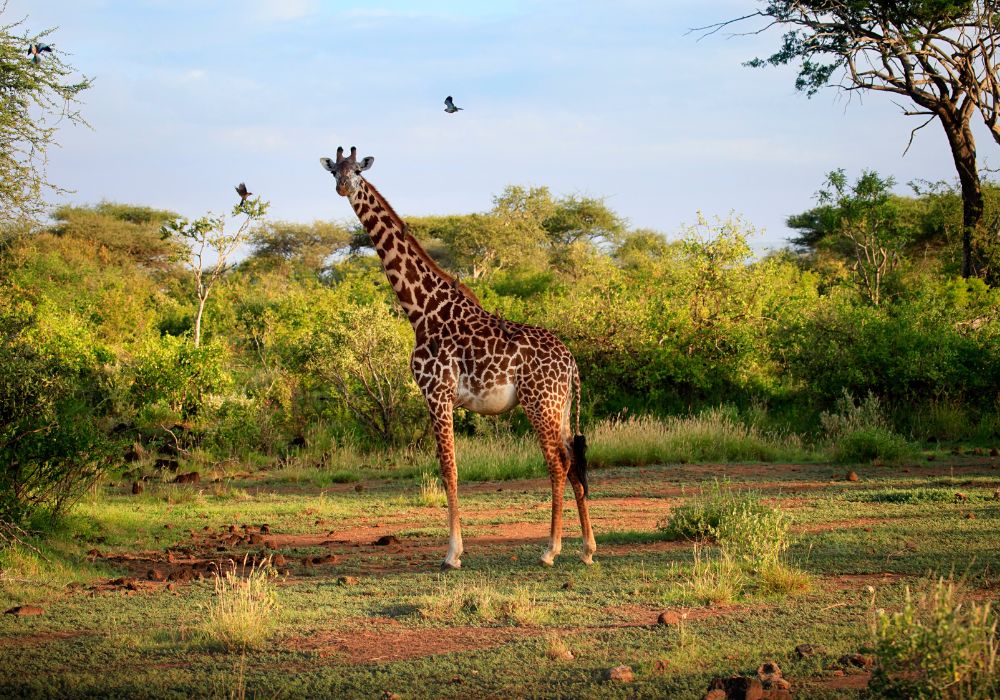 Although I attended school in Kenya and read about Krapf, I didn't know there was a memorial park in his name until I visited Mombasa.
There are several accommodation options in these parks. If you're visiting Tsavo West, Severin Safari Camp is the best place to stay. Visitors to Tsavo East can sleep and dine at the Voi Wildlife Lodge.
See the Krapf Memorial Park
Located at Mkomani in Nyali, Krapf Memorial Park commemorates the life of Johann Ludwig Krapf. He was a German explorer, missionary, and linguist famous for pioneering Christianity in Kenya and making the first Swahili dictionary.
Across the pillar are also the graves of his wife, second daughter, and two other faithful who died in Mombasa.
If you love history, visit the memorial park to learn more about Krapf and his works in Kenya. Don't forget to write your name on the visitor's book – a cactus tree. Dr. Krapf is also credited for being the first European to see Mount Kenya.
Take a Trip to Watamu
None of my holidays in Mombasa are complete without a quick trip to Watamu. This small town is somewhat of a hidden jewel and a must-visit for any traveler hungry for white sand beaches.
Besides relaxing at Watamu Beach, my favorite activities here include visiting Mida Creek and the Ruins of Gedi. Watamu is also a nice place for watersports activities and nature experiences.
You can explore the beach town from Hemingways Watamu and eat at the Crab Shack Dabaso.
Quick Travel Itineraries For Mombasa
Whether you like history, culture, adventure, food, or wildlife, there are plenty of things to do in Mombasa. To piece it all together, here's the ultimate Mombasa itinerary from one day to one week.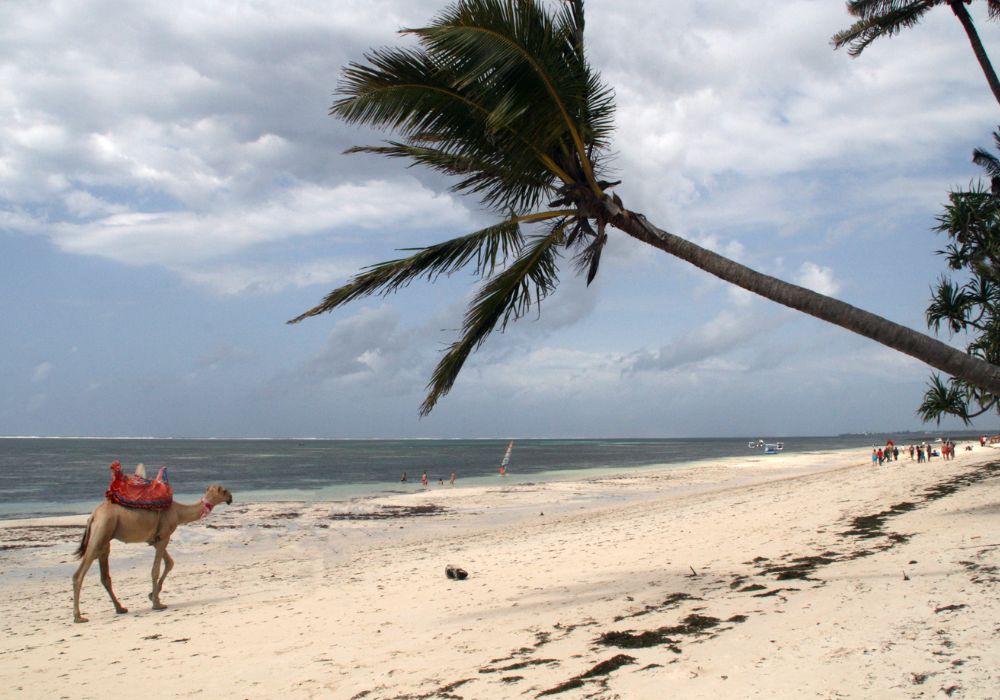 1 Day in Mombasa Itinerary
Start your morning by exploring the Old Town on foot and visiting Fort Jesus Museum. From there, head to Mombasa Dishes for lunch before taking a photo of the Mombasa Tusks. Visit Moonshine Beach Bar for evening drinks. I suggest staying along Nyali Beach.
2-3 Days in Mombasa Itinerary
Day 1: If you're staying in Nyali, start your day with a cup of coffee at Cafesserie before heading to Mombasa town. Join a day trip that includes visiting Mombasa Old Town, Fort Jesus, and Mombasa Tusks. Finish your day by visiting Mama Ngina Waterfront.
Day 2: I suggest spending your second day viewing wildlife and relaxing in nature either at Nguuni Nature Sanctuary or Haller Park. In the afternoon, visit Bombolulu Workshops and pass by the Krapf Memorial Park.
Day 3: Swing by Jahazi Coffee House for breakfast. Then, pick an adventure that interests you, such as go-karting, diving, cycling, or water sliding. End your trip to Mombasa with a nice dinner on the Tamarind Dhow.
1 Week in Mombasa Itinerary
Day 1: Spend your first day exploring historical sites in Mombasa. Walk along the alleys of the Old Town, visit Fort Jesus, and then head to Mombasa Tusks for a photo. Stop by Jahazi Coffee House and finish your day relaxing at the Mama Ngina Waterfront.
Day 2: Join this exciting Swahili street food experience. You can also explore the Kongowea Market or learn how to prepare a Swahili dish.
Day 3: Engage in thrilling adventures. You have the options of go-karting, diving, taking water slides, or cycling along village paths.
Day 4: Have a wildlife and nature experience at the Nguuni Nature Sanctuary or Haller Park. Spend your evening partying in one of the best bars in Mombasa.
Day 5: Take a short break from the beach by joining a day trip to Tsavo National Parks.
Day 6: Start your day with breakfast at Cafesserie, then head over to Bombolulu Workshops. From there go see the Krapf Memorial Park and finish the day with dinner at Char-Choma Restaurant.
Day 7: Spend your last day relaxing at the beach in Nyali, Bamburi, or Shanzu. Take a dinner cruise in the evening or go partying at Moonshine Beach Bar.
If you're wondering where to stay during your 7-days in Mombasa, I recommend the Reef Hotel, Nyali.
Where to Stay in Mombasa
These are a few of the best neighborhoods in Mombasa for tourists.
Tudor – Best for First Time Visitors and History Lovers
Tudor neighborhood suits you if you want to explore Mombasa Old Town and other historical sites, or are keen to stay close to the Airport and Railway Station. It's convenient for first-time visitors, history lovers, and expatriates. Have a look at some of the nice places to stay.
Nyali – Best for Families, Fun Activities and Beaches
Nyali is one of the most prestigious neighborhoods in Mombasa. It hosts several luxury beach resorts, nightlife spots, shopping malls, and tourist attractions. Nyali is also secure, attracting families and travelers looking for fun and the best beaches in Mombasa.
There are many accommodation options in Nyali, like beach resorts, Airbnbs, and hotels. Check out the Reef Hotel.
Bamburi – Best for Nature and Nightlife
Bamburi is another safe and prime neighborhood in Mombasa. It has several hotels and apartments and is popular with domestic and international travelers. It's also home to Haller Park, Bamburi Beach, and is close to the Nguuni Nature Sanctuary. Check out these accommodation options in Bamburi.
Shanzu – Best for Adventures and Food
If you love adventure and good food, the Shanzu neighborhood is the best place to base yourself. It's home to the Mombasa Go-Kart and the Char-Choma Restaurant. Shanzu also has several nice beachfront hotels and apartments. I recommend staying at the PrideInn Flamingo Beach Resort & Spa.
Best Restaurants in Mombasa
Don't miss these great places to eat in Mombasa.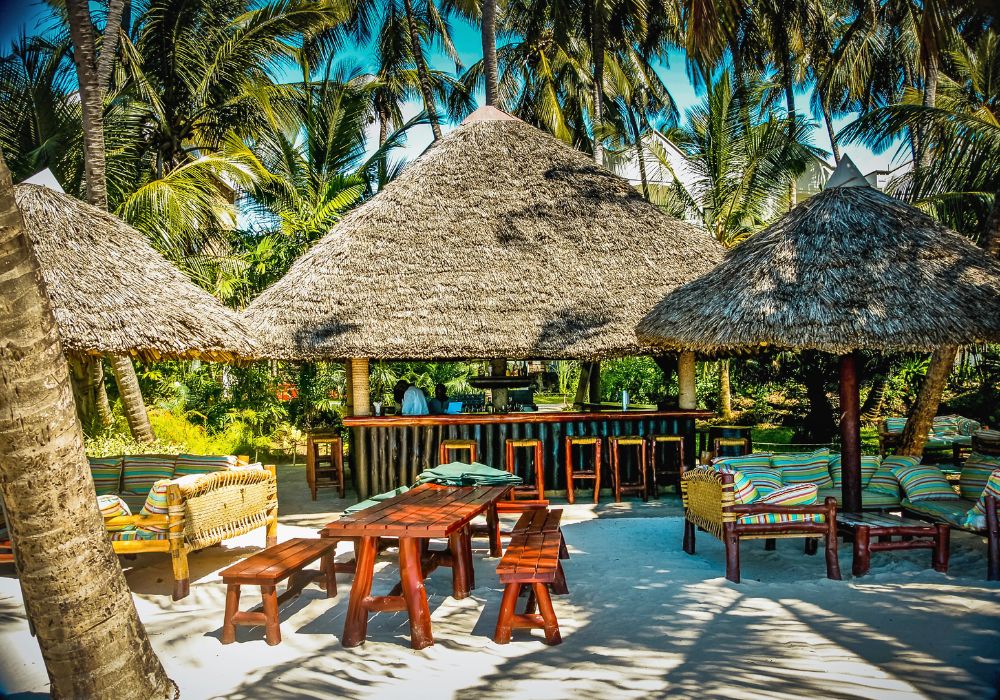 Jahazi Coffee House
Jahazi Coffee House isn't only a regular restaurant located at the edge of Mombasa Old Town. It's a piece of history, art, and a jewel whose beautiful style and decorations are inspired by a dhow (Jahazi).
Everything about this restaurant is wonderful – food, ambiance, and service. It delivers an unswervingly high standard of food, great coffee, tea, snacks, and delicious Swahili meals. If you love a mix of history, elegance, and good food, don't miss Jahazi Coffee House off Ndia Kuu road.
Mombasa Dishes
If you're exploring the Old Town and want to visit an affordable local restaurant, go to Mombasa Dishes. The restaurant serves mouth-watering Swahili dishes and a variety of other foods, including seafood and pizzas.
They also have hot and cold drinks like coffee, tea, fresh juices, mocktails, and mojitos.
My favorite meal at Mombasa Dishes is the chicken biryani. The prawns cocktail is also light and refreshing after walking in the hot sun along the city streets.
Cafesserie
Cafesserie is a classic cafe and is ideal for a morning coffee or relaxed evening dinner. The place has always been my favorite eatery in Nyali due to its quiet environment, amazing food, and friendly staff.
Besides continental cuisines, they've good coffee and freshly baked pastries. I love their burgers and pizzas, plus the fresh juices and lemonade.
If you're staying in the Nyali neighborhood, I bet you'll find this place wonderful. The Cafe is located on the ground floor of City Mall, Nyali.
Char-Choma Restaurant
Char-Choma Restaurant is considered one of the best beachfront restaurants in Mombasa. I haven't been there yet, but Char-Choma sounds like a place worth checking out based on Google reviews.
The restaurant has a swimming pool and kid's playground; accommodating all visitors – young and old. Their food (African and international cuisines) is also said to be delicious and their drinks are refreshing.
I can't wait to hang out at Char-Choma for dinner and drinks overlooking the beach.
Tamarind Mombasa – Dhow and Restaurant
If you're after a mixture of adventure and fine dining, I recommend having a food experience at Tamarind Mombasa. Besides barbeque and other international cuisines, Tamarind also serves some of the best seafood in Mombasa.
It consists of the Tamarind Restaurant and the Tamarind Dhow. The latter is my favorite. You can go on a cruise onboard one of their dhows (Nawalilkher or Babulkher) for dinner, night cocktails, and dancing.
To book a dhow cruise trip, you can join a tour aboard the Nawalilkher.
Things To Do in Mombasa: FAQs
Here are some answers to commonly asked questions about visiting Mombasa.
What is Mombasa known for?
Mombasa is famous for its beautiful beaches, nice hotels, good climate, rich history, and proximity to Diani and Watamu beaches.
When is the best time to visit Mombasa?
Mombasa island can be visited year-round, but if you want to avoid crowds, June through September is the best time to go.
Is Mombasa worth visiting?
Mombasa has many popular tourist attractions, including Fort Jesus Museum, Nyali Beach, and Mombasa Old Town, making it well worth a visit.
How many days do you need in Mombasa?
You need at least two days in Mombasa to visit the city's old town, explore its idyllic beaches, and experience the Swahili culture.
How do you get around Mombasa?
There are plenty of transport means within Mombasa. You can hail a ride-sharing taxi like Uber, hop onto a matatu, or flag down a tuk-tuk or a motorbike.
How do you go from Nairobi to Mombasa?
The fastest means of transport from Nairobi to Mombasa is by flight. You can also ride the Madaraka Express train or use long-distance buses.
How long is Mombasa from Nairobi?
The distance between Mombasa and Nairobi is about 485 km. Driving from Nairobi to Mombasa takes about 8 hours.
Now You Know What to Do in Mombasa
Mombasa is a delightful coastal city with many affordable and free places to visit. It's easy to get around, and there are numerous places to stay.
I hope this article has given you ideas about where to go in this great city.
Don't forget to sample the street food, visit Bombolulu Workshops and maybe ride the Likoni Ferry in the evening.
☞ SEE ALSO: 15 Best Things To Do in Malindi, 10 Best Things To Do in Lamu
Like This Article? Pin it!