If you're looking for the best things to do in Tintagel Cornwall, then you've come to the right place. This small village on the North Atlantic coastline is steeped in the myths and legends of King Arthur and is one of the most picturesque places in Cornwall.
Having briefly studied Arthurian legend it has always been one of my favorite places to visit in Cornwall, but Tintagel is also perched on a wild rocky coastline offering amazing walks, ocean views, and some great pubs.
The village is most famous for Tintagel Castle and Merlin's Cave, but there are many more fun things to do in Tintagel and some excellent pubs and restaurants to try too. Read on to discover the best places to visit in Tintagel.
Best Things To Do in Tintagel
Below you'll discover some of the very best things to do in and around Tintagel from the ancient post office to museums, pubs, and coastal walks.
This is a place I return to again and again as there are so many places of interest near Tintagel too, such as Boscastle, Port Isaac, and Polzeath.
1. Walk Around the Ruins of Tintagel Castle
Visiting the 13th Century castle is one of the best things to do in Tintagel with its atmospheric clifftop views and medieval ruins. The castle stretches from the mainland to a rocky outcrop island that can only be accessed by a 180-foot (55-meter) bridge.
You'll get to follow in the footsteps of Cornwall's kings, and the reputed setting for King Arthur and his Knights of the Round Table. Explore the Great Hall, courtyard, and medieval gateway high up on the cliffs.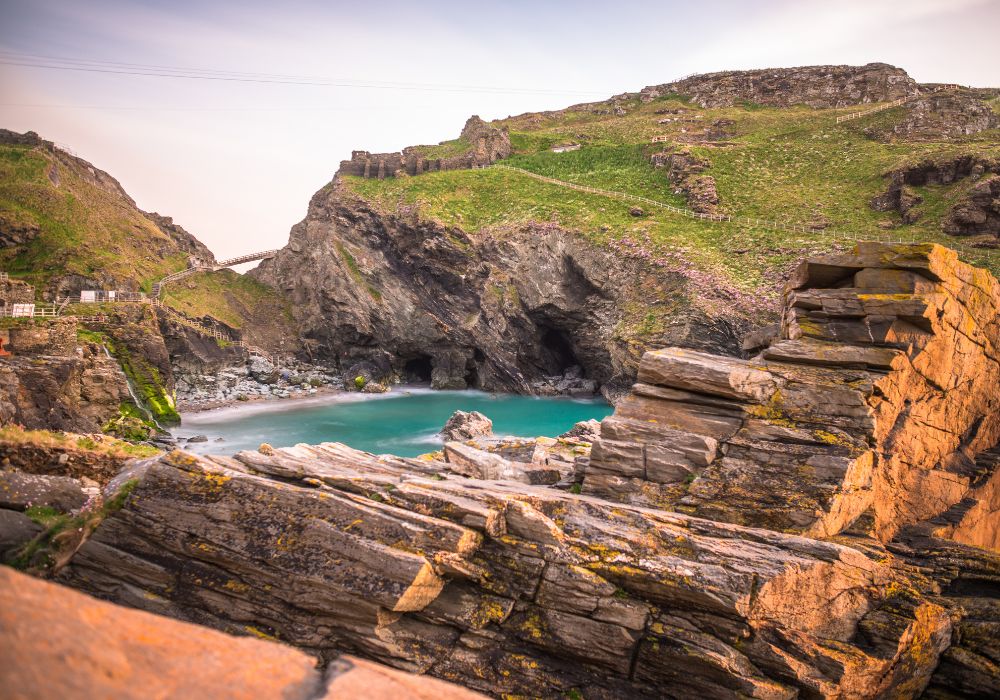 To access the castle you must book a slot online and tickets cost £18.30 for adults and £9.80 for children. Opening hours are from 10:00 am to 5:00 pm every day. This really is one of my favorite places to visit in Tintagel and should definitely be on your list of things to do while here.
2. Cross the Castle Bridge
The last time I visited Tintagel Castle there was a rickety, old bridge crossing from the mainland. However, in 2019, a new cantilever bridge was completed following the same route as the original medieval walkway.
The bridge is 230 feet (70 meters) across and straddles the cliffs 180 feet (55 meters) high above the rocks – you definitely need a head for heights to cross.
For those brave enough, you'll need a ticket for Tintagel Castle (see above) to cross the bridge and reach the island. The new bridge is definitely one of the best Tintagel attractions simply for the stunning views when crossing.
3. Visit Merlin's Cave
Merlin's Cave is situated underneath Tintagel Castle and runs right through the island from east to west. Legend has it that it was here that King Arthur was washed in from the waves and rescued by Merlin who brought him to safety.
The cave is only accessible at low tide and reachable by a path just before the entrance to the castle (meaning it's free to go down and visit).
As it is a tidal cave it can be quite dangerous so ensure the tide is well out before taking a look.
4. Have a Paddel Haven Beach Day
The small beach below the castle is one of the great places to see in Tintagel (and one of the best things to do in Tintagel with dogs). This hidden gem is perfect for clambering over the rocks and seeing what marine life you can find in the many rock pools.
There isn't much sand, so it's not a great beach for swimming and it's not patrolled by lifeguards, however, it's great for a paddle and offers some stunning views around this dramatic stretch of coastline.
To get to the beach follow the same path to Merlin's Cave, just before the ticket office to Tintagel Castle. This is one of my favorite little hideaways that escapes the crowds.
5. Have a Cream Tea at the Beach Cafe
No trip to Cornwall is complete without enjoying a cream tea. This traditional Cornish afternoon snack of scones, strawberry jam, and Cornish clotted cream is one of my favorite treats when returning to Cornwall.
The newly revamped Tintagel Castle Beach Cafe is the perfect place to sample this indulgent snack. The cafe also specializes in another Cornish delicacy; seafood such as locally caught crab terrine and traditional fish and chips.
The Beach Cafe is open from 10:00 am to 6:00 pm seven days a week.
6. See the Old Post Office
The Old Post Office is a 14th Century stone manor house that once served as a parish post office (though not until the Victorian era). This seriously picturesque old building is definitely one of the best places to visit in Tintagel and one for your Instagram page for sure.
The post office is one of the oldest in the country and the manor house and gardens are open to the public to explore. Tickets cost £5.00 for adults and £2.50 for children and it's open daily from 11:00 am until 4:00 pm.
7. Visit King Arthur's Great Halls
King Arthur's Great Halls is a visitor attraction detailing the lore and legends of Camelot and King Arthur. The exhibition and associated bookshop are housed in a Grade II listed building dating to the early 1930s that was once home to the Order of the Fellowship of the Knights of the Round Table.
The group was set up to promote and study Arthurian legend, chivalry, and Christian values. The order still meets at the halls annually on the first Saturday of June.
The halls are definitely one of the more interesting places to visit around Tintagel, and if you want to pick up some good books on the subject, this is the place (I recommend the classic Le Morte D'Arthur by Sir Thomas Malory).
8. Walk Along Rocky Valley
Rocky Valley is an area of outstanding natural beauty one mile east of Tintagel. The Trevillet River flows through the valley with some impressive waterfalls at St Nectan's Glen and flows out to the Atlantic near Bossiney.
The one-mile walk is relatively easy and suitable for all levels of fitness. The route can get quite muddy after rain so wellington boots or sturdy hiking boots/shoes are advised. This is one of the best Tintagel walks for its stunning country and coastal scenery.
9. Visit Trebarwith Beach
Trebarwith Strand beach is the closest sandy beach to Tintagel and is just 2 miles from the village. This a great beach for relaxing and taking a dip. The beach is backed by rocks and rock pools where you can find crabs, starfish, and other interesting marine life.
But be warned – although the tide can recede up to one mile out, when it comes in, it comes right up to the cliffs and many people get cut off and have to be rescued each year. Lifeguards patrol the beach from May to September; only swim when they're on duty.
10. Hike King Arthur's Walk
This 3.4-mile Tintagel walk is an easy hike and suitable for the whole family. The circular trail forms part of the South West Coast Path and also takes in the village and castle (not to mention the pub).
You can pick up the trail anywhere around the village and the walk is best suited from spring to fall. Expect to see plenty of birdlife and possibly even seals, dolphins, or basking sharks from the cliffs.
Don't miss these other Cornwall articles:
11. Enjoy a Pint at The King Arthur's Arms
The King Arthur's Arms is a traditional pub and bed and breakfast in the heart of Tintagel. The pub has a roaring fire on cold winter days and a restaurant serving local produce. This is one of my favorite places to come after a brisk walk along the coast path to enjoy a pint of Cornwall's finest; St Austell Tribute.
The pub has over 20 lagers and ciders and up to 8 ales on tap. Food is served between 9:00 am and 9:00 pm daily and they also offer a great cream tea between 10:00 am and 5:00 pm each day.
12. Go To Nearby Boscastle
Bostcastle is just 4 miles up the coast from Tintagel and can even be walked in two to three hours along the stunning South West Coast Path. This small fishing village is one of the prettiest places in Cornwall and one of the best places to visit near Tintagel.
There's plenty to do from walking around the quaint harbor to exploring the famous Museum of Witchcraft. Be sure to head to one of the village's great pubs such as the Long Bar and Restuarant or the Napoleon Inn.
A great option is to hike the coastal path to Boscastle and then return on the No 95 bus.
13. Visit the Fishing Village of Port Isaac
Port Isaac is one of my favorite places to visit around Tintagel and I've lost count of the number of times I've been. This beautiful fishing village with a working harbor, fish market, and lifeboat station is just under 10 miles from Tintagel and is easily reachable by car or bus (No 95).
Walk around the harbor with boats bobbing gently on the waves and lobster pots on the small stony beach. Follow the cobbled streets up past the old schoolhouse (now a restaurant) to the cliffs overlooking the harbor for some more of Cornwalls' most incredible views.
Port Isaac is a great place to try a Cornish Pasty, and I recommend the Golden Lion for a pint with fantastic sights to take in as you sip.
14. Spend a Day at Polzeath Beach
Another of the best places to go near Tintagel is the beachside village of Polzeath, where I've spent many happy childhood (and adult) holidays. Polzeath is 12.5 miles southwest of Tintagel and takes less than 30 minutes to drive.
Polzeath is known for its huge stretch of golden, sandy beach perfect for sunbathing, swimming, and surfing.
There's a rugged coastal path that leads up to a rocky outcrop called Pentire Point, and lots of great cafes and bars such as the Cracking Crab overlooking the beach.
15. Go Surfing at Newquay
You can't come to the UK's top surfing destination and not have a go at catching a few waves. Newquay is just 30 miles from Tintagel so makes for an easy day trip as it takes less than an hour to drive there. It's also possible to take the 95 bus which takes one hour and forty minutes.
If you've never had a go at surfing before, or want to brush up on your skills, then this 2.5-hour masterclass is just the thing for you. Learn all about the basic techniques and by the end of the session you should be standing up.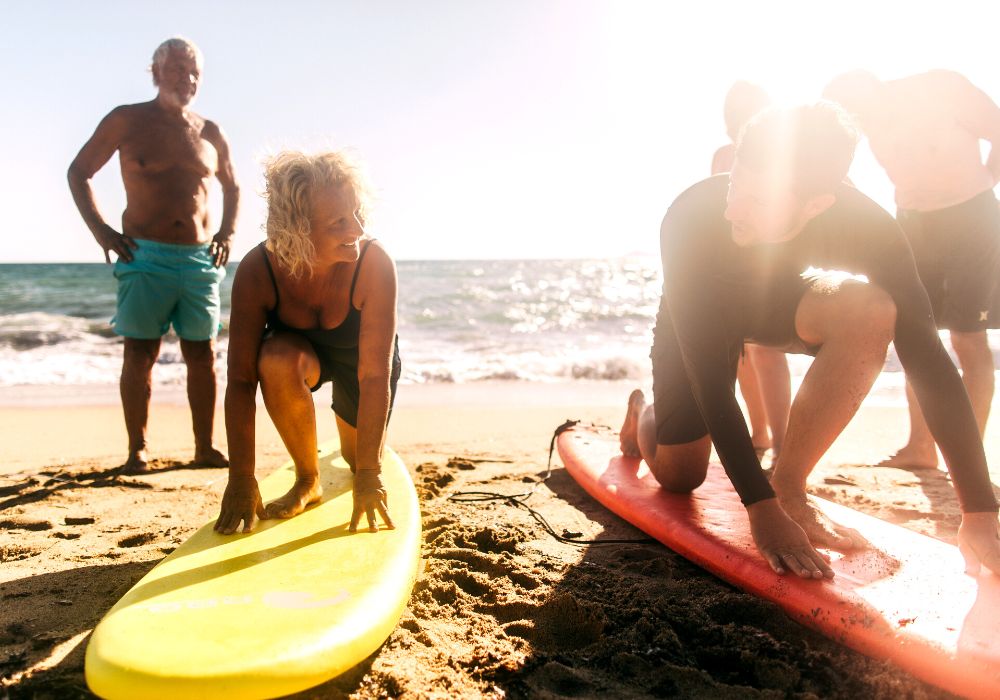 Surfing (and coasteering) is definitely one of the best things to do around Tintagel and is always one of the first things I do when I'm in Cornwall.
Quick Travel Itineraries For Tintagel
One day is really enough to discover all the best things to do in Tintagel, but the village can make a great base for exploring this wonderful stretch of the north Cornish coastline.
1 Day in Tintagel Itinerary
Start off at Tintagel Castle and cross the bridge over to the island to explore the ancient ruins and drink in the views. Next, take the cliff path down to Tintagel beach and Merlin's Cave (if the tide's out).
Grab a bite to eat at the Beach Cafe (fish and chips is always a good choice) before walking back into the village to explore King Arthur's Great Halls and the Old Post Office. Finish up at the Olive Garden for dinner before heading to The King Arthur's Arms for a few pints to finish off with.
2-3 Days in Tintagel Itinerary
Follow the itinerary above for your first day and then take a trip to nearby Rocky Valley for a walk through this area of outstanding natural beauty. Return to Tintagel to discover some of the many ancient churches dotted around the village such as St Paul's the Apostle.
A third day can be spent with a trip to Boscastle further up the coast where you can check out the picturesque harbor and Museum of Witchcraft.
1 Week in Tintagel Itinerary
Within a week you'll want to get out and explore the many villages, towns, and beaches along the coast. Allow one day to discover the fishing village of Port Isaac and the beach at Polzeath. It's possible to hike between the two which should take around four hours, or you can drive or take the bus.
Allow a day to check out the town of Padstow on the Camel Estuary that's famed for its many seafood restaurants.
Finally, head down to Newquay to catch some waves at the world-famous Fistral beach, before returning back along the coast to Tintagel.
Where to Stay in Tintagel
Tintagel is a small village (the entire Parish has fewer than 2,000 people) so everything is within walking distance and all the accommodation options are within a few hundred yards of each other.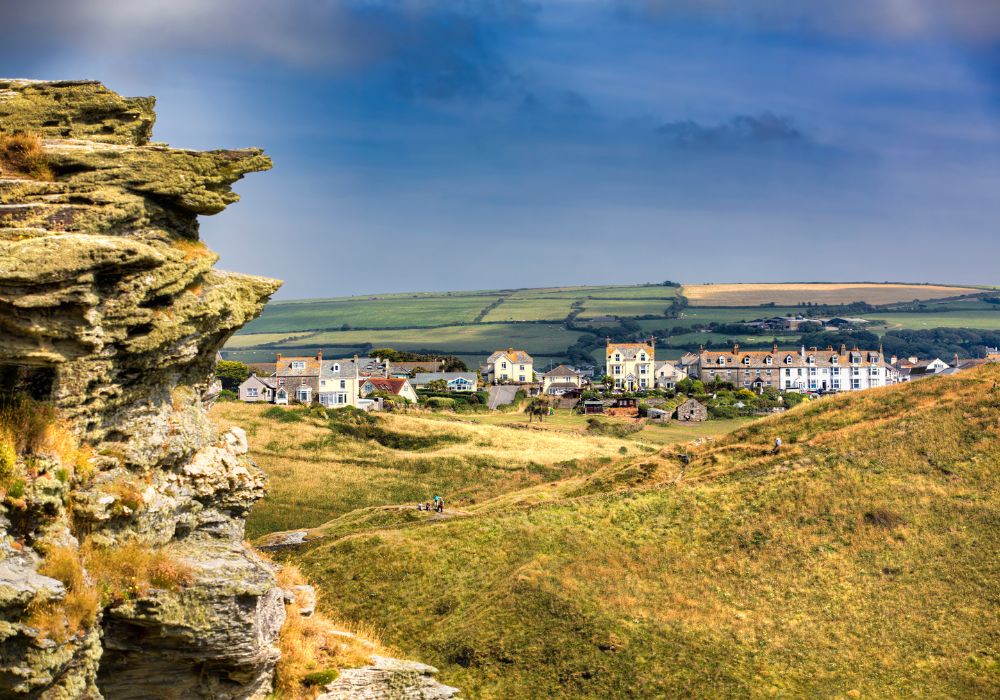 The Loft – Best for First-Time Visitors
This loft conversion overlooking the ocean and Tintagel Castle is perfectly located for all the village's attractions, pubs, shops, and restaurants.
The space sleeps two people and includes a queen size bed, dining area, kitchen, and walk-in shower. There's a TV, WiFi, and access to a shared garden that backs onto the coastal path.
Captain's Cabin – Best for Couples
This cozy cabin by the sea is the perfect place for couples visiting Tintagel. With stunning views from the end of your bed and the deck outside, you'll get to see some stunning sunsets over the ocean.
The property sleeps two and comes with a double bed, shower, walk-in wardrobe and WiFi, a TV, and a simple kitchen. It's just a short walk over the meadows into Tintagel village with its cafes, restaurants, and shops.
Clifftop Apartment – Best for Families
This two-bedroom apartment on the cliffs overlooking Tintagel Castle is a great place for families. The property is on a private road at the end of the village so you're guaranteed peace and quiet as well as magnificent views and sunsets.
There's a master bedroom with a double bed, a twin room with bunk beds, a kitchen, a bathroom, a cozy living room, a dining area, and an indoor fireplace.
Best Places to Eat in Tintagel
Don't miss these great places to eat in Tintagel.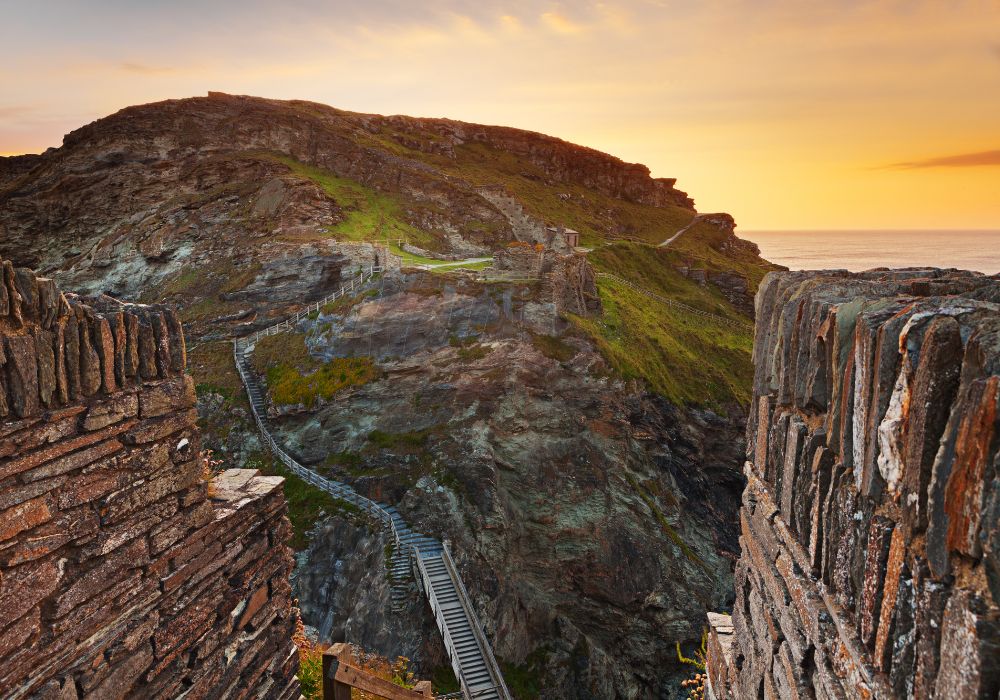 The Olive Garden
The Olive Garden is one of the most popular restaurants in Tintagel and serves Italian food with locally sourced ingredients. The menu includes classic plates of pasta, salads, pizzas, and meat dishes. It also has a licensed bar.
The restaurant is open daily from 6:00 pm to 9:00 pm.
Irina's Restaurant at Camelot Castle
Located at the Camelot Castle Hotel, Irina's Restaurant specializes in freshly cooked, locally sourced foods served with panoramic views of Tintagel Castle. Be sure to try the Bacchus wine which is made at Polgoon Vinyard in Penzance.
The restaurant is open from 12:00 pm until 9:00 pm every day.
Vega
The charming Vega Restaurant is a great option for vegans and vegetarians, or those looking for something a little different. It's open for lunch (12:00 pm to 2:30 pm) and dinner (6:00 pm to 8:30 pm).
The cafe is known for its reasonable prices and large portions (the hummus comes highly recommended). Vega is closed from Tuesday to Thursday.
Things To Do in Tintagel: FAQs
Here are some answers to commonly asked questions about visiting Tintagel.
What is Tintagel known for?
Tintagel is known for its castle and the associated legend of King Arthur and the Knights of the Round Table. It is also famous for its rustic pubs and old post office.
When is the best time to visit Tintagel?
Summer (June to August) is the best time to visit Tintagel if you want to enjoy the many coastal walks and nearby beaches. Spring and fall are also great times to visit (but bring a raincoat).
Is Tintagel worth visiting?
Tintagel is definitely worth visiting for its history, folklore, great pubs, and dramatic clifftop views.
What are the best pubs in Tintagel?
For such a small village there are plenty of pubs in Tintagel. The best ones are The King Arthur's Arms, Ye Olde Malthouse, and The Cornishman Inn.
Do you have to pay to cross the bridge at Tintagel?
Yes, to cross the bridge at Tintagel you need to purchase a ticket for the castle.
Does Tintagel have a beach? Is it free?
Tintagel has a small beach beneath the castle which is free to visit, however, Trebarwith Strand beach is only two miles from the village and offers lush, golden sand perfect for swimming and surfing.
Do you have to pay to go to Merlin's Cave?
Merlin's Cave is located next to Tintagel beach and is free to visit, though remember that it can only be visited during low tide.
Is it worth paying for Tintagel Castle?
It's definitely worth buying a ticket for Tintagel Castle which includes access to the castle grounds, ancient garden, bridge, and island.
In Conclusion
Now you know what to do in Tintagel, one of Cornwall's most famous villages steeped in Arthurian legend. For such a small place, there are plenty of places to visit in Tintagel and also lots of nearby attractions, beaches, fishing villages, and harbor towns.
Tintagel remains one of my favorite places to visit in Cornwall and I look forward to going back soon to try out the new bridge (even with my fear of heights).
Looking for more of Cornwall? Then be sure to check out this guide on some of the best things to do in the county (of which visiting Tintagel Castle is naturally just one of many).
Like This Article? Pin it!