Finding the best travel backpack can be a daunting task. There are hundreds of backpacks to choose from and not all of them will have all of the essential features for travel.
We've been backpacking and traveling the world for over 15 years, and between ourselves and the rest of the travel writers here on Goats On The Road, we've tested and traveled with countless backpacks!
In this buyer's guide I'm going to list all of the best travel backpacks including the best travel packs for men, best travel packs for women, best laptop backpack, cheap backpacks and high-end bags.  At the end, I will choose the overall best backpack to help you decide.
Disclaimer: GoatsOnTheRoad.com is a participant in the Amazon Services LLC Associates Program, as an Amazon Associate we earn from qualifying purchases. Please see our Privacy Page for more information.
The Best Travel Backpacks in 2023
As experts with over 15 years experience of testing, using and travelling with backpacks, and having tried dozens of them ourselves, we've narrowed the selection down to the 10 best travel backpacks of 2023.
We've also taken recommendations from our readers and other travellers who we've met and tested and researched hundreds of bags.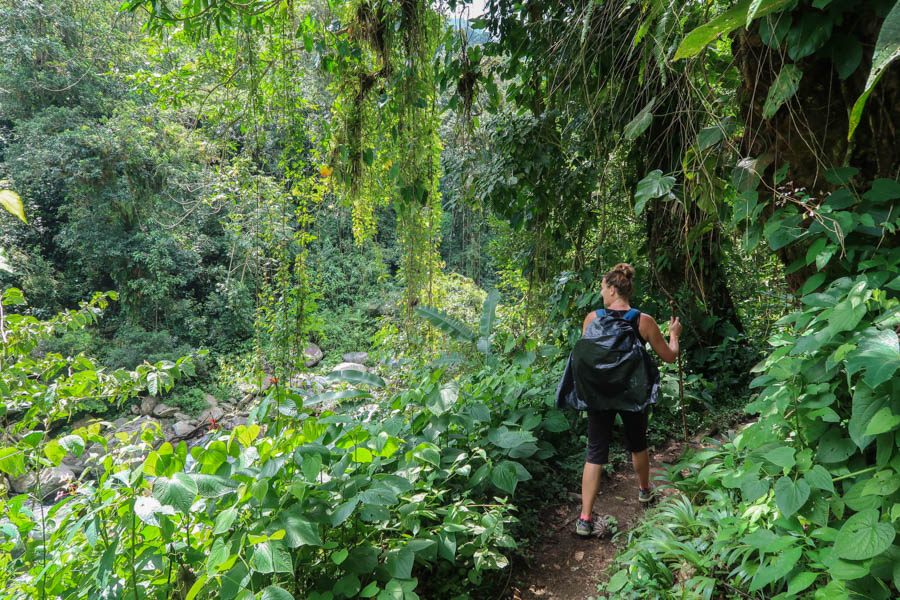 1. Osprey Farpoint
Best Travel Backpack Overall
This backpack offers all the features you're looking for when travelling with a backpack. It's perfect for long trips to multiple climates, and is at a good price point. The Osprey Farpoint ticks pretty much all of the boxes that you could imagine when searching for the best backpack for travelling the world.
☞ Click Here to check the latest prices for the Osprey Farpoint 55 on Amazon
Both Dariece and I have both personally owned quite a few different versions and sizes of the Farpoint over the years, and each year Osprey seems to add a few more handy features like lockable zippers, better mesh pockets, and a more versatile removeable daypack.
If you go for the 45 or 50-litre version, they'll come with a removable 10-litre daypack, which adds to its overall versatility.
In my opinion, the Osprey Farpoint 45 has the perfect amount of space to go on long trips that include different climates and still have a bit of extra space leftover for items purchased along the way.
If you're on a shorter trip, the Osprey Farpoint 40 is the way to go. You'll lose the removable day pack, but the entire pack itself is small enough to use as a day pack for shorter trips.
The pack and frame are extremely lightweight and both the main pack and the daypack have lockable zippers to keep your belongings secure. Click here to read our review.
There is now a woman's version of the Farpoint and it's called the Fairview. This pack is said to have a much better fit for a woman travelling with a backpack because it has adjusted hip belts, a new back suspension and the same great features of the Farpoint. While the Farpoint is absolutely fine for most women, the Fairview is likely to be a better fit in the end. A great addition to one of our favourite travel backpacks.
☞ Click Here to check the latest prices for the Fairview 55 on Amazon
The shoulder straps and hip belt on this bag are quite comfortable for short distances and long travel days, but for trekking they are lacking some padding.
While I have used this bag to go on some long treks (8 days in Mongolia, 8 days in Patagonia and 4 days in Kyrgyzstan), the shoulder and hip straps did start to feel like they were digging in after a while. However, the newer versions have an elevated suspension system that is much more comfortable for longer days of hiking.
Newer versions of this pack come with a gimmicky feature to clip the daypack onto the front side instead of looping the straps around your shoulders backwards. This looks like a great feature and is a smart idea, but in actually testing this feature considerably, I find it more comfortable and convenient to carry the daypack on my front the old-school way.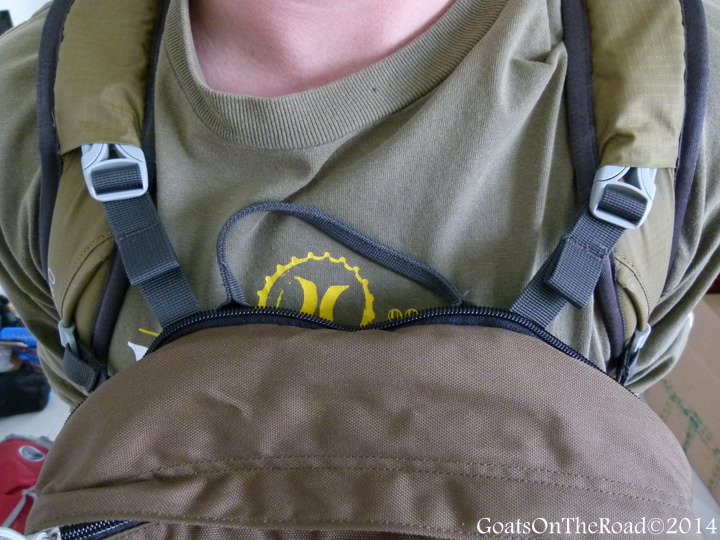 The fact that you can trek with this bag, and that it's also one of the best backpacks for travelling long-term makes it pretty hard to beat.
☞ Click Here to check the latest prices for the Osprey Farpoint 40
☞ Click Here to check the latest prices for the Osprey Farpoint 55
☞ Click Here to check the latest prices for the Osprey Farpoint 70
☞ Click Here to read our review of the Osprey Farpoint 55
Pros of Osprey Farpoint 55
👍 Lockable zippers on the traveling rucksacks and main pack (very important when travelling with a backpack)
👍 Front-loader with easy access and visibility
👍 Perfect size for long trips with varied climates
👍 Very durable and great value for money
👍 All Mighty Guarantee means 100% coverage for life
👍 Decent for trekking, great for travelling
👍 Real suspension system keeps bag balanced
👍 Mesh, moisture wicking back padding keeps you dry
👍 Very lightweight for a front-loader
👍 Detachable travelling rucksacks on all models
Cons of Osprey Farpoint 55
👎 Shoulder straps and hip belt could use more padding (for trekking)
👎 Fewer loops and places to strap stuff on the outside
👎 No rain cover included
👎 Few inside pockets and compartments
2. Osprey Fairview 55
Best Travel Backpack For Women
This wasn't really a hard decision and based on our ranking factors, the only other backpack that comes close is the unisex Osprey Kestrel 32 and the above Osprey Farpoint (which is also fine for women), but for those women who want a bit more space and comfort better suited for their bodies, the Osprey Fairview 55 is the way to go.
We've already said that the Opsrey 55 is one of best backpacks to travel with, so it's no surprise that the woman's version is at the top of our list for best backpacks to travel with for women.
☞ Click Here to check the latest prices for the Osprey Fairview 55 on Amazon
You really can't beat the price, weight, durability, functionality and overall design of this beautiful backpack. While the men's version of this bag is almost exactly the same and can also be used for women (Dariece has used it), she prefers the woman-specific Fairview as it's just a better fit for a woman's body frame.
3. Osprey Kestrel 32
This bag is without a doubt one of the best backpacks for travel and not just for long-term travel, but for hiking, backpacking and trekking trips as well. It is so loaded with features which makes it really hard to beat, plus it comes with the All Mighty Guarantee that covers the entire bag for life and, at just $150 the last time I checked on Amazon, it's one of the best deals out there.
☞ Click Here to check the latest prices for the Osprey Kestrel 32 on Amazon
It's technically a front loader backpack, but it only unzips 70% of the way. That doesn't matter though. In our experience that's enough to open the bag up and see everything inside. This bag has the comfort and "trekability" of a top-loader, with the ease of access that you'd only expect to find in a front-loader.
One of the key features of this backpack is the huge, stretchy mesh pocket on the front of the bag. It's able to hold water bottles, jackets, sweaters, trekking poles, a small tent and pretty much anything else. On top of the mesh pocket, there are over two dozen straps, loops and clips for hanging extra gear.
There's also a mesh pocket on either side of the bag that is perfect for holding water bottles. Because they're stretchy, you can fit a 1.5 litre bottle in them.
There's even a handy little zipper pocket in the waste band that works like having a waist pouch. This is extremely useful for stashing snacks for long days of hiking, or for keeping smart phones, cash etc.
The only downside of this bag is that it's a bit small for a long (6 months+) world trip that takes in many different climates. Trying to pack in warm clothes, tent, sleeping bag, sleeping mat, base layers and basic clothing into 32 litres is a task to say the least.
The extra pockets and straps on the outside do help a lot though and you can nearly double its capacity by hanging things on the outside of the bag, but this isn't practical when you're hopping on a plane or bus.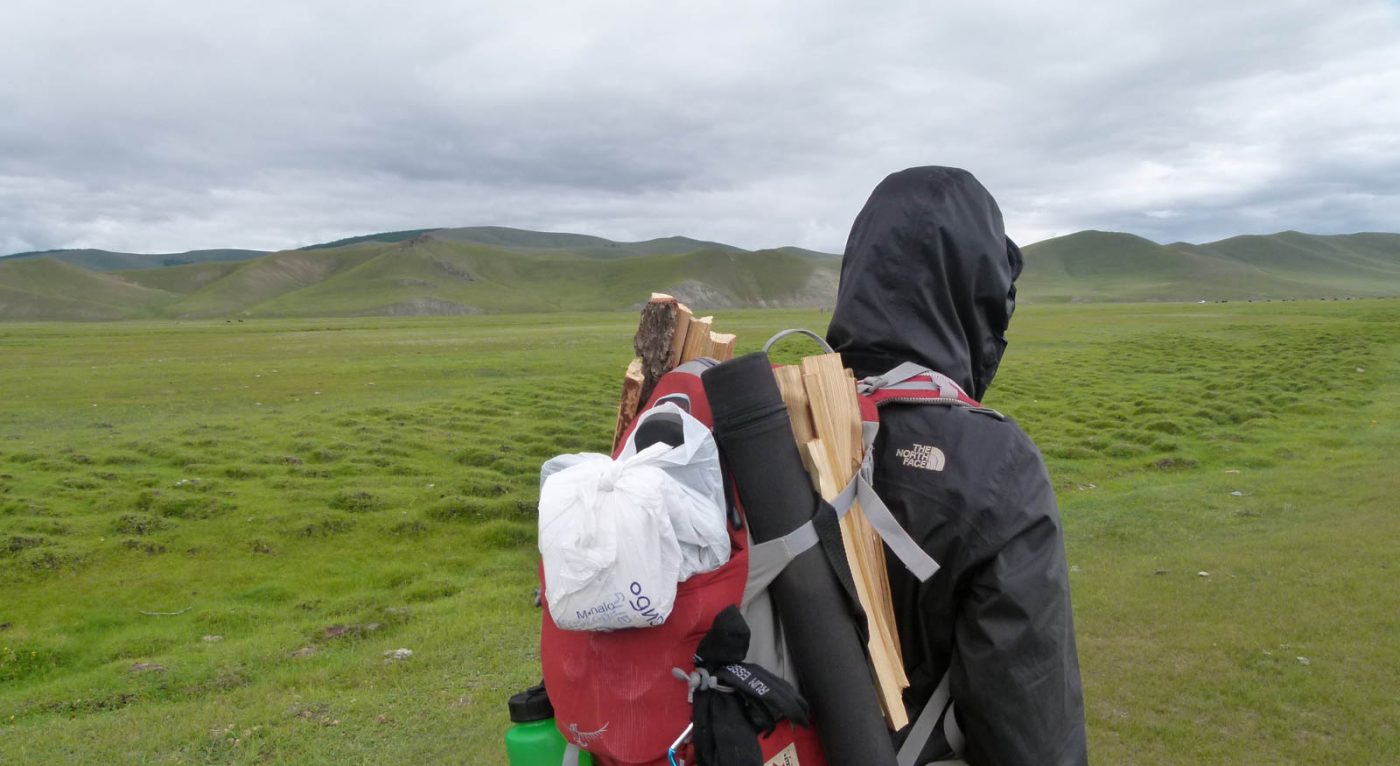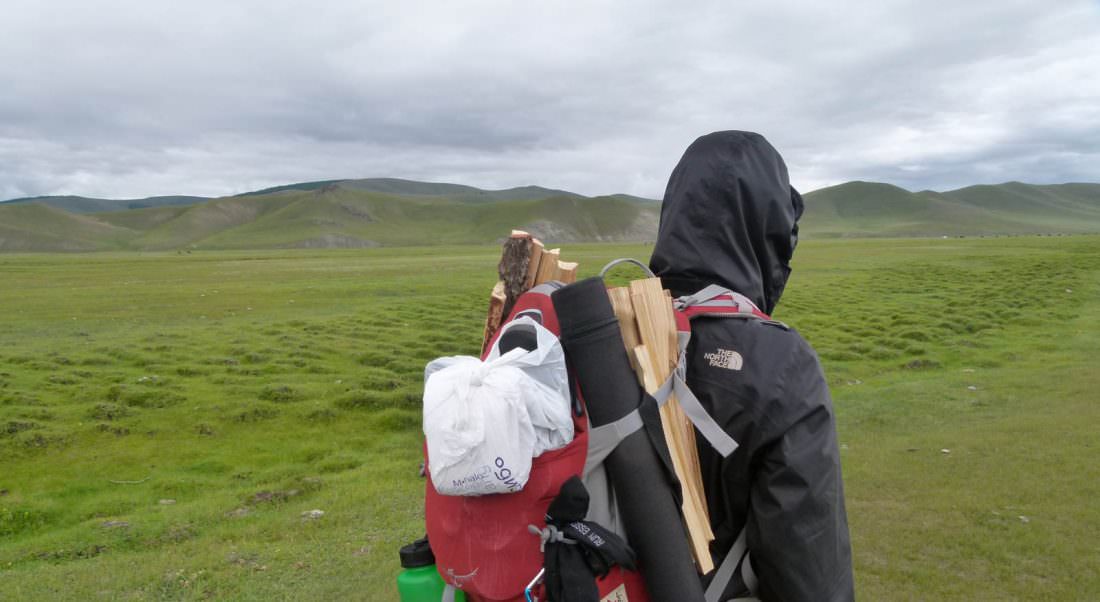 The shoulder straps and harness are extremely well padded and the bag is well-balanced. There is also an adjustable harness feature that really makes this a one-size fits all bag (rare in the backpacking world).
This backpack is small enough to be carry-on, which is becoming more and more valuable as virtually all airlines charge for checked luggage nowadays.
There are loads of compression straps on this bag to make sure everything is held snug to your body, and there are some hidden zippers at the top of the main compartment.
This backpack also comes with a rain cover. Usually that will be an extra expense when you're purchasing bags (including most other Osprey models), but this one includes it for free.
The main downside of this bag is that the zippers can't be securely locked together. There are a couple of nylon loops that can be locked with a combo-lock, but that's really not secure at all as they can easily be snipped using a pair of scissors or knife.
☞ Click Here to see our full review of the Osprey Kestrel 32
Note: If you do have to buy a rain cover for your backpack, don't buy a name brand rain cover like Osprey. For some reason, while their packs are very well-priced, they sell rain covers for upwards of $70. Pick one up on Amazon for $5. There's no need to spend a lot on a rain cover.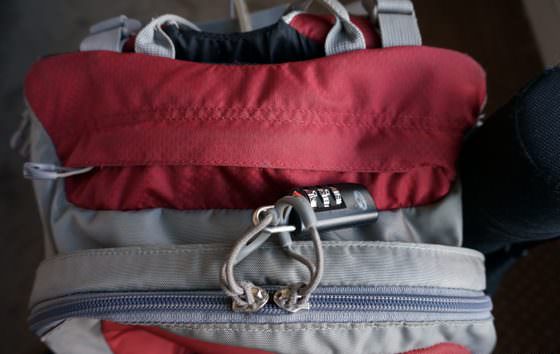 Pros of Osprey Kestrel 32
👍 Carry-on size saves you money
👍  Tons of extra pockets, loops and straps
👍  Comfortable and easy to access
👍 The best suspension system of all bags on this list
👍 Detached mesh back keeps you extremely dry
👍  Waist band pockets (fanny pack style)
👍  Great for trekking & travel
---
Cons of Osprey Kestrel 32
👎 A bit small for long trips with varied climates
👎 No lockable zippers
👎 No stowaway harness feature
👎 Few inside pockets & compartments

👎 No detachable daypack (because it's small enough as it is)
3. Deuter Transit 50 (The Best of Deuter's Travel Backpacks)
Deuter makes some of the most durable and long-lasting backpacks on the market and I have owned one of them in the past, but in my opinion they don't have the perfect meld of features, price and weight that you often find with Osprey.
Having said that, the Deuter Transit 50 is definitely one of the best travellers rucksack on the market today. It is front loading style, has a separate bottom compartment, a (relatively small) 10 litre zip off daypack, adjustable harness with excellent padding.
But at around $180, it's definitely not the cheapest bag on this list and it is considerably heavier than the Osprey Kestrel 32 or any of the Osprey Farpoint bags.
A lot of people simply love and trust Deuter and while I personally don't think that this is the best backpack for travel, there are plenty of hardcore Deuter fans who would argue that point with me. If you are loyal to Deuter, then this might just be the best backpack for you.
Pros of Deuter Transit 50 Travellers Rucksack
👍  Excellent shoulder padding & hip support
👍 Front-loader with easy access and visibility
👍 Separate bottom compartment for sleeping bag or shoes
👍  Nice detatchable daypack
---
Cons of Deuter Transit 50 Travellers Rucksack
👎  Slightly boxy and uncomfortable design
👎  Heavy frame
👎  No rain cover included

👎  Few inside pockets and compartments
☞ Click Here to check the latest prices for the Deuter Transit 50 on Amazon
4. Osprey Porter 46
The Porter 46 is a great bag for those who are on shorter trips to warm climates, or those who take minimalistic travelling quite seriously. This is definitely one of best backpacks for traveling abroad.
The Porter 46 is small enough to be carry-on luggage on pretty much any airline, so if you don't mind checking your laptop separately on some flights and not carrying any liquids above 100mL or a multi-tool with you (due to TSA guidelines), this could be the perfect bag for you!
There's no detachable daypack for the porter, but it's actually the perfect size to bring out with you for the day. The only issue with not having a separate day pack is that you literally have to unload all of your stuff before packing a couple of things back into the backpack (like water, towels, whatever you need) for your day trip.
There are however, reinforced outside cord loops which allow you to attach the Osprey Daylite daypack if you decide to purchase that separately.
The bag comes with lockable zippers and a handy, semi-padded laptop compartment that can fit a 13 inch Macbook Pro or similar and a stowaway harness system. This will ensure that your belongings are safe and secure and the straps take on no damage during transport.
The suspension system (harness and hip belt) isn't as advanced as that of the Farpoint, Fairview or Kestrel, but it's decent for the size of this pack. There is also a great compression system in this back which Osprey calls the STRAIGHTJACKET™ PROTECTION system and it really helps keep the contents of your bag balanced and close to your body.
The Osprey Porter 46 comes in 4 colors, grey, red, black and teal and is a one-size-fits-all backpack.
☞ Click Here to check the latest prices for the Osprey Porter 46 on Amazon
5. Osprey Aether AG 60
We had to add one top-loading backpack onto this list. While we're not fans of this style of bag due mainly to the inconvenience of reaching items packed at the bottom of the main compartment, this top loader aims to alleviate some of that in convenience by giving dual access to the main pack.
There is a zipper compartment for the bottom third of this bag, which makes it quite a bit easier to reach the bottom of the bag. There is also a side zipper to help you access the top part of the bag, which (nearly) eliminates the annoyance of searching for items you packed near the bottom. The secondary entry and separate bottom compartment helps make this bag more convenient than most other top-loaders.
What makes this bag even better is the advanced compression system and the handy stretchable mesh pockets on both sides of the pack, big enough for 2 litre bottles, small sleeping bags, trekking poles or even a three-quarter size sleeping mat.
One main drawback of this bag is the price. At around $280 is a full 30% more expensive than most other bags on this list, but isn't necessarily 30% better.
Also, being a top-loader, there are no lockable zippers so this bag left unattended is completely vulnerable to theft.
We love the tiny detachable DayLid™ daypack that comes off of this bag and gives users a handy side-pouch for a camera or some other small items you may need for a day trip. There isn't however a usable daypack that you could take out separately on a day trip, which is a common con of top-loader bags.
In our opinion, the Osprey Aether AG 60 is definitely not the best backpack for travel, but for those of you reading this post who do a lot of trekking and simply don't like front-loader backpacks, this is the best top-loader pack on the market today.
Pros of Osprey Aether AG 60
👍  Handy Outside Mesh Pockets
👍  Excellent suspension & compression system
👍  Detachable side pouch
👍  Excellent for long treks (Great strap padding)
---
Cons of Osprey Aether AG 60
👎  No detachable daypack
👎  No stowaway harness system
👎  No rain cover included
👎  Still not as convenient as front loader
☞ Click Here to check the latest prices for the Osprey Aether AG 60 on Amazon
Our #1 Pick For The Best Backpack
Now it's time to reveal our choice for the absolute best travel backpack on the market today. Because brands have recently started making backpacks specifically for women, I'm going to list the best travel backpack for men and the best travel backpack for women.
By separating the winners, I hope to ensure that you're able to choose the perfect bag for you, no matter what your gender may be. The goal today is to clarify the very best backpacks for travelling abroad and which is the absolute best backpack for travel and hiking.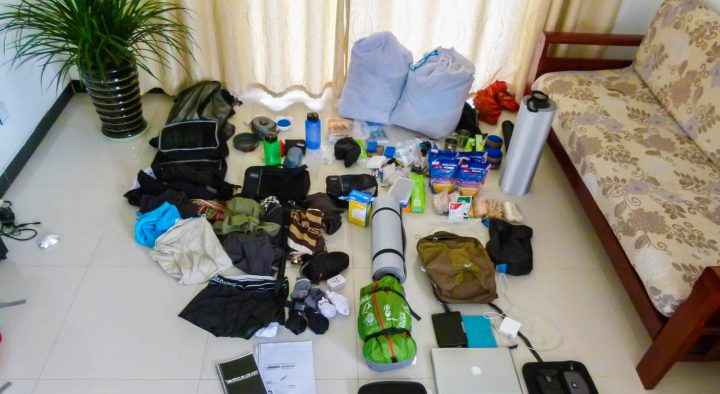 Luckily, both the best backpack for men and the best backpack for women are almost exactly the same as the latter is simply the woman's version of the former. That makes it pretty easy!
We've chosen these backpacks based on personal experience with the bags (we've had them for over 4 years), the amazing warranties that they come with, the easy access, the comfortable suspension system, the price, and the durability of the product.

The Best Backpack For Men
This is the bag that Dariece and I have both been using for years, but we didn't just choose because we use it now, it's been by far our favourite backpack that we've had in all of our 8 years of travel and we believe that it is the best bag for men (and until recently, for women too!).

Dariece will definitely be purchasing the Osprey Fairview 55 now that it's available.
Osprey Farpoint 55
With a handy stowaway harness system, extra outside straps and handles, lightweight design with comfortable suspension design, this bag is definitely our top pick for men. I've had it for 5 years and although I did break a buckle by stepping on it, that can easily be replaced for free using Osprey's All-Mighty Guarantee.
This backpack is durable, lightweight, convenient and well-built and it was really a no-brainer for this buyer's guide.
☞ Click Here to check the latest price for the Osprey Farpoint 55 on Amazon
Bonus: Best Backpack For Drones
A lot of people these days are travelling with drones. The smaller these flying cameras get, the less likely it is that you'll need a separate backpack for them. We currently travel with a DJI spark and it easily fits in our Farpoint daypack, along with our laptops, plugs, camera and other gear.
If you're travelling with a DJI Phantom 4, then the best drone backpack for you will likely be the Vanguard Uprise II. It's sleek, extremely comfortable, versatile and best of all, it doesn't look like a drone bag, so you won't be as much of a target. I created an in-depth video about the best drone backpack, which you can view below:
The above video is focusing on the Phantom 3 drone, which I have travelled with extensively, but the Vanguard Up-Rise II backpack also fits the Phantom 4 and is a great, all around camera / drone bag (even for the DJI Spark).
☞ Click Here to check the latest prices for the Vanguard Up-Rise II Backpack on Amazon

The Best Carry-On Backpack
There are plenty of carry-on backpacks available. While we've used the Osprey Kestrel 32 in the past, there are countless other bags available. Standard Luggage has a great list of carry-on backpacks available so if that's what looking for, that could be a good place to start. They also make their own packing cubes and travel wallets.
☞ Click Here to buy the Standard Luggage best Carry-on Bag
Choosing a Style of Backpack
There are 2 main styles of packs to choose from. You can go for top-loading, or front loading. Some people strongly believe that top-loading backpacks are the best for trekking and hiking, but overall we think that a solid front-loading backpack is the best backpack for travel.
How To Choose a Backpack that has the right style for you:
Top-Loading Backpacks
Top loading packs are typically used for hiking, mountaineering, trekking or other technical trips, not regular travelling. They're more narrow and long (which is good for keeping your items centered on your back when hiking), and they are usually quite big at 70L or so.
Top loading packs only open at the top. This is acceptable when you're on a hiking, camping or backcountry expedition, and all of the items in your bag will be used every night to set up camp. But, for regular travel, it's annoying having to dig through your bag, or empty everything out, just to find some socks that you stashed at the very bottom! With a top loading backpack, you have to pack in layers – this can be frustrating. Also, it's dark inside the backpack, so you can't really see what you're looking for.
Top loading backpacks typically have plenty of bungee cords, straps, clips and loops which are perfect for hooking on a tent, sleeping bag, trekking poles or other extras that can't fit inside your bag. The straps can't be zipped away however so they're always vulnerable to tearing and breaking when they're handled by careless airline staff, tossed on a bus or thrown on the conveyor belt at the airport.
Top loading backpacks aren't very secure. These types of bags close at the top with a drawstring, and a fold-over, buckle flap. There aren't any zippers that you can lock together, meaning your bag is a prime target for theft in hostels, on buses, or when you're just walking to your hostel.
Top loading backpacks are not the best backpacks for travel. This is not just our opinion, but it is the general consensus of anyone who has travelled long-term with both a top-loader and a front-loader. Simply put, the latter is a better backpack for travel.
Pros of Top-Loading Backpacks For Travel
👍  Great for trekking (light, comfortable & well-balanced)
👍  Lots of clips and loops for strapping on extra gear
👍  Lots of space & easy to fill
👍 Often there will be a detachable daypack
---
Cons of Top-Loading Backpacks For Travel
👎 Not great for non-trekkers
👎  Annoying to dig through clothes to reach the bottom of the bag
👎  Straps don't zip away and can get damaged easily
👎  No locking zippers. Less secure.
👎 No detachable day packs (aside from some very small day-pouches)
Front Loading Backpacks (Rucksacks that open like a suitcase)
A good front loading backpack is, in our opinion, the best backpack for travel. These are rucksacks that open like a suitcase. This is what we use and is what we recommend. This type of backpack unzips completely to reveal all of your travel clothing and belongings in front of you, similar to a suitcase. (Note: take travel organization to the next step and organize your gear into packing cubes)
When figuring out how to choose a backpack for travel, you should aways keep security in mind. Rucksacks that open like a suitcase usually come with lockable zippers which isn't a feature for top-loaders. Front-loading backpacks have handy loops in the zippers, so as long as you have a TSA approved combination lock, you can always lock up your bag to keep your gear safe.
Zip-off day bags are another excellent feature of front-loading backpacks. Sometimes you just want to go out for a quick hike or a walk around town. You don't want to bring all of your gear, but you need a smaller bag to carry some water, food and camera gear. A zip-off day pack is perfect for this. Just make sure that it has lockable zippers as well, to keep your gear safe.
The weight of this type of backpack varies depending on which size, style and brand you purchase. Some front loaders have heavy metal frames and some even have wheels to roll like a suitcase (we don't recommend these because of the added weight). However, in general, front-loading backpacks weigh a bit more than top loading ones.
Most front loading packs allow you to stow away the harness straps and hip belt in a back panel, which is great for travel days as they will stay fully protected and won't get damaged.
While most front-loading backpacks will have some loops and compression straps to help you clip and hang things from the outside of the bag, they typically don't have as many as the top-loaders do.
The best front-loading backpacks do have comfortable harness and waist straps, but in general, you'll find more padding on top-loaders as they're built for trekking for long hours with all your gear on your back.
Rucksacks that open like a suitcase are the best backpack for travel and hiking. Period. Even if you plan to do some trekking on your world trip, we always recommend front-loaders, especially now that many of the best front-loading backpacks come with pro suspension systems that you would find on the best mountaineering and hiking backpacks.
Pros of Front-Loading Backpacks For Travel
👍  Unzips completely for easy access to all your gear
👍  Lockable zippers for extra security
👍  Zip-off day bags are very useful (only available on some models)
👍  Stow away harness straps for easy transport and strap protection
---
Cons of Front-Loading Backpacks For Travel
👎  Heavier than top-loading backpacks
👎  Fewer loops and straps to clip on extras

👎  Less padding in the straps can be uncomfortable for trekking
Jump To: The Best Travel Backpacks On The Market
Is a Carry-on Bag The Best Option?
Size is very important when learning out how to choose a backpack that's right for you. Many travellers are hardcore carry-on travellers and I have to admit, over the years we've weaved between carry-on packs and larger backpacks, but in the end, we feel that the best backpacks for travel are in the 55 litre range. This size is likely to be the best backpack for travel and hiking.
This gives you more space to pack a few extra things and be a bit more comfortable on your trip. Plus it gives the bag some extra room so that you don't have to stress the zippers trying to zip up an overly full pack.
Most importantly, there are some downsides to carry-on travel that aren't often talked about. You won't be able to travel with any knives (like a good multi-tool), any liquids larger than 100mL (like almost all shampoo bottles), or any gels.
Plus, with the new "laptop ban" being enforced for travel on certain airlines to certain countries, passengers must put their laptops under the plane, rather than bringing them on carry-on, which completely defeats the convenience of travelling carry-on only.
With these frustrating new laws and the inconvenience of not being able to pack so many essentials, we believe now more than ever that a 50L – 60L backpack is the best backpack for travel.
If you already know how to load a backpack and you're pretty much a pro at it, you may be able to get away with a bit of a smaller bag.
Jump To: The Best Travel Backpacks On The Market
Important Features in a Backpack
The best backpacks for travel are going to be the ones that have the most features. Later on in this guide, we're going to show you comparison charts with every imaginable feature for each pack so that you can compare them side-by-side and see what features are important to you. But first we'll list the features that you should definitely look for when shopping for the best pack.
✓ Rucksack with Detachable Backpack
A removable daypack is going to give you a lot more flexibility. Sure you can carry around a smaller bag as well, but the best part of a rucksack with detachable backpack is the fact that you can zip the smaller bag onto the bigger one during travel days or when you don't want to use it.
You can also keep all of your electronics in the smaller bag and strap it on the front of you while you're travelling to keep it safe. We never let our daypacks leave our sight because it has our computers, camera gear and our most expensive (and important) possessions.
✓ Compression Straps
These are handy straps that you can clip over the clothing inside of your bag and tighten to ensure that everything is as compressed as possible. The best travel backpacks also have compression straps on the outside of the bag so that you can double compress the contents, keep it as small as possible and close to your back for better balance and overall comfort.
✓ Stowaway Harness
This is a feature that we use every single time we get on a bus or plane. Airport and bus staff simply don't care about the contents of your bag and will toss it, slam it, and stack it without a second thought.
During all of this commotion, it's not uncommon for straps to snap, buckles to break and rips to appear in the padding. By simply zipping away the shoulder straps and hip belt, you can avoid unnecessary damage to your backpack.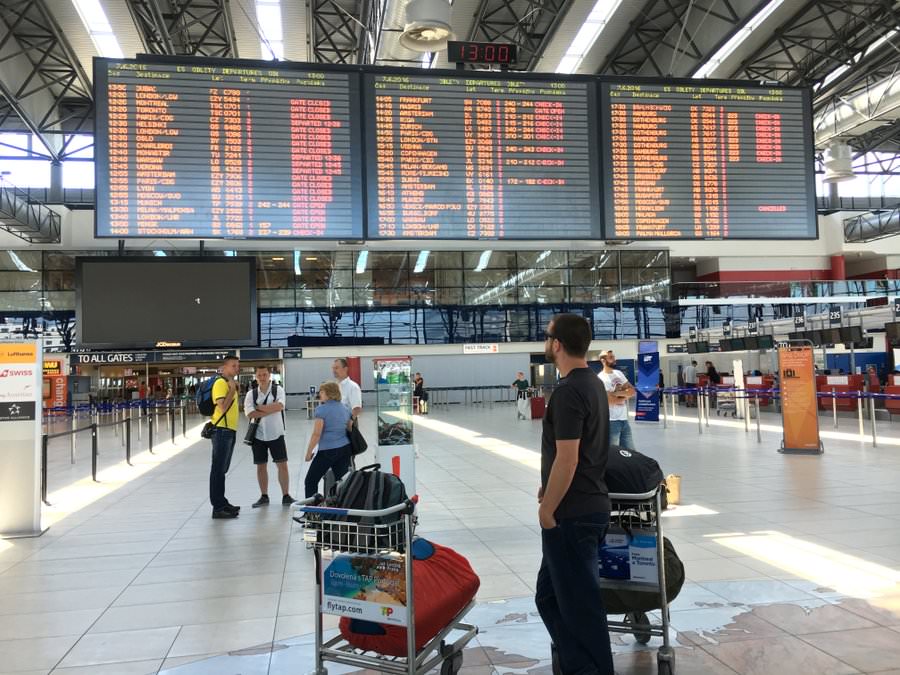 ✓ Outside Loops, Straps & Clips
One thing that top-loading backpacks do very well is include countless loops, handles, straps and places to clip things to the outside of the bag (we choose front-loading, but one with lots of clips).
When you're searching for the best backpack for travelling or for trekking, you'll want to make sure there are plenty of places to hang extra gear from the outside. You'd be surprised how often this extra space comes in handy.
✓ Outside Handles
These are especially important for bags that have a stowaway harness feature. When the hip belt and shoulder straps are zipped away, there still needs to be somewhere to grab onto.
Most bags will have a few extra outside handles to make carrying the bag easy, but not all of them have this feature so keep your eye out.
✓ Lockable Zippers
In our opinion, the best backpack for travel is a secure backpack and it doesn't matter if you're travelling in "safe" countries or not, your bag should always be able to lock securely. Some backpacks take security to the next level.
✓ Slash-Proof Lining & Puncture-Proof Zippers
If you really value the gear in your bag, you may want to find a backpack with premium security features like slash-proof lining and puncture-proof zippers.
Slash-proof lining will ensure that nobody can cut open the material of your bag with a knife to get to the contents, while puncture-proof zippers means that they won't be able to pry your zippers open with a knife, screw driver or any other sharp object. The downside to this is that it makes the pack much heavier.
✓ Compartments
The best backs for travelling will have numerous compartments, pockets and extra zippers to make organizing your things easier. Most front-loading packs will have a couple of zippers on the inside flap of the main compartment, as well as some secret zippers on the top and bottom of the bag.
Top-loaders typically have a lot of different compartments because they aren't meant to open up completely like a front-loader.
✓ Padded Hip & Shoulder Straps
One of the most important aspects of choosing the best backpack for travel is comfort. You don't want to buy a bag that gives you bruises or forces you to walk strangely. Ensuring that your bag has thick, comfortable straps, great hip support and a well-balanced frame is imperative for choosing a backpack.
If a backpack doesn't have a hip belt, then it's not the best backpack for travel. Period. Don't purchase a backpack without a hip belt if you plan to be travelling any longer than a weeklong vacation.
Jump To: The Best Travel Backpacks On The Market
What Size Do You Need?
When thinking about the perfect size for you, you have to think of how much you plan to carry, and how big (or small) you are. So the main question people ask before a big trip is "what size backpack for travelling should I take?" or "what is a good size backpack for travelling?".
Ideal Capacity
The capacity refers to how much the bag can hold and it is almost always measured in Litres (even in the United States). Unfortunately, every traveller is different and therefore there's no perfect capacity that I can list specifically for you. However, you can usually choose the capacity based on the duration of your trip and where you plan to travel to.
If you're going on a 1 year trip, then a general rule of thumb is that 55 – 65 litres should be fine. If the trip will be entirely in warm climates, then you'll easily get by with a 37 – 45 litre backpack.
We don't recommend going larger than 65 litres. When 65 litre bags are jam-packed, they can way as much as 30kg (63 lb). This may not sound like too much to hoist up on your back, but believe me, after a few months you could end up with back pain (like Dariece suffers from now).
If you're packing all of your things and you can't fit it into a 65L bag, you should consider taking some items out.
Choosing a Size (S/M/L)
Most backpack brands don't have a one size fits all product, but the best travel backpacks usually have three sizes. Small, Medium and Large. Some of these go even further and have a Long and Short version of all three of those sizes.
Don't worry, Amazon includes size charts for most of their bags and allows you to easily narrow down the perfect size for you. It's not hard and you really don't need to try them on because the sizing charts are accurate and you can return them for free if they don't feel right.

We purchased our backpacks from Amazon and they ended up fitting perfectly.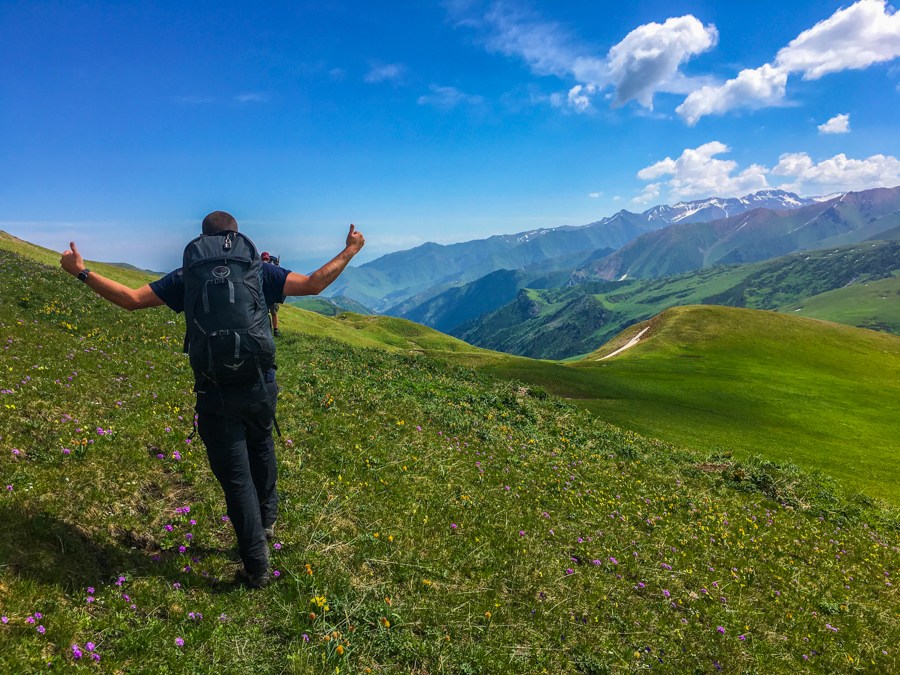 Jump To: The Best Travel Backpacks On The Market
Warranty
Even the best backpacks for travelling end up with a significant amount of wear and tear. We've tried numerous different brands and some of them are completely useless within a year, while others can last for multiple years of travelling, trekking and hiking.
Choosing the perfect pack usually means also choosing the backpack with the best warranty and some backpack companies offer some pretty incredible warranties.
Osprey offers the "All Mighty Guarantee" which literally covers every aspect of your bag, from straps, to buckles, to zippers and lining, forever. Their statement is this:
Osprey will repair for any reason, free of charge any damage or defect in our product – whether it was purchased in 1974 or yesterday – any reason, any product, any era. If we are unable to perform a quality repair on your pack, we will happily replace it.
Now that's a pretty great warranty and it proves that Osprey has an incredible amount of confidence in the quality of their products. We've tried and tested so many different brands and in our experience, Osprey packs are some of the best built backpacks available today, but with a warranty like that, it really doesn't matter. You're covered for any damage on these bags and that's a real selling point.
This is why you'll see quite a few Osprey Packs in our list of the best travel backpacks. We are not endorsed by Osprey (or any other backpack company at the moment) so they appear on this list based on their build quality, functionality and that incredible guarantee.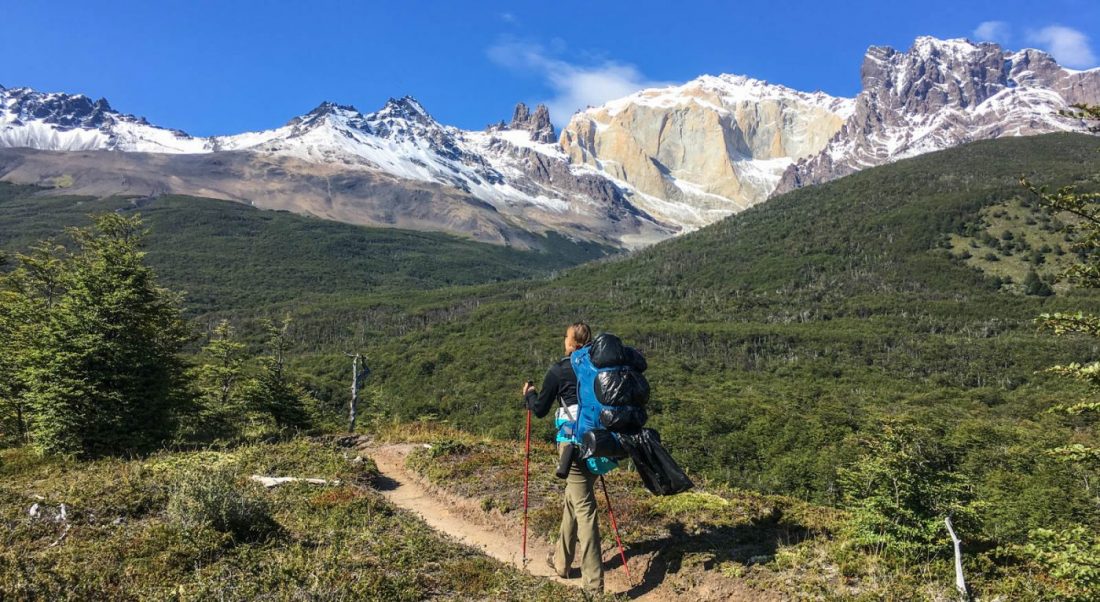 Jump To: The Best Travel Backpacks On The Market
The Best Backpack Brands
There are quite a few different brands of backpacks on the market these days and luckily, many of them are starting to take suggestions from real travellers and implementing the features and styles into their products.
You'll find Osprey, Deuter, REI, MEC, Alpine, Patagonia, Kelty and many more brands for sale, but in our opinion, there is a clear leader.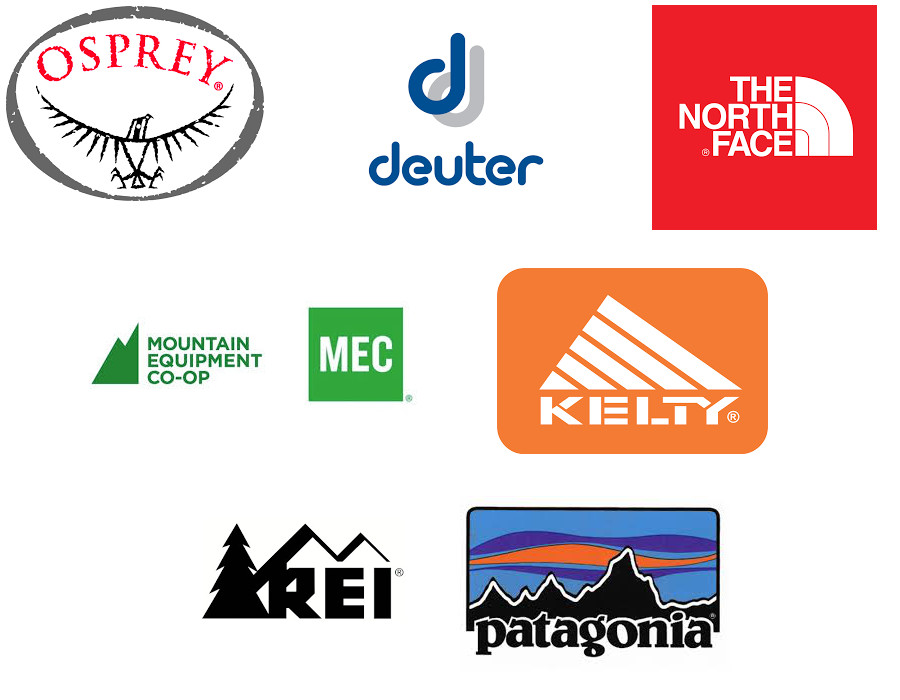 Having purchased many different brands (Deuter, MEC, Numinous and Osprey) and physically tried on numerous others, we think that the best backpack brand today is Osprey. With their all-mighty guarantee and their incredibly sturdy products and technical features, it proves this brand knows travel. We truly believe that Osprey's 32L – 70L backpacks are the best travel backpacks on the market today.
That's not to say that other brands don't also make great bags and you will see some other names featured on this list, but Osprey definitely dominates.
If you've done any travelling in the past decade, you'll notice that the majority of travellers are wearing Opsrey packs.
In this list we're going to include all of our favourite Osprey packs, as well as some bags from other brands that we've used in the past, which we consider to be sturdy and reliable packs.
How To Load a Backpack
We've covered a lot about what to look for in a backpack, but one of the most important things is to learn how to load a backpack. We recommend having zipper cubes to keep your things separated, and always roll up your clothing tightly (instead of folding) to save space.
Learing how to load your backpack could save you a lot of space and make it easier to zip up your bag on travel days. If you're travelling with shoes, make sure you stuff some items inside the shoes to fill the space that would otherwise be left empty. The same goes for water bottles and any other empty container you may travel with.
Where To Buy a Backpack
There are plenty of brick-and-mortar stores to buy your bags and the staff there can usually help you pick a great bag. We bought our Farpoint 55 backpacks online and it's easy, there's free shipping in most countries and it's fun to receive stuff in the mail!
The goal today is to find the best backpack for travel at the absolute best price.
I've found that Amazon usually has the best deals and they ship for free, so you really can't go wrong. By purchasing on Amazon, you still get the warranties that come with the bags and you get the security of Amazon buyer's insurance as well. Plus, in many cases, you'll receive free returns on products shipped by Amazon.
You'll notice from the list below that almost all of the backpacks are front-loading backpacks. That is because, with new and improved suspension systems in this style of back, they are by far the best backpacks for travelling both long-term and short-term.
The convenience of a fully opening pack, combined with technical features, compression straps and excellent clip-on functionality makes this style of bag a clear winner.
Amazon has amazing deals on all backpacks and you will usually find the best prices there. You can ship the bag to your home, or to a hotel address while you're travelling, and if you try on the bag and don't like it, you can return it.
Check out the latest deals on Amazon for the backpacks listed in this post by clicking each link below:
☞ Osprey Fairview 55 (Woman's Farpoint)
☞ Osprey Aether AG 60

☞ Vanguard Uprise II (Drone Backpack)
☞ Search other highly rated backpacks on Amazon

Conclusion
From years of testing different bags, we're confident that the Farpoint 55 for men, and Fairview 55 for women are the ones on the market in 2020. Combining the perfect marriage of convenient size, compartmentalization, comfortable harness straps, a great price point and a lifetime warranty, you really can't go wrong with these bags.
For shorter trips, our favourite backpack is the Osprey Kestrel 32. The only downside is that there is no detachable daypack, but this bag is a pretty good size for a daypack as well if you empty it out and take it out for the day.
Whichever bag you go for, each one in this list comes with a great warranty (Osprey is the best in our opinion), and a very high-quality build. You want your backpack to last!
If you'd like to search Amazon for a different backpack that's not on this list, Click Here.
Happy shopping and happy travels! We hope you'll find the perfect backpack for you!
Like this article? Pin it!
SaveSave