Have you ever thought about ditching the nine-to-five and hitting the open road to try your hand at van life?

Inevitably, what brings that daydream crashing down is the realization that if you don't punch in for work tomorrow, not only will you not be buying a new van, you might not even be getting groceries this week.

But wait! There's no need to completely crush that dream.
It turns out there are heaps of van life remote jobs you can do. Moreover, right now as more and more industries and roles move online, there has never been a better opportunity to find remote van life jobs.

From the mountains of Bolivia to outback Australia, modern technology allows us to work in some truly amazing places.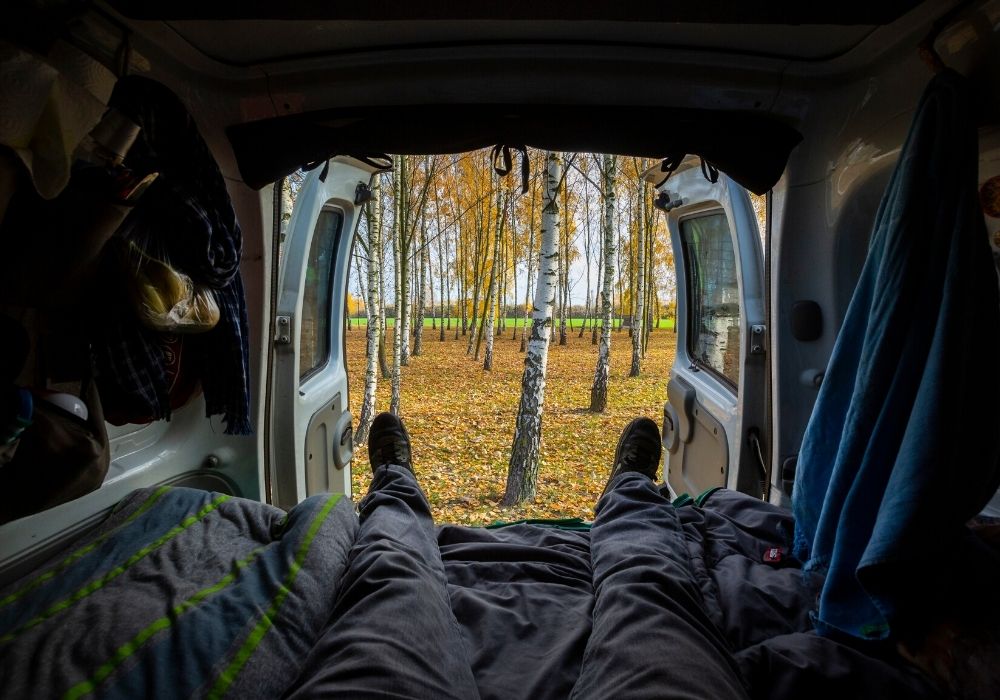 Kelli and I have been on the road for four years now, working while living in a van.
During that time, we've come up with plenty of tips, tricks, and hacks for van life. But, when we set out to explore South America on our first van life adventure neither of us had jobs nor any clue what we were doing.

What we did have was a tiny van that barely fit a bed in the back, two laptops, one smartphone, and a limited command of the Spanish language.

Three years later, we have two new careers as an online English teacher and a technical accounting consultant. Plus a van life blog, and a slightly better van (we still share one phone and our Spanish is still terrible).

If we were able to find remote jobs for van life while sharing a hotspot in the Peruvian jungle, then you can too.

While there are many vanlife jobs you can physically do on the road such as a therapist, artisan, or busker, this blog post will focus on remote jobs you can do from the back of your van, utilizing the internet.
Here are 10 of the best van life jobs that are open to anyone and don't require highly specific degrees or training.
Items Needed to Work From a Van
Before you tell your boss you are heading off-grid and setting off into the unknown, you might want to pack some essentials to make sure your new van life career goes as smoothly as possible.
Smartphone (With Hotspot Capability)
This is the number one tool to get you started with almost every remote van life job.
Whether you use your phone to take photos as an Instagram influencer or use your hotspot to run virtual meetings as a high-powered executive, a quality, reliable phone is extremely important.
Good Laptop
Most remote positions are going to require the use of a laptop. For van life work, you are generally going to need a quality computer with long battery life, good video and sound quality, and one that won't break easily as the closest store or repair shop can often be a long way away.
Have a look at this list of the best laptops for remote workers.
A Functional and Comfortable Work Space
This is optional but strongly recommended.
I taught online for years crammed into the front of my van with a makeshift backdrop hanging behind me, so it is possible to hold down a job without a dedicated workspace.
However, if you are working from a van then creating a proper space to work will make life much more comfortable.
Depending on the vanlife jobs you are looking at, this could be anything from a fold-up camp chair to a completely outfitted mobile music studio.
For most, it should include a comfortable seat, table, desk or work surface, a clean backdrop for video calls, and access to electricity… which brings me to our next point.
Electricity
Van life doesn't come standard with electric sockets. You are going to need to think of a solution to keeping your work devices charged and the lights on while you work.
This could be as simple as a universal 12-volt adapter to charge your devices from the car cigarette lighter while driving and a head-torch. Or as complex as a solar-charged battery bank hooked up to a 240-volt inverter.
Work Clothes
Depending on your van life job you may require work clothes. If you work remotely but your role involves dealing with customers, clients, or colleagues via video conferencing you may need a good shirt. Pants, however, are entirely optional.
1. Online English Teacher
Teaching English has long been a popular career or short-term stopgap for travelers.
For ages, English-speaking backpackers have found a way to extend trips to Europe, Asia, and many other non-English speaking regions by using their native speaker status to snag jobs in schools and language centers around the world.
Today things are changing, quickly.
Over the last decade, and particularly over the last two years, rapid and widespread adoption of remote and online learning has changed the industry. Roles that formally required you to be on-site can now be done remotely from the back of a van.
Teach Chinese school children in the morning and Polish adults in the evening. As a freelance English teacher, you can beam into any country on the planet while you are parked up by a beach in Mexico.
Potential Salary
Pay for this type of work is often hourly. Starting wages for brand new English teachers can begin around $10 an hour but range up to $50 an hour for professional and sought-after English tutors.
How to Find Work
You can apply online directly to the many online companies that provide online English. Have a look at PrePly, Cambly, Italki, Teachable, Outschool and Profly.
But, before you begin searching for a job you may want to think about:
How many hours and days you can commit to
What sort of salary you want
Whether you prefer teaching adults or children
Whether you are interested in group classes or one-on-one teaching
If you will have time to prepare your own lessons or would prefer a school that provides course programs and class management software
This can help narrow down your search and find a school that suits your needs.
What You Need to Get Started
In addition to the items needed to work in a van listed above, most schools will have a list of minimum requirements which commonly include any bachelor's level degree and teaching qualifications such as a TEFL or CELTA.
Many schools prefer native speakers sometimes from a specific list of countries.
Schools will usually ask for some variation of these requirements and you should check the specific requirements for any school you are planning on applying to.
If you meet most but not all the criteria, it may still be worth applying as the only true requirement for effective English teachers is a solid grasp of the language and the ability to lead an engaging and interesting class.
☞ MyTEFL is one of the most affordable TEFLs available. Click here to learn more and use promo code GOATS35 to receive 35% off.
2. Writer
Freelance travel writers, copywriters, and content creators are just a few examples of writing roles that make great van life remote jobs.
There are plenty of remote work opportunities for talented freelance writers without experience, or a formal degree.
Aside from the traditional models like freelance writing directly for publications, the shift toward the gig economy means there are a lot more flexible opportunities to fulfill one-off tasks or short-term contracts.
This work doesn't involve too much interaction with other people making it an ideal option for those travelers who love to get off-grid.
Potential Salary
On freelancing sites, like Fiverr and Upwork, writers set their own rates. Rates for writers on these sites typically range from $10 per hour up to $100 per hour.
Writing articles for publications often pay by the word and writers can expect to get somewhere between $0.10 and $1 per word depending on the publication. Often, however, writers are paid a flat rate per article.
How to Find Work
Freelance marketplaces, like Solid Gigs, Fiverr and Upwork, let writers post their profiles for businesses to browse and engage. You can also pitch directly to job posts.
If you are interested in writing articles directly for media outlets, have a look at some of the online publications that accept freelance submissions (and how much they pay). This post provides a helpful list of travel freelance outlets to get you started.
What You Need to Get Started
Without any specialized gear outside of a laptop and internet connection to get going, writing is one of the easiest van life jobs to get started in.
3. Freelance or Consulting Professional
If you already have a degree and some experience but have decided the daily grind is not for you, you could consider finding a fully remote position or becoming a freelancer or consultant in your area of specialty.
Accountants, financial planners, marketers, architects, IT specialists, and many other professionals are trading the office for the beach and you can too.
You can leverage a degree you already have and put it to use supporting the lifestyle you want. As a freelancer, you get to set your own price, set your own hours, and take on tasks and jobs that interest you from anywhere in the world.
Potential Salary
Freelance gigs to complete one-off tasks or short projects typically run from between $40 per hour to $100 per hour depending on your field and level of expertise and can lead to more work if you impress.
Consulting work opportunities exist where companies have a project for which they don't have a required specialist in-house.
This work might come with a statement of work that nominates a rate and a maximum amount of billable hours. Consulting can be more lucrative but less flexible.
As remote work becomes more and more mainstream, there should be little difference between the remuneration for remote or on-site positions.
How to Find Work
Upwork.com and FlexJobs are great places to find freelance or consulting gigs and if you play your cards right this can be a foot-in-the-door opportunity for more stable work.
Using Linkedin or your personal network is another way to source opportunities. Salaried, fully remote positions can be found on FlexJobs and WorkingNomads.com.
What You Need to Get Started
In addition to your laptop, phone, and a nice shirt, you will need some experience in the field and ideally a strong network that can help you find opportunities.
4. eCourse Creator
The rise of eLearning has been meteoric. Compared to traditional classrooms, eLearning is easier and cheaper to access, more specific to your needs, self-paced and flexible.
Overall it is becoming more attractive to tech-savvy learners who are finding traditional education too slow to respond to a changing world.
With the popularity of eLearning comes new opportunities for self-starters to provide meaningful content to eager audiences.
As the only requirement is a webcam and a computer it can be an ideal business for van life.
While you don't need a formal qualification you will need to be an expert at something. The good news is, the list of things you can create an eCourse about is literally endless.
Courses exist for everything from psychology to skateboarding. The trick is identifying what knowledge you have that others will pay to access.
Potential Salary
As with any small business, creating and selling your own course has unlimited potential to earn money. As a course is an infinite resource once it is created you can sell it again and again.
However, as with any business, it also comes without guarantees. It can be time-consuming to create. It will also take time and financial investment to market a course and attract students.
Courses can sell for anywhere from $20 for brief instructionals through to $1000s for in-depth courses with hours of video content, learning materials, and proven student outcomes.
How to Find Work
You will need to do your homework to find a course topic that aligns with your knowledge and public demand.
Then you need to create a course, upload it using a media platform, an existing eCourse platform, or a personal website, and finally market your course online. Have a look at these top platforms for selling online courses.
What You Need to Get Started
In addition to a reliable laptop and smartphone, you may need dedicated studio space in your van where you can film yourself to create the course content.
You will also need an online platform where you can host your eLearning course content. Goats On The Road use and recommend Teachable.
You may also opt to use an LMS (learning management system) to help build and deliver courses and social media to help promote your courses.
5. Influencer
An influencer could be a blogger, YouTuber, podcaster, streamer, or pure social media influencer.
They are people who have developed recognition and reputation as an expert on a certain topic and have an audience of engaged subscribers, viewers, visitors or followers.
Whether you make great margaritas, are a whizz at Tetris, or happen to be a WWI history buff, there's probably a community of like-minded individuals looking for content from an expert like you.
Why It's Great for Van Life
Being an influencer is truly a job that can be done from anywhere, even working from a van.
In fact, given the nature of the job, traveling by van as you upload your expert advice or entertainment from the road may even be the point of difference that sets you apart from the competition.
Potential Salary
Becoming an influencer is another business and your income is potentially unlimited but without guarantee. No one can say for sure if and when your star will rise as an influencer.
Many influencers don't succeed, but if you are dedicated, take the time to properly learn about the industry, and commit yourself there is no reason why anyone cannot generate serious income through influencing.
How to Find Work
You will need to establish yourself by releasing content on a media platform and developing an audience. Depending on the type of influencer you are and the niche you specialize in, monetization may come from advertising, donations, sponsored content, affiliate marketing, and more.
What You Need to Get Started
Of course, you will need a phone, laptop and wifi connection. You may also need a quality camera and microphone. BUT above all, the first thing you should do to get started as an influencer is to enroll in a course from an expert in the field you are interested in.
Contrary to what most people believe, becoming a successful influencer is not easy, and success is not based on luck or even talent.
Whatever your niche or platform, there are tried and tested methods to grow your audience, you will need to learn and implement these methods if you are going to succeed.
6. Photographer
Knowing your way around a camera is almost a pre-requisite for life today. But those skills you have been honing for the 'gram may also be the key to one of the best jobs for vanlifers.
To make money from your photography skills remotely you can sell stock photos online, sell prints of your photography, or sell photos for publication.
Why It's Great for Van Life
Vanlife and photography go together perfectly. Every day provides new subject matter and inspiration as the environment around you continues to change.
You won't need to make a special trip to exotic destinations, you're already there. Nor do you need to get up well before dawn to capture the sunrise if you are already parked overlooking a mountain vista or deserted beach.
Photography doesn't require adhering to a fixed schedule and requires little interaction with customers, clients, or colleagues.
Potential Salary
Salary will be dependent on the size of your portfolio, the quality of your work, and the reputation you develop as a professional photographer.
Normally, by combining different ways of selling your photos, you may be able to generate anywhere from a few hundred to a few thousand dollars per month.
Stock photos generally bring in 0.25 – 0.45 cents per month. That means, if you develop a large portfolio of 1000+ quality images that people are actively searching for you, could earn $250 – $450 per month.
Stock photos can be sold again and again, so as your portfolio grows so does your income.
Selling prints of your photos on Etsy or other art marketplaces can be another way to make money from your photos. Prints can sell for $30 but you will be responsible for organizing printing and postage.
Just like for stock photos, you'll need to make sure you are selling quality prints that many people are looking for, but few are producing.
Finally, you can sell your photos directly to publications. Established publications can pay around $1,000 for a photo collection and story to accompany them.
How to Find Work
You can upload stock photos directly to websites like shutterstock.com. Focus on uploading photos that are in high demand but where there is limited content. Photograph specific places and label the photos accordingly.
You can sell prints of your photos through Etsy. All you'll need to do is open an Etsy profile and advertise your prints.
Finally, you can take in-depth photo stories of the places you travel to and accompany them with a written piece about the photography. You can pitch these photo stories to travel publications which can pay hundreds or thousands of dollars for quality work.
What You Need to Get Started
In addition to a good laptop and wifi connection, you are going to need a high-quality camera and some photo editing software.
7. Graphic Designer
Another job you can do while living in a van that requires nothing more than a laptop, wifi, and some graphic design software.
Today graphic designing jobs are easily found on freelancing websites. The bulk of graphic design work is done individually making it flexible for van life.
Potential Salary
Graphic Designers charge between $10 and $150 an hour on freelance websites with the most charging between $20 – $50.
How to Find Work
Fiverr is a great place to start advertising your graphic design profile and looking for project listings. Find listings where the brief matches your level and style and start sending pitches.
A formal degree in design is not as important to clients as making sure you have a portfolio of high-quality work that aligns with your client's vision.
Flexjobs is one of the best websites for finding work. There are usually around 1,000 graphic design positions on this website at a time
Click here for a list of the current remote graphic design jobs on FlexJobs. Use promo code NOMAD at checkout and receive 30% off your FlexJobs membership.
What You Need to Get Started
In addition to wifi and a computer, you will need some dedicated design software, hardware and other equipment. To create great images, graphic design software like Photoshop is essential.
Here's a list of the best graphic design tools that you'll need.
8. Musician
For a long time (like thousands of years) being a traveling musician meant playing in pubs, on street corners, and in subway stations.
Maybe selling a few tapes or CDs from the back of the car. Today, the proliferation of digital streaming means that you no longer have to get by on the change people drop in your hat.
What's more, while in the past the idea of setting up a drum kit and harp in the van was completely impossible, modern digital studios remove the need for bulky instruments.
Even studio-level recording equipment has shrunk to the size where it can comfortably fit into your van.
Potential Salary
At around $35,000, the average musician's annual salary is lower than some other remote jobs. However, the potential earnings are very high for talented musicians that find mainstream success.
The trick to developing a livable income as a musician is combining a variety of income streams from your skills.
How to Find Work
You can compose and release your own music from which you can earn money on a music streaming website like Soundcloud or Spotify.
You can find paid gigs on services like Fiverr where companies need songwriters, vocalists, mixing, mastering and production services, jingles, beats, and much much more.
Create a YouTube account and build up your audience and make money from ads or Patreon.
Finally, you can sell royalty-free music for use in advertising, online, and television media. Market places like premiumbeat.com make selling royalty-free music simple!
What You Need to Get Started
To produce and record music from a van, you will need an onboard studio with recording equipment and any production equipment you require.
While building a mobile studio can seem like a pretty daunting task, there are plenty of examples online of musicians that have made incredible vanlife music studios.
9. Developer
A developer is someone who creates software or applications. But, you don't need a college degree or even a background in IT to become a developer.
Today software development can be done remotely from anywhere in the world, and the IT industry is a leading proponent of remote working solutions.
Many developers work remotely and many companies are 100% remote!
This forward-thinking view creates advantages for IT companies such as lower overheads and a larger talent pool. It also means more opportunities for developers to give van life a whirl.
Potential Salary
With the prevalence and acceptance of remote-only jobs in this field, you should expect to earn the same whether remotely or on-site.
With a high starting salary, a median salary above $100,000, and a low unemployment rate, becoming a developer may be one of the most lucrative jobs for vanlife.
How to Find Work
There are plenty of job openings for developers who know their stuff, and this industry is more likely to look for talent and expertise above formal qualifications.
That being said, these companies are looking for real experts in the field and you'll be asked to prove and deliver on your abilities to hold down a job in this sector.
If you are new to developing, start by looking for your dream job online and working backward to find out the skills and technical abilities you need to learn to score that role.
If you're already qualified, have a look at Upwork, Fiverr or FlexJobs for work, or create your own portfolio online and start marketing yourself.
What You Need to Get Started
As a developer, your bandwidth appetite might go beyond what is required of other van life jobs, and a dedicated standalone wifi hotspot with its own data plan might be necessary.
If you don't already know how to code then you will need to choose a programming language and begin to learn it back to front.
10. Proofreader and Editor
An editor provides feedback on the tone, style, and structure of writing in the draft stages. A proofreader checks the final draft of a document for any spelling, grammatical, or formatting mistakes.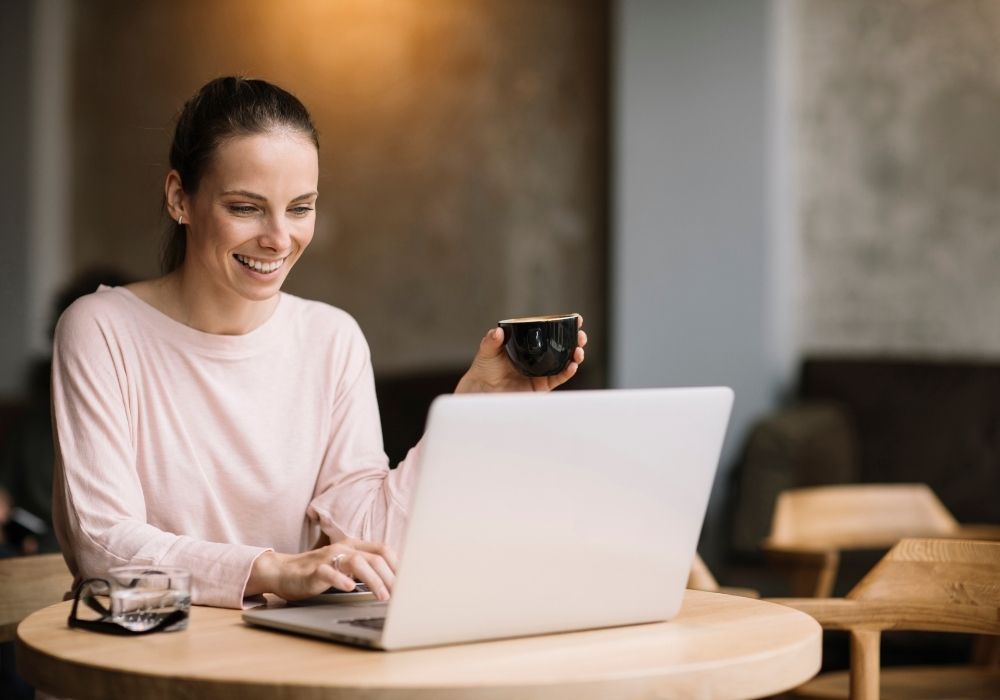 Traditionally two separate roles in the days of print media, more and more employers want skilled online workers to kill two birds with one stone.
You can be that stone. Proofreading and editing is a 100% remote job that can be performed from the back of a van anywhere in the world that has access to the internet.
While you won't necessarily need a degree in writing, you will need an eye for detail. You will also need to master the basics of proofing and editing for a range of writing styles and applications.
Potential Salary
Hourly rates for entry-level proofreaders begin around $15 – $25 dollars. Professionals that have mastered editing documents for different styles of writing can earn up to $50 per hour.
If you specialize, for example in legal or medical proofreading and editing, rates can go up to $90 per hour.
How to Find Work
You can find entry-level editing and proofreading opportunities on Fiverr and Upwork.
Once you have developed some experience, dedicated online proofreading and editing services such as Sribendi or Contena connect companies with experienced and proven professionals.
Have a look at our article for the 10 best proofreading jobs available.
What You Need to Get Started
A computer, wifi, and word processing software are the only requirements for this flexible van life job. Having programs such as Grammarly on your computer are a must as well.
If you haven't studied writing or worked in the field before there are some great online courses to help you learn the ropes of proofreading and editing for mistakes, format, style, tone, and specific writing conventions.
Some schools such as Knowadays (formally the Proof Reading Academy) even include training and support to help you find jobs in the industry.
Bonus: The Jack of All Trades
Many of these remote van life jobs combine well to create multiple streams of income and many people working from the road find they have to wear many hats to keep the lights on.
A great photographer can also develop an Instagram following. An English teacher might use their skills to write freelance pieces for travel publications.
A consulting professional can share their journey through a blog. A musician can supplement their income by creating an eCourse on using a mini-studio.
Generating multiple streams of income is one of the great opportunities that exist for many remote vanlife jobs
Potential Salary
Combining a steady income with a business is the key to unlocking true wealth from the road. A regular wage that you can live off can provide security and pay for day-to-day expenses.
By working on developing complementary businesses based on your existing job, your skills, and the opportunities a life of travel provides, you can unlock passive income that can help you build wealth for the future (or a bigger van).
How to Find Work
Step one is to secure a regular income by finding stable employment, regular gigs or developing a large portfolio.
Once you have successfully locked in a regular income stream you can start to think about how you can use your skills to develop one of the 100% remote businesses mentioned above.
What You Need to Get Started
As a budding entrepreneur, you will need passion, patience, and resolve.
Conclusion
We are currently witnessing a global shift to a more connected and more flexible world and not just for some but for most.
From creatives to number bots, extroverts to introverts, beginners to professionals, salary earners to business owners, never before have there been more opportunities to find not just a job but a real career that you can take with you on the road.
At the same time, internet technology and infrastructure is developing at a rapid speed and more and more places are becoming available to remote workers.
Places where a few years ago the idea of getting a reliable internet connection would be laughable, you can now connect to super-fast mobile internet with your cell phone.
If you have ever set aside your dream of van life because you weren't sure how you could work on the road, that excuse no longer exists.
Like This Article? Pin it!