When I talk to other people who teach English as a foreign language, it's pretty clear that Bridge TEFL is one of the top TEFL certification programs.
Everyone seems to rave about them, and after researching their TEFL course offerings in-depth to create this post, I understand why.
I teach English online and am very glad I took an online TEFL course to help my chances of securing a job. Not only that, but it helped me understand how a classroom runs, how to plan a lesson, and enabled me to earn an income from anywhere in the world.
If you're looking for a company with a variety of in-person and online course offerings with high student reviews and robust job opportunities, Bridge TEFL might be the best fit for you.
This guide will cover everything you need to know about the Bridge TEFL certification program.
Why Would Someone Need A TEFL?
A TEFL (Teaching English as a Foreign Language) Certification will allow you to teach abroad or teach English online for most companies. If you hope to travel while teaching in some capacity, getting TEFL certified is a smart idea.
As you explore the Bridge TEFL website, you might notice some other acronyms used to describe courses, like IDELT, CELTA, and TESOL.
While these are all similar programs that prepare you to teach English abroad, there are a few differences.
TEFL (Teaching English As A Foreign Language) – This certification will allow you to teach English to students in a foreign country, either abroad or online. This is one of the most common foreign teaching certifications.
TESOL (Teaching English To Speakers Of Other Languages) – Like the TEFL, a TESOL certification will allow you to teach English to students in a foreign country. The difference is that you can also teach foreign-language speakers who are in a native English speaking country.
CELTA (Certificate In Teaching English To Speakers Of Other Languages) – This course is similar to the courses above except that it was created by Cambridge University. CELTA courses are sometimes perceived as more prestigious, and the price tag usually reflects this.
While there are a lot of companies that offer TEFL and TESOL certifications, the CELTA is more standardized since it follows the Cambridge University curriculum.
IDELT (International Diploma In English Language Teaching) – This prestigious certification was developed by the Bridge company with their partner school, the Metropolitan State University of Denver. Once completed, you'll receive a certificate from the university and Bridge to add to your resume.
Why Choose Bridge TEFL?
Bridge TEFL is accredited by both ACCET and ACE CREDIT. They offer a wide variety of in-person and online courses, as well as specialty courses that can take your teaching to the next level.
Bridge TEFL has a long history (over thirty years!) of training teachers, so you know you'll be in good hands.
They also are the creators of the IDELT certification, which is perfect for those who want to go above and beyond a standard TEFL certification.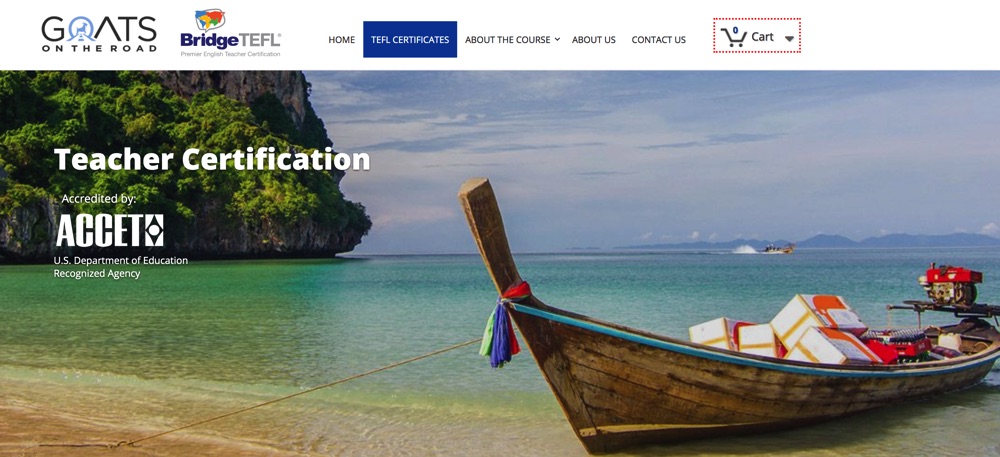 The Cost of Bridge TEFL
The cost of Bridge TEFL courses varies depending on the number of hours and the type of class.
In-person, higher hour courses will cost you more than the shorter online courses, but remember that you'll need at least a 120-hour certification to qualify for most jobs abroad.
Visit the Bridge TEFL website for the latest prices and discounts on offer.
click here to learn more about bridge tefl course costs
Types Of Bridge TEFL Courses
With Bridge TEFL, you get many options for the types of courses you can take.
1. Bridge TEFL Online Courses
Bridge TEFL offers several attractive online courses. Students can choose between widely recognized international certificates and more basic foundational certificates.
Online Bridge TEFL course offerings include:
40-hour Basic Certificate
60-hour Educator Certificate
100-hour Professional Certificate
120-hour Master Certificate
150-hour IDELT Online *Recommended*
180-hour Teaching English Online Certification
If you're serious about teaching TEFL abroad or online, you should opt for a certificate with at least 120 hours of coursework. Otherwise, you might find yourself unqualified for more competitive teaching jobs abroad.
click here to learn more about bridge TEFL online courses
2. The 150-Hour IDELT Online Course
The 150-hour IDELT Online course is a unique course to Bridge TEFL and a great option for driven teachers. This course is fully online and lasts for 12 weeks.
Even though it's conducted remotely, students will follow along with an instructor and complete assignments on a schedule. This course is not self-paced, though you will have more flexibility than you would with an in-person course.
In this online course, you'll cover:
The foundations of teaching and instruction
Teaching methods and effective instruction for a multicultural classroom
Lesson planning
Teaching speaking, listening, reading, writing, grammar, vocabulary, and pronunciation
Teacher professional development
Because the IDELT course is taught with a rigorous curriculum by high-level professors, students can actually use this course for graduate-level credits if they choose to do so.
Bridge TEFL has a partnership with several online graduate programs that accept the IDELT course as six university credits. This can save you time and money if you decide to advance your teaching credentials at a later time.
click here to learn more about the idelt online course
3. Bridge TEFL In-Person Courses
There are two main in-person courses offered by Bridge TEFL: The Bridge IDELT and the CELTA.
140-Hour Bridge IDELT International Diploma in English Language Teaching
You can take the Bridge IDELT in-person course in Denver, Colorado; Santiago, Chile; or Buenos Aires, Argentina. During this course, you'll receive 140 hours of classroom and practical training in how to be an English teacher.
If you've dreamed of studying while exploring the Rocky Mountains, getting your IDELT certification in Denver, Colorado might be a great fit!
With small class sizes and several hours of practice teaching with real students, this four-week course leaves students feeling prepared for the classroom and ready to take on the world.
If buzzing Buenos Aires is more your style, you can also choose to get your certification while living in the heart of the city.
Small group IDELT courses take place in the city center, and students have the option to live with a homestay host or in a nearby hotel or hostel.
Students can also choose to get certified in sunny Santiago, Chile. This four-week program allows students to study, teach, and explore on the weekends.
Like with the Buenos Aires course, students have the choice to live in a homestay arrangement or in a hotel or hostel nearby.
120-Hour Cambridge CELTA Course
Another in-person course option available through Bridge TEFL is the 120-hour Cambridge CELTA Course. The course lasts four weeks and while it's rigorous, you'll leave with advanced certification and hands-on experience.
CELTA courses are offered by Bridge TEFL at their training center in downtown Denver, Colorado.
4. Specialty Courses
Online specialty courses range from 20-hours to 60-hours. These specialty course add-ons cover information such as:
Teaching young learners
Teaching teenagers
Business English
English grammar
Designing your own courses
Teaching practicum experience
Bridge TEFL also has specialty courses focused on Teaching English Online. Students can take a 60-Hour Foundations in Online Teaching course, a 60-Hour Advanced Online Teaching course, or both!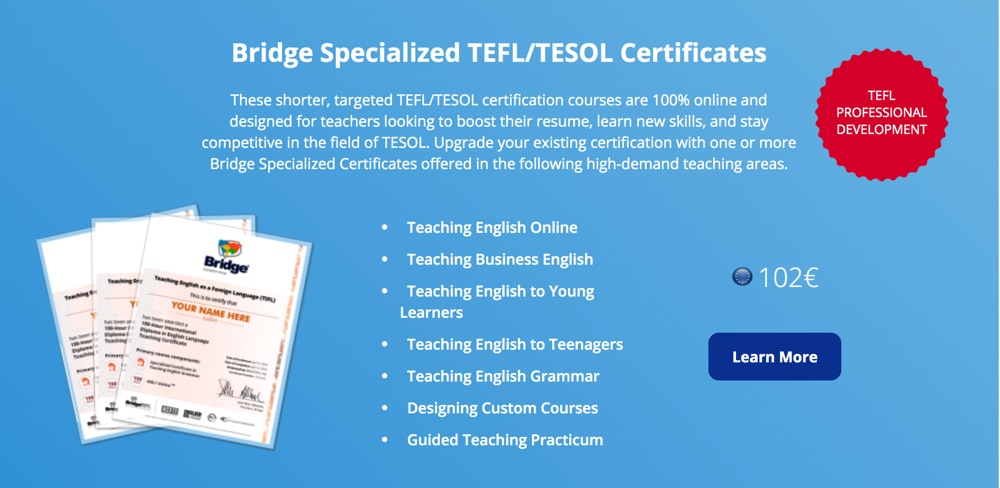 If students take both courses, they will leave with a 120-Hour TEFL Certification that will make them prepared for the online ESL teaching market.
Students can also take a 180-Hour Teaching English Online certification that includes a practical teaching component. Specialty courses start at $110.
click here to learn more about the specialty certificates
Pros and Cons of Bridge TEFL
As with anything, there are both pros and cons to the Bridge TEFL certifications.
Bridge TEFL Highlights
Bridge TEFL offers a well-organized and professional curriculum. Plus, they're highly recognized as one of the top TEFL companies, having been around since 1986.
Students in online classes have access to the Tutor Feed, which allows you to chat with a tutor. This tutor will also give you feedback on your assignments and projects, allowing you to improve as a teacher.
Students in the onsite courses have the guidance of an experienced teacher as well.
The online platform is sleek, easy to navigate, and is available on any device. Click here to see a preview.
If you choose to take one of the Bridge TEFL IDELT courses (either online or in-person), you might be able to earn graduate university credit for your studies — which is a huge bonus.
Because the IDELT courses are accredited by the ACCET, they can be considered for 6 hours of elective or practicum credit at over 1,500 universities.
Finally, students can download a copy of their certification immediately after finishing the course.
This is great if you want to start job hunting straight away. Bridge TEFL also sends students a hard-copy of their certification in the mail with official stamps and seals.
Bridge TEFL Downsides
While this could be seen as a positive or a negative, Bridge TEFL offers a huge variety of courses on its website.
For someone new to the online teaching world, it can be overwhelming to choose between all the different acronyms, course durations, and specialty course ad-on options.
If you decide to take the Bridge TEFL IDELT online course, be aware that it is not self-paced like many other online TEFL courses.
Depending on your learning style, the structure might be a good thing for you. But it means that you will have a set schedule of activities, assignments, and coursework you'll need to keep up with for the duration of your course.
Bridge TEFL Courses also come at a higher price tag than some other TEFL courses, but you'll definitely be receiving an exceptional education.
What Else Does Bridge TEFL Offer?
Apart from great in-person and online TEFL courses, you'll find these programs and assistance as well.
1. Free Learning Resources
The Bridge TEFL website is a rich resource for people who want to teach abroad or online.
They include guides for finding jobs abroad and extensive how-to manuals for teaching online. They also have an active alumni blog where you can read about real teaching experiences.
2. Practicum Add-On
Bridge TEFL offers a Guided TEFL Teaching Practicum as an optional course add on. This 20-hour hands-on practice experience includes online preparation and tutoring, classroom observations, and practice in a real English classroom.
This additional practice could help make your application stand out to future employers and make you feel more confident as you prepare for your first English teaching job.
3. Job Placement Assistance
Courses also include job placement assistance and the ability to communicate with a job search advisor. Students will receive a lifetime of access to the Bridge TEFL Jobs Board as well.
4. TEFL Internship Programs
If you'd like to take your TEFL education to the next level, you can do that with a Bridge TEFL internship.
Most of these bundled Bridge TEFL internships include your TEFL certification, job placement, housing, visa help, travel insurance, a teaching salary or stipend, and much more!
If you choose to participate in an internship, you'll have help from Bridge TEFL every step of the way. You'll either take your TEFL course online before leaving for your placement, or you'll complete it onsite when you arrive.
This internship program is perfect for aspiring teachers who don't have any experience in the classroom.
It can be daunting to get certified and try to find a job in a foreign country all alone, but with the internship, Bridge TEFL takes care of all the heavy lifting so you can focus on teaching.
The following TEFL internships are offered:
Chile: Get TEFL Certified in-person when you arrive and interview for jobs once you're in the country. The program costs $2995 USD (including the TEFL certification course and the job placement assistance) and participants can expect to make $500-$1200 USD per month.
To qualify for the Chile internship, teachers must be a native or near-native English speaker. A bachelor's degree in any field is preferred, but not required.
China: Complete your TEFL certification online before arriving and Bridge TEFL will arrange your job before you go. The course and job placement assistance cost $497 USD and teachers can expect to make $1500 – $2000 USD per month.
To teach in China through this internship, you'll need to be an English speaker from a native English speaking country. You must be between the ages of 23 – 55 with a clean background check and a bachelor's degree in any field.
Thailand: Students in the Thailand internship will do their TEFL course online and have their job arranged for them before arrival. This program costs $1800 – $1900 USD and it includes the course, job assistance, and accommodation while living in Thailand. Teachers can expect to make around $800 USD per month.
Interns must be native or near-native English speakers from English speaking countries. You'll also need to have a bachelor's degree in any field.
Vietnam: Like the Thailand internship, students interested in teaching in Vietnam will do their TEFL course online and receive a job placement before arriving. The Vietnam program also costs $1800 – $1900 and that includes the online TEFL course, job placement assistance, and accommodation. Teachers make approximately $700 USD per month.
To qualify for the Vietnam internship, teachers must be between the ages of 20 – 35 with a bachelor's degree in any field. Applicants must also be native English speakers from English-speaking countries.
Who Can Take The Bridge TEFL Course?
Bridge TEFL courses are open to students who are proficient in the English language and willing to work hard for a high-quality certification.
Students must be 18 or older to enroll in the CELTA course and 20 or older to enroll in the Bridge IDELT classroom course.
If you're not a native English speaker, you must meet the following guidelines to enroll in Bridge TEFL courses:
IDELT, CELTA, or any onsite courses: C2 (Mastery)
IDELT Online course: C1 (Advanced)
Other Bridge TEFL online courses: B1 (Intermediate)
How To Sign Up
You can sign up for your TEFL course by visiting the website here.
Click on "TEFL Certificates" in the top menu to see a list of all the courses available, and Click the link for the course you're interested in taking.
On each course page, you'll see a button where you can "Learn More", which will provide you with more details on the course you're interested in.
Once you've found the right course to fit your needs and goals, you'll be on your way to new adventures and opportunities around the world as an English teacher.
Like This Article? Pin it!