These days, more than ever, people want to save money wherever possible. Travel can be an expensive hobby, but luckily, there are many pieces of gear that you can purchase which will not only save your budget, but can actually improve your travel experience.
There are all sorts of packing lists out there, we have 9 on our site alone! But, this is a list of our favourite, must-have pieces of kit for travellers on a shoestring.
1. Handpresso Machine
This is by far our favourite piece of gear in our backpacks! For those of you who stay in hostels, you can relate to the fact that the free "coffee" on offer in the morning is pretty dismal, and if you want to purchase an espresso, cappuccino or an americano coffee at a cafe, it'll cost you around $3-$5 depending on where you go.
For those of you who are coffee lovers and are sick of instant coffee, or overpriced cups of joe, let me introduce you to the Handpresso machine. We just got this amazing piece of equipment 3 months ago, and it has saved us a lot of money, plus, it has allowed us to enjoy proper coffee each morning!
Basically, you buy a bag of espresso coffee from the supermarket, you "pump" the Handpresso to create pressure, you put the little pod of coffee into the machine, flip it over, press the valve to release the pressure, and presto! A perfect shot of espresso is poured into your cup.
Each bag of espresso coffee will cost you around $5 depending on where you are in the world (for us in the Balkans, it was around $3)
In Italy, a single shot of espresso costs around $1.70, while a 250g bag of Lavazza coffee is only $2.30 and makes 30 shots of espresso. That means that each shot is just $0.07!
The Handpresso pays itself off after finishing just a couple of bags of coffee. Not only is it a money-saver, but it's convenient. You can bring it boating, camping, trekking or on trains, and enjoy good coffee anywhere!
Highly recommended. Check it out here.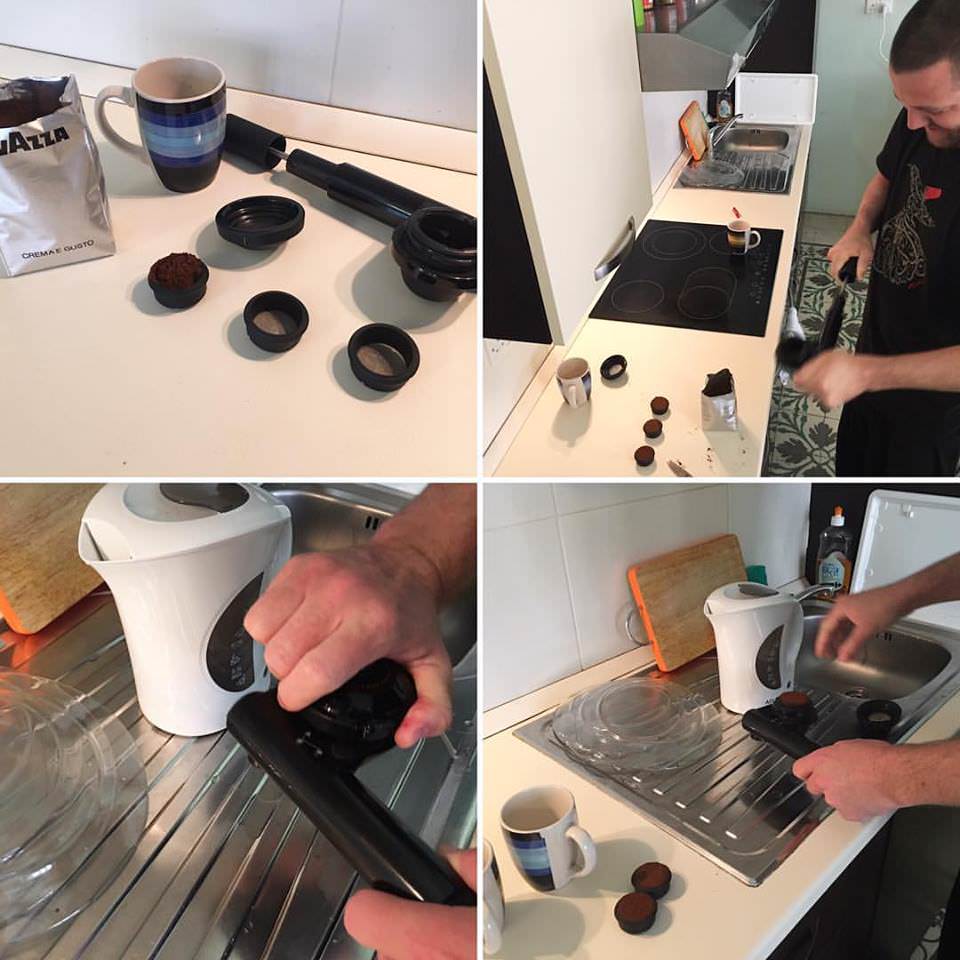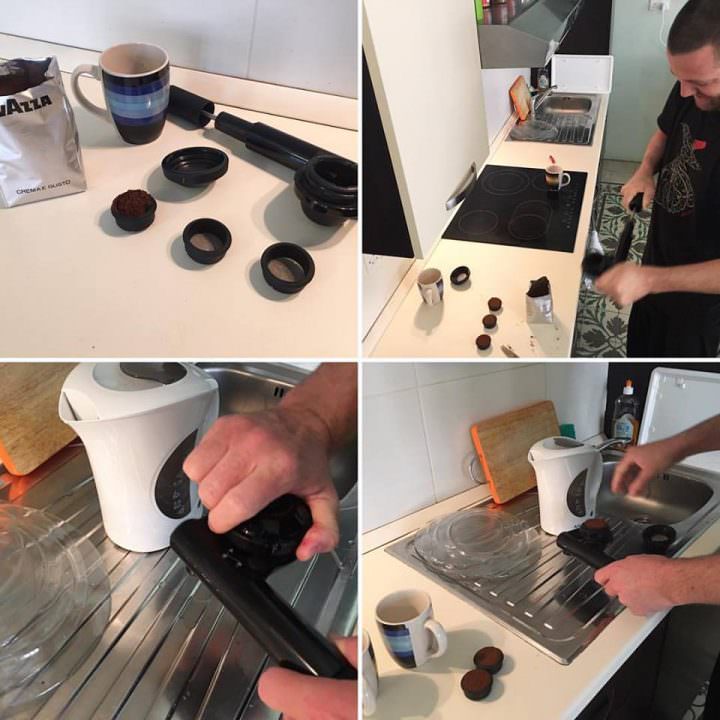 2. The Electric Coil
This is a piece of gear that not many people have heard about, let alone have in their bags. Basically, this electric coil plugs into the wall and within just 1 minute, you have boiling water. Now, of course, you can't just plug it in, you'll have to fill up a cup with water, or a pot or something that is metal, and place the coil inside to boil the water.
This hot water can then be used to make oatmeal, tea, instant noodles and / or potatoes. You can actually boil eggs as well, plus, you'll need hot water to make coffee with the Handpresso. This is an excellent way to save money on breakfast, and makes it so you can enjoy coffee, tea or a snack in your hotel room whenever you want.
3. Luggage Weigh Scale
These days, airlines will do whatever they can to make a buck off of travellers. Back in the day, you used to be able to have two pieces of checked luggage for free, plus a carry-on bag. Today, practically all airlines charge for baggage, which normally cannot exceed 20kgs.
If you must check your bags (and therefore pay the baggage fee), you'll at least want to make sure that you aren't having to pay extra costs for having overweight bags.
With the portable luggage weigh scale, you can weigh your luggage at home before getting to the airport and make any necessary adjustments. Avoid as many fees as you can! Check out this article to see a list of airline baggage fees, and have a look at this article which compares the best digital luggage scales on the market. Don't travel without this handy gadget.
4. Luggage GPS
There are a few brands out there that offer some sort of tracking device for luggage. This is an obvious money saver! If you've lost your luggage, you'll have to replace everything in there (unless you have some solid travel insurance), not to mention, it's just a huge hassle.
The Luggage GPS device is placed inside of your bag. You download an app to your smart phone, and when you arrive at your destination, you'll receive a message telling you where your luggage is!
Hopefully it will say your bags are waiting for you in the airport you've just arrived at…
5. Laundry Clothesline
In most places in the world, handing in your laundry to be washed at your hotel will end up costing you a lot of money. Many hotels that you stay at will charge around $5 or more per piece of clothing.
You could take your clothes to a laundromat, and spend time sitting there watching the clothes being washed, and then transferring them over to the dryer, or, you could hand wash your items in the sink / bathtub and hang them to dry on your travel laundry line!
Simple and easy.
6. Diva Cup
Ladies, this one is for you. Every month you spend money on tampons or pads, and when you're travelling, these can be hard to come by (depending on where in the world you are going). Rather than spending money each month, searching for tampons, and having them take up room in your bag, do yourself a favour and purchase the Diva Cup.
This silicone cup can be worn for 8 hours, and can be reused for a year. Plus, it's affordable, and (most importantly) comfortable!
7. Wine Glasses
For those of you who love to have wine, you'll want these in your bag. Made from silicone as opposed to plastic or glass, these wine "glasses" won't break! They're totally bendable, easy to wash, and according to reviews, the wine doesn't taste like silicone.
In many countries in the world, you can drink alcohol in public places, so you can enjoy your wine while people watching, having a picnic, camping, or on the beach. Just pick up a bottle of wine (or your favourite spirit) from the local supermarket, dig out these cups and enjoy.
Having these cups in your bag will make it easy for you to enjoy wine or cocktails wherever you want, at a fraction of the cost of purchasing drinks in a restaurant.
Click here to check them out.
There you have it! There are many gadgets and items out there that will save you money when travelling, but these are our favourites at the moment. Which items do you carry that help your budget? Share with us in the comments below!
Read more: 
20 Essential Items Everyone Should Pack
7 Tips to Save $15,000 to Travel in Just One Year
How To Travel The World When You Have Absolutely No Money
Like it? Pin it! 🙂