We always talk about long trips here on Goats On The Road, but not everyone has the time off, the money, or the drive to go on long holidays. Some trips may only be a few weeks long, so if your trip is a short vacation then you will have to budget differently. Here are some things to keep in mind when budgeting for a short trip.
How will you save for the trip? If you're not quitting your job and dropping everything to travel for a year, the cost of travel must be cheap right? Well, certainly a few weeks won't cost you as much as a few months but you should remember that your flight will be the same price. Budgeting in a return flight over an entire year doesn't add up to much, but if you're only going for a few weeks, then that $500 or so on flight costs will be a significant portion of your budget.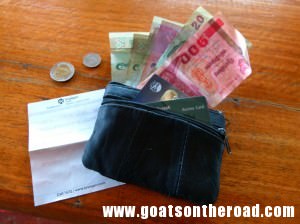 If you're still working, saving shouldn't be a problem as long as you're travelling within your means. If you're trying to travel on the cheap, you can probably skip places like western Europe and instead, turn your sights to Southeast Asia or Central America. When we begin preparing for trips, we put our map up on the wall and add Post-It Notes, with pros and cons on each country we're considering a visit to. One of the first points on these Post-It Notes is cost and value for money. This is a good way to narrow down which places you'd like to see and on what budget.
Check out this article: Our Budget For Every Country We've Visited, for more information on individual country's budgets.
The best way we've found to save money is to have your bank automatically deposit a percentage of your pay cheque into a savings account with interest. If you've been saving all year and it just isn't enough for your planned itinerary, consider looking for a good credit card with low-interest, or apply for a loan. You can discover offers for loans online, or just head to your local bank branch and check out your options.
Planning for a short trip can be just as exciting as a long one! You can go through many of the fun steps, without having to worry too much about the stressful things like selling your house, your car and quitting your job. Even 2 week vacations can give you a good taste of a country or a region, while longer trips (3-4 weeks) can really get you into the door of the local culture. If you live in North America, these quick trips are a little further away, but for Europeans, the world is literally at your doorstep.
Do you prefer long or short trips? Tell us below!
Disclaimer: Some links in this article are affiliate links, which means that if you purchase through them, we receive a small commission. This will never cost you extra and in many cases you receive a special discount. We appreciate your support!