Imagine waking up in a private pool villa in Canggu Bali with the sun beaming in through the glass windows. The agenda for the day consists of surfing in the morning at a Canggu beach and working at one of the funky co-working spaces until it's time for a fresh, healthy lunch.
The afternoon might have you attending a yoga class, followed by watching the sun go down on Canggu beach with a cold coconut in hand. As for the evening? The options are endless.
This is a place where anything imaginable can be delivered to your villa, where you can co-work any hour of the day, and where you can surf some of the best waves in Bali.
This is Canggu Bali, an incredible destination for travellers, digital nomads, surfers, hipsters, vegans, dog lovers, and everyone in between.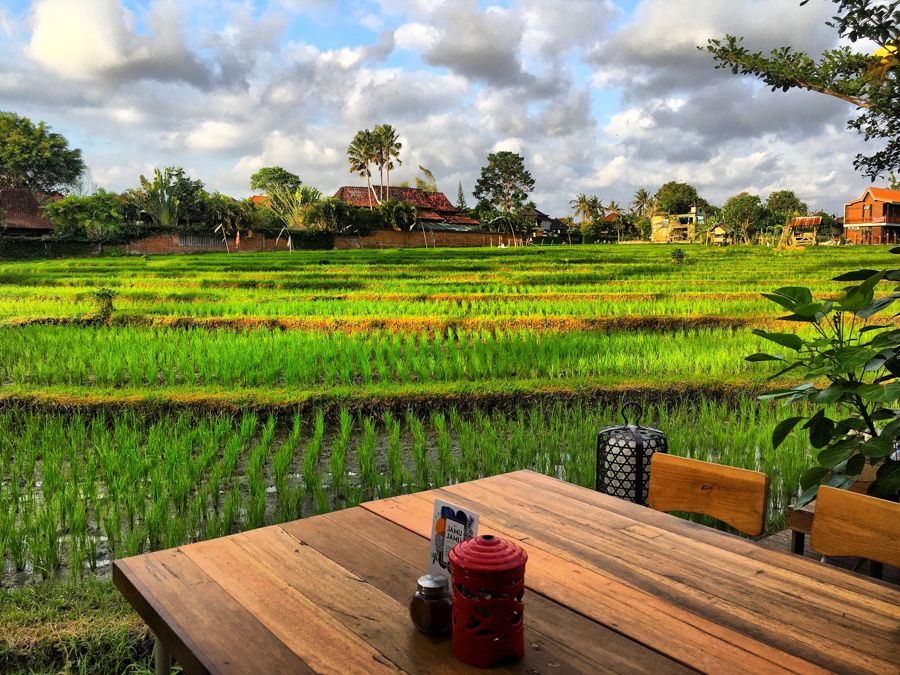 ---
Prior to deciding to make Canggu Bali our temporary home for three months, we were living in Koh Samui, Thailand for 6 weeks. Although that was a great spot, as soon as we arrived here in Canggu, we knew this was the spot to be for digital nomads, entrepreneurs and those with a location-independent lifestyle.
There's a lot to know about this beach town, and in this guide to living as a digital nomad in Canggu Bali I'll share the pros & cons of living here, how to find Canggu accommodation, where to eat, what to do, how to get around, where to work, and much more essential information.
Canggu Bali: a Breakdown of the Area
Canggu town itself is about 20 kilometers north of Seminyak. But, the whole Canggu beach area is just called "Canggu". Basically, it extends from Berawa in the south to Cemagi in the north. Even though it's just one stretch of sand (around 8 kilometers long), the beach is in "sections" starting at Berawa, then Batu Bolong, (Old Man's), Echo Beach and Perenenan.
There's one main road called Jl. Raya Canggu, and you'll want to live south of that road, closer to the sea. You'll want to decide which part of Canggu Bali you want to live in first, and then start looking around for villas.
*Note: Keep in mind that if you search using GoogleMaps, it won't show you the shortcuts (of which there are many in Canggu). So if you're going to use GoogleMaps, it's best to put it on "walking" routes rather than "driving" for directions, and keep in mind that you'll be able to ride your motorbike on almost all of the walking routes, making drive times much shorter.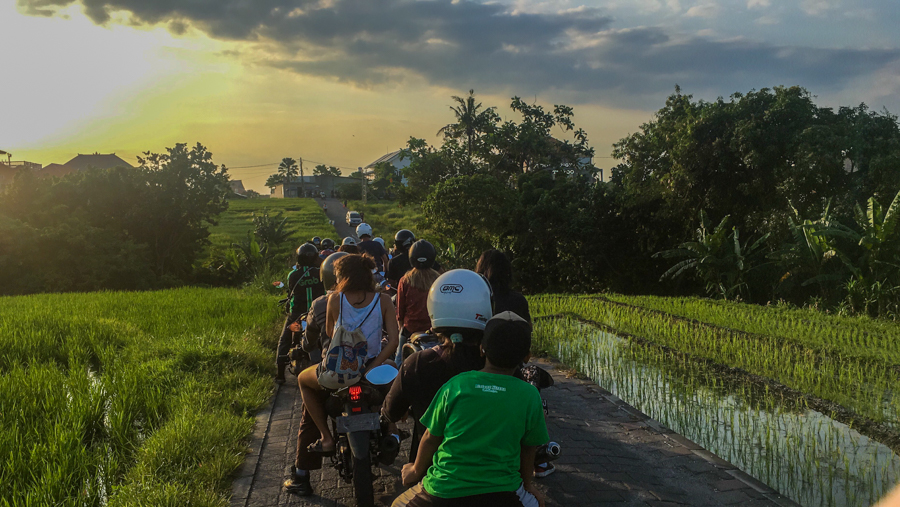 Here are the main areas in Canggu Bali, from south to north:
Kerobokan: Just south of Berawa, yet close to Seminyak – considered the "suburbs" of Canggu. This area technically incorporates the Batu Belig road which runs from Seminyak to Canggu. There's a great beach at Batu Belig and some good restaurants as well. We stayed in Kerobokan, on the border with Berawa and really liked how close it was to Berawa, but also close enough to Batu Belig area and Seminyak.
Umalas: This neighbourhood is further back from the beach and is between Berawa, Kerobokan and Seminyak. There are some nice restaurants here and pretty rice paddies. You're still close to everything if you're in Umalas and the area is nice and quiet.
Berawa: This area is known for its cafe culture and is home to lots of expats. You'll find sophisticated restaurants here as well. The surf breaks in Berawa are pretty big and swimming isn't great – people "dunk" in and cool off on the shore side of the break, but it can be rough surf. The vibe here is chilled out. We love Berawa area.
Batu Bolong: More of a party area, lots of restaurants, numerous bars and boutique shops. The very popular Old Man's bar is here and you'll find good surfing for beginners and advanced, plus some calmer swimming spots. You'll also find Serenity Yoga Studio and Canggu Studio. This is where all of the action is.
Echo Beach: This is the surfer spot. Echo is known for having one of the best surf breaks in Bali, so if you're a good surfer, this is where you'll be. Echo is home to some great seaside BBQ restaurants as well, which is an amazing place to watch sunset. Finally, the popular co-working spot, DoJo, is here in Echo.
Pererenan

: This area of Canggu is a mix of old and new. It's a more posh area with upscale accommodations, yet it's surrounded by rice paddies and there aren't as many tourists here. You'll see numerous farmers and locals going on about their day-to-day lives. While it's great to be in a quieter area, this also means that you're away from the main restaurants, cafes, work spaces and shops. Having said that, you're close to Echo Beach if you stay in Pererenan.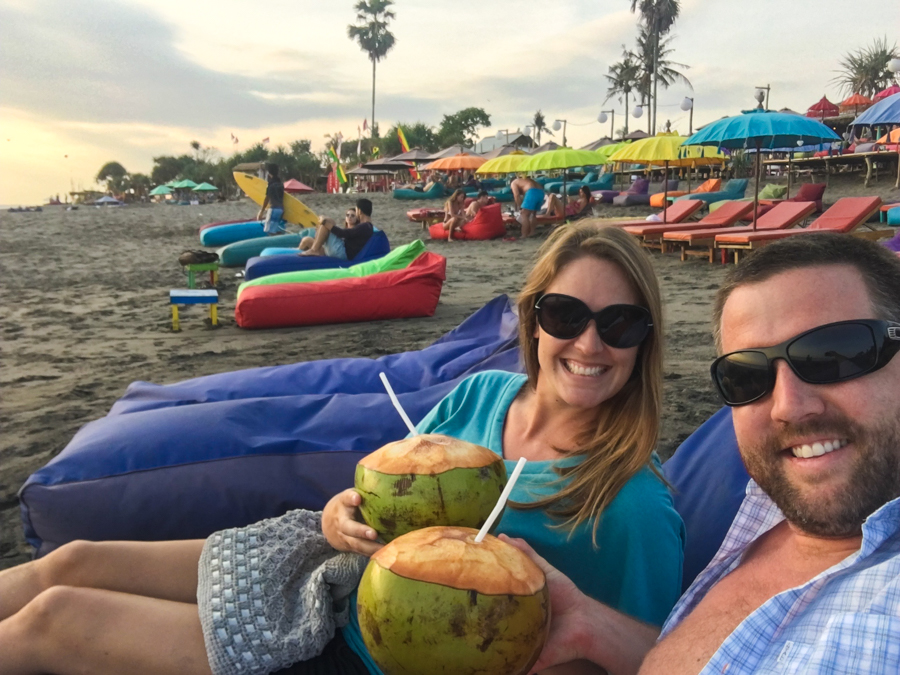 ☞ See Also: 10 Awesome Things to Experience on Gili Islands, Indonesia
Accommodation in Canggu Bali
Where to Find Accommodation in Canggu Bali
In my opinion, you'll want to come here first before committing to a long term rental. Renting a hotel or an Airbnb is fine for a few days, but you'll want to see your villa before committing to it.
It's possible to book a villa online if it's through a reputable website such as Airbnb or Booking.com, but if you plan to rent for a month or more, I'd suggest coming to Canngu so that you can see the places in person.
We personally stayed at Villa Rangga Bodhi in Berawa while we were looking around and loved that little guesthouse!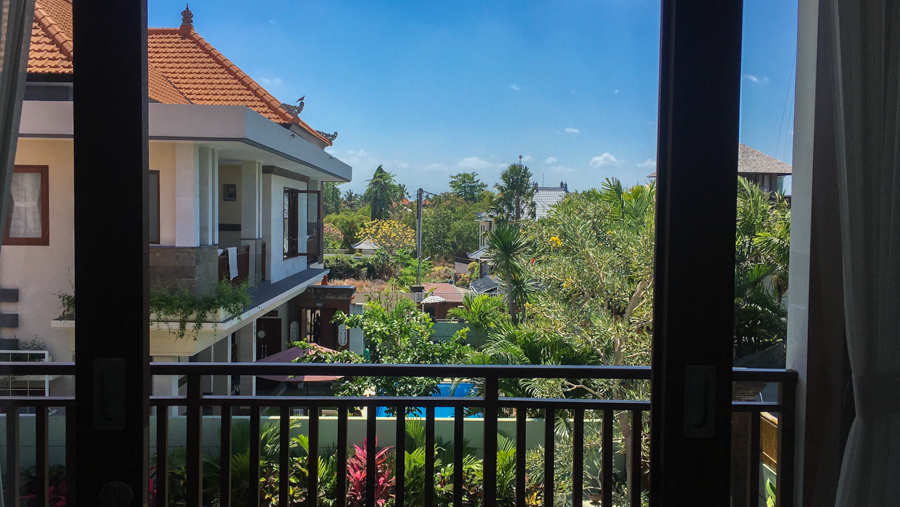 We looked at numerous villas before deciding on ours, and many of the ones that we went and looked at weren't as advertised on the Facebook groups, which is why I recommend physically going to the villa to see it with your own eyes before agreeing on anything.
There are some great Facebook Groups in Canggu for finding accommodation, have a look at these ones:
Also, there are many community Facebook groups so if you have questions about an area you are thinking of living in, or about the realtor / management team you are renting from, you can post your questions. You can also post about what you're looking to rent. Check out these communities:
☞ Click here to sign up for Airbnb and receive $35 off of your first stay!
☞ Click here to compare prices on guesthouses, villas and hotels in Canggu on Booking.com
Types of Accommodation in Canggu Bali
The interesting thing about living in Canggu (and many parts of Bali) is that the accommodation options aren't typical apartments that you would expect in many parts of the world. Here, you will most likely be living in a villa of some sort.
Many of the villas are in typical Balinese style, which is open air with beautiful wood decor. Some other villas aren't completely open, but will have sliding doors, allowing you to either have fresh air flowing through your villa, or you can opt to close it up and turn on the air conditioning!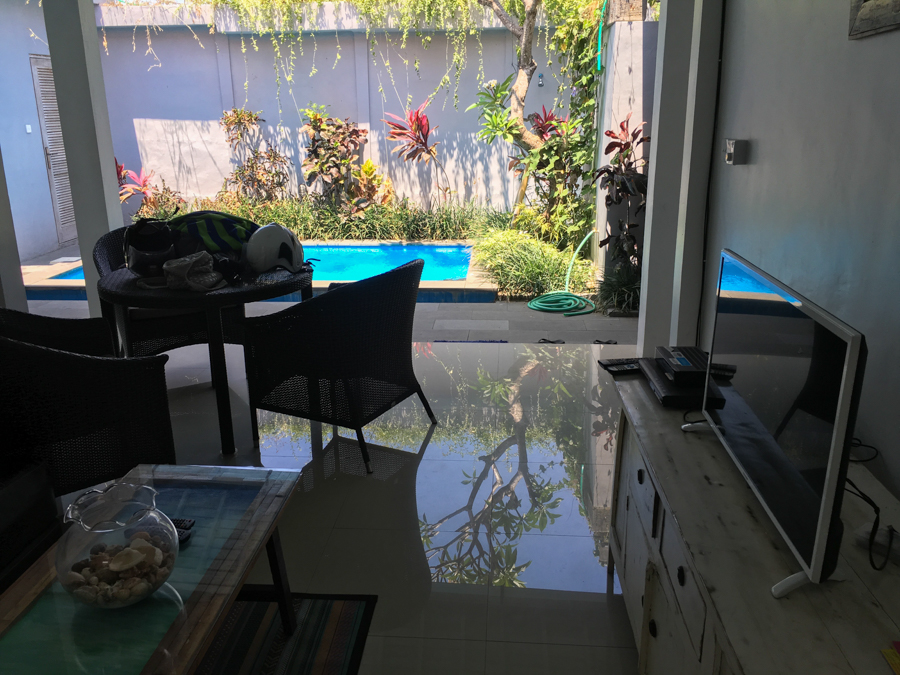 Most of the villas have a private pool in the center, with the living areas surrounding it. Some villas offer a bit of a yard, or a garden.
You can opt to share a villa with other wandering souls, you can stay in a guesthouse, you can have a private home, or a private villa with a pool. It's all possible (and all good) here in Canggu.
One thing you'll probably notice is that it's hard to find a 1 bedroom villa. Most of the villas are designed to accommodate many people and it's not uncommon to see 5 bedroom villas.
How Much Does it Cost to Rent a Villa in Canggu Bali?
For a room in a shared villa, the costs vary depending on the type of villa, but we've generally found them to be around 5-8 million IDR / month ($350 – $600). For a modern, private 2 bedroom pool villa, the average price is between 15 – 20 million IDR / month ($1,110 – $1,480).
Hypothetically, the newer the villa, the more expensive it will be. However, we've seen some pretty run down villas which are renting out for around 17 million / month. How much you spend on your accommodation will depend on which part of Canggu beach you're on, which time of the year you'll be living in Canggu, and how long you plan to stay.
The value for money when it comes to accommodation in Canggu is excellent. 
To give you an example, this is what we spent on our private pool villa:
20 million IDR ($1,480) / month, plus electricity for about 1 million IDR ($75) / month.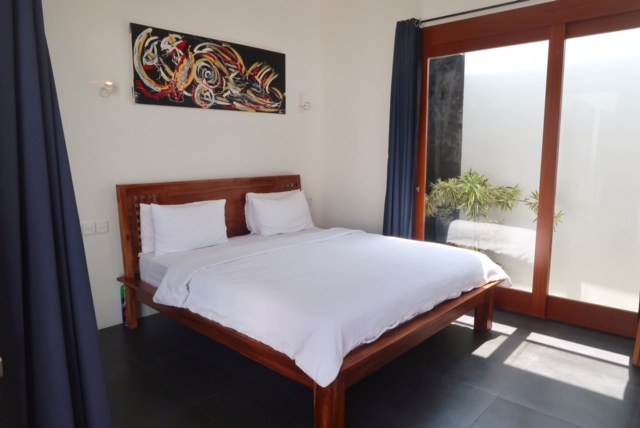 This may sound like a lot of money to spend on a monthly basis, but for that price, we were staying in a very modern two bedroom villa, with 3 bathrooms and it was about 2,000 square feet (185 square meters). We could have rented out the other room if we wanted to, which would have cut our rent costs in half – but, we like our privacy.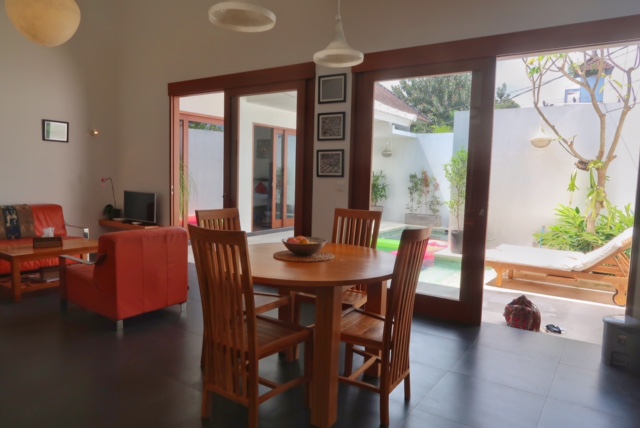 The monthly rent includes a full house cleaning 3 times a week, pool maintenance 3 times a week, upgraded wi-fi (20mb/s) and all utilities except for electricity. There's also a bathtub, a full kitchen with an oven, a cold water dispenser, a TV and sunbeds by the pool. Plus, there's a gated off garage so our motorbike is safe and sound at night.
For about $50 / night, we are able to live in a beautiful private pool villa right near Canggu beach! We think this is an excellent deal.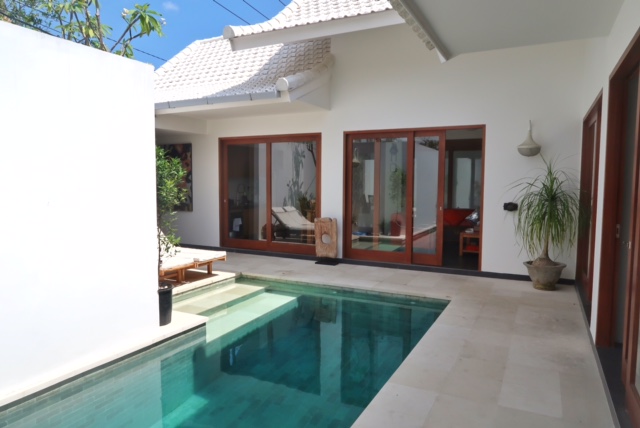 Wi-Fi / SIM Cards in Canggu Bali
Digital Nomads rejoice! Not only are there numerous amenities here in Canggu Bali, but there is also excellent wi-fi and cheap data plans.
It's possible to have 100mbps / second, but in general you can expect to have around 25 mbps / second at your villa. If the wi-fi isn't fast enough, definitely ask to have it upgraded. We worked that into our villa rental agreement.
For SIM cards and data, they are incredibly affordable. At the airport when you land in Denpasar, purchase the XL package of 25GB (+10GB bonus) and 15 minutes of talk time for just 150,000 IDR ($11)! Other packages available are 17GB, 9GB, 5GB and 3GB.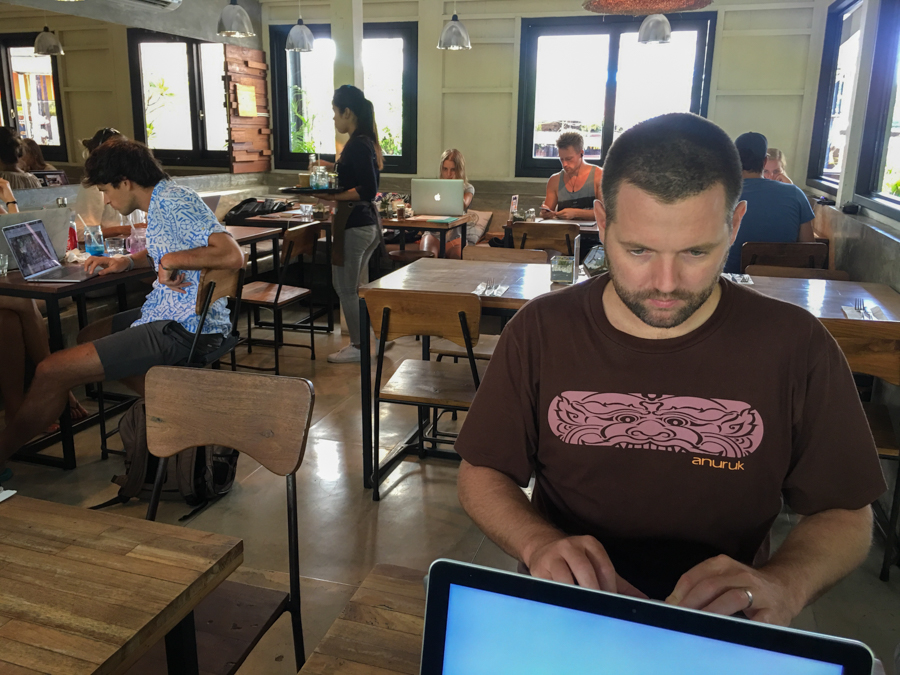 When your data and talk time run out, you can easily top it up at any phone store found around Canggu or, if you're using XL, you can download the app and simply top up using your credit card.
☞ Digital Nomad Guide to Living in Koh Samui, Thailand
Most, if not all, cafes offer free wi-fi, and it's not uncommon to see people spending almost all day there working away, while only having to pay for lunch and a coffee. Co-working spaces are different as you have to pay a membership fee, but you have access to faster wi-fi, meeting rooms, etc. Read more below…
Co-Working Spaces in Canggu Bali
There are loads of cafes and restaurants that you can work as a digital nomad from, but there are 3 main, proper co-working spaces in Canggu Bali:
1. DoJo – Located near Echo Beach, this is the go-to spot for digital nomads. Here you can network with like-minded people, while enjoying fiber-optic wi-fi. There are numerous outdoor seating areas, meeting rooms and an air-conditioned room as well. In between work shifts, take a dip in their pool, or head to Echo Beach for some lunch and a surf break. You'll find free seminars here as well and networking events. DoJo is open 24/7 and has many different membership plans available. Click here to see a full list.
2. C'ugh House – Located in Berawa, this is another great co-working option. The place has 3 levels, with the bottom offering a restaurant / cafe which is open to anyone (and you get 2 free hours of wi-fi here), while the middle and top levels are for those who pay for a membership. If you pay, you'll get faster wi-fi, access to the air-conditioned room and adjustable / comfortable chairs! As a bonus, the views here are amazing. Click here to see the membership prices.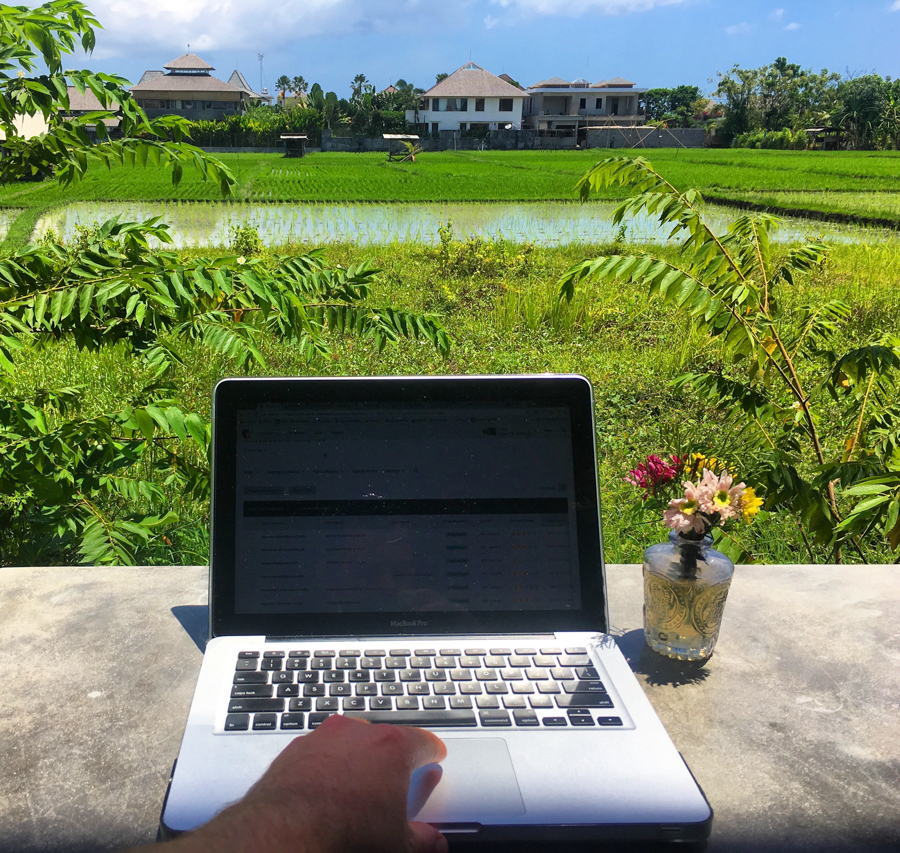 3. Rou Coffee & Co-Working – Located in Umalas, this Japanese owned coffee shop has no membership fees, but offers fast wi-fi (30mbps) and great food. It's not technically a co-working space if you expect meeting rooms and membership plans like the two options above, but they call it that!
Must-Have Apps
Canggu Bali is crazy.
There's nowhere else that I know of where you can order so many things to your villa. You literally don't need to leave your accommodation if you don't want to (but, that would be pretty boring).
With the GoJek app, you can order a masseuse, a motorbike ride, restaurant food, cleaning service, make-up and hair, medication, top up data for your phone and so much more. All of it delivered to your villa, for a very small fee of around $0.50.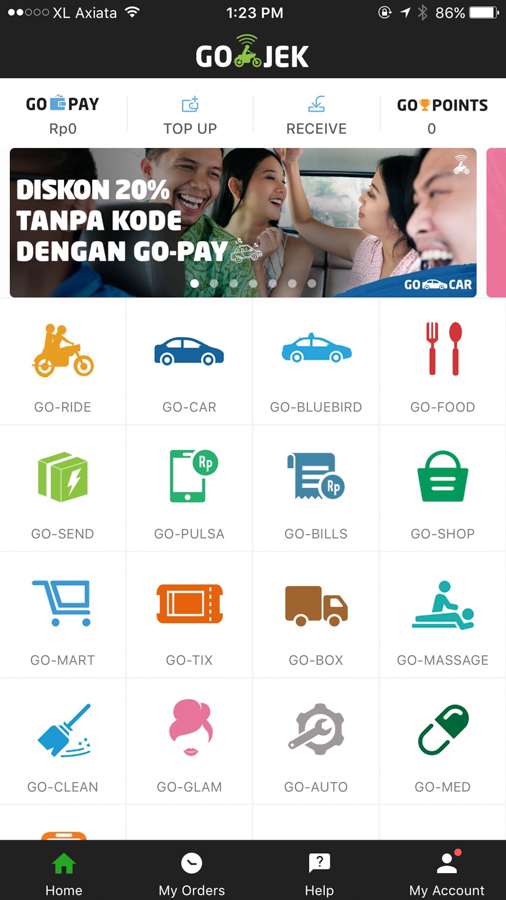 Another option is under "GoShop", where you can literally put in your request to have someone pick up anything you need, from any shop. Ran out of wine? Need some butter for your meal? Broke your computer charge cord and need a new one? Send a GoShop guy to pick it up for you! The best part is that the delivery is rarely more than $1.25
Grab and Uber work here as well, and are a good bet for ordering a car, rather than a bike (although, you can get Grab bikes as well). Just do a search between GoJek, Grab and Uber and see which one is available, and cheapest.
☞ See Also: Digital Nomad Guide to Living in Malta
Finally, and this has to be the most mind-boggling of all, you can order IV therapy to your villa! There's not an app for this, but if you're feeling hung over, need an energy boost, or if you need to be hydrated due to food poisoning or dengue fever, you can order an IV from The Dose.
Also, if you visit the doctor and are told you need to get your blood tested, Prodia will arrive at your villa with needles and a medical kit and do it all while you sit at your kitchen table.
What world do we live in?!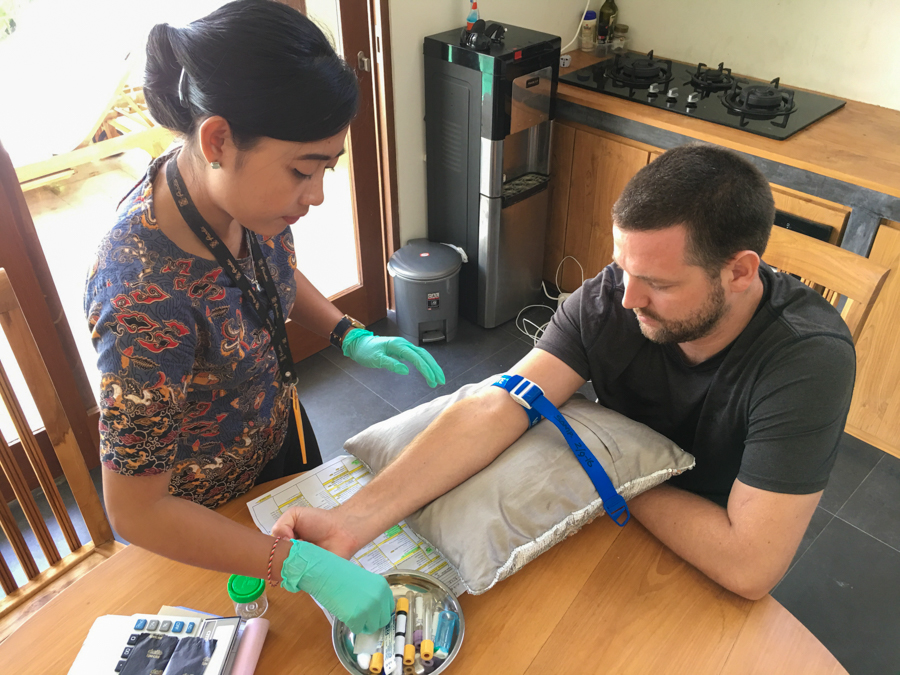 Best Canggu Restaurants
As you can probably imagine there are endless options when it comes to Canggu restaurants. This town has everything from Indonesian to Georgian and everything in between, and the quality is excellent. The type of food that Canggu Bali excels at, however, are wholesome and healthy dishes.
Don't feel like going out? In Bali, you can download the GoJek app and choose from a wide variety of items to be delivered to your villa. There are so many restaurants on the app and all you do is choose your dish, your drink, enter your address and within a few minutes, a smiling GoJek driver will be at your door with your order. The fee for this is usually around $0.50 – $1.
Here's a quick list of our favourite Canggu Bali restaurants (trust me, we've eaten our way around this place…)
Restaurants in Canggu Bali:
Milu by Nook (Berawa): The most gorgeous setting for lunch or dinner, overlooking a rice paddy. The food here has never disappointed, plus they have vegetarian options. Try the teriyaki tofu bowl, the Indonesian style chicken or the grilled fish.
Strawberry Fields (Kerobokan): If you're looking for a proper burger with fries, this is the spot! Try the Lord Of The Rings burger and watch out for their discounts on Tuesdays.
Watercress Cafe (Kerobokan): A little more upscale, but with meals still below $10. They have steak, fresh seafood, lamb and more. This beautiful spot has all you can drink margaritas from 6:00pm – 7:00pm on Fridays!
The Piring Daun (Berawa): If you're looking for Indian food, this is the spot to come. The dishes are incredibly affordable (20K, $1.50, for a veggie curry with rice), and the place is always busy. They also do Indonesian food here.
Nude (Berawa): This cafe / restaurant is amazing. They have outdoor seating, or you can opt for the air-conditioned room. Food here is affordable and tasty. Breakfast is served until 1:00. Try the omelette, mahi-mahi burger, grilled chicken wrap (or salad) and everything else. As a bonus, you can work here and won't get rushed out by the staff.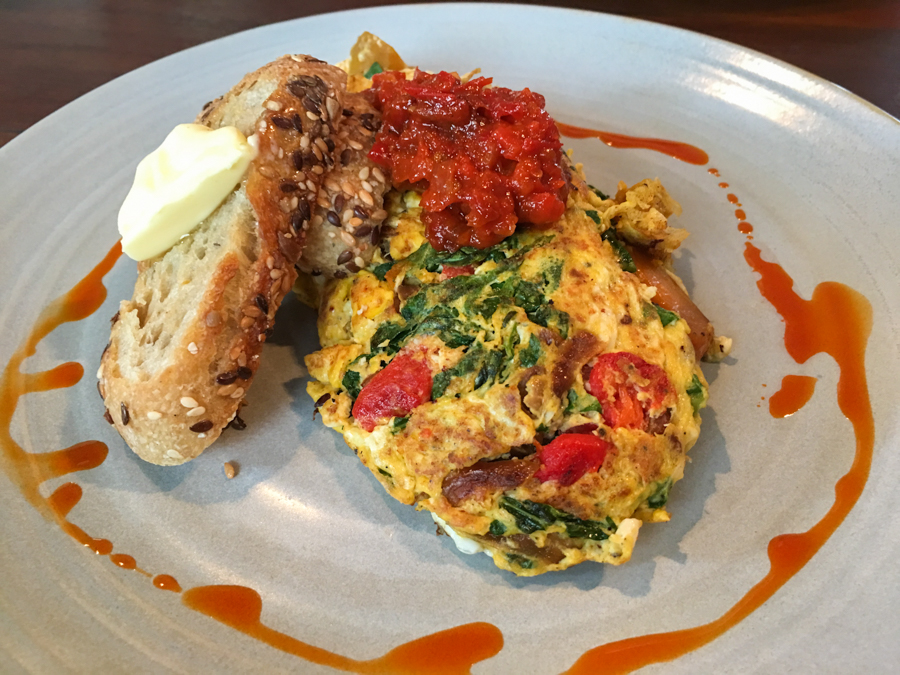 Echo Beach Club BBQ (Echo Beach): If you're looking for a Canggu beach restaurant, this is it. Echo Beach Club is the best spot to come for BBQ and sunsets! You pick your meat (seafood, beef, chicken, etc.) from a cooler, then head over to the salad bar for all-you-can-eat sides (salad, couscous, pasta, veggies, fries, rice) and wait for your grilled meat to arrive at your table. Try the grilled fish kebab (85K – $6.30), it's amazing.
Moana Fish Eatery (Batu Bolong): Fish! This restaurant is decked out in Polynesian decor, complete with staff wearing funky Hawaiian styled shirts. If you're looking for a fantastic poke bowl, come here. If you want grilled fish, fish soup, raw fish or cooked fish, come here! Try the Maui Poke Bowl (65K – $4.80) and any of the grilled mahi-mahi options.
Varuna Warung (Batu Bolong): An excellent spot to try traditional Indonesian food…on a budget. It's buffet style, with a full plate of food running you around $1 – $2.
This list could have gone on and on. There are so many excellent restaurants in Canggu Bali, it's hard to believe that they're all in business and always busy.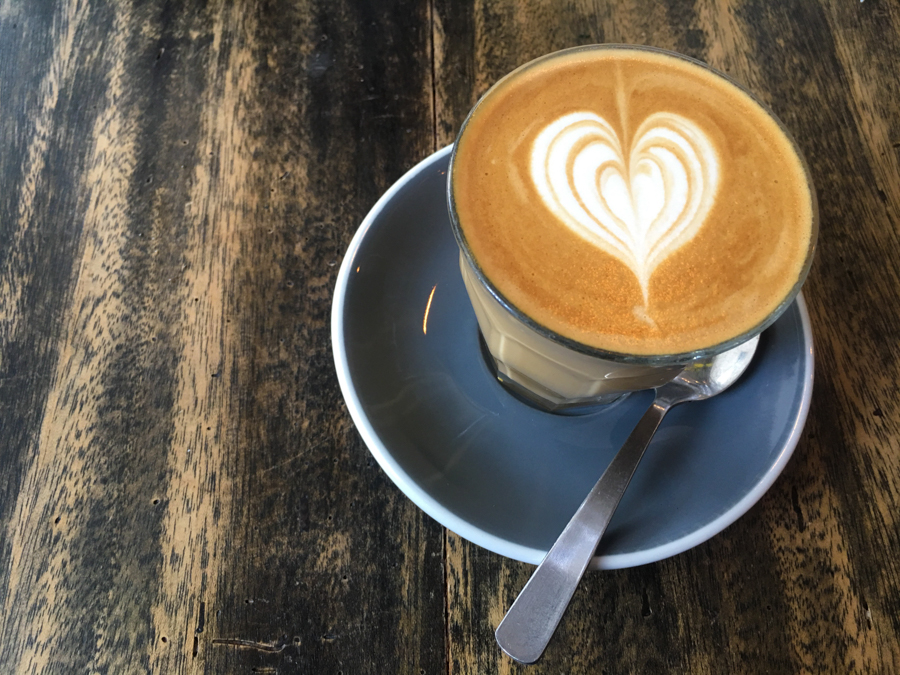 Where to Buy Groceries in Canggu
Don't expect to find the conglomerates of Tesco or Carrefour here. In Canggu, you'll find smaller shops, which offer excellent imported goods (cheese, meat, etc.) from Australia. You can, however, find a Carrefour in Kuta if you want to venture that way. We decided to check it out and were very disappointed with the food on offer. It catered more to the Chinese tourists and the food in the small markets in Canggu is better.
If you're looking for western foods, or health foods, your best bet is here in Canggu.
Check out Pepito (Kerobokan) for a large deli section, a good selection of produce, a decent amount of dairy, and numerous snacks and packaged foods. If you're in Berawa, Canggu Station offers a pretty good deli / dairy section, as well as some fresh breads and produce too (bonus, inside you'll find a wine shop with Plaga wine for 195K – $14.50).
Popular is closer to Batu Belig area but it offers a decent deli as well, a frozen food section, bakery and packaged foods. I find their produce to be a bit pricey though.
For health / wholefoods shops, check out Alive Wholefoods Store (Echo area) and Canggu Shop (Batu Bolong).
Don't miss the grilled corn on the beach! It's only 10,000 Rp ($0.60) and it's delicious. Ask for chili and garlic butter and you won't be disappointed.
Things To Do in Canggu Bali
If you're going to be living somewhere you'll probably want to be involved in some activities and know what's going on in the town. You'll never be bored in Canggu, there are lots of things to see and do, every day of the week. Here are a few suggestions:
Surfing in Canggu Bali
One of the top things to do at Canggu beach is to go surfing. If you have your own board, you can head out to Echo Beach, Berawa, Pererenan or Batu Balong depending on your abilities.
If you're a newbie and want to learn how to surf, there are lots of rental shops lined up on every beach, particularly behind Batu Bolong beach, just in front of Old Man's Restaurant. The surf spot here is crowded, however, with lots of people trying to learn. Another spot is Old Man's, which actually isn't in front of Old Man's Restaurant, but the next bit of beach to the north.
A board costs 50K ($3.70) to rent for 2 hours.
Click here for more on surfing in Canggu Bali.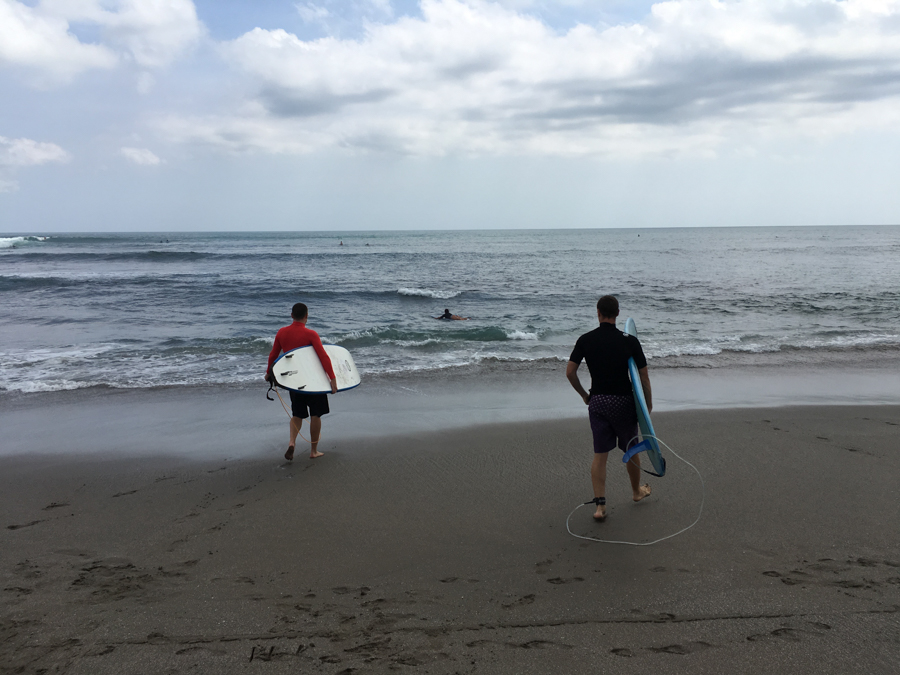 Yoga / Fitness in Canggu Bali
Being the wellness town that it is, it's no surprise that there are numerous yoga studios and fitness establishments in Canggu. Here are a few spots to check out:
Serenity Eco Guesthouse & Yoga – you can stay here if you're on holiday, but for those who have their own accommodation, you can still partake in the yoga here. Yoga classes are held daily, and area almost EVERY HOUR. Yoga mats are available and there are classes for all levels. Click here to see the schedule and prices. Click here to check out the latest prices on accommodation at Serenity Eco Guesthouse on Booking.com.
The Canggu Studio – this fitness studio offers numerous classes. Everything from yoga and booty fit, to Brazilian Jiu Jitsu and kickboxing, you'll find it at Canggu Studio. Click here to see their updated schedule and class prices.
S2S Crossfit – the go-to spot for getting ripped in Canggu. They offer accommodation / food / Crossfit packages, as well as regular strengthening classes. Click here to see the full board packages, and click here for the class schedule.
Hit Up a Beach Bar
Canggu beach has some really cool beach bars. Head down during the day to get some sun, or make your way to the beach for sunset. There are a lot of cool bars on Berawa beach, north of Finn's Beach Club, which offer beach bag seating, cold beers and tasty coconuts. Also check out the bean bag seating at Echo Beach and Batu Belig *Make sure to get a grilled corn from one of the beach vendors!
Some of our favourites are The Naked Coconut (massive glasses of decent wine for 50K!), Coco Loco (cold coconuts and beer) and 707 (smaller glasses of wine, but fun vibe)…but really, all of the beach bars are great spots to watch the sun go down with a drink in hand.
Watch the Skate Boarders
Check out the bowl in front of Konkrete bar in Berawa. This swimming pool shaped bowl has been turned into a spot for skaters. On the weekends you'll see Balinese and foreigners skating here, with live music sometimes at the cool Konkrete bar. Grab a drink from the bar, or just bring your own beer and enjoy the skating!
Rent a Motorbike & Explore
If you're living in Canggu, chances are you have your own mode of transportation. Spend the day exploring with your bike. Head up the coast, go inland, take back roads, check out rice paddies…you never know what you'll find. Bike rental costs around $4 / day or around $55 / month.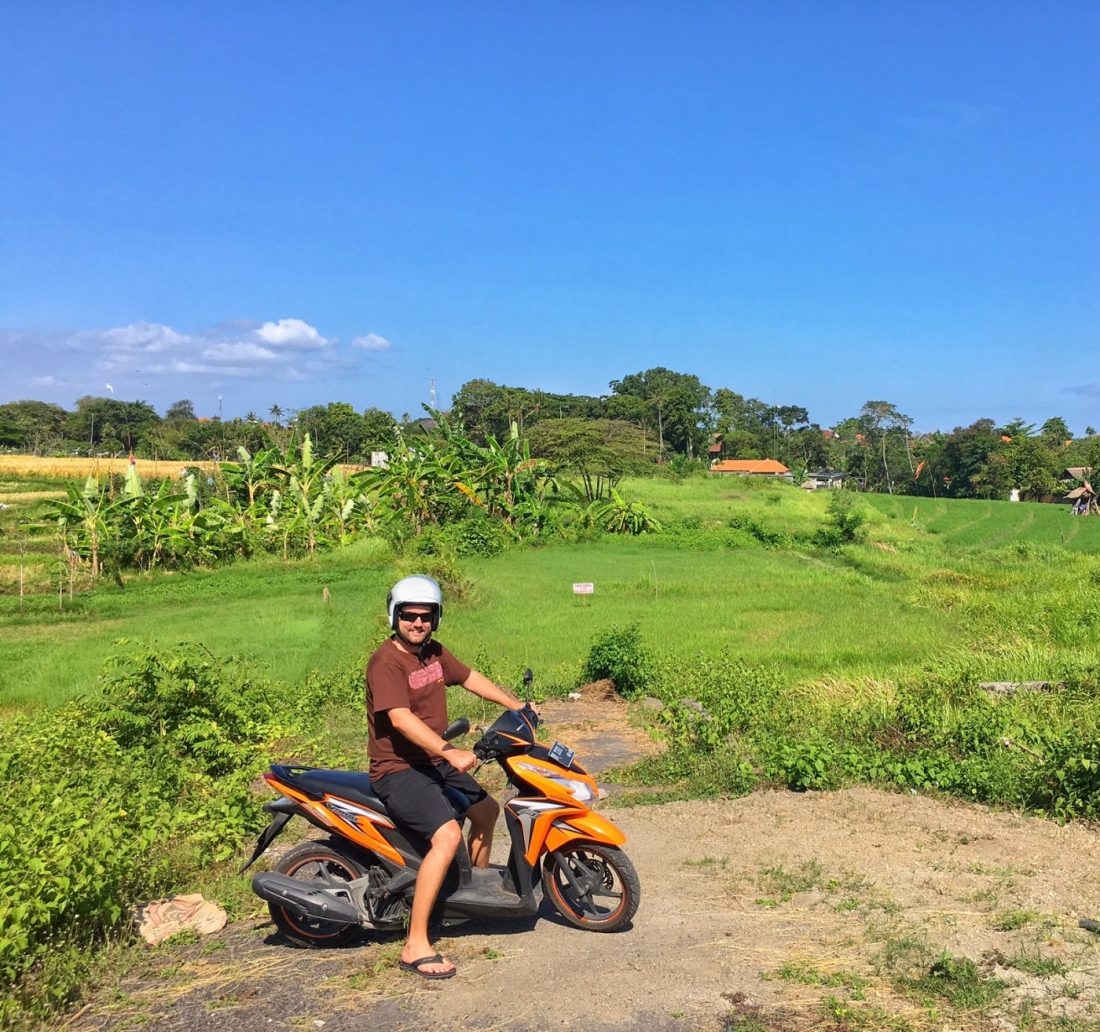 Hit Up a Market
There are a couple of good weekend markets in Canggu: Samadi Sunday Farmer's Market, which offers local produce, fish and more. Love Anchor Bazaar in Batu Bolong offers jewellery, clothing and accessories. Old Man's Market is open on the last Saturday of every month. Here you'll find vintage and creative products such as clothing, surf wear, jewellery, handicrafts and much more.
Volunteer Your Time (or Donate)
As with everywhere in the world, Canggu Bali isn't perfect.
During the rainy season (October – April) the trash that has been accumulating on the riverbeds and gullies, from inland Bali and beyond, is brought down the rivers and in to the sea. During the tides, that same garbage arrives on Canggu Beach. There are major issues with garbage disposal and waste management in Bali, and it's prominent during the rainy season.
To help with the dirty beaches, you can volunteer your time and help pick up trash. Check out this great Facebook Page and help to keep the beaches clean.
Garbage not your thing? You can also help out the stray dogs of Canggu by donating money, sponsoring a dog, or fostering one. Click here to learn more about BARC.
Similarly, you can donate, or volunteer your time or services with the Bali Animal Welfare Association (BAWA). Click here to learn more about that amazing program.
Visit a Temple
The primary religion in Bali is Hinduism. You'll see offerings displayed on the streets, in homes, in restaurants and most likely, your cleaning staff will leave an offering to the Gods at your villa. Although westernization and development has crept in to Canggu, there are still numerous temples that you can visit.
Driving around Canggu, you'll see lots of temples, but don't miss Batu Bolong Temple, Tanah Lot and Taman Ayun.
Go On a Day Trip / Weekend Away
One of the great things about living in Canggu is that there are a lot of awesome places nearby. Rent a car, or take your bike and head over to Sanur, Jimbaren or Uluwatu. For a longer trip away, head to Ubud, Kintamani, Amed or Tirtagangga! There are so many places to visit in Bali, so make sure you take the time to check them out.
*If you want to go further, you could head to Lombok or the Gili Islands!
Transportation in Canggu Bali
The primary mode of transport is scooter. Locals and foreigners all drive scooters – some better than others.
Before I get into renting a scooter in Canggu Bali, it's important to note that there are numerous accidents here, some of which are fatal. If you're not familiar with driving a scooter / motorbike, before taking off with your rental, go for a practice run. Drive on quiet streets until you get the hang of it, go slow, don't pass people, don't text and drive, and most importantly, wear a helmet!
Renting a motorbike longterm in Canggu is easy. There are many rental companies, but your best option would be to ask your guesthouse, property manager, or villa owner if they know someone who is looking to rent. Or, you can check in the Canggu Bali Community Facebook Group.
We have a 125cc scooter, which costs us 700K ($51) / month. The larger bikes, or nicer Scoopy bikes cost a bit more, but the going rate for a normal bike is 700-800K / month. Petrol costs 10K ($0.75) / liter. Do everyone a favour and don't rent the loud, custom bikes that annoy everyone.
Another great option for getting around by bike is to call a Grab or GoJek bike. Download the Grab App and the GoJek App and order yourself a "Go Ride". You can get picked up by a bike anywhere in Canggu! Rides are incredible affordable.
There are traditional taxis available and if you download the Bluebird Taxi app, you can order taxis. Or, you can flag them down on the street. Make sure the taxi driver uses the meter.
Finally, another option that is popular with expats and people living in Canggu is to have a private driver. If you're going short distances, this might not make sense, but if you need to go to Kuta and do a big grocery shop, or if you need to go to the airport, you can call your driver. If you meet an Uber or Grab driver that you really like, you can ask for his WhatsApp number and stay in touch.
No one walks in Canggu. And if you have a bicycle, it won't be all that enjoyable as there is a lot of traffic and it's very hot.
Visiting a Doctor in Canggu Bali
When living or travelling abroad, it's always a bit nerve-racking to go to the doctor. Here in Canggu, you have a few good options to consider:
BaliMed Hospital (Denpasar), Siloam (Canggu) and Canggu Medical (Canggu). If you're looking for an english speaking, general practitioner, you can visit Dr. Ristie in Canggu. She comes highly regarded by the expat community, and we visited her as well for a check-up. A consultation with her is 300K. Contact Dr. Ristie by WhatsApp (+62 812-3818-570)
[widget id="shortcodes-ultimate-5″]
Cost of Living in Canggu Bali
Obviously, if you're thinking of living somewhere as a digital nomad you're going to want to know what the costs are. I'll say it again, Canggu offers excellent value for money. Where else can you have a seaside BBQ with fresh fish and all-you-can-eat salads for $6.30? In which other country can you have an ultra-modern, luxury private 2 bedroom pool villa for $50 (or less) per night?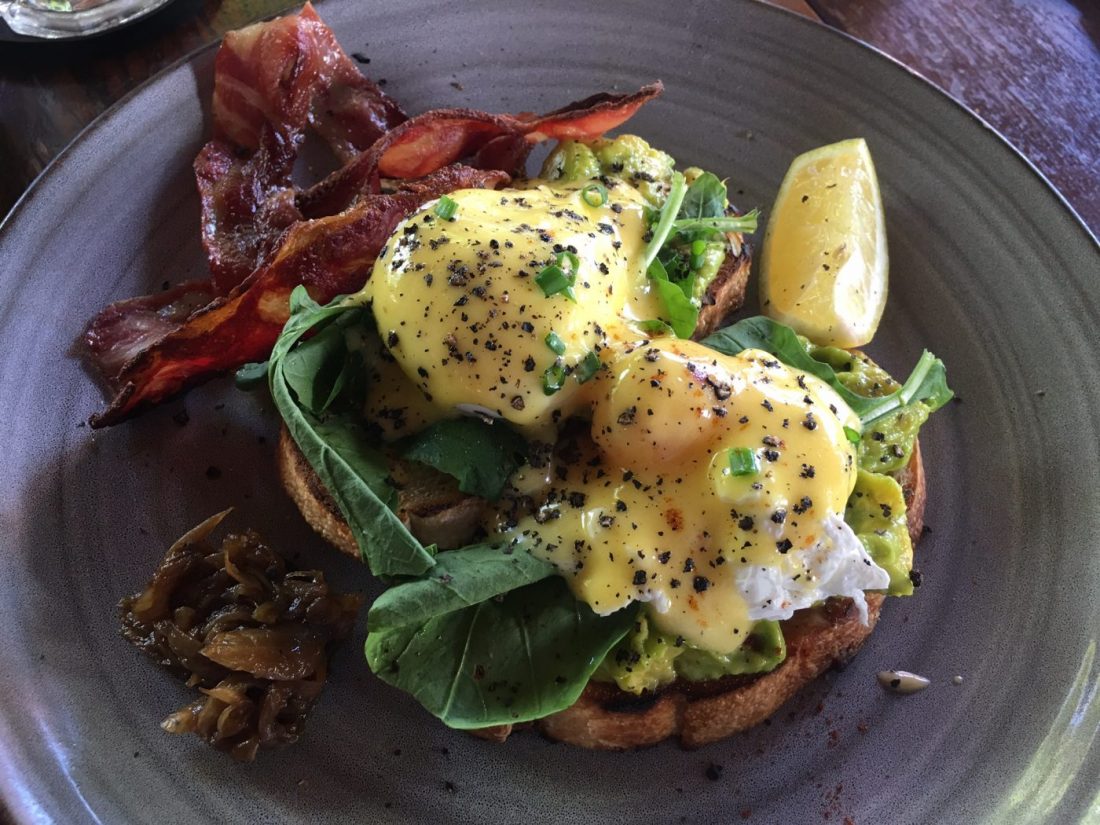 Here's a breakdown of some of the food and drink costs here in Canggu:
| | |
| --- | --- |
| ITEM | COST |
| Whole Grain Bread | 20K ($1.48) |
| Rice Crackers | 23K ($1.70) |
| Anchor Butter | 40K ($2.95) |
| Milk | 20K ($1.48) |
| Bertolli Olive Oil (250ml) | 47K ($3.45) |
| Arlla Cream Cheese | 50K ($3.70) |
| Red Peppers | 35K ($2.60) / kg |
| Tomatoes | 9K ($0.66) / kg |
| Bag of Coffee Grounds (Indonesian) | 75K ($5.50) |
| Ground Beef | 110K ($8.10) / kg (45K/$3.30 for 1 pack) |
| Chicken Breast | 50K / kg ($3.70) |
| Fish Fillet | 150K ($11) / kg for mahi-mahi |
| Bintang Beer | 20K ($1.48) |
| Plaga Red Wine | 192K ($14) |
| Beer at a Restaurant | 20K – 30K ($1.48-$2.20) |
| Cocktails | 60K ($4.40) |
| Local Wine at a Restaurant | 50($3.70)-60K($4.40) / glass |
| Latte | 25K ($1.85) – 35K ($2.60) |
| Breakfast | 30K ($2.20) – 80K ($5.90) |
| Lunch | 50K ($3.70) – 100K ($7.40)+ |
| Dinner | 65K ($4.80) – 100K ($7.40)+ |
| Warung Meal | 20K ($1.48) |
Normally when you cook for yourself, you'll save a lot of money on food costs. But, here in Canggu Bali, the cost of purchasing groceries is about the same as going out. You can get a great warung meal for less than $2, a fresh fish meal with salads for $6 and a vegetarian meal for $4…so cooking for yourself doesn't save you all that much money.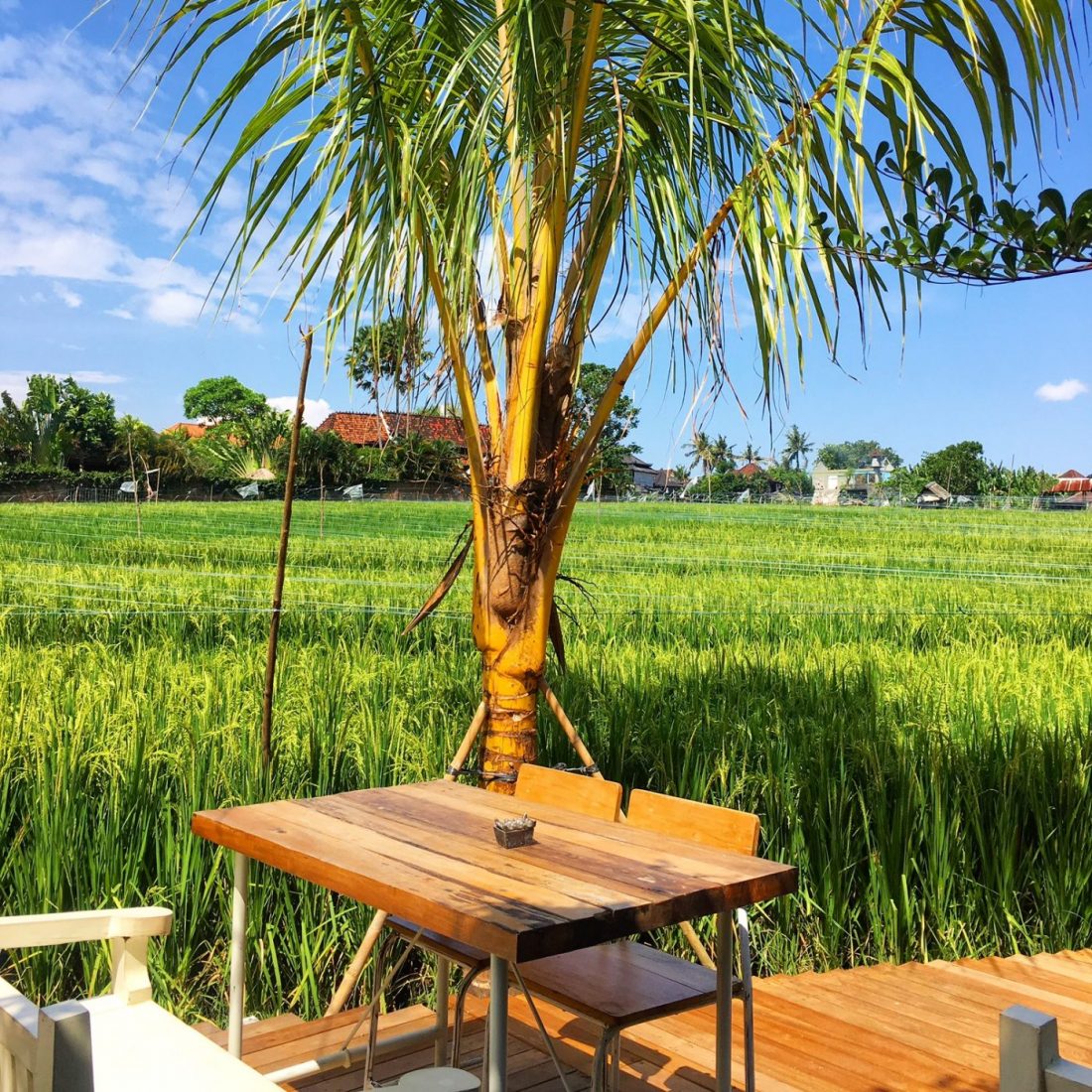 Plus, the food at the restaurants here is top-notch!
Here is a rough example of the cost of living for 1 month in Canggu Bali for a couple (at the high-end):
Villa: 20M ($1,475)
Electricity: 1M ($74)
Motorbike: 700K ($51)
Food: 12M ($885)
Alcohol: 2.5M ($185)
Fitness: 1M ($74)
Total: 37.2M ($2,745 USD)
This is of course on the high side. You could easily cut this in half by cooking for yourself, sharing a villa or choosing a cheaper villa.
The budget for a couple living in Canggu Bali is really varied. If you share a villa with other people, eat at local warungs and don't drink alcohol, then your budget will be significantly lower than the one listed above.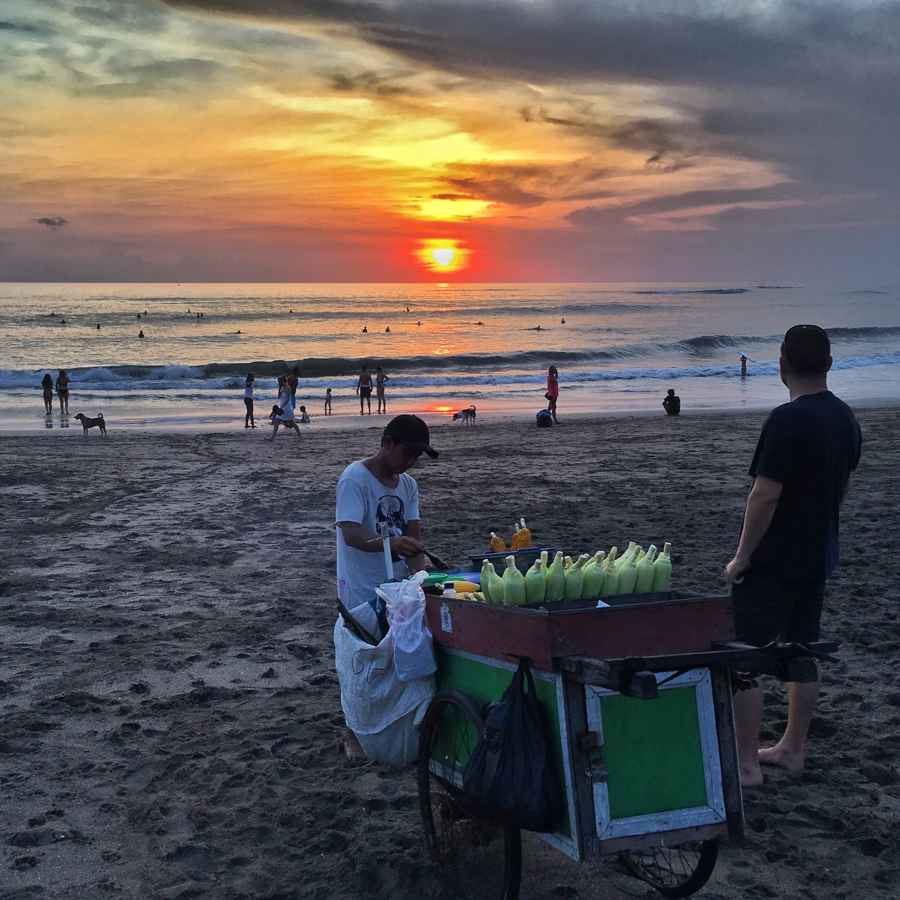 The cost of wine and spirits in Bali are very expensive, so if you stick to beer, you will be able to spend less. Another tip is to look out for happy hours. Watercress has free margaritas between 6:00 and 7:00 on Fridays (and the tequila is good), while Grass Terrace offers discounts on their cocktails – 2 for 1, all day.
Beers on the beach are just 20K, and so are cold coconuts.
If you are going to buy wine, there's only 1 wine you should even consider when it comes to value for money and that's Plaga. Their Cabernet Savingnon is actually not bad and because the grapes are from Australia, but it's made in Bali, this wine is considerably cheaper than lesser quality imports.
Pros & Cons of Digital Nomad Life in Canggu
For me, there are some cons that really stand out, but then again, there are some huge pros to living in Canggu…
Pros
Excellent value for money
Low cost of living
Friendly Balinese people
Amazing villas
Restaurants are outstanding
The wi-fi is very fast and reliable
Good co-working spaces
Digital Nomad / entrepreneurial scene
Cafes are equipped for online working (lots of plug-ins, they are used to people working and won't kick you out)
Great surfing
Healthy lifestyle
Rice paddies are beautiful
Awesome sunsets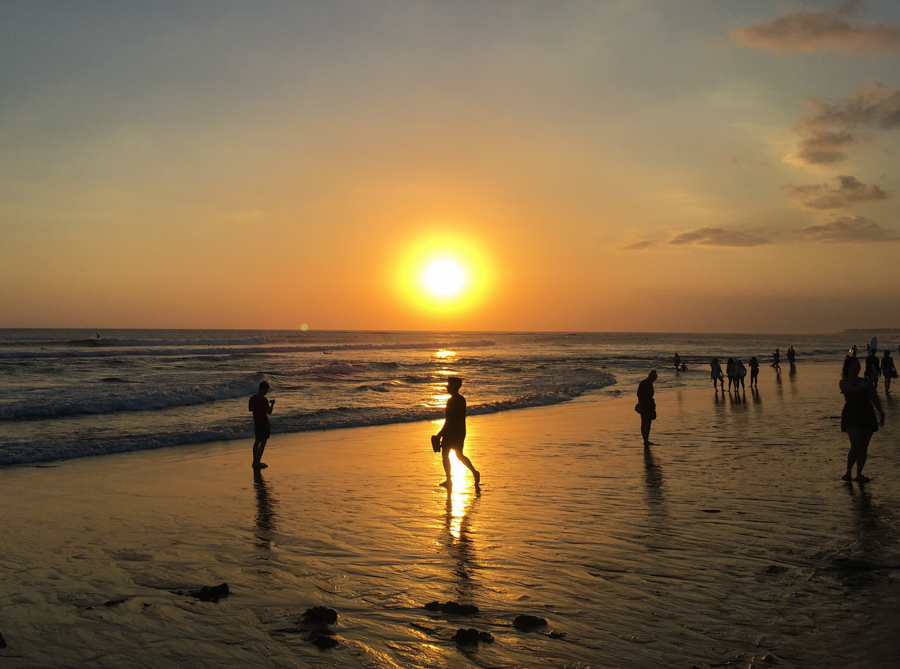 Cons
Garbage on the streets (this is basically all of Indonesia)
Garbage on the beach (we only saw this in October, there was none the months before)
Burning of garbage and / or rice paddies (smoke in the air)
Loud custom bikes (people think they are cool, I find them obnoxious)
Crime & scams (we didn't experience any, but have heard of theft and ATM scams)
Non-swimmable beach (the surf is rough, but you can sometimes swim depending on the tide and typically it's calmer down by Old Man's)
Becoming quite built up
In Conclusion
Canggu Bali has everything you could possibly want or need when living somewhere. Sure, there are some downsides to this Indonesian island, but in my opinion, the pros far outweigh the cons. If you're looking for a digital nomad destination, check out Canggu and enjoy the food, atmosphere, beach and people! In my opinion, this is the best digital nomad spot we've ever lived.
I hope you found this guide useful. If I missed anything, tell me in the comments below and if you liked the guide, please share it 😀
Like This Article? Pin it!