After living in Grenada for nearly four years, I feel like we've seen quite a bit of the country. We've driven around the island, sailed up the western coast, gone on hashes, enjoyed rum tours and so much more.
There are so many things to do in Grenada!
But, I was yet to see our beautiful Caribbean home from below the surface of the sea.
When I decided to go diving here, I picked my dive shop the same way I pick all of my dive shops… on Trip Advisor. Dive Grenada was number one with some great reviews so I felt confident heading out with them.
Dive Grenada is affiliated with the stunning Mount Cinnamon Grenada accommodations. This boutique luxury hotel offers awesome activities for free, beautiful rooms, friendly staff and two fantastic restaurants.
Here's what it's like to go diving with Dive Grenada.
About Dive Grenada Dive Shop
Set right on the nicest stretch of sand in Grenada (Grand Anse Beach), Dive Grenada truly has the perfect location, but the owners, Phil & Helen, may not have always thought so.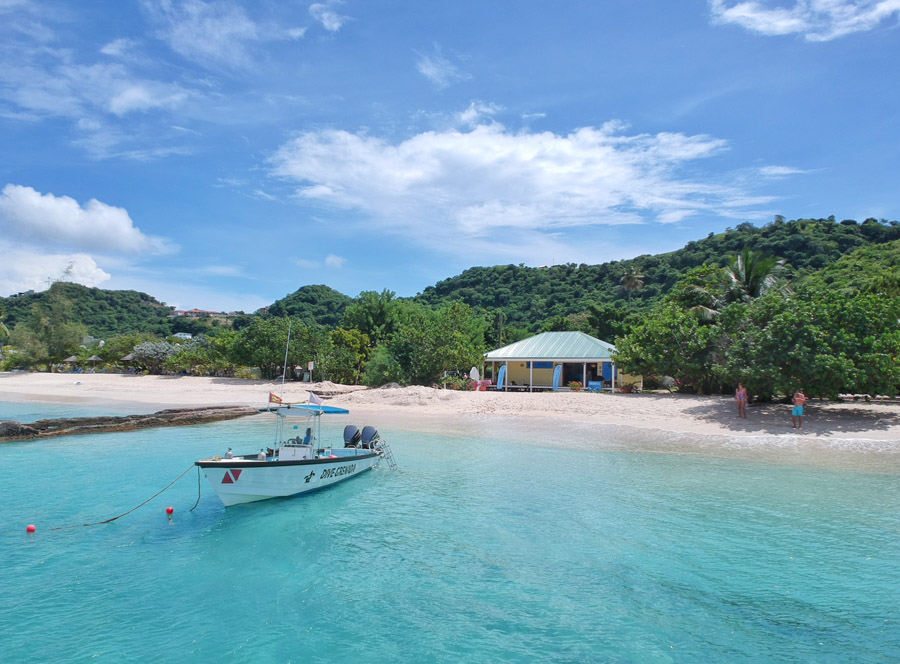 Back in 2004 when they first opened the shop, everything seemed to be going smoothly… for about 5 weeks. Hurricane Ivan soon bombarded this lovely beach-front business and basically swept away everything that they had worked so hard to create.
Shortly thereafter, Phil was trying to rebuild the shop and fell from a ladder and broke his hip, which left him debilitated for many months.
Somehow, through this catastrophe, Phil and his wife were able to pull through and today they run the most recommended dive shop on the island.
"Dive Grenada is the phoenix that rose from the ashes."

-Phil
Today, you'll find Phil, Helen, their two dogs, and the whole Dive Grenada team at the south end of Grand Anse beach. Look for the welcoming yellow dive shop, which is just steps from the water.
The Dive Sites Around Grenada
After 6 dives around Grenada, I was blown away by the abundant sea life and healthy coral. I always love a good reef dive, but the best diving in Grenada is the shipwrecks.
Dive shops here frequently head out to 9 different wreck dives and while I only had the chance to do 3, I hope that I can return and explore some more of these sunken barges.
Happy Valley
This dive site is actually inside Grenada's Marine Protected Area and, like many sites here, it's not a far boat trip from the dive shop. The visibility was great and we were lucky enough to spot multiple spotted and green eels, two turtles and an octopus, among countless other small fish and crustaceans.
Veronica. L
This is one of Grenada's many amazing shipwreck dives and after just a few minutes of exploring her cavernous haul, I could see why it's such a popular site.
It was amazing how much coral had materialized on her outer bow and deck. This old cargo ship even had an air pocket where we were able to poke our heads out of the water, while being 15 meters below the surface.
I was happy to dive this wreck twice and I enjoyed it, even more, the second time!
MV Shakem
Another great wreck dive, there is plenty to explore aboard the MV Shakem. The captain's quarters and kitchen are still intact, as is her massive propeller at around 40 meters in depth. I spotted a couple of moray eels peering out from her many nooks and crannies.
Japanese Garden
Aside from the wrecks, this was probably my favourite dive. Here we had a really relaxing time just floating over a massive garden of hard and soft corals. The most notable thing we spotted was a green eel that looked like a sea snake, but even without any large sea life, the dive was incredible.
Bianca C
The enormous 180-metre-long (600-foot) Cruise Liner sank in 1961 after a massive explosion in the boiler room. Today, it sits upright on its keel in 50 metres (165 feet) of water. Visibility can range from 15 – 25 meters (50 – 82 feet), though during my dives here I was limited to the lower end of this spectrum.
This sunken gem is definitely one of the country's best dive sites and was even listed as one of the "top ten" best wreck sites worldwide by several diving magazines.
The ship is justifiably known as the 'Titanic of the Caribbean' due to its sheer size and underwater presence. The Bianca C has few rivals in the realms of warm water wreck diving.
Bianca C is reserved for advanced divers only, and even though it has deteriorated over the past few decades, the ship is still in great shape. The only problem with this dive is that it's deep, so we had to ascend before I was finished exploring!
Other Dives
Grenada has many other great dive sites and almost all of them are vacant of other divers. This little Caribbean jewel is a dive secret, spoken about in hushed tones between those "in the know". For more about the amazing dives around Grenada, check out the Dive Grenada website.
Eco-Minded Scuba Diving
If you're like me and you prefer to dive with an eco-minded outfitter, then you can't do any better than Dive Grenada. The owners, Phil and Helen, not only ensure that their dive masters are eco-friendly and marine educated, but they also have an amazing project underway.
The program is called Grand Anse Reef Regeneration Project (GARRP) and Phil has created a series of underwater pyramids using cinderblocks to try to regenerate some of the coral lost during the hurricanes.
He has sunk 14 to the bottom of the bay near Grand Anse Beach and they've already started to produce an incredible amount of coral. The many cracks and openings in the porous blocks allow for the coral to grow quickly and they create places for fish and other reef species to hide.
Not only has Phil founded and personally financed GARRP, but he's also taken the time to educate local school children about the importance of marine ecosystems and their direct impact on Grenada's fishing industry and overall quality of life.
The Secret is Getting Out!
Although it's great to have such amazing dive sites all to yourself, diving could be a valuable income stream for the faltering economy of this country. Luckily for Grenada, it won't be long before more people start discovering the underwater bounty that rims these shores.
If you're planning to head to Grenada, you should definitely plan to get under the sea and explore these coral-covered coastlines. If you're not a diver, consider heading out on a snorkel trip. No matter how you get out there, you won't want to miss the amazing sea life around this tiny island.
Check out this quick video of my awesome dives in Grenada!
To book your dives with Dive Grenada, check out www.DiveGrenada.com or contact Phil via email.
A special thank-you to Dive Grenada for hosting me on my 6 scuba dives around the island. As always, I was not asked to write a positive review and all thoughts and opinions remain my own.
Like it? Pin it! 🙂