Mexico & The Caribbean
Beautiful beaches, fascinating (and somewhat disturbing) history and a diversity of culture, tradition and language makes Mexico and The Caribbean an amazing place to travel. Mexico is definitely one of our favourite countries in the world, while we've spent over 2 years living & travelling in the Caribbean. Here we share our best tips and secrets about this stunning region.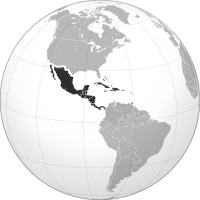 The Riviera Maya in southern Mexico is an area blessed with beautiful beaches, delicious food, friendly people and a deep, rich history. With world-famous natural wonders like Chichen Itza and popular beach ruins like Tulum, it's no surprise that over 4 million tourists visit this sun-drenched coastline each year. But with so many tourists, the major ...
The Caribbean is the ultimate getaway for North Americans and Europeans, especially during the unbearable winter months. With affordable flights, inexpensive all-inclusive packages and world-class beaches, it's no wonder why so many people choose to vacation in this part of the world. Apart from easy access, affordability and beaches, this region of the world offers ...