Chengdu has many restaurants suitable for budget backpackers.  Located in the Sichuan Province, Chengdu boasts some of the most delicious food in all of China.  If you're a budget backpacker, there's so many options for eating, you'll have a hard time deciding where to go.  If you like your food spicy & flavourful, you've come to the right place.
Yulin Chuanchuan Xiang Hotpot Restaurant (2/3 Kehua Jie):  This may not be the most budget friendly place for a backpacker, however, if you're looking for a delicious Sichuan restaurant in Chengdu, look no further.  This is a hotpot style restaurant where you choose individual skewers of meat and vegetables and cook them in a bubbling vat of hot & spicy oil right on your table!  You can also opt for the non-spicy broth.  There are 2 sizes of skewers, the short sticks cost 0.5rmb and the longer sticks cost 1rmb.  On top of this, there is a 25rmb fee per person.  We stuffed our faces for 40rmb each.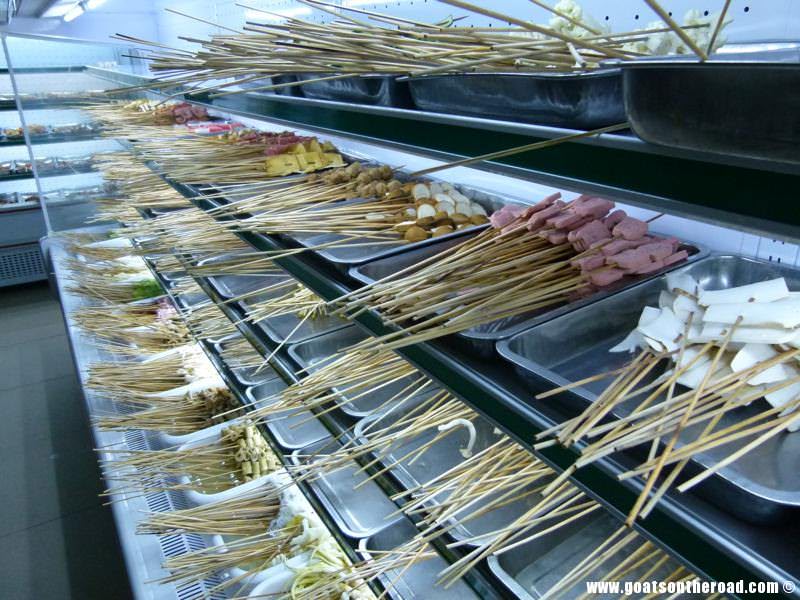 Sim's Cozy Garden Hostel:  This hostel has some of the best budget food for a backpacker.  We stayed here and ate most of our food at the on site restaurant.  The food is fresh, clean, has no MSG added, the portions are big enough for 2 people and best of all – the flavour is outstanding!  The cost of a dish ranged from 18-25rmb.  Definitely affordable.
Teahouses are also very popular in the Sichuan Province.  They are located everywhere.  We stumbled upon one near the restored old town.  Many locals were sitting around chatting, playing games and enjoying tea & peanuts.  Oh, and some were even having their ears cleaned!  Bizarre.  A glass of tea is about 5 rmb and can be refilled as many times as you like.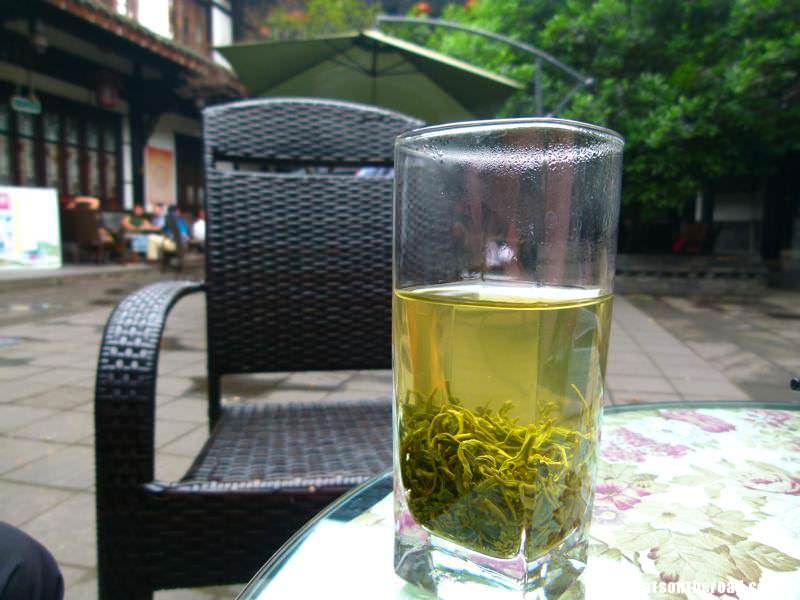 Xinjiang Hong Mudan Musilin Kuaican:  Although we didn't eat at this popular spot near the University, we have heard good things about it.  Muslim dishes here cost between 5 & 55 rmb.
Other than restaurants, there are also many side of the road vendors serving snacks such as noodle dishes, rice, breads and skewers of meat.  You can find these quick eats on many street corners.
☞ See Also: Chengdu Coming & Going and City Tips & Information