Before deciding what to put in your backpack, you will need to decide what type of backpack you want to lug around the world with you.  For us, it's a "luggage entry backpack" or nothing.
NOTE – Have a look at our updated post from 2016: How To Choose The Best Backpack For Travel
We see many travellers with "top-loading backpacks" desperately searching for that one crucial item, pulling out everything in their backpacks to get to the bottom where they stored all their "rarely used items".  A luggage entry backpack allows you to fully unzip your bag giving you access to everything inside at one quick glance.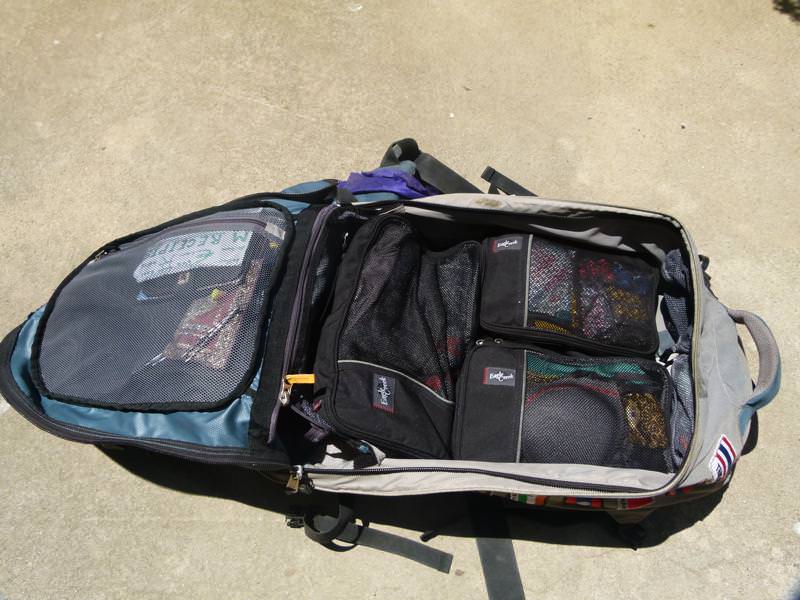 Another bonus is that these backpacks usually have a zip-off day bag (rucksack).  These little bags are indispensable.  You'll definitely want to have a small bag for every day use.
While travelling on buses, trains, planes etc. it's essential to keep all your valuables/breakables on person at all times. The best bet is to keep the day bag separate on travel days and keep your laptops, souvenirs, passports and wallets inside. Wear the big backpack on your back and the important day bag on your chest. Keep your valuables close to your heart, that way your  delicate belongings aren't being carelessly tossed around at the airport, or aggressively crammed into the bus compartments or worse yet, lost or stolen! Good name brands of backpacks include Deuter and Osprey.
If you're Canadian, then you can opt for the much cheaper, and equally durable, house brands at places like Mountain Equipment Coop and Atmosphere. The MEC brands are extremely reliable and come at a fraction of the cost. Dariece carries a 60L MEC Luggage entry backpack and Nick has a 70L Deuter. Both of which have lasted over 2 years of travelling with no problems. Your bag will be your best friend (if you're solo) so choose wisely.
Like it? Pin it! 🙂
Disclaimer: Some links in this article are affiliate links, which means that if you purchase through them, we receive a small commission. This will never cost you extra and in many cases you receive a special discount. We appreciate your support!