Guilin is a stunning city with towering karsts, tree-lined streets and pedestrian walkways.  There's many sights in the city itself and also the surrounding areas.  Many of the sights (Solitary Beauty Peak, Reed Flute Cave and Seven Stars Park) are quite pricey, between 40-90rmb.  Therefore, we stuck to just walking around the city, visiting the Sun & Moon Twin Pagodas from a distance and going to the stunning Dragon's Backbone Rice Terraces.
If you stay at Backstreet Youth Hostel, you will be right in the thick of the pedestrian walk area.  Here you'll find souvenirs being sold, shops, people hand making chili sauce (literally chopping up thousands of red chilis!), women weaving scarves and delicious restaurants.  The best time to visit is during the evening.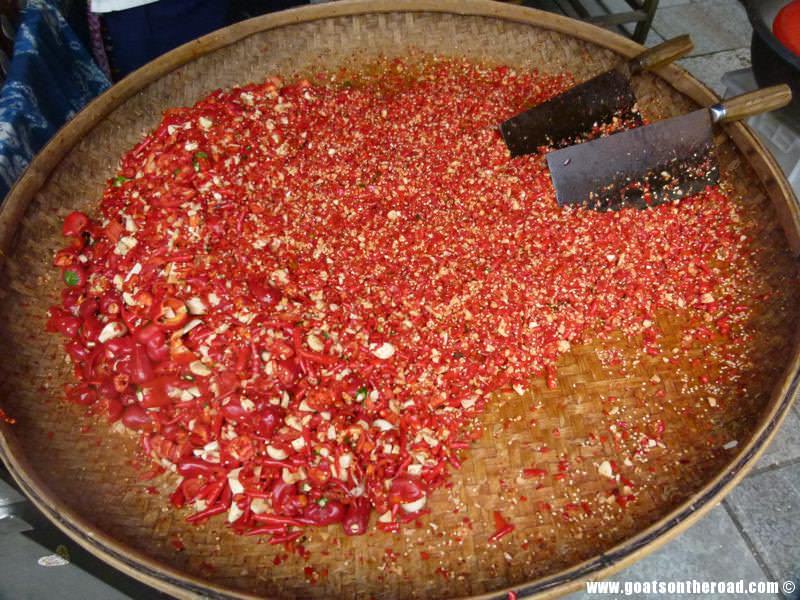 Shan Lake (also near Backstreet Youth Hostel) is home to the  beautiful Sun & Moon Twin Pagodas.  The Moon Pagoda is connected to the 41m high Sun Pagoda by way of an underwater tunnel.  The Sun Pagoda is the world's tallest copper pagoda.  The cost to see the pagodas up close and go through the tunnel is 30rmb.  We looked in aw from the edge of the lake.  Definitely go during the evening when they are both lit up.
For us, the highlight of coming to Guilin was the trip out to the Dragon's Backbone Rice Terraces.  Unfortunately, we ended up having lots of rain when we were there.  We had planned to hike between some of the villages, but instead decided to join a group from our hostel.  There were 10 of us that shared a van, the cost of the whole day from 8:00 to 5:00 was 130rmb/person.  The best part was that we didn't have a guide.  We just roamed around the rice terraces as we pleased, checking out different viewpoints along the way.  If you don't have time to stay in the surrounding villages, or, if it's raining and you don't feel like doing a long trek, this is a great option.