Climbing Mount Kenya is an experience scribbled on many hiker's and adventure seeker's bucket lists. The thought of standing atop Kenya's highest point, entranced by the gleaming snow-white peaks, is a dream plenty hope to fulfill.
I live in a small town at the base of Mount Kenya, where on a clear day, I watch the beautiful mountain with longing. It reminds me of my earlier attempt to reach the summit and always calls me to claim the feat of reaching its splendid heights.
If you're exploring the idea of hiking Mount Kenya, this article is for you. It covers everything you need to know; from climbing routes to the best tour packages. It's also a personal guide based on my own climbing trip to Point Lenana.
Mount Kenya is the second-highest mountain in Africa. The "heaven-like spectacle," as Joseph Thomson called it in his book Through Masailand, has been visited by mountaineers, explorers, and scientists since the late 1800s.
In 1848, Dr. Krapf reported its existence, and since then, many expeditions have been organized to explore the glittering jewel.
Joseph Thompson saw it in 1883. Count Sámuel Teleki attempted a hike in 1887. Dr. J.W. Gregory climbed to over 16,000 ft in 1894, and H.J. Mackinder made history by reaching the summit in September 1899.
It's also worth noting that although there are few written accounts, Mount Kenya (Kirinyaga) was known to local communities even before the arrival of explorers. It was (still is) a sacred abode of their gods and a holy place to make sacrifices.
Where is Mount Kenya?
Mount Kenya is found in what's known as Mount Kenya National Park, which lies slightly south of the equator in the central region.
The park is about 150 km (90 mi) from Nairobi and is shared by six counties, including Nyeri, Kirinyaga, Embu, Meru, Tharaka Nithi, and Laikipia.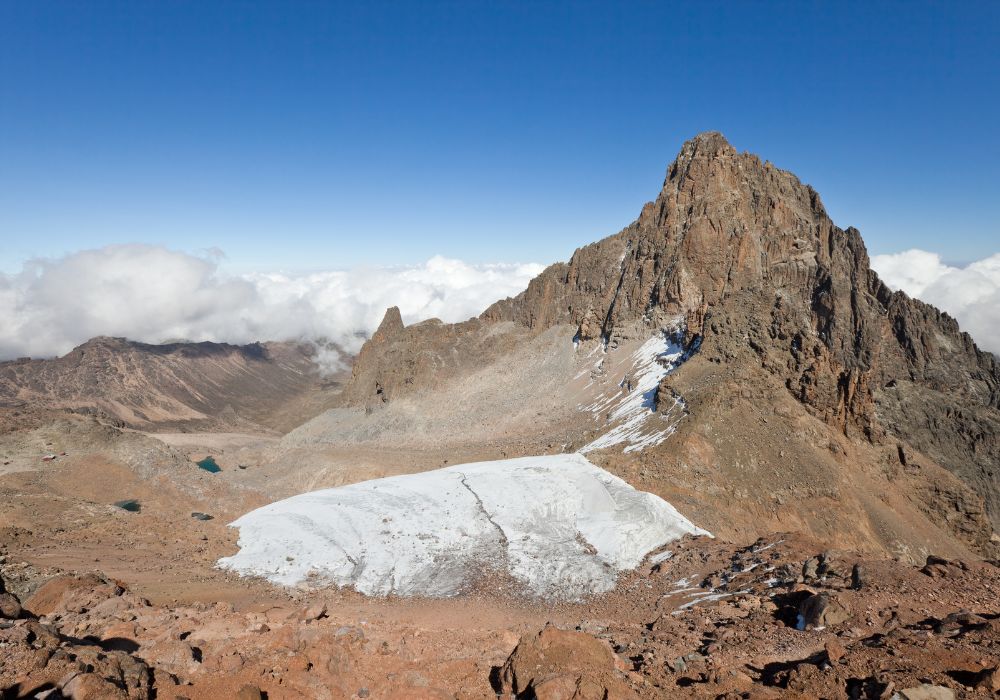 Mount Kenya Quick Facts
Below are some interesting facts about Mount Kenya to help inspire your future hike.
Elevation: 5,199 m (17,057 ft)
Coordinates: 0°9′03″S 37°18′27″E
Mountain Type: Extinct volcano
Easiest Route: Sirimon to Sirimon
Hardest Route: Chogoria to Sirimon (to Point Lenana) and North Face standard route to Batian
First To Summit: Halford John Mackinder, César Ollier, and Joseph Brocherel (September 13, 1899)
Youngest to Summit: Elsie Akeyo (December 2020) – Point Lenana
Famous Kenyan Climber: Kisoi Munyao for hoisting the Kenyan Flag on the eve of independence (December 12, 1963)
Normal Time To Summit: 4-6 Days
Cost To Summit: $800 – $1500 per person, depending on group size and route
Permits Needed: No permits are required – only park entrance fees
Summit Temperature: Day time 0°C to 14°C, night time below 0°C
How Tall is Mount Kenya?
At a height of 5,199 m (17,057 ft) above sea level, Batian is the tallest peak on Mount Kenya. It's closely followed by Nelion (5,188 m) and Lenana (4,985 m). Among the three peaks, Batian and Nelion are more technical and tougher than Lenana, which is the most popular.
Why Should You Consider Climbing Mount Kenya?
Mount Kenya National Park is a UNESCO World Heritage Site and Biosphere Reserve comprising thick tree cover, bamboo forests, alpine regions, and snow-capped peaks. It's also home to glacier lakes, picturesque valleys, and many natural springs, making it a truly beautiful destination to visit.
Local communities regard the mountain as sacred, and it's common to find pilgrims praying facing Mount Kenya.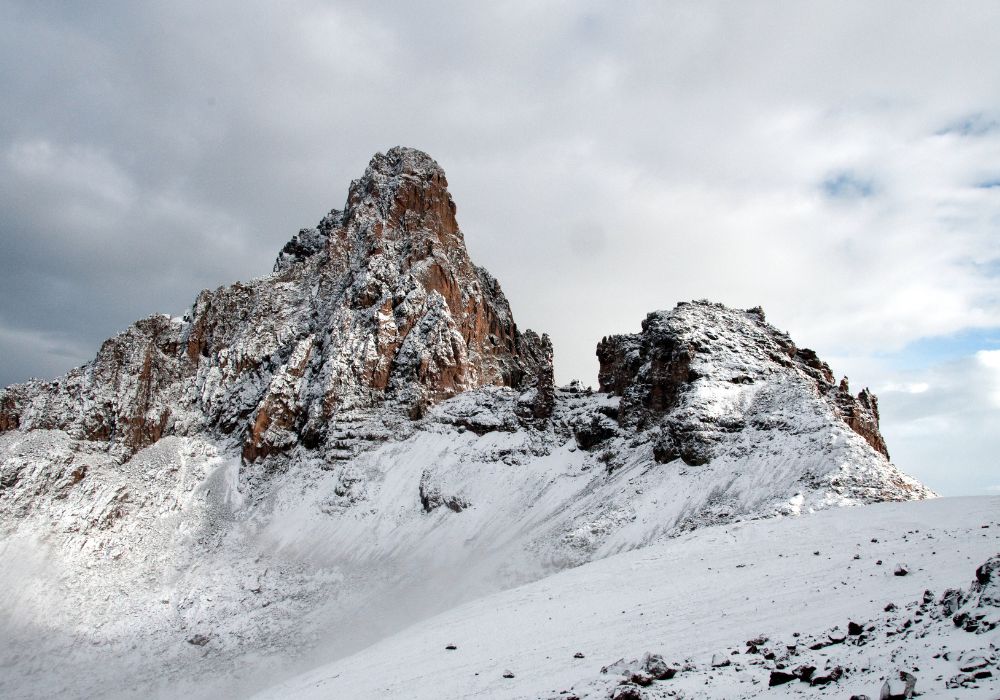 So, if you love nature, cultural experiences, hiking trips, or seeking new adventures, consider trekking Mount Kenya, and you won't be disappointed. It's also less crowded most of the year, offering you a chance to have a quiet and refreshing experience.
How Long Does It Take To Climb Mount Kenya?
Climbing Mount Kenya to Point Lenana takes 4-6 days, depending on the route and the hiker's fitness level.
An out-and-back trip using the Sirimon route takes around 4 days, while a point-to-point hike from Chogoria to Sirimon or Naro Moru takes 4-6 days.
If you're seeking a more challenging climb to Batian or Nelion peaks, it can take up to 8 days.
How Much Does Climbing Mount Kenya Cost?
The cost of climbing Mount Kenya varies, depending on the number of days on the mountain, preferred operator, time of the year, cost of hiking gear, and travel expenses. Below is a rough breakdown of what you can expect to budget.
Cost of Climbing Mount Kenya
Once you arrive in Nairobi, you'll incur the following costs to hike Mt. Kenya.
Trek Package: ~ $800 – $1,500
This package varies by operator, with local companies offering cheaper deals. The cost usually includes transport to and from Nairobi, park entrance fees, accommodation in huts (or campsites), meals, guides, and porters. If you intend to climb to Batian or Nelion, there's an additional cost of $500 per person.
Tips: $80 – $150
Although tipping isn't mandatory, it's recommended to budget for 10-15% of the climb fees. These funds are shared among porters and cooks.
Miscellaneous: ~ $300
These include additional costs for extra food, snacks, alcohol, and gifts. Some operators also require climbers have an air evacuation cover which costs about $30.
Total Cost of Climb: ~ $1200 – $2000
Cost Before the Climb
Besides the trekking cost, there are other costs you'll need to budget for when planning to climb Mount Kenya. These costs differ depending on where you're traveling from and your personal preferences. They include the following:
Air Fares & Visas: ~$1000 – $2,000
Vaccinations and Insurance: ~ $500 – $700
Clothes and Equipment (buying and hiring): ~$300 – $600
Accommodation in Kenya: $100 – $500
Total: $2300 – $3800
How Hard is it to Climb Mount Kenya?
Climbing Mount Kenya involves walking along forest trails and alpine zones and trekking up either of the three main summits – Lenana, Nelion, or Batian.
The faces of these summits are rugged, steep, and challenging, and require ample preparation. You'll also need the right clothes and gear, a considerable level of fitness, and the services of an experienced guide.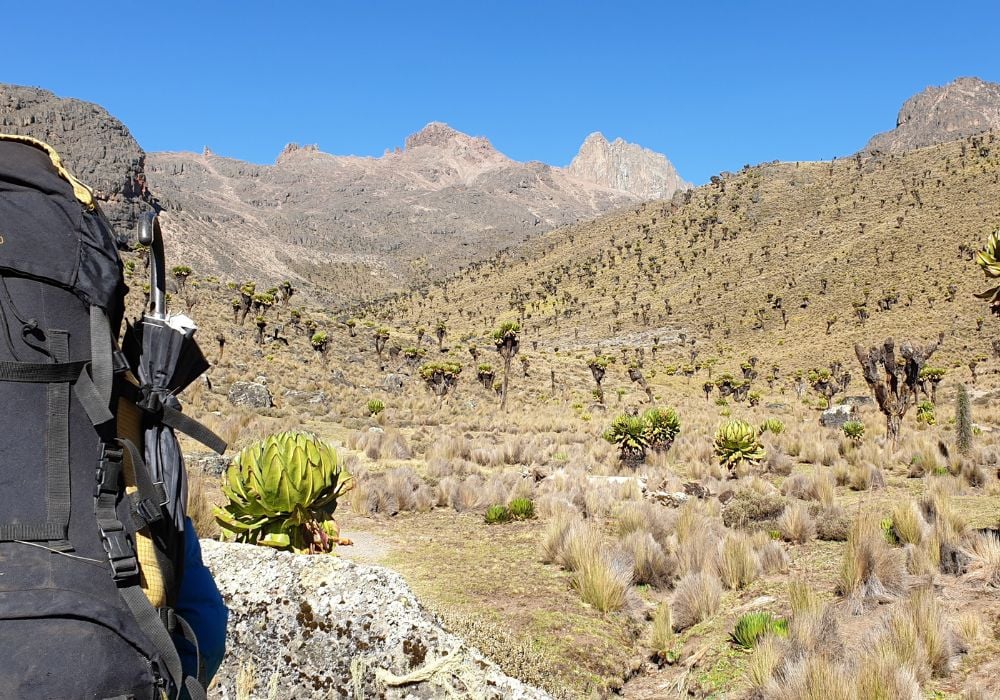 If you choose to climb the technical peaks – Batian or Nelion – you should bring proper climbing equipment.
How To Prepare For Climbing Mount Kenya
Below are some tips to help you prepare for a fun, safe, and successful Mount Kenya climb.
Get in Shape
Being physically fit will make your Mount Kenya climb easier, safer, and more enjoyable. To get in good shape, perform a mixture of cardio exercises and strength training.
Besides physical and endurance preparation, it's crucial to have a positive mental attitude toward the climb. It boosts confidence and often cheers you up to the top.
Prepare for High Altitude
Trekking a mountain requires more than simply being in good shape – mentally and physically. When you reach higher altitudes, there's a lower saturation of oxygen, which can affect breathing.
To prepare for high altitudes, do cardio exercises and take several higher altitude hikes.
Go on Prep Hikes
One of the most effective ways to prepare for Mount Kenya is to hike as much as possible. It gives you proper training in body fitness, cardio, and high altitudes.
In Kenya, hiking trails such as Rurimeria, Table Mountain, and Elephant Hills are perfect prep hikes for Mount Kenya.
☞ SEE ALSO: 15 Best Trails For Hiking in Kenya
Get the Right Gear
The right clothes and gear are essential if you want a successful climb. Check our recommended hiking gear list with some must-haves to get an idea.
Another essential tip for preparing for Mt. Kenya is wearing your hiking boots, clothes, and gear during your prep hikes. This allows you to get used to the equipment and figure out what may need adjusting ahead of your journey.
Hire the Right Guide
Who you climb a mountain with influences the chances of summiting, so make sure you do your research before settling on a guide. The best guides on each mountain are usually passionate climbers who are experienced, patient, and encouraging.
What Equipment Do You Need To Climb Mount Kenya?
One of the best ways to prepare for a successful summit attempt is to have the right trekking gear, comfortable clothes, and proper equipment.
Whether you choose to buy or hire, here is a list of what you will need to bring to Mt. Kenya: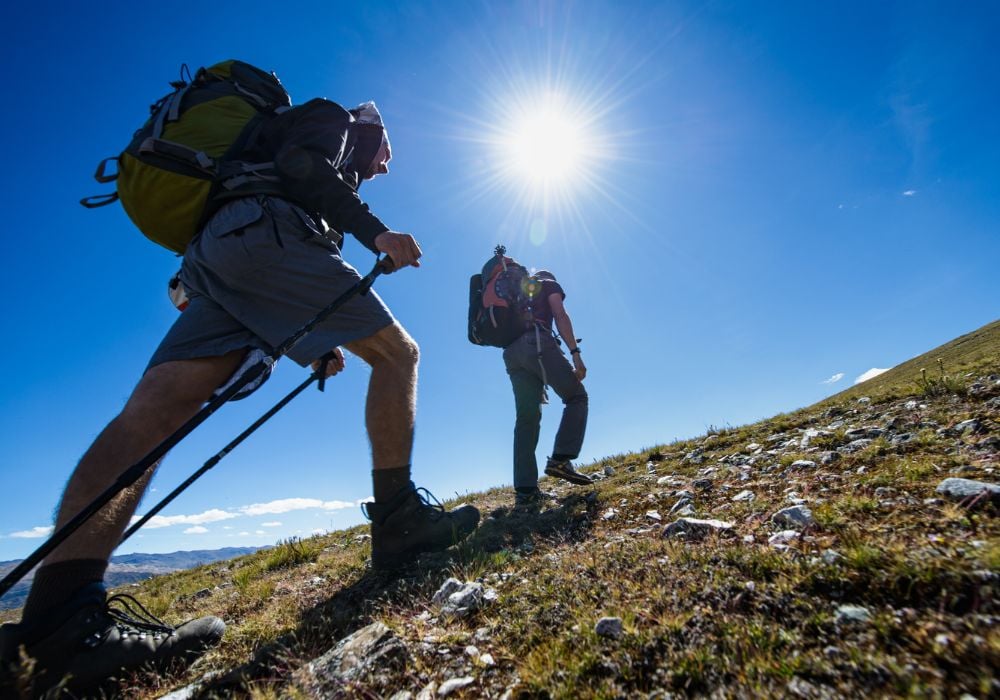 Clothing
Thermals: 2 x thermal base layers to keep you warm (long Johns and vests made of moisture-wicking fabric)
T-shirts: 2 × long/short sleeve shirts (made of quick-dry and breathable material like polyester fabric)
Fleece Jacket: 1 x lightweight and warm fleece jacket or hoodie (a puffer jacket is recommended)
Fleece Pants: A pair of light and warm fleece pants is necessary for cold nights
Underwear: 6 × underwear (moisture-wicking fabric)
Hiking Pants: 2 x quick-dry hiking pants, preferably made of breathable material
Jackets: 1 x windproof jacket (consider one that's also waterproof)
Balaclava: A pair of windproof balaclavas or hiking buffs to protect your face from wind and frostbite
Hats: 1 x brimmed wool hat that covers ears and a shade hat with a visor
Gloves: 2 × woolen or mitten gloves (warm, thin, and windproof)
Footwear: Comfortable hiking boots (waterproof, warm, and broken-in), sandals, and leg gaiters
Socks: 4 × pairs of thick woolen hiking socks and a pair of thin fleece-lined socks
Rain Gear: 1 x lightweight and waterproof rain poncho
Gear
Rucksack: 65L-80L porters bag that fits all your items
Day Backpack: 35L-45L for carrying personal items and snacks during the day
Sleeping Bag: A warm sleeping bag (with a subzero temperature rating)
Water Bottles: 2 × reusable water bottles
Water Bladder: 1 × water bladder (at least 2L)
Sunglasses: A pair with UV protection
Poles: 2 x collapsible trekking poles
Lighting: 1 x headlamp or torch with extra batteries
Disposal: A few plastic zip-lock bags to carry trash and keep dirty clothes in
Gizmo: A camera and a good pair of binoculars
First Aid & Toiletries
Cloth: Facecloth, small towel, and wet wipes
Toiletries: Toilet paper, toothpaste, toothbrush, lotion, bath soap, or shower gel
Energy Snacks: Nuts, digestive biscuits, lunch bars, dates, raisins, and other high-energy snacks
First Aid Kit: Painkillers, antiseptic, small bandages, band-aids, cotton wool, small scissors, and blister pads
Safety: Whistle, matchbox, duct tape, and a swiss army knife
Sunblock: Sunscreen (SPF 30+)
Medication: Pack prescribed medication and also some anti-malaria tablets and deet-free insect spray
Paperwork
Photocopies of your identification documents
Details of your insurance policy
Cash (for snacks and tips)
When is the Best Time To Consider Climbing Mount Kenya?
Although climbing Mount Kenya can be attempted any time of the year, the best time is during the dry season: December-February, and August-October.
Normally, rainfall is experienced in the forest zones of Mount Kenya between March-May (heavy rains) and October-December (short rains). During the dry season, the sky is clear, and it's possible to enjoy beautiful sceneries and the African sunrise.
How To Get to Mount Kenya
Mount Kenya National Park is easily accessible from Nairobi using various means of transport. The best way is to join a tour which will take you there in a comfortable bus or van. The other option is hiring a taxi or using public transport to the nearest towns to trailheads.
These towns include Naro Moru town for the Naro Moru route, Nanyuki town for Sirimon, Burguret, and Timau routes, Meru town for the Meru route, Kerugoya town for the Kamweti route, and Chogoria town for the Chogoria route.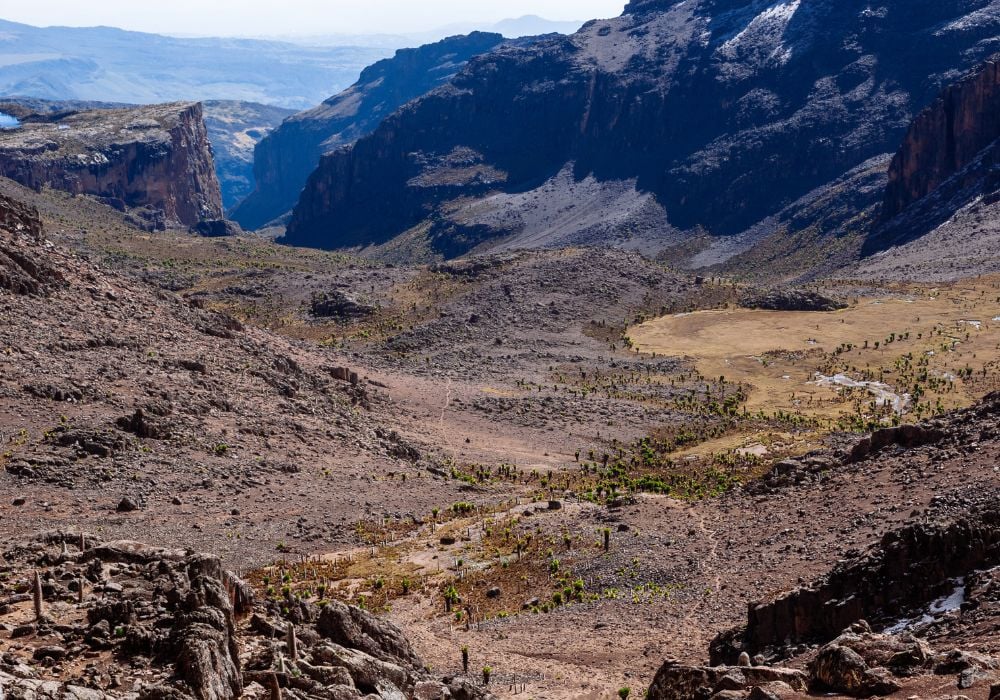 If you're the adventurous type, there's a train that departs from Nairobi Central Railway Station for Nanyuki every Tuesday and Friday. It has comfortable first-class compartments and passes through beautiful parts of Kenya. You can drop-off either in Nanyuki or at Naro Moru.
Mount Kenya Climbing Routes
There are eight established climbing routes to Mount Kenya. The most common ones among climbers include Naro Moru, Sirimon, and Chogoria, which takes 4-6 days.
Naro Moru Route – Western Side (4-6 Days)
The Naro Moru route on the west side is the most popular since it's relatively short. It also has accommodation huts and is home to the Kenya Wildlife Service headquarters and the main park gate.
Starting in Naro Moru town, the route takes you along a tarmac and dirt road through farmlands for about 13km to the forest's edge. From there, you'll follow a vehicle track to the park gate (2400m) and then to Met Station (3050m), where you'll spend your first night.
The second day leads you along a forest trail lined with trees and bamboo. You'll then brave the grueling wet moorland ("Vertical Bog") and alpine zone before trekking past the Teleki Valley to Mackinders Camp (4200m).
After a night at the camp, you'll attempt the summit (Point Lenana – 4985m) before daybreak. Once you've achieved your goal of climbing Mount Kenya and catching the beautiful African sunrise, you can choose to descend using the same route or other common routes such as Chogoria or Sirimon.
Sirimon Route – Northwestern Side (4-6 Days)
In the last few years, the Sirimon route has gained popularity, and it's almost taking over from Naro Moru as the busiest route on Mount Kenya. The route features a gradual ascent that takes you through forest cover and beautiful alpine zones.
The route begins at the Sirimon gate (2,600m) and continues to Old Moses Camp (3,300m), where climbers spend the night. The second day follows an uphill track, crossing Ontulili and Likii North rivers, moorlands, and Mackinders Valley, to the Shiptons Camp (4200m).
The summit attack begins early in the morning from Shiptons Camp. After reaching Point Lenana, you can descend using the same route or other routes like Naro Moru and Chogoria.
Chogoria Route – Eastern Side (4-6 Days)
The Chogoria route on the eastern side is considered the most beautiful of the three main Mount Kenya routes.
Climbs using this route begin at Chogoria town to the park's gate and then to the Meru Bandas. From there, you'll trek past glaciers and cross streams and valleys to Lake Ellis Camp. Point Lenana (the famous summit) is reached from Mintos Hut, about 12km from Lake Ellis Camp.
After the summit, you'll most likely descend through the Sirimon gate on the northwestern side. You can also head down using the same route or the Naro Moru route.
Some of the best features of this route include Lake Ellis, Nithi Falls, Gorges Valley, Hall Tarn, and Lake Michaelson.
Other Routes (5-7 Days)
In addition to the main routes to Point Lenana, there are several other off-the-beaten-path trekking routes on the mountain.
These routes don't have proper trails, and you'll have to make your own way in most cases. They include Timau, Kamweti, Burguret, Ithanguni, and Meru.
There aren't any KWS parks gates on these routes so climbers need to pay and get permission from the main gates at Naro Moru, Chogoria, or Sirimon to access the routes.
Technical Routes to Nelion and Batian (Up to 8 Days)
The highest peaks on Mount Kenya (Nelion and Batian) can be accessed from either of the above routes. At 4800m, Austrian Hut is the base camp for Nelion, while climbers attempting Batian peak use Shiptons Camp (4200m) as their base.
Best Mount Kenya Climbing Tours & Guides
Below are some of the most recommended operators for Mount Kenya climbing tours.
Hikemaniak – Trek Beyond
Based In: Nairobi, Kenya
Starting Price: $450 (Kenyans and residents), $800 (non-residents)
Includes: Transport to and from Nairobi, park entrance fees, meals, accommodation in tents and huts, professional guides, porters, and skilled cooks
I've been on several hikes with Hikemaniak. The company comprises a team of avid hikers who are passionate about guiding others on different mountains and trails.
Hikemaniak has taken hikers to Mount Kenya many times, using almost all the routes (including Kamweti). They are also one of the few companies that guide climbers to Batian and Nelion peaks.
In addition to local trails and mountains, the company offers treks to Mount Everest (Nepal), Mount Ruwenzori (Uganda), Mount Kilimanjaro (Tanzania), Mount Meru (Tanzania), and many others.
Join Hikemaniak's 4-days Mt. Kenya hike using the Chogoria route.
Africa Outdoors Ltd
Based In: Nairobi, Kenya
Starting Price: $967
Includes: Transport, guides, meals, porters, accommodation during the hike, and park entrance fees
Africa Outdoors is one of the best tour companies in Kenya. They offer safari tours and hiking expeditions in East Africa and beyond.
One of their popular tours is the 5-day Mount Kenya climb using the Sirimon route and descending via Chogoria gate. They also have a 4-days out-and-back climb using the Sirimon gate.
Gracepatt Safaris
Based In: Nairobi, Kenya
Starting Price: $1100
Includes: Transport, park fees, food, accommodation, porters, and certified guides
Gracepatt Safaris is a Nairobi-based travel company offering some of the best tour packages in Kenya. In addition to mountain climbing trips, they organize guided safari tours to national parks, cultural centers, and cities.
If you're interested in climbing Mount Kenya soon, join their 4-day trek using the Naro Moru route (the most popular).
Go To Mount Kenya
Based In: Nairobi, Kenya
Starting Price: $912
Includes: Transport to and from Nairobi, park entrance fees, meals, accommodation during the climb, and professional guides
I am yet to hike with this company, but based on reviews by other travelers, it's a worthy operator. Their guides are certified and professional, ensuring you have the best opportunity to reach Point Lenana.
One of their most popular experiences is the 5-day Mount Kenya climb using the Chogoria route and descending via Sirimon gate.
Outdoorer Kenya
Based In: Nairobi, Kenya
Starting Price: $350 (Kenyans and residents), $800 (non-residents)
Includes: Transport, park entrance fees, food, accommodation during the trek, and services of professional guides
Outdoorer Kenya is one of the best local operators. Their team has guided many hikers to Mount Kenya, and they have a summit rate of over 90%.
I've been on several day hikes organized by this operator. Their guides are friendly, patient, and very professional.
Outdoorer Kenya offers several climbing Mount Kenya packages, but the quarterly climb via the Chogoria route is outstanding. The hike takes 4 days to Point Lenana and back via the same route.
Climbing Mount Kenya vs Mount Kilimanjaro
At 5,895 m (19,340 ft), Mount Kilimanjaro is the largest free-standing mountain in the world and the tallest in Africa. It's situated in Tanzania and attracts many climbers throughout the year.
Mount Kenya, at 5,199 m (17,057 ft), follows Kilimanjaro closely as Africa's second tallest mountain. It also draws trekkers from all over the world, although in lesser numbers.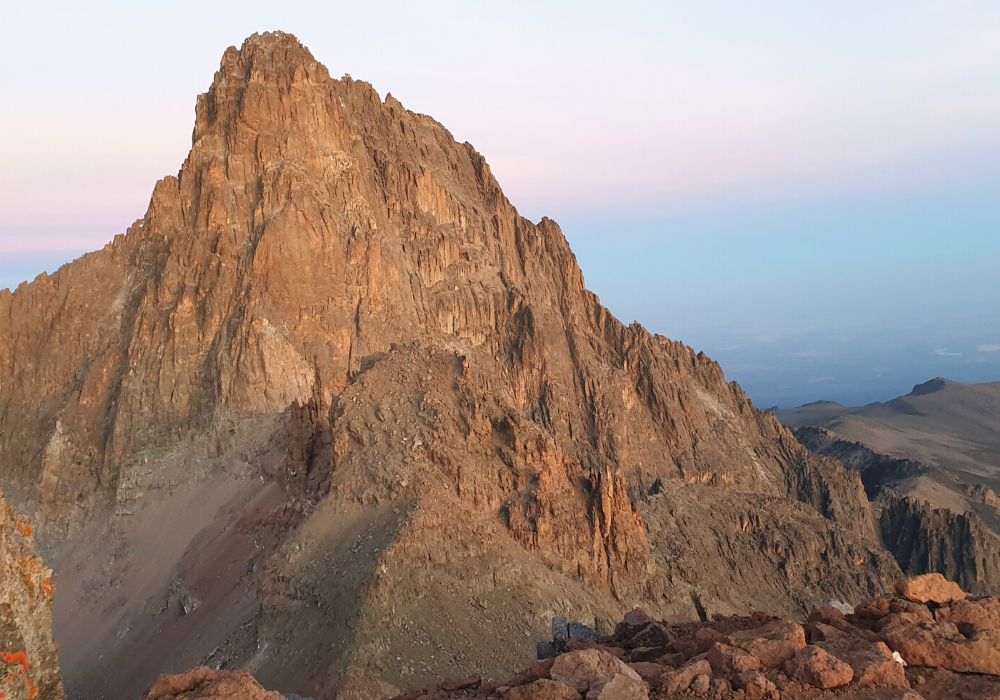 Mount Kilimanjaro is considered a true test of physical and mental endurance. It's also preferred by adventure travelers seeking the glory of hiking the Seven Summits.
Mount Kenya, on the other hand, offers adventurers breathtaking mountain landscapes and beautiful views of scenic lakes, rivers, streams, glaciers, and alpine forests. It's also less crowded and takes less time to summit.
These mountains are located in East Africa, and it's possible to explore both in one trip. So, if you're looking for a challenge, start with Mount Kenya and finish with Mount Kilimanjaro.
Best Trekking Insurance For Mount Kenya
Climbing Mount Kenya is one of the most exhilarating experiences for trekkers. However, just like other mountains in the world, it's unpredictable.
Therefore, getting an insurance plan that covers your travels and hiking activities is advised. Such a plan should cover unexpected emergencies, evacuation, and gear protection.
This travel insurance by World Nomads is one of the world's best hiking and trekking policies.
Climbing Mount Kenya Tips
If you're considering tackling Mount Kenya, here are a few useful tips:
Prepare: Make sure you're physically and mentally prepared for the climb
Prep hikes: Prep hikes go a long way in getting you ready for the Mount Kenya challenge
Clothing and gear: Make sure you have the right clothes and gear. For technical peaks like Batian and Nelion, carry the necessary rock climbing equipment
Pack light: Make sure you carry lightweight gear and hiking essentials
Climbing route: It's important to choose your climbing route carefully. If you're a beginner, Naro Moru, Chogoria, and Sirimon are the best options
Mount Kenya guides: Make sure you pick a highly qualified team to guide you up Mount Kenya
Food and snacks: Having nutritious foods and supplements is important to staying healthy and maintaining a strong immune system throughout the climb
Pole, pole (slowly): Make sure you take your time and hike at your own pace. Occasional hydration breaks and short rests are essential for a successful and safe climb
Climbing Mount Kenya FAQs
How much does it cost to climb Mount Kenya?
The cost of climbing Mount Kenya ranges from $800 to $1500 per person.
How long does it take to climb Mount Kenya?
Climbing Mt. Kenya to Point Lenana takes 4-6 days. You'll need an extra 2-3 days to reach the technical peaks of Batian and Nelion.
What is the elevation of Mount Kenya?
Batian is the highest peak of Mount Kenya at an elevation of 5,199 m.
What is the best time to climb Mount Kenya?
It's possible to climb Mount Kenya year-round. However, the best time is during the dry season (December to February and August to October).
Can you climb Mount Kenya in a day?
While it's possible to reach the lower parts of the mountain in a day, you need 4-6 days to summit Mt. Kenya's Point Lenana.
Is Mount Kenya harder to climb than Mount Kilimanjaro?
Climbing Mount Kenya is considered easier than trekking Mount Kilimanjaro – the highest mountain in Africa.
Can you climb Mount Kenya without a guide?
Hiking Mount Kenya with a professional and experienced guide is highly recommended.
Is climbing Mount Kenya dangerous?
Climbing Mount Kenya is safe. However, preparing for high altitudes, long treks, and steep ascents is important.
Does it snow on Mount Kenya?
Yes. Rainfall and snow are common during the wet seasons – March to May and October to December.
Can beginners climb Mt Kenya?
With preparation, climbing to Point Lenana is possible for beginners. However, if you want to summit Batian or Nelion, you'll need rock climbing experience.
Ready To Climb Mount Kenya?
Climbing Mount Kenya is a rewarding and enjoyable experience that takes you to the heart of the country.
Trekking through various stages of the mountain to the peaks is also a fantastic personal journey. It's a chance to reflect, refocus, and connect with nature.
If you're planning a trip to Kenya, consider hiking Mount Kenya. It may not be the easiest of things to do in Kenya, but with the right preparation, proper gear, and guides, you can make it to the summit of Africa's second-highest mountain.
Like This Article? Pin it!