Going To Manila From Clark:
If you have arrived on an Air Asia flight, then you most likely will have found yourself in Clark, not Manila.  Clark is about an hour outside of the capital city.  As you are about to leave the airport terminal, there are 2 different bus companies with small booths selling tickets to Manila.  The ride is about an hour in a nice, a/c, big bus.
Philtranco charges 450p and drops you off at EDSA in Manila.  The company next to Philco charges 400p and drops you off at Central Terminal in Manila.  From Central Terminal, hail a jeepney (8p) with a 'Mabini' sign on it and ride it all the way to Pedro Gil Street (for Ermita area).  Another option would be to take the LRT from Central Terminal, get off at the Pedro Gil station and walk.
Going To Vigan From Manila:
To get to Vigan from Manila you can take the Ferinas Bus Company, Phone: 02-731-4507.  There are buses every hour starting at 6:30am.  The cost varies depending on which bus.  Some are 500p, others are 600p and 650p.  The bus at 9:00am is very nice with a/c and the cost is 600p.  It'a a very long ride.  The bus departs at 9:00am and arrives in Vigan at 8:00pm.
***Goat Note:  bring some food to eat.  The restaurants the bus stops at aren't very good!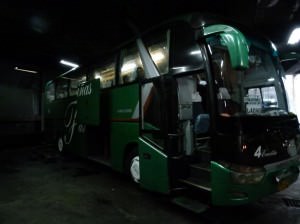 To get to Ferinas Bus Company, take a Jeepney from Mabini Street, one that says "Cuabo" on the front of it.  The cost is 10p.  Get off at de la Fuente Street, walk left down de la Fuente Street to Laoag Laan.  Turn Left and walk to Lason & Laoag Laan.  The bus station is on your left-hand side.  Total walking time from the jeepney stop to the bus station is about 10 – 15 mins.  Alternatively, take a taxi.
The bus will stop just outside of Vigan on the highway in a town called Bantay.  There are tricycles waiting to take you to your hotel in Vigan.  The tricycle drivers will try to charge you about 50p for the ride.  The cost is actually 10p/person.  However, you don't even need to take a tricycle, the walking distance into town is only about 1/2 a km.
BUDGET BACKPACKING GUIDE TO THE PHILIPPINES