Coming From Port Barton to El Nido:
Many people choose to hire a boat to take them to El Nido.  The cost is about 1200p/person.
The best bet for a budget backpacker would be to take the once daily jeepney at 8:00am to Roxas (150p, taking 1.5 hours).  At Roxas, you will need to switch to a bus/minivan coming from Puerto Princesa bound for El Nido.  We ended up taking a minivan rather than waiting for a bus to come by from P.P.  The cost of the second leg was 350p and takes 4-5 hours.
At the bus terminal in El Nido, the cost of a tricycle into town is 10p/person.  Around town the cost should be 8p/person.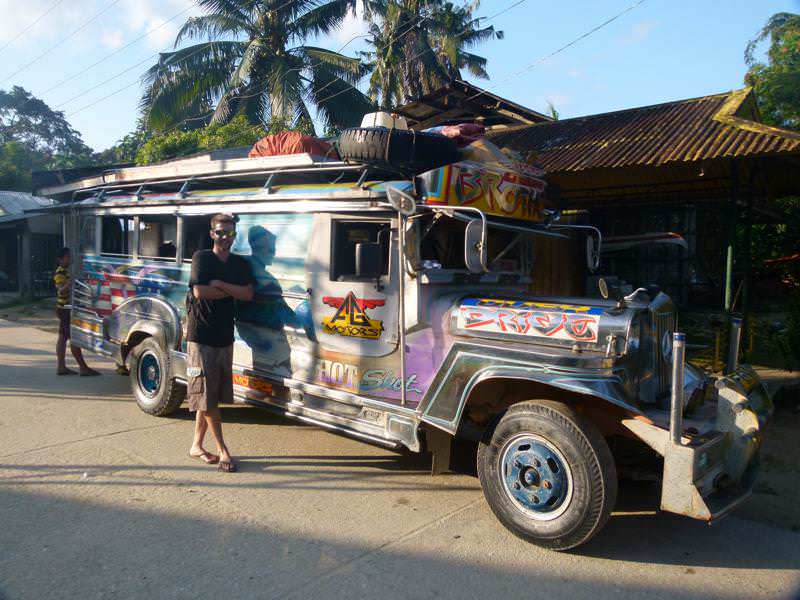 At the time of writing, reservations for the jeepney or the bus weren't available…none of the phone numbers posted around town worked!  Even the numbers given to us by the tourist office were incorrect.   You will have to show up at the terminal an hour or so in advance.
Going To Puerto Princesa From El Nido:
You have 2 options.  The first is to take a local big bus, without a/c, it takes 8 or more hours and the cost is 300p.  The second option is to take the much more comfortable minivan with a/c, it takes 5 hours and the cost is 500p.  The buses and vans leave every half hour in the morning until about noon.