You may find it hard to believe, but the cost of living in Thailand for an entire month (including everything) is most likely less than your rent payment at home. As digital nomads, we're constantly looking for places to stay for a couple of weeks, a month, a year, and Thailand is always one of the top options when it comes to affordability and amenities.
If you've been considering working abroad, or just want somewhere to put down some temporary roots, Thailand might be the place for you.
Where else can you rent an apartment for around $200 / month, dine on delicious Thai food for $1 or join the gym for $25 / month?
In this guide to the cost of living in Thailand, I'll list the 3 best places to live, what to expect and what you'll spend each month.
Why Choose Thailand?
There are numerous places to visit in Thailand and it has long been a backpacker favourite. Since the hippie days it has continuously been one of the most popular destinations and is always on lists of cheap countries to visit. There's just something magical about the Land of Smiles.
From the beautiful beaches and lush jungle, to the unique culture and delicious food, Thailand is a fascinating country to see…and live in.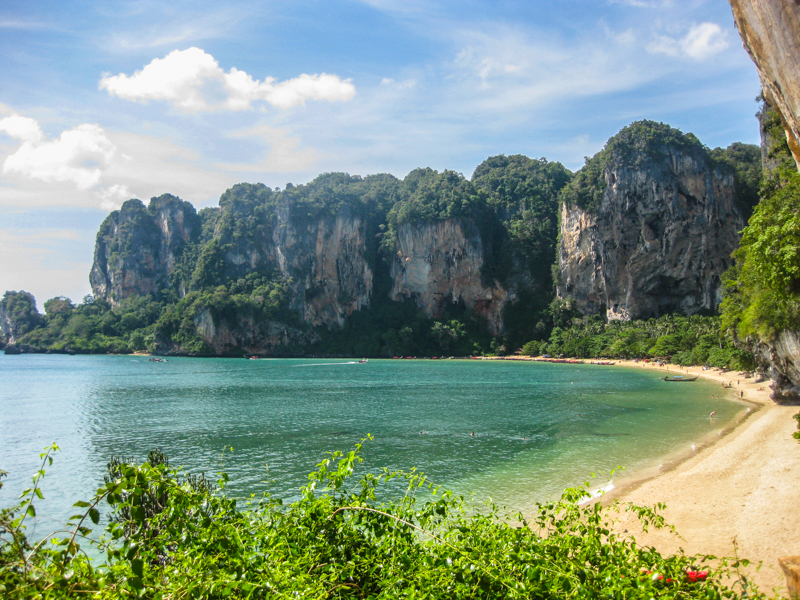 These days, it's becoming more of a hot-spot for digital nomads and retirees who want to enjoy one of the cheapest places to live in the world. It's amazing how much farther your money can go if you move to the right destinations – and Thailand is definitely one of the best options.
We've spent around 6 months both living in Thailand and travelling around the country, and even though we've lived in numerous other places around the world (Malta, Mexico, Grenada, Barbados, Argentina, Indonesia, etc.), we still list Thailand as one of our favourites.
The people are friendly (although a bit jaded by tourism), but they make you feel welcome and aren't rude. Plus, we've never had an issue with our safety in Thailand.
There are international hospitals available, with high standards and low price tags. I've personally visited the Bumrungrad International Hospital in Bangkok and we've both been to the dentist in Bangkok as well.
My only issue with the hospital was that it was incredibly busy and I couldn't make an appointment, and since it was a non-emergency, I had to wait quite a while for a check-up. Regardless, the hospital was very clean, the equipment was modern and the doctor spoke English.
In Thailand, you can get many medications over the counter without having to visit a doctor for a prescription first. The pharmacists are helpful (and knowledgeable) and you can purchase things like antibiotics and birth control pills within minutes. This saves you time and money.
Apart from feeling safe and not having to worry about healthcare, you can enjoy the beaches, mountains and jungle. Or, you can hop on a cheap flight to a nearby destination for a quick holiday away.
With the cost of living in Thailand being so low, you'll have money left over each month for a holiday – whether domestic or international.
The only decision you'll need to make is which part of Thailand you want to live in.
Visa Situation When Living in Thailand
If you aren't living in Thailand full-time (ie: running a business or retiring there), then you can enter Thailand on a tourist visa. If you're from one of these countries, Thailand is one of the best visa free countries because you don't have to pay for your visa.
However, you can only stay for 30 days before you will have to either renew your visa at an immigration office (for a fee), or leave the country and return.
When we were living in Koh Samui, we landed at the Bangkok airport and received a 1-month visa for free, and then extended it at the immigration office on the island of Koh Samui to receive a further month. The cost of that extension was 1,900 thb ($58).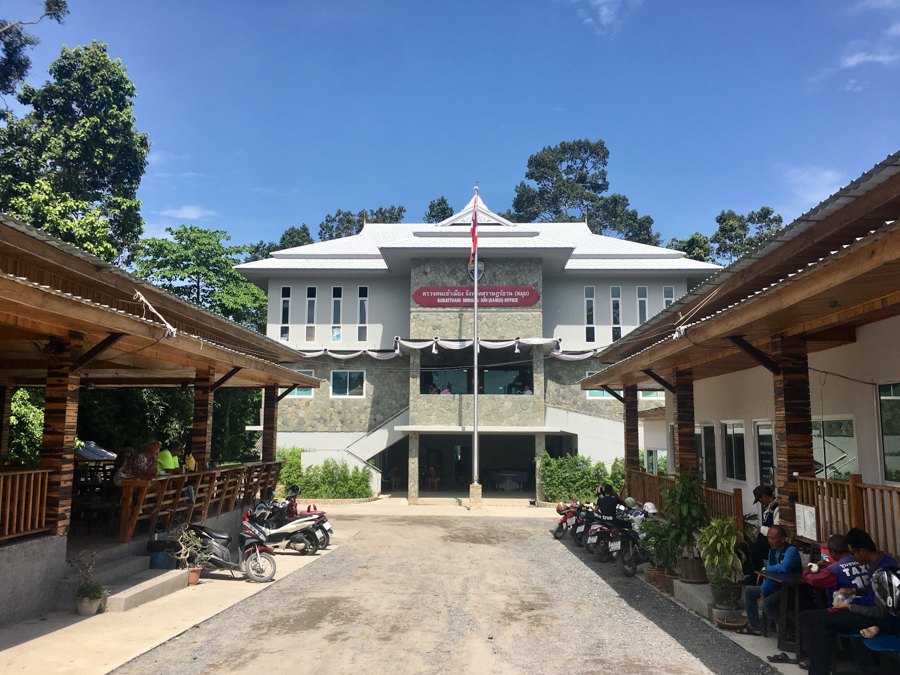 Another option is to obtain a 60 day tourist visa before entering Thailand (at a consulate abroad, or in your home country). You will be allowed to extend that visa once more when you're in Thailand, giving you a total of 90 days before you need to leave the country.
If you're arriving by air, there is no limitation on the amount of times you can enter Thailand in a year if you are from one of the visa exempt countries, and you leave and return by air (not sea or bus).
It's not an ideal visa situation if you plan on living in Thailand long-term, as you'll constantly have to leave the country.
But, it's always nice to head out on a holiday and with cheap flights with AirAsia and IndiGo, you can fly to nearby countries of Singapore, India, Sri Lanka, Malaysia, Cambodia, Vietnam or Laos and enjoy a weekend away before returning to Thailand.
If you are 50 years of age or older, and you want to retire in Thailand, you can apply for a Retirement Visa, which is valid for one year. However, you aren't able to open up a business or you would need a Work Visa.
According to the US Embassy and Consulate in Thailand:
Applicant must be able to provide proof of a pension or other regular income from a source outside of Thailand;
Applicant's pension or other regular income must be no less than the equivalent of 65,000 Baht ($1,995) per month;
Alternatively, the applicant may meet the financial requirement by maintaining a Thai bank account with a minimum amount of 800,000 Baht ($24,500). (Applicants will need to show that they have 800,000 Baht in savings each year when they renew their visa.)
Any applicant married to a Thai citizen may be able to receive a visa on that basis rather than retirement.
As you can see, there are numerous variations to the visas you can obtain, and the extensions you can receive. Always check with the Thai Consulate for the most up to date information.
Note: new rules state that you must be able to show sufficient funds in the amount of 20,000 THB ($610) when entering Thailand as a tourist. Whether or not the immigration officer asks you to show proof is up to them. But, to make sure you're not turned away or questioned, make sure to have sufficient funds (doesn't have to be in Thai Baht) on you. We were never asked to show proof of funds on entry in 2017. Also, you must have proof of onward travel out of Thailand. Click here to learn how we deal with that requirement.
Cost of Living in Thailand: Chiang Mai
Chiang Mai is known as being one of the top digital nomad hubs in Asia – it has everything you could want or need. This is the place to live in Thailand if you want to be surrounded by other entrepreneurs and those who work remotely.
You'll find people who get paid to write online as freelance writers, virtual assistants, social media influencers, web designers, people who teach English online and numerous other genres of remote work.
In Chiang Mai, you'll find many restaurants (both local and international), bars, shops, gyms, a cinema, grocery stores, spas and much more. It has everything you could want or need when living abroad.
There are numerous things to do in Chiang Mai to keep you busy – watch some Muay Thai boxing, practice yoga, or take a motorbike out to the waterfalls or on scenic drives in the mountains.
Another option is to head to nearby cities. Check out the fun things to do in Chiang Rai and all of the chilled out things to do in Pai. If you're feeling antsy, hop on a cheap domestic or international flight at the Chiang Mai airport and head off for a weekend away on the southern islands of Thailand, or nearby country.
How To Find An Apartment in Chiang Mai
There are a few ways to find accommodation in Chiang Mai. Unless you're going to book through a reputable website like Airbnb, I would definitely wait to see the apartment in person before agreeing to one online.
Even with Airbnb, I recommend choosing a "Superhost" or a place with good reviews. Due to Airbnb scams, I would be hesitant to book an apartment that was newly listed and had zero reviews. Airbnb hosts will often offer a discount for 1 month+ stays.
In Chiang Mai, it's more popular to arrive and look around once you're on the ground. If you don't want to book through Airbnb, you can check out these companies and agents in Chiang Mai:
Basically, send them an email of what you're looking for in an apartment, and they will have some viewings lined up and take you around to look at places. The cost of living in Thailand is low, but the cost of apartment rentals in Chiang Mai is really low.
You can find places for around $200 / month (it will most likely be a studio apartment, however). Typically, for a newer apartment with a pool and kitchen expect to spend around $400 – $600 / month.
If you are renting a small house outside of the city center, you would spend around $450 / month for 6 months or more. And finally, if you're looking for a more modern, luxurious accommodation (with 2+ bedrooms), you'll spend around $1,000 / month. The longer you rent for, the cheaper it will be.
As you can see, the cost of living in Chiang Mai really depends on the type of accommodation you want, which part of the city you live in, and how long you rent for.
Something to note is that ideally, you can find a place that has a swimming pool and/or a gym attached. The days can be hot in Chiang Mai and with no beach around, having a pool can be a lifesaver.
But, if you can't find a place with a pool, you can always purchase a pass at one of the fitness centers and use their facilities.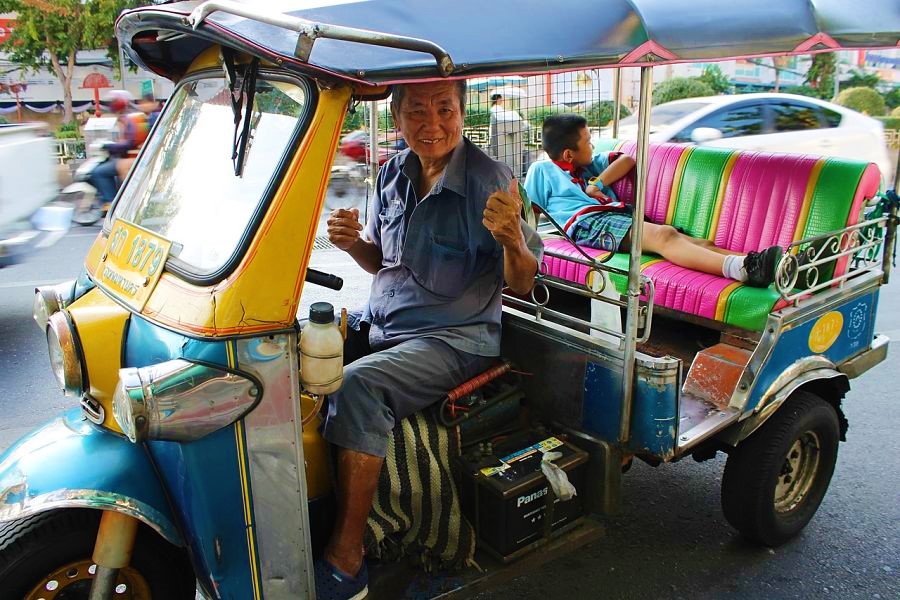 Best Areas to Stay in Chiang Mai
Chiang Mai Old Town
This area is in the middle of all the action. You'll be surrounded by numerous accommodation options and western restaurants. Accommodation prices tend to be on the higher end here.
Chang Khlan Area
Accommodations in this area are cheaper than the Old Town, yet you're just a 15 minute walk southeast of the Old Town. This area is less modern, with a few seedy bars, but it's still a safe place to live. You'll also find lots of street food and cheap restaurant options.
Nimmanhaemin Road Area
This is a popular, trendy, "cool" area located northwest of the Old Town. This part of Chiang Mai is home to a large expat crowd, numerous coffee shops, western restaurants, a massive mall with a cinema and lots of co-working spaces. It is one of the more expensive areas Chiang Mai to rent in, but is where many digital nomads choose to live.
Chang Puak
Since this area is close to a university, you'll find lots of students around. It's located north of the Old Town about a 25-minute walk to the center, and a 5-minute walk to a large grocery store.
Accommodation is cheaper here and again there are lots of street food and cheap restaurant options. If you're looking for a really low cost of living in Thailand, check out this area in Chiang Mai.
Costs of Living in Chiang Mai
Depending on your lifestyle, you can live for very cheap, or live like a king (while still spending less than you would in your home country most likely).
Costs are incredibly varied in Chiang Mai, with some people living on the budget end in a studio apartment and spending a total of $600 / month including everything.
Others in the mid-level range spend around $700-$800 / month, and at the higher end from $1,000 and up. There are top-end options as well, but with so many nice houses and apartments in the budget – mid-range, it's really not necessary to overspend in Chiang Mai.
Obviously, if you're a couple or if you find some housemates, you'll be able to split the cost of rent and utilities.
Here's a list of some average costs of items in Chiang Mai:
| Description | | Range |
| --- | --- | --- |
| Apartment Rental – Nightly | | $9 – 12 / Night |
| Accommodation Rental – Monthly | | $200 – $1,200 / Month |
| Electricity and Internet | | $150 / Month |
| Scooter Rental | | $75 – $110 / Month |
| Full Tank of Petrol in Scooter | | $3 |
| Tuk-Tuk Journey | | $3 / 10 minute ride (approx) |
| Co-Working Space Membership | | $100 / Month (for the best co-working space) |
| Gym Membership | | $25 / Month |
| Bottle of Wine (midrange) | | $14 |
| Domestic Beer in a Bar | | $1.70 |
| Imported Beer in a Bar | | $2.85 |
| Cappuccino | | $1.70 |
| Liter of Milk | | $1.40 |
| Loaf of Bread | | $1.00 |
| Dozen Eggs | | $1.45 |
| Bananas (1kg) | | $1.00 |
| Western Style Meal | | $5+ |
| Thai Street Food Meal | | $1 – $3 |
Total cost of living in Chiang Mai per month: $600 – $1,500 / person
Useful Posts:
Cost of Living in Thailand: Koh Samui
The cost of living in Thailand is very affordable, but if you want to live on one of the islands, you'll spend a bit more each month than you would on the mainland.
The islands of Phuket, Koh Phangan, Koh Lanta and Koh Samui are probably your best bets when it comes to places with amenities that digital nomads and westerners typically want/need.
We spent 2 months living in Koh Samui in a gorgeous pool villa in the jungle. The island is quite large and offers everything from beaches and waterfalls to nightlife and street markets.
This island isn't known as being a party place (unless you stay in the Chaweng area), but rather, it's a spot for holidaymakers and expats.
Koh Samui isn't exactly a "digital nomad hub", but it's a chilled out place where you can relax and get some work done while staying near the beach in a stunning villa.
There aren't really co-working spaces here, but we did find an amazing spot that you can work from, while enjoying healthy food – Vikasa Life Cafe Organic Restaurant.
Another option that we've heard about is the Content Castle where you stay in a shared house, pay $200 / month and receive room and board. You'll also have to do some writing for the company. Click here for details.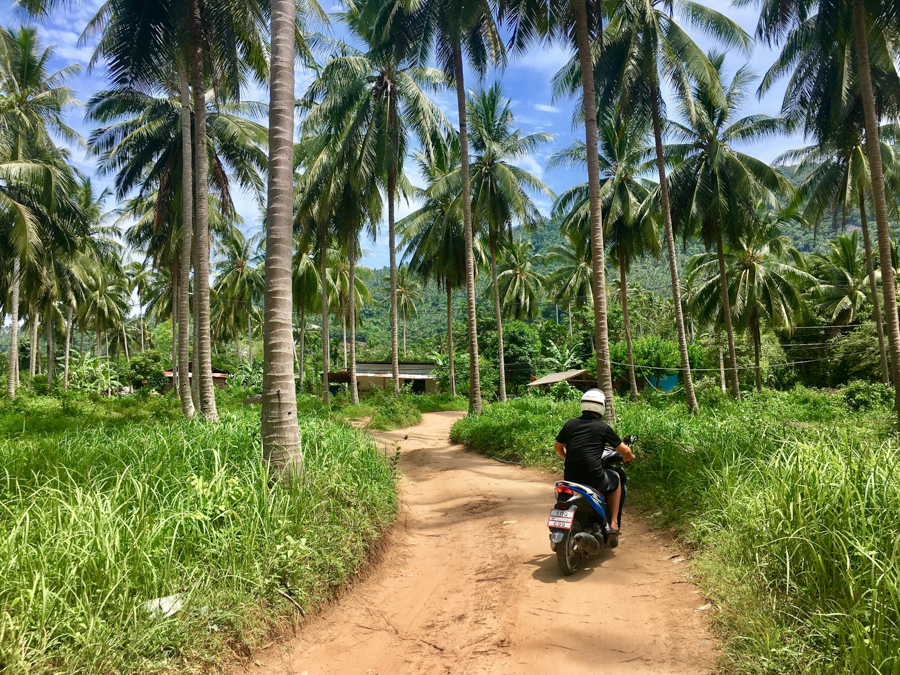 We met a few remote workers, and those practicing or teaching yoga during our time spent at Vikasa. The setting is stunning and food is amazing (around $7 / meal).
We chose to stay in the Lamai area which has a long stretch of sand, beach bars, a local community (where we were), 2 large supermarkets (Makro and Tesco Lotus), plus numerous markets offering produce and street food.
Restaurant food goes from around $3 and up for a plate of Thai food, whereas at the nightly food market, you can get meals for around $1.50.
The Lamai area is a great spot if you're looking to have enough going on so that you're not bored, yet looking for a place that isn't as busy as Chewang.
How To Find Accommodation in Koh Samui
If possible, I recommend coming to the island and renting a guesthouse or hotel for a few nights while you search for a place to stay.
But, if you're short on time, or if you just don't want to waste days looking for accommodation, you can contact an agency online, or book with a reputable site such as Airbnb.
We contacted an agency and they showed us many accommodations they had available on Koh Samui. After some back and forth bargaining about the price, we ended up booking a villa through the agent.
We found out afterward that the villa is actually on Airbnb as well. As always, opt for a place with recent, positive reviews.
To find accommodation in Koh Samui, check out the listings on Airbnb (don't forget to get your Airbnb coupon code!), have a look at Samui Renting agency (the company we went through), or Thailand Property which lists availability through numerous agencies.
You can also search on local Facebook groups for houses and villas for rent. Another option is to simply rent a motorbike when you arrive on the island and drive around.
You'll see numerous signs "For Let" or "House For Rent" and you can speak with the owner and see the property.
The only issue might be that you'll have to pay cash. With online booking sites, you can pay with PayPal or your credit card, which gives you some sort of insurance and recourse if the owner happens to be a shady character.
You'll notice that there aren't a lot of apartments in Koh Samui in the traditional sense – high rises, big apartment blocks – but rather, small houses, villas or bungalows.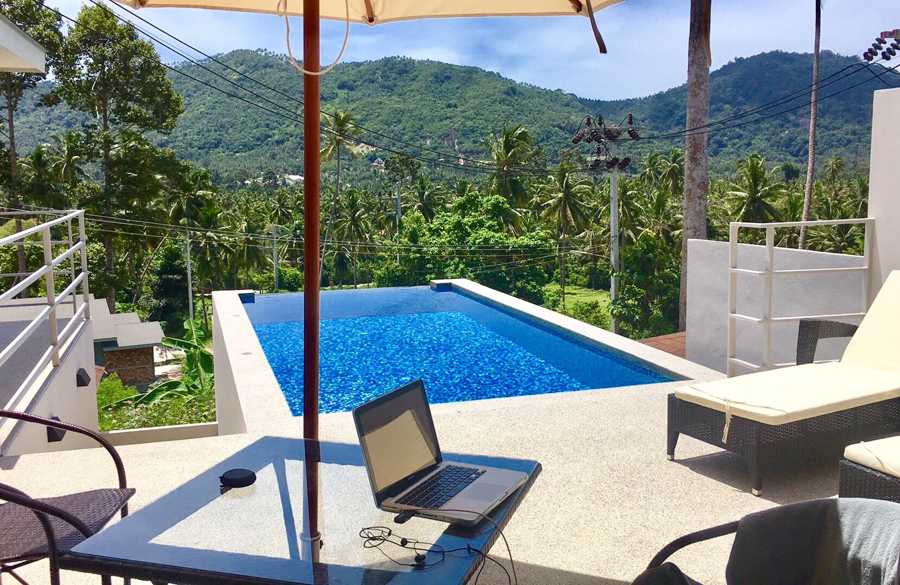 Best Areas To Stay in Koh Samui
If you're a tourist, there are numerous areas to see in Koh Samui. However, if you're looking to live for a while as a digital nomad, you'll probably want to stay in one of the 2 areas below. This is because you won't want to be secluded from everything and you'll want some amenities nearby.
Lamai:
This is the area that we stayed in and is the best place in my opinion. If you're looking for enough food options, a beautiful beach, grocery stores (Tesco and Makro), a night market and restaurants, then this is the place for you.
The beach at Lamai is the second-longest on the island and is very calm for swimming. The beachside restaurants are great, but they cost more than eating away from the water. There's also a weekly night market with lots of food, plus a nightly smaller market as well.
Chaweng:
If you want to be right in the action, then this might be the area for you. In Chaweng, you'll find a large stretch of beautiful beach (quite shallow though), lots of bars and restaurants, many shops and grocery stores. The people who stay in this area tend to be a younger crowd who are more interested in partying.
Cost of Living in Koh Samui
It's still Thailand, so even though the cost of living on the island is more than in the northern city of Chiang Mai, or the bustling capital of Bangkok, it's still affordable. Again, your monthly budget will vary depending on the lifestyle you want to lead.
When it comes to accommodation, if you want a pool villa, expect to spend $1000+ / month. If you're after a bungalow or smaller home, you can find these for around $600+/month. One of the things we noticed was that there are lots of places that are 2 bedrooms or more. So if you are 2 couples, or a few friends, you could split the cost of rent.
| Description | Average | Range |
| --- | --- | --- |
| Accommodation Rental Monthly | | $600 – $1,500+ |
| Electricity and Internet | | $200 / Month (with air-conditioning) |
| Scooter Rental | | $120 / Month |
| Full Tank of Petrol in Scooter | | $3 |
| Cheddar Cheese | | $5.60 |
| Milk | | $2.75 |
| Dozen Eggs | | $2.60 |
| Bread | | $1.20 |
| Chicken Breast | | $2.75/kg |
| Fruit and Vegetables | | $0.30/kg (average) |
| Bottle of Wine | | $9 |
| Big Beer | | $1.50 |
| Western Style Meal | | $5+ |
| Thai Street Food Meal | | $1.50 – $3 |
| Thai Restaurant Meal | | $3+ |
| Massage | | $9/hour |
| Yoga Class | | $15 drop-in, 3 classes for $30 |
| Helmet for Motorbike | | $10 |
Total cost of living in Koh Samui per month: $800 +
Our personal monthly cost of living in Koh Samui was:
Accommodation: $1500
Electricity: $200
Motorbike: $120
Groceries: $430
Restaurants: $450
Alcohol: $380
Massage: $36
Total: $3,115 (for 2 people)
Obviously, your costs could be a lot less if you shared the accommodation or if you found a cheaper place to stay. If you don't drink much alcohol or purchase western food at the grocery store, then your costs of groceries and booze would be significantly reduced as well.
Useful Posts:
Cost of Living in Thailand: Bangkok
Ah, Bangkok, the city that never sleeps. This is one of our favourite cities in the world – there are so many awesome things to do in Bangkok that each time we visit, we always find something new to see, do and eat.
If you get tired of the busy city, you can always head out on a day trip to places like the Ayutthaya Historical Park and the floating market.
Not only that, but there are endless accommodations for rent, numerous co-working spaces and a wide variety of restaurants to choose from. And actually, in my opinion, the best Thai food in Thailand is found in Bangkok.
The cost of living in Thailand can be incredibly cheap, or in the case of Bangkok, incredibly expensive. The budget for living in Bangkok varies widely – with luxurious accommodations available, or smaller more modest apartments.
Bangkok is also an excellent hub for getting around Asia, and further afield as well. This modern city offers huge malls, a skytrain for getting around, proper healthcare and hospitals and endless restaurants and bars to choose from.
If you're looking for a modern city that has it all, Bangkok is the place for you.
Note that many people end up spending a lot of money in Bangkok due to the awesome craft beer scene, trendy nightclubs and 5 star restaurants. But, if you stick to local food and midrange bars, you'll be able to save some cash.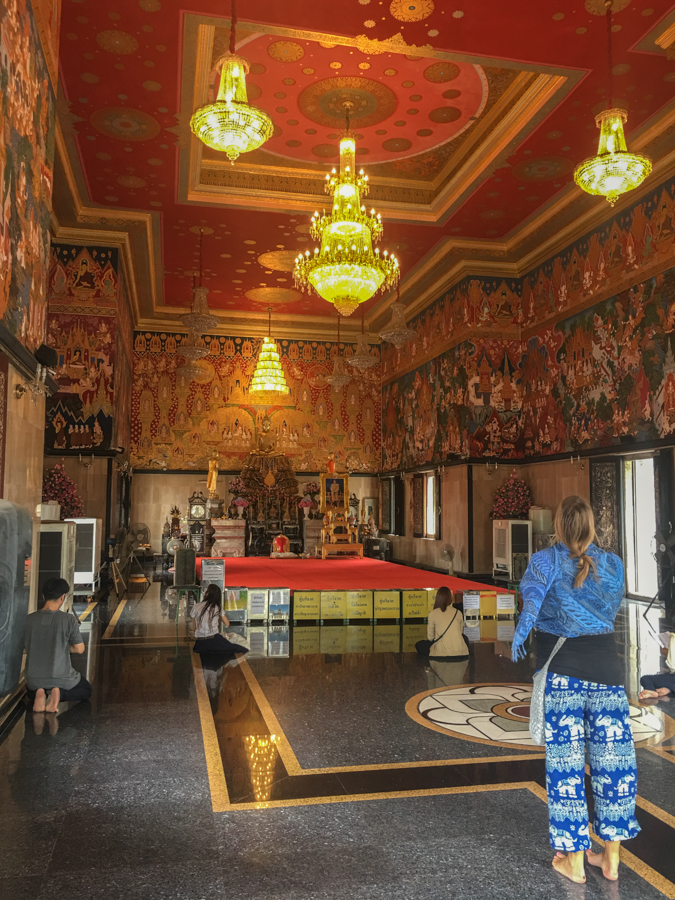 How To Find Accommodation in Bangkok
When thinking about where you want to live in Bangkok, it's important to take into consideration the size of the city, and the climate as well.
If you have a favourite co-working space or gym, you don't want to be an hour away from it – otherwise, you'll find yourself stuck in traffic in 30-degree heat, or having to navigate the skytrain at rush hour.
Even if you consider yourself a bit of a partier, you'll want an apartment that's far enough away from the nightclubs so you don't hear the sound of bass all night long…
The cost of accommodation in Bangkok really depends on which neighbourhood you're in, how many facilities are included, and how modern the apartment is.
If you're planning on staying long-term in Bangkok, your best bet is to contact an agent and have them look for places for you.
Other options include walking around the neighbourhood you think you might want to stay in and speak with the receptionist/admin at the front entrance of the apartment building (although, they may not speak much English).
If you're looking to rent online, check out Airbnb, HipFlat or DDProperty.
Unless you're booking through Airbnb with a host that has a high amount of positive, recent ratings, don't sign any contracts, or pay for any accommodation until you've actually seen the property in person. There are too many horror stories of properties not being at all like the photos.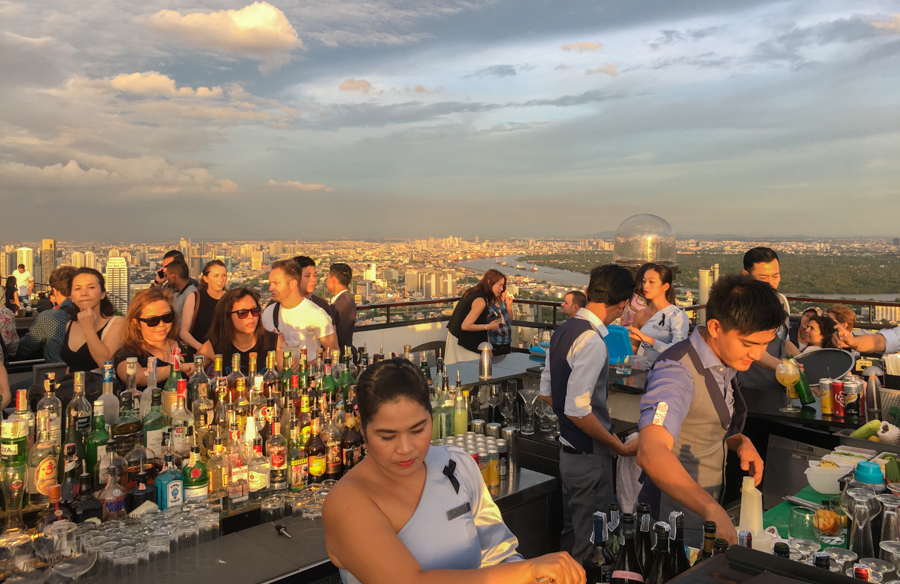 Best Areas To Stay in Bangkok
There are 50 districts and numerous neighbourhoods in Bangkok. The most popular ones for expats and digital nomads are Silom, Sukhumvit and Sathorn.
However, they are also the more expensive areas, and the more westernized places. For a few underrated spots that offer a bit more local character, check out On Nut, Phra Khanong and Rachadaphisek.
Just make sure that you're close to a train line, coffee shops, restaurants, your gym, co-working spaces, etc. Basically, choose an area that you can easily get from your accommodation to where you want to go each day.
Cost of Living in Bangkok
No matter your budget, there's an accommodation that will suit your needs. And, with food costs being so low, and getting around Bangkok being affordable, your costs don't necessarily need to be high — although, if you bump up the budget, you'll be rewarded with some stunning apartments!
At the budget end: you can find a modest studio apartment with some basic furnishings for around $200/month. This won't be near to the BTS or MRT stations however and will be very much "no frills".
At the budget – midrange end: if you spend $250 – $375 / month, that will afford you a slightly more modern place (could still be a studio, however) that might have a pool, sauna and a gym attached. If you're looking for a modern apartment that is near to public transport options and includes a kitchen, the minimum you'll most likely spend is $400 / month.
At the more "comfortable" end: to us, having a comfortable place to stay is important. If having a bedroom (rather than a studio), a kitchen, space to move around, a pool, a gym and a cleaner is what you're after then expect to spend $800+ / month.
When it comes to restaurant and food options in Bangkok, this is where you can really spend a lot, or save a lot. If you hit up the food courts in the malls, or food stalls on the streets during lunch hour, you can get a great meal for around $3.
There are also some awesome Thai restaurants serving up authentic dishes for around $3 – $4. Street food such as noodles and basic dishes cost around $1 – $2.
However, if you plan to eat at American style restaurants, pubs or wine bars, you can expect to easily spend $5 + / meal.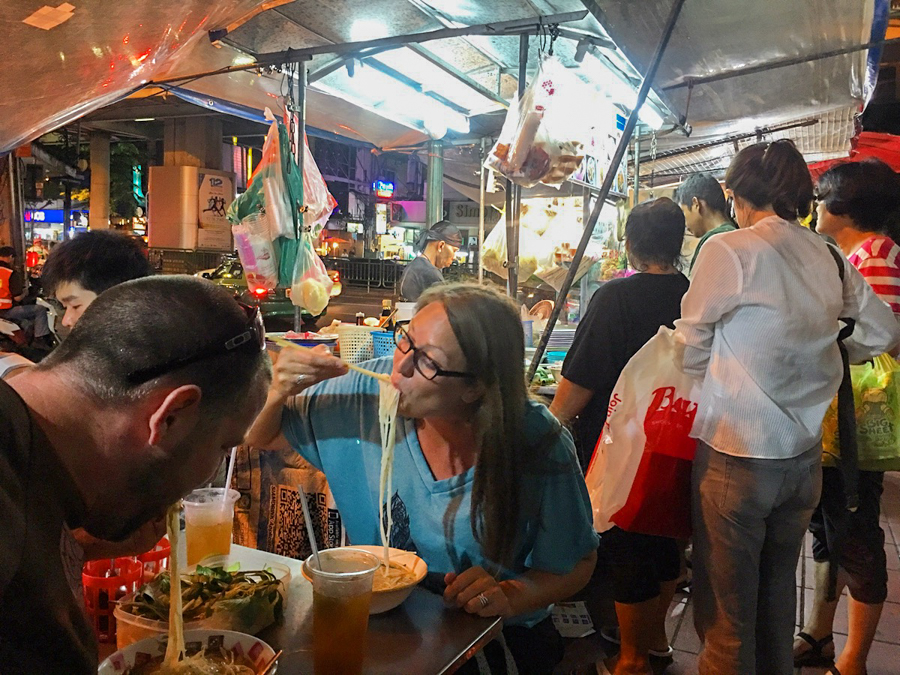 | Description | Average | Range |
| --- | --- | --- |
| Apartment Rental | | $200 – $900+ / Month |
| Electricity and Internet | | $75 / Month (approx) |
| Monthly BTS Transport Card | | $11.50 – $30 / Month |
| Co-Working Space | | $90 – $180 / Month |
| Liter of Milk | | $1.50 |
| Chicken Breast | | $2 / lb |
| Dozen Eggs | | $2.30 |
| Gym Membership | | $25 / Month |
| Bottle of Wine | | $10 |
| Domestic Beer in a Bar | | $1.70 |
| Imported Beer in a Bar | | $2.85 |
| Cappuccino in Expat Area | | $3.50 |
| Liter of Milk | | $1.50 |
| Loaf of Bread | | $1.00 |
| Dozen Eggs | | $2.35 |
| Apples (1kg) | | $2.30 |
| Western Style Meal | | $5+ |
| Thai Street Food Meal | | $1 – $3 |
Approximate cost of living in Bangkok per month: $800+
Useful Posts:
Summing Up The Cost of Living in Thailand
It's really hard to put an average on the cost of living in Thailand as each city and island will have different costs. I think the main thing to note is that everyone has a different level of comfort that they require — based on your budget, age or personality.
Some people might want to party more and eat at restaurants, but stay in a very modest studio apartment. Others might want a luxurious apartment and will cook for themselves most of the time.
On the whole, the cost of living in Thailand is incredibly affordable (especially as a couple) and if I compare it to what we were spending when we lived in Canada, it's significantly less!
I hope that this guide to the cost of living in Thailand gave you a rough idea of what you could potentially spend while living there. Let me know if I've missed anything in the comments below.
Like This Article? Pin it!