We reached Crete via a short super fast ferry from Santorini. As usual on arrival we were pounced on by taxi drivers who claimed that the buses had stopped running. Our travel experience always tells us that taxi drivers are not trustworthy so we hoofed it to the bus station anyway and sure enough a bus was waiting.
The bus cost 7 Euros, whereas the taxi would have been 70. Patience pays. We arrived at La Luna apartments around 9:00 pm just after the sun had set over the Mediterranean. We checked in and yet again we had an amazing apartment. This time for just 20 dollars! The apartment had a kitchenette, 2 beds, a reading area, and a huge balcony with a view of the sea. The value for money in Greece is unbeatable. We put our leftover groceries and booze from Sandy Villas in the fridge and watched a couple of movies on the laptop before going to bed.
The next day we got up and took the bus to Herisinisos, (about 10 minutes) to scout out a rental car. After going to about 6 different places we realized that the price was pretty standard around the town (20 Euro, fully insured) so we opted for a beauty Hyundai Prime. About the size of a suitcase, it was blue (Dariece's choice in the absence of pink) and actually drove a lot like a little go-cart.
We first took the car to Knossos, an ancient Minoan village that has been colonized for over 7000 years. The site was very cool but probably over restored by its over-imaginative founding archaeologist Sir Arthur Evans. There were tiny fragments of paintings found which he managed to take and make into great murals depicting what he thought would have been the ancient portrait or scene. It's a lot like when astrologists take a 4 star constellation and claim it to be a wild bucking bull.
About an hour after we arrived in Knossos the sky closed in and a pretty wicked rainstorm was underway by the time we were heading back to the car. On the way home we stopped at our new favorite grocery store, Carrefour, where we picked up a couple of bottles of wine for just 1 euro or $1.40 each!! We should have bought the whole pallet…what were we thinking?
The next day we woke up early (9:30) and loaded up our car and headed out on another road trip, but first we had to fill up the gas! Now I know we've always complained about the cost of petrol in Canada being $1.20 a litre, well we are damn lucky. The gas here is 1.74 euros/ litre. That's $2.40 per litre! making that little Hyundai seem like quite the gas guzzler.
We put in 30 bucks and got less than a quarter tank in that little go cart. Anyway, we drove out to a beautiful region of Crete called the Lesithi Plateau. The way there was up, up, up so we were watching the gas tank go down, down, down but once we reached the top we were able to coast on any downhill portions of the road. Any time we hit a hill we'd yell "COASTAL ROAD" and put it in neutral and coast until the car nearly reached a stop in a feeble attempt to save gas.
The views however, were stunning. Despite the cloudy, slightly rainy weather, the lush green valley looked beautiful. We passed through village after village where the road turned into a little lane right through the center of the village and the pavement changed to cobblestone as we past through little cafes and restaurants. We entered into some more traditional Greek lifestyles with shepherds herding sheep and farmers cutting crops. At one point, a herd of a hundred or so sheep completely blocked the road and we just had to wait while they passed with the cling clang of their neck hung bells.
Once they cleared we headed to Dikteon Cave, said to be the birthplace of Zeus. We've seen plenty of caves in our travels and although no cave will ever top the Jietta Gorotto in Lebanon, they never get old. The cave was beautiful and as we entered the mouth of the cave we immediately started descending straight down on a meandering wooden staircase that snaked its way past the stalagmites.
This cave was interesting because its entrance was on such a steep decline that it was almost like a hole in the rock rather than a cave. Inside there were the ponds and creeks typical to those types of caves, which reflect the beautiful formations off their calm, glass-like surface. On the way back from the caves we passed hundreds of white sailed windmills that were built in the early 17th century.
Apparently there used to be 20,000 of them, but have recently been torn down for more farm land and more efficient, modern means of irrigation. Inside one of the villages we stopped for lunch at a traditional Greek tavern. We had a delicious meal of feta cheese, pork gyros with pita, tzatziki, bread, and a carafe of red wine. It was delicious.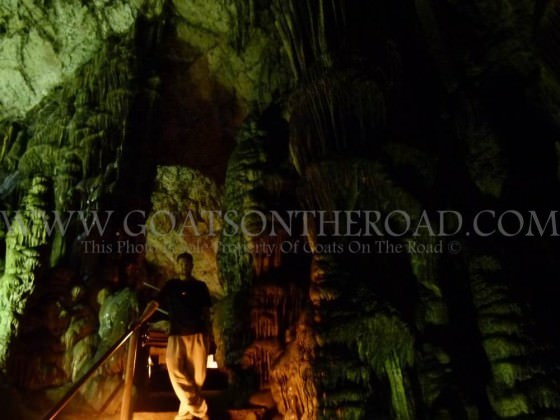 On day 3 in Crete we had yet another road trip. This time all the way to the southern end of the island, to an old hippy hangout called Matala. Matala is now a bustling tourist town with little of its hippy charm remaining, other than the overall chilled vibe and the beautiful beach which is lined with a wall of rock cut caves that have been used for shelter for hundreds of years…including a sleeping hole for hippies up until about 10 years ago when local authorities put a stop to it.
We basically just laid on the beach all day relaxing, occasionally breaking our reading to venture 100 meters into the Carrefour to buy some snacks and beer. A tough life it is this backpacking. We were never able to peel ourselves off our sunbeds to see the caves though, which were also only 100 meters away… maybe if they sold beer in the caves we would have made it.
So the first half of our Crete adventure was over. Crete is such a huge island we had to rent a car and we had to split the island in two. Spending half of our time in La Luna hotel on the east coast, and then the other half in Balito Hotel on the west coast. After seeing all we needed to see in the east we packed our things, checked out and started the easiest travel day of our backpacking careers.
Usually on a travel day we have to pack everything neatly in our bags, hoist them on our backs, and hike down to a bus, which usually takes us to the bus station, then we switch buses and take a bus to our destination, usually followed by another bus or cab to our hotel. Well not today. We just tossed all our stuff in the car and slowly made our way across the island. Stopping for pictures and pees whenever we wanted (aka whenever Dariece wanted) it was so easy.
Sometimes we think it would be nice if we could always rent a car, but due to the cost it would probably cut our trip length down substantially. However it is nice when we have one. Now we were off to the village of Kato Galatas in the west of Crete where we will tackle that half of this massive island.
Like it? Pin it! 🙂
Disclaimer: Some links in this article are affiliate links, which means that if you purchase through them, we receive a small commission. This will never cost you extra and in many cases you receive a special discount. We appreciate your support!