We reached Crete via a short super fast ferry from Santorini. Crete is one of the most popular places to visit in Greece so we were excited to explore it for the next 10 days. As usual on arrival we were pounced on by taxi drivers who claimed that the buses had stopped running. Our travel experience always tells us that taxi drivers are not trustworthy so we hoofed it to the bus station anyway and sure enough a bus was waiting.
The bus cost 7 Euros, whereas the taxi would have been 70. Patience pays. We arrived at La Luna apartments around 9:00 pm just after the sun had set over the Mediterranean. We checked in and yet again we had an amazing apartment. This time for just 20 dollars! The apartment had a kitchenette, 2 beds, a reading area, and a huge balcony with a view of the sea. The value for money in Greece is unbeatable. We put our leftover groceries and booze from Sandy Villas in the fridge and watched a couple of movies on the laptop before going to bed.
See Also: The Best Things To Do in Greece
The next day we got up and took the bus to Herisinisos, (about 10 minutes) to scout out a rental car. After going to about 6 different places we realized that the price was pretty standard around the town (20 Euro, fully insured) so we opted for a beauty Hyundai Prime. About the size of a suitcase, it was blue (Dariece's choice in the absence of pink) and actually drove a lot like a little go-cart.
We first took the car to Knossos, an ancient Minoan village that has been colonized for over 7000 years. The site was very cool but probably over restored by its over-imaginative founding archaeologist Sir Arthur Evans. There were tiny fragments of paintings found which he managed to take and make into great murals depicting what he thought would have been the ancient portrait or scene. It's a lot like when astrologists take a 4 star constellation and claim it to be a wild bucking bull.
See Also: Greece Travel Guide
About an hour after we arrived in Knossos the sky closed in and a pretty wicked rainstorm was underway by the time we were heading back to the car. On the way home we stopped at our new favorite grocery store, Carrefour, where we picked up a couple of bottles of wine for just 1 euro or $1.40 each!! We should have bought the whole pallet…what were we thinking?
The next day we woke up early (9:30) and loaded up our car and headed out on another road trip, but first we had to fill up the gas! Now I know we've always complained about the cost of petrol in Canada being $1.20 a litre, well we are damn lucky. The gas here is 1.74 euros/ litre. That's $2.40 per litre! making that little Hyundai seem like quite the gas guzzler.
We put in 30 bucks and got less than a quarter tank in that little go cart. Anyway, we drove out to a beautiful region of Crete called the Lesithi Plateau. The way there was up, up, up so we were watching the gas tank go down, down, down but once we reached the top we were able to coast on any downhill portions of the road. Any time we hit a hill we'd yell "COASTAL ROAD" and put it in neutral and coast until the car nearly reached a stop in a feeble attempt to save gas.
The views however, were stunning. Despite the cloudy, slightly rainy weather, the lush green valley looked beautiful. We passed through village after village where the road turned into a little lane right through the center of the village and the pavement changed to cobblestone as we past through little cafes and restaurants. We entered into some more traditional Greek lifestyles with shepherds herding sheep and farmers cutting crops. At one point, a herd of a hundred or so sheep completely blocked the road and we just had to wait while they passed with the cling clang of their neck hung bells.
Once they cleared we headed to Dikteon Cave, said to be the birthplace of Zeus. We've seen plenty of caves in our travels and although no cave will ever top the Jietta Gorotto in Lebanon, they never get old. The cave was beautiful and as we entered the mouth of the cave we immediately started descending straight down on a meandering wooden staircase that snaked its way past the stalagmites.
This cave was interesting because its entrance was on such a steep decline that it was almost like a hole in the rock rather than a cave. Inside there were the ponds and creeks typical to those types of caves, which reflect the beautiful formations off their calm, glass-like surface. On the way back from the caves we passed hundreds of white sailed windmills that were built in the early 17th century.
Apparently there used to be 20,000 of them, but have recently been torn down for more farm land and more efficient, modern means of irrigation. Inside one of the villages we stopped for lunch at a traditional Greek tavern. We had a delicious meal of feta cheese, pork gyros with pita, tzatziki, bread, and a carafe of red wine. It was delicious.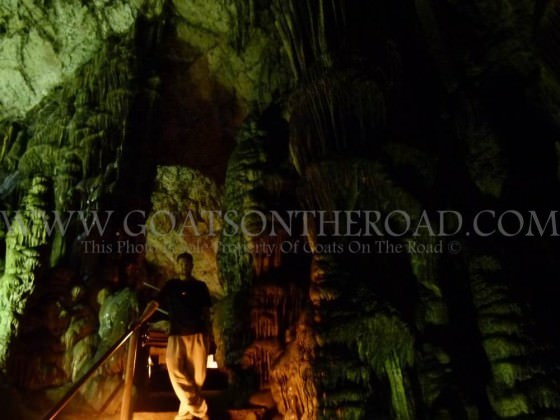 On day 3 in Crete we had yet another road trip. This time all the way to the southern end of the island, to an old hippy hangout called Matala. Matala is now a bustling tourist town with little of its hippy charm remaining, other than the overall chilled vibe and the beautiful beach which is lined with a wall of rock cut caves that have been used for shelter for hundreds of years…including a sleeping hole for hippies up until about 10 years ago when local authorities put a stop to it. This is likely one of the most beautiful beaches in Greece if you're just looking for a chilled out vibe.
We basically just laid on the beach all day relaxing, occasionally breaking our reading to venture 100 meters into the Carrefour to buy some snacks and beer. A tough life it is this backpacking. We were never able to peel ourselves off our sunbeds to see the caves though, which were also only 100 meters away… maybe if they sold beer in the caves we would have made it.
So the first half of our Crete adventure was over. Crete is such a huge island we had to rent a car and we had to split the island in two. Spending half of our time in La Luna hotel on the east coast, and then the other half in Balito Hotel on the west coast. After seeing all we needed to see in the east we packed our things, checked out and started the easiest travel day of our backpacking careers.
Usually on a travel day we have to pack everything neatly in our bags, hoist them on our backs, and hike down to a bus, which usually takes us to the bus station, then we switch buses and take a bus to our destination, usually followed by another bus or cab to our hotel. Well not today. We just tossed all our stuff in the car and slowly made our way across the island. Stopping for pictures and pees whenever we wanted (aka whenever Dariece wanted) it was so easy.
Sometimes we think it would be nice if we could always rent a car, but due to the cost it would probably cut our trip length down substantially. However it is nice when we have one. Now we were off to the village of Kato Galatas in the west of Crete where we will tackle that half of this massive island.
We arrived at Balito Hotel at around 2:00 pm and the friendly owner who called herself Greek Mama showed us a couple of rooms. We chose a beautiful apartment with kitchen, tv, a/c, big bed, and huge balcony that faced the sunset. Turns out you can't go wrong with rooms in Greece, the place was huge and spotless and only cost about $32/ night. About twice more than we like to spend on rooms but well worth it for the cost. The first day there we just hungout by the pool ate a gyro dinner at a local restaurant, and watched some tv on our couch before calling it a night.
The next morning we woke up at around 9:00 am and made ourselves a nice big breakfast as we have done the entire time in Greece. Bacon (impossible to find in the Middle East), eggs, baked beans on toast for me, and yogurt, fruit and eggs for Dariece. Always accompanied by espresso cafe au lait's, which I have to admit are instant, but still delicious.
We left around 10 am and headed for Elafonisi beach on the southwest corner of the island. Elafonisi is famous for its pink sand. When we arrived we were surprised to see that hardly any of the rose colored sand remained. Years of sand thieves and tourist shops selling the unique grains have depleted the supply to a few streaks near the shore line.
The beach however was beautiful. Crystal clear water rimmed the many sandbars that snaked there way out to Elafonisi Island. We just walked in ankle deep, turquoise sea for a few hundred meters to the island itself. The weather was cloudy and overcast most of the day but it broke up at around 3:00 to reveal the true beauty of the beach.
A beach is like a flower in that way, its true colors only shine through when kissed by the sun. The minute the clouds parted we grabbed the cameras and took some pictures before the sky converged once more and began to rain. We ran back to the car and headed back to our apartment where we drank wine, ate feta and tzatziki and bread, and watched tv until bed time.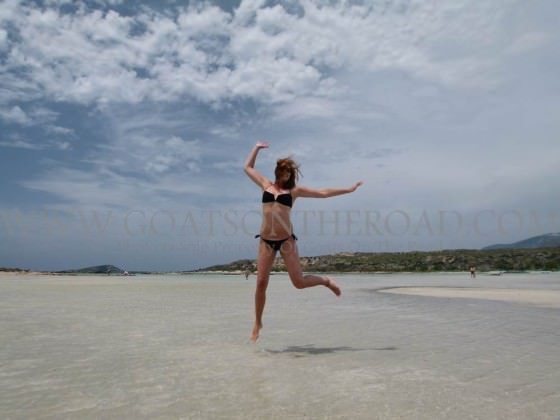 Day 3 on the west end of Crete we headed out to beautiful Balos Beach. Again the clouds loomed overhead with an ominous darkness that occasionally poured rain on our tiny car. But again when we arrived at the beach the sun parted the clouds only for about 30 minutes, just long enough to swim and take some photos of one of the most beautiful beaches we've ever seen.
Hiking down to the beach from where we parked the car we could see the deep blue of the Mediterranean and its beautiful rocky shore. But when we came around the last bend on our 2km hike we finally saw what we came all this way for and it was truly breathtaking. The cliffs tumbled down to the sea, revealing a sliver of perfect white sand that cut through the emerald bay.
The narrow sandbar had nothing but a few umbrellas and chairs and we were literally the first people down to the beach. We never get tired of stunning beaches and this one was one for the books. Unfortunately we couldn't enjoy it long because once again the clouds came and began to soak us on our walk back up the hill to the car.
Day 4 started early, really early, at 6:30am we caught the bus from Hania to Samaria Gorge. When we arrived there was only our bus load and a few other tourists at the mouth of the gorge where we bought our tickets and began the hike. The morning mist was just lifting from the dew soaked valley as the sun peaked up from behind its massive rock face walls. The morning was perfect and was the only time when we had any sort of space between us and other tourists.
We stopped at around 10 for some brunch near a small waterfall just off the trail. That's when the hordes arrived. Hundreds of hikers from all over Crete descended on the path and we all became ants in a row making our way to the colony. In this case the colony was the town of Agia Roumeli at the end of the hike.
The hike retained its beauty, but lost its serenity, as we followed the path, heel to toe with other hikers, down to the valley floor. A large part of the draw for any hike is being in the peacefulness of nature and enjoying the sounds and smells of it around you. This hike was polluted with chatter, yells, and cigarette smoke from the hundred or so other people on the trail at any given time.
It was frustrating always trying to pass or be passed by the other hikers and although we thoroughly enjoyed it and found some peace slightly off the trail, it was mostly ruined by the crowds. When we reached the bottom we were a couple hours early so we had to wait for the ferry to take us back home. We sat in a little restaurant and rested our EXTREMELY tired legs while feasting on a Gyro Pita (pork skewer with lettuce, veggies, and yogurt wrapped in a pita).
Exhausted, we sat watching the sky close in and again the rain poured down playing a tip-tap melody on the tin roofs of the tiny village. By the time we got home we could barely move and retired to bed after a long shower.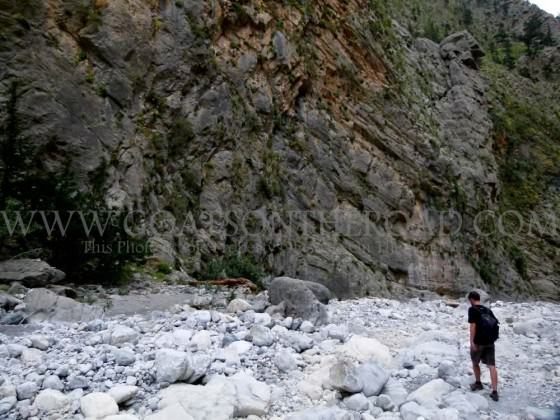 When we woke up the next day our legs were extremely stiff, a 6 hour, 18km hike straight down a few thousand steps will do that to you. We slowly made breakfast and packed up all our stuff and made our way east to Herisonisos to return the car. The man we rented it from, Demitris, was extremely nice and didn't even look over the car for damage and he even drove us to our hotel.
The whole way there I was watching the gas light-which had been on for about a half hour already before he got in to drive us back to Hotel, LaLuna. Surprisingly the little go-cart made it without sputtering out although I'd be surprised if he made it back to his little shop without having to refuel. At $2.40 / litre I wasn't about to put a drop more than I had to in that thing!
We spent 2 more nights at LaLuna where we relaxed and hungout by the pool, and enjoyed cooking our own meals for a couple more days before finally packing up our bags (properly) and boarding a bus, to go to the ferry, to go to Rhodes Island, to catch another ferry to arrive in Marmaris, Turkey around 24 hours later.
A typical travel day for us and actually ended up going quite smoothly. As we got off the boat and took our first step onto Turkish soil the excitement of another place woke us from our half slumber the minute we smelled the fresh air of a new adventure. For the next 4-6 weeks we'll see what Turkey has to offer.
Like this Post? Pin it!