When Dariece's dad and his wife came to visit us last month, we knew that we'd have to show them all over Grenada, and what better way to see a Caribbean island than by sea? We contacted Footloose Yacht Charters Grenada and they were happy to show us a day of sailing around our beautiful little Caribbean jewel.
(Don't miss the video at the bottom of this post!)
We met at the private dock on Lagoon road, which is set southern end of the island. We were greeted by our Captain, Alston and Skipper, Kenny, who were to be our crew for the day. Kenny's huge smile was enough to convince us that this was going to be a great day of sailing.
☞ See More: Mount Cinnamon Grenada – A Top Accommodation Option in Grenada
The Boat
We boarded the Timshel, a stunning 44ft high-performance catamaran with a wide uncluttered deck and comfortable seating. The front of the boat had a trampoline, perfect for relaxing with a rum punch while the sea gently moved by underneath. The best part about booking a sail trip through Footloose Yacht Charters is that they only do private tours, so we had the entire boat to ourselves!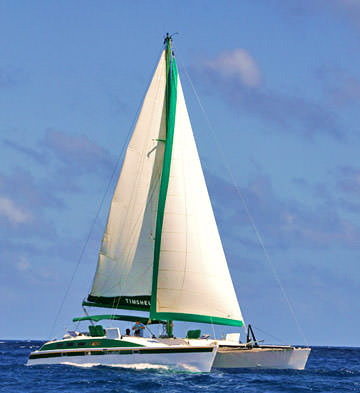 We set out on the glass calm seas and the sails were up by 10 am. The wind was pretty weak but Alston knew just where to go to get the best push for our beautiful boat. We sailed north, directly to Molinere Bay, where a group of statues have been sunk in the sea since 2006.
1st Stop – Grenada's Underwater Sculpture Park
We anchored up and strapped on our snorkel gear to explore this incredible underwater gallery. Each of the human shaped figures have been submerged in seawater long enough that huge amounts of coral have grown all over them. While their life-like features are still visible, much of their detail is covered by a crusty mix of brilliantly coloured corals.
After swimming around the statues for about an hour, we hopped back on the boat and started sailing towards our next stop, Happy Hill Bay. With drink in hand, we slowly cruised over the mirror-like sea with no sounds other than the sail flapping in the wind and the warm Caribbean waters lapping on the bow of the boat below.
2nd Stop – Happy Hill Bay
When we arrived at Happy Hill Bay, we went for another snorkel while Kenny and Alston prepared a delicious lunch for us. There were no sunken effigies at this snorkel spot, but the coral was beautiful and we spotted a couple of eels and hundreds of tiny fish hiding among a myriad of vibrant hard and soft corals.
When we got back on the boat, lunch was ready –  a huge spread of fish, chicken, beans, sausages, salads, garlic bread, corn and of course… more rum punch. We all sat around eating the delicious lunch while Alston told us stories of his sailing past and about the history of Grenada. By the end of the meal, we all felt as though we'd made a couple of new friends in Alston and Kenny.
After lunch, the wind finally picked up and Alston sailed us far out to sea and up the coast near to the town of Gouyave. We all joked that we should just continue on to Carriacou! We then turned and started heading south, back towards where we had started.
As the sun dipped low in the sky, Alston let us man the rudder to stear the boat and he went and fetched his guitar. We all sung sailing songs and enjoyed more rum punch as our trusty catamaran was gently swept towards Morne Rouge Bay, our final stop.
3rd & Final Stop – Morne Rouge Bay
Our last stop before returning to the private dock on lagoon road was the beautiful Morne Rouge Bay, our favourite beach in Grenada. The sun was just about to hit the horizon as we anchored up one last time and all jumped off of the Timshel for a refreshing swim.
As we all waded in the crystal clear waters, we agreed that we didn't want this day to end. Alston and Kenny had made sure that we were well fed with a drink in our hands and a smile on our face all day and we couldn't have been happier with the Timshel boat and the services offered.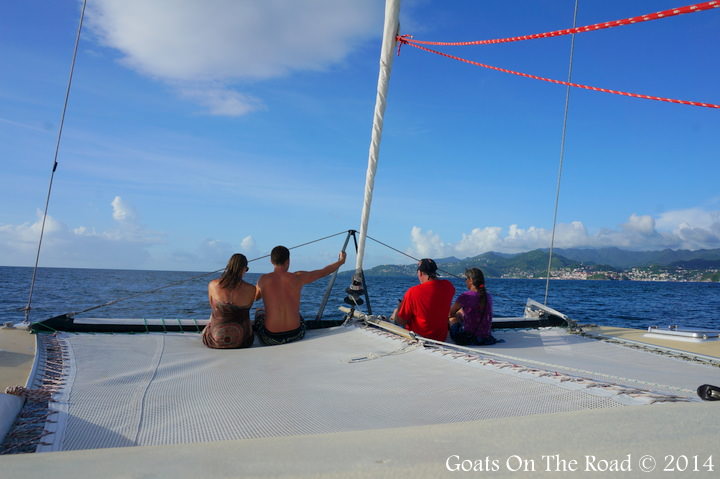 The End Of The Day
We got back on the boat and Dariece, myself, Tom and Kathy all filled up one more rum punch before retreating to the front of the boat where we sat on the trampoline and chatted about our amazing day of sailing around Grenada. The sun had nearly set behind us as we pulled up to the dock.
We bid farewell to our new friends Alston and Kenny and said our goodbyes to the beautiful Timshel Catamaran, which had shown us such a great day out to sea. We absolutely loved our day of sailing with Footloose Yacht Charters and we hope to one day return to the Timshel for another sail, but next time maybe we'll have to book a multi-day sailing trip! Sailing is definitely one of the best things to do in Grenada.
Check Out Our Video From This Amazing Day!
To book a day, or multi-day, sailing trip with Footloose Tours, you can contact them here, call them at (473) 405 – 9531, or send them an email to footloos@spiceisle.com.
Special thanks to Footloose Yacht Charters, Grenada for hosting Dariece & I on this day of sailing. As always, all thoughts and opinions about the trip remain our own, despite any complimentary services offered.
Like it? Pin it! 🙂