When you're out exploring the world a smartphone can help to enhance your travelling experience if used in the right way. We always aim to strike a happy balance between using our smartphones and experiencing the places that we have travelled so far to see.
From helping you stick to your travel budget to avoiding getting lost, a smartphone full of the right apps can be a godsend. Here are our essential app picks to help you get more out of your travels without that shiny device stopping you from living in the moment when you're on the road.
For Money and Budgeting
It's vital that you keep a check on your finances when you travel to make sure you don't waste any of the hard-earned travel money. It's all about making sure you are not getting ripped off and making your travel money stretch further as you go.
Our top recommendation would be to have a daily budget and do your best to stick with it. Some days you'll overspend and some days will come in under budget so it should even out across your travels.
The excellent Trail Wallet app (iOS Free/$4.99) will help you do this with ease. A few taps and you can organise your expenses by trip or by month, set yourself a daily budget, and easily add expenses as you go. So no more messing around collecting receipts, carrying notebooks or creating complex spreadsheets in MS Excel.
Best of all it's built by long-term travellers and fellow digital nomads Simon and Erin from the Never Ending Voyage travel blog. They used their years of traveling and budgeting experience to build the app from the ground up and this really shows in the end product.
We also like to know that we are getting the best deal when it comes to withdrawing and exchanging money on the go. The wonderful XE Currency App (iOS + Android Free) will give you all the latest exchange rates between just about every currency on the planet.
It updates when you have some wifi handy and you can totally customise which currencies are displayed for a quick and easy comparison.
For Finding Places to Stay
Trying to find somewhere decent to stay in your next destination doesn't need to be an ordeal if you know where to look. Try these apps to help with your search for your next restful night's sleep.
We've found that using the Google Maps app (iOS + Android Free) is a great way to get an overview of our accommodations options at the next place we are stopping. Just type accommodation, hotel, B&B or hostel into the search bar when viewing the area you want to stay in.
Tapping on each pin will usually give you the price and reviews for that place. It's a quick way to work out the price and quality of an area.
You can follow this up by using the Tripadvisor app (iOS + Android Free) to check reviews, details and even book a place. Equally the Agoda, Booking.com or HostelWorld apps (iOS + Android Free) will give you easy booking once you've created an account, just be wary of the reviews as it's in their interest to show you positive ones.
We are also fond of looking for more local alternatives and often turn to the Airbnb app (iOS + Android Free). Again there's a handy map feature for easy searching and you can message the hosts directly via the app or instantly book if the option is available.
If you are already part of the superb Couchsurfing community then make sure the Couchsurfing app (iOS + Android Free) is on your smartphone. This makes it easy to search for places on the go, view profiles and start chats with hosts so you're never stuck for somewhere to lay your head.
For Finding Our Way Around
When you arrive in a new town, city or even country it can be really overwhelming and confusing. We've made it easier for ourselves by using superb maps.me app (iOS + Android Free) to find our way.
Perfect for getting into town from the airport or navigating your way around the backstreets of a new location.
Using the app you can download any country, region or city map to your device complete with layers for landmarks, restaurants, hotels etc to view on the go. Once you've downloaded your chosen map via the app there's no connection or data roaming needed so you save on those expensive provider fees as you travel.
If you want to get under the skin of the place you are staying also check out the GPSMyCity app (iOS + Android Free/cost per tour). Using the GPS on your device it will trigger facts and commentary about your destination as you walk around and explore.
With a choice of hundreds of destinations, themes and routes, it's the ideal portable tour guide. Just don't forget your headphones to avoid annoying others as you stroll!
Uber / Lyft are everyone's favourite new taxi apps. If you want to get somewhere, there's no cooler way than pulling out your smartphone, requesting a car from one of these apps and watching it on a map as it gets closer. Uber gives you time and fee estimates and you don't have any cash transactions.
Around Me is the aptly named app and it's pretty cool. If you're in a city and are looking for something that's nearby, you just enter what you're looking for and voila, it shows up! Need an ATM? Looking for a gas station? Want to find a restaurant? Just input it into the app and the nearest ones will be listed.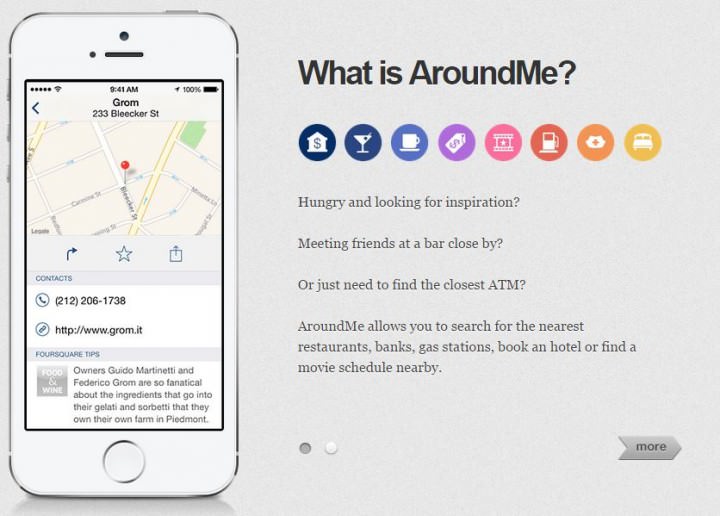 For Language Barriers
Spanish Dict This was our app of choice during our backpacking trip through Mexico, our time spent living in Guatemala and our travels through Cuba.
If you're not sure how to say something in Spanish, you just type in the word in English and it'll translate it. Plus, it shows all of the conjugations for verbs, which is great because that's what we struggle with. It also works offline, which is a bonus.
Google Translate has over 90 languages available for translation, and you have the choice of typing, or speaking what you want translated. If you've met someone from another country, they can speak their native tongue into the app, and it'll translate it into your native tongue!
I also absolutely love that you can hold your device up to a word that you don't know, and it'll translate it (available in 6 languages). Unfortunately, you can only download languages for offline translations if you have an Android device. Still, this app is Genius.
For Staying in Touch
While travelling you might want to keep in touch with the folks back home or even hook up with people you meet along the way.
Using messaging apps linked to your device helps you to avoid the need for a local sim in every country you visit as you can type away and even make calls as long as you have a wifi connection.
There's an ever-expanding choice of mobile messaging apps to help you keep connected but which one should you use? It really depends on which one your friends and family are on but, based on downloads alone, the majority of people worldwide use either WhatsApp (iOS + Android Free) or Facebook Messenger (iOS + Android Free).
Other contenders are Telegram (iOS + Android Free) which is a good option if you are concerned about privacy or the Viber app (iOS + Android Free) which is popular in Serbia, Ukraine, Mali and South Korea.
We also used the Line app (iOS + Android Free) in Southeast Asia as it's popular in that region and also Japan where it was first developed.
Like it? Pin it! 🙂