Digital nomads are always looking for somewhere to work with good wi-fi and a decent cup of coffee. I personally try to find a destination with at least one other nomad around, where the concept of sitting in a cafe for hours on my laptop isn't too strange.
But in Medellin, it's not a question of 'where can I find the best cafe'. The question really is — 'which one should I choose?'
As Colombia's second-biggest city, which was recently named "the world's most innovative city", it's no surprise that it has become such a major hub for digital nomads.
If you're considering living in Medellin as a Digital Nomad, here's all you need to know.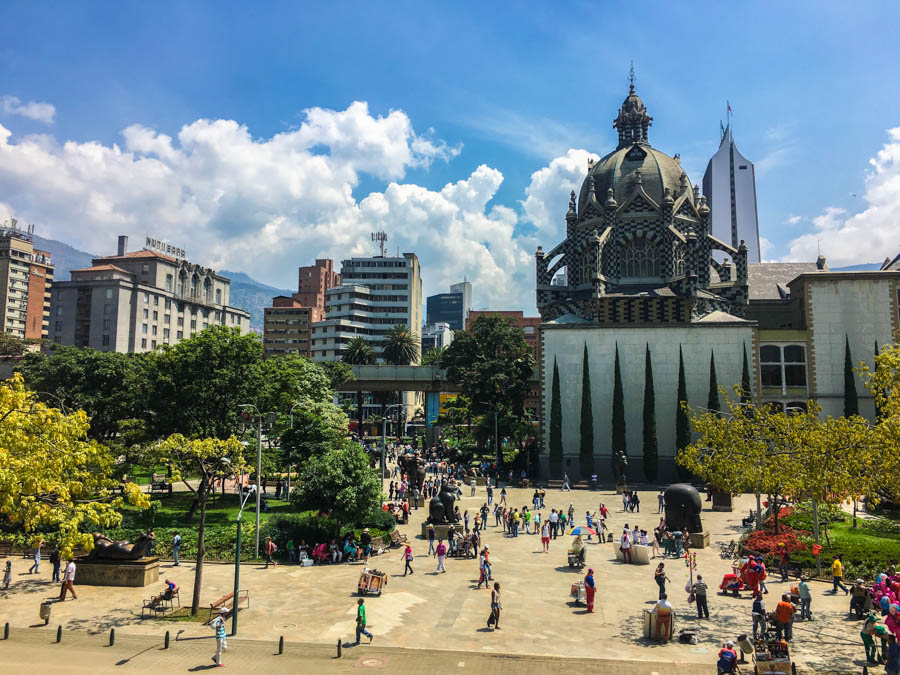 Best Areas to Live in Medellin & Rough Costs
The most popular places for digital nomads to live are south and west of the city centre: El Poblado, Envigado, Ciudad del Rio, Laureles, Floresta, Estadio.
El Poblado: Tends to be the most expensive area as it's the most touristy. A double room in a shared apartment will start around 1m COP (roughly 330 USD) per month. A one-bedroom apartment starts around 700 USD per month.
Envigado: Technically located outside of Medellin, Envigado is a little further south than El Poblado. Prices are similar – sometimes a little less. If you are looking for somewhere close to Poblado but not within the tourist bubble, it could be a good option.
Ciudad del Rio: Close to El Poblado but accommodation is usually a bit cheaper here, as it's less touristy with lots of apartment blocks. Prices for a standard room in a shared apartment start around 600k COP (roughly 200 USD). A one-bed apartment usually starts around 600 USD per month.
Laureles/Estadio/Floresta: These areas are located west in Medellin, and feel a little more authentic Colombian than El Poblado (although they are westernizing quickly). They are close to the football stadium, a public sports arena, and home to one of the main universities – so it feels young and vibrant, full of Colombian students that live here.
A double room in a shared apartment should start around $600k COP (roughly 200 USD). For a private one bed apartment, expect to pay from 500 USD per month.
If you are looking to live in luxury with amazing panoramic views of the city, there are a lot of penthouse apartments (with pools, gyms, saunas etc) dotted around all these areas – for a fraction of European prices.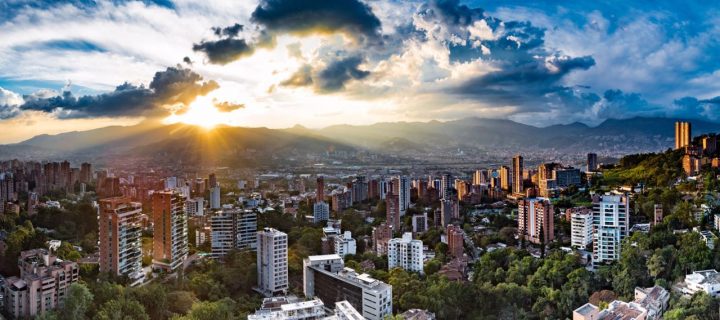 Where to Search for Apartments in Medellin:
Comparto Apto: Often the best place for value as you deal directly with the landlord, on this website. However, you will most likely need to have a basic level of Spanish to be able to communicate with the landlords.
Facebook groups: Sometimes the costs can be marked up a little, but it's relatively easy to find a room especially for English speakers. Check out "Digital Nomads Medellin" and "Medellin Rooms, Apartments and Expat Info".
Airbnb: Lots of rooms are available here, and many have discounts on stays over a month.
If you find yourself visiting the big city of Bogota during your stay, check out our post on the best things to do in Bogota.
Best wi-fi Spots & Cafes to Work in Medellin
Internet connection is generally very strong around the city, and there's frequently free wi-fi in the streets and parks. (But as with any public network, be careful using it for anything personal)
Of course, digital nomads need to ensure there is fast and stable wifi for working. Here are my favourite cafes & spots to work in Medellin:
El Poblado
Botanika Lounge – great wifi connection with plug sockets under every table
Cafe Zeppelin – go for the menu of the day for 12,000 COP (under 4 USD) and stay all afternoon
Pergamino – known for the best coffee in El Poblado
Cafe Velvet – a popular spot for nomads although you need to get there early as plugs are a little sparse
Amarillo Chocolate – cute interior with a great selection of veggie sandwiches
Como pez en el agua – go for brunch and stay all day (their fried eggs on toast with mushrooms & truffle oil is just 16,500 COP – approx 5.50 USD)
Envigado
Cafe Otra Parte – great garden and terrace if you want some peace and quiet from the hustle and bustle of Poblado
Cocolatte – relaxed atmosphere, great coffee and friendly staff makes it easy to stay all afternoon
Ciudad del Rio
Cariñito Cafe – often a bit quieter than the Poblado cafes, with an impressive coffee menu & large terrace
Laureles
Algarabia – has a scenic view overlooking the second park in Laureles
Cafe Revolucion – located on the main road, it can be a bit busy but it's great for people-watching at the same time.
Naturalia Cafe – one for the health-conscious foodies out there, with an extensive menu & another cheap but great menu of the day
Floresta
Hostal Ondas – has a cafe on the ground floor open to anyone, and a great co-working area above
Transport Options in Medellin
Getting around the city is generally very easy and cheap – either by taxi, metro or bus.
Local taxis: There are plenty of taxis driving around the city; however, sometimes it can be tricky to track them down. Often they don't stop, despite seemingly looking empty.
Uber: The rules on Uber are slightly strange in Medellin. Technically it is illegal to take an Uber, but the app still exists – so it is very easy to pick them up. However, if the police stop you, you could be in trouble. Therefore, I'd recommend taking the local taxis – they are similar in price anyway.
Metro: The standard cost of the metro is 2,300 COP (roughly 80 cents), for pretty much all trips (regardless of the distance). It was built to enable locals up in the outskirts work in the centre – so it's a great option to save money.
Unfortunately, the metro station in Poblado is a little way out of the centre, at the bottom of a hill. If you take the metro to go to the centre of Poblado, be prepared to walk up Calle 10.
Bus: There are lots of buses around the city so you can easily pick one up from the side of the road. There aren't as many bus stops but they stop and pick you up as it drives along the route on the main road.
They say in big letters on the front where they are heading – but always check with the driver when you hop on, and if in doubt, ask the guy next to you. Each journey costs between 1,900 COP (under 1 USD).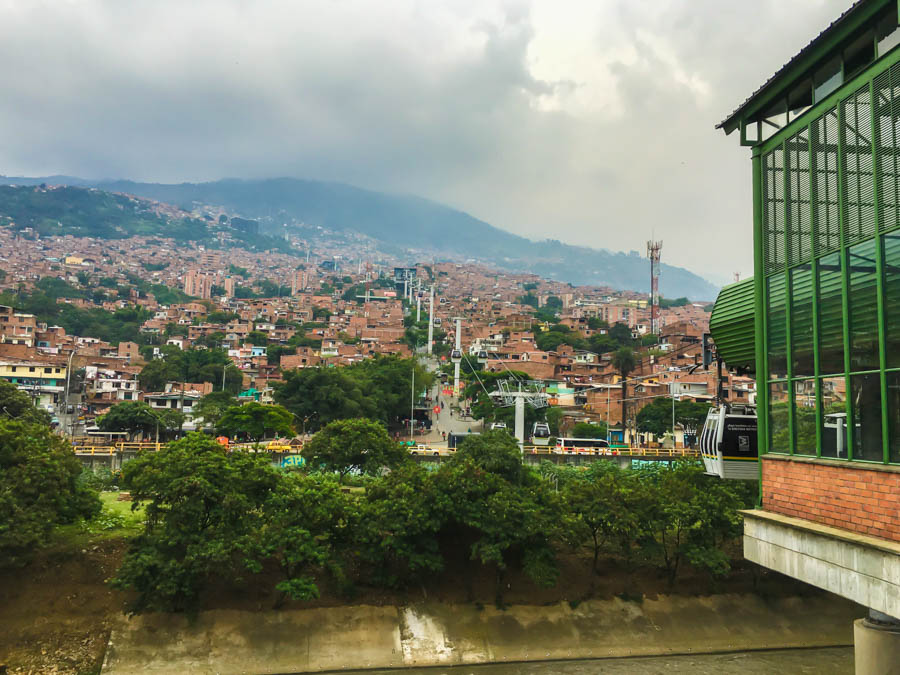 Digital Nomad Community in Medellin
With the massive influx of nomads, there are lots of meet-ups and social events. Hostel Ondas has a weekly social on their roof, specifically for digital nomads, and there are lots of independently organised Couchsurfing meet-ups.
Plus, there are lots of groups on Facebook, which you can request to join and be part of the community. For example:
So if you are looking to make some friends with like-minded people, it shouldn't be too difficult.
Living Like a Local in Medellin
Here are some of the best ways to get your food, groceries and other daily needs while living in Medellin.
Groceries
The most popular supermarkets are: Exito, Jumbo, Euro, & Carulla. There are many large supermarkets, as well as smaller convenience stores, all over. Exito, Jumbo & Euro are cheaper; Carulla is more premium.
For the more niche health foods, there are shops such as Salud Pan or Ceres Mercado Organic where you can pick up non-dairy milks, nut butter etc.
Plaza Minorista is a huge market with lots of fresh fruit, veg, meats, cheeses and more…such as the superstitious soaps that apparently the locals like to buy, to get good fortune in things such as love or finances.
Goods here are cheaper than in the supermarkets, but its location in El Centro means it's not as convenient to just pop down there, if you are coming from one of the resident areas mentioned above.
Street food
Arepas & empanadas are everywhere! There is a wide variety of types and flavours of each, and prices usually start at 2,000 COP (0.65 USD).
Drinks
Beer
The two most common, and generally cheapest, beers are Aguila & Club Colombia. Expect to pay around the following:
Supermarket: 2,000 COP (0.65 USD)
Local pub: 4,000 COP (1.30 USD)
Bars/restaurants: 6,000 COP (1.95 USD)
Nightclubs: 8,000 COP (2.60 USD)
Spirits
Aguardiente is the national spirit that's available all over Colombia. A 750ml bottle costs around 27,000 COP (just under 9 USD) in the shops, and with an aniseed taste, similar to sambuca, it is popular with the locals. (It's not for everyone though!)
"Ron Medellin" is Medellin's most popular rum, and is the cheapest spirit, after aguardiente. A 750ml bottle is around 28,000 COP (just over 9 USD) in the shops.
Juices
Colombians love their fresh juices, and there is usually a juice of the day included within the menu of the day at lunch. Popular flavours are:
Lulo – an exotic, sour Colombian fruit
Maracuya – passionfruit
Guanabana – a unique Colombian fruit, that almost tastes both sweet and sour.
They usually cost around 6,000 COP (1.95 USD).
Water
Tap water in Medellin is fine to drink. However, if you do travel elsewhere in Colombia, check the health warnings as it's generally not drinkable in most other areas.
Exercise
They say the Colombians are some of the most beautiful people in the world — so if you are looking to join the crew and stay in shape, there are plenty of places to go in Medellin.
Gyms
Alpha Fitness (Poblado) – has a great timetable for classes such as HIIT, TRX, yoga and crosstraining
Bodytech (all over) – loads of equipment available but one of the more expensive gyms, although you can get a trial pass which has 3 days free
Dinamo fitness (Envigado) – tends to be a bit cheaper, especially if you choose an off-peak membership
Yoga
Flying Tree (Laureles) – classes are available in both English & Spanish; 1x class is 25,000 COP (8.20 USD) or monthly unlimited passes are 160,000 COP (52.50 USD).
Running / walking
Parque Arvi – take the gondola to this massive area of nature, where you can walk around & enjoy the waterfalls and more
Cerro El Volador – a short but very steep hill close to Estadio, with incredible views overlooking the whole city
Stadium (Estadio) – the full-sized athletic track is free for public use
Nightlife
There's a variety of bars and clubs all over the city, although they are most heavily saturated in El Poblado or Laureles. Reggaeton and salsa are probably the two most popular music types for the locals, but there are numerous places around so you'll find something to suit your taste.
El Poblado:
The bars and clubs here tend to be a bit more western with more techno, house as well as the more Colombian reggaeton, salsa and bachata.
Electronic music: Mansion & Calle 9 are two popular clubs at the weekends, with entry usually costing just 10,000 COP (3.30 USD). Salon Amador has a good sound system but is a bit swankier and more expensive (usually 35,000 COP, approx 11.50 USD – although it can be more on special nights)
Salsa: Mojito Salsa Guaracha y Son. is a small, intimate but popular one.
Cheap beers with a chilled atmosphere: Latineria – located on Parque Poblado – has beers for around 4,000 COP (1.30 USD).
Laureles:
Calle 33 and the 'setente' (Carrera 70) is where most of the bars are situated here. They tend to feel a little more local, with more salsa and reggaeton.
Salsa/bachata: Son Havanah & El Tibiri are both popular spots amongst the locals
Carlos E Restrepo (not in, but close to, Laureles): A super eclectic area, close to the university, where many locals hang out and drink beers on the street, singing and dancing to the street performers. Drinking in the streets was banned in January, so this is one of the few places where you can chill at night.
Can't speak Spanish?
Medellin is a very cosmopolitan city so most people in cafes and shops speak English — especially in the more western areas of Poblado & Laureles.
El Centro is slightly less Western so you may find it a little harder to communicate in English but on the whole, you shouldn't struggle too much without any Spanish.
There are lots of Spanish schools around and language exchanges if you do want to pick it up while living there. Some recommended Spanish schools are below:
El Poblado
Laureles
Weather in Medellin
Medellin is also called 'The City of Eternal Spring', because the weather is generally pretty good all year round. It does rain from time to time (and usually when it rains, it pours) but it's consistently warm, being in the high 80s F / low 20s C.
It's a cultural hub
There are many museums, independent theatres and cinemas, concerts, and street art to inspire you when you're not working.
Botero's sculptures are dotted around the city, there's a plaza filled with 20m tall lights (Parque De Las Luces), and Comuna 13 (home to hip hop & graffiti artists) has some of the most vibrant street art in the city.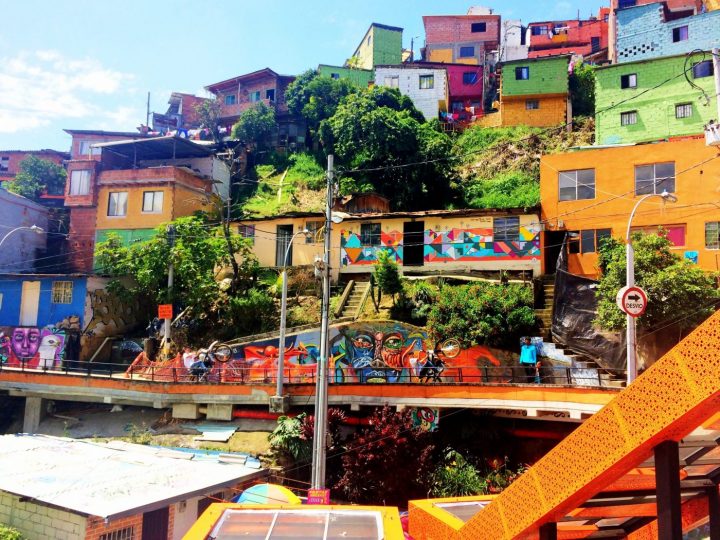 The list is constantly growing so it would be difficult to exhaust everything – but in the unlikely event of that happening, Medellin has two airports and national bus stations, so it's easy to travel internally for a weekend away.
Safety in Medellin
One of the main things that puts people off visiting Medellin is the question of safety. The city has undergone a massive transformation in the last 20 years, and the locals are trying super hard to shift the stigma to increase tourism.
There are the same general precautions which need to be taken, as with any big city.
However, from a personal perspective, I can honestly say that I haven't felt at risk at all. Obviously, if you go looking for illegal stuff, you will put yourself more at risk — but if you are careful, it shouldn't be any more dangerous than any other big city in the world.
With a low cost of living, good internet connection, and a large nomad community – it's no wonder more and more nomads are flocking here. Will you be next?
Like This Article? Pin it!