When it comes to European cities for digital nomads, Budapest might not be the first (or second) place that comes to mind. In this article, you'll find out why it really is one of the top cities for digital nomads.
An ex-communist country, Hungary has a terrible past that continues to linger today. However, after spending two months as a digital nomad in Budapest, my experience completely changed my thoughts on Budapest and Hungary.
The ruins left over from the communist era have now turned into ruin bars, which are some of the city's most famous attractions. The sense of dread and pessimism that used to persist in the city has now been replaced by a wave of energy.
It's not remotely close to what I was expecting. Instead, Budapest surprised me in every way possible.
Consequently, I've decided to write this guide so you can get an understanding of how life is for a digital nomad in Budapest.
What's So Special About Budapest for Digital Nomads?
As both an ex-member of the wealthy Habsburg Empire and the communist USSR, Budapest is a very unique city.
The Habsburg Empire has left many luxurious buildings with exquisite architecture that will make you feel like you're a king or queen living in a castle. On the other hand, you'll also find some dilapidated buildings throughout the city. Some have turned into the city's famous ruin bars.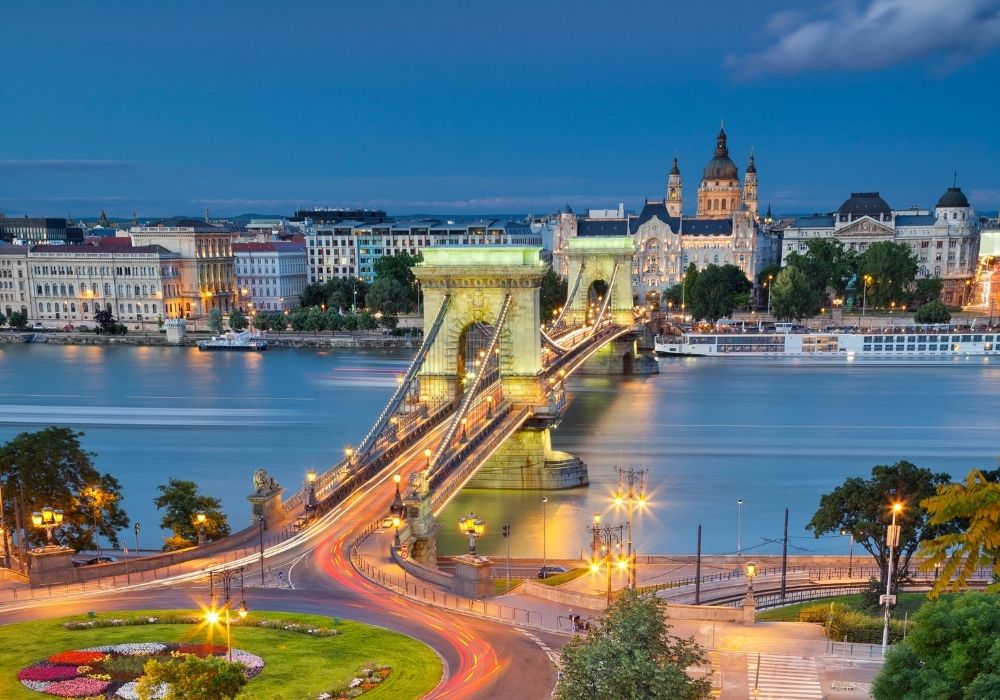 Besides being a capital city in Central Europe, Budapest has modern amenities, architectural masterpieces, and an affordable cost of living.
With its peaceful parks, natural thermal baths, and the gorgeous Danube River dividing the city, Budapest is simply one of the best value-for-money cities in the world for digital nomads and expats.
Is Budapest Safe?
It doesn't matter if you're planning on a long stay or have just a short itinerary for Budapest, safety is of utmost importance. Though affordable countries usually have a bad reputation in terms of safety, Budapest is very safe for travelers and digital nomads alike.
Crime is very rare, especially towards tourists. Most neighborhoods are safe in Budapest, and there's no reason to pass through the ones that aren't.
However, one thing you should be aware of is pickpockets, especially in crowded places such as bars and landmarks.
Nightlife is very vibrant in Budapest, and sometimes tourists are victims of theft and pickpocketing. Keep an eye on your belongings and don't get too under the influence, and you should be fine.
How to Find Apartments in Budapest
As Budapest becomes more and more popular for digital nomads, finding apartments and long-term stays has become easier.
Because most landlords will want you to sign a contract for a minimum of six months, digital nomads planning to stay for a shorter amount of time should consider Airbnbs. Even then, you can negotiate with your host for a longer stay at a better price, if you want.
Alternatively, most digital nomads in Budapest find their accommodation via Facebook Groups. There are many groups on FB geared towards expats, and many landlords post their listings there.
Some of the Facebook groups I recommend are:
This is a very easy way to find a long-term stay, especially if you don't speak any Hungarian. The trade-off is that local landlords from Facebook groups might take advantage of foreigners and overcharge them. It's not unheard of for foreigners to get charged more than 50% the normal rate for their apartment.
Another thing to be aware of is to make sure you discuss the conditions of your lease with your landlord. Check whether utilities and internet are included in the price because sometimes they'll tell you one thing but not include it in the contract.
Don't sign the contract until you've thoroughly inspected the apartment and confirmed that everything works (stove, shower, fridge, etc). Though pretty, many buildings in Budapest are old and some have been neglected.
WiFi Speed in Budapest
If you're a digital nomad, one of the biggest concerns is WiFi quality, namely its speed and availability. This isn't a big deal for me, since I'm not one to test my WiFi speed everywhere I go. It either works well or it doesn't. In Budapest, it always worked well, whether I was at a cafe, a co-working space, or my accommodation.
Funnily enough, curiosity got to me and I decided to do a simple Google search online to find out about its WiFi quality. Turns out, Hungary has some of the best WiFi in the world. In fact, Hungary's internet speed is often ranked in the top 10 countries in the world.
Establishments with free WiFi are abundant. Whether you're in a cafe, library, or restaurant, you'll have no problem getting some good WiFi. This makes remote working as a digital nomad in Budapest very easy and convenient.
Co-working Spaces in Budapest
Co-working spaces are an imperative part of the lives of all digital nomads.
Luckily, in Budapest there are plenty of excellent co-working spaces for a variety of needs. Many co-working spaces also hold events where coworkers can socialize and meet other digital nomads, which is ideal if you're living in Budapest as an expat.
One of the city's most popular co-working spaces is KAPTAR. Located a few blocks from Deak Ferenc Square (one of the main transportation hubs in Budapest), it's super convenient to get to.
They offer plans ranging from half-day to multi-month, which is convenient for any digital nomad in Budapest who will stay for any amount of time.
Another popular co-working space in Budapest is the IMPACT Hub. I personally like this one a little bit more because it's simple and flexible.
When it comes to membership plans, you decide how many hours you want per month. This can save you a little bit of money if your work schedule is flexible and you aren't sure how much time you want to spend at the co-working space.
Cost of Living in Budapest
If you're thinking about becoming a Budapest digital nomad, then cost of living is a major consideration. Luckily, Budapest is relatively cheap, especially compared to the quality of life you'll be getting.
Cost of Housing in Budapest
When it comes to apartment rentals, it's not difficult to find a one-room apartment around 120k HUF (about $380 USD) per month. This usually includes all utilities such as electricity, water and internet. If those aren't included, expect to pay around 15k HUF (about $50 USD) a month for it.
Cost of Food in Budapest
Another main cost to consider is food. Dining out in Budapest is somewhat expensive compared to other low-cost countries. A good meal at an average restaurant with a drink will cost you around 3000 to 4000 HUF, or about $10-12.5 USD.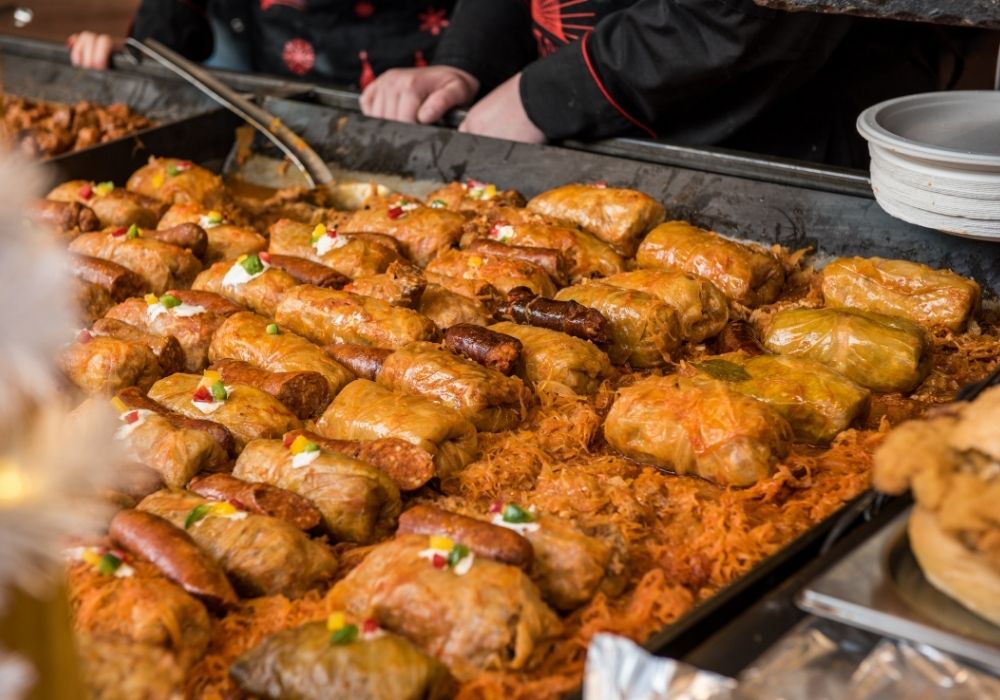 However, you can save a lot of money as a digital nomad in Budapest by cooking your own food. Groceries are very affordable compared to dining out. You can get an oven pizza at the supermarket for about 600 HUF, less than $2 USD. A week of groceries will only set you behind around 7000 to 10,000 HUF, or $22-32 USD.
The discrepancy between eating out and cooking your own food is enormous. If you want to lower your cost of living in Budapest, you must cook most of your meals.
Cost of Transportation in Budapest
Getting around Budapest is also very economical. A single-ride ticket on its public transportation system costs 350 HUF ($1 USD). Riders can save 500 HUF by buying them in bulks of 10, which isn't much but every little bit counts if you want to save money.
The ticket works on all modes of public transportation in Budapest such as the tram, trolley bus, bus, metro, and more.
Although public transportation is affordable in Budapest, you might not even need to take it because of how walkable (and bikeable) the city is. Most of its attractions are concentrated in the centre, which takes no more than 30 to 45 minutes to walk around. The city is also very bike-friendly and has bike lanes on most roads.
Cost of Sim Card in Budapest
Anyone staying in Budapest long-term will inevitably need to get a sim card for internet and calls. Fortunately, sim cards in Budapest are not expensive.
There are three major mobile phone internet service providers in Hungary: Vodafone, Telenor Hungary, and T-Mobile Hungary.
All of those companies offer prepaid packages where you can pay per month for a certain amount of data, calls, and messages.
Personally, I recommend Vodafone, but all three companies have excellent service in Budapest. I like Vodafone for its good nationwide coverage.
A 5 GB sim card from Vodafone costs 2950 HUF, or about $10 USD. This might not seem like a lot, but with how widely accessible WiFi is in Budapest, 5 GB is plenty for the average digital nomad. Make sure you check their official site for up-to-date information on sim card plans.
Weather in Budapest
Budapest, just like the rest of Hungary, has a continental climate. That means the summers are nice and warm with low humidity. In the winter, it can get quite cold, often dropping below freezing, and snow is not a rare occurrence.
The shoulder seasons, fall and spring, are quite nice with mild temperatures. This is the perfect time to enjoy some of Budapest's best attractions, as the crowds are relatively small compared to the summer months.
Activities and Things to Do in Budapest
Here are just a few fantastic places you can visit as a digital nomad in Budapest.
1. Visit the Hungarian Parliament Building
The Hungarian Parliament is unquestionably the most iconic landmark in Budapest. Soaring to a height of 96 meters high, it's tied for the highest building in Budapest, sharing the same height as St. Stephen's Basilica.
However, size and height aren't the only things this governmental building is known for.
The Hungarian Parliament Building boasts exemplary Gothic Revival architecture, and it contrasts starkly with the rest of the architectural style in the city.
A guided tour of the interior of this building is a must!
2. St. Stephen's Basilica
A few blocks away from the Hungarian Parliament Building is another of one of Hungary's famous landmarks: St. Stephen's Basilica. At 96 meters tall, it's purposely designed to be the same height as the Hungarian Parliament Building, symbolizing the equal power between state and religion.
The interior of the basilica is exquisite, with stunning relics and artwork. The most significant piece of work there is the right hand of St. Stephen, the first king of Hungary. It's incredible how they were able to preserve it for more than 1000 years.
Visitors can also climb up to the dome of the basilica for panoramic views of the city.
3. Ruin Bars
Ruin bars are the trendiest attractions in Budapest and one of the best ways to meet other people as an expat.
Ruin bars refer to bars that are built in renovated buildings that were left in ruins, most in the aftermath of the dreadful communist period that Hungary endured.
The most popular ruin bar in Budapest is Szimpla Kert. Featuring multiple bars, outdoor and indoor seating, quirky decor and sometimes live music, it's the perfect place for a good night out. Many travellers and expats frequent that bar, so it's very easy to meet people there.
4. Thermal Baths
If working as a digital nomad in Budapest gets stressful, worry not. Thanks to the geothermic action underneath many parts of Hungary, Budapest is filled with stunning thermal baths.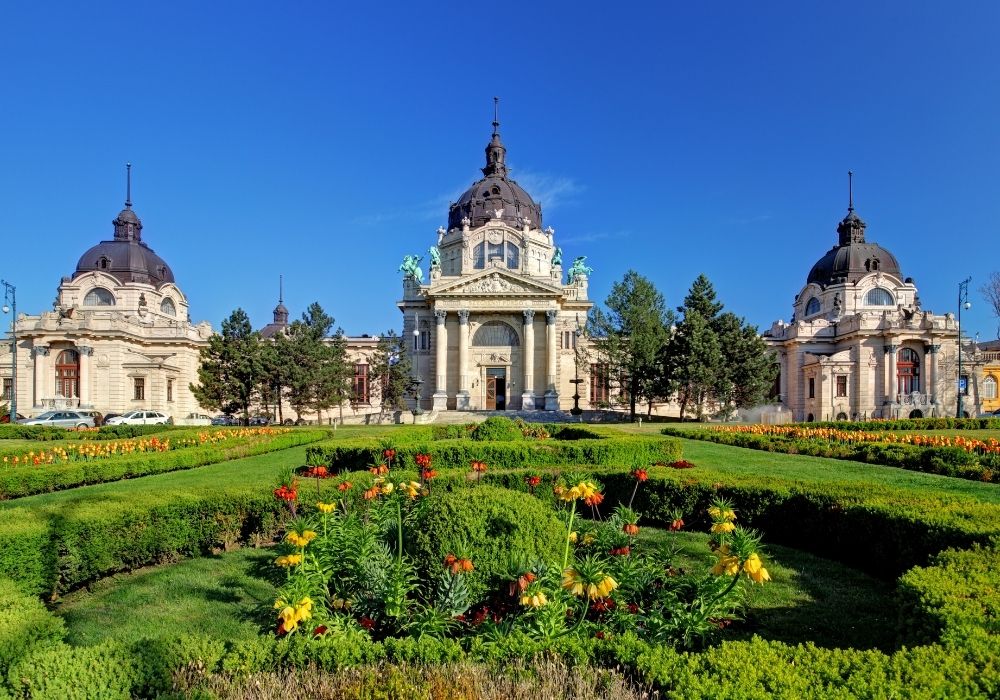 The most famous thermal bath in Budapest is definitely Szechenyi Thermal Bath. It's the biggest medicinal bath in Europe, and there's a total of 18 pools in Szechenyi with temperatures between 18 to 40 degrees Celsius.
Visitors will also find other wellness facilities such as saunas, steam rooms, and more. They even have a beer spa, where visitors can soak in a barrel and drink as much tap beer as they'd like. Whether that's part of the wellness facilities or not is up to you to decide! (It's definitely wellness for the mind.)
But the most iconic feature of the Szechenyi Thermal Bath has to be the three outdoor thermal pools. Visitors can soak in thermal water as they admire the Neo-Baroque architecture of the building. Talk about a relaxing experience!
In the wintertime, the thermal water and cold outside temperature create a layer of steam that hovers just above the surface of the water. It's an otherworldly sight that can't be missed if you're living in Budapest in the winter.
5. Fisherman's Bastion
Located on the Buda side of Budapest is another one of Budapest's best attractions: the Fisherman's Bastion.
Perched on a hill, the Fisherman's Bastion appears to have been used as a defensive point sometime in history. However, this defensive structure was never used to defend the city below. In fact, it was built between 1895 and 1902 to commemorate the 1000th birthday of the Hungarian state.
Though it isn't as historic as some of the other attractions in Budapest, the beauty of the bastion is the perfect place to take some photos for social media. Its high location on the Buda side also makes it one of the best viewpoints in Budapest.
The best part is that it's completely free to visit, so you don't have to worry about paying if you're not making a ton of money as a digital nomad in Budapest.
Pros and Cons of Living in Budapest as a Digital Nomad
Even the best city for digital nomads has its pros and cons. Budapest is no exception. Here are some of the pros and cons of being a Budapest digital nomad.
Pros:
Budapest is a beautiful and dynamic city that you'll never get tired of.
It's very affordable, especially considering its high standard of living.
It's easy to get around on public transportation or just by walking.
It has excellent nightlife that can help you establish a social circle quickly and easily.
It's very safe at all hours of the day.
Cons:
The weather is cold in the winter and daylight is short.
Hungarian food isn't some of the best (just my personal opinion).
Learning the Hungarian language is difficult (if that's something you'd like to do).
What's the Visa Situation for Becoming a Digital Nomad in Budapest?
Because Hungary is part of the Schengen Area, visitors from many countries (such as most parts of Europe, the United States, Canada, and Australia) are allowed a 90-day visa-free stay every 180 days.
This 90-day period can be for any purpose including business, making it very easy for digital nomads to set up in Budapest.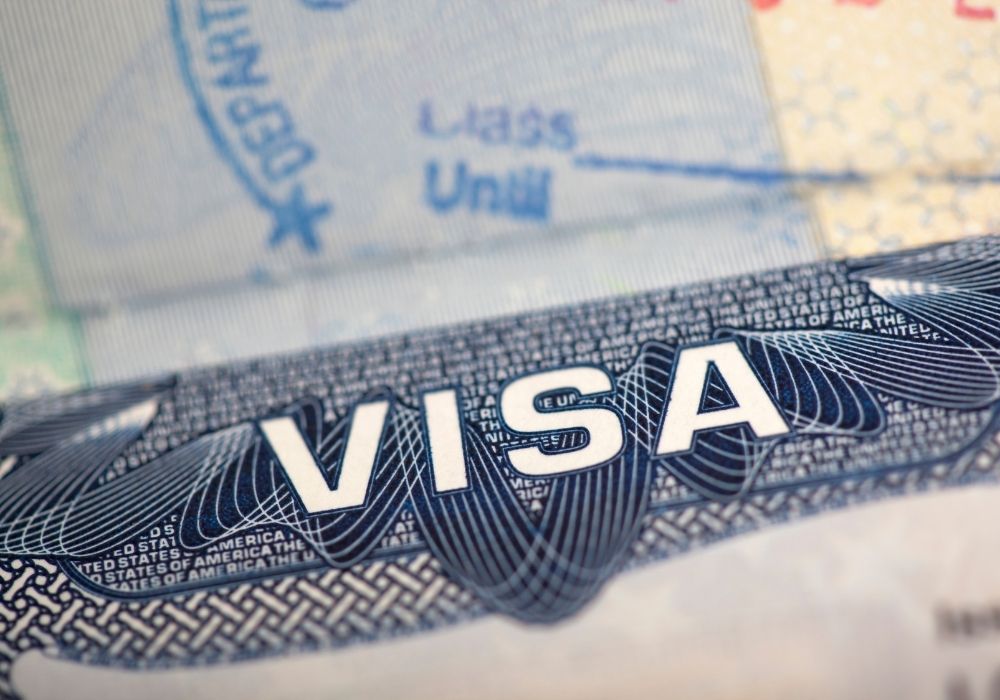 However, digital nomads need to be aware that if they spend time in any of the 26 European countries of the Schengen Area, it will count towards the 90 days.
Expats planning on staying more than 90 days in Budapest should apply for a residence permit at the respective embassy.
Conclusion
Being a digital nomad in Budapest is a fun and exciting experience. Not only do you get the comforts of a city in the United States or Western Europe, but you can discover its rich history, gorgeous thermal baths, and quirky ruin bars at affordable prices.
Before I conclude my guide, there's one more thing you need to be careful of when becoming a digital nomad in Budapest. You might never want to leave!
Like This Article? Pin it!