Digital Nomad Life
Everything you need to know about living the life of a digital nomad including the best places to live, costs, coworking spaces, internet speeds, and more.
What is a Digital Nomad?
Digital nomads are the ultimate free spirits of the modern workforce. Tech-savvy wanderers have traded in the traditional 9-to-5 grind for a life of laptops and location independence. These digital mavericks have found a way to harness the power of the internet and technology to work remotely from anywhere in the world.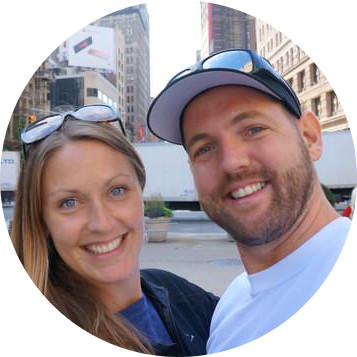 With the ability to work from the beach, the mountains, or even a cozy cafe, digital nomads are living the ultimate dream of freedom and flexibility. Say goodbye to the daily commute and the cubicle and instead spend your days exploring new places and meeting new people, all while earning a living.
We've been working online from various places around the world since 2012 – before the term "Digital Nomad" became so trendy! In fact, the majority of our team lives and works abroad as well.
But it's not all sunshine and rainbows, the life of a digital nomad isn't without its challenges. There can be difficulties in maintaining a work-life balance, staying motivated and productive while working remotely, and obtaining necessary visas and permits for long-term travel. But for those willing to put in the work, the rewards are well worth it.
There's a new way to live and work, and it's more than just a passing trend. Whether you run your own online business, are working as a freelancer, are a remote worker, or just looking for a change, the digital nomad lifestyle might just be the adventure you've been waiting for.
So pack your bags, fire up your laptop, and join the revolution!
On this page, we'll cover how to become a digital nomad and everything else you need to know about this lifestyle, including the cost of living in different destinations around the world, internet speeds, required visas, popular digital nomad cities, the best online jobs, and much more.
Recent Digital Nomad Posts
Here are a few of our most recent posts on the topic of digital nomad life. Our blog is all about learning how to become a digital nomad so that you can earn money while you're traveling and stay on the road or abroad for as long as you want.
Digital Nomad Visas
A lot of countries require a certain level of income to apply for their digital nomad visa programs. Use our custom digital nomad calculator to figure out what countries you might be eligible to live in for an extended period of time based on your annual salary.
Best Digital Nomad Visas
As a digital nomad, you can only stay in countries until your tourist visa expires. In many cases, this is a 30-day period, while some other countries allow you to stay for 6 months to a year.
In order to stay longer in each country legally, you'll need to apply for a work visa. Luckily for digital nomads, as the craze of remote work grows, so does the list of countries that offer digital nomad visas. These are easy to obtain in comparison to normal work visas, and they are made for those who work online.
Here's a list of 10 of the best digital nomad visas. Also, be sure to use the tool above to find many more visas based on your annual salary.
Mexico
Mexico offers the Temporary Resident Visa also called (No Lucrativo/non-lucrative visa), which allows digital nomads to stay in the country for up to four years.
In the past, we've personally lived in Mexico on tourist visas for upwards of 8 months, simply doing border runs to extend, but this is no longer as easy as it once was. These days, it's best to apply for the Temporary Resident Visa for stays longer than 6 months.
With its diverse culture, delicious food, and stunning beaches, Mexico is a popular destination for digital nomads looking for an affordable and vibrant lifestyle. Places like Mexico City, Tulum, Playa del Carmen, Oaxaca and Puerto Vallarta are becoming hotspots for remote workers.
Portugal
Portugal offers the Temporary-Stay Visa, which is valid for one year and can be renewed for four years. There's also the D7 Visa for digital nomads, which is valid for one year and can be renewed for an additional two years.
Portugal is a beautiful country with great weather, delicious food, and friendly people. And the cost of living is relatively low (depending on where you are), making it an attractive option for budget-conscious digital nomads.
Lisbon is the top choice for digital nomads. We spent 8 months living and traveling around Portugal and it's easily one of our favorite countries.
As an added bonus, Portugal has a tax scheme that allows you to apply for a 10-year flat tax rate of 10%. Only certain types of income apply, so it's important you talk with a local Portuguese immigration and tax lawyer before relying on this lower tax rate.
Estonia
Estonia offers the e-Residency program, which gives digital nomads access to Estonia's digital services and allows them to establish a company remotely. The program is open to anyone, regardless of nationality, and there's no physical residence requirement. Estonia also boasts a high-tech infrastructure and a small, close-knit community of digital nomads.
Costa Rica
Costa Rica offers a digital nomad program which is available to anyone who can prove a steady income from a business outside of Costa Rica, a pension, rental property, or investment. The visa is valid for one year and can be renewed for another year.
The country is one of our favorite places to live and travel around, known for its beautiful natural landscapes, friendly locals, and laid-back lifestyle, it's a place we could see ourselves living in one day.
Malta
Malta offers the Digital Nomad Visa (Nomad Residence Permit) for remote workers, which is valid for one year and can be renewed for three years. Malta is known for its historic cities, beautiful beaches, and Mediterranean climate.
We lived in Malta for 2 months back in 2018 and loved it. The cities of Valletta and Sliema are beautiful coastal metropolis with plenty of amenities, while the countryside is quiet and relaxed.
Panama
Panama offers the Friendly Nations Visa, which is available to citizens of certain countries (including the United States and Canada) and allows them to stay in Panama for up to five years. Panama is also a great place to live as a digital nomad, with its low cost of living, tropical weather, and abundance of coworking spaces.
New Zealand
New Zealand offers the Entrepreneur Work Visa, which is available to digital nomads who can prove they're working on a high-growth business. The visa is valid for 12 months and can be renewed for up to three years. Plus, New Zealand is known for its stunning landscapes, friendly people, and strong outdoor culture.
At the time of writing, we still haven't been to New Zealand and we always tell people that's because we're worried once we go there, we'll never want to leave. With their Entrepreneur Work Visa, this is becoming more and more a possibility.
Barbados
The Welcome Stamp is a new program that Barbados started offering in 2021 in order to attract more remote workers to the beautiful island of white sand beaches, sun, and rum.
This special stamp in your passport allows you to live and work remotely in Barbados for a period of 1 year. The application process can be done online and the fee is $2,000 for individuals and $3,000 per family.
More About Digital Nomad Visas
Digital Nomad City Guides
Learn about the cost of living and what it's like to be a digital nomad in different cities around the world. Below you'll find our top cities and countries for living as well as guides on what to expect should you choose to pack up your life and move abroad.
More Info About Digital Nomad Cities
Digital Nomad Countries
Below we have some country guides for digital nomads. If you want to find out what countries are best for digital nomads, or info about a specific country like the wifi speed, available accommodation, cost of living, etc., then you'll find it below.
More Info About Digital Nomad Countries
Digital Nomad Tips
If you're looking for more general tips for digital nomads, like preparing for the lifestyle, how to stay healthy, how to stay motivated, how to be more productive, and more, you'll find that information below.
More Digital Nomad Tips
Digital Nomad Gear
Below you'll find some useful posts about the equipment that you might need as a digital nomad / remote worker. We've been working remotely as digital nomads for over a decade and over that time, we've accrued more gear than we care to admit! Below we share articles on the best computer equipment, gadgets, software, and apps you may need.
More Digital Nomad Gear
About Our Digital Nomad Life
Find a Digital Nomad Job
Here are a few of our most recent posts on the topic of being a digital nomad. Our blog is all about learning how to become a digital nomad so that you can earn money while you're traveling and stay on the road or abroad for as long as you want.