We booked a flight to Donsol for little more than the cost of the 13 hour bus ride, but upon arrival to the airport we started getting worried that the flight would be cancelled due to the weather. Luckily the storm stopped just long enough to get our plane off the ground and it held off until we collected our bags in Donsol, at which point the torrential downpour continued.
We shared a van taxi into town with a few other travellers and checked in to Casa Bianca Hotel, a cool little place set on the beach with nice little bungalows 10 minutes outside of town. The staff was friendly and the property was beautiful but unfortunately the restaurant was overpriced and it was just too far to walk into town to eat every meal, so we moved after one night. On day two, still under the cover of heavy clouds and sporadic thunder showers, we checked into Santiago Homestay. A really nice little guesthouse right in the centre of the noisy town of Donsol.
Our reason for coming here was the same as all other travellers who make their way to Donsol, the guaranteed presence of enormous whale sharks of the town's coast. These massive 18 meter fish are often spotted, and snorkelled with, in the dozens in the waters off of Donsol town and we were excited to get in the water with them.
We had seen one in Mozambique but only adolescent males around 8 meters long frequent those waters, so we were stoked to see the true full-grown giants. Unfortunately it was more of the same from the skies in the Philipines. The storms, lightning and flooding continued for the entire 5 days we spent in this town, completely ruining all chances of seeing these mighty animals.
☞ SEE ALSO: Top 10 Philippines Beaches
We were pretty gutted but we spent our days in cafes working on our website, if it wasn't for that we probably would have gone through about 8 books in our time in Donsol. There was absolutely nothing to do when the weather is so terrible. We were lucky enough to stumble upon a small, brand new local restaurant soon to be named "Snack Depot", which was owned by an extremely friendly man named Bong. We spent a lot of time escaping the rain at the Snack Depot, enjoying delicious local specialties which always came with the great company of Bong and his family.
We quickly became friends with them and spent hours just eating and chatting with them and all of the local people who frequented his tiny little restaurant. There was also a dog named Globe who frequented his restaurant and apparently Globe's owner didn't want to lose him because he spray painted a big "G" on his side.
Bong ended up invited us to his boys 12th birthday where he treated us to a delicious Filippino version of spaghetti and plenty of the Snack Depot specials like grilled chicken and Shanghai rolls. We were very grateful to have met him and his family,  so even though the rain completely ruined any chances of seeing what we came to see in Donsol, we made an unexpected friend and will one day have to return to Donsol, not only to see the whale sharks, but also to visit Bong and his family and enjoy some more delicious Shanghai rolls.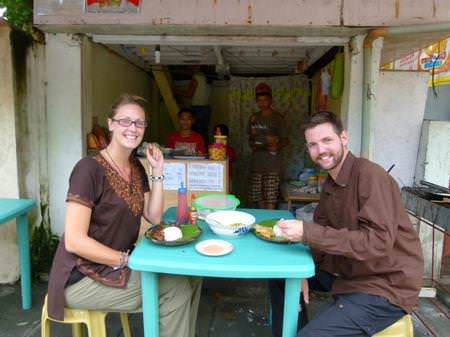 Like it? Pin it! 🙂