Back in 2011, we stopped in Athens during our 18 month, round-the-world trip and we found it the perfect place to have a city break. Sometimes when you're travelling, it's nice to make it to the city and have everything you need at arm's reach. Athens is one of the most historically significant cities in the world and makes for a great place to spend a few days.
"A great city, whose image dwells in the memory of man…"

-Benjamin Disraeli
Have A City Craving?
When we arrived in Athens, we had been travelling around Egypt and the Middle East for a few months and although we were in quite a few amazing cities, they just didn't have everything we wanted. Athens was different. We checked into our hotel and the owner gave us a map and a list of things to see and do in the area.
Stay Downtown
Our hotel was right downtown, in the heart of the action. If you're staying in one of the oldest and most famous cities on earth, you're going to want to stay IN the city. Where we were, there were some restaurants that opened out onto the street, local shopkeepers sold everything from shoes to sheesha pipes and we could hear the echo of Athens from our 5th floor window.
One of the best parts of staying in the city is having a nice room. There are times on a long trip when you just don't have nice hotel rooms. We had stayed in some pretty dodgy places up until this point including a dank dungeon in Beirut.
Know The History
The oldest known Athenian settlements are those found around the city of Acropolis. Dating back an astonishing 5,000 years, evidence of this settlement proves that Athens is one of the oldest cities in the world. The expansion of Athens was closely linked to Piraeus, the nearby commercial port town. A centre for the arts, learning and philosophy, Athens it is widely referred to as the cradle of Western civilization and the birthplace of democracy. This hefty claim is largely due to the impact of its cultural and political achievements during the 4th and 5th centuries BC which affected the rest of the European continent.
The Acropolis, Athens… on a quiet day!
Know When To Go
As with most places in the northern hemisphere, the best time to visit Athens is in Spring (March – June) and Fall (August – September). If you're into festivities, it would be great to time your visit for Greek Easter (April, 20th) which brings religious traditions & festive foods together in a joyous celebration.
A Short Stay Is Okay
Athena Statue. By: Giovanni Dall'Orto via WikiMedia Commons
We were only in Athens for a few days and it was the perfect amount of time. You often don't need weeks on end to visit a city, although we recently spent 2 weeks in the small town of Valladolid in Mexico. Sure you can get more out of a city if you stay longer, but usually most of the main sites, attractions and activities are within a few kilometers. Good local transport like the OASA and city metro can get you around Athens in no time.
Go Slow
Don't have a "once in a lifetime mentality." We took this little piece of advice from this GoWithOh article and it's a great tip for a city break and for travel in general. We meet so many people who try to see everything in a city, country or continent and no matter how long you're gone for, we always say slow down and smell the roses. When we were in Athens, we missed a few of the main attractions but we were able to visit the city and see most of what we wanted and we never felt rushed.
Pro Skaters In Athens
There was one day when we just hung out in the park for a few hours and we're glad we did because some pro-skaters came and were shooting a skate video right in front of us! It was a great example of why every minute of you day doesn't need to be planned.
Don't Miss…
Okay, I know we just said that you should take your time and not try to see everything, but here are a few things you should try not to miss in Athens:
The Acropolis: This is obviously the first point on almost everyone's list when visiting Athens. Sacred marble temples adorn a hilltop city, paying tribute to the city's god, Athena.
Plaka, Monastiraki and Thissio: Charming historic districts at the foot of the Acropolis. You'll likely see these restored 19th century neoclassical homes, pedestrianized streets, shops and restaurants on the way up to the Acropolis.
The Odeon Of Herodes Atticus: originally a dangerously steep amphitheater, the Odeon Of Herodes Atticus was built in 161 AD by Athenian magnate Herodes Atticus in memory of his wife, Aspasia Annia Regilla.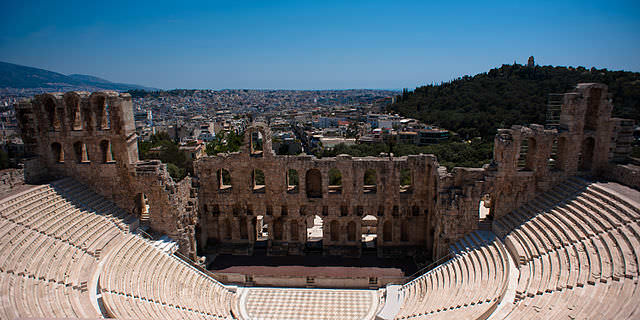 Metaxourgeio: The district of Metaxourgeio, located northwest of Psiri is a large, public space that is well suited to artistic expression of all kinds. If you're into arts of bohemian culture, this is the place for you.
Psiri: This is the trendy part of Athens with plenty of cool bars, leafy walkways and funky cafes.
Kifissia: Known for its high-end stores, this is one place we didn't visit, but if you're here on a city shopping break, this is where you'll want to be.
The Changing Of The Guards: Best viewed on Sundays at 11 am, the "big show" is quite a spectacle. While not as dramatic as the Changing of the Guard in London, England, it's fun to watch the synchronized movements of the costumed guards.
The Changing Of The Guards, Athens
Make The Most Of It
Athens is the perfect place for a city break and all you have to do is sit back and watch the city come to you. There is plenty to do here from shoe shopping to sight seeing and there's enough history here for everyone to enjoy. Athens is an excellent city for a short or long trip and as long as you take your time and don't plan too much, you're sure to have a great time in this historical city.
Disclaimer: Some links in this article are affiliate links, which means that if you purchase through them, we receive a small commission. This will never cost you extra and in many cases you receive a special discount. We appreciate your support!