Travelling from Mexico to Guatemala? There are two popular routes that most travellers take from Mexico to Guatemala:
1. From San Cristobal de las Casas in Chiapas State: cross at the Mexican town of Ciudad Cuauhtémoc (La Mesilla in Guatemala), reached via Route 190.
2. From Oaxaca State: many people choose to take the coastal Route 200 through Chiapas and down into Guatemala. Cross the border at Ciudad Hidalgo (Tecun Uman in Guatemala).
Since most travellers choose to spend some time in the colonial city of San Cristobal (ourselves included), we went with that route.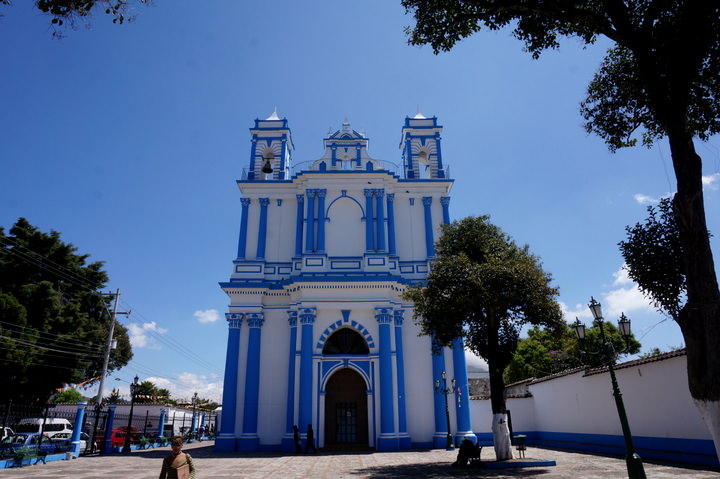 How to get from San Cristobal (Mexico) to the Guatemalan Border
Note – all prices are in US Dollars
You can take public transport from San Cristobal (OCC Bus approx 100 MXN/$6.50, 3.5 hours) to the border town of Ciudad Cuauhtemoc. Once there, you will need to stamp out of Mexico and hop on a collectivo taxi (10 MXN/$0.65) to take you through "no man's land" to the Guatemalan border.
Once you're through immigration on the Guatemalan side at La Mesilla, you can find a chicken bus to take you to your final destination – such as Quetzaltenango (40 Quetzals/$5.25) or Huehuetenango (20Q/$2.65, 2 hours). Pullman buses go to Guatemala City (approx. 170Q/$22.30, at 9:00pm, 8 hour journey).
Since our final destination was Lake Atitlan (which is 220 kms from the Mexican border), rather than try to figure out all of that transportation ourselves, we thought it seemed logical, easier, and basically the same price, to opt for a shuttle bus to take us from San Cristobal in Mexico all the way to Panajachel on Lake Atitlan, Guatemala.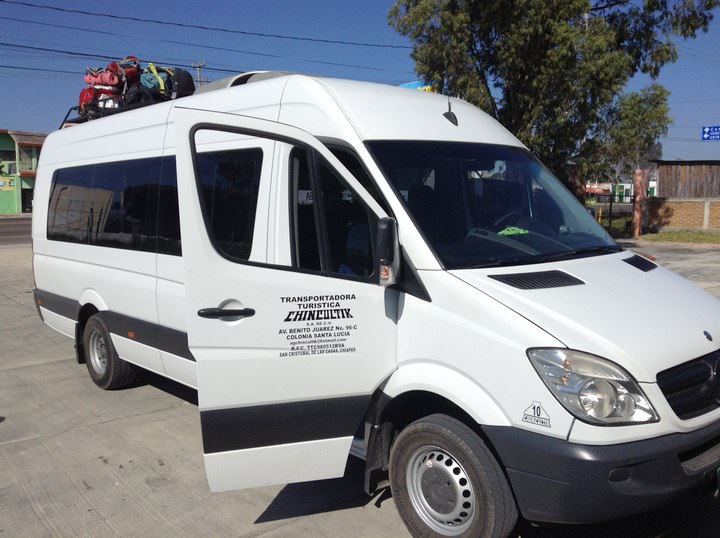 The Journey from San Cristobal to Panajachel by Shuttle Bus
There are tour companies all over San Cristobal that you can approach independently to book a ticket. We opted to reserve our shuttle bus ticket with the hostel we were staying at (Rossco Backpackers). The company they worked with was Chincultik, and the cost of a ticket from San Cristobal to Panajachel ("Pana") was 305 MXN ($19.75) each, with the full journey taking 8 or 9 hours.
The minibus picked us up at our hostel at 7:30 am and together with 17 other passengers, we left the city. At 9:30 am, we stopped at a typical tourist-trap restaurant for breakfast, which consisted of a cold buffet for 95 MXN ($6.15).
Around noon we arrived at the border town of Ciudad Cuauhtemoc. Here's where things got a bit weird…
"Official" Exit Fees
We were told that there is an "official" exit fee for leaving Mexico – a fee that is included in your airline ticket if you arrived in Mexico by plane. The cost of this exit fee (we were told by our hostel) is 250 MXN ($16.22). So, since we knew this would happen, we contacted our airline and had them send us a breakdown of fees included in our airline ticket. We had this with us when we arrived at immigration.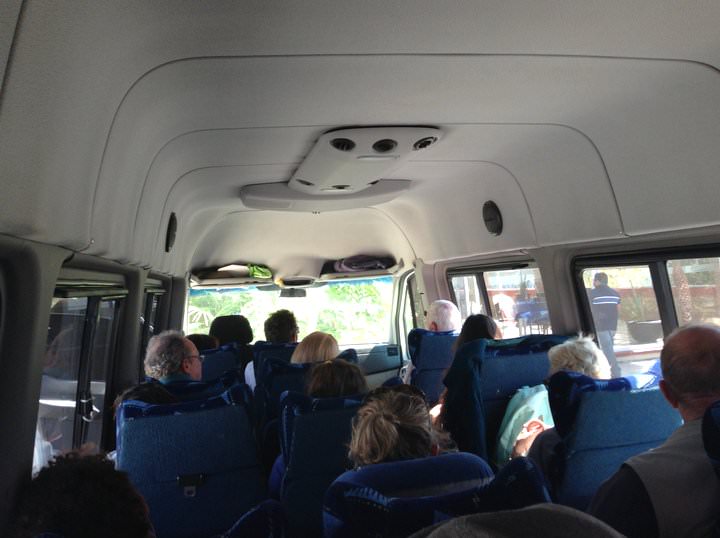 We were prepared to go into the immigration office ourselves and stamp out of Mexico (which is standard procedure), however, the driver collected all of our passports and everyone's "exit fees" of 332 MXN ($21.70). When we left Mexico and entered Belize last year, the cost of this exit fee was 306 MXN ($20), which just proves that this fee isn't official at all! And another thing: how did the passengers know that was the correct exit fee? They just trusted the driver? Nick and I were both baffled by this, but kept our mouths shut, as we had our "get out of Mexico free" papers.
(Note: LunaGuava chose to pay this exit fee at a bank in San Cristobal rather than dealing with corrupt border guards. Their fee? 295 MXN ($19.15).
**As you can see, this is all very sketchy. If you arrived by air, make sure to have your airline send you a breakdown of fees paid. If you don't have this, maybe it's best to pay the fee at a bank in San Cristobal.**
The Guatemalan Border
After receiving our stamped passports back, we continued to the Guatemalan border, in the same bus that we arrived in. It was a typical border town with many money changers, food vendors, transportation drivers and even a couple of crazy people wandering around. Once there, we collected our backpacks from the roof of the bus and started walking.
We needed to walk about 100 m to the immigration booth to get our official Guatemalan stamp in our passports. We waited in line and were told we had to pay 20 MXN ($1.30) to enter the country. Now, this fee definitely isn't official and is something new that the border guards are trying out. Unfortunately, it's either pay the $1.30, or don't enter the country.
While we headed straight for Lake Atitlan from the border, you could technically head to Antigua and then on to other major sites like Semuc Champey or Tikal but you'll likely have to stop in Antigua for a night first.
Exchanging Money at the Border
When we were in San Cristobal, we attempted to change some of our Pesos for Quetzals (the currency of Guatemala), but no money changers or banks had any of their neighbour's currency. So, we had no choice but to take a bit of a hit and change our money at the border.
We received a rate of 0.45 Q for 1 peso. The rate is supposed to be 0.50 Q for 1 peso. But at least the transaction was friendly and smooth, unlike other times when we've changed money at borders.
Our driver was waiting for us as we exited the small immigration booth, but he wasn't there to continue being our driver. He directed us to his colleague in a different minibus who would take us the final leg of the journey to Pana, while he took other foreigners from the border back to San Cristobal.
The remainder of the journey was also smooth and easy, with a couple of bathroom breaks along the way. The bus stopped at a gas station which had an ATM machine, so we took out some more local currency while we had the chance.
Arriving at Panajachel
We were dropped off at a tour agency in the center of Pana, and made our way down to the docks. If you're not staying in Pana, you can get a boat to anywhere on the lake until 7:00 pm. Lucky for us, we arrived at 5:30 pm, and took a boat for 25Q ($3.30) to the village of San Juan.
In total, the journey was 10 hours long.
For an overview of what the town of Pana is like, check out our quick video here.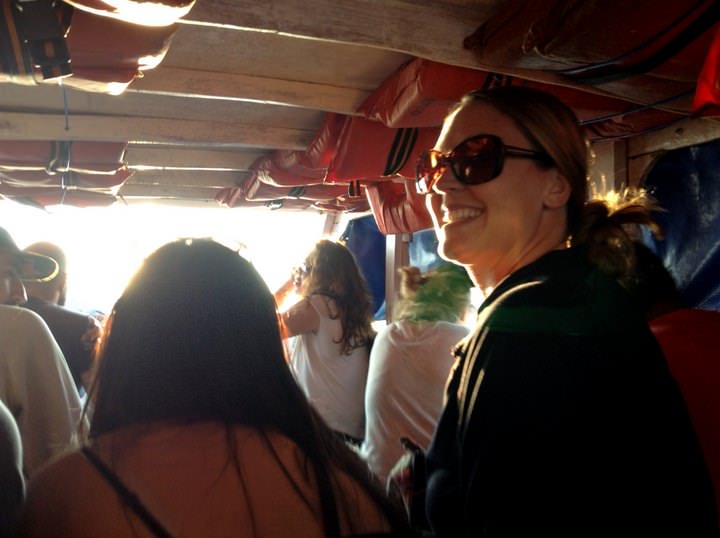 Top Goat Notes:
If you haven't paid for your exit fee at the bank in San Cristobal, or if you don't have your proof of payment, make sure to have enough pesos on you to pay for this fee. Same with the entrance fee to Guatemala…otherwise you'll be stuck at the border. It's also possible that they will accept US dollars, but not at a very good exchange rate.
Bring some water, food and snacks, or you'll end up paying too much money for the food on offer.
If you're prone to motion sickness, you may want to take a motion sickness pill. Apart from many speed bumps, the roads on the Mexican side aren't so bad, but things get a little windy on the Guatemalan side.
We definitely recommend taking the shuttle bus option, as it's only $19.75 to get you all the way to Lake Atitlan. If you were to try to do the journey independently, you might save a few bucks, but since this simple trip already took 10 hours (which was longer than expected), imagine how long local transport would take! Not to mention, the shuttle buses stop for food, bathroom breaks and are comfortable.
For more information, check out: Surviving Food Poisoning – Goodbye Mexico, Hello Guatemala!
Like This Article? Pin it!