This post will teach you how to start a travel blog in just a few minutes with a half-off discount from Bluehost. This is the easiest-to-follow guide online and the only one to offer a free blogging eBook plus a 50% hosting discount. It's not just for travel blogs either, this guide will help you create any type of blog you want.
I'll even show you how to start a travel blog if you can't think of a name right away. Using this guide, you can start your travel blog today, begin designing your website and writing blog posts and then choose your name when you're ready later!
The purpose of this guide is to start the best quality blog for the least amount of money possible. That is why we're starting the blog with Bluehost. They are the most trusted hosting provider online, and with our discount, they're also the cheapest. If you follow this guide, your new blog won't cost more than $2.95 / month ($35.40 / year).
We started our blog back in 2012 and today it earns over six figures per year and affords us a life of travel, freedom and adventure. We now want to help you to start your blog so that you too can earn money from blogging and pay for travel.
Free eBook When You Start a Blog Today
When you start your blog from this post, you'll get my Pro-Blogging eBook for free. This book will show you how to build an audience, grow social media and blow up your blog quickly so that you can earn enough to pay for your travels in as little as six months.
If you're having difficulty with any of the steps in this article click the little chat button on the bottom left of the screen, send us a message and we'll help you out.
Disclaimer: All of the links to Bluehost are affiliate links, which means that because we work with Bluehost, you will receive a large discount and we receive a commission for any purchases you make using our links. It doesn't cost you anything extra, in fact you can save as much as 63%, and it helps to keep this blog running so we do appreciate your support.
Let's get started!
---
Step 1 – Set Up Your Domain & Hosting
To get started with this process, you can click the blue button below and it will take you to a special Bluehost sign-up page which includes our Goats on the Road discount. Once clicked, the Bluehost page will open in a new tab in your browser. Simply click back to this tab to continue following directions.
🔴  If the button doesn't work CLICK HERE to continue.
Click the above button and automatically receive 63% off your blog StartUp cost for a limited time!
After you click the blue button above, you'll see the special Goats On The Road discount screen at Bluehost. Now just click the green "get started now" button on that page.
After you click the "get started now" button, you'll be brought to a new page where you will sign up for hosting.
What is Hosting?
---
Every real blog online has to be hosted by a hosting company. Bluehost is the #1 most used and trusted hosting network on the internet and with our discount, it's also cheaper than you'll find anywhere else. You could start a blog for free, but someone else would own your blog / domain. You must own the domain and pay for hosting if you ever want to make money from your travel blog. When you click the Get Started Button at Bluehost, you'll be buying your site and brand so that you own it 100%.
Now you can simply choose the cheapest, most basic plan on the left and click "select". There's no need to spend any more than the absolute minimum today. We'll keep the sign-up process as cheap as possible now, you can always upgrade later.
Go back to the Bluehost tab in your browser and select the basic plan.
Now it's time to choose your domain! Don't worry, you won't be charged extra for this as it comes free with your Bluehost basic package.
The domain name is the part that goes between the "www." and the ".com" in your new blog's web address. It's also the name of your blog, your brand and your new company so choose wisely.
If you're having a hard time thinking of a domain name, please click the support bubble at the bottom left of your screen, send me a message and I'll help you think of one.
Once you've decided on a name, type in your new domain in the left and choose ".com" from the drop down menu (.com websites are the best). Then click "next".
Time to pay! With the Goats On The Road discount you won't pay more than $106.20 USD today and that will keep your blog running for 3 whole years. You'll have to fill out all of your new account information now. It's quick and easy and they don't ask for anything too personal aside from your credit card info 🙂
Further down on the page you'll have to confirm the package that you chose. Here, make sure the cheapest one is chosen (Basic 36 Month $2.95/mo). If you want to start by just paying for 12 months at first, go for it. Totally up to you, but you'll spend more / month if you choose a shorter plan and let's be honest, you're going to be a pro blogger for many years to come!
Let's keep it cheap and go for 36 months. Also, no need for Domain Privacy Protection or the other extras. Uncheck those boxes and scroll down.
Note: Taxes depend entirely on what country you start your blog in. If you see taxes added to the total amount, it's the local government tax and can't be avoided. Some countries don't charge tax on hosting and some do, but it's not usually more than $25 or so.
You're almost done the hardest part! Go back to the Bluehost tab in your browser and enter your credit card information, tick the "I confirm" box and then click "submit".
---
Click The Blue Button Below!
You're now eligible for our free blogging eBook. Simply click the blue button below and enter your email and we'll hook you up. But you're not done setting up your account yet, so make sure you keep scrolling down to complete the process. We're almost there…
---
---
Okay, back to creating your blog. So far it hasn't been too hard right? Now we get to move onto the fun stuff. Creating your account, designing your blog and writing your first blog post.
Step 2 – Set Up Your Bluehost Account
After clicking the "submit" button, you'll see a "welcome to bluehost" page like the one pictured above. From the "welcome to bluehost" screen, click the "create your password" button. Now you'll be asked to think up a new password. Try to include a capital letter, a number and a symbol if possible and make sure you write it down.
Got a good password? Type it exactly the same in both boxes and then click "Create".
Now you are ready to log in to Bluehost. To do so, click here (goes to: https://my.bluehost.com/web-hosting/cplogin) and then enter your domain and your new password below. Then click "Submit".
Step 3 – Install WordPress
WordPress is the software that you'll use to blog. It's BY FAR the easiest to use and most popular blogging software on the web and it's 100% free, plus it only takes about 30 seconds to install with Bluehost.
After you sign into Bluehost in step 2, you'll see a screen like the one pictured below. This is where you'll install WordPress (in just a few clicks), and have access to lots of geeky stuff like stats and upgrade options. Don't worry about all of the other stuff for now. Simply click the "Install WordPress" button.
Once you click the "Install WordPress" button, it will open a new window. Here you just need to click "Get Started" to begin the install process.
Now select your new domain from the drop down, leave directory as is and click "next".
Now you're on the last step of installing WordPress. Simply write the title of your blog on the left (ie: Your New Blog), use your email as your admin username, type the same email again next to the "admin email" box, enter in a password that you will remember (again use symbols, capitals and numbers if possible).
This can be the same as the password you chose in step 2 but doesn't have to be). Enter your email address again, make sure all three boxes are checked and then click "Install Now". You will need this Admin Password and Admin Username in the next step, so make sure to memorize it and write it down.
Now you'll see a screen with a bunch of Bluehost products for sale and a loading wheel at the top. WordPress is currently installing. This can take a few minutes so just wait here on this screen.
When the install is complete you'll see a screen like the one pictured below.
Bluehost tries to tempt you in with some paid WordPress themes but you can just ignore that. We're going to load your site up with a free theme later that looks stylish in the next step!
Now you own a domain name and have a new blog and WordPress! It's time to move to the next step.
Step 4 – Log into WordPress & Design Your Blog!
Now comes all of the fun stuff! You're ready to pick a sexy theme / design for your new blog and start adding articles, pictures and videos. The eBook that you received for free through this post explains blog design in great depth, so we won't get too far into it here, but I will show you how to quickly choose a theme to get started.
First you need to log-in to WordPress. To do so open a new tab in your browser.
Then type into the URL field "www.YourNewBlog.com/login". Of course change "YourNewBlog" for the actual name of your blog.
Then you'll see a screen like the one below. Simply enter your email and the password that you chose in the last step and click "login".
The next screen will be your WordPress Dashboard. This is where all of the bloggy magic happens. Our eBook will explain a lot of the stuff that is in this area and will help you to get to know the many different sections of your WordPress blog.
The dashboard is where you'll start new posts, change your website appearance, add plugins and make your website become an extension of YOU.
WordPress now makes the set-up process easy. When you login to your new WordPress dashboard, you'll see a easy set-up Welcome Screen that will help you with the next steps.
Click the button that says "Business" to start creating your blog.
Now let's get on with your blog customization and theme installation. In the WordPress Dashboard, look on the left-hand toolbar and hover over "Appearance", then click "Themes".
A screen will load like the one below. You can then click the button that says: "Add New Theme".
This will take you to a screen that will allow you to choose from thousands of themes!  Take your time. When you start a travel blog, you want to kick it off with a style and theme that suits you and your new brand.
To see what each theme looks like, just hover over it and click the "Preview" button. Once you've chosen a theme, hover over it and click the "Install" button. A good one to start with is the "Twenty Seventeen" theme. This one is created by WordPress and is excellent for beginners.
Now that you've picked the perfect theme, you can go in and customize it by adding your own logos, colours, pictures, widgets and page elements.
To start customizing your new blog, hover over "Appearance" on the left side of the dashboard and click "Customize".
This will bring you to a screen that will allow you to change the colours and layout of your theme.
In the image below, you can see an example of the theme customization page. Going down the left hand side you can see which theme you're editing and different parts of the theme that you can change.
The options to customize your theme that appear on the left-hand side are as follows:
Site Identity: The title of your site and the tagline that will show up in Google searches
Colours: Edit the different colours on your blog. From background colours to font colours.
Header Image: Most themes will have a header image at the top. Here you can upload a picture of yourself to show on your home page.
Background Image: Sometimes sites have an image as a background. This can look too busy though so be careful if you choose to upload a background image here.
Menus: Here you can change what will appear in the menu bar at the top of the page. Write the structure of your blog on a piece of paper, then transfer it to your menu. Make sure your readers can easily navigate your site!
Widgets: These are those cool things you find in the side bar of most blogs. Choose and customize them here.
Each theme is different and offers different things that you can customize. Play around for a while in here and try to find a layout that is fun, interesting and most importantly – easy to read and navigate.
Don't worry, applied for our free blogging ebook in the earlier steps by clicking the blue button and entering your new domain name, you'll receive our ebook soon. In that book, there is a ton of more info on customizing your blog and even some useful plugins that will help you get started.
STEP 5 – Start Travel Blogging!
Now that you've chosen your blog layout, theme and colours, it's time to begin blogging. You have a lot of work and research ahead of you.
For now, let's just start with the basics. Writing a blog post. To do this, head back to your WordPress Dashboard and at the top of the screen hover over the "+New" button and click "Post".

You'll then be brought to the Edit Post Screen. Here you can type away and create as many blog posts as you want. Get writing! The more content you create, the quicker your blog will grow. If you can write a post a day, or even just 3 posts / week, you're doing a great job.
Set a schedule for yourself and stick to it. If you can only write 1 article per week, always write just 1 and publish it at the same time of day. If you can publish every Monday, Wednesday and Friday at 4:00 pm, stick to that schedule.
Google loves it when a blog produces content on a reliable schedule… like a newspaper.
Try to write things that people will find useful. How-to's, guides, hacks etc. Don't just write a diary. These types of blogs hardly ever attract readers or make any money without some level of useful information.
Now you'll want to set up your social media accounts for your blog. Don't use your personal social media accounts for this. Set up an entirely new Facebook fan page, Twitter account, Instagram, YouTube, Google+, Pinterest etc. Set up as many as you think you can handle and continuously post on each account.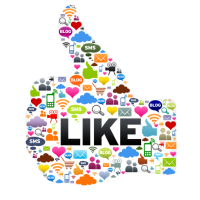 After you've produced a lot of useful content (posts) on your blog and you've started your social media accounts, you'll want to start with basic marketing of your blog so that you can grow your readership and eventually earn money.
To do this, you'll want to share your articles on your social media accounts, and do A TON of guest posts.
Email all of your favourite bloggers and ask them if you can write an article on their site and link back to your new blog from it. If your blog is about budget travel, then the anchor text should be "budget travel"… like this: Budget Travel. In that link, the words "Budget Travel" link to GoatsOnTheRoad.com.
Those words are called "anchor text" and the more links you have with certain anchor texts, the more likely Google will show you in search results for those terms.
Be careful not to create hundreds of the exact same anchor texts in different guest posts because it can start to look spammy. Choose variations of your main anchor texts and link to specific articles with anchor texts that match the articles' main point.
For example, if I wanted to write multiple guest posts and link back to this post I would use anchor texts like Start A Blog, Create a Blog, Start a Blog From Scratch etc.
Now you're going to continue to write new content, add new pictures and posts to your social media accounts and write a ton of guest posts for months on end. This will be your routine. Recycle it over and over and watch your traffic grow.
It will be VERY slow for the first year, but suddenly things will speed up, Google will start to recognize you and you'll start growing a loyal readership. Once you've grown some traffic, you'll be able to start earning an income.
Note: To keep track of your traffic, you'll want to set up Google Analytics. Click Here to learn how to do that.
Because there is so much information in our eBook, I won't get into too much detail about creating posts, using WordPress, running social media and marketing your blog online. For now, we've covered the basics to start a blog that can one day earn you a full-time income.
You can check out our Travel Blogging Section for more about running a blog, plus, you will learn A LOT from the free eBook, which should be arriving in your inbox soon. It covers everything from how to earn free travel, get flown around the world on press trips and get paid to travel.
If you bought your domain and built your blog through affiliate links in this post, thank-you so much for your support!
If you have any questions about running a blog, or you run into any troubles while following the steps in this article, please do not hesitate to Contact Us.
Disclaimer: All of the links to Bluehost are affiliate links, which means that because we work with Bluehost, you will receive a large discount and we receive a commission for any purchases you make using our links. It doesn't cost you anything extra, in fact you can save as much as 63%, and it helps to keep this blog running so we do appreciate your support.
Congratulations! You are now officially a blogger!
Disclaimer: Some links in this article are affiliate links, which means that if you purchase through them, we receive a small commission. This will never cost you extra and in many cases you receive a special discount. We appreciate your support!