Our travel life began long before Goats On The Road was born, and because of that, we don't really have any stories from our First Trip. We constantly refer to "our first trip" or "when we first started travelling" on this site, but where did we go? What did we do? When did we do it? How did we do it? Why did we decide to travel? Here we finally shed some light on our very first backpacking trip!
The Big Decision
Nick and I made the life choice to drop our perfectly normal, socially acceptable lives back in Canada and take off on a year-long trip. We both had good-paying careers, a home to call our own, a nice vehicle, lots of friends and were always out socializing.
We soon realized we weren't happy with this lifestyle anymore and that something was missing. We decided we needed to make a drastic change and thought a long-term backpacking trip would do the trick.
Planning & Preparing
We had planned our route, booked our travel insurance, read more guidebooks than you can imagine, got our vaccinations, shopped for everything we needed and did all of the necessary steps for planning a trip around the world – which seemed very overwhelming at the time.
In order to travel the world for a year, we needed to have some money. Nick worked overtime shifts, we saved money wherever possible, sold our home and our car and stored the remainder of our belongings before leaving. It was stressful, nerve-wracking and totally crazy…yet the moment the plane took off, we knew it was the right decision.
The Departure
After a few goodbye parties and farewells with family and friends, we left on November 18, 2008 and returned to Canada on December 22, 2009, just over 13 months later. I was 24 years old and Nick turned 24 the day our plane landed, not a bad way to celebrate a birthday!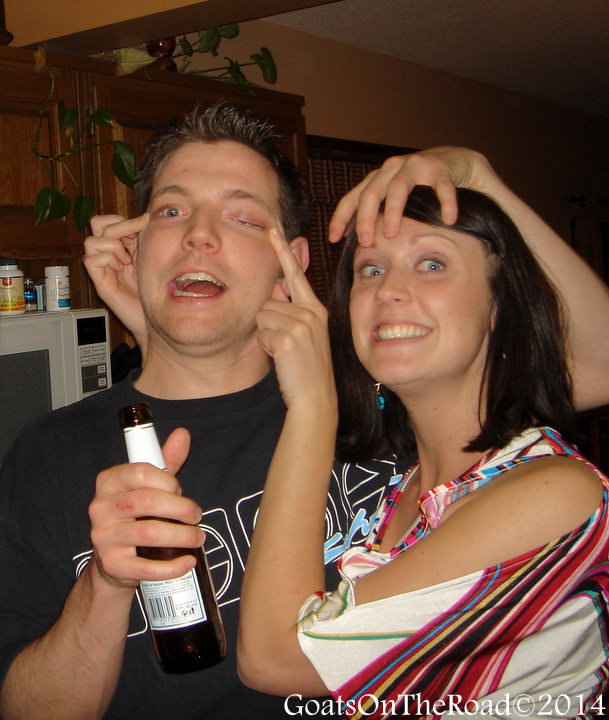 The Route
I had been interested in Southeast Asia for a few years before meeting Nick, so when he came home from one particularly grueling day of work and asked "if you could travel for a year anywhere in the world, where would it be?" Obviously my reply was "SE Asia!"
Not only is it a great part of the world for new backpackers to start out (the tourist trail is quite worn, it's easy to get around, lots of other travellers, etc.), but it's a very budget friendly part of the world, and at the time, making our money last as long as possible was a top priority.
We decided that our first stop should be the Land of Smiles, Thailand. There are so many amazing things to do in Thailand – especially for first time travellers. The feeling of landing in the crazy, chaotic, liberal, humid, loud capital city of Bangkok is indescribable. Our eyes were darting from side to side in order to take in all of the action. It was quite the culture shock… a very welcomed one. We were thrilled to be on the road and couldn't believe we had over a year left ahead of us!
This was our route through Southern Asia:
Thailand –> Cambodia –> Vietnam –> Laos –> Thailand –> Southern India –> Thailand –> Malaysia –> Borneo –> Brunei –> Malaysia –> Indonesia –> Malaysia —> Singapore —> Sri Lanka –> Northern India –> Thailand –> Canada
We travelled by every means of transportation you can imagine and with inexpensive airlines in Asia, we were able to save some time by taking the occasional flight.
(Don't miss the video at the end!)
☞ SEE ALSO:
Top Highlights of Our Trip
I couldn't even begin to list all of the things we saw, did, tasted and learned while on this trip. It was the most eye-opening, life changing experience we've both had. There are a few moments (both good and bad) from each country that really stand out in our minds to this day:
Thailand: Nick getting his scuba diving certification, getting tattoos in Koh Tao, seeing elephants, sleeping in our first beach hut (!!), eating street food, watching a muay thai boxing match, renting a motorbike, visiting the floating market and the crazy Chatuchak weekend market, finding deserted waterfalls, partying on Koh San Road (one of the best things to do in Bangkok!), eating scorpions and maggots, and seeing some amazing beaches. Thailand was the first country we went to on our trip, which is probably why it holds a special place in our hearts. (all photo captions are clockwise, starting at the top left). SEE ALSO: Things To Do in Chiang Mai and Things To Do in Pai.
Cambodia: Searching for someone to take us to Koh Rong Island – a deserted island with nothing more than a village and the nicest beach in the world. Partying on Pub Street, having a very inappropriate massage, the crazy Russian Market, temples & palaces, visiting the stunning Angkor Wat Temples and learning about the brutal history of the Pol Pot Regime by visiting the Killing Fields and the Tuol Sleng Museum.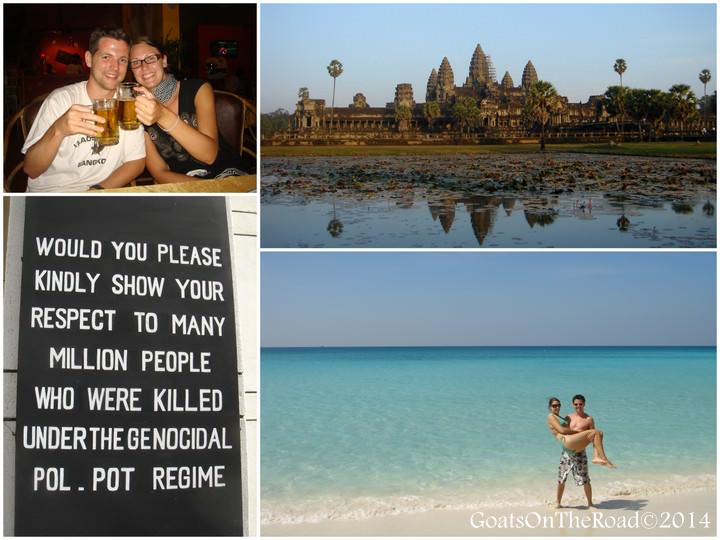 Vietnam: Me surviving a deadly virus (most likely dengue fever or malaria), renting a motorbike and exploring sights independently, partying with locals in Ho Chi Minh City when Vietnam beat Thailand in an important football (soccer) match, exploring the Mekong River Delta, squeezing into the famous Chu Chi Tunnels, spending our first Christmas abroad together, meeting locals (but not speaking the same language), finding deserted beaches and making our way south to the lesser-visited island of Phu Quoc.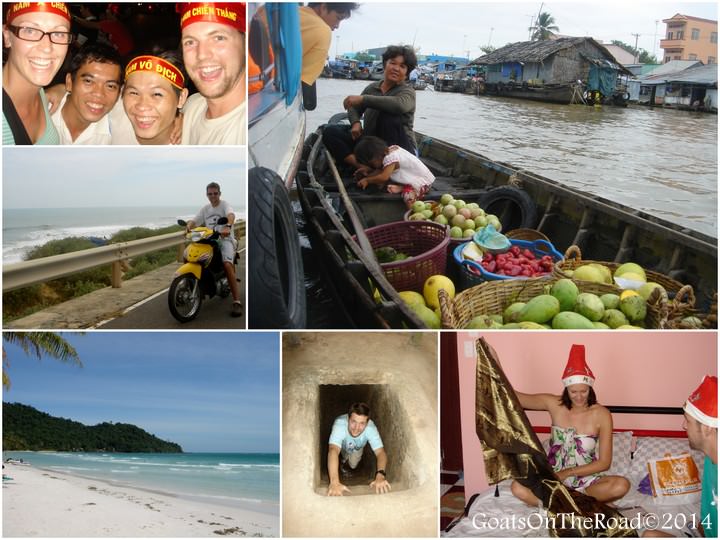 Laos: Cycling through deserted fields, going caving, tubing down the river alongside water buffalo, riding our motorbike through the Boulevan Plateau and discovering waterfalls, spotting the rare Irrawaddy River Dolphin from a dug-out canoe, the gorgeous Kuang Si Waterfalls, night markets, friendly, smiling locals and surviving the speed boat ride from Laos to Thailand.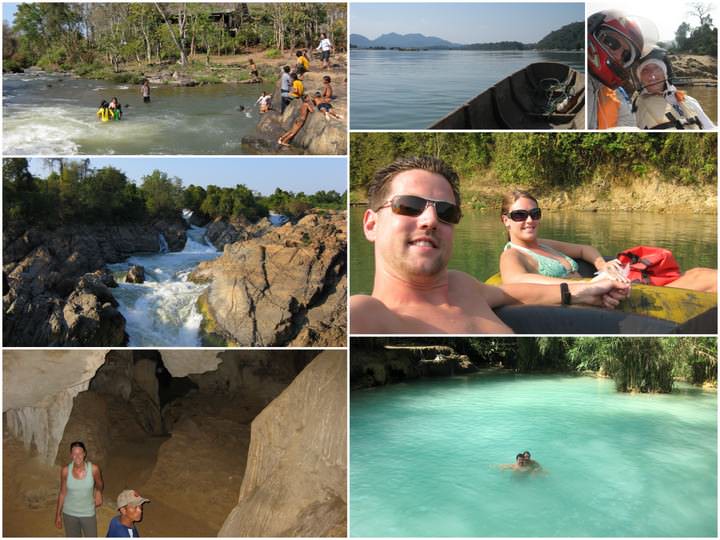 India: This country in itself is a highlight. However, I'll try to name a few extras! 4 day camel safari in the Thar Desert, overnight train rides, meeting local people and sharing food together, people watching in Kolkatta (and everywhere), the smells – both good and bad, the scrumptious food, seeing our first Wonder of The World – The Taj Mahal, witnessing bodies be cremated on the banks of the Ganges River, exploring ancient forts, visiting bustling markets, houseboating for 3 nights in the Keralan Backwaters, celebrating Nick's 25th birthday…and so much more.
Malaysia/Borneo/Brunei: Gazing at the towering Petronas Towers, visiting the Batu Caves, taking a gondola up to 708m to a floating skybridge(!), scuba diving at the pristine Sipadan Island, me attempting to scuba dive for the first time, renting a car to independently visit caves and national parks, sleeping in the jungle, going on a river safari to spot wild orangutan, enjoying the off-the-beaten-path island of Kapas, visiting a stilted home community, seeing the Sultan of Brunei's museum of gifts and celebrating my 25th birthday!
Indonesia: Renting a car and exploring Bali, trying surfing for the first time, seeing the prehistoric Komodo Dragons, scuba diving & snorkelling, doing an overnight jungle trek to see wild orangutans, staying at a guesthouse…on and island…on a lake…inside the caldera of a dormant volcano!
Learning about Batak People, renting countless motorbikes for exploration, Nick surviving a deadly stomach virus, me losing my voice for almost 3 weeks straight, seeing a beached humpback whale, hiking up a volcano for sunrise, being spat on by an overweight Indonesian woman, riding on the roof of a bus, visiting untouristed islands and so much more! We were here for 2 months and could've spent 2 years.
Singapore: An expensive, but fascinating city/country! We only stayed for 3 days but ended up being there for the Formula 1 Street Racing! Visiting Little India, Chinatown and Sentosa Island were also highlights of this tiny nation.
Sri Lanka: Nick being sucked out to sea in a riptide and almost drowning, visiting the place where Buddha's tooth is said to rest, train ride through lush vegetation, visiting cave monasteries, swimming and relaxing on stunning beaches, exploring waterfalls, meeting and dancing with local people, hiking through tea plantations and eating great food.
The Ending…?
After the end of our 13 months of backpacking around Southern Asia on a shoestring, we were both feeling very uncertain about going home. Would we fit in? Would we be able to handle being back in the western mindset? After travelling in 3rd world countries for so long, going back to Canada felt very, very odd.
As an example: we had a layover at the Seattle Airport and a group of women came over to sing Christmas carols to us – we both immediately looked away and said to each other "don't look at them, or they'll want money!" That was just the state of mind we had been in for 13 months. Even crossing the street at a designated crosswalk and waiting for the light to change felt weird, so did wearing a seat belt.
There are hardly any rules and regulations where we had been backpacking, so to come to Canada where there are many, was a complete shock. There was no street food to be had, no tuk-tuks, no crazy chaos and nothing had changed – except us.
We both found it very difficult and in my case, depressing, being back in Canada after this life-altering trip. We both knew that our lives were meant to be led on the road. So, we worked hard for one final year in Canada and saved our money for a 16-month trip…and almost four years later, we're still on the road and have found ways to turn our travels into our lifestyle!
Here's a video we made of our trip through Southern Asia:
So, now you know all about our first Backpacking Trip – where our love for travel began!
Does this sound like the kind of trip you would like to go on? Have you been on long-term backpacking trips and felt "reverse culture shock" when coming home? Share with us below!
Like it? Pin it! 🙂