In this post, I'm going to focus on my favorite thing about Puglia. While this southern Italian region has no shortage of fantastic places to visit and things to see, for me, the food in Puglia is the real reason to visit.
Several of my favorite dishes are Puglian classics. There's just something about the simplicity and freshness of typical Puglian food that I really love, and it pairs so well with the region's delicious wine.
I recently spent time in Puglia and ate incredibly well every day that I was there. Here are 15 of the best and most popular foods in Puglia – I recommend trying as many of these as you possibly can! Puglia is one of the top places to visit in Italy, with the food being one of the main highlights.
15 Foods to Try in Puglia
Whatever your dietary requirements or preferences, you're sure to find food in Puglia that you'll love. From fresh pasta and seafood to baked treats and (of course) gelato, you won't go hungry here.
I eat everything, although for various reasons I do try to reduce the amount of meat that I consume. Happily, some of the best dishes in Puglia are vegetarian, and even more are pescatarian.
I've eaten all of the following must-try dishes in Puglia, and can wholeheartedly recommend all of them – thinking about them makes my mouth water!
1. Orecchiette (Most Famous Puglia Food to Try)
This delicious and traditional pasta is one of the most popular foods in Puglia and is probably the region's most famous dish. It's made simply of durum wheat flour and water and is molded by hand into a distinctive 'ear' shape which gives it its name ("orecchio", the word for "ear" in Italian).
The history of orecchiette goes back centuries and the dish has been an important part of Puglian cuisine for generations. In the narrow alleyways of Bari's old town (Bari Vecchia), you can watch women making orecchiette by hand on wooden tables – it's one of the most iconic things to see in the city.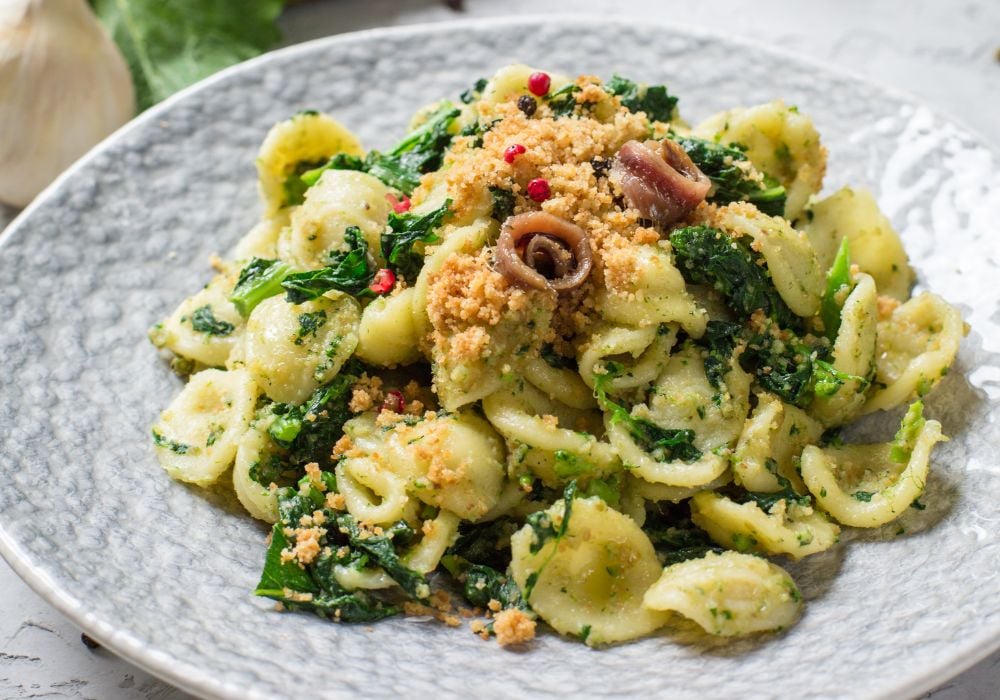 Orecchiette is usually served with a simple sauce and vegetables, though there are many variations. My personal favorite is "broccoli rabe", a sauce made from a bitter leafy green vegetable a bit like spinach, and plenty of garlic.
You can find orecchiette on the menu of most restaurants in Puglia. The best I've ever tasted was at a tiny place called Assaporando le Delizie Pugliesi in Bari Vecchia.
☞ SEE ALSO: Best Time to Visit Italy – Weather and Costs
Assaporando le Delizie Pugliesi Information
Address: Vico San Cristoforo, 1, 70122 Bari BA, Italy
Phone: +39 327 375 0130
Operating Hours: 10:30 am–10:30 pm, Tues-Sun (closed Mondays)
Average Cost of Dish: €8
Website: assaporando-le-delizie-pugliesi.business.site
2. Focaccia Barese
This traditional Puglian bread originally comes from the city of Bari and is usually served as an appetizer, paired excellently with local olive oil. It's made of a simple dough that's seasoned generously with rosemary and salt, then topped with tomatoes, onions, and olives.
The result is incredible. Good focaccia barese is rich yet light, crispy on the outside, fluffy on the inside, and never too oily. It's one of my favorite things to eat in Puglia and I'm always excited whenever it arrives at the table.
If you're planning to spend time in Bari (and you should), pick up some freshly baked focaccia from Magda. As well as being an amazing bakery, this is also one of the best places to eat in Puglia if you're traveling on a budget.
Magda Information
Address: Via Prospero Petroni, 32A, 70121 Bari BA, Italy
Phone: +39 080 524 2207
Operating Hours: 7am–8:30pm, Mon-Sat; 9am–8:30pm, Sun
Average Cost of Dish: €4 for a large one
Website: panificiomagda.com
3. Fave e Cicoria
This traditional dish from Puglia combines fava beans, chicory, garlic, and olive oil. This simple combination of ingredients creates a hearty soup that's full of flavor and nutrition.
Fave e cicoria is usually served as a starter but can also be enjoyed on its own. It's one of my favorite dishes in Puglia and I love how comforting it is – perfect for cooler winter evenings, but truly delicious any time of year.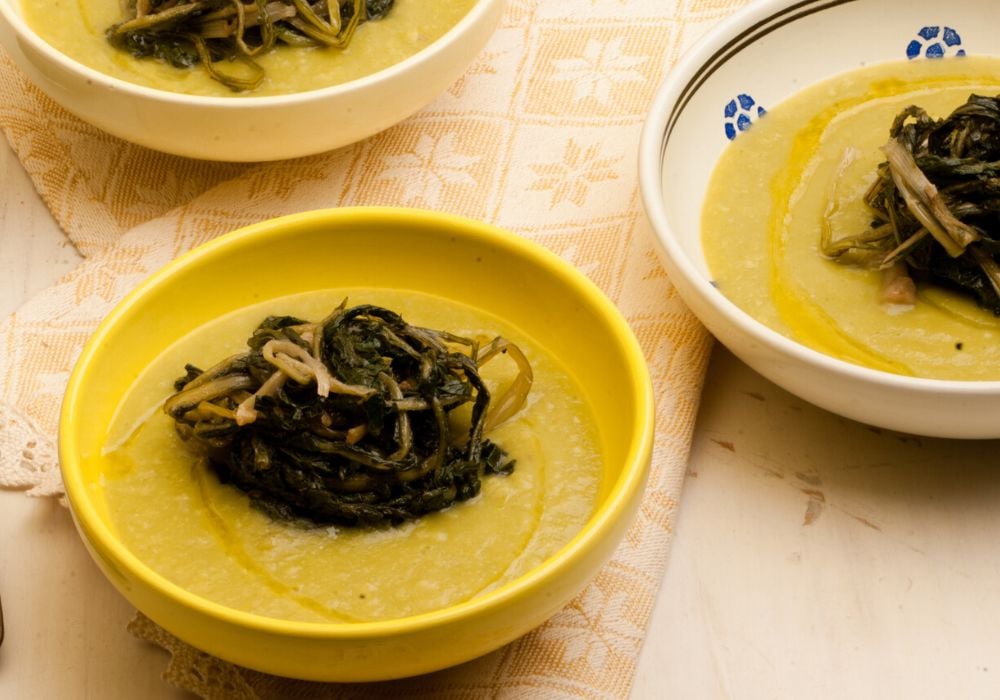 A great place to try this dish in Monopoli is the upmarket Angolocinque Restaurant, next to the Largo Fontanelle park.
Angolocinque Restaurant Information
Address: Via G. Barnaba, 7, 70043 Monopoli BA, Italy
Phone: +39 348 374 2987
Operating Hours: 7:30 pm–11:30 pm, Mon; 12 pm–3 pm & 7:30 pm–11:30 pm, Tues-Sun
Average Cost of Dish: €10
Website: N/A
4. Polpette di Ricotta
These delicious cheese and herb balls are typical Puglian snacks. They're made from stale bread, ricotta, garlic, parsley, and grated parmesan, and are deep-fried until they're golden brown.
Polpette di ricotta is usually served as an antipasto or starter but can also be enjoyed on its own. Good ones aren't too heavy but are incredibly flavorful.
As well as the ricotta variety, polpette comes in various other forms, including ones containing meat, vegetables, and/or fish. Sometimes they're served by themselves, or other times in a rich sauce, where they take on the consistency of dumplings.
Polpette can be found on menus throughout Puglia. The best ones I tasted were at a place called Per Bacco in Bari.
Per Bacco Information
Address: Via Francesco Saverio Abbrescia, 99, 70121 Bari BA, Italy
Phone: +39 080 558 8563
Operating Hours: 1 pm–2:30 pm & 8 pm–11:30 pm, Mon-Fri; 8 pm–11:30 pm, Sat; closed Sundays
Average Cost of Dish: €9
Website: N/A
5. Taralli
Taralli comes in many shapes, sizes, and flavors, but the traditional variety from Puglia is typically made with flour, white wine, olive oil, and salt. They're crunchy rings of dough that have been boiled before baking – this gives them an extra special texture which makes them really addictive!
My favorite kind also contains either chili or fennel seeds. They pair perfectly with wine or an ice-cold beer.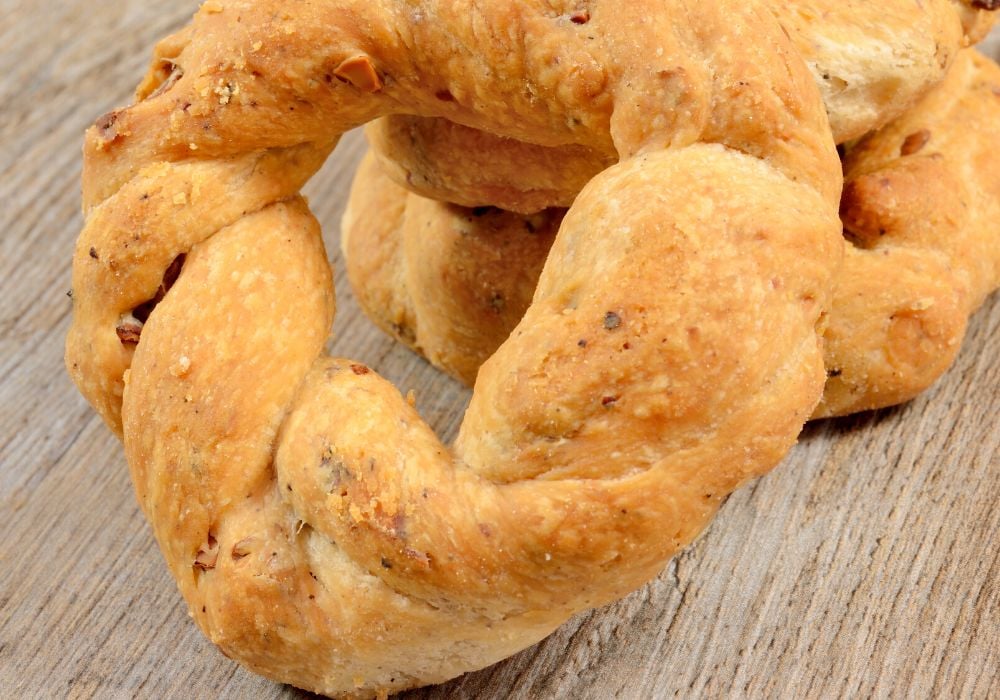 Taralli is a great snack to enjoy while you're out exploring or during a picnic lunch. Whenever I am in southern Italy, I eat so many of these, (I think I might have a slight problem).
You can buy bags of taralli in virtually every shop and supermarket in Puglia for a couple of euros, and many bars and restaurants will serve them as a snack to enjoy with an aperitivo. Taralli Mitica is my favorite brand – if you see these anywhere, buy them!
6. Burrata
No trip to Puglia would be complete without trying burrata, a type of cheese made with mozzarella and cream. It's one of the most popular foods in the region and you'll find it on many restaurant menus.
Burrata is creamy and delicious – perfect for spreading onto salty focaccia or pairing with tomatoes and basil as an appetizer. Traditionally it was made using buffalo milk, but cows' milk is used more often now. I've tasted both types and, honestly, they're equally as tasty!
You can find burrata on most menus in Puglia. Most recently, I had it at Cime Di Tapas in Monopoli and my experience there was superb.
Cime Di Tapas Information
Address: Corso Umberto I, 8-10, 70043 Monopoli BA, Italy
Phone: +39 080 645 6624
Operating Hours: 12 pm–2 am, Thu-Tue (closed Wednesdays)
Average Cost of Dish: €5
Website: facebook.com/cimeditapas
7. Tiella
One of the most traditional dishes in Puglia, tiella is a layered mixture of rice, potatoes, and mussels. It's usually cooked in a terracotta pan over an open fire which gives it an incredible, subtly smoky flavor.
Even if you don't like mussels, you can still enjoy other varieties of this amazing dish. A popular vegetarian variety is made with eggplant and zucchini.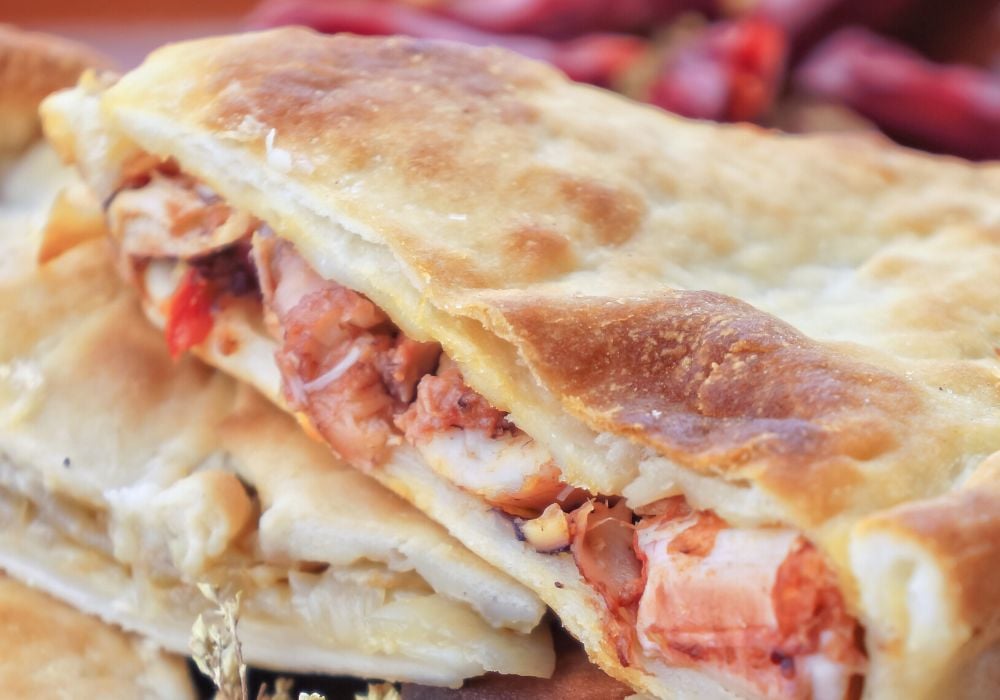 The combination of ingredients in tiella makes it a hearty meal that's perfect for any occasion. It's often served with some crusty bread and accompanied by a glass of white wine.
Ristorante Tiella is a great place to enjoy this iconic dish in Bari.
Ristorante Tiella Information
Address: Via Salvatore Cognetti, 13, 70121 Bari BA, Italy
Phone: +39 080 523 6960
Operating Hours: 12:30 pm–3 pm & 7:30 pm–12 am, Tues-Fri; 12:30 pm–3:30 pm & 7:30 pm–12 am, Sat-Sun; closed Mondays
Average Cost of Dish: €8
Website: tiellapulia.it
8. Fritto Misto
This delicious dish combines a selection of seafood and/or vegetables, which are lightly coated in flour and fried. Think of it as a bit like Puglian tempura.
Fritto misto is usually just served with lemon juice and salt, although some places offer other sauces on the side too. It's one of the most popular dishes in Puglia and can be found on many restaurant menus, as well as from food trucks and outdoor stands in most major cities.
As a cheap and quick meal on the go, fritto misto is hard to beat. A tiny food truck in Monopoli called Mare Chef serves the best fritto misto I've ever tasted. If you're in town, you should definitely try this place.
Mare Chef Information
Address: Via Procaccia, 1, 70043 Monopoli BA, Italy
Phone: +39 380 383 5269
Operating Hours: 7 pm–12 am, Mon-Tues & Thurs-Fri; 7 pm–12:30 am, Sat-Sun; closed Wednesdays
Average Cost of Dish: €6 for 250 grams; €11 for half-kilogram
Website: N/A
9. Gelato
I know you can get gelato everywhere when you're traveling around Italy, but the gelato in Puglia is some of the very best. It's creamy, smooth, and incredibly rich.
Delicious at any time of day (or night), a scoop or two of high-quality gelato is one of the best things to enjoy after a typical meal in Puglia.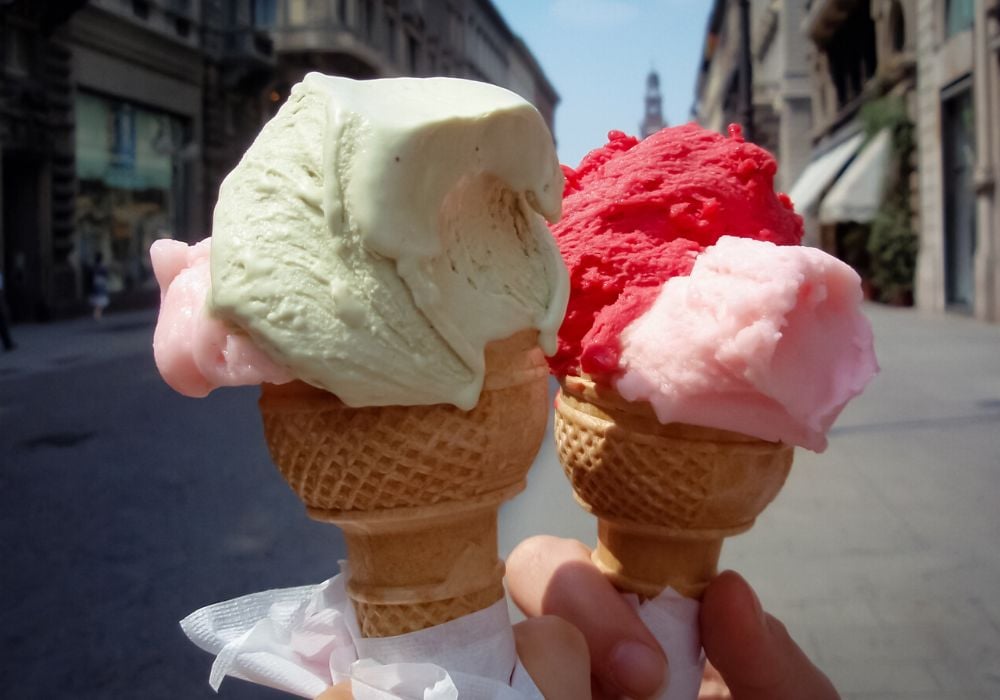 Some of the tastiest gelato I found in Puglia was at Gasperini, in Monopoli. Try their pistachio crunch and their chocolate orange fondant. Although it's technically not gelato, their dark chocolate sorbet is also unreal.
If you're in Bari, Antica Gelateria Gentile, next to the Castello Svevo, is equally amazing.
Gasperini Information
Address: Largo Plebiscito, 9, 70043 Monopoli BA, Italy
Phone: +39 348 541 3485
Operating Hours: 7 am–12 am, Mon-Sun
Average Cost of Dish: €3 for 2 scoops
Website: gelateriagasperini.it
10. Cartellate
These fried pastries are usually served as a dessert and are traditionally eaten during the festive winter period, although you can find them in bakeries throughout the year.
They're made from flour, white wine, olive oil, and sugar, and are pressed into shapes like small stars or flowers.
The cartellate are then soaked in warm honey and sprinkled with icing sugar. The sweetness of the pastry combined with the sticky honey is truly divine. They make the perfect ending to a typical meal in Puglia.
A great place to pick up some authentic cartellate is Pino Ladisa Pasticcere Cioccolatiere – a fantastic little pastry shop in Bari, just south of the city center.
Pino Ladisa Pasticcere Cioccolatiere Information
Address: Viale Papa Giovanni XXIII, 199, 70124 Bari BA, Italy
Phone: +39 080 523 2161
Operating Hours: 7 am–9 pm, Tues-Sun (closed Mondays)
Average Cost of Dish: €1 each
Website: pinoladisa.it
11. Pettole
These are essentially Puglian donuts, and they're a real treat! They're small balls of dough that have been deep-fried and are usually served with various sauces or sprinkled with sugar.
You can get sweet pettole and savory pettole, and some are even savory-sweet. Any way you have them, they're incredibly moreish – it's almost impossible to just eat one!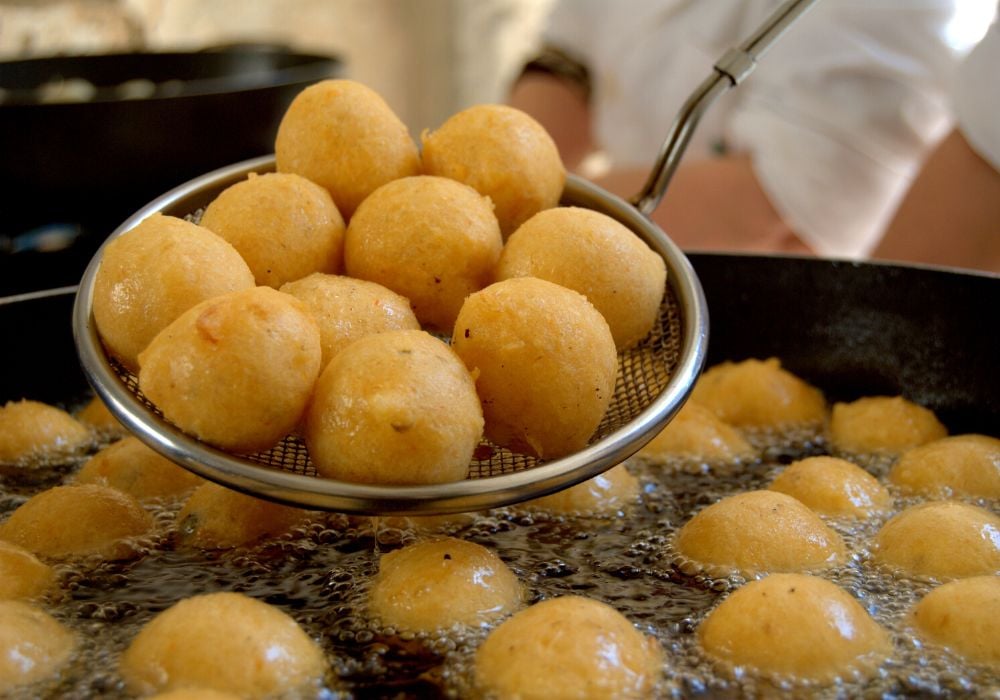 The savory ones tend to be served as appetizers (sometimes stuffed with cheese or mushrooms), whereas the sweet ones make great desserts (especially if they've been dipped in honey).
Pettole can also be found in bakeries and street food stalls throughout Puglia, and also feature on many restaurant menus in various forms. In Bari, they're known locally as popizze but are otherwise the same.
One of the best places to try them in Bari is Atena Focacce, which is located only a few doors down from Magda, so you can also pick up some incredible focaccia Barese at the same time.
Atena Focacce Information
Address: Via Scipione Crisanzio, 8/A, 70122 Bari BA, Italy
Phone: +39 348 383 7725
Operating Hours: 9:30 am–3 pm, Mon-Fri; 9:30 am–2 pm, Sat; closed Sundays
Average Cost of Dish: €1 each
Website: N/A
12. Melanzane Ripiene
A famous dish of Puglia, this is essentially an eggplant stuffed with a meat mixture (though you can also get veggie versions), tomatoes, and herbs. The resulting flavor is simply delicious – the sweetness of the eggplant combines with the salty flavors of the filling to make something truly mouthwatering.
Melanzane ripiene is usually served as a main course and is perfect with some crusty bread and a glass or two of red wine. It's one of my favorite dishes from Puglia and I like to recreate it at home from time to time too.
If you find yourself in Ostuni, I recommend trying this fantastic Puglian specialty at Osteria Monacelle.
Osteria Monacelle Information
Address: Via Cattedrale, Via P. Vincenti, 72017 Ostuni, Italy
Phone: +39 083 133 4212
Operating Hours: 12 pm–3 pm & 7 pm–11 pm, Mon-Sun
Average Cost of Dish: €15
Website: osteriamonacelle.com
13. Panzerotti
Another famous dish in Puglia is panzerotti. These are small parcels of pizza dough with a pocket of filling – a bit like mini calzones. They're usually deep-fried and served warm, so they make the perfect quick lunch or snack on the go.
There are all kinds of fillings available, from cheese and tomato to spinach and ricotta, but my favorite has to be the traditional version with mozzarella and tomato.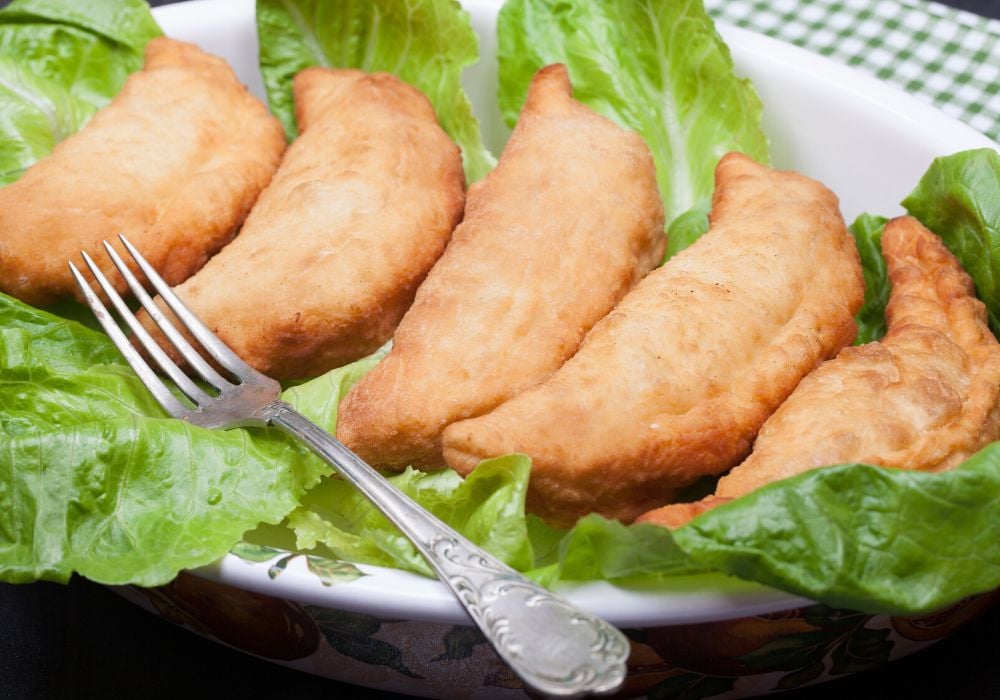 You won't struggle to find these tasty treats across Puglia, so be sure to give them a try when you're there. In Bari's Old Town, Bakery Santa Rita serves particularly good ones.
Bakery Santa Rita Information
Address: Str. dei Dottula, 8, 70122 Bari BA, Italy
Phone: +39 346 616 9152
Operating Hours: 8:30 am–2 pm & 6:15 pm–9:15 pm, Mon-Sat; closed Sundays
Average Cost of Dish: €2-3
Website: N/A
14. Caciocavallo
If you're a cheese lover, then you'll definitely want to try caciocavallo. This Puglian hard cheese is made from the milk of sheep or cows and has a slightly tangy flavor.
It's often served as an appetizer with some slices of cured meats and olives, but can also be used in cooking too.
You'll find this in cheese shops and larger supermarkets all over Puglia. If you happen to find yourself in Martina Franca, check out Caseificio Pioggia – a truly fantastic cheese shop.
Caseificio Pioggia Information
Address: Via Gaetano Grassi, 26, 74015 Martina Franca TA, Italy
Phone: +39 080 480 0550
Operating Hours: 8 am–1 pm & 5 pm–8:30 pm, Mon-Sat; 9 am–12 pm, Sun
Average Cost of Dish: €8 for 500g
Website: pioggiastore.it
15. Pasticciotti
Pasticciotti is a traditional Puglian pastry that's made with a sweet crust and filled with custard. It's usually served at room temperature, but can also be heated and served with cream or gelato.
They make a great snack or dessert and can be found in pretty much any bakery or cafe throughout the region.
In Ostuni, they're particularly good at Bar Pasticceria da Pasquale, while in Lecce, you won't want to miss trying pasticciotti at the unassuming Caffe Antonucci.
Bar Pasticceria da Pasquale Information
Address: Via Fran. Tanz. Vitale, 72017 Ostuni BR, Italy
Phone: +39 083 133 5872
Operating Hours: 5 am–1:30 pm, Mon; 5 am–9 pm, Tues-Sun
Average Cost of Dish: €1.50
Website: N/A
Best Food Tours in Puglia
One of the best ways to experience as many of Puglia's iconic dishes as possible is to join a food tour. There are many to choose from, but here are some of the most highly reviewed:
Bari Walking Street Food Tour
This three-hour walking tour is the perfect way to familiarize yourself with the Puglian capital and some of its tastiest delicacies.
Alberobello: Walking Food Tour
This walking food tour takes place in the unique UNESCO World Heritage Site of Alberobello. Your guide will teach you about the famous trulli houses that the city is known for and give you the opportunity to taste a range of local cheeses, meats, and wines.
Bike Tour & Pasta Making Experience
Explore Bari by bike and learn how to make your own orecchiette by hand the traditional way on this fun 2-hour tour.
Bari Street Food Tour on Segway
This Segway tour of Bari focuses on the most popular types of street food in Puglia and will take you to explore some of the city's prettiest corners and hidden gems.
Bari Rickshaw Street Food Tour
If you, like me, can't quite get the hang of riding a Segway, you may prefer this rickshaw street food tour instead.
Puglia Food: FAQs
Here are answers to a few commonly-asked questions about the typical food in Puglia.
What are the most traditional foods in Puglia?
The most traditional local foods in Puglia include orecchiette pasta, focaccia, taralli, polpette, and tiella.
What time is dinner in Puglia?
Dinner in Puglia typically starts around 8 pm, although it can start earlier or later depending on the particular restaurant you're visiting. If you want to eat in a popular restaurant for dinner, it's best to make a reservation ahead of time as many places fill up quickly.
What time is lunch in Puglia?
Lunch in Puglia usually starts at 12 pm and goes on until 2-3 pm.
What time is breakfast in Puglia?
There isn't really a set time for breakfast in Puglia and many locals tend to skip it altogether. A typical breakfast in Puglia often consists of a coffee and a simple pastry, whenever you wake up and feel like it. Cafes often open around 8 am.
What city has the best food in Puglia?
Bari, the capital of Puglia, has the widest selection of excellent restaurants and cafes serving up all kinds of regional dishes. Lecce and Monopoli are also known for their outstanding seafood.
Do you tip in Puglia?
A small tip is always appreciated, although not strictly necessary. If you receive excellent service in a restaurant, a 10% tip will be well received.
What is a staple food in Puglia?
Pasta is a staple food of Puglia, especially orecchiette. Bread such as focaccia Barese is also popular. As you'd expect, seafood is particularly common on the coast.
In Conclusion
With so much variety of food on offer, it can be hard to decide what to eat in Puglia first. Wherever you go and whatever dishes you try, it's sure to be an unforgettable experience.
I love the simple, home-cooking style of Puglian cuisine, and enjoying it is always a highlight of my trip. My two favorites are orecchiette with broccoli rabe and focaccia Barese – if I could eat these every week, I absolutely would!
Like This Article? Pin it!