This is a guest post from our friends Jen & Stevo over at Two Can Travel. We first met these two while teaching English in Yangzhou, China. Since then, they've moved their lives to Phnom Pehn, Cambodia (among other awesome things) and are here to give you the inside scoop on some of the less touristy things to do around the city! Check it out 🙂
Most travelers visit the must-see sights in Phnom Penh in a couple of days then head off to their next destination. We think this is a big mistake! Although the Royal Palace, Tuol Sleng Genocide Museum, Choeung Ek Killing fields and National Museum are all important and interesting sights to visit to understand Cambodian history and culture, they won't give you a complete picture of this complex, vibrant city on the rise.
To further immerse yourself in Cambodia's capital, read on for our top recommendations for off the beaten track things to do in Phnom Penh.
Visit a local food market
A majority of Cambodians do their grocery shopping at outdoor markets all over the city. The best times to visit these markets are in the early morning (6:30-10am) or late afternoon (4:30-8pm). There are usually two shifts of sellers who set up their produce in the same spot every day. Some sellers have more permanent stalls with shade and may stay in their spot for 10-16 hours!
We usually do our vegetable and fruit shopping on Street 440, behind the Russian Market (Tuol Tom Poung), close to our home. Although by day the Russian Market is a busy tourist spot where travelers come to bargain over anything from Angkor Beer shirts to imitation antique opium pipes, the neighborhood is still very Cambodian.
After the Russian Market closes and the tourists head out for happy hour, the local food market is just waking up for the evening. Make your way to the north side of the Russian Market along Street 440 and check out the vast spread of local produce and meats on offer. The chaos of pedestrians, bicycles and motorbikes weaving between the crowded stalls spilling into the street will give you a good idea of the daily shopping routine of the neighborhood's locals.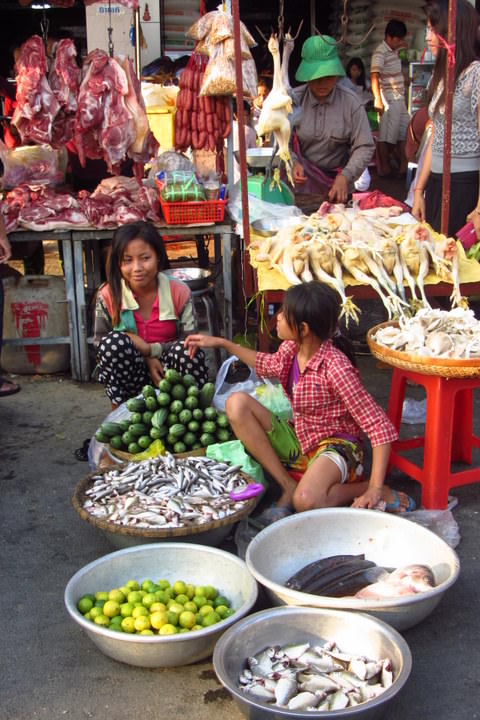 Hidden Seafood BBQ Restaurant
After scoping out the outdoor market you'll be just in time to eat at one of the best seafood barbecue restaurants in town. During the day this space on Street 450 is used as motorbike and bicycle parking for Russian Market customers. In the evening it is transformed into an extremely popular seafood barbeque restaurant. Every night of the week starting at 5:30pm tables and chairs are set up, hot coals heat the street-side grills, and the restaurant fills with locals eating fried oysters, shrimp, squid, crab, even sting ray!
The food is delicious and inexpensive. We typically spend under $5 each to eat our fill, plus have an Angkor beer or two. The restaurant is on Street 450 between Street 155 and Street 163, connected to the Russian market. There are a few restaurants sets up in the area, but this is the biggest one closer to Street 155.
Bonus tip: Just down the block on the corner of Street 450 and Street 163 is an ice cream stall called The Snacker. They make all of their dairy-free ice creams and sorbets using locally sourced fruits. At just 1500 Riel (33 cents) per scoop, it's the perfect dessert!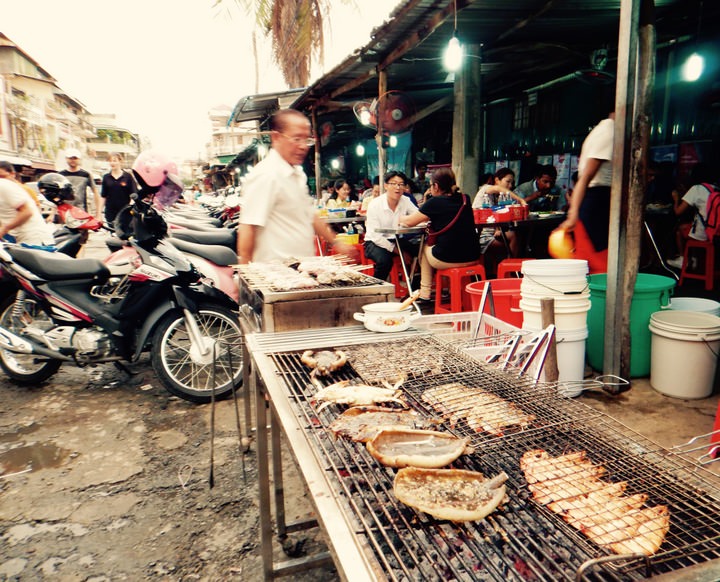 20 Minutes to the Countryside
Phnom Penh is a bustling city from dawn until late night. The streets are packed with motorbikes, tuk tuks and trucks, and every day more expensive imported cars are joining in the congestion, kicking up dust and choking intersections with traffic. Few travelers know that just across the Mekong River, only 20 minutes from the Riverside, lies peaceful Kandal Province. You can ride a local ferry across the Mekong River for only 500 Riel (12 cents) and find yourself in villages amongst fruit farms, cows and rice paddies in a matter of minutes.
Multiple ferries run every 5-10 minutes from the Phnom Penh-Areykhsath Ferry Dock located near Naga World shopping center. For more freedom and to get further off the beaten path, rent a bicycle or motorbike near the Riverside and take it across the ferry. Be brave (and careful!) when you join in the traffic on the way to the ferry.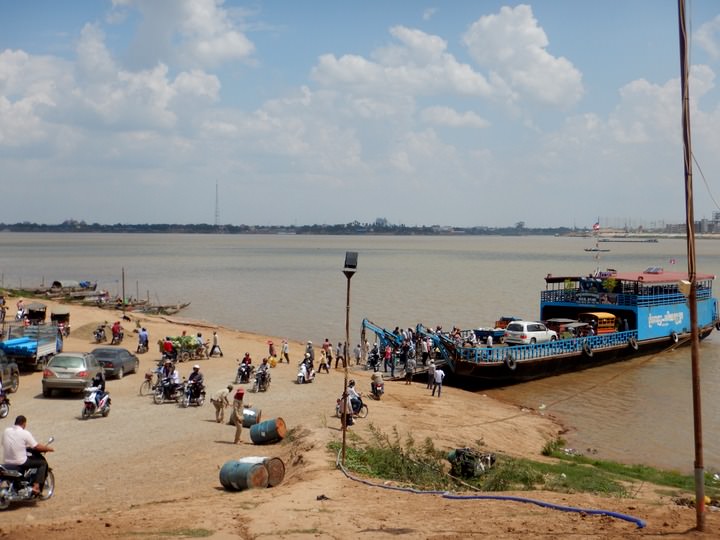 Alternative to the Touristy Markets
The Central Market and Russian Market are great spots to shop for souvenirs, however they are also heavily geared toward tourists. If you want to experience a large local market in a different part of the city, head to Boeung Keng Kang Market, located between Street 380 and Street 392. You can find just about anything there from clothes, shoes, household appliances, bedding, phones, produce, meat, it's all there! The market is also a great place to practice Khmer phrases you've been learning as fewer sellers there speak English.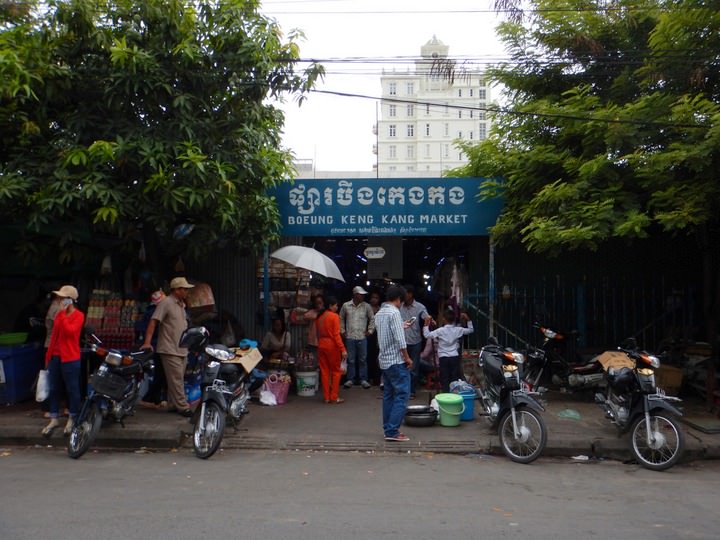 Snap a Unique Souvenir
For a unique souvenir from your Cambodia travels head to a local wedding photo shop for shots in traditional Cambodian clothing. One of our favorite experiences in Cambodia was dressing up in traditional Khmer clothes and taking part in a friend's Cambodian wedding in 2014.
Although you may not be getting married or going to a wedding, you can still have fun trying out Cambodian wedding fashion! There are wedding photos shops all over the city, but we recommend Heng Heng Photo Studio located at #152Eo Monireth Street, near Mao Tse Toung Blvd. They charge $10 per person per outfit, including hair, make-up and three poses. Be sure to go in or call ahead to reserve a time for your photo session. It's quite a deal for an unforgettable memory!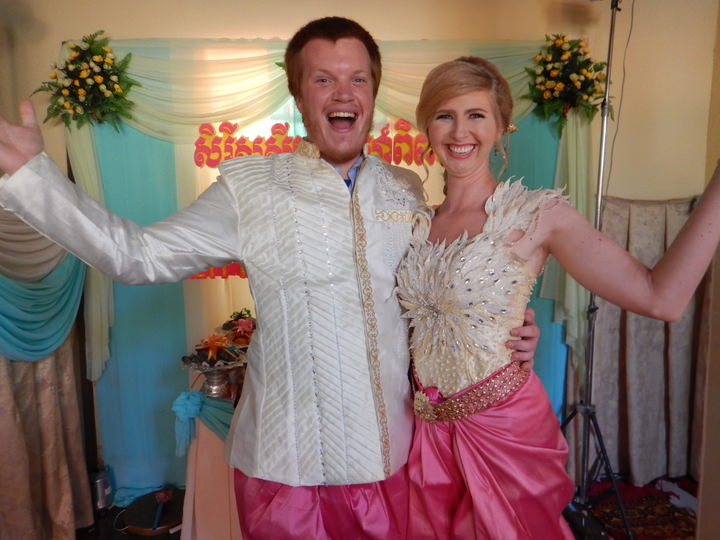 See a Comedy Show
The stand-up comedy scene in Cambodia, and all over Asia, is growing quickly, and Stevo has loved being a part of it. Seeing a comedy show abroad is a unique way to gain insight into the culture and goings-on in the country from local and expat perspectives. It's also a fun way to spend an evening and meet some great people! There is at least one comedy show going on every week at different locations around Phnom Penh. Check out www.facebook.com/comedyclubcambodia for the latest info.
This list only scratches the surface of all there is to do in Phnom Penh. For better or worse, change and growth are happening fast. Spend some extra time here to get to know Phnom Penh as it is now. We promise it'll be worth it.
About The Author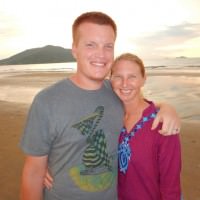 Jen and Stevo are the California couple behind Two Can Travel, a website about living, working and traveling in Asia. Since 2011 the pair have worked as English teachers in China, volunteered in the Cambodian countryside, and traveled throughout Asia, documenting their (mis)adventures along the way. Their aim is to provide stories, info and advice for those seeking an alternative lifestyle in Asia. Follow Two Can Travel on Facebook, Twitter, and Youtube.