Malta may be a small island, but there are endless restaurants and a wide variety of cuisines to choose from. Finding the best restaurants in Malta is a bit of a task, as all eateries are not created equal.
Whether you're interested in a casual meal out, some street eats, or a more upscale plate of food, Malta has the restaurant for you.
In this guide, I'm going to share our favourite places to chow down in Malta. We spent 2 months living and travelling around the island, and trust me, we ate a lot during our stay!
Here is a list of the best restaurants and bars that we discovered in Malta 🙂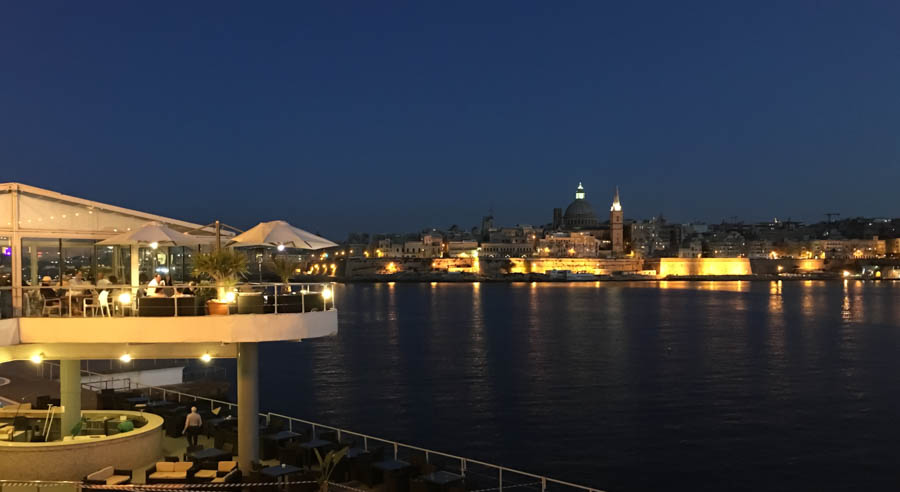 Tal-Ingliz Restaurant (Mgarr)
Cuisine: Maltese
Hours: Monday – Saturday, 6:30pm – 11:00pm
Address: Triq IL-Kbira, Mgarr. Click here for directions.
If you're looking for traditional, local food, this is the restaurant to come to. Out of all the places we visited, this was the best restaurant in Malta to find local favourites such as horse, rabbit, octopus, snail and quail. Needless to say, there aren't any vegetarian options here.
This is a very Maltese place and you'll find yourself surrounded by locals in a beautiful building. The menu is well priced and the portion sizes are enormous (as with everywhere in Malta). Expect to spend around €45 for two people to have a meal and wine.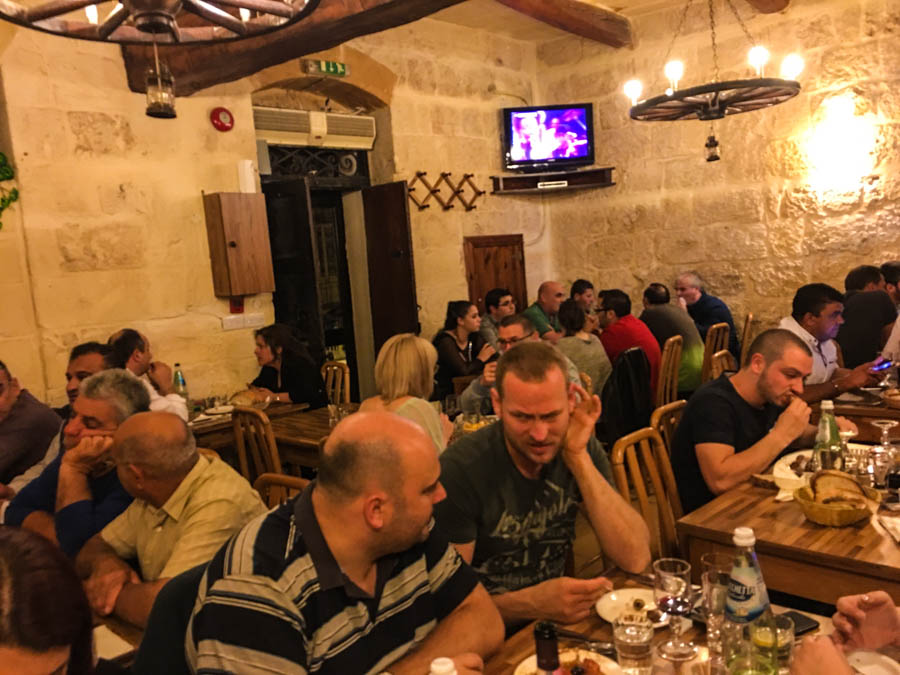 hiM Mozzarella Store (Gzira)
Cuisine: Italian
Hours: 9:00am – Midnight, every day
Address: 195 the strand, Triq ix Xatt, Gżira GZR, Malta, Gżira. Click here for directions.
With Italy being a very close neighbour to Malta, it's no surprise that there are Italian influences all around the island. This little restaurant / store / deli makes handmade buffalo mozzarella everyday – hiM actually stands for "High quality Italian Mozzarella". The pizzas are wood fired and the fresh mozza on top is delicious.
You can choose from authentic salads, pastas, sandwiches and appetizers. A margherita pizza goes for €7.50, while the bruschetta is €2.00.
Mint Cafe (Sliema)
Cuisine: International, Healthy
Hours: Tuesday – Sunday, 8:00am – 4:00pm
Address: 30/39 Luzio Junction, Stella Maris Street, Sliema. Click here for directions.
Website: https://www.mintmalta.com/
If you're looking for wholesome, light, locally sourced food, then check out Mint Cafe. This is definitely one of the best restaurants in Malta. There is a large indoor seating area, and an outdoor one as well, with umbrellas for rain or intense sun.
Fresh herbs grow outside, the staff are friendly, the food is delicious and the prices are good. Although the restaurant isn't strictly vegetarian, there are numerous veggie and vegan options. Order your meal at the counter and sit down to be served.
Chickpea patties with barley and veg salad costs €9.00, chicken with brie & tomato sandwich is €5.80, smoothies are around €3.50, a latte costs €1.50. Prices vary.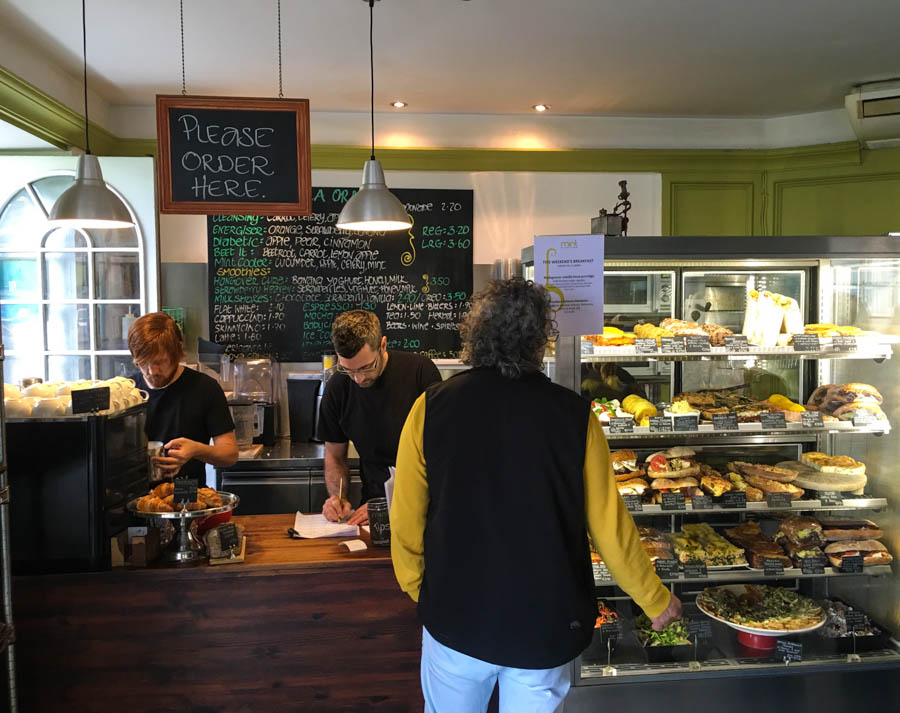 Vinum Wine Bar at Fontanella (Mdina)
Cuisine: Maltese, Mediterranean, International
Hours: Monday – Saturday, 7:00pm – late
Address: 1, Bastion Street Mdina Malta. Click here for directions.
Website: https://www.vinumwinebar.com/
Going to wine bars with a group of friends is commonplace in Malta. Vinum Wine Bar is a great place to meet up for a drink and a meal. The walled, medieval city of Mdina is gorgeous, especially when it's lit up at night.
The menu is a mix of local delights, as well as Mediterranean and international fare. The Maltese platters are huge and will feed a couple of people. Start with a platter to share with your group, then finish off with a pizza, grilled fish, a burger, or a tasty pasta.
A meal for 2 including a main, an appetizer, and some wine will cost around €50.00.
Pastizzi Shops (Island wide, best in Rabat)
Cuisine: Maltese
Hours: Early until Late
Address: Island wide, but Crystal Palace is known to be the best. Triq San Pawl, Ir-Rabat, Malta. Click here for directions.
Pastizzi are small, flaky, stuffed pastries that are a popular breakfast or snack food across Malta. You can find them in little corner shops and pastizzerias in every city, but arguably the best restaurant in Malta for pastizzi is the Crystal Palace. But, you can hardly call it a restaurant – it's more of a hole-in-the-wall.
These tasty (albeit not very healthy) morsels are filled with mushy peas or ricotta cheese and go for just €0.30 a piece.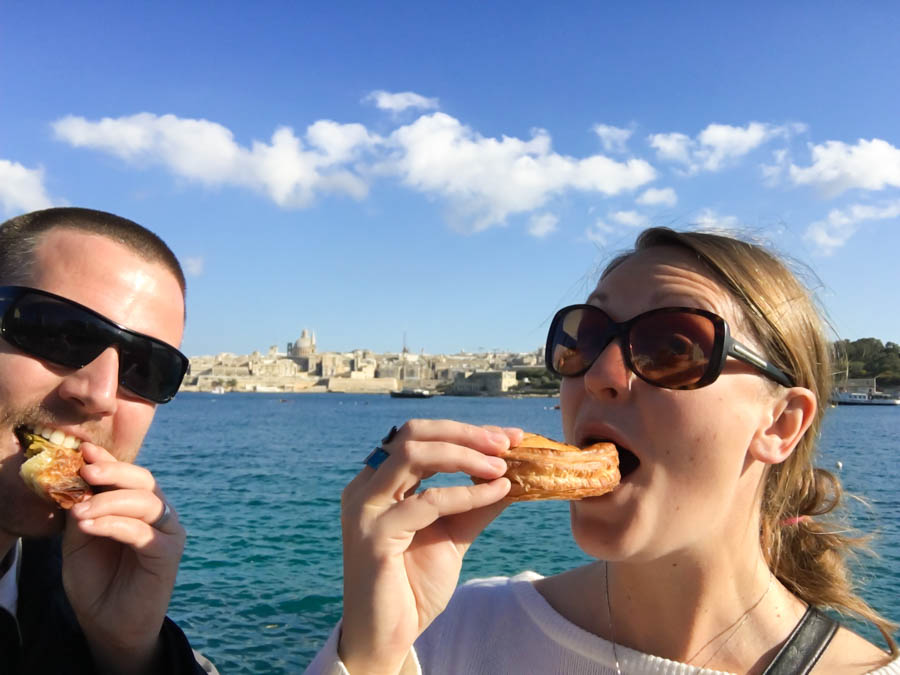 Michael's (Valletta)
Cuisine: Mediterranean
Hours: Monday – Saturday, 12:00-3:00 and 7:00 – 10:30pm.
Address: 113, Archbishop Street, Valletta. Click here for directions.
Website: https://www.michaels.com.mt/
If you're want a more upscale restaurant, without the high prices, then make a reservation at Michael's. Set in an old building in the beautiful UNESCO city of Valletta, the father-son chef duo whip up contemporary food with authentic flavours. The kitchen here is open and you can go and have a look at your food being prepared.
Starters and soups begin at €8.50, pasta from €16.50 and mains from €23.50. Fresh, local seafood and meats are prominent on this menu and there aren't any vegetarian options.
Soul Food (Valletta)
Cuisine: Healthy, Mediterranean
Hours: Monday – Friday, 10:00am – 6:00pm, Sunday 10:00am – 6:00pm
Address: 76 Merchants St. Valletta. Click here for directions.
Facebook Page: https://www.facebook.com/soul.food.valletta/
As with Mint in Sliema, Soul Food here in Valletta offers healthy, wholesome meals. This small restaurant has tables pouring out onto the street. It's vegan and vegetarian friendly with fresh quinoa and avocado salads, pastas, smoked salmon and much more.
Homemade flatbread is €5.90, main courses are around €12.00 and desserts are €4.50 and up.
Ta' Marija Restaurant (Mosta)
Cuisine: Maltese
Hours: Wednesdays and Fridays have Folklore nights.
Address: 71, Constitution Street, Mosta Click here for directions.
Website: https://www.tamarija.com/
Although a touristy spot, this is the best restaurant in Malta for traditional dancing! In fact, it's the only one. You get to enjoy a huge Maltese meal, complete with alcoholic drinks and return transport for €50 / person.
Then, after dinner and dessert, a stage raises off of the ground and women dressed in traditional outfits perform a few dances.
Lunch and dinner set menus go for €30 (on the days that don't have the folklore dancing).
The food here is pretty good, and the atmosphere is a bit touristy, but the dancing is really great and the owner Marija is kind and is very proud of her restaurant – she's been running it since 1964.
You can visit on a tour or independently. If you would like transportation to and from your hotel, purchase tickets from one of the tour operators along Triq Ix Xatt road in Sliema.
The Compass Lounge (Sliema)
Cuisine: Mediterranean, international
Hours: 7:00am – 4:00am, daily
Address: Tower Road, Sliema. Click here for directions.
Website: https://www.thecompasslounge.com/
This is a casual dining option with a great view, good food and a Happy Hour. The food here can be a bit hit and miss, but it's always busy with both locals and tourists, and the drinks are always good. You can come here for breakfast, lunch and dinner.
Try the forcaccia bread with parma ham, rocket and parmesan for €5.50. It's tasty and affordable.
Insider Tip: If you get the Malta Discount Card, you'll get a 50% discount on food (not drinks).
Shawarma Shops (Island-Wide)
Cuisine: Middle Eastern / Turkish
Hours: Lunchtime – late
Address: Everywhere.
There are many Middle Eastern and Turkish immigrants in Malta, and with them comes some tasty (and affordable) food! You'll find falafel, chicken shawarma, grilled chicken, soups and of course, all of the side dishes to choose from – salads, hummus, bread, vegetables, etc.
A takeaway box with falafel and as many side dishes that will fit costs €6.50.
Fra Giuseppe (Balzan)
Cuisine: Maltese
Hours: Monday – Sunday, 6:30pm – Late. Wednesday, Thursday, Friday, Sunday, 11:00 – 2:00pm
Address: 3 Triq Dun Spir Sammut Hal Balzan. Click here for directions.
Website: https://www.fragiuseppe.com/
This wine and coffee bar is set in a 300 year old building! Not only is the location incredible, but the servers are friendly and the food and wine are very good as well. It may be called a wine and coffee bar, but they also serve food.
Ftiras (Maltese sandwiches) are €4.50, platters start at €11.00, salads from €7.50 and wraps cost €6.50. They also have daily food specials that you can ask about. Wines by the glass start at €4.00.
Country Terrace (Bonus! Located in Gozo)
Cuisine: Mediterranean, International
Address: Triq Iz Zewwieqa, Mgarr, Gozo. Click here for directions.
Website: https://hostingbydavi.info/country-terrace/
Even though this restaurant is located on the island of Gozo rather than Malta itself, we had to add it to the list. Most people spend a few days on Gozo anyways, or at least head over for a day trip. Country Terrace is located in Mgarr, and is a quick drive / bus ride up the hill from the harbour where the ferry boat arrives.
Dining with views of the Mediterranean, the harbour and of Comino Island makes for a magical evening. The seafood here is delicious and the portions are large. The service is also very good. Try the salmon, the mussels, the brie cheese and the chicken.
Insider Tip: Meals here are discounted 50% with the Malta Discount Card.
Feeling Hungry?!
One thing is for sure, there is no shortage of restaurants in Malta! You can pretty much find any type of cuisine you feel like. The prices are fair and the portion sizes are enormous. The value for money regarding food in Malta is excellent. Hopefully this list gave you some good restaurant ideas for the next time you visit Malta.
Check out more Malta articles here:
The Ultimate Guide to Visiting Malta
GoatLife TV: A Round-up Of 2 Months in Malta
21 Photos That Will Inspire You to Travel to Malta
Living in Malta: An Introduction to Our Temporary Home
Have you travelled to Malta before, or do you live there? Which restaurants did I miss? Tell us in the comments!
Like this Post? Pin it!