I can't even imagine what travel must have been like years ago when the original, hardcore backpackers blazed the trail without internet, phones, portable music and digital cameras. On one hand, I think that would be a very liberating and exhilarating feeling. On the other
hand, it would be nerve-wracking to be cut off from the rest of the world. Can you imagine sending a letter home from Africa, only to have it arrive after you did? What if there was an emergency at home, how would anyone contact you?
Not only is contact with the "real world" now completely accessible by way of internet and cheap long distance calling, but all of these advances in technology have made it easier for the modern nomad to work while being completely location independent. Gone are the days of sitting in a cubicle! Bloggers, freelance writers and people with other online professions are now able to move around the world with nothing more than a laptop and a backpack, giving them complete freedom.
Of course, not all travel electronics are a necessity for the modern nomad, some are carried around purely for enjoyment!
In order to help you decide which travel electronics are necessary for your trips, here is a list of the electronics you'll find in our backpacks:
Laptops
For us as Travel Bloggers, this is a must-have. Many people are able to travel the world using just a smartphone or an iPad for their source of internet. Others have a small, lightweight, compact laptop like the MacBook Air or an Acer Aspire Netbook. During our first trips, we travelled with the Acer netbook and found it completely adequate for sending out emails and for watching movies at night. The best part was how small it was and how easily it fit into a backpack.
We are now working on our computers for about 25 hours/week, so we each have a full-sized laptop. We also prefer the larger screen for watching downloaded movies and tv shows!
Nowadays, Nick uses a 13.3″ Apple MacBook Pro which is very practical for video editing with Final Cut Pro, plus he loves the functionality of this laptop. The charging cord is a bonus because it comes with three different interchangeable plug-ins. One for North America, one for Europe and one for the UK. The only downside to the Macbook Pro is the cost. This laptop is about $1,200, but at the end of the day, it's worth every penny.
PROS:

Functionality
Ability to customize the trackpad
Clarity of screen
No viruses
Versatile wall plug-in
Can turn down the screen completely to save battery
Illuminated keyboard option
High quality webcam
Pre loaded apps including Professional Quality Video Editing in Final Cut Pro

CONS:

Doesn't stay running if screen is closed
Expensive (but worth every penny)
I carry a 15″ Acer Aspire One laptop. This computer meets every need that I have with blogging and emailing. A big bonus is the cost, which is significantly less than the Mac.
PROS:

Sleek, slim design
CD drive
3 USB outlets
Affordable cost
Very Fast

CONS:

Clarity of the screen can't compare to that of a Mac
Can't turn the screen off (only goes dim)
No illuminated key pad
It's a "PC vs. Mac" situation and in terms of quality, functionality and ease of use and the Mac clearly wins.
Accessories:
Camera
Even though the two of us take videos and pictures, we just have one camera. We've gone through a few cameras in our travel days. Everything from a basic point-and-shoot Canon to a 25x zoom Panasonic Lumix. Today, we carry the newest version of the Sony Nex-6, which was our Christmas present to each other. The size, weight and the ability to take quality photos is what initially drew us to this camera. When travelling, having items in your backpack that weigh very little is a high priority.
The Sony Nex-6 is a mirrorless camera that creates the same image quality of that of a DSLR, yet it's incredibly compact and lightweight. With the built-in wi-fi & flash, HDR feature and 1080p HD movie capabilities, we knew this was the camera for us.
PROS:

Lightweight
Compact size
DSLR quality photos, without the bulk
Interchangeable lenses
Wi-Fi capabilities
HDR feature
Panorama feature
Built-in flash
1080p HD video
Automatically switches between viewfinder and screen view
Wall or micro USB charging ability

CONS:

Minimal zoom (3x)
Video button hard to press
Viewing screen doesn't flip around 180˚
Not a touch screen
Slow on start-up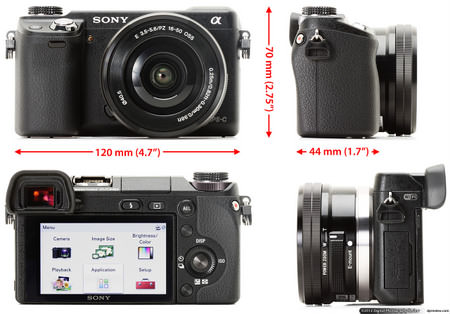 Accessories:
iPod Touch (32GB)
We were both really on the fence about whether or not we should get an iPhone (or another type of Smartphone), or if we would be just fine with the iPod Touch. Ultimately what made our decision was the cost of the iPhone vs. the iPod. We spent $299 on the iPod 5th Generation 32GB and we think that it serves all the purposes that we were hoping it would.
We always carry it with us because it fits easily into a pocket or purse. With a 5 megapixel camera, panorama capabilities, flash and 1080p video recording, it has everything we need.
For social media, having this type of travel electronic has really made things more streamlined for us. We just tap on the photo we want and upload it straight to our Facebook and Twitter accounts. We also use the iPod for music, messaging with family & friends who have Apple products (for free) and for Facetime and Skype.
The noticeable differences between the iPhone and the iPod are the cost and the fact that one is an actual phone. You need to have a wi-fi connection in order to use the iPod, but for us, we're glad we chose the iPod.
PROS:

The cost
Slim style, easy to put in pocket
Great camera (5 megapixel)
High quality video (1080p)
Downloadable Apps
Free messaging with other Apple users
Many styles and types to choose from
Portability

CONS:

Need to have wi-fi in order to use the internet
It's not a phone
Screen shatters easily
New power adapter, can't charge with old cords
Accessories:
Kindles
When we were preparing for our trip through Mongolia, the Stans and Iran, we decided to invest in a Kindle Paperwhite rather than lugging heavy books around with us. It turned out to be a great decision. If you're going on a trekking, hiking or camping trip and you'll be carrying your backpack for hours on end, having a small e-reader rather than loads of books is a smart idea.
The best part about the Kindle Paperwhite is that the screen isn't an LCD screen. It has E Ink Carta display technology, which makes it feel like you're reading a paperback book rather than looking at a computer screen. We use this electronic not only for novels, but for guidebooks as well. The new Kindles even have wi-fi!
PROS:

Inexpensive
Thin
Lightweight
Practical for travelling
Battery lasts for weeks
Easy to read
Not hard on the eyes
Wi-fi
Charge via USB
Ability to highlight words and show meaning in dictionary
Built-in light

CONS:

A bit slow at "turning" pages
It's not a book!
Accessories:
Each of our Kindle e-readers have a special protective, hard, leather cover which snaps shut with a magnetic clasp. Just by closing the cover, the Kindle turns off.
Speakers
These definitely aren't a necessity when travelling, but for us, we love having a set of compact speakers! We recently bought the Logitech UE Mobile Boombox when we were back in Canada. These Bluetooth, wireless speakers are fantastic. We connect our iPod Touch via Bluetooth to the speakers and are able to listen to music wherever we are. We bring these portable speakers to the beach and picnics and we also use them for better sound quality when we're watching movies on our laptops. We love the compact size (it's basically the size of a can of food) and the great sound that they give off.
PROS:

Compact size
Lightweight
Great sound
Bluetooth capabilities
USB chargeable
Battery lasts around 10 hours
Easy to press volume controls on the top of the boombox

CONS:

Sometimes the Bluetooth connection cuts out
Portable External Hard Drives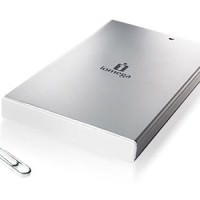 We have thousands of photos and videos from our numerous trips around the world. Rather than jam-packing our laptops with these files (which would severely slow down our computers), or trying to upload them to the Cloud or a dropbox with slow internet, we have two portable, external hard drives. Not only do we use these hard drives for storage and back up of our precious memories, but we have also downloaded thousands of movies, tv shows, documentaries and music albums.
Our two portable hard drives include the 1TB Iomega Prestige with metal shell and the 1TB WD My Passport Ultra Portable with plastic shell.
PROS:

Save space on our computers, making them run faster
Lightweight
Thin
The size of a passport

CONS:

Delicate and easily broken
Each uses a different USB cord for connecting to the laptops
Accessories:
Mobile Phone
We started carrying a phone towards the end of our first trip in order to contact hostels and guesthouses to book a room. We still have our very basic, unlocked Nokia phone that we bought when we were travelling in India! We prefer to have a durable, cheap phone that we know we can bring to the beach and use in public without worrying about someone stealing it. We buy local SIM cards in each country we go to and top up the airtime minutes as needed.
Especially if you are renting a car or going out trekking, we recommend having a phone with you. In the most remote places, we still see people on their phones, so coverage is usually pretty good. If you have an emergency, a flat tire, an accident or are lost, having a mobile phone can be your lifeline to safety.
PROS:

Durable
Reliable
No one wants to steal a basic Nokia phone
Can charge with USB
Small
Lightweight
Battery lasts a long time
Unlocked. Can use around the world

CONS:

No internet
People with nicer phones make fun of you
Odds & Ends
There are a few smaller electronic items/accessories that we also carry with us.
Final Thoughts
We try to buy high quality products that are lightweight, affordable and easy to pack. Apart from our laptops (which are a necessity), everything else is small, compact and weighs very little. Travelling with electronics seems to be the norm these days. Rarely have we been in a hostel, on a bus or sitting in a cafe without seeing someone on their smartphone or laptop.
We live in a modern world where social media and internet are an inevitable part of the day. We try to be on our laptops for a reasonable amount of time before shutting them down. When we're out for a meal or enjoying the day together, we don't update our Facebook page or message with people. One of the great things about not having full-time internet access with the iPod Touch (as opposed to 3G with an iPhone) is that we have a break from social media and from being connected 24/7.
It's nice to unplug once in a while and really enjoy the moment.
Do you think travel electronics are ruining or improving the way we travel these days? Any gadgets you would add to the list? Share with us below!
Note: This post includes affiliate links. However, we would never recommend or endorse a product or service that we don't find useful. We receive a small commission for purchases made from this page but you will not be charged extra.
Thanks for helping to keep the Goats On The Road!
Like it? Pin it! 🙂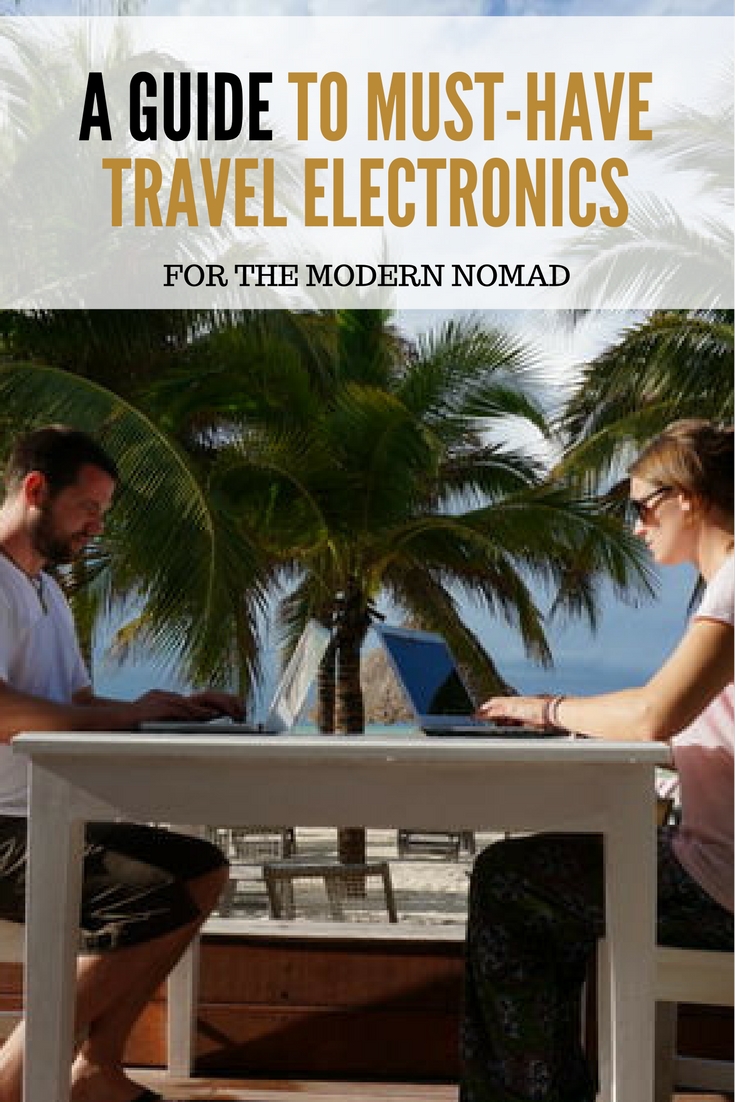 Disclaimer: Some links in this article are affiliate links, which means that if you purchase through them, we receive a small commission. This will never cost you extra and in many cases you receive a special discount. We appreciate your support!