The Cook Islands are a small archipelago of 15 islands in the South Pacific covering a total combined land area of just 240 km². Technically Cook Islanders are citizens of New Zealand and rely on the larger, more developed nation for governance and military protection, but in recent years the islands have become more and more independent and a visit here will surely prove that this is a very different place than New Zealand.
Rarotonga is the main island and with a population of just over 10,500, the influx of nearly 100,000 travellers who visit the Cook Islands each year brings in the majority of the island's economy.
Boasting funky cafes and a growing organic food scene, as well as numerous bars and nightclubs, Rarotonga is definitely the most affluent of the islands. Beneath the tourism infrastructure and modern facade, Rarotonga is still full of culture that is backed by Polynesian lifestyle, values and history.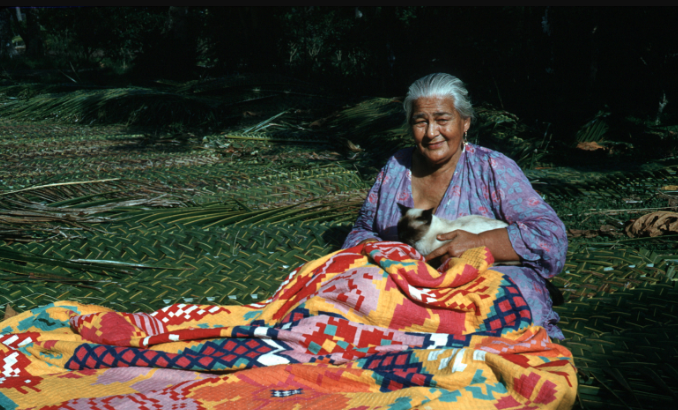 It's no question why these breathtaking islands have long been on the wishlist of luxury travellers and beach bums alike. Dazzling in the wild blue South Pacific, each island is blessed with healthy coral reefs and blinding white sand beaches.
In this article I'll expose the hidden treasures of this, the most popular of the Cook Islands, and help you to plan the perfect trip to the beautiful island of Rarotonga.
Getting There & Away
The pristine nature of the Cook Islands is largely due to their remoteness, so getting there and away isn't a quick experience for most. If you already live in the South Pacific (ie: Fiji, New Zealand, Australia etc.), then it's not such a far journey, but for the rest of us in the world there are long flights needed to reach this paradise.
From New Zealand
New Zealand provides the closest major landmass to fly from and return flights run 7 days a week and take around 4 hours.
From Australia
There are also numerous flights from Australia which take around 6 – 7.5 hours each way. Keep in mind that although the flights from Australia and New Zealand aren't particularly long, they do cross the dateline so you'll gain a day on your way to Cook Islands, and loose it again when returning back.
From Canada
From Canada there are actually some amazing deals on flights from time to time. From Canada, check out YYC Deals and YVR Deals for last minute seat sales. Sometimes you can land a return flight to Rarotonga (10.5 hours each way), for under $500 CAD.
From The US
From the US Air New Zealand has a direct flight from Los Angeles to Rarotonga every Saturday departing at 0645, arriving in Raro at 0645 on the Sunday. These tickets can usually be picked up for around $1,000 USD return and they're non-stop, so they'll get you there in 10.5 hours or less.
From Elsewhere
To see how much flights to Rarotonga will cost you from your nearest airport, check out Expedia.com or Google Flights.
Getting In From The Airport
Some accommodations can pre-arrange pick-up for you at the airport to bring you to your accommodation. Otherwise taxis will cost around $15 – $20 per person, while shuttles from the airport will usually cost around $15.
Where To Stay in Rarotonga
With 100,000 visitors coming to Rarotonga each year, it's no surprise that there are some spectacular accommodation options available on the island. From rustic beach houses to luxury 5 star resorts, you'll find it all here.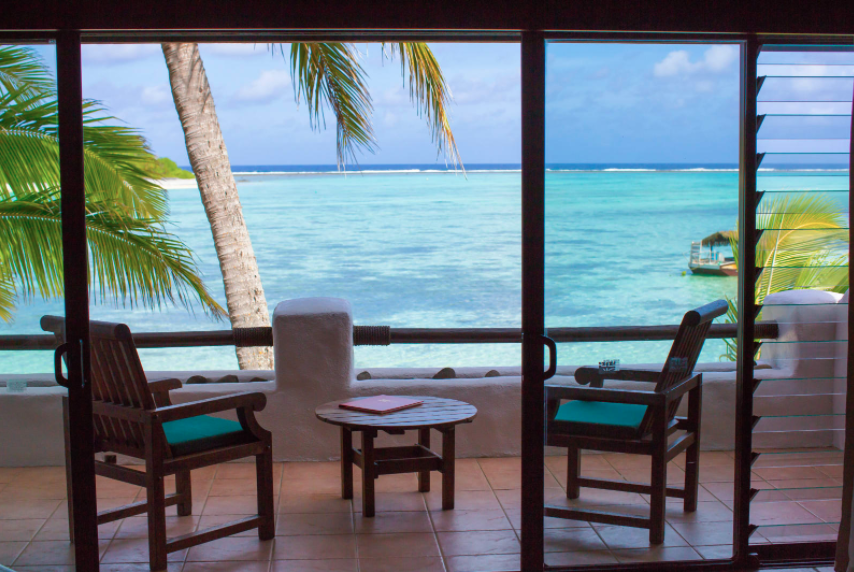 Luxury & Budget Options
For beautiful waterfront accommodations, click here. But, don't worry, not all places on Rarotonga are expensive. You can find some great deals on Booking.com, including some lovely apartments for just $65 / night, and cool cottages for $90 / night. You can also check on Airbnb for some fantastic deals. Click Here and if it's your first time using the service, you'll get a special $35 credit on your first booking courtesy of Goats On The Road.
Cost Of Living in Rarotonga
The flight to and from the Cook Islands will definitely be your most expensive part of your trip, but that's not to say that Rarotonga is a cheap destination to visit. Accommodation starts at around $50 / night, with more highly rated places starting at $65.
There are some shared places on Airbnb for just $20, so if you're lucky, you could keep your accommodation prices down.
Luckily there's something for all budgets here, so whether you're backpacking around New Zealand and Australia and plan to pop over, or you're going all out on a luxury honeymoon for you and your better half, you can find it all here.
According to Numbeo you'll pay around $7.50 for a meal at an inexpensive restuarant, while a liter of milk will cost you $2.50 and 12 eggs will cost you $3.60. Internet is outrageously expensive with the best companies charging $15 per 100mb of data. If there was ever a good time for a digital detox, your visit to Cook Islands is it.
There's no reason why you can't get by on $50 per day or less in Rarotonga if you want to. At the luxury end of the spectrum you could easily spend upwards of $1000 per day to pamper yourself.
Things To Do in Rarotonga
For such a small island, there are actually quite a few activities in Rarotonga. The hardest part will be peeling yourself from your white sandy beach or from your hammock to actually get out and explore, but once you do you'll be rewarded with rich culture and natural beauty.
Punanga Nui Market
Punanga Nui is a great example of Rarotonga's burgeoning organic food movement. Here you can browse the many stalls for fresh fruit, vegetables, barbecued snacks, bread, fish and seafood. My personal favourites are the roast pork rolls with apple sauce, these sweet and savoury delicacies make the long flight to Rarotonga worth every minute.
Aitutaki Lagoon
Perhaps there is no more scene as stereotypically breathtaking as Aitutaki in all of the South Pacific. I tiny lagoon set in the middle of the impossibly blue ocean with a blindingly white sand bar and a couple of lounge chairs ready for relaxation. You can organize full day trips here for around NZ$400 including pick up and drop off at your hotel.
Muri
Don't leave Rarotonga without a day trip Muri on the southeast coast, arguably the most beautiful beach on the island. Tropical fish filled water hovers over blindingly white sand, offering visitors the perfect opportunity to don a mask and snorkel and explore the marine life of the Cook Islands.
Glass Bottom Boat Experience
Perhaps you're not much of a snorkeler / diver, consider hopping on a glass bottom boat to see the bewildering array of marine life in the waters of of Rarotonga. If you decide to stay at the Pacific Resort with Luxury Escapes, you'll get a free glass bottom boat trip, but even if you don't opt for the deal, I recommend booking a trip anyways.
Te Vara Nui Cultural Village Tour
Take a day to do this informative tour to give yourself a better understanding of Maori culture, traditions and history. Most tours will take in a drumming ceremony, centuries-old weaponry techniques, navigation tricks, and cultural legends.
You'll likely pass through botanical gardens and try on a few costumes, while having the opportunity to purchase beautiful wood carvings and weavings.
Go Diving
With such an incredible biodiversity of coral and fishlife right off shore, it's no surprise that there are plenty of dive outfitters on Rarotonga island. Join a dive shop and head out to spot rays, sharks, octopus and an endless stream of fish.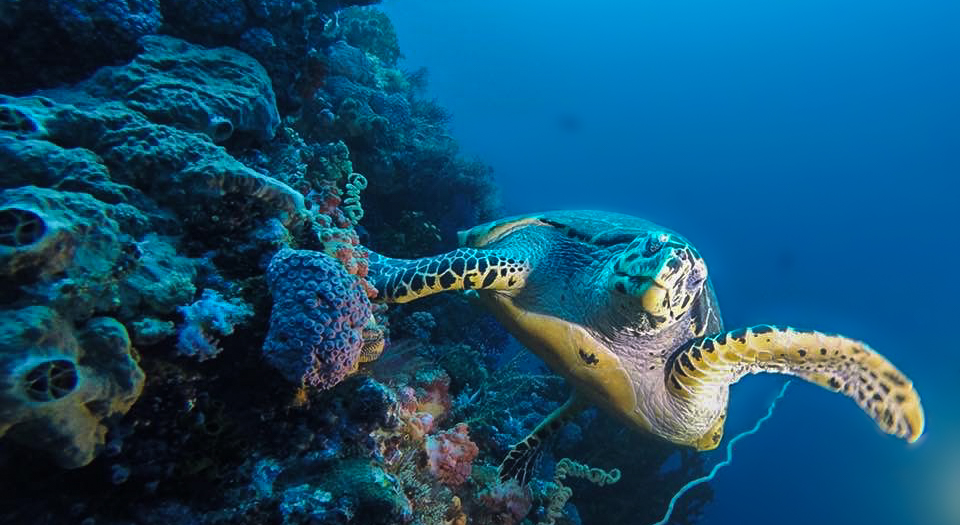 I didn't have time to go diving during my stay, but The Big Fish Dive Center is a 5-star eco-friendly operator on the island that looked pretty good.
What Are You Waiting For?
In this article I listed amazing deals on YYC Deals and YVR Deals, as well as flight searches that can get you from LA to Rarotonga for under $1,000. Plus I listed the amazing 50% off deal currently on at Luxury Escapes as well as some budget options for accommodation on the island.
Depending on where you're flying from, you can actually make a pretty cheap holiday out of a trip to the Cook Islands, even though they're known to be some of the more luxurious islands on earth. All there's left to do now is book your flights and hotels and explore these jewels of the South Pacific.
Lead Image By: Wikimedia Commons
Disclaimer: This article was written by a guest author and was brought to you by Luxury Escapes, who offer amazing discounts on luxurious accommodations all over the world, allowing even backpackers to enjoy some luxury from time to time.
Like This Article? Pin it!