In this guide to backpacking Thailand, you will learn everything you need to know about travelling this beautiful country on a budget, including things that you'll never find in your Guide Book. *This post has been updated February, 2018*
Jump To: Must-see Places | Must-Have Experiences | Off The Beaten Path | Pros | Cons | Transport | Visas | Health | Weather | MORE THAILAND BLOGS
Ahh Thailand… a heaven for budget backpackers. A place we return to. A place that somehow feels like home, despite being thousands of miles away. Stunning white sand traces 445 km of palm fringed coastline. Locals that smile, food that satisfies, beaches that shimmer and parties that last until sunrise, this is what easy travel is all about. On top of all of that, there are endless incredible places to visit in Thailand, and things to do in Thailand – you'll never be bored here.
Thailand tends to cater to western visitors and much of its ancient culture and customs suffer from destructive tourism. You may hear mixed reviews before coming here but one thing is for certain… everyone has fun in Thailand! Check out this backpacking Thailand guide and start planning your trip.
How Much Will Backpacking Thailand Cost?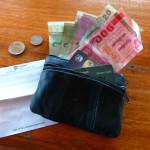 $50/day for 2 people.
This is a pretty comfortable Thailand backpacking budget. You'll be able to pay for your transportation, snorkel, jungle or river tours, accommodation in cheap double rooms and still have some money left over for beers. Thailand is a cheap country to visit. You may have heard tales of $2 huts and 5 cent buses but you better come here in a time machine if you expect to find prices like that. But, backpacking Thailand is still pretty cheap.
Budget Accommodation: ($10-$30/night)
Accommodation in Thailand has definitely gone up in price since the hippy days, but with the price increase has come a step up in comfort and style. You will never find a hut for less than $8 in Thailand and if you're staying in Bangkok or an expensive island, expect to pay around $20 for a decent double room. Prices often include breakfast. Check out these places to stay in Thailand for travellers:
☞ Click Here to compare prices for the best hostels, hotels and guesthouses in Thailand on Booking.com
If you would rather book an apartment or stay with a host on Airbnb, why not get an Airbnb discount while you're at it? Make sure you use our special $25 Airbnb Coupon Code and save money!
Eating: ($1-$3/meal)
There are still amazing deals to be had while backpacking through Thailand. You can usually find tasty Pad Thai, Massuman curry, green curry, and soups to fill your stomach for just over a dollar. If you're in a touristy area outside of Bangkok, you may have to pay the escalated prices in the farang (foreigner) restaurants, where a cheap meal will be at least $3 – $5.
Entrance Fees: (Average $5/person)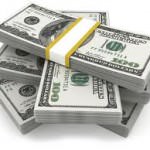 There are some good sites to be seen in Thailand including many amazing temples, the Grand Palace, and Ayutthaya: The Ancient City of Siam. Some sites are free while others, like the Grand Palace in Bangkok, will cost 400 THB ($12). If you visit Ayutthaya expect to pay around 50 THB ($1.25) for each temple you enter.
Alcohol: ($2 Beer, $4 Cocktails)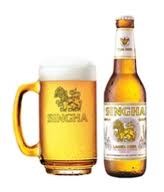 Alcohol will most likely be part of your budget while backpacking Thailand. There are ways to save some serious baht for those on a shoestring budget.
Pre-drinking can be your wallet's best friend in Thailand and you can buy big beers at 7-11 for around 55 THB ($1.50). Hit up 7-11 or the local market and avoid drinking beers in bars where drinks are double or triple the price.
Cocktails in bars are usually around $3, but they are often made with cheap local spirits. A bottle of Mekhong whiskey only costs about $2 in a store, so keep that in mind when you're ordering expensive cocktails at the beach bar. You're definitely paying for the ambiance, but when the sun sets over the sparkling sea, you'll wonder if you can put a price on that sundowner experience.
Tipping: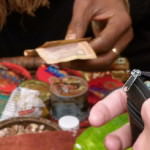 Don't Tip! If you're like us, born and raised in North America, then this is likely a hard concept to grasp. Thais don't tip and neither should you.
If you're backpacking Thailand on a budget, then the fact that there's no tipping probably comes as good news.
By doing so you are influencing the locals to expect gratuity from tourists. Tips are not expected from locals and tipping may annoy locals, expats and long-term travellers alike because it just makes the services more expensive for them. Don't tip in Thailand!
**Update 2018: It is much more commonplace to tip these days in Thailand. If eating at a street stall, there's no need to leave a tip. If you're eating at a restaurant, at least leave the coins, or up to 10%. In a fancier restaurant, definitely leave 10%. For hotel cleaners, it's nice to leave 20 – 50 baht under the pillow (depending on where you're staying). Gauge the situation and decide whether leaving without tipping is appropriate, but in Thai culture, it's expected that you at least leave the coins…in order to "save face".
[widget id="text-70″]
Travel Insurance:
It's important to have travel insurance before embarking on your backpacking adventure! It's the one thing you should always pack. World Nomads is a popular choice for backpackers and travellers. Enter in your details below to get a free quote:
Must-See Places in Thailand
There are too many must-see places to visit in Thailand to list here. We've spent 7 months here on 8 different visits and we still have much to see. Thailand is jam-packed with great backpacking highlights, many of which you can find on your own, with no help of the guidebook. You just have to really dig to find them!
Jump To: Must-Have Experiences | Off The Beaten Path | Pros | Cons | Transport | Visas | Health | Weather | MORE THAILAND BLOGS
[widget id="text-83″]
The Mainland
Bangkok:
The hustle and bustle of the most vibrant city in Asia will force you to love it or hate it. Bangkok is the perfect first step (or plunge) into the world of Southeast Asia, and as you wander around on sensory overload, you'll probably love the shock that comes with your entry stamp to Thailand.
Most likely, you'll spend a crazy night partying on Khaosan Road (which generally involves bucket drinks and insect eating!), but once you've got that out-of-the-way, make sure to venture to other areas of this bustling city.
If you're looking for more authentic things to do in Bangkok, make sure to check out the Ari Neighbourhood, go on a cycle tour, visit Chinatown, check out the airplane cemetery, explore the Chatuchak Market…and so much more.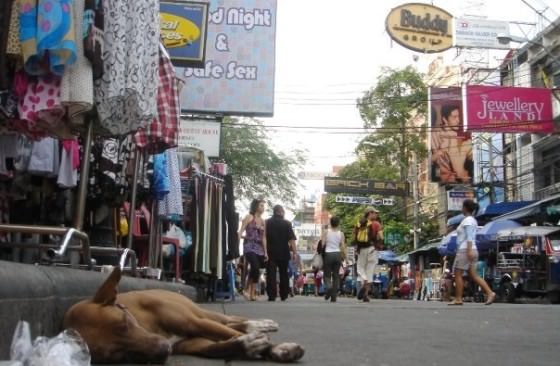 Top Rated Hostels in Bangkok
| | |
| --- | --- |
| HOSTEL NAME | ROOM PRICE & RATING |
| Lamurr Sukhumvit 41 | Dorms from $16 – Rating: 9.9 / 10 |
| Cubic Bangkok | Dorms from $12 – Rating: 9.9 / 10 |
| Good One Hostel & Cafe | Dorms from $9 – Rating: 9.9 / 10 |
| Nornyai Hostel | Double Rooms from $24 – Rating: 9.7 / 10 |
| Kama Bangkok | Double Rooms from $45 – Rating: 9.5 / 10 |
| Smile Society | Double Rooms from $36 – Rating: 9.4 / 10 |
☞ Click Here to compare prices and see the top-rated hostels, hotels and guesthouses in Bangkok on Booking.com
Chiang Mai:
This ancient walled city has plenty to offer backpackers. Cheap accommodation (especially apartment rentals), delicious restaurants and lots to keep you busy. Make sure to visit the local markets and sign up for a Thai cooking class!
There are tour agencies that can arrange visits to Burmese Long Neck Tribes, jungle zip lining, zorb ball, paintballing, and loads more strange / non-Thai experiences.
For more authentic things to do in Chiang Mai, rent a motorbike and explore the surrounding countryside. Trips to the Mae Sa Waterfall and driving the Mae Hon Song Loop are popular (and gorgeous) excursions in the area. You can also visit nearby cities and towns – don't miss the awesome things to do in Chiang Rai.
READ MORE: Digital Nomad Guide to Living in Chiang Mai
Top Rated Hostels in Chiang Mai
| | |
| --- | --- |
| HOSTEL NAME | ROOM PRICE & RATING |
| Plearn Hostel | Dorms from $12 – Rating: 9.9 / 10 |
| Green Tiger Vegetarian House | Dorms from $12 – Rating: 9.6 / 10 |
| @Box Hostel | Dorms from $9 – Rating: 9.6 / 10 |
| Khaosan in Chiang Mai | Double Rooms from $18 – Rating: 9.6 |
| Oxotel Hostel | Double Rooms from $35 – Rating: 9.5 |
| Tanita House | Double Rooms from $42 – Rating: 9.4 |
☞ Click Here to compare prices and see the top-rated hostels, hotels and guesthouses in Chiang Mai on Booking
Pai:
Thailand's hippy hangout. A beautiful little village set on the Pai River in the Mae Hong Song province, Pai is a pretty cool place. You can arrange jungle treks and river trips here as well as visits to the stunning Pai Canyon, Santichon (Chinese village) and tours to the infamous Bridge Over The River Kwai.
After each day of adventure, you can return to the hammock that dangles from your riverside bungalow for a little bit of relaxation. For such a small town, there are numerous things to do in Pai, and its surroundings.
**Update 2018: These days, Pai itself is packed with tourists, and rather than finding Thai food, you're more likely to see Italian and American favourites on the menu. However, it is possible to find local food, you just have to look al little harder. Make sure to leave the actual town of Pai and explore the beautiful surroundings.
Top Recommended Hostels in Pai
| | |
| --- | --- |
| HOSTEL NAME | ROOM PRICE & RATING |
| Nine House | Dorms from $5 – Rating: 8.9 / 10 |
| Spicy Pai Backpackers | Dorms from $5 – Rating: 8.1 / 10 |
| Purple Monkey Backpackers | Dorms from $6 – Rating: 7.9 / 10 |
| Baan Kati Sod | Double Rooms from $9 – Rating: 8.1 / 10 |
| Baan Ing Na | Bungalows from $14 – Rating: 7.8 / 10 |
| KK.Hut | Double Huts from $5 – Rating: 8.3 / 10 |
☞ Click Here to compare prices and see the top-rated hostels, hotels and guesthouses in Pai Mai on Booking
The Best Backpacker Islands, Thailand
Railay:
Okay so Railay is not technically an island, it's just a set of beaches south of Krabi town, but it's only accessible by boat so it retains an island-like vibe. Railay is breathtaking. Huge limestone cliffs jut out of shimmering turquoise waters.
Here you can do some rock climbing, jungle treks, hikes or just float in the warm sea and look up at the massive, jagged Goliaths that soar above the white sand coves. These shores include some of Thailand's most beautiful beaches.
Railay is a must-see for beach bums and adventure backpackers!
☞ Click Here to compare prices for the best hotels and guesthouses on Railay Beach on Booking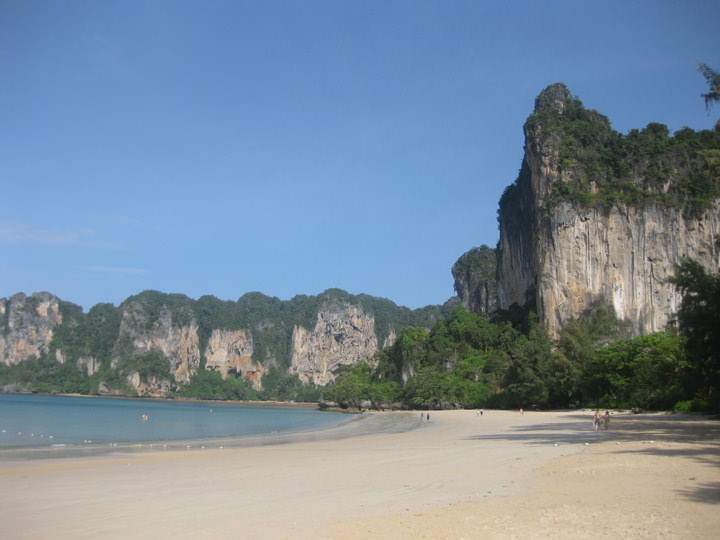 Koh Chang (North):
There are two Koh Chang islands in Thailand. One near the northern coasts of the gulf of Thailand, the other is on the Andaman Sea (see below). The north Koh Chang is a stunning place that is deserted outside of peak seasons (when it receives more rain than anywhere else in Thailand).
A long white sand beach fringes its north-western shore, where there is a wide variety of accommodation with everything from cheap huts to stunning resorts. Luckily the two financial extremes are separated so the different vibes can remain intact.
**GOAT NOTE – White Sands Beach is one of the nicest stretches of sand in Thailand, and it's less crowded than most.
☞ Click Here to compare prices on the best hotels and guesthoues in Koh Chang on Booking
Koh Phangan:
Don't make the mistake of thinking that Koh Phangan is only for drunk party animals trancing out on the beach during full moon parties. If you want to experience one of Thailand's most dazzling specs in the sea, then you should come to Koh Phangan outside of the optimal lunar cycle.
Aside from those 3-5 days a month, the island is left deserted, wild and untouched. There are good roads connecting all of the best beaches so renting a motorbike and touring the island is easy. Haad Rin (the full moon party beach) is also one of the most stunning beach in all of Thailand. Don't make the mistake of skipping this island, there are numerous things to do in Koh Phangan!
**GOAT NOTE – We stayed at Lighthouse Bungalows near Leela Beach. With bungalows that cling to the cliffside overlooking the sparkling sea, this is the best rustic guesthouse on the island. Far enough away from the crowds, yet close enough to walk there in 10 minutes, Lighthouse Bungalows is in the perfect spot.
☞ Click here to compare prices on the best hotels and guesthouses on Koh Phangan
Koh Tao:
Koh Tao (meaning "Turtle Island") is Thailand's scuba diving mecca and they dish out more PADI certificates than anywhere else on the planet. The diving here is world-class (although there is much better diving elsewhere in Thailand), but it's the vibe that really makes Koh Tao what it is.
Funky beach bars, tasty restaurants, street stalls, sandy beaches, movie nights and great diving and snorkelling all add up to make Koh Tao one of the funkiest islands in Thailand.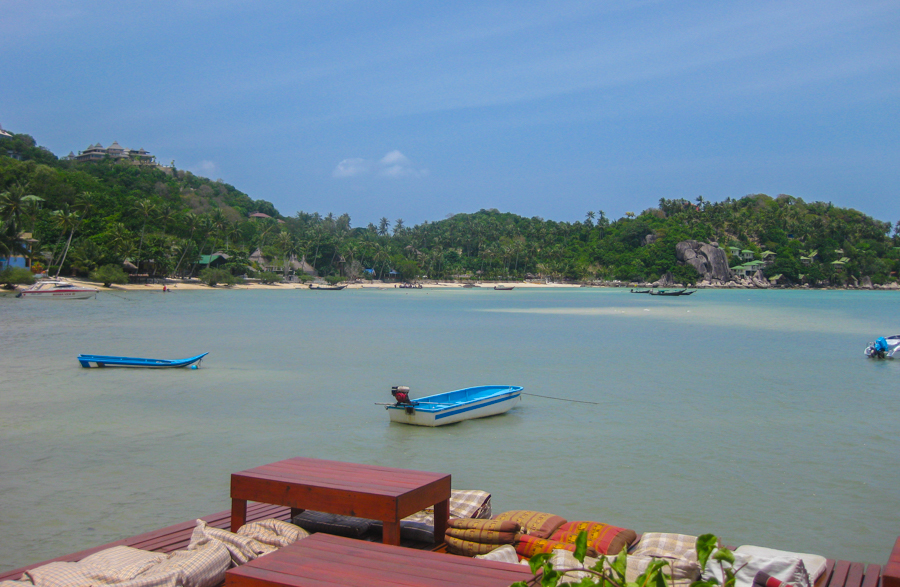 **GOAT NOTE: Getting PADI in Koh Tao is highly recommended!
☞ Click here to compare prices for the best hotels and guesthouses on Koh Tao on Booking
Koh Phi Phi:
There are two Koh Phi Phi's that float as neighbours in the aquamarine waters of the Andaman sea. Both of these islands are stunning and both of them are overrun with tourists.
If you're looking for an authentic Thai experience, look elsewhere. But if you want to see a beautiful beach, snorkel some nice reefs and see the place where the movie "The Beach" was filmed, then Koh Phi Phi is worth a visit. Keep in mind that prices here are jacked up in comparison to the rest of Thailand.
**GOAT NOTE – The beaches on both Koh Phi Phi Islands are very shallow and pretty much unswimmable for most of the day.
☞ Click here for the best hotels and guesthouses on Koh Phi Phi on Booking
Koh Samui:
This island is more of a hangout for couples and families. We had avoided it during our younger backpacking years, but found ourselves actually spending 1.5 months there in 2017. Lamai beach is one of the nicest we've seen in Thailand with soft sand and clear water – plus, the water gets deep quickly meaning you don't have to swim too far out. There are some great markets, quieter beaches in the north, pristine waterfalls and some really good restaurants.
Check out our Guide to Living in Koh Samui for more information. We don't have a Koh Samui backpackers guide, as we feel it's more of a mid-range island. However, as with everywhere in Thailand, it is possible to travel here on a budget.
We didn't stay here, but saw some really colourful, funky huts right on beautiful Lamai beach! Travellers recommended it to us, and the place was full of backpackers when we stopped by. It's called New Hut Bungalows – click here to see the latest price on Booking.com.
Must-have Experiences in Thailand
There are so many awesome things to do in Thailand, here are some of our favourites:
Cocktails At Sunset:
When the sun begins to dip into the sea and illuminate the sky with pinks, reds and oranges, you'll be drawn to the beach like a fly to a lamp. Head to one of the many funky beach-side bars and enjoy a delicious sundowner while swinging in a hammock or lounging in a bean bag chair.
These moments are what a vacation in Thailand is all about. And that's what it is. Even if you're backpacking Thailand, you can take time to have a vacation from travel and just watch the beauty of this enchanting land unfold at sunset.
Jump To: Must-see Places | Off The Beaten Path | Pros | Cons | Transport | Visas | Health | Weather | MORE THAILAND BLOGS
Learn Some Thai:
Thai people are often thrilled to hear you speak a little bit of their language. Not only will it win you some friends, but it will also save you some money while bargaining in markets. Thai isn't the easiest language to learn, but it's definitely possible to pick some up whilst in the country.
Play Football (Soccer) With Locals:
As the day comes to a close in Thailand, young people take to the beaches and parks to have a game of football under the evening sun. We highly recommend joining one of these games, even if you suck at playing! The Thais are always willing to have a farang join their games and it will give you a chance to mingle with the locals.
See a Muy Thai Kickboxing Match:
This is an essential part of any visit to Thailand. The Thais are crazy about kickboxing and if you get a chance to see a match, you'll see why. There are often promotional trucks driving around during the days leading up to a match, so just grab a flyer or buy a ticket!
Ride In A Tuk-Tuk:
These cool little 3-wheeled rickshaws are pretty much the mascot for Thailand, so don't miss the opportunity to hop in one and go for a ride. Just beware that in Bangkok they are usually in cahoots with shops and will take you to family owned jewelery stores and pushy tailors. Make sure your tuk-tuk driver knows you aren't interested and just want to get to your destination.
Rent A Motorbike:
By far the best way to get around in Thailand is on a motorbike or moped. They can be rented just about everywhere for as little as $3 and they will give you a lot of freedom that buses and tuk-tuks lack.
If you've never ridden one before, don't worry, it's like riding a bike. Just take a spin around the block a couple of times to get used to it and you'll be fine. It would be a shame not to rent a motorbike on every island and zip around to different beaches and villages – you'd miss out on so much. Hiring a scooter is definitely something you should do when backpacking Thailand.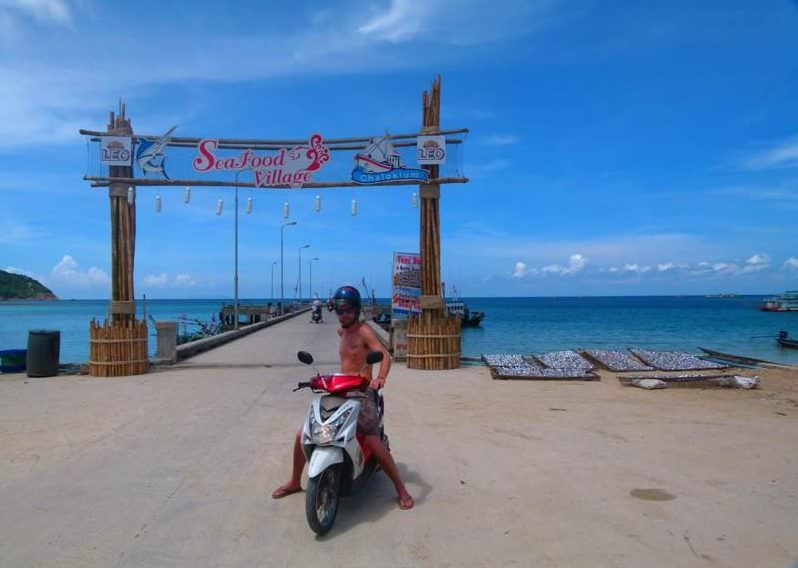 Visit A Monastery:
There are a ton of monasteries in Thailand, many of which are frequented by tourists. If you can't enter without having a "monk" ask you for money, then you know you're in the wrong place. Stay away from the touristy places where fake monks patrol the gates to beg from tourists. Find one off the beaten path (perhaps on your motorbike) and you'll be rewarded with a truly authentic Thai experience.
Note: Make sure to dress appropriately when entering into a monastery, temple, or sacred place.
Do A Thai Cooking Class:
Thai food is delicious and relatively easy to make. You can find Thai cooking classes in most cities and on many islands. You shop for your ingredients at the local market first and then spend the day cooking the delicious foods. The best part? You get to eat everything you make.
Off The Beaten Path In Thailand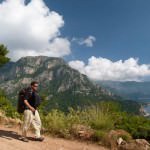 Sure Thailand isn't an off the beaten path destination, but there are still plenty of places you can go to avoid the crowds.
If you're like us and you like finding places that aren't in the guide-book, then you'll appreciate this section.
Although it's not easy, you can still find a little piece of paradise all to yourself. Regardless of which island you're on, or city you're in, you can always get away from the crowds by renting a motorbike and zipping off to explore.
Jump To: Must-see Places | Pros | Cons | Transport | Visas | Health | Weather | MORE THAILAND BLOGS
Ko Kood:
Although this island is becoming more popular with each passing year, it is still deserted every evening, even in the peak season. Consider spending a couple of nights here, exploring the waterfalls and monasteries that dot the jungle-clad interior and witness Thai people who are surprised to see a foreign face. A treat that's hard to come by in Thailand.