Sanliurfa is a beautiful city in Eastern Turkey with a lot to see and do. Unfortunately Turkey is such a big country so we had to really start moving a lot in hopes of covering more area and seeing more sights. Instead of spending day 3 in the actual town of Sanliurfa we took a 2 hour minibus ride to the small village of Harran.
When we arrived to the dusty desert village the first thing we noticed getting off the bus was the heat. The mercury soared to over 40 degrees that day and it was extremely oppressive, but we pressed on anyway. Harran is famous for a lot of reasons. One, it's possibly one of the oldest continuously inhabited places on Earth at nearly 5000 years old. It is also famous for its beehive shaped houses made from desert mud and camel shit.
As soon as we started the hot, sweaty hike over the hill, hundreds of these little homes became visible and were scattered in small communities on the desert floor. We headed past them all to the village Kale, or castle. The Kale is more than 1000 years old but its crumbling walls still retain some of their ancient grandeur. We walked around the maze of huge rooms and halls inside the falling structure and enjoyed the commanding panorama views of the area.
Thanks to Turkey's new idea to dam the country's main water sources, what was once a sparse desert is now green farmland. And the once poor villagers of Harran now have LCD TVs in their tiny beehive homes. Unfortunately these dams also have negative effects on the ecosystems and ancient sights, and although Harran is threatened by these problems, other monuments and ancient villages have been completely covered with water.
After the Kale we headed over to a beehive settlement that is open for visitors. On the way we were invited into a real, authentic beehive house. The one open for visitors is now a cafe and sells trinkets and paintings so it's kind of a tourist trap (even though no one comes out here!), but the one we were invited into was the real deal.
A large woman surrounded by 6 or 7 kids called us from the dusty path in front of her home when she saw us taking pictures of her turkeys… that's right, turkeys in Turkey; couldn't resist. She called us in and insisted we hold her baby and asked us in broken English how many kids we have. We declined her offer and disappointed her with our no-baby lifestyle. We politely said our goodbyes and headed into the tourist hives.
Surprisingly inside the beehive homes it is very cool compared to the desert heat. Who knew camel shit had such a cooling quality? Some young locals about our age were sitting in a circle, drinking chai (tea), and singing classic Turkish music. We sat down with them and listened to their songs and talked in broken English between each song. There were 2 girls, and 2 guys aged 23 to 29 and they were all teachers at a nearby school. They asked us to sing some songs from our country but somehow we didn't think Celine Dion or Brian Adams would have been appropriate with that particular audience.
This was yet another great moment in our backpacking lives. There's nothing better than sitting around and enjoying the company of locals – even if you don't speak the language.
After some chai and more music they invited us to join them touring around Harran and then to drive us back to Sanliurfa. We were more than happy for the company and the ride home. We went to pay the bill and leave but right away they said "no problem" and paid for our drinks without taking no for an answer. So generous. So we all set off to look at the ancient ruined mosque of Harran. It was basically just a thousand year old tower of bricks in the middle of the desert, so compared to the rest of Harran it was nothing special.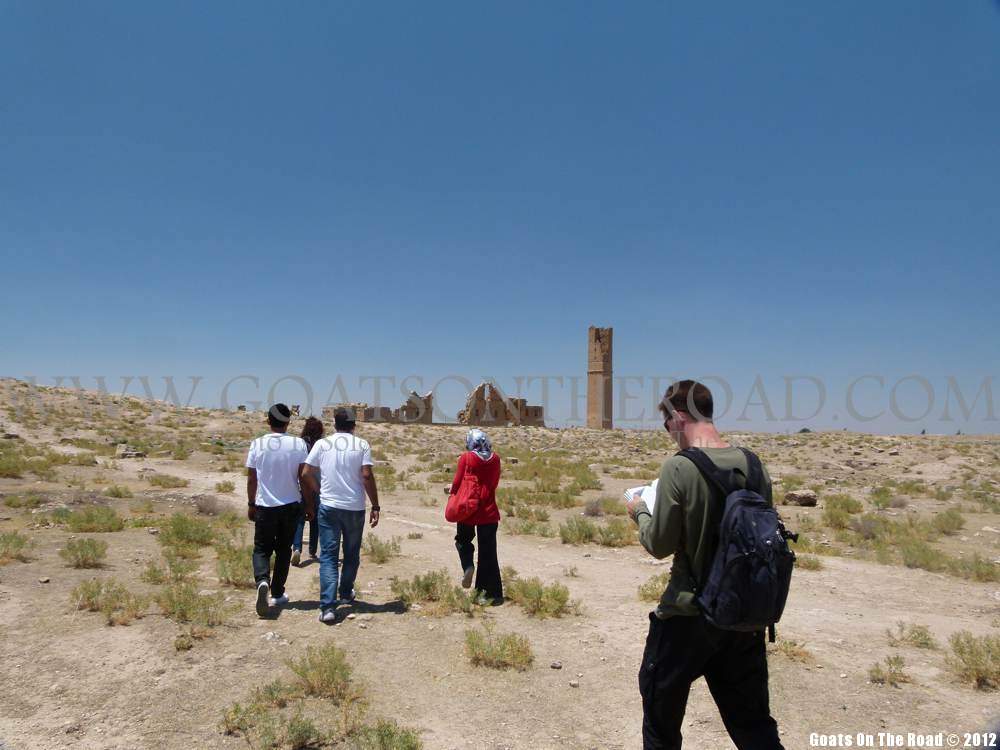 Afterwards, we all hopped in their old car and took an hour road trip back to Sanliurfa. On the way we talked and laughed, and Dariece and I bought them all a chocolate bar to say thanks for the ride, and also we just really wanted chocolate bars. They offered to take us to their favorite kebab shop for lunch so we joined them in the shady little restaurant on tiny chairs and ate the delicious ciger and kebabs out of the pressing afternoon sun.
Again when we tried to pay they refused to take our money and paid for our lunch after a short, persistent argument. People in Turkey really take guests in their country seriously and being a guest in their land is like being a guest in their home, you should want for nothing. Amazing. After lunch we went for a walk and sat down in a beautiful park surrounded by towering mosques and huge acacia trees in the center of Sanliurfa town.
We ordered some waters and watched the huge "sacred carp" swim under the bridges in the rivers that criss-cross the lush gardens. Dariece and I were starting to get pretty tired from an entire day in 40 degree heat so we said our goodbyes and again tried to pay the bill and again they refused. We exchanged emails and phone numbers and have since added our new friends to Facebook.
They didn't speak much English, just enough that with charade-like hand motions our conversations were never dull or awkward. Dariece learned a lot about religion and style from the girls, while I learned about the teaching and the quest for women from the guys. From us, they learned how we have done a lot of travelling around the world and were quite interested in our lifestyle.
Meeting locals who actually just want to be our friend and spend money on us rather than taking it from us is a commodity not often come by on our Southeast Asia trip, and it is one of the most endearing qualities of travelling in the Middle East. We have found the people all over Turkey to be extremely generous, however, the further east we have gone in this country, the people have somehow become even more hospitable!
The people in this region are constantly concerned for their guests' well being. In the Middle East they genuinely care about you and your perception of their country. They will buy you chai to pass time while waiting for their buses, ask if you need help if you're wandering aimlessly in their villages, and even invite you into their homes to sample their food or drink their tea.
North America's general perception of the Middle East being this shattered land of war and hate for the west couldn't be further from the truth. While the region may be plagued with war and small extremist groups, the vast majority of the population and in fact almost everyone you meet here are amongst the most honest, generous, and kind people in the world.
It is this endless hospitality that stands out above all the ancient sights, the beaches, and the food in a traveller's mind. Backpacking through Turkey has been an unforgettable experience, and it's not over yet. It is this hospitality that will earn my return in the near future and it will also earn the Middle East a place in my heart like no other place I've been.
Like this Post? Pin it!