It's hard to put the essence of Havana into words. The colourful capital city is a place that has to be felt in order to truly understand what makes it tick. There's just something about it. Havana has a vibe, and a feeling, like no other place we've ever experienced. It has officially become our new favourite city.
(Awesome 5 minute Havana video at the bottom of this post!)
We stayed in the center of Havana and felt that by doing so, we were able to experience the "real" side of the capital. We saw no foreigners in our area, just locals going about their day-to-day lives, which I have to say is quite different from anywhere else we've been.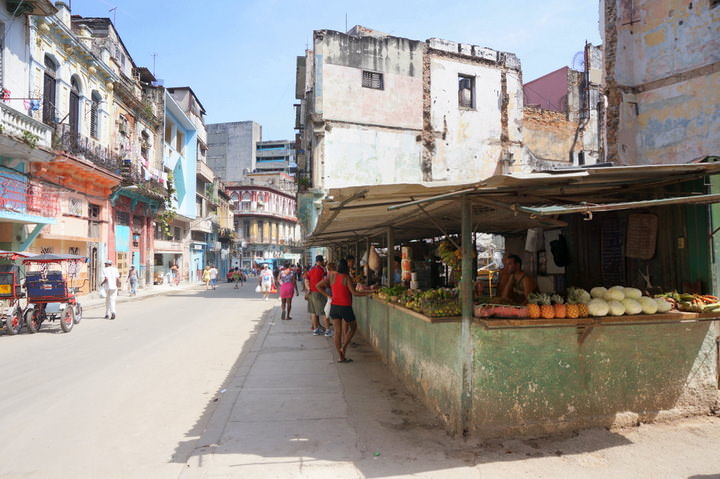 Spontaneous soccer games commenced in the streets, pausing only for passing cars. Adults sat around on small chairs chatting with neighbours and anyone who walked by. Constant cleaning seemed to be happening in all of the homes that lined the road – meaning we had to watch out for buckets of water being thrown onto the streets. The sounds of rumba and salsa music could be heard from most homes and from the windows of passing cars, or from pedestrians with little speakers in their pockets. Men did bodywork on their cars, while others were welding and doing construction on the streets. Crumbling buildings sat in contrast to well-restored UNESCO sites, while cycle taxis and 1950's taxi cars plowed the streets alongside brand-new Peugeots.
Needless to say, there was a lot going on!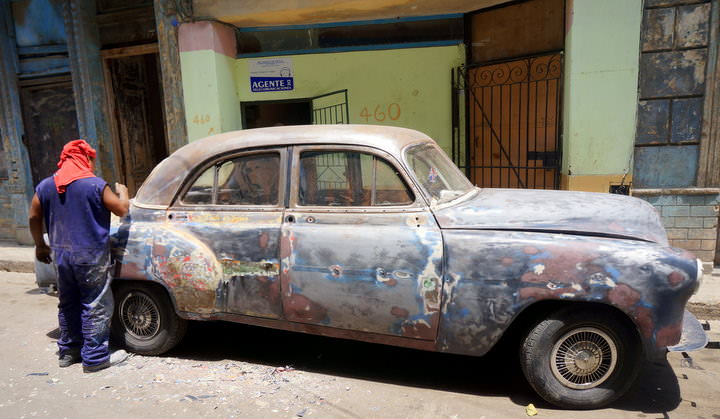 The Malecon is one of the most iconic places in the country, and since our casa was situated in the Centro part of Havana, we were only 5 blocks away from the water. This famous ocean-front promenade spans 8 kms from the Havana Harbor to the Vedado neighbourhood. Our eyes were constantly darting back and forth trying to take in all of the unique and interesting sights. Classic Ford and Chevy cars of varying colours with shiny chrome trim whizzed by, while local musicians played trumpets and guitars on the sidewalks for tips from passers-by. Fishermen cast their rods out to sea in hopes of pulling in dinner for the night, while others just sat on the cement retaining wall enjoying the salty air and sea views.
(Don't forget to watch the Havana video at the end of the article!)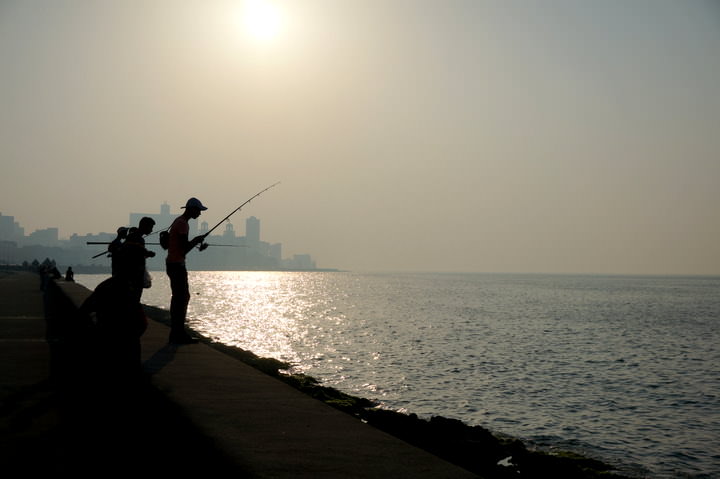 Our days in this lively city were spent walking and exploring. I swear we walked down practically every street possible. We visited some of the important museums, as well as the fort and relaxed in beautiful plazas and parks. The nightlife here was fantastic with world-class live music, amazing dancing, excellent meals and perfect mojitos!
Adding to the appeal of Havana is Playas del Este. Located just 20 minutes away from the city, this chain of beaches (spanning 24kms) is the perfect place to relax and get away from the big city for the day.
We found ourselves at the beach on the weekend, which allowed us to see how the locals spend their days off. Families, couples and groups of friends hungout in the shade on the sandy shores and swam in the stunning Atlantic Ocean. Before setting off from Havana to visit this slice of sand, we weren't sure how nice the beach would actually be. We didn't expect much – since it's just outside of the sprawling city – but when we arrived we were blown away by its beauty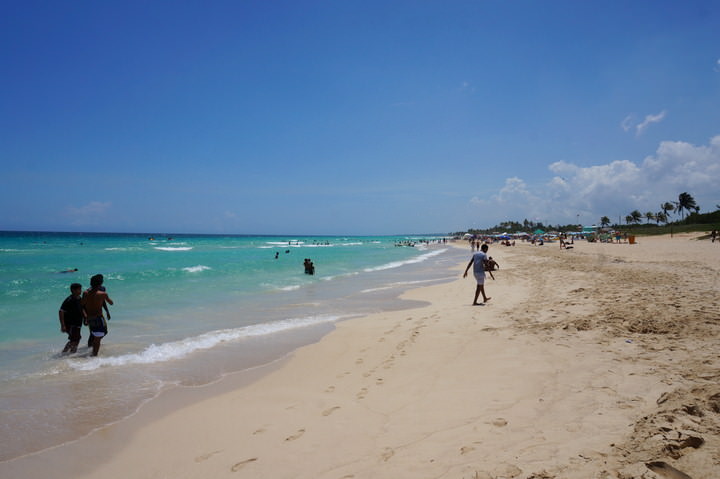 Havana rejuvenated our love for travelling. The colonial buildings, the history, the cars, and the street life were all incredible. The city was alive, at all hours of the day. Live music on the streets and in the restaurants was the norm, with people spontaneously dancing anywhere and everywhere. The narrow alleyways around the center of the city gave us an eye-opening glimpse into the Cuban city life, while the restored, UNESCO area of Vieja and the upscale Vedado offered excellent nightlife, pedestrian streets and beautiful architecture.
This is a city of contrasts and we loved all shades of it.
Here's a video of the awesome things we got up to during our week in Havana. Check it out and let us know what you think!
For more information on Cuba, check out:
Planning a Trip to Cuba: To-Do List Before Travel
Goodbye Guatemala, Hello Cuba: Our Journey from Lake Atitlan to Havana
A special thanks to Hostelsclub.com and Casa Daniel y Fina for hosting us during our stay in Havana. As always, all thoughts, opinions and reviews remain our own, despite any complimentary services received.
Like it? Pin it! 🙂
Disclaimer: Some links in this article are affiliate links, which means that if you purchase through them, we receive a small commission. This will never cost you extra and in many cases you receive a special discount. We appreciate your support!