We decided to do our trek to Ala-kul and Altyn Arashan without a guide and it was one of the most stunning and exhausting treks we've ever done. We trekked the Annapurna Circuit in Nepal which brought us up to 5,416 meters, but that was a gradual incline and by the time we hit the pass, we were in shape. Not this time! For the Ala-kul – Altyn Arashan trek we had only 1 day to acclimatize and get into shape and we were feeling it on the steady incline up to the Ala-kul pass.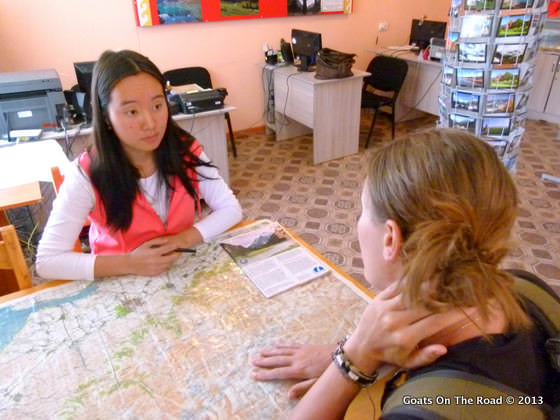 We started out from Karakol, taking a marshrutka up to the entrance to Ala-kul nature reserve. We paid our entrance fee and started the gradual hike along the Karakol river. The first 4 hours of the hike were relatively easy. We meandered our way through the valley, passing by small villages and yurts along the way.
After 4 hours we reached a bridge that led to the east side of the river. From here, the real hike began. It was a solid 2 hour pull, straight up, to reach a small wooded cabin nestled in the high alpine forest at about 3000 meters. Here is where we would set up camp for the night.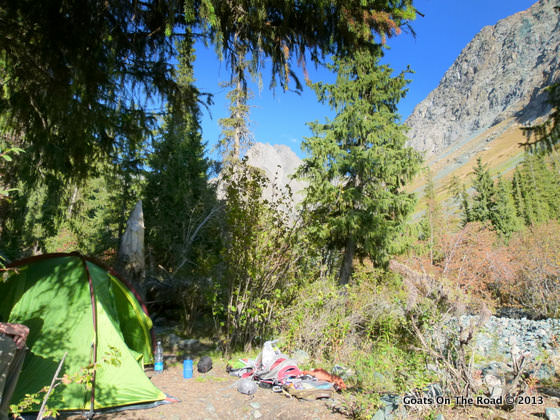 That night, with the sound of the river rushing down the valley behind us and the twinkle of an uncountable number of stars above us, we lit a fire and swapped travel stories with three other travellers who had made the journey that day.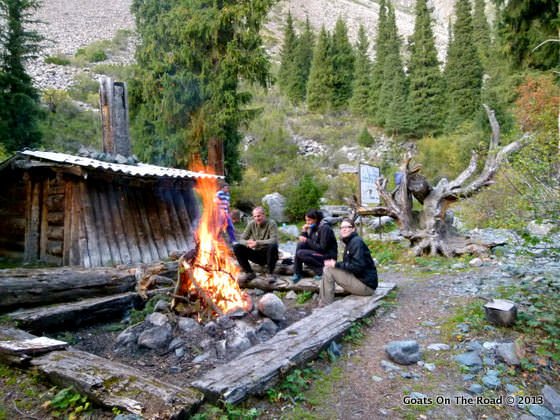 In the morning, with the sun still hidden behind the soaring cliffs and marking our direction of travel, we began our ascent. Almost immediately we were climbing up steep rocks next to a roaring waterfall. Breathless from both exhaustion and the sheer beauty of our surroundings, we struggled to concentrate and keep our eyes on our feet, instead of blissfully gazing off into the golden cliffs that erupted from the valley around us.
With each ten steps forward, we had to stop and allow our lungs to catch up and absorb what little oxygen was available in the high-altitude air. We were definitely not as in shape as we thought! Finally after an arduous climb, we came over a final summit that revealed Ala-kul in all of its turquoise beauty.
We were stunned by the sparkling bliss of this tiny alpine lake. Puddled beneath the jagged rocky peaks of the Ala-Too Mountain Range, its pale blue-green surface contrasted beautifully with the high mountains and the deep blue sky above. Photos simply can't do Ala-Kul any justice.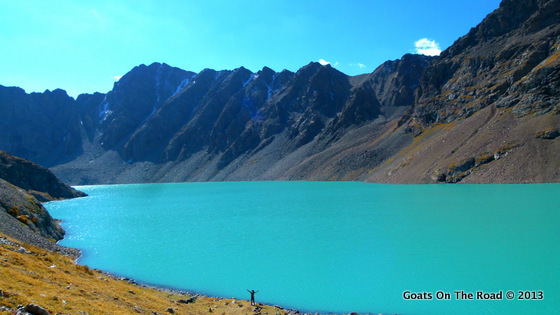 We stopped here for a quick bite to eat and refilled our water. From here we followed the shoreline for a few hundred meters before beginning yet another steep climb to the Ala-Kul pass at 3,800 meters. This last climb was the hardest, as the air thinned, our lack of preparation and acclimatization became evermore apparent.
Finally, after a long hard climb, we had reached the pass! Dariece and I love trekking, and we always say that we prefer the low-level treks where we don't have to push our bodies to extremes. But every time that we are rewarded with magnificent alpine scenery like that of the Karakol valley, we realize that it's all completely worth it.
On the southern side of the pass lay the dazzling, surreal-looking Ala-kul lake, and on the northern side lay the Kel'deke Valley, fringed by the enormous Terimtor Mountains that seemed to pierce the sky with their snowy peaks.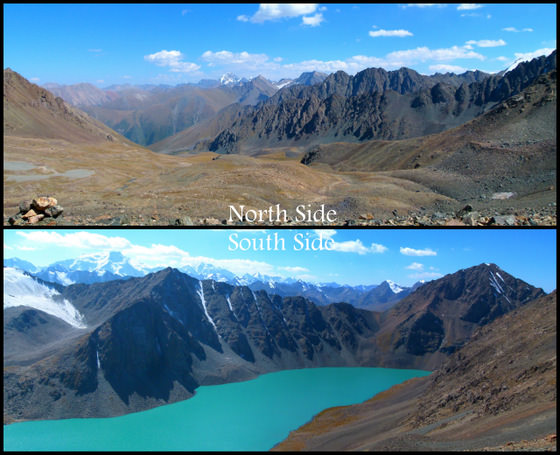 Our descent was to be sudden and slightly dangerous. Missing the "proper path", we accidentally opted for the rock slide prone gravel slope on the far eastern edge of the pass. We soon found ourselves skiing down the side of a mountain, steep enough that one false move would have spelled disaster. Each step into the loose shale sent our feet sliding downward for 5-10 meters. We probably descended 500 meters in 15 minutes!

After the tricky, double black diamond slope, we finally reached a relatively calm path that led north-east and deep into the Kel'deke Valley. Mountain run-off has blessed these summer pastures with green grass and pale blue creeks which cut through the valley as they meander their way down toward our final destination, Altyn Arashan.
As we reached the lower edges of the valley, we started seeing fewer trail markers and eventually none at all. We found ourselves far away from any normal trail and started to worry that we were lost. We like to be "off the beaten path" but not completely lost! Finally, after some dangerous river crossings, we rejoined the trail and found our way to Altyn Arashan, a beautiful alpine village nestled at the mouth of the Anyior Valley, with the massive Pik Pilatka mountain looming to the south.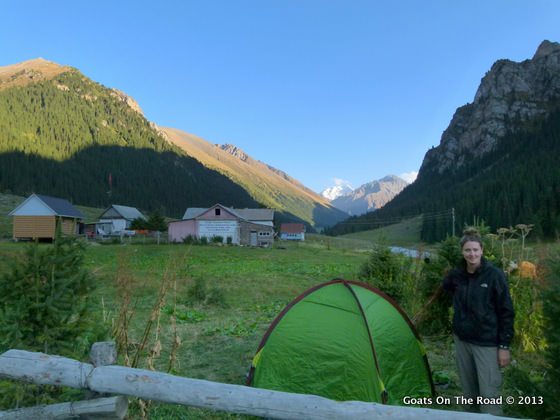 By this time we had been trekking for 9 hours and our bodies were completely worn out. Having carried between 10-15 kg each on our backs the whole way, our muscles were in much need of some relaxation. Luckily Altyn Arashan is known for its natural hot springs. We set up our tent near Arashan Travel Hotel (not really a hotel, just a run-down house) and rented our own private hot spring hut.
(Sorry, no photos of the hot spring, we were literally too sore to lift our camera)
The water in the spring was incredibly hot and it immediately soothed our aching bodies. We soaked and floated for about an hour before heading back to the tent and basically passing out cold at around 8:00.
The next day, we woke up around 7:00 and started the 3 hour hike back to civilization where a taxi waited to take us back to Karakol. I'm writing this article nearly a week after finishing the trek and our calf muscles are still extremely sore! The trek itself was absolutely breathtaking (in more ways than one) and we will definitely recommend it to fellow travellers as one of the greatest treks we've ever done!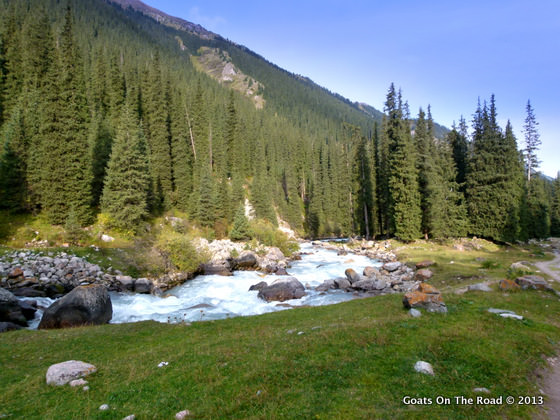 We've written a guide to trekking Ala-Kul and Altyn Arashan from Karakol, click here to read that post! And, if you want a more off-track trekking trip, head to the nearby village of Jyrgalan (45 minutes from Karakol) to check out the Keskenkija Trail that we just marked out in June, 2017! There are also lots of other treks in the area. Check out these two posts we wrote:
Also, consider spending some time in the city of Karakol, there's more things to do there than you might think! Check out our post of the Top 10 Things To Do in Karakol (That Don't Involve Trekking)
Quick Tips For Trekking To Ala-Kul & Altyn Arashan:
In Karakol, we stayed at the Madanur Hotel (500som/person/nt)
Take marshrutka number 101 from in front of Neofit Guest House in Karakol (20 mins/8som go to last stop)
Pay 250 som entrance fee at the park gate where the marshrutka stops
Pay 100 som / tent to ranger on the trek
First day to wooden cabin 16kms 6-7 hours
Second day to Altyn Arashan 17kms 7-9 hours
Camping At Arashan Travel Hotel 100 som / tent (dorms not worth it)
Private Hot Spring Cabin 200 som / person
Third day trek 3 hours to Asku
Taxi from Asku to Karakol (25 mins – 400 som/car)
Check Out Our Trekking Ala-Kul & Altyn Arashan Video!
Like this Post? Pin it!