When backpacking in South Korea earlier this year we imagined that we would be hopping from big city to big city, but we soon discovered that the best parts of South Korea are actually in the great outdoors.
Hiking is a favourite pastime for South Koreans, and many flock to the country's perfectly maintained trails on weekends to escape the big smoke. The trailheads are usually easily accessed by public transport, and for most day hikes you won't even need a map.
The scenery is spectacular, as is the South Korean 'alpine fashion' you will encounter. You will see most of your fellow South Korean hikers sporting brand new fluorescent hiking gear that is almost as remarkable as the trails themselves. Hiking is a great way to meet South Koreans, and you will probably be stopped for an entertaining selfie or two during your hikes.
Here are our 3 favourite day hikes in South Korea – we hope you enjoy them as much as we did!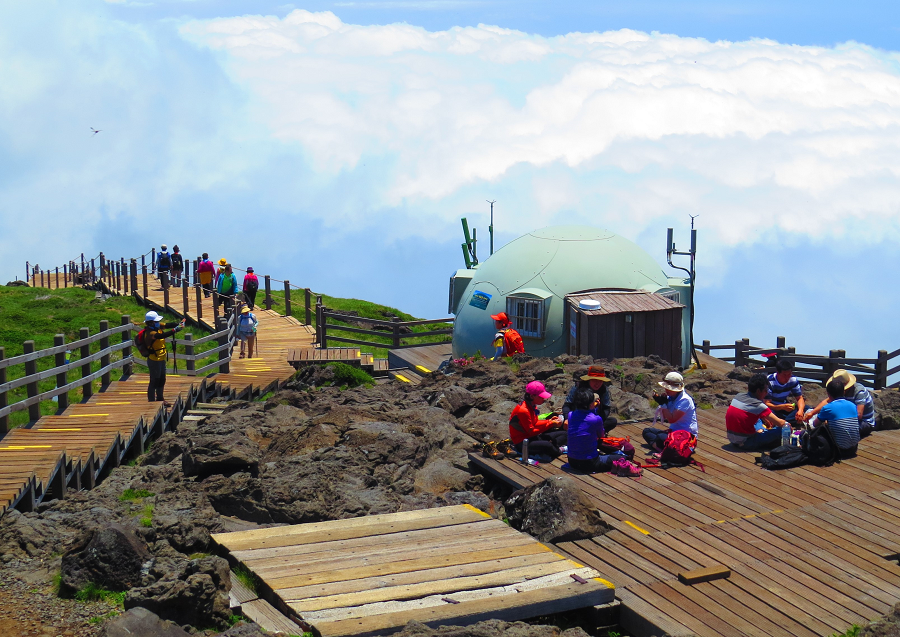 1. Halla-san, Jeju Island
It's not often you can hike a country's highest peak in a single day, but Halla-san is one exception. South Korea's highest mountain is an impressive dormant volcano that stands at 1,950 metres above sea level.
There are a number of trails up the mountain, but we chose the most popular and easiest to access: the Seongpanak trail. While it's no Everest Base Camp, the hike is still a challenging 9.6km journey (one way) and it takes around 4.5 hours to reach Hallasan Baengnokdam Lake Summit.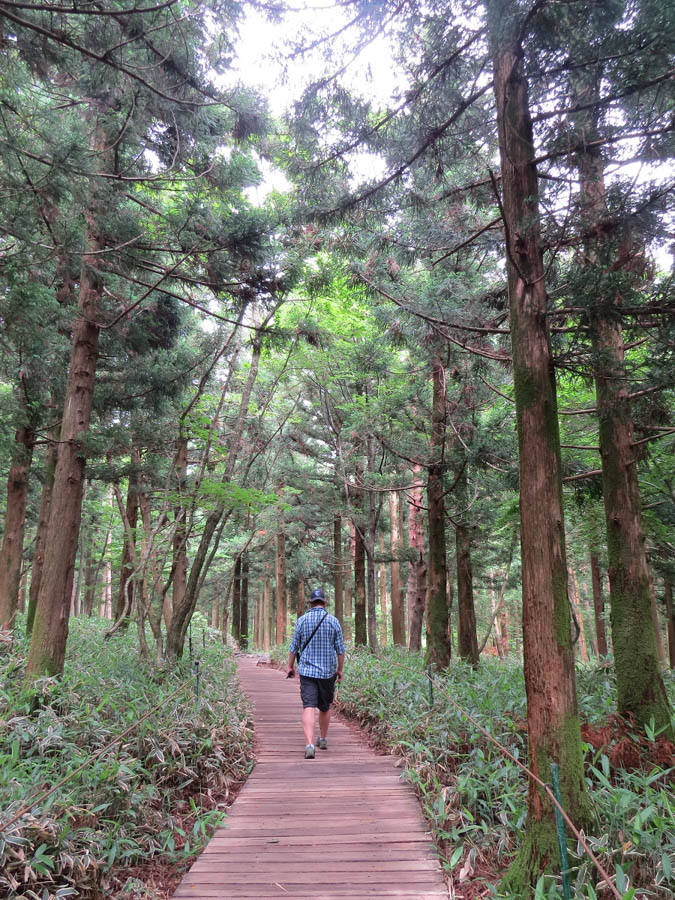 Situated in the middle of Jeju Island, Halla-san offers spectacular views across the island on a clear day. Even when cloudy, sitting above the clouds sharing a snack with your fellow Korean hikers and checking out the volcano's dormant crater lake is a fantastic experience.
The hike is very popular with Korean tourists and the mountain is considered one of Korea's three most sacred mountains. There is a huge range of people on the trail – we saw families with kids, young flirty couples sporting hoodies and Chuck Taylors, old ladies in high-tech trekking gear, and even a couple of nuns dressed in habits and sneakers.
Don't be surprised if you are overtaken by quite a few seemingly frail, elderly ladies – they are astonishingly fit! At least you will get a smile and a wave when they steam past, maybe even a high-five or two from hikers coming the other way. If you can, avoid the crowds by hiking on weekdays.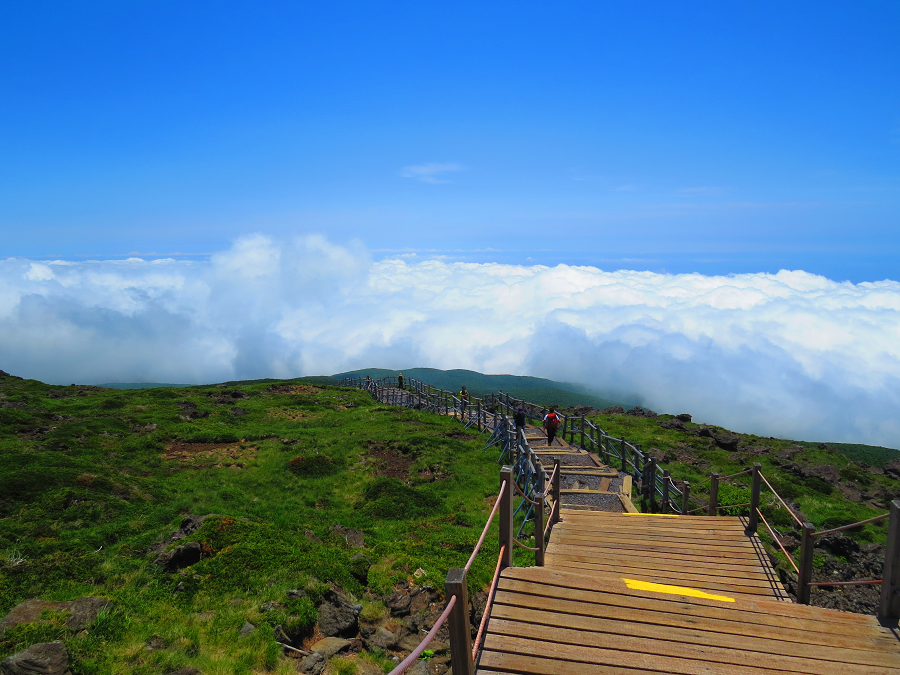 There are two main rest stops on the way up Halla-san. You must arrive at Jindallaebat Shelter (the second rest stop 7km from the trailhead) before 12.30pm, otherwise park officials will not let you continue to the peak. This is to ensure that hikers get down the mountain before sunset, and it is strictly enforced so get an early start.
Length: 8-10 hours return.
Admission price: Free.
Facilities: Public toilets at Jindallaebat Shelter and Sokbat Shelter. Hot noodles, snacks and water available at the Jindallaebat Shelter.
What to bring: Good hiking shoes, warm jacket, 3 litres of water, lunch, hat, sunscreen, cash for snacks at Jindallaebat Shelter, T-Money card and camera.
Getting there: The Seongpanak trailhead is easily accessible by public transport. From Jeju-si Intercity Bus Terminal take bus number 781 or 781-1. From Seogwipo Dongmun Rotary take bus 782 or 782-1. The trip will take 30-40 minutes. Hop off at the Seongpanak bus stop, which is in front of the Seongpanak car park.
Screens on the bus will show the name of the next stop in English and Korean. We highly recommend buying a T-Money card (transport card valid throughout Korea) at a convenience store so you can simply tap on and off.
2. Igidae Coastal Walk, Busan
Busan is famous for its beautiful beaches that are just across the street from high rise apartments blocks and funky cafes, but there are also some great hiking opportunities when you need a break from the hustle and bustle of South Korea's second largest city.
The Igidae Coastal walk is the perfect option! Situated on a small peninsula, the Igidae Coastal walk gives walkers fantastic views of the famous Haeundae beach skyline and eventually out across the ocean. Taking around 3 hours, Igidae is perfect for a morning or afternoon hike, leaving the rest of the day to explore the other sights Busan has to offer.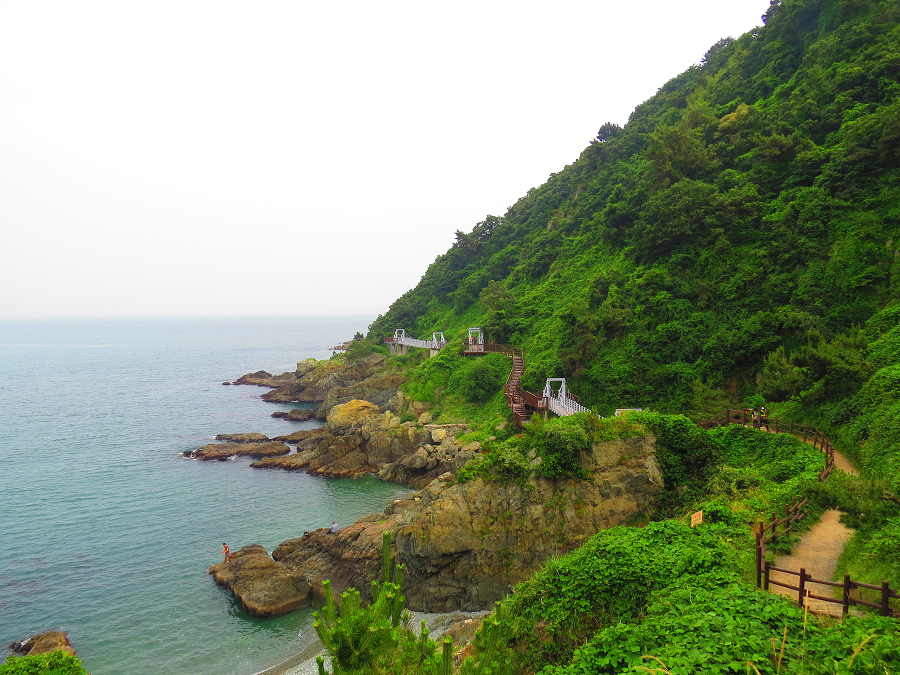 The walk follows the coastline along beautiful forested trails and rocky outcrops. There are many viewpoints along the way, which are great for photos. There are also a few rocky spots along the coastline where locals will come for a picnic or to simply sit by the ocean and relax.
It's great for people-watching, and you could easily spend more than 3 hours lingering along the trail. You can even buy fresh seafood that has just been plucked off the rocks if you feel so inclined.
We started our walk at the northern end of the path and finished at the Oryukdo Skywalk, which we would highly recommend (free admission). The Skywalk is a glass bottomed U-shaped bridge that juts out from a cliff edge, giving you spectacular views below and across the ocean.
The trail differs from nice flat sections of boardwalk, to some steeper sections of dirt path so be sure to wear decent walking shoes. We wore flip-flops, which we would not recommend!
Length: 2-3 hours one way.
Admission price: Free.
Facilities: One public toilet along the trail. There is a small cafe at the Skywalk, but it is better to pack your own picnic.
What to bring: Walking shoes (sneakers are fine), 2 litres of water, snacks, hat, sunscreen, T-Money card, cash for Skywalk entrance fee and camera.
Getting there: Catch the metro to Namcheon then walk 15 minutes uphill to the start of the Igidae Walk. From the Oryuko Skywalk, catch bus 27 to the Kyunsung University metro stop.
3. Ulsanbawi, Seoraksan National Park
This beautiful national park in north-eastern South Korea offers some of the country's best trekking and camping. Using the sleepy port town of Sokcho as your base, you can make it from your accommodation to the trail head in around 30 minutes.
Seoraksan has several different trails to choose from, ranging from short 2 hour walks to overnight trekking deep into the national park. We choose the 7 hour (return) Ulsanbawi trail. This trail makes for a perfect day trip from Sockcho but will leave you with time after the trek to check out more of Seoraksan if you wish.
The park is very well organised, and the public bus drops you within view of the park entrance. Simply follow the signs (or other hikers) when you step off the bus. The park has plenty of signage, so simply follow the signs for 'Ulsanbawi' once you are inside the park gates.
The path winds past the park's cafes and restaurants, along boardwalks above volcanic rock and past a large boulder where you will see plenty of Koreans taking hilarious posed photos. After around 2 hours, you will reach the seemingly never-ending staircase that will take you to the peak of Ulsanbawi. We promise the climb is worth it – the views from the tops are incredible.
Seoraksan is a popular location for foreign and local tourists, especially in the spring and summer months. As with any hike in Korea the chances of your being stopped for a high-five, a selfie or a quick chat are pretty high, but getting to meet some of the locals can be a highlight of visiting Seoraksan.
Length: 7 hours return.
Admission fee: 1,500 won.
Facilities: The main entrance to the park has free public toilets, a range of restaurants and cafes, and a cable car (10,000 Won return trip).
What to bring: Walking shoes (sneakers are fine), snacks, water, cash, hat, T-Money card, sunscreen and a camera.
Getting there: From the Sokcho intercity bus terminal, catch bus number 7 or 7-1. Seoraksan is the final stop. The journey takes approximately 30 minutes.
Don't forget your travel insurance when hiking in Korea! It's the one thing you should always pack. World Nomads is a popular choice for backpackers, travellers and adventurers. Enter in your details below for a free quote.
Like This Article? Pin it!