One of the most exciting and popular things to do on a visit to England's capital city is to go and watch a West End show. The glitz and the glamour of this famous area, where many of the world's best productions are staged, means that a night out at the theatre can work out to be extremely costly.
London is a notoriously pricey destination and is consistently named as one of the most expensive cities in the world. But that doesn't meant that there aren't bargains to be had, you just need to know where to look for them.
If like many people you want to make a night of it, the price of the tickets, getting to and from the venue, a meal out and a couple of drinks will soon add up. So here are some tips on how to enjoy a night out at the theatre without breaking the bank!
How to Get Cheap West End Theatre Tickets
For the top seats to see a hit show in the West End the price can easily reach well into the hundreds. But if you don't have a spare couple of hundred pounds to drop on one ticket, we've got a few tips that will definitely score you a bargain.
Book Online With a Reputable, Authorized Seller
There are a lot of scams around ticketing for the West End, so make sure you use a reputable online seller to purchase your tickets through. Check out From The Box Office who are a STAR authorized retailer meaning they only sell official tickets which come with a number of guarantees. They also have awesome discounts of up to 70% on all of the best shows, without any of the hidden costs you'll find with some ticket retailers.
Go for Cheap Seats
Balcony seats tend to cheapest, but it depends which theatre the production is in. By not going for the expensive seats in the stalls you'll immediately save a large amount. On the "Find Tickets" section of the From The Box Office website they have a handy feature where you can select exactly what seat you want to sit in on an interactive map of the theatre. This also means that if there are any visibility issues like railings or pillars obstructing your view then you know before buying.
Day of Show Tickets
Some theatres offer cut price tickets if you buy them on the day of the performance, but there are a couple of things to be aware of if you plan to do this. Not all theatres do this for every show, so call the venue prior to heading down there to avoid disappointment. You have to get there early to start lining up, usually around 10:00am or before depending on the show's popularity. The tickets are usually for very good seats, but it's not guaranteed that you'll get them so make sure you have back up plan for your evening's entertainment.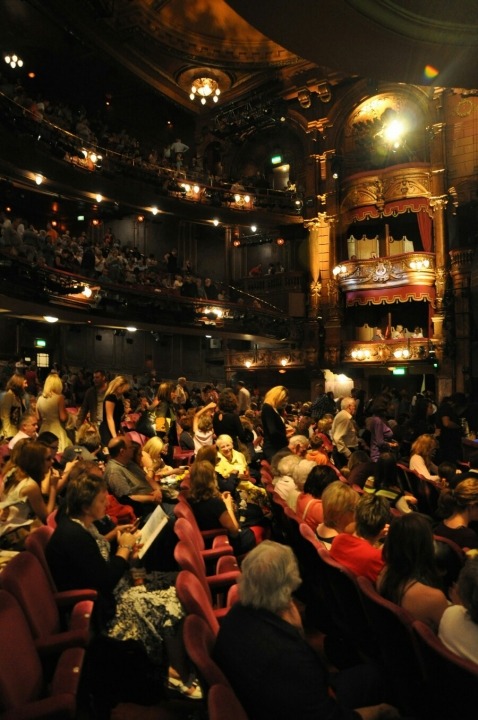 Consider Weekday Tickets
If you are flexible over when you go to see the show, then weekdays are ordinarily a fair amount cheaper than a primetime Saturday night slot, with the difference often being 50% or more. Matinees or afternoon performances are cheaper still, so think about catching the early viewing if you can.
How to Eat Cheaply in the West End
Restaurants in the West End of London aren't known for being all that budget-friendly. However, if you pair dining out with seeing a show, you can find some great discounts.
Pre Theatre Deals
many of the restaurants in Theatreland thrive off the dozens of venues that surround them, and because of this, they offer great deals on set menus. You can usually get a two or three course set meal from as cheap as 10 to 15 pounds ($13 – $19.50), which in Central London is otherwise unheard of. Some even include a glass of wine making it an even bigger bargain. These are available between set times, usually around 4.30 – 6.30pm, and a quick search online will provide you with lots of great options.
Post Theatre Deals
These are the same as pre theatre deals but for people that like to eat later rather than earlier, so usually start at around 9.30 when the curtains have gone down. The post theatre crowd is a bit more lively, and some bars have caught on to this and begun to offer happy hours to coincide.
Getting Around
If you don't know London very well it can be tempting to just jump in a black cab to take you to your destination, but this is by far the most expensive way to get around.
The West End is served by a number of underground stations that are each only a few minutes walk apart. These include Piccadilly Circus, Leicester Square, Covent Garden, Tottenham Court Road and Charing Cross which are all easily reachable on various lines. All theatres have directions on their websites from the nearest tube stop, just head to the TFL Journey Planner to figure out the most convenient way to get there.
Seeing a West End performance while you're in London is a great cultural experience, and now you know how to do it without spending loads of money. Enjoy the show!
Like it? Pin it! 🙂