Ever since we started travelling, trying to figure out how to find cheap flights has always been one of the most confusing tasks. There are dozens of booking sites, countless apps and too many online search tools to count.
But sometimes you find something new that changes the entire game. That's the case with a recent discovery we made when researching how to find cheap flights online.
Want to fly from New York to Barcelona for $264? What about Chicago to London for $208?
If you want to learn how to find cheap flights like this, then look no further. There's a tool you can utilize that will help you find any cheap flight you want, to many places in the world, from the airport of your choosing (provided it's located in Canada or the USA).
The tool is called Cheap Fly Club and it's an email mailing list that has some of the cheapest flights I've seen.
Not only does it list some incredible deals from whichever airport you enter into the system, the emails also include valuable information like baggage costs for each airline, available travel dates and the average weather at the destination.
In this article I'm going to show you how to sign up for Cheap Fly Club and how to find discounted flights using this incredible tool.
**Note: this company only searches for cheap flights out of airports in Canada and the USA**
How To Fly For 50% Off
I know that headline sounds too good to be true. Through all of the searching I've done, I know how hard it is to find a killer deal on a budget flight. As I've said in previous posts, we often search through numerous flight search engines before finding the cheapest flight.
In the past, we thought that was how to find cheap flights online. But it turns out there's a better way – have someone else do it for you!
Meet Josh. The creator of Cheap Fly Club. He has created an email mailing list for people who want to know how to find cheap flights online and in his email newsletter he can show you some of the best deals. The crazy thing is that you can sign up for free.
How To Find Cheap Flights? Sign Up.
All you have to do is enter your name and email at Cheap Fly Club and you'll start getting emails. I've always said that one of the best ways how to find cheap flights is to sign up for a flight subscription newsletter, and Cheap Fly Club offers their basic plan at no cost.
It's time consuming to scour the internet across hundreds of different booking sites to find the cheapest flight available for your next trip. Not only is it a hassle, but the booking engines can be confusing. Why not let someone else do it?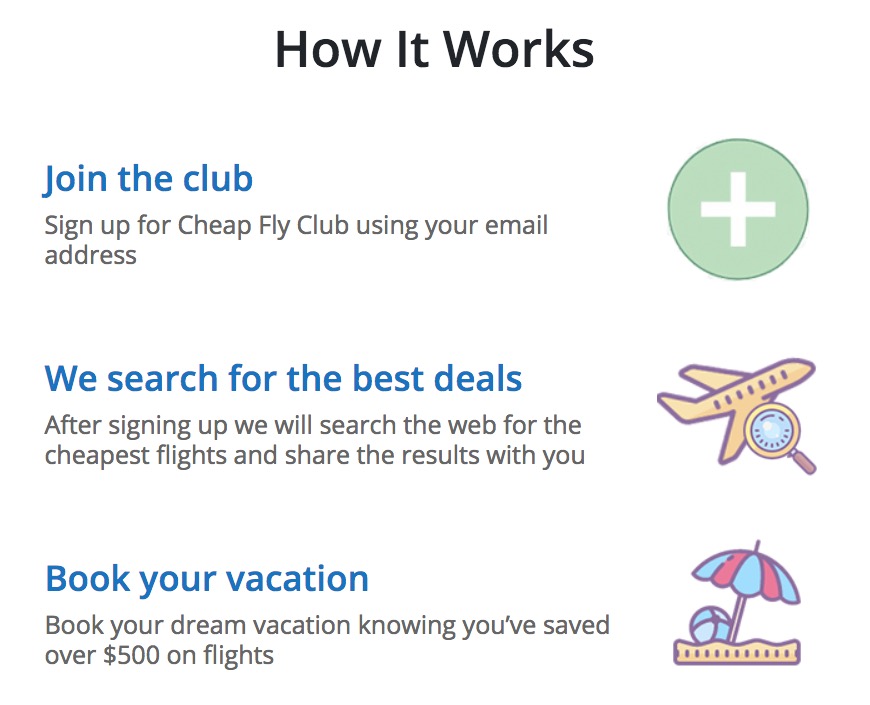 Cheap Fly Club continuously monitors the fares to the destinations you pick (from the airport of your choosing) and they notify you when they find an incredible deal. It's as simple as that.
SIGN UP FOR CHEAP FLY CLUB NOW
When you click the button above, you'll be brought to the Cheap Fly Club home page. All you have to do is enter your email at the top of the page and hit the button that says "Send Me Cheap Flights". After that, you basically have your own travel agent to help you find deals.
What's The Catch?
There really is no catch with Cheap Fly Club. It's totally free to join and you can decide to upgrade to premium at any time if you choose (for $24 / year).
If you find that you're getting amazing deals on the free plan, then you never have to upgrade. Lots of people end up just signing up for free and they find that there are enough deals in the basic account to satisfy their flight needs. Cheap Fly Club also doesn't bug you to upgrade. You can if you want, but if you don't want to… no problem.
But there are definitely some advantages to the premium account.
How Many Emails Will You Get?
This is something that a lot of people are concerned about when entering their email into a new website. I know I'm always reluctant to give someone my email. Because Cheap Fly Club only sends deals that are 50% off the regular fare or better, you don't have to worry about your inbox being clogged with spam.
I was signed up for a little over a week on the free plan and I received about 3 emails. I then upgraded to the Premium Plan and entered in my preferred airports and I received 3 more emails in the following weeks.
If you're a premium member and you find that you're getting too many emails, you can always unsubscribe from the free plan and only get emails from your chosen airport with your premium account.
What Do The Emails Look Like?
Like I said at the beginning of this post, the emails have quite a bit of useful information in them, and they're really easy to read. Usually when they appear in my inbox I can quickly scan them and figure out if there's a good deal for me or not within a couple of minutes.
Below I've included a screenshot of the free email so that you can have an idea of what you'll see in your inbox: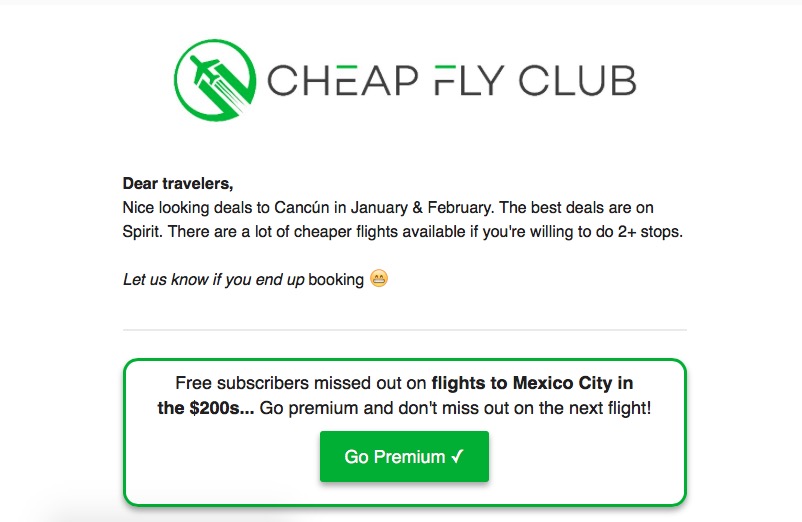 Going Premium
Since Cheap Fly Club already sends out deals that are 50% off or better, why bother signing up for the premium account? Here's why:
Limit Your Departure Airport
To me, this is the main reason for going premium. It's great to see amazing deals from all over the US, but if you're living in Chicago, then you probably don't care too much about deals leaving from Miami.
With the premium account, you can limit the emails only to your specific departure airport. That way, you'll see 50% off deals leaving from your home town and going to numerous destinations in the world.
How To Find Cheap Flights With Mistake Fares
This is actually something I only learned about recently. A friend of mine spends a considerable amount of his life hunting the internet for mistake fares. These fares are accidentally posted by the airlines and they can be up to 90% off.
If you can book the flight before the airline notices their error, they will usually honour the price and you'll be flying for a ridiculously cheap fare.
With the Premium Plan, Cheap Fly Clubs will save you all of that time looking for errors. They'll find these fares for you and send them straight to your inbox. As long as you're flexible on your flight dates, you can snatch up one of these crazy discounts.
Business Class Deals
We've only been on one business class flight in our lives with Turkish Airlines and the only reason we were able to get the seat was because we were sponsored by the airline. Our flight went from Buenos Aires to Istanbul and had we paid for it ourselves, it would've cost us over $15,000.
Josh and his team constantly search the web for deals on business class flights. Something I still haven't figured out how to do. I'm so used to trying to figure out how to find a cheap flight, that I never even bother searching for business class. But sometimes you can find a deal that makes a business class flight just a little bit more than the economy fare.
After our business class flight experience, we found it hard to go back to economy. But I'm hoping that with Cheap Fly Club Dariece and I will be back on a business flight soon… one that we can afford!
Be The First To Book
The free plan with Cheap Fly Club is great. Like I said, it's filled with incredible flight deals from different airports. But with that plan, emails are sent out to thousands of people. Anyone who entered their email into the website will get all of those deals at the same time and sometimes they book up before you have a chance to do the appropriate planning.
With the premium plan, you'll receive the deals 2 hours before the free subscribers, giving you a distinct edge in landing those amazing discounts. It's great to use this service to learn how to find cheap flights, but if you're too late, you'll miss out! The premium plan will give you that extra couple of hours to book the flights and get in.
Multi-City Deals
One of the best ways that I know to find cheap flights is by booking multi-city flights. Let's say you're planning to fly to London to visit friends for a couple of days, before flying onward to Barcelona for a holiday, and then flying home. Most people would book a return flight from their home airport to London, and a return flight from London to Barcelona separately.
Instead, you can book Home to London to Barcelona to Home and actually save a lot of money, without having to backtrack to London for no reason.
The same goes for multi-city flight itineraries all over the world. Traditionally I've had to use flight booking engines and click the "Multi-City" tab to find these types of fares. I've saved hundreds of dollars doing this, but it also took me hours to try to figure out the best routes / airports.
Cheap Fly Club includes multi-city flight checks in their emails so you don't have to spend so much time searching various routes.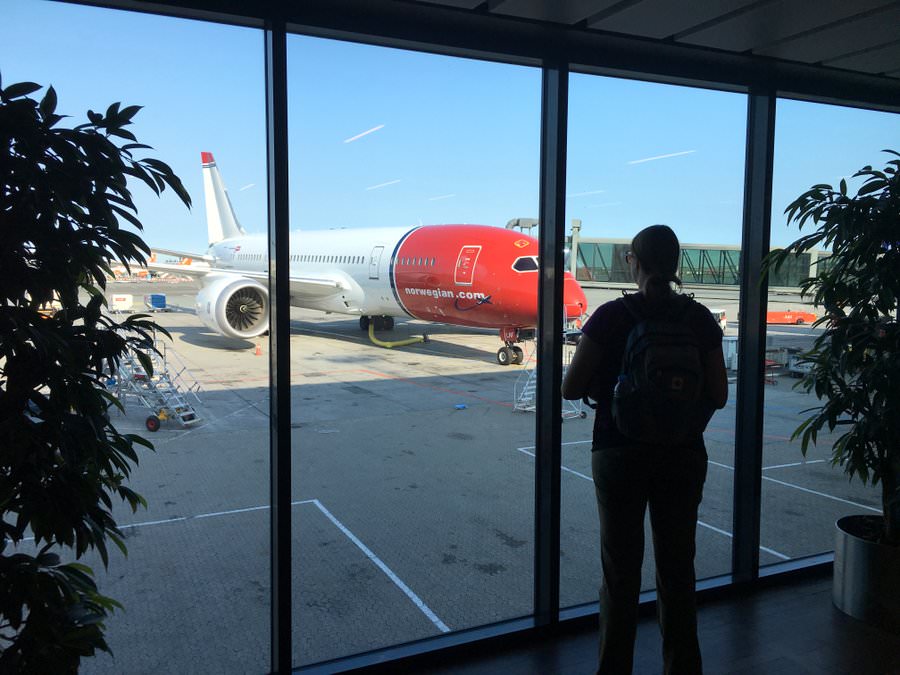 30-Day Money Back Guarantee
I usually don't really trust a product or service unless it has a decent money back guarantee. 30 days shows the customer that the company is confident in the service they offer. If you've upgraded to the Premium Plan and aren't happy with the paid emails after 30 days, you'll get your money back.
Not All Flights Are Last Minute
One of the best parts of learning how to find cheap flights with Cheap Fly Club is that you don't always have to book last-minute. With a lot of other flight subscription services, they're last-minute deals, so you have to travel within a couple of weeks to land the discounted price.
But most of the flights that Josh and his team find are booked 6 – 10 months in advance, so you don't have to worry about rushing to get a 50% off flight deal.
Is This The Real Deal?
When I was first contacted by Josh to help him share his platform with the world, I was a bit skeptical. We've had plenty of flight subscription email requests show up in our inbox over the years and I always assume that they're all the same. But having been signed up for nearly 2 weeks now, I'm impressed with the amount of flight deals available in my inbox every couple of days.
Because Dariece and I currently live in Grenada, I set my home airport to Miami (most flights from here go through Miami), and I've already been sent deals that I wouldn't have been able to find myself.
Aside from fare mistake prices and 50% off economy discounts, I've been able to find business class flights for much cheaper than I thought possible. I'm excited to share this service with you, but I'm also excited to be subscribed to the newsletter so that I can continue to find incredible cheap flight discounts all around the world.
The good news is that I'm not the only one who's been satisfied with the service. There are currently over 55,000 happy subscribers on the list and on average, they've saved over $500 on each flight booked. It's a pretty crazy metric when you think about it.
Now You Know How To Find Cheap Flights
Basically you have nothing to lose but a few megabytes of space in your inbox. Sign up for the free emails at CheapFlyClub.com and see if you are impressed by the deals that come. If you're not stoked by the 50% off flight discounts, simply unsubscribe at any time. If you do find that there are some great deals, and you'd like to specify your airport, I recommend upgrading for $2 / month to get deals from your home airport.
Even if you land just one flight deal at 50% off and you end up saving $250 off the fare, you've already paid for 10 years of the Cheap Fly Club service.
The great thing is that they don't ever pressure you to upgrade. There's always a button in the email to give you the option of upgrading, but if you don't want to, they won't hassle you about it. They're happy to send out cheap flight deals to 55,000+ people for free every week. Happy travels and happy flying!
SIGN UP FOR CHEAP FLY CLUB NOW
Like This Article? Pin it!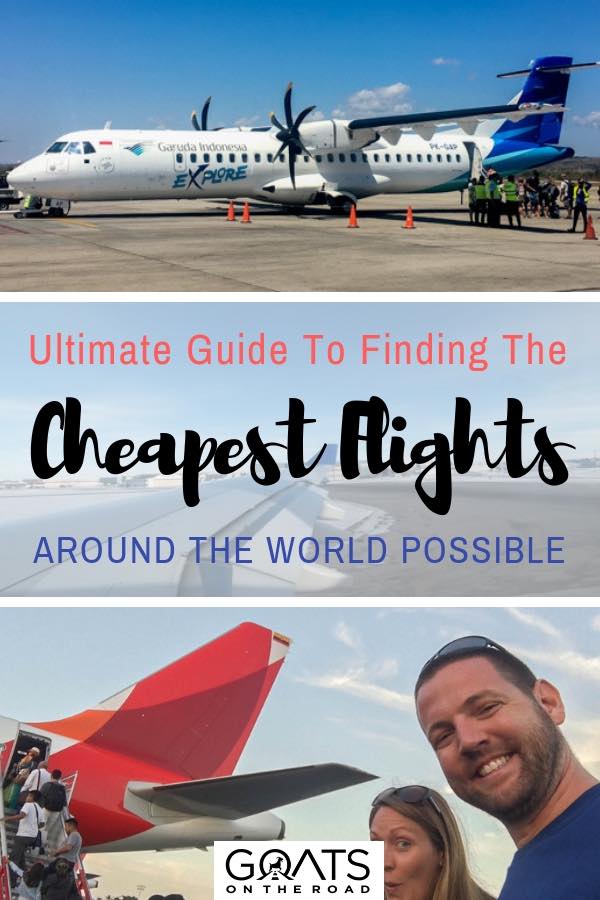 Disclaimer:Goats On The Road is an Amazon Associate and also an affiliate for some other retailers. This means we earn commissions if you click links on our blog and purchase from those retailers.