These days it feels like every yoga studio has a teacher training program. The number of new teachers bounding into the market every month can feel daunting.
If you are wondering how to make money as a yoga instructor with so many new teachers to compete with, then this is the guide for you.
Living in Argentina I've taught in both Spanish and English in a studio and private classes to locals and expats. Teaching yoga really is one of the best travel jobs.
How to Make Money Teaching Yoga
If you are wondering how to become a yoga teacher, then keep reading to learn from my experience. It's one of the most rewarding and fulfilling jobs that you can do from anywhere in the world.
I pursued my 200-hour training certification six years ago. It allowed me to delve deeper into my own practice and to share it with others while supplementing my income.
Here's my guide on how to make money as a yoga teacher.
What Is Yoga?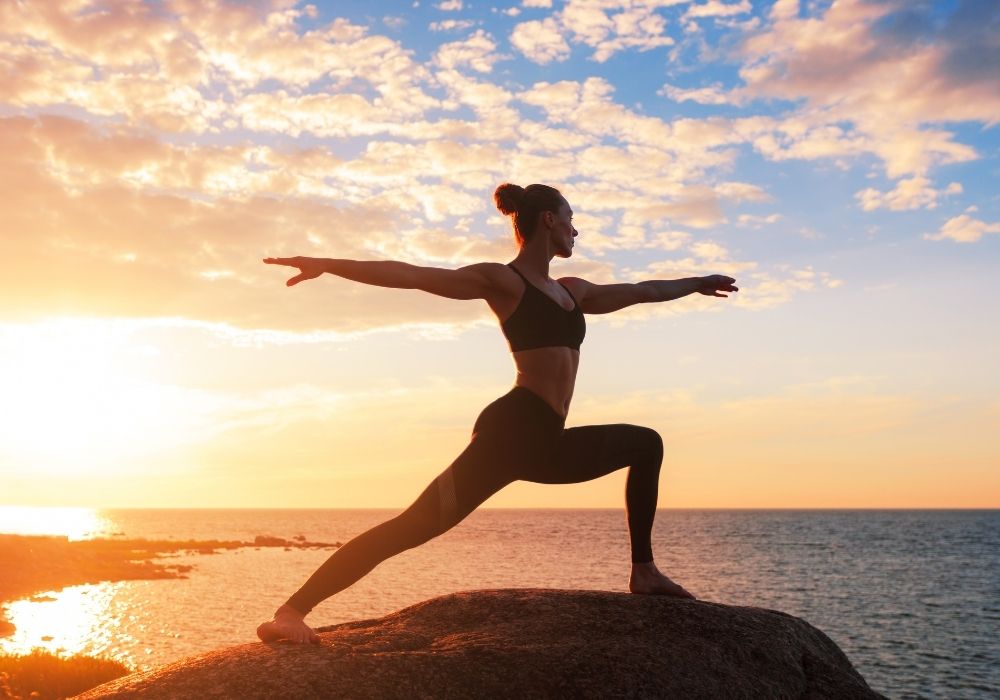 Before we get into how to make money as a yoga instructor, it's important to understand what yoga is. There is more to yoga than downward-facing dog and yoga pants.
Yoga is a thousands-year-old practice from ancient India. For many people, it is considered sacred and it's important to approach the practice with respect.
In reality, there are 8 limbs to a complete yoga practice. The physical practice, or asana, that we all know best is only one of these branches. Other limbs include equally important aspects like self-discipline, breath control, and meditation.
You can throw out the idea that you need to be a svelte, hyper-flexible person to teach yoga. Perhaps you want to focus more on teaching meditation and breathing exercises. This is still teaching yoga!
Perhaps you DO want to teach the physical, sweaty practice. That's ok, too.
There is a niche for everyone and that's why, by pursuing your own personal passion, there is room for everyone to make money as a yoga teacher.
What Is a Yoga Instructor?
A yoga instructor is someone who has completed a teacher training certification. As I mentioned above, I did a 200-hour course, and I found it extremely useful and rewarding.
The training program you choose should be well-rounded, focusing on anatomy, sequencing, cueing, and even the business of yoga.
Not all instructors are created equal. Pardon the pun, but teaching yoga is an incredibly flexible career path. Think about what it is about yoga that you love.
Do you prefer a sweaty vinyasa practice or a more relaxed, meditative practice? Find a training program that focuses on the style you prefer.
How to Become a Certified Yoga Instructor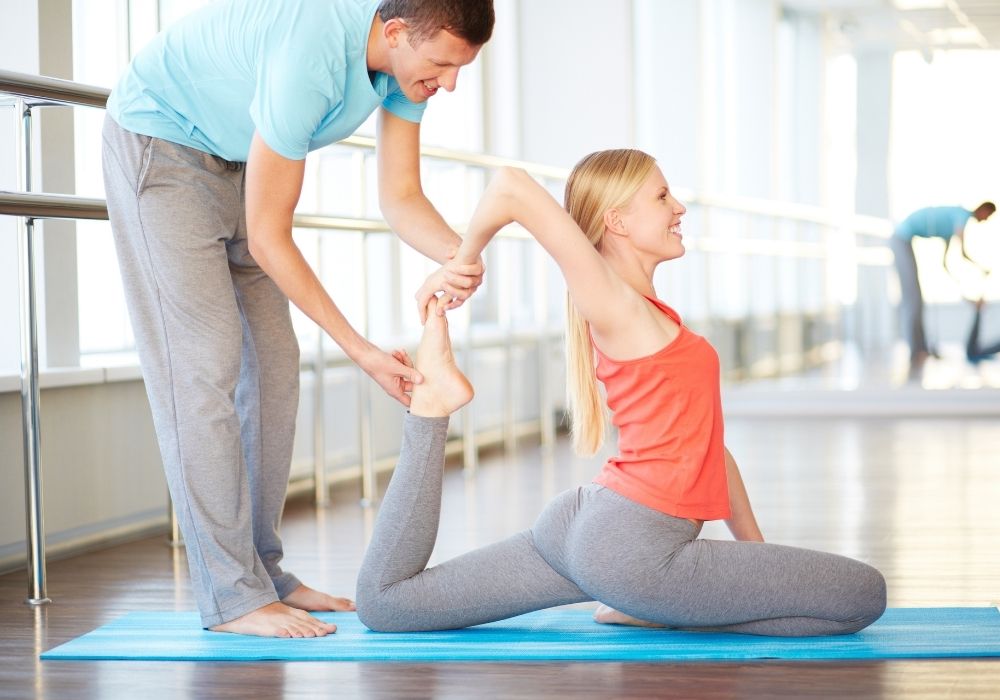 The most common way to become a certified yoga teacher is by completing a 200-hour training program that is approved by Yoga Alliance in the US and the International Yoga Federation.
I recommend choosing one of these 200 RYT Yoga Alliance-approved programs. This way you'll ensure that you're being taught a balanced curriculum that will be accepted by most, if not all, studios you want to teach at.
As the name suggests, the training program takes over 200 hours. It's typically taught in one intensive month where students can focus fully on the practice.
There are a lot of pros to learning this way and from experience, I think it's the best option.
Without the distractions of regular life, you can go deeper into the practice and grow your confidence as a teacher surrounded by a supportive group of people all pursuing the same goal.
Of course, it's not always realistic. If you have a full-time job or family obligations it may be impossible to shut life down for a month to study yoga.
Many studios also offer long-term programs where classes take place Friday evenings and for 8-10 hours every Saturday and Sunday.
Both options are physically exhausting and emotionally demanding but they will leave you with the skills to teach yoga and a network of fellow yoga teachers that will help you find jobs in the future.
How to Find Jobs as a Yoga Teacher
As a new teacher, it can be difficult to find a new job. It takes a lot of work and thick skin but the jobs are there if you put in the effort!
Hit the Pavement
Visit all of the studios that you vibe with. You want to apply to studios that teach the style of yoga that you teach and have a community of fellow teachers that you feel comfortable with.
If you're in a new city, I recommend visiting all of the studios and taking classes to figure out which studios you feel comfortable in. Introduce yourself and if possible, leave your resume.
Avoid the temptation to apply at every single studio in town. It's important to find the perfect fit.
Be Prepared to Audition
Many studios require an audition, which is as intimidating as it sounds! The audition process varies from studio to studio. You may be asked to teach a class as short as 15-minutes or a full 75-minute flow to the owner and a group of teachers.
Keep the sequence simple and let your personality shine through, allowing them to see your teaching methods, cueing style, and assists.
If you're already teaching somewhere in town, the owner may attend a class and use that as your audition.
Online Job Boards
The internet is a great source for yoga jobs around the world. Websites like yogatrade.com curate yoga job opportunities all over the world. If you want to move to Mexico or Bali, search on job forums like yogatrade.com to find a job before you even get there.
Check Facebook for job groups in your city as well. Yoga communities can be very helpful. If someone needs a substitute last minute you may be able to pick up last-minute classes in groups like this.
Offer Free Classes
I know, this article is about how to make money as a yoga instructor and I'm telling you to give it away!
But hear me out. Offering free classes in a public space can be a great way to get your name out there and to gain confidence through practice.
Facebook groups can be a huge help with this, especially if you are an expat and wondering how to become a yoga teacher in a new country.
In Buenos Aires, I joined a huge group on Facebook for free yoga. To get started I decided to give free yoga classes in a park near my house and advertised on the group. It was a great way to get experience and put myself out there.
I recommend having an Instagram account and website set up so that you can promote yourself to everyone who comes to your free class. Who knows, maybe you can convert them into paying private clients.
What Is the Salary of a Yoga Teacher? 
Salaries for yoga teachers vary greatly depending on location and studio.
In the United States, a studio may pay anywhere from $30-$50 per class. Some also pay per head, so if you're able to fill the room you may get an additional $1-3 per student.
It can take time and hard work to fill your schedule with high-paying classes. Be humble as you start and consider freelance or part-time work to supplement your yoga teacher salary as you build your client list.
Private clients will be the highest earner for you. I recommend selling your classes to private clients in packages, such as 4/8 class packages per month. This will keep your students committed to your classes for the month and keep your income a little more reliable.
Research the going rate for personal trainers in your area and base your private class rate on that. Keep in mind travel times and most of all, know your worth and defend it.
In summary, how much do yoga teachers get paid?
You may have noticed I dodged that question here. It can and will vary so much depending on whether you teach in a studio or to private clients. It will depend on where you live and how many classes you can realistically squeeze into one day.
Also, keep track of all of your expenses for tax purposes. Things like equipment and even your Spotify account can be written off as business expenses.
Teaching Yoga Online vs. Teaching in Person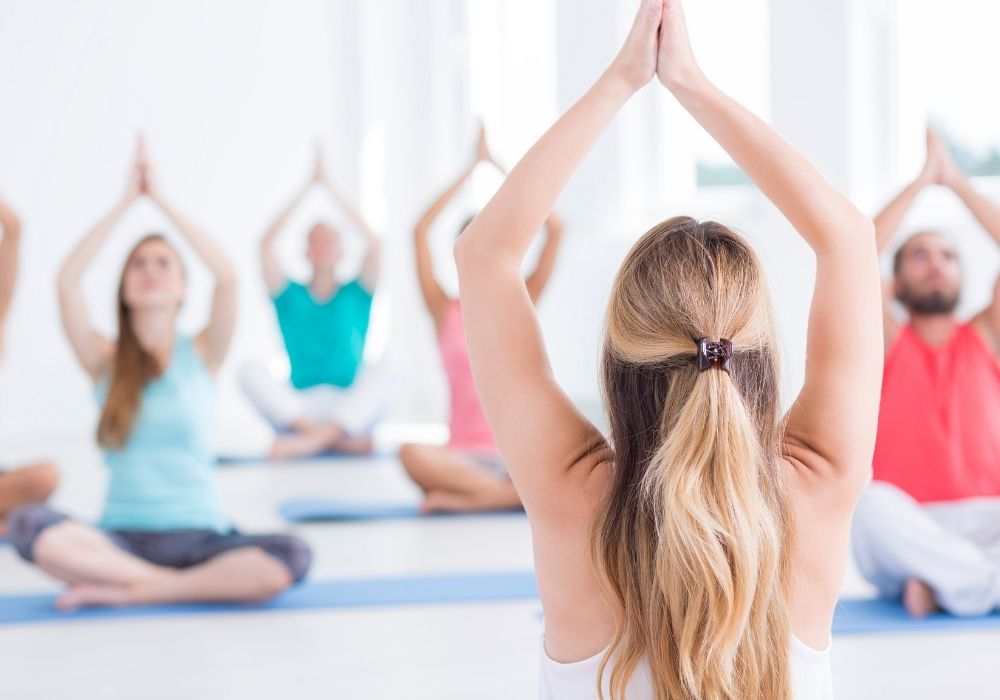 Teaching yoga online isn't new. As soon as there was YouTube, there were YouTube yoga teachers. And nowadays, anything can be taught via Zoom and yoga is no exception.
Teaching groups or private classes online requires clear and precise cueing.
While you always want your personality to shine through, keep your instructions straightforward and easy to follow since your students won't be in a room filled with yogis to copy if they misunderstand you.
If you want to create a permanent online presence on YouTube, I recommend studying SEO or search engine optimization for YouTube, so that the videos you work so hard to create are found by the students who need them.
No matter where you teach online, keep your background clear of clutter and make sure your audio is perfect.
If you're teaching group classes on Zoom, have students mute their mics and speak loudly. For YouTube and other online platforms, invest in a microphone. Audio quality will make the difference in how professional your videos turn out.
In the end, teaching yoga online versus teaching in person is a personal decision. I've done both, and I enjoy them (and find them challenging) for different reasons.
With Zoom classes, you eliminate the travel time between classes. You can also teach students anywhere in the world, allowing you to maintain long-term student relationships no matter where you live.
The downside is that you do lose a lot in the way of personal connection. It can also be difficult to correct your student's form via Zoom. And online video platforms like YouTube might take a while before they begin to pay off financially.
Equipment for Yoga Instructors
In reality, you don't need much equipment to teach yoga.
However, I do recommend investing in a good yoga mat. You'll be spending a lot of time on it so it's worth getting a high-quality mat that will hold up to hours of practice.
If you'll be traveling and teaching yoga abroad you can save a lot of space in your luggage by purchasing one of the best travel yoga mats that are high quality, compact, and weigh next to nothing.
Aside from a mat, you can invest in as much or as little equipment as you'd like. If you'll be teaching private classes, investing in a high-quality selection of props that you can bring to your classes is a good idea. I recommend getting at least two blocks and a strap.
One indispensable piece of "equipment" is liability insurance for yoga teachers. Protect yourself from lawsuits should any student injure themselves in one of your classes.
If you'll be recording classes for online yoga videos, I absolutely recommend purchasing a microphone. Poor audio can make the difference between amateur and professional videos.
Luckily, you don't need to spend much. A microphone like this one is a small investment to make for a high return for your business.
You don't need expensive camera equipment, your phone or laptop can record professional-quality video and connect seamlessly with any microphone.
Lastly, a Spotify or Apple Music subscription is a good idea for creating playlists to accompany your classes.
Pros and Cons of Being a Yoga Instructor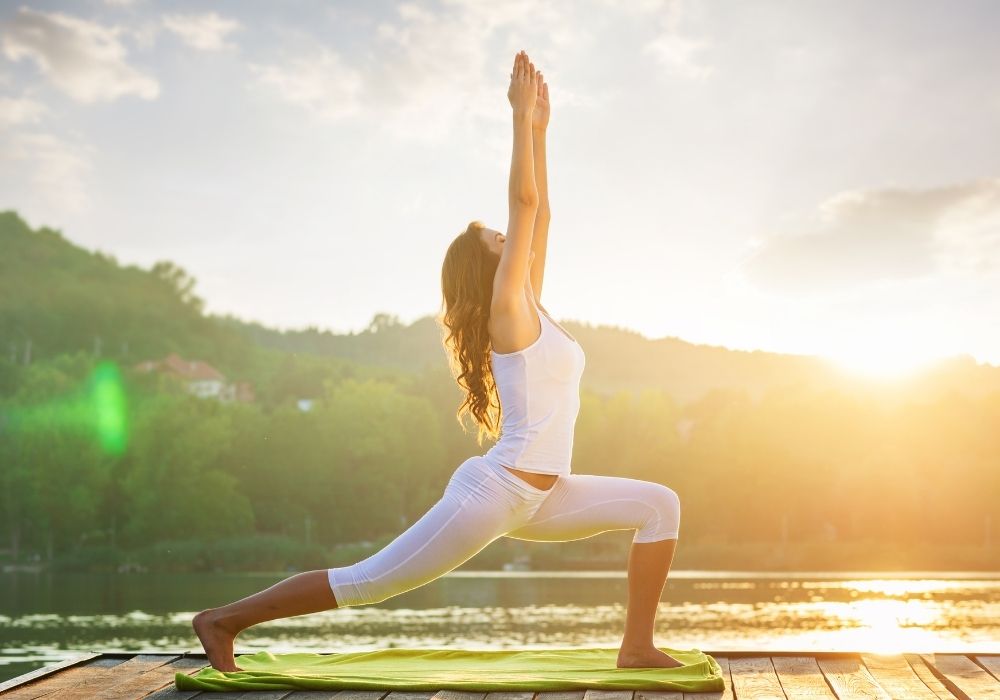 Like with any job out there, becoming a yoga instructor comes with its very own set of pros and cons. Here are some of the things you may love and hate about this exciting new job.
Pros of Being a Yoga Instructor
Here are a few of the pros:
1. Work in a Field You Are Passionate About
The main pro to teaching yoga is doing something you are passionate about. You'll be spending your time doing something you love and by teaching, you will help others fall in love with yoga as well, which is extremely fulfilling. Honestly, this has been the most important pro for me.
2. Create the Job You Want
If you're willing to put in the time and the leg work you can tailor the perfect job. If you're settled in a city, you can make connections at studios and build a community.
For digital nomads, you can take your yoga teaching anywhere in the world with you. Create an online yoga empire! Teach yoga in the jungle in Bali! The world is your oyster. Becoming a yoga teacher is a great job for digital nomads.
3. It's Active
It may seem obvious but another huge pro to teaching yoga, in my opinion, is the ability to move my body.
Say goodbye to sitting at a desk from 9-5. You'll be able to practice yoga as you create your sequences and as you demonstrate poses in classes. Moving from studio to studio and from class to class allows you to change scenery every day. I love this.
Cons of Being a Yoga Instructor
Here are a few of the downsides:
1. Time Commitment
You'll likely be teaching in a few different studios or with a number of different private clients. When you add together the travel time between classes and the time you put into planning your sequences, more goes into your "one-hour class" than the hour you get paid for. Know your worth and calculate everything into your rate.
2. Lack of Benefits
It is not the norm for studios to hire teachers as full-time staff with benefits. In the United States, for example, this can be a major barrier for some who need health insurance.
3. Burnout
As you start out it can be tempting to accept every teaching opportunity you're given, but be careful to avoid burning yourself out.
Running all over the city from one class to the next followed by a night of sequence planning can quickly run your body down. Keep your schedule as realistic as possible.
FAQs About How to Make Money Teaching Yoga
Still have questions about how to become a yoga instructor, or are you wondering how much money does a yoga teacher make? Read on for answers to some frequently asked questions.
Is it possible to make a living as a yoga teacher?
Sure, you can make a living as a yoga teacher, and plenty of people do. For some people, it's a way to make an extremely comfortable living.
How much money does a yoga teacher make?
The yoga teacher salary varies widely. Most studios pay $30-50 per class. If you teach yoga online or give private lessons, you can possibly charge a lot more.
Can you make a lot of money as a yoga teacher?
Yes, you can. The yoga teacher salary can be quite high for top instructors, even into hundreds of thousands of dollars.
Can you make money as an online yoga teacher?
Yes, you can make money teaching yoga online. Some people believe it's a better choice for making money as a yoga teacher because of the lower costs than opening a studio.
Is a 200 hour yoga teacher training worth it?
I think so, and it worked for me. Taking a 200 hour yoga teacher training course was how I got my start, and most people will find that it's the answer to how to become a yoga instructor.
Conclusion
It's completely possible to make money as a yoga instructor!
Your yoga niche is out there waiting for you to create it. Focus on what you love, teach the yoga class you'd want to take and everything else will fall into place.
The internet has created so many exciting opportunities for yoga teachers. Use social media to make connections with fellow teachers or to advertise your classes. The world has become smaller and more connected, allowing you to take your teaching anywhere in the world with you.
Start researching training programs today and start your new career!
Like This Article? Pin It!