As budget backpackers, one of the first things people ask us when we meet them is: "How are you able to afford to travel for so long?" The answer: We saved our money and prioritized. To us, being able to be free and travel the world as we like is MUCH more important than having beers at a bar, buying the latest fashion or having the newest home entertainment system. You do NOT have to be rich to travel on long trips. Even a couple with a combined income of $70,000 / year, should be able to save enough money for a year long trip in little more than a year. If you are disciplined, debt-free or paying reasonable mortgages, minimizing "nights out on the town" and living within your means, then it shouldn't be out of the question to save nearly half of all your income.
Here are some of our tips for saving money. Following these guidelines, we were able to save up for a 1.5 year long trip!
Put yourself on an 'at home budget'. Take your monthly salary, subtract your expenses and allot yourself a certain amount of "entertainment" money. This money is used for drinking, buying clothing, books, eating out, etc. Once that amount is gone, the entertainment is over. This is probably the most important of the tips for saving money.
Take a look at your monthly expenses. Is there anything you can do without / anything you can consolidate? Can you take the bus rather than driving your car? Can you look into a cheaper cell phone plan? Do you really need 4000 TV channels? Can you wait for sales at the supermarket?
Write down everything you spend, that way you'll see where your money is going.
Set a goal. Decide how much money you are able to save a month (after expenses) and stick to it.
Always use cash. If your weekly entertainment budget is $50 (very reasonable), then withdrawal $50 cash every week and only use cash for your entertainment purchases. NO PLASTIC ATM CARDS. That way you will physically see your hard-earned money being spent.
Have a separate savings account specifically for your trip. Go online and create automatic deposits into your new "Travel Account" every single time you get paid. If the money isn't in your regular account to spend, you're more likely to save it.
Put your money into an interest accruing account or, if you're good with investments, invest your travel money. But be careful, put it in high risk and you're risking staying at home another year. Use the interest, it doesn't seem like much at first, but leave that money in while you're saving and once it reaches 5 figures and up, that measly 2-5% interest really starts adding up. Your "Travel Account" should work for you.
Consider working overtime shifts if possible, or taking on a weekend job.
Have friends come over to your place for a dinner party rather than going out to a restaurant, bar, club or pub.  By making dinner and everyone bringing their own booze, you will be able to save money for travelling.
Every time you're out at the mall or shop, ask yourself: Do I really need this? Most of the time, you do not.
For women: Do you really need to have your hair cut and coloured for $200 every month or so? Maybe buy a box of hair dye and go to a cheaper stylist instead.
For men: Can the most up to date, newest, must-have electronic gadget be taken with you overseas? Probably not. Therefore, you don't need to spend hundreds or thousands of dollars on it.
Buying coffee. That is a big one. Make it at home! If you think of it this way: $5 / coffee / day, for 7 days a week = $35….also known as: a hut on a beach in Thailand, 3 meals, a motorbike rental & 4 big bottles of beer. That cappuccino isn't seeming so necessary anymore, is it?!
Don't think of your money as currency that buys you things while you're at home.  Instead, think of your money as backpacking experiences you can have, think "What would this buy me abroad?" When you go out for dinner, instead of thinking "well that's only $30", think "that's 30 meals in South East Asia" or "that's a dive in the Red Sea in Egypt". After you have a trip or two under your belt, this will come all too naturally. This is another one of the best tips we can give you for saving money. 
Most importantly…still allow yourself to have fun while you are saving your money. Otherwise, you will be resenting the trip altogether.
That concludes our list of some of our best tips for saving money. If you put your mind to it and really want to save up for a trip, then you will be able to say "no" to the material things. Trust us, once you're on the road travelling and having life altering experiences, you won't be disappointed that you didn't get to buy the newest iPod!
Planning A Trip Now?
Goats On The Road provides some simple tools to save you time and money!
Disclaimer: Any bookings, orders or services paid for through Goats On The Road will be of ABSOLUTELY NO EXTRA CHARGE to our readers. Your purchase does help to keep the Goats On The Road through affiliate sales, so we do thank you for that!
Like it? Pin it! 🙂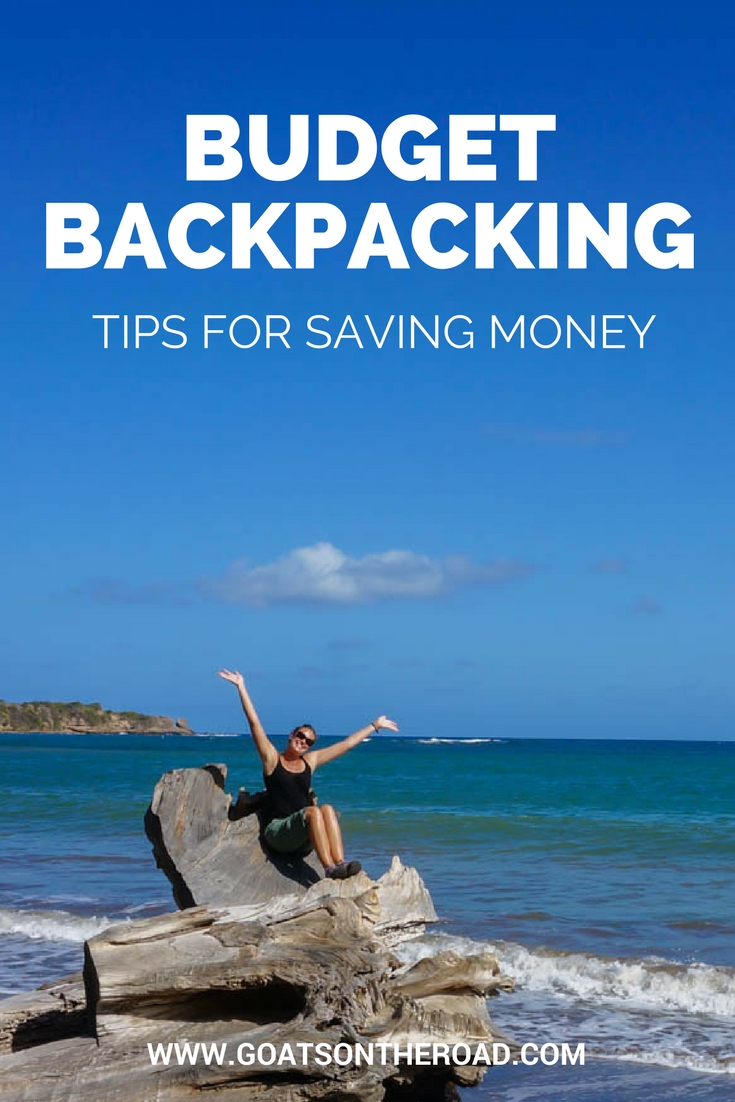 Disclaimer: Some links in this article are affiliate links, which means that if you purchase through them, we receive a small commission. This will never cost you extra and in many cases you receive a special discount. We appreciate your support!