This article is for anyone who wants to learn how to start travel a blog from scratch. In just 10 minutes, your new blog could be up and running. In that time, you'll choose a blog name, set-up a hosting package, install WordPress and customize the look of your blog. We'll even show you the basics of post creation and traffic building strategies.
This guide is so simply written that you don't need to know anything about web design or computers to follow it.
Still, some people have some reservations about starting a blog and that's totally understandable. Read the common reasons people tell us they are hesitant to start a travel blog and click the ones that you believe apply to you.
Common Excuses to Not Start a Blog
No more excuses…
Learning how to start a travel blog can be intimidating at first. Choosing the right host, a good name and the perfect theme can be confusing. But I've done it numerous times and I will make it easy for you by walking you through the process, step-by-step.
We decided to start a travel blog in 2012 and it took a while, but today it earns 6 figures annually (USD) after tax and we only "work" around 15 hours / week. To start your blog today, you won't spend more than $2.95 / month. That's around $35 for the first year… a pretty good investment if you ask me!
Are you tired of working at a job you don't enjoy so that you can save for limited travel? Do you want to get paid to travel the world instead?
Ask any successful travel blogger, the best way to do this is to start a travel blog.
Limited Time Offer
Free eBook If You Start a Blog Now!
We've compiled our best travel blogging content from Goats on the Road, plus a bunch of never before published tips and tricks to help you boost traffic and earn real money from blogging. This eBook is normally $19.99 on Amazon, but it's FREE for a limited time only when you complete STEP 2 in this post.
Click Here to learn more about this eBook.
Note: By using the links in this post, we receive a commission but you won't pay anything extra. It helps us to keep this blog running and pays for the time we spent creating this epic eBook resource. Thank-you for your support!
Don't wait another day to start your blog. It only takes 10 minutes and it can change your life. I'm not trying to sell you anything in this post, I just know that a post like this one changed my life 5 years ago and I'd like to pay it forward.
Let's get started!
STEP 1 – Choose Your Domain
I'm going to walk you through every step of this very easy procedure, and it will probably only take around 10 minutes to get your blog online, so let's get started. Click the blue button below and a new tab will open. This is the
Bluehost sign-up page where you will essentially chose your blog name and get it online.
When you click the button, a new screen will open. Return to this screen to follow more step-by-step instructions. After you complete Step 1 (signing up for Bluehost Hosting), I'll send you my ebook for free.
Note: If you're reading this post on your mobile phone, this tutorial will still work perfectly. Just complete the transaction over at Bluehost, and then come back to this page to submit your request for the ebook and continue the tutorial.
Click the above button and automatically receive 60% off your blog StartUp cost for a limited time!
From the Bluehost hosting page (pictured below), Click the "Get Started" button under StartUp. This is the cheapest Bluehost plan and it's perfect for beginners and right now they're offering Goats On The Road readers a special 60% discount off their usual rates.
Once you click "Get Started Now" on the Bluehost page, you'll be brought to the page where you'll choose your hosting package. Don't worry, the cheapest package is a great all around package for a new blog and with our discount it's just $2.95 per month (less than a cup of coffee!):
Now it's time to choose your domain. The domain name is the part of your website that goes between the "www." and the ".com" in your web address (URL) and it will also be your blog name, your company and your brand, so choose wisely.
Consider choosing a name that is relevant to what your blog will be about (not like Goats On The Road! Oops…). If you're a family travel blog, consider having the word "family" in your name. Backpacking? Perhaps use the word "backpacker" somewhere in the name.
Enter your new blog name / domain name into the field between "www." and ".com" and hit proceed.
Can't think of a blog name right now?
---
No problem! Bluehost has you covered. Simply go back to the "Sign Up Now" screen at Bluehost, hover your mouse to the top of the screen and you'll see a magical pop-up appear. Click "Choose Free Domain Later" and Bluehost will allow you to continue with your sign-up process and pick a blog name later on!
Still having trouble thinking of a name? Email nick(at)goatsontheroad(dot)com and I can help you!
If you know the name you want for your blog, go ahead and enter it at the Bluehost page and then click next.
Next is the final step in the transaction, where you actually pay for your new blog at Bluehost. Simply enter in all of the information that is requested. Don't worry, the credit card payment system at Bluehost is 100% secure.
Before adding going to the next step, be sure to review all of the charges that will be made to your account. You should make sure that the "Basic Plan" is checked which is $2.95 / month with our discount. Also uncheck all of the boxes except for Domain Privacy. I know it's an extra $1 / month, but it's worth it.
You don't have to pay for this if you don't want, but basically it saves you from getting a bunch of spam emails. When you start a blog (with any host) your domain and email is added to a public record, similar to a phone book. This means that everyone can check the record, see that you're a new blogger and email you with spam to try to get you to buy services from them. In my opinion, the dollar a month is worth not getting the spam emails.
Choose the basic plan, uncheck all the boxes (except for perhaps domain privacy) and you will pay $2.95 / month. Enter your credit card info and make sure to check the box that says "I have read and agree to Bluehost's terms of service", then click "submit".
---
Click The Blue Button Below!
You're now eligible for our free blogging eBook. Simply click the blue button below and enter your email and we'll hook you up. But you're not done setting up your account yet, so make sure you keep scrolling down to complete the process. We're almost there…
Note: This eBook is ONLY free for people who start their blog using links in this post. If you already have a blog, or you don't want to start one today, you can buy it on Amazon 😀
---
---
Okay, back to creating your blog. So far it hasn't been too hard right? Now we get to move onto the fun stuff. Creating your account, designing your blog and writing your first blog post.
STEP 2 – Install WordPress
Now you've paid for your domain and you officially own it! You're ready to become a blogger. The next screen you'll see at Bluehost is a congratulations (and upsell) screen. Just ignore all of the extras that Bluehost is offering. While some of the tools on this page are useful, they're not necessary for a new blog. Scroll down below the offers and click "No Thanks"
After clicking "No Thanks" you'll be brought to a new page where you'll set up your account and login details for Bluehost and your new WordPress installation for your website. Click the button that says "Create your password".
The next page will ask you to enter your new password twice. Try to make the password both memorable and hard to crack (use symbols, numbers and capitals if possible). After you've entered your password the exact same in both boxes, tick the box to agree to the privacy policy and terms of service, and then click "Next".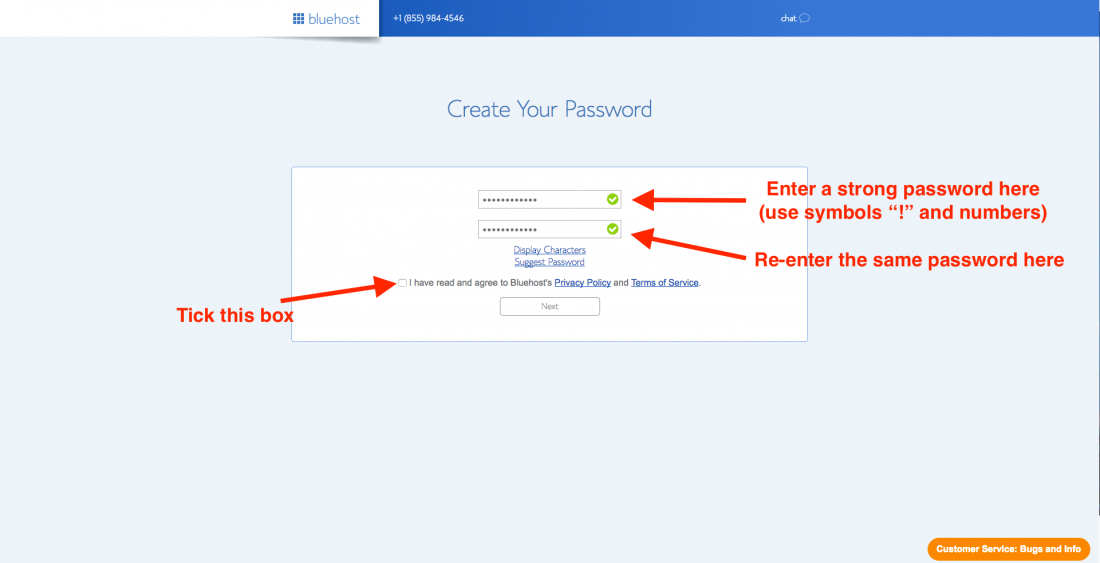 The next page will congratulate you on your new password and account with Bluehost (you get a lot of praise in this process 😀). Now click "Login".
At this point Bluehost will automatically install WordPress for you. This saves quite a few steps in the process and is super convenient! The next screen will prompt you to choose a theme. If you see a FREE theme that really catches your eye on this page, you can install it, otherwise you can skip this part and move onto the next step because we'll add a free theme to the site later on.
That's it! The next page will allow you to sign into your brand new WordPress site! Simply click the button that says "Start Building" and you'll be brought into the backend (WordPress Dashboard) of your new blog.
STEP 3 – Set Up WordPress & Design Your Blog
Now comes the fun part – you get to choose what your new blog will look like! But first, you have to Quickly set up WordPress. After clicking the "Start Building" button in the previous step, you'll be brought to your new WordPress Dashboard. You're no longer on the Bluehost website. This is the backend of your own website. Click "Business" to move to the next step. Don't worry, if you click Personal, it doesn't matter at all. Both are the same when it comes to building your site.
After this, you'll be brought through the process of setting up the WordPress dashboard. It's all pretty self-explanatory, and when you're done you'll see the screen below:
At this point, your site isn't technically online. Nobody will be able to see your site live… which is a good thing! As soon as you click that "Launch" button, your site will go online at your new domain address (ie: www.YourNewBlog.com). But it's best to create some content and design your blog a bit before actually launching it so let's do some of that first.
For now you can ignore all of the Bluehost tools offered in your WordPress Dashboard, but it's still a good idea to browse around the dashboard a little bit. This is where all of the bloggy magic happens. If you want to play around in here for a bit, go for it! Get to know the many different sections of your WordPress blog.
The dashboard is where you'll start new posts, change your website appearance, add plugins and make your website become an extension of YOU.
Now let's get on with your blog customization and theme installation. In the WordPress Dashboard, look on the left-hand toolbar and hover over "Appearance", then click "Themes".
A screen will load like the one below. You can then click the button that says: "Add New Theme".
This will take you to a screen that will allow you to choose from thousands of themes!  Take your time. When you start a travel blog, you want to kick it off with a style and theme that suits you and your new brand.
Choose Wisely
You don't want to change your theme too often, so try to pick on that you know will work for your new blog. You want your visitors to recognize your site when they return to it time and time again. Choose a theme and stick to it!
If you're willing to pay just $89 / year or $250 one-time for an amazing theme with excellent customer support, templates, drag and drop functionality and advanced features that will help you as you grow,  check out the Divi Theme by Elegant Themes. It will make your blog look professional and if you run into any issues, the folks over at Elegant Themes are there to help. For new bloggers, it's worth the cost for the support alone.
If you're going to start with a free theme, back in the WordPress theme selecter to see what each theme looks like, just hover over it and click the "Preview" button. Once you've chosen a theme, hover over it and click the "Install" button.
Now that you've picked the perfect theme, you can go in and customize it by adding your own logos, colours, pictures, widgets and page elements. This is how you customize your theme to be just how you want it.
Make sure you're in the "Themes" section of the Dashboard by hovering over "Appearance" and clicking "Themes" again.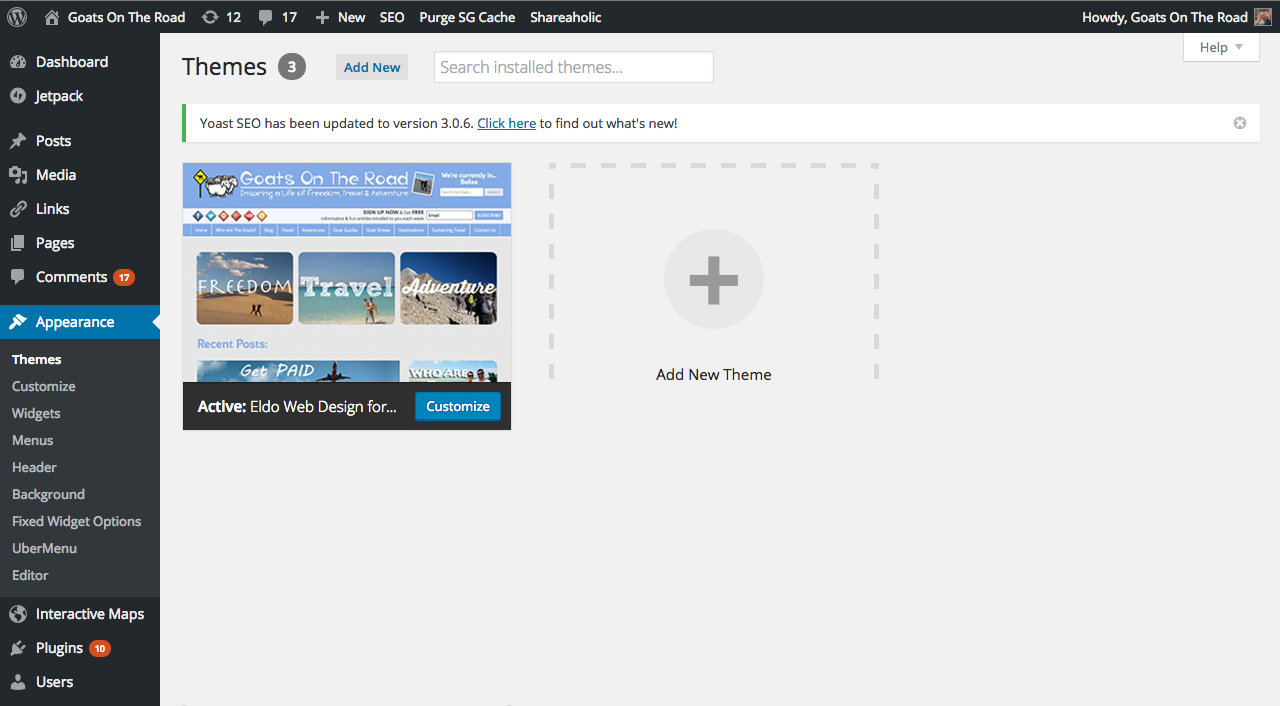 You'll now see your new theme on the screen ready to customize. Hover over your theme and click the "Customize" button. This will bring you to a screen that will allow you to change the colours and layout of your theme.
In the image below, you can see an example of the theme customization page. Going down the left hand side you can see which theme you're editing and different parts of the theme that you can change.
The options to customize your theme that appear on the left-hand side are as follows:
Site Identity: The title of your site and the tagline that will show up in Google searches
Colours: Edit the different colours on your blog. From background colours to font colours.
Header Image: Most themes will have a header image at the top. Here you can upload a picture of yourself to show on your home page.
Background Image: Sometimes sites have an image as a background. This can look too busy though so be careful if you choose to upload a background image here.
Menus: Here you can change what will appear in the menu bar at the top of the page. Write the structure of your blog on a piece of paper, then transfer it to your menu. Make sure your readers can easily navigate your site!
Widgets: These are those cool things you find in the side bar of most blogs. Choose and customize them here.
Each theme is different and offers different things that you can customize. Play around for a while in here and try to find a layout that is fun, interesting and most importantly – easy to read and navigate.
STEP 5 – Start Travel Blogging!
Now that you've chosen your blog layout, theme and colours, it's time to begin blogging. You have a lot of work and research ahead of you.
For now, let's just start with the basics. Writing a blog post. To do this, head back to your WordPress Dashboard and at the top of the screen hover over the "+New" button and click "Post".

You'll then be brought to the Edit Post Screen. Here you can type away and create as many blog posts as you want. Get writing! The more content you create, the quicker your blog will grow. If you can write a post a day, or even just 3 posts / week, you're doing a great job.
Set a schedule for yourself and stick to it. If you can only write 1 article per week, always write just 1 and publish it at the same time of day. If you can publish every Monday, Wednesday and Friday at 4:00 pm, stick to that schedule.
Google loves it when a blog produces content on a reliable schedule… like a newspaper.
Try to write things that people will find useful. How-to's, guides, hacks etc. Don't just write a diary. These types of blogs hardly ever attract readers or make any money without some level of useful information.
Now you'll want to set up your social media accounts for your blog. Don't use your personal social media accounts for this. Set up an entirely new Facebook fan page, Twitter account, Instagram, YouTube, Google+, Pinterest etc. Set up as many as you think you can handle and continuously post on each account.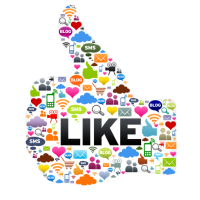 After you've produced a lot of useful content (posts) on your blog and you've started your social media accounts, you'll want to start with basic marketing of your blog so that you can grow your readership and eventually earn money.
To do this, you'll want to share your articles on your social media accounts, and do A TON of guest posts.
Email all of your favourite bloggers and ask them if you can write an article on their site and link back to your new blog from it. If your blog is about budget travel, then the anchor text should be "budget travel"… like this: Budget Travel. In that link, the words "Budget Travel" link to GoatsOnTheRoad.com.
Those words are called "anchor text" and the more links you have with certain anchor texts, the more likely Google will show you in search results for those terms.
Be careful not to create hundreds of the exact same anchor texts in different guest posts because it can start to look spammy. Choose variations of your main anchor texts and link to specific articles with anchor texts that match the articles' main point.
For example, if I wanted to write multiple guest posts and link back to this post I would use anchor texts like Start A Blog, Create a Blog, Start a Blog From Scratch etc.
Now you're going to continue to write new content, add new pictures and posts to your social media accounts and write a ton of guest posts for months on end. This will be your routine. Recycle it over and over and watch your traffic grow.
It will be VERY slow for the first year, but suddenly things will speed up, Google will start to recognize you and you'll start growing a loyal readership. Once you've grown some traffic, you'll be able to start earning an income.
Note: To keep track of your traffic, you'll want to set up Google Analytics. Click Here to learn how to do that.
Because this article is "How To Start a Travel Blog", I won't get into too much detail about creating posts, using WordPress, running social media and marketing your blog online. For now, we've covered the basics to start a blog that can one day earn you a full-time income.
You can check out our Travel Blogging Section for more about running a blog, plus, we'll have more step-by-step tutorials like this coming soon. We're going to cover everything from how to earn free travel, get flown around the world on press trips and get paid to travel.
If you bought your domain and built your blog through affiliate links in this post, thank-you so much for your support! Don't forget to email me at nick(at)goatsontheroad(dot)com to get your free copy of my Travel Blogging eBook.
MORE POSTS TO GET YOU AMPED ABOUT TRAVEL BLOGGING:
If you have any questions about running a blog, or you run into any troubles while following the steps in this article, please do not hesitate to Contact Us.
Congratulations! You are now officially a blogger!
Like it? Pin it! 🙂