The following article is a guest post from Curtiss of Blissy Life. He and his sweetheart are ultra-positive, and really know how to have fun! Read more about them in the Author's Bio at the bottom of this post.
While you're traveling, the traditional laws of celebration don't apply.
There are a few challenges with celebrating birthdays, for example:
yet another knick-knack isn't all that helpful for someone who's trying to keep their luggage light
a traditional birthday cake ain't easy to find, in a lot of countries
friends and family may be especially far away, reducing the odds that you can put together a party full of familiar faces
Basically, it's a whole new ball game — so give up your old preconceptions of festive cheer. (Boo hoo.) 🙁
Don't dismay though, 'cause there's a very bright "bright side"…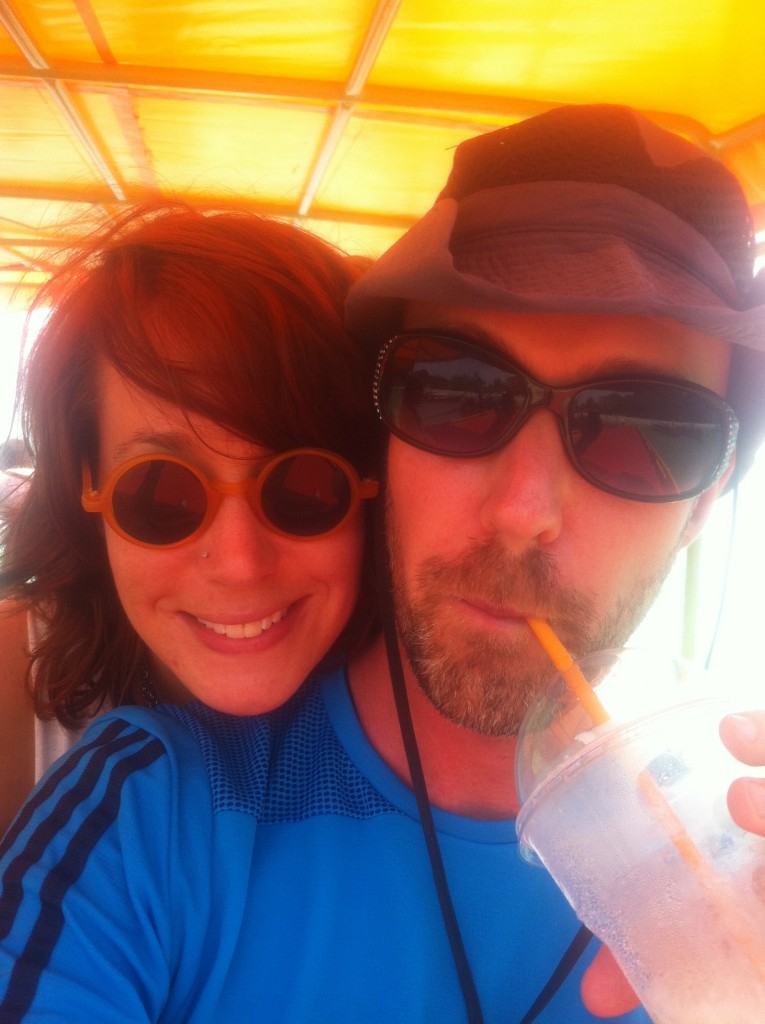 Since you're in an exotic locale, you've got some very unique opportunities of celebration that you may not have considered. (Yay!) 🙂
In this post, we wily Blissonauts fill you in on how to celebrate abroad awesomely, and not just "in theory": we've got visually titillating real-life examples to guide our points, based on an actual celebration of my actual birthday. Hold onto yer knickers — it was a celebration so bombastic that it bedazzled my actual pants right off of me.
It's not just fun when you play voyeur to travel couples' inner workings; it's also educational. As we enjoy glimpses of our favorite digital nomad couples (The Goats and their adventures, for example), we're inspired to think about relationships in fresh new ways. No matter your relationship as a couple (or triad, or poly-complex romance, or whatever), we can all draw inspiration from each other, no? And although in this example we're romantic travel partners, this lil' guide can totally apply to "just friends" travel buddies (in case you want to bedazzle the pants off them platonically). And if you're travelin' solo, awesome — this is a great way to treat yourself! <3
This isn't just for birthdays, either! No matter your mojo, you're bound to enjoy this quick-n'-flirty guide to scintillating celebration…
Shamelessly Milk The Element Of Surprise
That's your first tip: tease your partner with a bit of anticipation. Oh mannn, did my darling Ashley tease it out. She bounced around with impish glee, overcome with sudden pangs of excitement about my impending birthday surprise, with only the vaguest hints along the way. All I knew was that we were likely to check something off our bucket list on my big day. I was really pumped up, and yet I had no idea of the upcoming delights…
Break From The, Uh… "Norm"
I know, I know: how does anyone have a "norm" if they're living in an exotic paradise, drinking from a coconut one day, and riding a sidecar motorcycle the next (like we are)? Whatever your lifestyle, I can guarantee you've got routines… and this celebration is a great time to break 'em!
In this case, we left our house to spend the day somewhere new and unusual. It was especially cool because we adventured in waters uncharted by both of us. It definitely made for a fresh experience that was unique to the two of us, and that makes for a special memory that we'll always share.
All I knew was that I needed to bring my swimsuit and prepare for lots of sun. That, and the vague hints of a bucket list item that might get checked off…
So make sure you break the daily pattern for your celebration, and get unusual!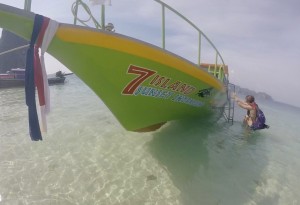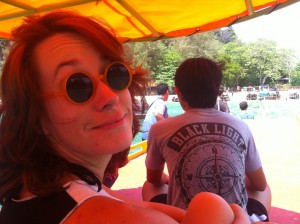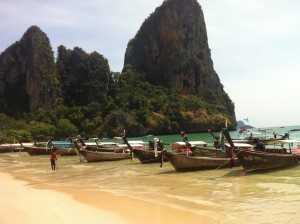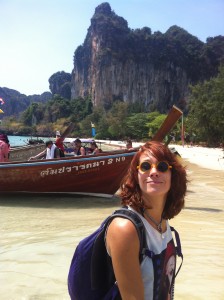 Tap Into Great Local Tours And Experiences
So as we zoomed out from our house to some mystery destination, I had no idea where we were going. Before I knew it we were guided onto a big ol' longboat that said "snorkeling tours" on it! Ashley had found a local tour to guide the day! Oh, this was gonna be good…
Find experiences that are unique to your location. It's the thing you have in common that makes it special!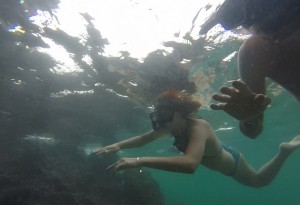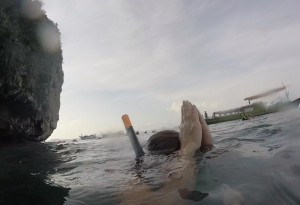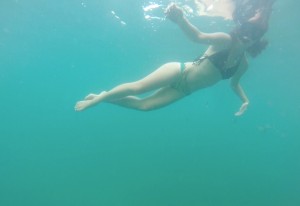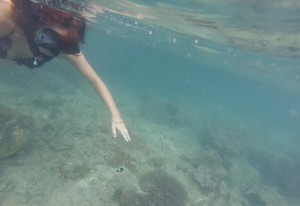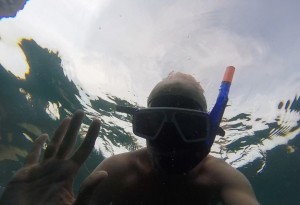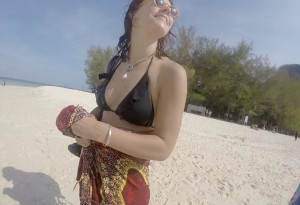 Playful Silliness (And Shark Impersonations)
Soon enough we were overboard, snorkel tubes in place — our eyes were widened with wonder at the great array of colorful fish, wonky coral, and unlikely underwater vegetation.
Throughout it all, we joked around, laughed together, and… impersonated sharks.
Don't forget to relax. Leave plenty of room to goof around, get silly, and be playful. Having fun is what it's all about. 🙂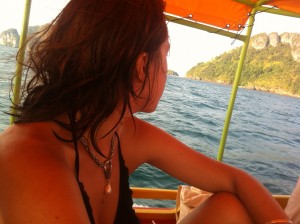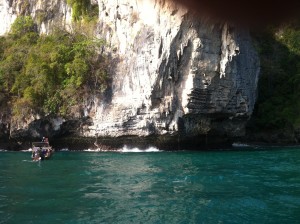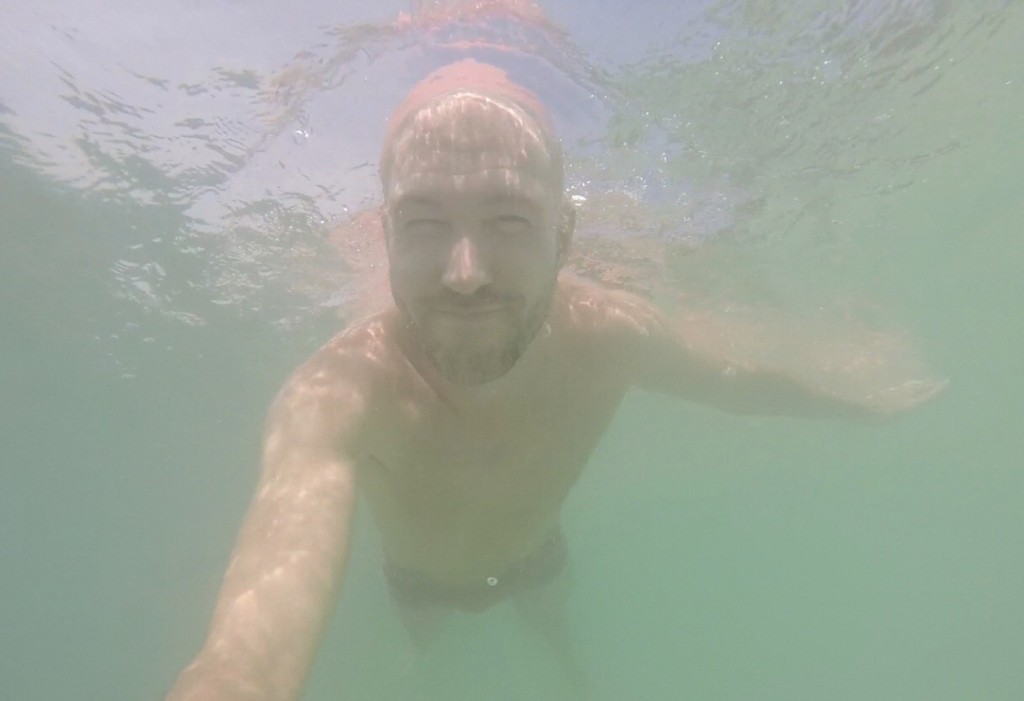 Adrenaline, The Aphrodisiac
A thrilling bucket-list moment revealed itself at our next stop.
There's nothing like a little thrill to get your senses aroused and to send your soul a-soarin'. When the boatman pulled up to the side of a vertical cliff, waves crashing against it, a little rope ladder came into view. People started hopping out, climbing up the ladder and way up the cliff, and jumping off into the foamy ocean below. This was totally an item on our bucket list: cliff-climbing in Krabi! This part of Thailand is known for its dramatic cliffs. I hauled myself up the twirling rope ladder amidst the crashing waves, worked my way up the ledges, and leaped from high above into the sea. It was exhilarating!
Consider experiences along the way that get the heart pumping! There seriously is a connection between thrills and romance. It's science!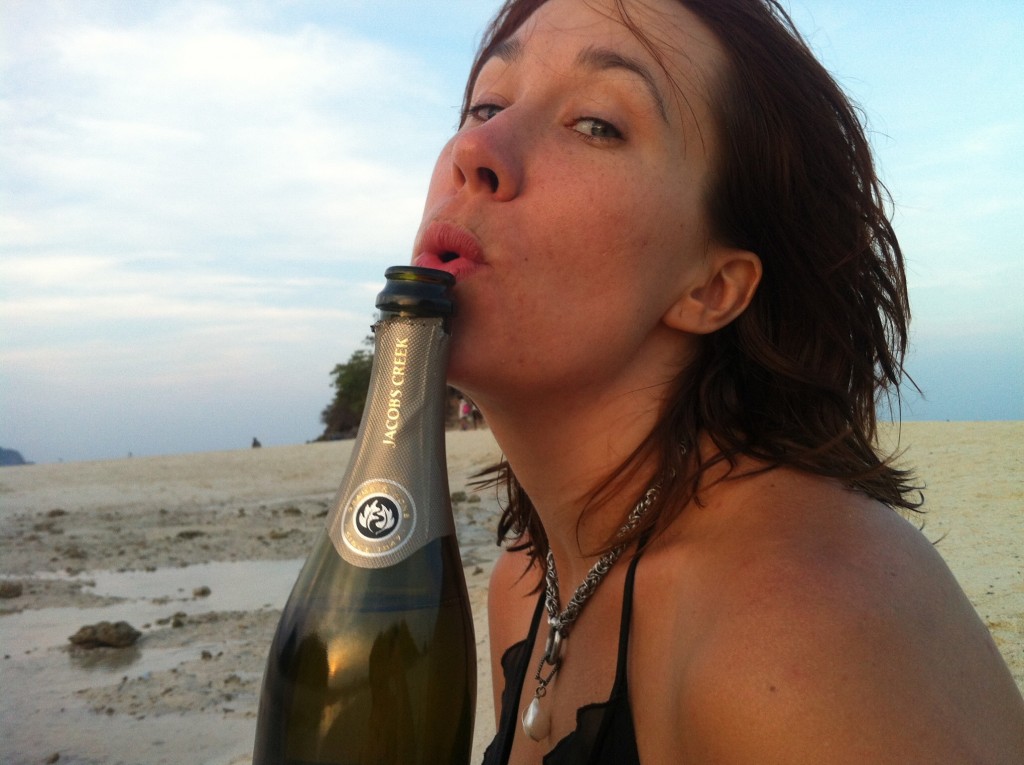 Personal Moments — Bubbly Ones
When you think of "romance", atmosphere is important. Whatever you envision, it probably entails some situation of intimacy between partners, right? That shared experience is pretty important.
Though most of our day was spent on a noisy boat with lots of strangers (which was an awesome time), we also enjoyed a special moment that stood out as intimate, thanks to some planning and luck…
The next part of our tour brought us to land at a remote island beach. As we filed off the boat to wander around, we found that the beach was actually a wide sandbar connecting two islands, and we found a smooth little sandy hump to sit upon as we were welcomed by the most SPELLBINDING sunset filling the tropical sky. The two of us had some space to ourselves, and some quiet moments to be close, playful, and hopelessly romantic, haha.
Here's a major extra-special treat: Ashley reached into her bag and pulled out one of our favorite things — a bottle of bubbly! "Bubbly" was definitely our mood as we fired the cork up into the sky, toasted with a way-romantical fistbump, and then took turns taking swigs from the bottle like fancy pirates.
Every relationship has its sweet spots, and I must say: as we laughed and savored in the colorful light of the sinking sun, we were definitely in our happy place.
Don't be afraid to compose something intimate, caring, and sublimely romantic. <3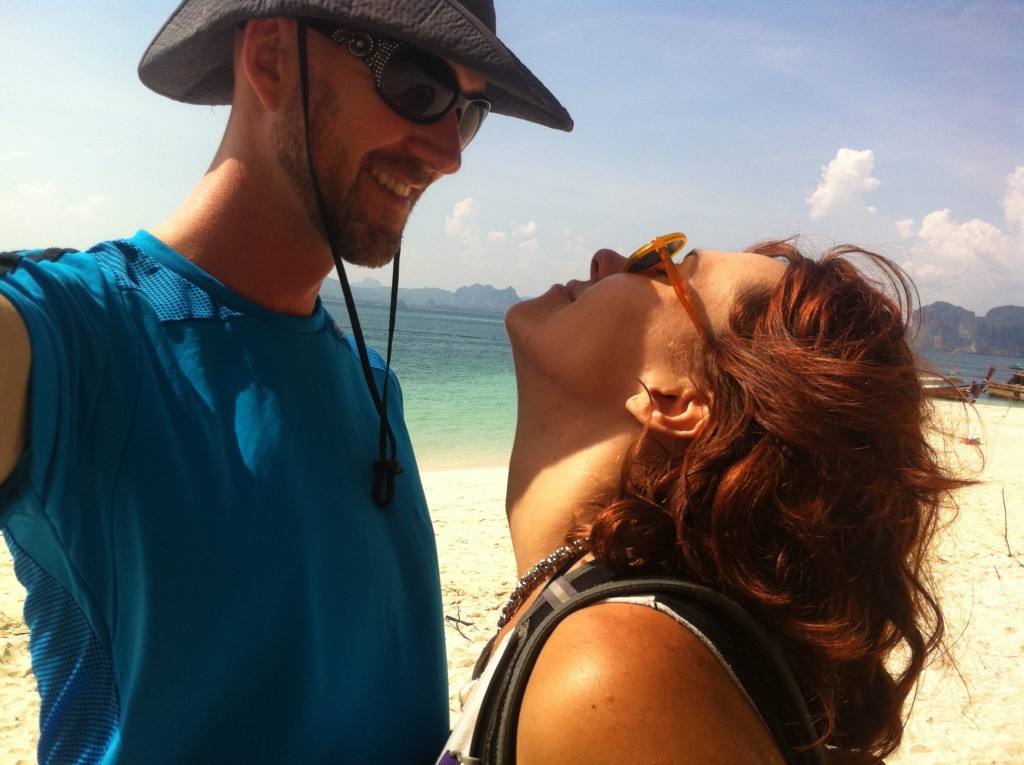 Perusing The Ol' Bucket List
In this case, Ashley called upon the power of our bucket list.
How did this come into play? In a cool sort of double-surprise. Since she had given the hint that we might check off an item from our bucket list on my birthday, I TOTALLY thought that the experience with Krabi cliff jumping was just that (since it was ALSO on our bucket list). But guess what? That was just an "extra". There was ANOTHER bucket list item that Ashley had in mind.
Long after sunset, as we were sun-baked and windswept by the moonlit boat ride home, the boatman slowed the boat down in a quiet little cove, and stopped the boat. In the hush as the engine stopped, only the lull of endless waves surrounded us. He said a few words that I didn't quite catch, and then we hopped into the water for one last snorkeling experience.
When I heard an excited shout, at first I was worried. Then I saw what the shout was about: where we paddled, the water was… GLOWING!
Surrounded in a miasma of sparkling glowy swirls, we paddled and embraced. Wow, what a kiss.
Aim to fulfill some life goals as part of the big day, and it will feel especially satisfying.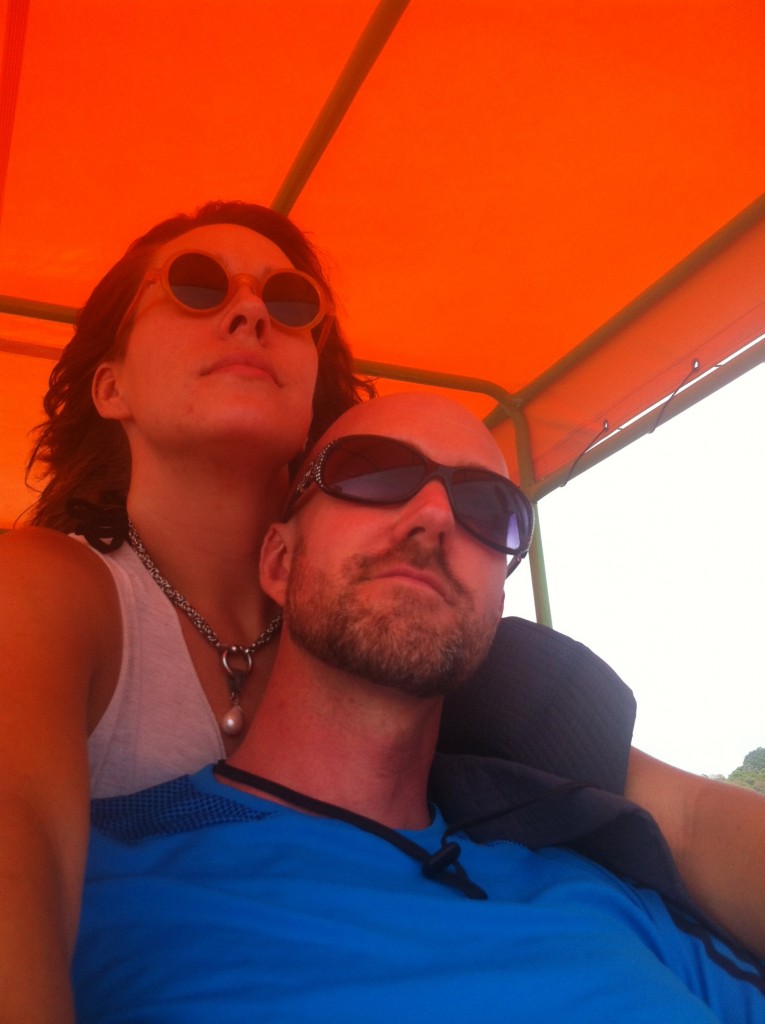 Conclusion: A World Without Pants
If you're makin' something special happen to show someone that they are special to you, that's going to make an impression.
On any ol' day we might involve having a new experience, such as touring around on a sidecar motorcycle, helping with a Vetnamese herb garden, or riding a water buffalo. But since this amazing adventure was for my birthday specifically, I felt like a very special guy.
There's so much more to this day than I can fit in this post; it was deeply special and profoundly enchanting. Thankfully, you're equipped with the top-level points that will help you with crafting your own spectacular celebration, and so you are bound to enjoy a special day that defies description, yourself!
Using these tips, relish your special day together… and here's to bedazzling those pants off! 🙂
---
Curtiss is a lover of those magical places where wi-fi and paradise overlap. Relishing in delicious atmosphere, location independence, and digital nomadism, Curtiss indulges in Blissy Life experiments all over the world.
Your adventures get a whole lot more interesting when you explore further at Blissy Life…
Disclaimer: Some links in this article are affiliate links, which means that if you purchase through them, we receive a small commission. This will never cost you extra and in many cases you receive a special discount. We appreciate your support!