Japan has a reputation for being expensive but we're here to tell you that it doesn't have to be. We very nearly didn't make the trip because of the rumours we'd heard about the cost of travelling there. But it turns out with some planning and research, it's quite easy to cut costs – and we did.
Here's the best tips for budget backpacking in Japan.
Finding Affordable Accommodation in Japan
Because Japan has so many different kinds of accommodation on offer it's important that you're willing to be flexible and search widely in order to get the best deal. There are some weird and wacky options such as staying overnight in a Manga Cafe. You'll be provided with slippers and your own 'reading' booth complete with reclinable office chair – some even have showers.
If you would rather book an apartment or stay with a host on Airbnb in Japan, why not get an Airbnb discount while you're at it? Make sure you use our special $25 Airbnb Coupon Code and save money!
Then there's the famous capsule hotels where enclosed, space-saving sleeping pods are stacked on top of each other, designed for weary business men working late. Of course you also have the more familiar options of hostel dorm rooms, rented apartments and standard hotels. The latter being generally the most expensive, but you may land on a deal.
We found that the cheapest type of accommodation varied by location. For example in Osaka we managed to score an Airbnb apartment for a week, at just $16 per night. But in Tokyo the most affordable option was actually a rather strange place that was a hostel by night and camping shop by day. That was a Hostelworld bargain in the capital city at $18 each per night.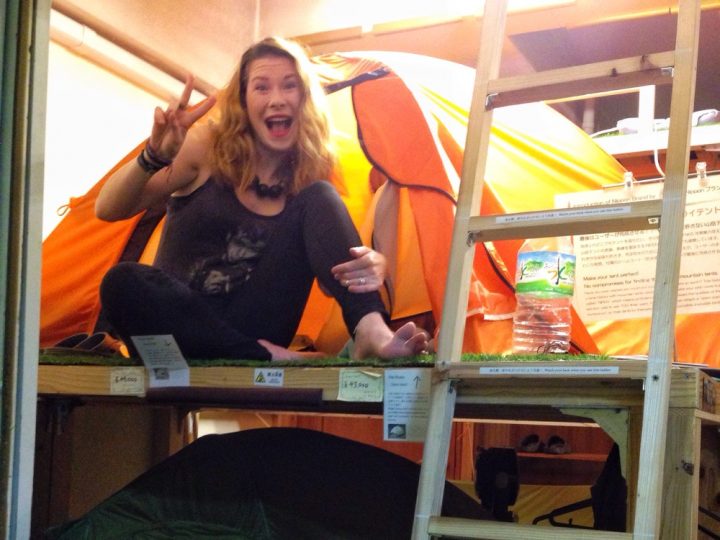 There's also the free option of couchsurfing in Japan but if you are thinking about this be sure to start applying well in advance. Because accommodation on the whole is expensive in Japan this is a very popular option for budget travellers, so spaces are few and far between. Also, naturally many hosts only have spaces open on weekends when they are not at work.
Dining On A Budget in Japan
If you are staying in an apartment or a hostel with a kitchen, an easy way to keep costs down is to make a few of your own meals. We're not suggesting all of them – that would be crazy with so many delicious cuisines on offer here. But we actually really enjoyed picking out a few fresh ingredients from the 7 Elevens and cooking for ourselves. One meal we made cost just $2 per head.
You can also nab some bargains in late afternoons at the supermarkets when fresh produce is often discounted for quick sales. We would call on our way back to wherever we were staying and just refrigerate it for lunch the next day.
Another great option for low-cost meals in Japan are the conveyor belt sushi bars and the budget ramen restaurants. Make sure you ask for 'Kaidama' which means extra noodles for your broth and loosen your belt!
Japan also has its own unique chains that cook from scratch and provide really great quality. Our favourite was Hotto Motto, a take-out place where a noodle bowl topped with an egg would cost less that $5 and Matsuya where you could pick up a beef bowl with a miso soup and salad for around $3.
Alcohol is expensive in Japan. There's no getting away from that, so you're best option for savings in this area is to cut back. We got caught thinking the beer was reasonably priced by a happy hour sign outside of a bar, only to be stung with a hefty service charge when the bill arrived, so watch out for that.
You can pick up reasonably priced bottles of wine in the 7 Eleven's, so that's an option if you are staying in an apartment or accommodation where you can bring your own alcohol on the premises. Unlike many other countries in Asia, it is completely safe to drink straight from the tap in Japan. Although not having to buy bottled water won't result in huge savings, every little bit helps.
Getting Around Japan On The Cheap
Because the transport systems in Japan are so streamlined and simple to navigate, it can be easy to get sucked into using them when you don't actually need to.
With the exception of Tokyo, we were able to explore every other city that we visited by foot. With tube prices being in the region of $5 per journey this saved us huge amounts. Bring your walking shoes, it'll save you loads of money.
Most people who have travelled in Japan will recommend getting a JR Pass and for good reason. These 7/14/21 day tickets give you unlimited transfers across the majority of Japan's transport networks including trains, buses and ferries. However they are by no means cheap and would have cost us over $1,000 for 3 weeks of travel.
As we were planning on sticking around for 6 weeks, however convenient, we figured the JR Pass really wasn't a viable option for us. And that's when we found out about the overnight Willer Express buses where you can buy blocks of 3, 5 or 7 non-consecutive journeys that last for 2 months from date of purchase.
A block of 5 journeys for weekday travel cost $110 each which was perfect for us. The buses are really comfy and what's more, travelling overnight also saved us more money in accommodation costs.
Another option for getting around on the cheap is to hitchhike in Japan. This may not be for everyone, but Japanese people are incredibly kind, the country is very safe, and it's a great way to save money.
Make sure you have a sign made showing where you're going (in both English and Japanese), buy some snacks for your driver along the way, and make an effort to communicate with them.
More Tips For Budget Travel in Japan
We were so surprised at how much there was to do in Japan. A quick Google search for places on your itinerary and 'free stuff to do' will bring up lots of options.
For example, we found some awesome hikes in Hiroshima with views across the whole city, went on an excellent free walking tour from Asakusa Tourist Information Centre in Tokyo, and in Fukuoka we even had some free earthquake training at a disaster prevention centre.
You can't travel in Japan without visiting the capital and chances are you will either be arriving or leaving via it anyway. When travelling on a budget in Japan, it's best to minimize your time in Tokyo, based on the fact that, like most capital cities, it will be the most expensive place in the country.
Accommodation is more costly and you simply have to use transport to get around the vast metropolis. We spent 5 days in Tokyo and although it was a bit of whirlwind, we got to check out all the best bits of 8 neighbourhoods. Basically save any 'downtime' you want for another place.
One of the reasons we chose to travel for 6 weeks in Japan is because we know that slower travel means cheaper travel and it's no different in Japan. Unless you have purchased a JR Pass, moving locations frequently is costly.
We found that we got much better rates on the apartments we rented as well. In Osaka we actually received a 50% discount because we stayed for 7 nights. So if you can afford the time, one of the best ways to cut your daily costs backpacking in Japan is, rather surprisingly, to go for longer!
So if you've been dreaming of visiting Japan but thought you couldn't afford it, we hope you've found these tips helpful and you make the trip. Do let us know! And remember, planning and flexibility really are the keys to budget backpacking in Japan.
Like it? Pin it! 🙂