Unless you don't mind shelling out thousands of dollars if (when?) you get in an accident while travelling, having international travel insurance is definitely a good idea.
Most people purchase cheap travel insurance (without knowing exactly what's covered), or end up not purchasing any due to how difficult it can be to understand insurance policies…why do they make them so confusing?!
Choosing international travel insurance is a bit of a daunting task. In this article, I'll try to simplify things so you get a better idea of which insurance company covers what. Plus I'll answer many of your frequently asked questions, and give you some ideas of what to look for when purchasing travel medical insurance. And, I'll share my top 4 international travel insurance picks.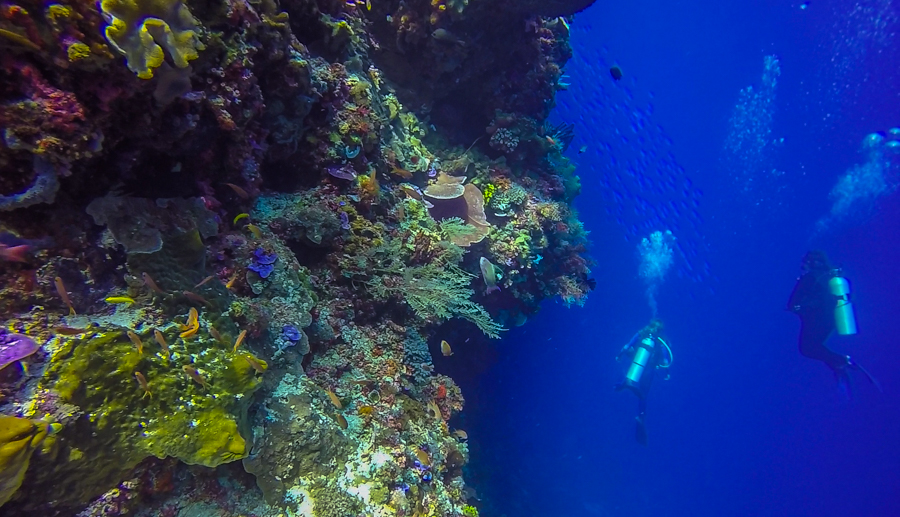 *Note: It's very important that you read YOUR policy to see what is covered — and what isn't. Each traveller's circumstances and coverage will be different. Always do your due diligence before purchasing travel insurance.
Is International Travel Insurance Worth It?
Short answer? Yes, absolutely.
To be completely honest, in the past we've only purchased travel insurance sporadically. We figured, hey, we're in Mexico and it's cheap to visit the hospital, so there's no need to buy travel insurance. But, once we spoke to people who have had horrible accidents abroad, we started to realize just how stupid we were.
Sure, visiting a doctor in Mexico and getting medication will only cost around $20-$50, and we paid about $200 in Thailand, but that's not the only reason to have travel medical insurance. The main reason is for more serious accidents and events that can happen abroad – especially when you're in the middle of nowhere.
Not to mention, in some countries, international travel insurance is mandatory. Cuba, Qatar and Ecuador are a few countries that require you to show proof of travel insurance before entering the country.
A good travel insurance policy will cover you for emergency evacuation and flights to a hospital that's able to handle your medical condition. There's accidental death benefits (ie: money paid to your estate or whoever you direct in your will), crisis response, political evacuation, natural disasters and much more.
Many policies cost around $2 – $4 per day.
If you can afford to travel, you can afford $2 – $4 a day. So, there's really no excuse!
What Does International Travel Insurance Cover?
You really want to make sure you read the fine print of your travel insurance policy. All policies are different and while you may be covered for something with one company, you might not be with the next. It also depends on the actual type of policy you decide to purchase.
Different companies cover different things, so make sure you read your policy to ensure you're insured for all your needs.
In general, you should be looking for a travel insurance policy that covers the following:
Emergency evacuation
Hospital room and board
Intensive Care
Local ambulance
Adventure activities – ensure that you're covered for exactly what you plan to do. Some policies have exclusions to depths you can scuba dive, and altitudes you can trek, for example.
Outpatient care (physiotherapy, chiropractor, etc.)
Emergency dental care
Crisis response – ransom, kidnapping, etc.
Terrorism
Natural disasters
Accidental death benefits
Return of your remains
As a bonus, some international travel insurance providers cover things that aren't medical related, such as:
Lost luggage
Trip interruption
Trip cancellation
Rental car damage protection
Stolen baggage
We've personally made claims for visits to massage, chiropractor, acupuncture and hospitals abroad. And, since we had a plan with $0 deductible, we received our money back. On the flipside, since we had $0 deductible plans, our monthly insurance costs were higher.
You'll also want to make sure that your policy includes global assistance, 24/7.
Which Travel Insurance Is Right For Me?
Are you planning on trekking at high altitudes, scuba diving or doing any extreme sports? If so, you'll want to ensure that you're covered for any accidents that might occur during those activities. World Nomads has a reputation for being the best for adventurous travellers, as they cover pretty much every adrenaline-inducing activity you can think of. If you're from the UK and Europe, True Travellers is another excellent insurance option for backpackers.
Something else to consider is whether or not you'll be riding a motorbike / scooter during your trip. For most people to Southeast Asia, this will be your primary mode of transportation and is a fun way to see the countries you'll visit. However, not all policies cover motorbike and scooter accidents. World Nomads does (if you have the proper driving licenses).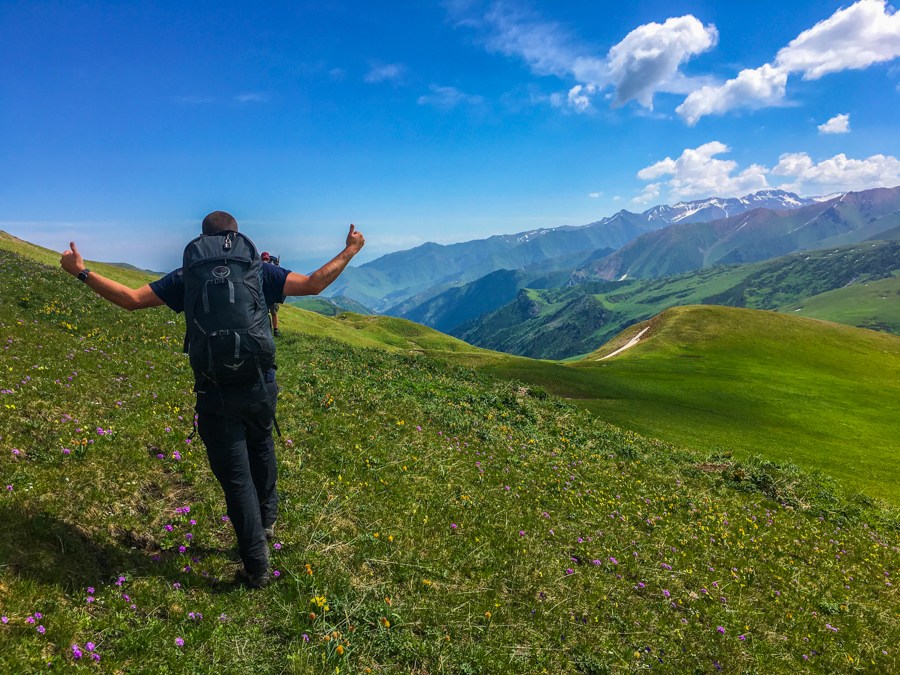 If you're not a resident of your home country anymore (most digital nomads aren't), and are looking for an affordable plan, Safety Wing is a great option. They even cover you when you're visiting your home country.
If you're a Canadian citizen and you purchase expat travel insurance with Allianz, you're not actually covered when you return to Canada for a visit / holiday! (I'm not sure about citizens from other parts of the world, so make sure you ask).
We only realized this just a few months ago, which is part of what inspired me to write this post. We bought this insurance specifically for our trip to Canada and the USA. Turns out, we wouldn't have been covered at all during our one month visit to Canada.
Read the fine print and choose an international travel insurance policy that covers everything you need.
How Much Does International Travel Insurance Cost?
What you'll pay for travel insurance depends on a few factors, with the main ones being your age, your place of residence, where in the world you'll be travelling, the length of the trip and the company you purchase with.
Here's an example of how varied your travel insurance can be. I'll compare 3 companies using this information:
Travel date of February 1 – March 1
Travelling to Thailand
Country of residence is the USA
State of residence is New York
"Basic" or "standard" plan chosen
World Nomads Insurance:
If you're 67 years old, you'll pay $116.16.
If you're 35 years old, you'll pay $113.16.
Click here for a free quote, no matter your country of residency.
Safety Wing Insurance:
If you're 67 years old, you'll pay $127.68.
If you're 35 years old, you'll pay $36.96.
Click here for a free quote, no matter your country of residency.
Allianz Insurance:
If you're 67 years old, you'll pay $275.
If you're 35 years old, you'll pay $179.
Click here for a free quote if you're an American Citizen. Click here if you're a Canadian citizen. Click here if you're a UK citizen. Click here if you're an Australian citizen.
True Traveller:
*Note, True Traveller only insures residents of the UK and Europe.*
If you're 67 years old, you can't be covered (only up to 65).
If you're 35 years old, you'll pay $124.28.
Click here for a free quote if you're from the UK or Europe.
As you can see, how much you'll pay really depends on your age and the insurance company you choose. Some policies don't cover people who are residents of certain places, or are a certain age. Prices often vary due to the amount of coverage you have (ie: $250K vs. $1M), and whether or not you have a deductible.
If you're from Quebec, Canada, World Nomads won't cover you. If you're from the United Kingdom, you must be under 65 years old in order to qualify for travel insurance.
Everyone's circumstances are different, which is why it's so important to get a number of quotes and read the policies before choosing an insurance company.
How Do I Buy Travel Insurance?
Purchasing travel insurance is simple. You can start by contacting a few insurance companies to get a quote, and when you decide on the company you want to go with, you provide your travel details and provide payment. Within an hour, you'll have your insurance policy in your email inbox.
Many companies allow for changes to your policy before the effective date. Allianz allows changes for 10 days before the insurance policy starts.
With some companies, you can purchase the policy while you're already travelling and can extend while you're on the road. You'll want to make sure your company allows this, as with some insurance policies, you must return to your home country first.
Important Questions To Ask Before Buying
When we first purchased international travel insurance, we didn't even think to contact the company and ask any further questions. We just read (some of) the small print and went ahead and booked. Having been on the road now for over 10 years and tried out a few different travel insurance providers, we now know there are some questions you should definitely have answered before buying:
1. Will this insurance cover me while visiting my home country?
2. If I'm in the Amazon (or any other remote area) and fall and break my back and have to get airlifted to hospital. Will this insurance cover me for ALL expenses?
3. Will this insurance cover the cost of transporting me back to my home country if I suffer a serious injury or illness? – or just to the nearest hospital?
4. What happens when I need medical treatment? Can I go to any hospital or doctor or only those approved by the insurance company?
7. Does this insurance cover me for adventure activities? Are there any exclusions?
8. What happens if the company goes out of business? Will I still be insured?
9. Is the deductible per claim, or per trip?
Travel insurance companies want your business, don't be afraid to ask them any and all questions you may have.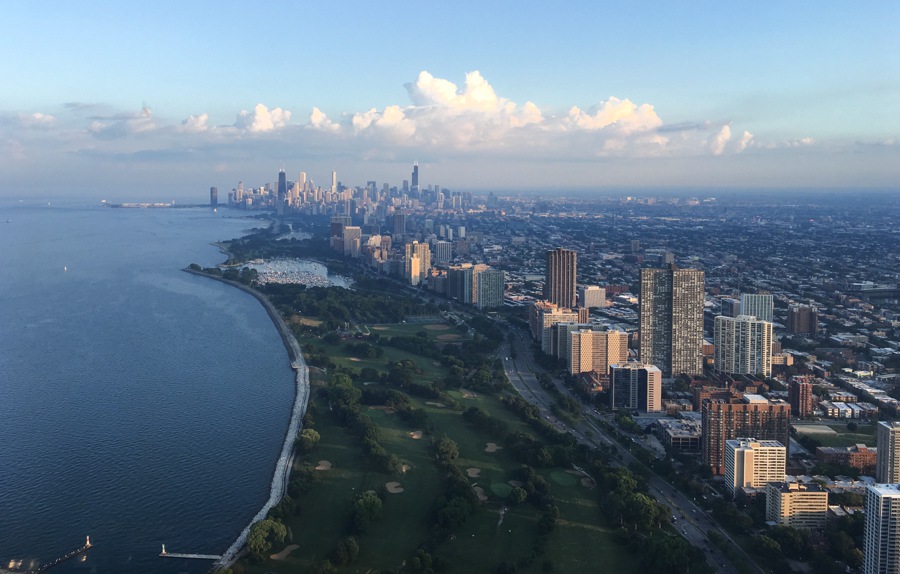 Which International Travel Insurance Is the Best?
There are numerous travel insurance providers out there, and it's important that you find one that suits your needs and the type of trip you're embarking on.
If you're a digital nomad and / or long-term traveller, Safety Wing is a great option.
If you're into adventure activities and are heading off for a few months, World Nomads is a good bet.
If you want all around great coverage, with a well-known brand (at a higher premium), then Allianz might be right for you.
If you're into adventure activities and are from only the UK or Europe, True Traveller is a good option.
Here's a breakdown of these four travel insurance companies. Of course, you'll need to ensure you read the policies yourself, but here are some of the main pros and cons:
Safety Wing
This is a relatively new player and is one of the best international travel insurance for digital nomads, freelancers and long-term travellers. If you don't have residency and healthcare in your home country, Safety Wing is a good bet. If you're between 18 and 39 years old, this is the cheapest policy you'll find.
Pros of Safety Wing:
You don't need to be a resident of your home country. This is great for digital nomads who don't have a permanent home.
Costs are low. At $37 / month for those aged 18-39 it really is an economical price.
The cost is the same whether you purchase 1 month or 1 year of coverage.
Rather than having to pay one large lump sum up front, you pay monthly.
They offer auto-renewal. It's like a subscription service, which is great because you can cancel at anytime and don't need to set an end date (unless you want to).
The insurance is underwritten by Lloyd's in partnership with Tokio Marine HCC. Reputable insurance companies are important.
The policy and website are easy to read and understand.
Private doctors and hospitals are covered.
Coverage in your home country is provided. If you're a resident of the USA, you'll be covered for 15 days out of every 90 days you're on the insurance policy. Outside of the USA, you'll allowed 30 days in your home country.
In addition to medical coverage, you'll receive travel benefits, including trip interruption, travel delays, lost checked luggage, natural disaster and political evacuation.
Most claims aren't susceptible to the $250 deductible.
Cons of Safety Wing:
If you travel to the USA, you need to add on $1.10 – $4.40 extra per day depending on your age.
There's a deductible of $250 per policy.
Maximum coverage of $250,000. Soon they will offer a one million dollar coverage option.
Many activities aren't included. In particular, trekking above 4,500m, kite-surfing, ice hockey, American football, soccer (football), and scuba diving past 10m.
If you're an adventurous traveller, this isn't the best insurance policy.
Motorbikes and scooters are covered in the policy but you must hold a proper license.
Click here to read the full insurance policy.
Click here to learn more about Safety Wing and to get a free quote.
World Nomads Travel Insurance
If you are a Lonely Planet guidebook fan, you'll know that this is the company that they frequently recommend. We went with World Nomads in the past and were able to easily make a claim, and extend our coverage while we were on the road. If you're a backpacker or adventure seeker, this is the company you'll want to choose.
Pros of World Nomads Travel Insurance:
While they don't offer the cheapest plans out there, they definitely aren't the most expensive.
You can obtain and extend your policy while on the road – no need to return home.
Many adventurous activities and sports are covered (make sure you get the right plan).
In addition to medical, you're covered for baggage delays, trip cancellation or interruption, stolen baggage, assault, stolen electronics while under your supervision and more.
The policy and website is easy to navigate and understand.
A popular and highly recommended travel insurance company.
Cons of World Nomads Travel Insurance
You need to have health care in your home country. This is a huge con for us as we aren't residents of Canada anymore and therefore don't have provincial healthcare. We can no longer use World Nomads Insurance.
They have two different plans: Standard and Explorer. I feel some of the items on the Explorer package (which costs quite a bit more), should be covered under the standard, such as scuba diving and snorkelling.
Motorcycle and scooter accidents aren't covered unless you hold a valid motorbike licence from your home country and one from the local country (in most cases).
There's not one standard underwriting company for World Nomads. Which company you are insured with (including inclusions and exclusions to policies) depends on which country you're a resident of.
You're only covered for 1 trip home during your travel insurance policy.
To get a discount, you'll need to book and pay for your insurance in advance.
Age restrictions on coverage.
Click here to get a free quote with World Nomads Insurance.
Click here to read the full policy (for US residents).
Allianz International Travel Insurance
This long-standing company is reputable and offers numerous types of policies. They offer great insurance plans for expats as well. We personally purchase our Expatriate Travel Insurance through Allianz, as they offer affordable plans (around $2/day), with $500K coverage and the adventure activities that we partake in are covered.
The expat plans are different from the travel insurance plans – in terms of costs and coverage.
Pros of Allianz Travel Insurance:
They offer different levels of emergency transportation coverage – up to $2M dollars.
Up to $500 coverage for stolen baggage.
Trip delay coverage of $150 per day is offered for airplane delays due to bad weather, natural disasters, etc.
A reputable, long-standing company.
Making a claim is simple.
Cons of Allianz Travel Insurance
One of the more premium insurance providers, meaning they cost more.
Travel to the USA and Mexico is an additional daily fee.
You are

not

covered when you travel to your home country if you are an expat. (this is true for Canadians, check Allianz for your country of residence).
Trip interruption is covered, but only for medical or natural disaster reasons. No compensation for an airline, cruise or tour cancellation.
Click here to read the full travel insurance policy with Allianz for Americans. Each country is different, make sure you read the policy applicable for the country your are a resident of.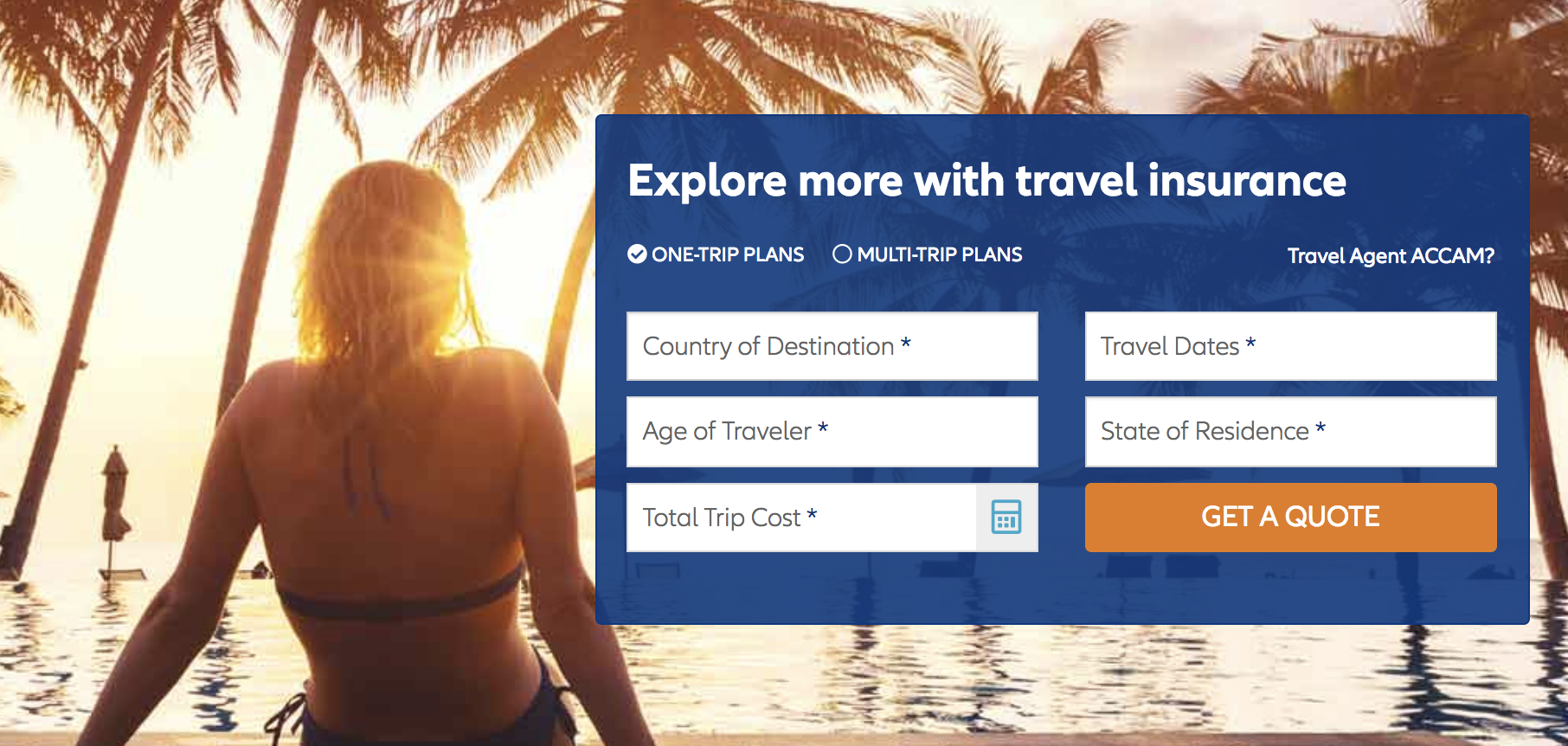 True Traveller
If you're a resident of the UK or many countries in Europe (including France and Germany) and are a backpacker who loves adventure activities, then True Traveller is a great insurance option.
Pros of True Traveller:
They cover many adventure activities
High coverage amounts – up to 5 million GBP
You can purchase a policy even if you're already abroad
You can choose policies to have a deductible, or not
Insured by Allianz Global (as I said above, a reputable Insurance brand)
24/7 medical assistance
Cons of True Traveller:
They only cover UK and European citizens
You need to add on "packs" to your policy to ensure you're covered for the right activities and interruptions
Click here to read the insurance policy and see if it's right for you. Or, click here to learn more about True Traveller.
Insurance Hotline
If you're Canadian, you may want to check out
Insurance Hotline
. This is a comparison site that will compare travel insurance quotes and buy the right medical coverage for your trip online. They claim that on average, customers save up to 50% using their service. They offer travel insurance, car insurance and many other types of coverage. On average, they offer quite good prices as well.
Travel insurance costs on average for Insurance Hotline:
• $22.20 for a 10-year-old traveller
• $41.16 for a 35-year-old couple
• $42.24 for a family of four
Most policies cover the following:

• Emergency medical expenses
• Emergency trip cancellation and interruption
• Lost baggage
• Emergency transportation to a hospital
• Hospitalization and emergency room fees
• Medical examinations such as x-rays
• Transportation back home after a medical event
• Flight delays and cancellations
Travel With Peace of Mind
I hope that this article helped to answer some of your burning travel insurance questions. No matter which company you decide to choose, just make sure you read the fine print of the insurance policy, and utilize the support staff. That's what their job is! Ask any and all questions you might have to ensure you know what you're purchasing. Happy and healthy travels.
Like This Article? Pin it!