We've had lots of emails and comments sent to us about the cost of living in China. With practically everything being made in China due to the cheap cost of labour and materials, most people envision China as being a very affordable place to live. If you're one of those people, you would be correct…mostly.
Note: The cost of living in China is very low and by finding teaching jobs in China, you can save a lot of money. But there are plenty of jobs out there that will allow you to work from anywhere! Check out our epic list of 101 Travel Jobs to find out detailed information about 101 amazing jobs. Find out how much each job pays, where to find work (ie: online registries, job boards and websites) as well as what the work entails!
We live in Yangzhou, China, a not-so modern city of about 5 million people with little draw for foreign tourists and not many expats. So, the cost of living here is much less compared to the more commercialized, metropolitan cities of Beijing and Shanghai. For the major cities, take these numbers and add 50% or more. Check out this website for the cost of living in Shanghai and other parts of China.
[widget id="shortcodes-ultimate-2″]
Here's a breakdown of our costs of living while teaching English in China (all costs are per month unless stated, and are quoted in US dollars):
Apartment Rent (88 square meters):   $322.58
Agent Apartment Finder's Fee (one time payment, 1/2 of one month's rent):   $161.30
Property Management Fee (1 rmb/square meter):   $14.19
Internet:   $16.12
Utilities – Water:  $5
Utilities – Electric:  $50
Cell Phone:   $4.00 (Pay as you go plan. This amount allows for lots of texting and some local phone calls.)
Health Insurance / Year (basic coverage):   $242
Haircut:   $5.65 ($1.80 at a barber)
New Bicycle:   $56
E-Bike:   $245
Taxi Fare:   $1.13 to start, plus $0.32/km (after 3 km)
Bus Fare:   $0.16
Gym Membership / Year:   $240
Dinner At A Nice Chinese Restaurant With Beer:   $7.25
Local Snack Food (dumplings, steamed buns, soups, etc.):   $0.80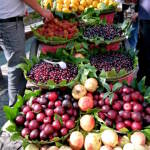 Purified Water (18L jug):   $0.97
Bottle Of Local Beer At The Shop (650ml):   $0.36
Bottle Of Imported Wine:   $10
Fruit & Vegetables From The Market (a big bag full):   $3
Groceries (including buying imported western foods):   $325
There you have it. The cost of living in China in a nutshell. Surprisingly, the cost of buying new clothing isn't as cheap as you would assume. A new jacket or a pair of nice boots are about $100 and the cost of name brands such as Nike or Levis are the same price as they would be in a western country.
Imported foods and goods are also quite expensive. Do as the locals do and shop online, that's where the best deals on clothing, books, some foods and other random items can be found. Check out www.taobao.com or www.alibaba.com for deals.
***Note: We have a combined income of $3,000/month. We take day trips to nearby cities, frequently eat at restaurants, drink lots of wine & beer and buy imported western foods. We are able to save half of our earnings each month. China is definitely affordable!
For more information on how we were able to save $21,000 in a year while teaching English, click here.
Hopefully this helped answer some of your questions about the cost of living in China. If we missed something, let us know.
Not sure if you want to pack up your life and move to China? There's another option – you can Teach English online from home, or anywhere in the world! If you're from Canada or the United States, check out VIPKID and get paid to teach English online to Chinese students. If you're not from North America, don't worry, you can still teach online. Check out our article for details:
Like it? Pin it!