I'd never been on a motorbike with more than two people before 2009, but nowadays it surprises me to see one go by with two or fewer passengers. Whilst you do start to expect to see sights like this living in Thailand, there are some things that the western eye/mind will never quite get used to.
Almost every day I see things that either make me chuckle or make my jaw drop. In fact, I often wish I had a camera permanently attached to me, or some of those Google glasses things so I could document all of them and share with people back home.
While on the Tru Travels Tour, the group of us stay in Bangkok at a guesthouse a stone's throw away from the debauchery of Khao San Road. It is far enough away to get a good night sleep if needed, but also close enough to roll home in a bucket fuelled state if you decide to go out and sample it.
☞ SEE ALSO:
Khao San is one of the top things to do in Bangkok, and due to the sheer variety of people here from all over the world (or universe as it sometimes appears), it is perhaps one of the best people watching spots I know of and it's always a laugh just to sit and have a beer while the madness unfolds.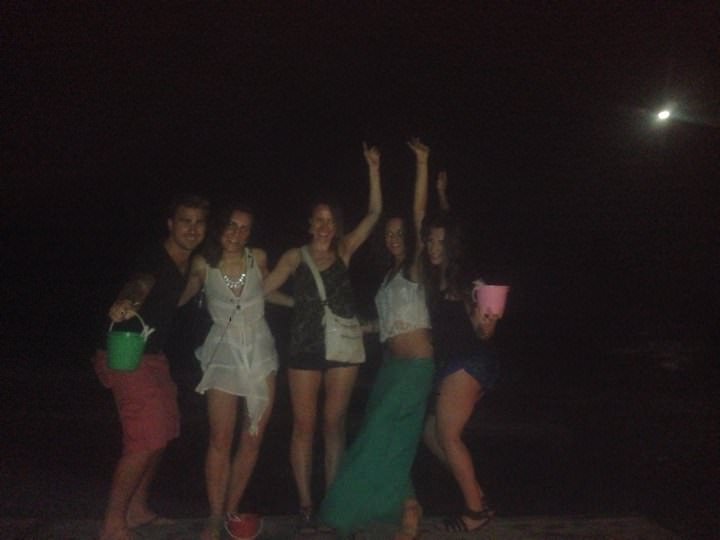 One of the bars at which you are almost guaranteed to meet people and see some interesting sites is the Khao San Centre Bar. From here you can easily see some of the odd goings on in the street which to me never get old. For example, the look on the drunken foreigner's face when he realizes that the beautiful Thai girl he's scored for the evening is actually not a girl at all!
One of the things that does get old quite quickly though are the ever persistent street vendors, particularly the little Thai ladies hell-bent on selling you wooden frogs which mimic ribbeting sounds. At first these women are amusing, then they become annoying, before finally, after countless trips to Bangkok, they become strangely endearing. No matter how many times they have seen you however, they will continue to brandish the wooden frog six inches in front of your face, repeating "YOU BUY NA' YOU BUY?" or just making the bloody frog noise over and over.
A sight which is bound to impress no matter how many times you see it is the Bangkok B-Boys showing off their breakdancing skills on the street. Each night these lads put on a 10 minute show at least 6 times up and down Khao San and the surrounding streets to try and earn some coin from the sight-seers and party-goers. You can tell where they are from a mile off because they always have a large crowd watching and it is easy to see why, every time I see them, these guys make me stop and stare whilst they perform amazing feats of acrobatics, strength and funk.
The madness doesn't stop in Bangkok however, even today after living here for a good few years, bus, car and TukTuk journeys can sometimes seem a bit like you're slipping into the seventh circle of hell. I'm a firm believer in keeping your eyes away from the road… Luckily as I write this blog, I can't see the road as I'm curled up in the aisle of a bus due to the ticket office thinking they had seats left when apparently they didn't…ahh Thailand!
[widget id="shortcodes-ultimate-5″]
Because of this lack of road rules, we take the overnight train down south to Surat Thani when we leave Bangkok on the tour. Along the journey several vendors get on and off the train and try to sell us beer and other refreshments. Every time I get on it I tell myself that this time I won't succumb to their charming sales tactics, however, every time the same guy manages to convince me to buy a beer by pressing the cold can on my arm, saying 'yen makmak' (very cold) and bearing his gigantic toothless smile, that Thai smile which to this day I find it so hard to say no to and which the country is well renowned for.
Of course it's not just the unusual things that make my jaw drop, when we get off the train, we head to the unbelievably beautiful Khao Sok national park. A hidden gem tucked away in Thailand's mainland which most backpackers and visitors to Thailand never even hear about, let alone get to visit.
Every time I travel there with a group I gawk in amazement at the surrounding scenery which reminds me of something from Jurassic Park, frankly you half expect to see a T-Rex burst from the jungle, thankfully though this hasn't happened just yet. After a boat ride and a swim beneath the beautiful karsts we spend the day kayaking or floating in tubes on the giant fresh water lake and the night in floating bungalows under the mountains and stars. Waking up in the morning to see clouds drifting below the peaks and stepping out straight into the lake for a morning swim is something else that will never get old.

If you are heading to any of the Thai islands as we do after Khao Sok, you will almost certainly see a few 'fire shows'. These always take place outside beach bars and consist mainly of Thai/Burmese guys with fire sticks and 'poi' (balls on chains) which they set on fire and spin really quickly.
I have honestly lost count of the number of fire shows I've now seen in Thailand (also the amount of times I've tried and failed to spin fire), each and every resort or beach bar seems to have their own army of fire boys who spin fire every night to the music playing on the beach.The fire shows are always impressive (especially if you have not seen one before) and usually make you stop and order a drink.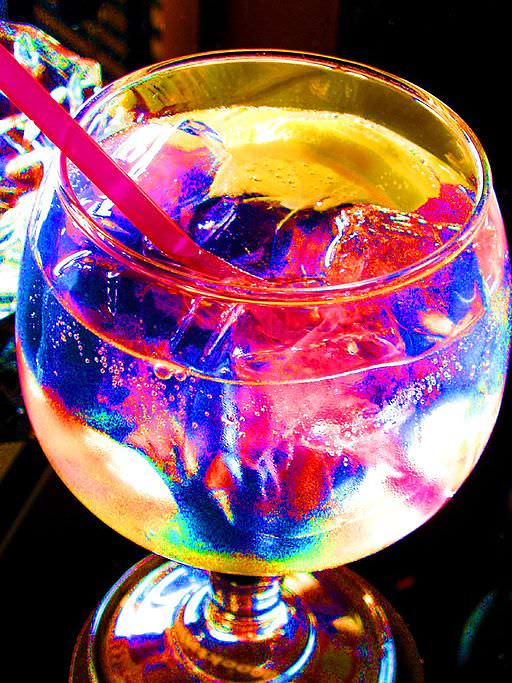 One of my favourite fire dancers is a guy called 'Babu' who is our host at the idyllic 'Bottle Beach' on the island of Koh Phangan. Being one of the most secluded beaches on the island, the atmosphere is unsurprisingly so relaxed that most of the staff and visitors appear horizontal for most of the day. Babu himself may not be the fastest fire spinner I've seen but he does have a certain elegance about his movements as he spins the poi to ambient music as we sip on whiskey and watch the tide roll away.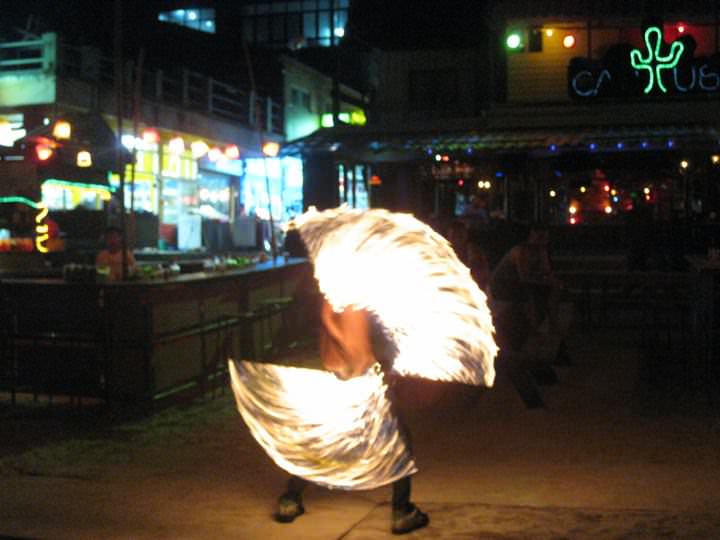 During the last few days of the tour we take the group around the island to the various lesser known spots where you can visit waterfalls, see monkeys, snorkel with schools of fish or sit on an empty white sandy beach. It's always nice to show to people places like these on an island which is so renowned for its party scene and the various horror stories which have come about over the years.
When the group actually see that there's many more things to do in Koh Phangan than whiskey buckets and glow paint, and we visit spots like 'Koh Ma' or 'WiangSai Waterfall', I can't help but remember how special a place Koh Phangan still truly is.
One of the greatest things for a foreigner visiting Thailand is often the price of everyday things like food and beer. It still surprises me how cheap you can eat for here and often when I visit a restaurant with a group of people (despite the fact that I usually know how much almost everything on the menu is) the total price on the bill will make my jaw drop.
In some places, food and drink for up to eight people can be as little as £20, one of these places is 'My Friend' restaurant in Haad Rin, Koh Phangan which is not only cheap but also delicious!
One of the things my mate's dad noticed recently when visiting Thailand is that there is often no relationship between price and quality of meals – in some places people naturally expect a meal to be better quality if it is more expensive, however in Thailand you can easily get a curry or a pad thai for £1 which tastes 10 times better than one bought from a 'posh' restaurant for £10.
This is especially true in the more touristy spots as there are more and more 'western' style restaurants popping up to cater for tourists which charge several times more than the shack next door for the same meal. This is why it's good to know some of the spots where the locals go so you can eat tasty, authentic Thai food without stretching your backpacking budget!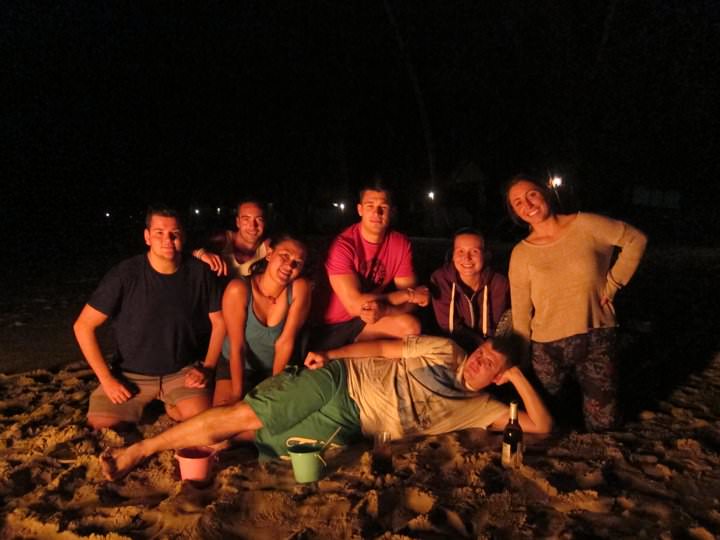 Most backpackers coming to Thailand will have heard of the Full Moon party and many will plan on going to one.  Due to the fact that we finish the tour in Haad Rin and have a permanent base there, I am often on the full moon beach and get to experience the party and the build up to it most months.
There are just too many things about both the party and its attendees that either make me laugh or make my jaw drop (or both) to list here, but the one that you will notice immediately on arrival is the sheer number of people who turn up.
Every month around 20,000 people (some months up to 50,000) flock to Sunrise Beach in Haad Rin for an evening of whiskey buckets, neon paint, fire shows, foam parties and dancing. I must admit I am not the biggest 'HaadRin-er' and I like to get to some of the lesser known parties on the island when I can, but no matter who you are, you can't help but smile when you see a party of that scale, and that number of people dancing/staggering around on one of the most beautiful islands in the world.
So, these are just a few of the many things about Thailand that never fail to surprise/amuse/inspire me. There are many, many more and those of you who have not yet visited Thailand or Asia will certainly be gawking in amazement at the sites you will see. In fact, one of the best parts of my job is seeing people's reactions when we take them to these amazing places and hearing their feedback at the end of the week when they tell me what an awesome time they've had. This will never get old and is very much part of the TruTravels philosophy.
We want not only to give people peace of mind that their first weeks in the country are completely taken care of and they will not be travelling alone, but we also want to give them the experience of a lifetime and show them places & things they probably wouldn't find on their own. Unlike many conventional, longer tours, ours give people the option to travel as part of a group and independently.
We do not hold you to rigid timescales/itineraries and our tours are short so you can get used to the country with us and then go on to do some travel on your own or with your new travel mates if you like. We will even give you loads of advice on where to go, how to get there etc. so you can have a bit of expert help planning the rest of your trip.
So, whilst it does sound a little cheesy, amongst the many things that make me feel lucky to be where I am is having the opportunity to show people cool stuff, share my knowledge and experiences, and genuinely help give people some of the best times of their lives.
For those budding backpackers out there, I urge you to take the leap and explore the weird and wonderful charms of Thailand with us and check out www.trutravels.com for more info. You won't regret it and no matter what your reaction to the madness, I assure you, it's a madness that will stick with you forever and leave you wanting more.
See you on the beach!
This article was provided by Luke of TruTravels. He is an expert on Thailand and currently travels around the country guiding TruTravel's tours.
The ultimate backpacker tours of Thailand 8-18 days from £400
Like this Post? Pin it!