The Japanese bath (or Sentō) has long been an important part of Japanese culture. Traditionally, Japanese baths were used more out of necessity than out of pleasure as most people didn't have access to a bath in their home.
At that time every neighbourhood in all of Japan had a public batch where the residents could go to bathe, socialize and in many cases, do their laundry.
Since the end of the 20th century, these public baths have been rapidly closing due to high running costs and fewer customers. One thing that could help them to stay open would be if more tourists would visit and express interest in this unique and fascinating part of local culture.
The issue for many is that these baths, while separated by sex, are nude by requirement so many westerners who aren't used to bathing naked with strangers are immediately put off by the thought of a Japanese bath.
But for the traveller who sheds the institutionalized timidity of nudity and enters a Japanese bath with the locals, there is a wonderful opportunity to dive one level deeper into the complex nature of culture in Japan. See what it's all about in our video here, and continue reading below.
On our recent trip to Tokyo, we visited 3 separate Japanese baths. We were invited by the Tokyo Sento Association to experience these popular, tourist-friendly sentōs and share them with our readers and viewers. We visited the bathhouses with a man who has been to over 500 different Japanese baths around the country and whose mission is to see every single sentō in Japan.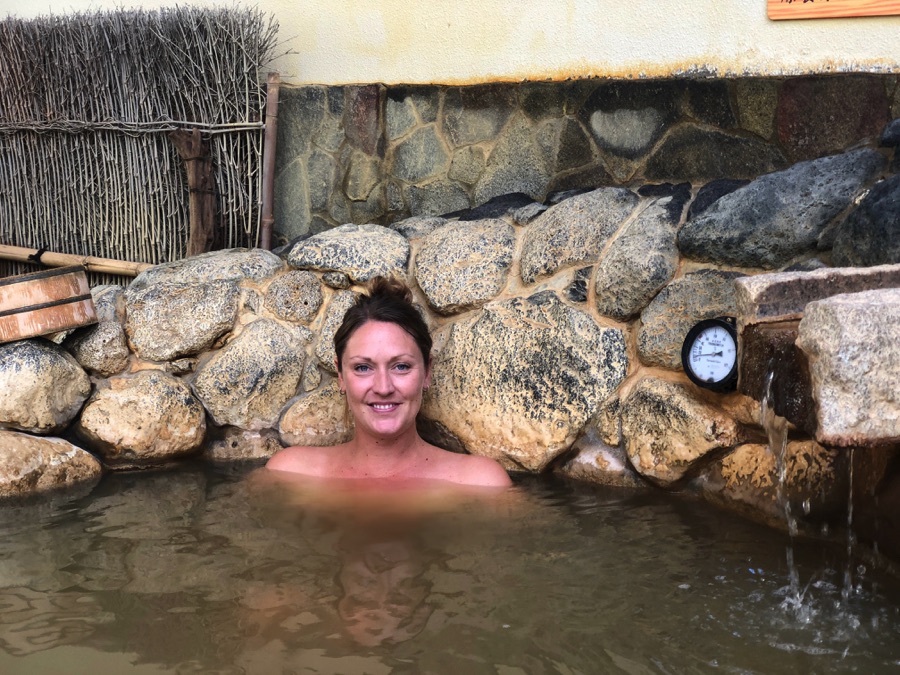 In this post, I'll share with you the do's and don'ts of visiting a Japanese bath in an attempt to demystify the sentō. Hopefully, the next time you visit Tokyo, visiting a sentō will be on your list.
The Two Main Types Of Japanese Bath
A lot of people who visit Japan plan to head to an onsen, this is one of the top things to experience in Japan and is a great way to meet people and enjoy the natural thermally heated water. But this is not the only type of place you can bath in Japan and the one that I'm mostly focusing on in this post is the sentō.
The Onsen
The Japanese onsen is a traditional, geothermically-heated hot spring where many people, both foreigners and locals, choose to bathe. There are thousands of onsens around the country and these facilities can be found in hotels and spas as well.
Onsens are also separated by gender and you'll still be expected to take off all of your clothes and bathe with nothing more than a face towel as per traditional Japanese bath etiquette.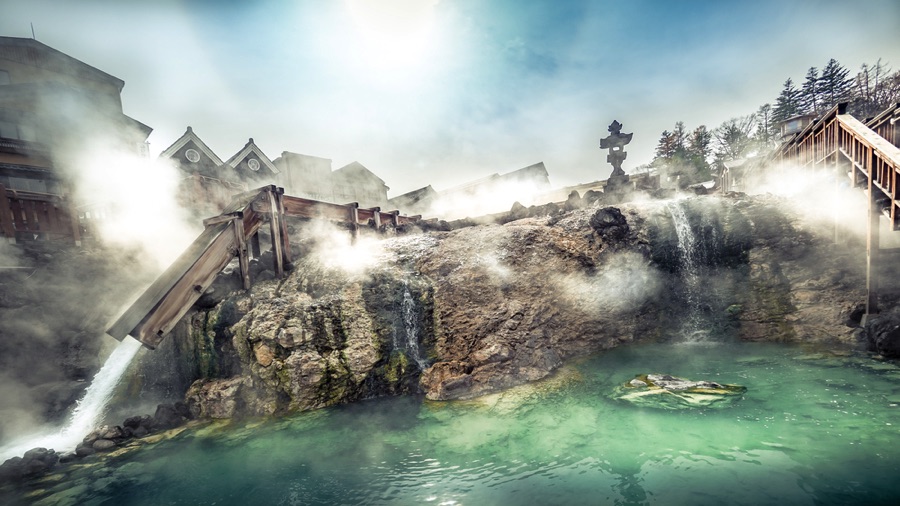 The word onsen in Japanese means "hot + source" so to officially be labelled an onsen the water must be at least 25°C at the source. The facility must also meet strict criteria relating to the mineral content of the water including the levels of metaboric acid and hydrogen ion.
The Sentō
The sentō is a bath consisting of regular tap water that is heated by flame or electricity. While there are some sentōs around Tokyo and the rest of Japan that include a bath with geothermically heated water, it is not a requirement.
This means that, while many onsens are restricted to rural areas that have direct access to the volcanically heated source, sentōs are typically found in densely populated areas, neighbourhoods and suburbs as they only need to have a water heating system to run.
History Of The Japanese Bath
In the Nara Period from around 710 AD, Japanese baths were referred to as yūya or holy baths and were typically built inside of temples. It wasn't until the Kamakura period in 1185 – 1333 AD when people who fell ill started to see the medicinal benefits of the Japanese baths and were slowly granted access to the temples to soak in the healing water.
Soon after the ill were permitted entrance into these holy temples, so too were wealthy businessmen and merchants and over time, this gave way to the first public bathhouses which began opening at the beginning of the 13th century.

By the Edo Period in 1603–1867, Japanese public bathhouses had spread across the country and the act of bathing naked with others was firmly woven into the social and cultural fabric of society.
From that time until the end of the 20th century, public bathhouses were the norm and people would visit them multiple times throughout the week. After WWII, many houses were damaged and more and more people started relying on public baths. Their popularity peaked in the 1970s before they started seeing an increasingly steep decline.
Just 30 years ago there were likely more than 2,000 Japanese bathhouses operating in Tokyo alone, while today there are fewer than 600 open for business.
This is mainly due to the fact that many newer Japanese homes are built equipped with western style private bathrooms. These days sentō owners can barely afford to keep the businesses running, which in many cases have been passed down in the family for generations.
Don't Miss Our Other Tokyo Travel Articles
The Cost To Enter a Japanese Bath
The cost of entering a sentō will vary between ¥350 and ¥470 depending on the prefecture it is located in.
As of 2019 all sentōs in Tokyo charge ¥470 ($4.30) for basic entrance, while many have additional treatments like hot stone and sauna at an additional charge. You can also usually rent towels and buy bathing toiletries in the main lobby of the sentōs.
How To Enter a Japanese Bath
Okay, so you've finally decided that you're going to leave behind your fear of being nude around strangers and you're going to go and have the unique and fascinating experience of a Japanese bath.
But, what do you do when you get there? Don't worry! It's simple.
Here are the 5 steps that you'll take when entering any sentō in Tokyo or around the country.
Step 1: Take Off Your Shoes At The Door
Before entering the lobby of the bathhouse you'll see an area with many lockers. This first set of lockers is for your shoes only.
Remove your shoes in the designated area and place them in the locker while taking a key. In most cases, you'll have to put a ¥100 coin into the locker to lock it and retrieve the key. This ¥100 will be returned to you when you are finished using the locker. The shoe lockers are still in the lobby, so keep your clothes on until you reach the change rooms.
Step 2: Pay The Fee
Next, you'll enter into the main lobby and waiting area of the sentō. You may see a lot of people sitting around and drinking milk. That's because they have already finished a bath and Japanese people typically enjoy milk as their beverage of choice after a long soak.
In this lobby area, you'll see a reception area and/or a vending machine where you can pay to enter. The fee for entering a sentō in Japan is regulated by the prefecture you're in, so in Tokyo for example, all sentōs will cost you ¥470 (around $4.30 USD).
In most cases, you can also rent towels from reception and buy shampoo and soap if needed, but most Japanese people bring their own.
Step 3: Enter The Changing Room, Remove Your Clothes & Place Them In a Locker
There will always be two sets of change rooms in a Japanese bath, one for men and one for women. In most cases, there will be an illustration near the entrance to tell you which room is for which sex, but sometimes there are only Japanese Kanji characters (男 is Men, 女 for women). If you're ever confused, simply ask reception or another customer where to go.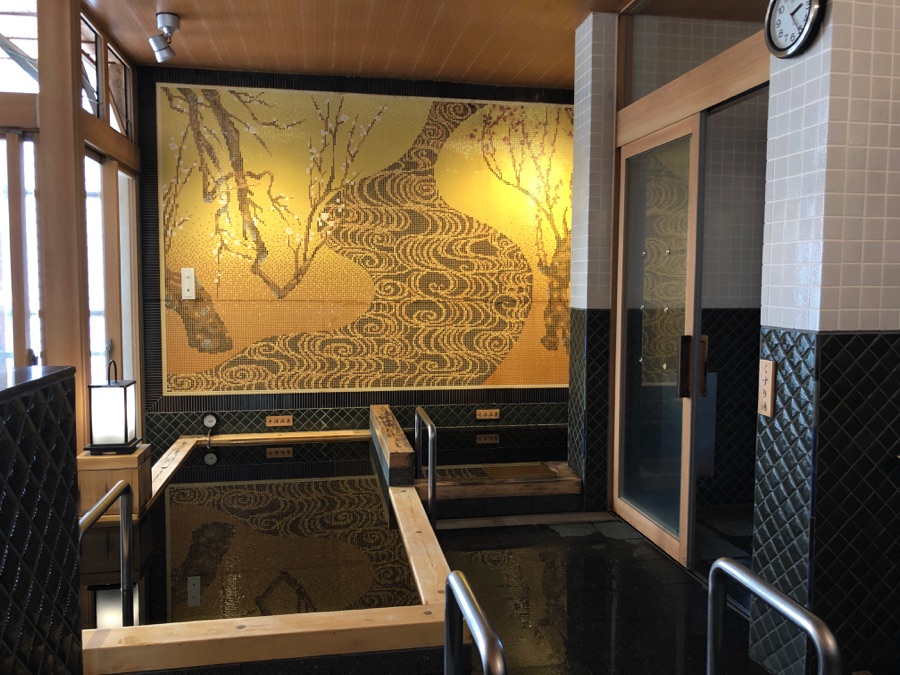 Once in the appropriate change room, remove all of your clothes (including your underwear) and lock them in the lockers provided. In very rare cases there will be no lockable area, in which case you will place your things in a basket and there will be a designated person there to watch over them.
Step 4: Enter & Shower Off
With your bathing items like soap, shampoo and (if you chose) a small hand towel, enter into the bath and head straight to the showers.
Here you will wash off before entering into the sentō. As mentioned earlier, it's a good idea to completely clean yourself here before entering into the baths. Remember to sit down on the stools provided while showering. If you don't see traditional western showers, look for a bucket shower.
Step 5: Pick a Bath and Relax
In most sentōs around Tokyo and the rest of the country, there will be a few different options for bathing. In the baths we visited, there were black water baths, hot spring baths, clear water baths, nano-bubble baths, saunas, jet tubs and more. It's not uncommon to soak in all of the different tubs during a single visit to a sentō. Don't be too alarmed if Japanese people strike up a conversation with you. It is normal to be very social in these intimate situations in Japan.
Japanese Bath Do's & Don'ts
The last thing a tourist wants to do is enter a bathhouse completely naked in a foreign country and accidentally upset someone or break the rules.
Luckily, Japanese people are extremely friendly and welcoming and the rules are simple. You're not likely to offend anyone at a sentō in Tokyo, or anywhere else in Japan. Having said that, here are a few basic guidelines about Japanese bathing etiquette to help you on your way.
DO Get Naked
I know, I know, it's not easy for us Westerners to get naked around strangers! I am the same way. The first few times I entered public baths in places like Turkey, Tajikistan, Kazakhstan and Japan, I was uncomfortable. But once you realize that this is completely natural and everyone around you does it all the time, you'll start to relax.
The importance of being naked in a Japanese bathhouse goes beyond the utility of getting your entire body clean.
Japanese people also see nudity as a way of washing away the socio-economical hierarchy that exists in society. When you're in a sentō and you're completely naked, it doesn't matter if you're rich or poor, old or young, you are all equal inside the walls of the bathhouse.
DO Wash Off Before Entering The Baths
When you enter any sentō in Japan, after you take off all of your clothes and enter into the public bathing area, you'll see that there are showers or bucket showers near the entrance. This is because you are expected to clean yourself off before you enter the baths.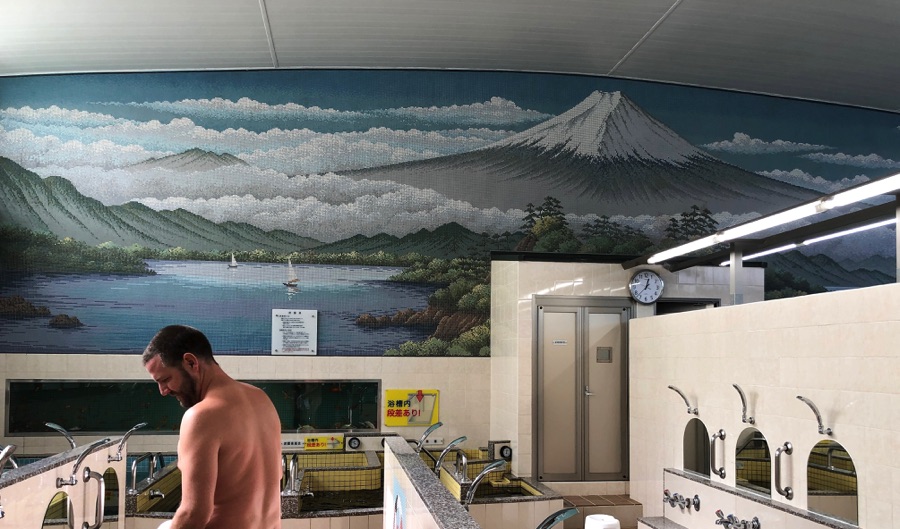 Typically Japanese people will bring soap and shampoo to scrub themselves completely before soaking in the tubs. While this is recommended, it's not required. At the very least you should rinse yourself off very well before entering the baths.
DO Sit Down While Showering
While you won't likely offend anyone by showering standing up, it will be appreciated if you sit down on the little stools provided to shower off before entering the bath. This will help ensure that you don't accidentally spray anyone else while rinsing off.
DO Dry Off Before Returning To The Dressing Area
The change rooms are meant to have dry floors so be sure to completely dry your body off before entering back into the dressing rooms.
DO NOT Put Your Face Towel In The Bath
You may find that many Japanese people enter the baths and place a small towel on their heads. While this is not a requirement, if you do choose to enter the sentō with a small towel, do not put it inside of the bathwater. Either place it on your head or fold it neatly on the edge of the tub.
DO NOT

Bring Your Phone Inside
This one should go without saying, but surprisingly it's a common question that the Tokyo Bath Association receives from foreign visitors.
Everyone is naked so leave your phone/camera outside in your locker. Even if you're just checking your emails, everyone knows that your phone has a camera on it so this will undoubtedly make others uncomfortable.
Can You Enter a Sentō With Tattoos?
It is a common misconception that people with tattoos will never be permitted to enter a sentō in Japan. Of the sentōs in Tokyo, about 90% of them will allow you to enter with tattoos and this number is increasing.
Historically tattoos have been associated with the infamous mafia of Japan known as Yakuza. This age-old association between organized crime and tattoos is slowly fading and the fewer and fewer Japanese people even notice when there are tattoos around them in the baths.
If you have a tattoo and you'd like to visit a sentō in Tokyo, you can visit any of the three that we visited during our time and there are also more than 400 others that will happily welcome your artistically inked body.
If you're concerned about visiting a bath and getting turned away, simply Google something like "[name of the sentō] + tattoo" and you should be able to find an answer as to whether or not you'll be permitted to enter there.
The 3 Sentōs We Visited in Tokyo
During our recent trip to Tokyo, we were lucky enough to meet up with Alfred, a true sentō expert who took us to three of his favourite sentōs in the city. On this day, we were able to visit the sentōs before they opened so that we could take videos and photos and share them on this blog and on Our Youtube Channel.
Don't miss the video above to get a better idea of what it's like to visit a public bathhouse in Japan. Here's a list of the three sentōs we visited during our recent trip to Tokyo.
Musashi-Koyama Onsen Shimizu-yu (武蔵小山温泉)
Address: 3-9-1 Koyama, Shinagawa City, Tokyo
Cost: ¥470
The first bath we visited in Tokyo was Musashi-Koyama Shimizu-yu, a mouthful for foreigners for sure (as you can hear by our attempt in the above video). Despite its lengthy and hard to pronounce title, this is one of the most popular baths in all of Tokyo thanks to its sparkling clean interior, outdoor bathing area and the addition of naturally heated onsen water inside.
Musashi-Koyama Shimizu-yu has 6 unique types of bathing experiences within its walls including a natural hot spring, a hot rock sauna, and a black hot spring (kuroyo onsen).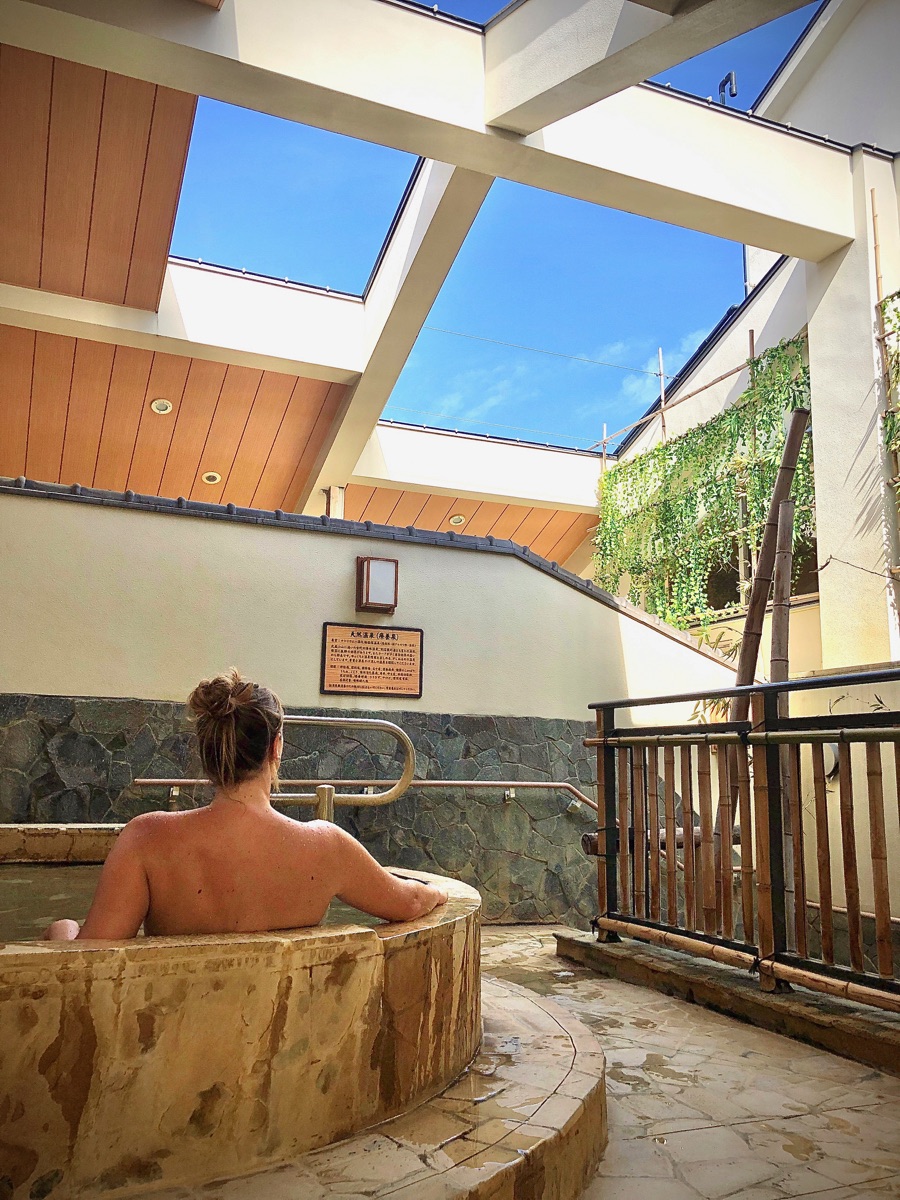 This particular Japanese bath has a well-equipped reception area where you can purchase shampoos and soaps, as well as rent towels and buy beverages (even beer). A lot of people choose this sentō for its indoor and outdoor bathing areas. The outdoor area has beautiful skylights so that natural light comes in while you're soaking in the tubs.
Kaisei-Yu (改正湯)
Address: 〒144-0051 Tokyo, Ota City, Nishikamata, 5 Chome−10−5 改正ビル 1F
Cost: ¥470
The second sentō we visited in Tokyo was Kaisei-Yu. With a stunning mosaic of Mount Fuji looming above a large aquarium and immaculately clean baths, this is another one of the city's most popular sentōs. There are two types of black water baths here, I particularly enjoyed the one that was mildly carbonated. However, my favourite bath in Kaisei-Yu was definitely the nanobubbles.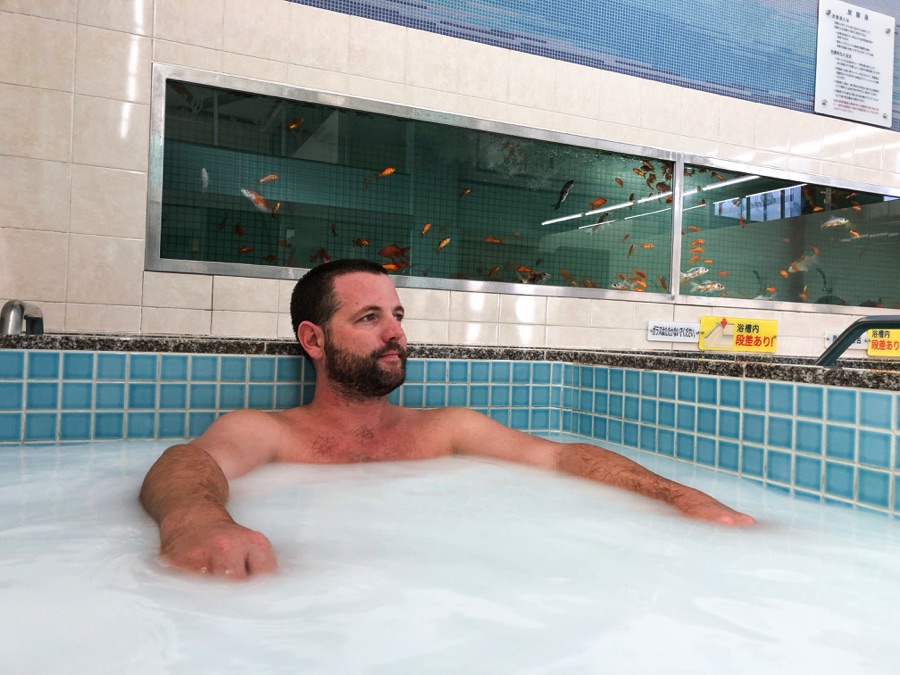 The tiny little bubbles cling to your skin and are said to help clean out your pores. I found it refreshing and relaxing and was having a hard time pulling myself away from the baths here. Also, the goldfish swimming in the tanks was a nice touch.
Mikoku-Yu (御谷湯)
Address: 3 Chome-30-8 Ishiwara, Sumida City, Tokyo 130-0011
Cost: ¥470
Mikoku-Yu was another lovely sentō in Tokyo and by this time, after soaking at 2 other bathhouses on the same day, we were sufficiently relaxed. The best part of Mikoku-yu was the outdoor bath that had a stunning view of the Tokyo Sky Tree — the tallest tower in the world.
Here the baths are on different levels so you take an elevator to the respective dressing floors. The sentō owners here alternate the floors between men and women so make sure to look for the small picture near the elevator door to make sure you're going to the right dressing room.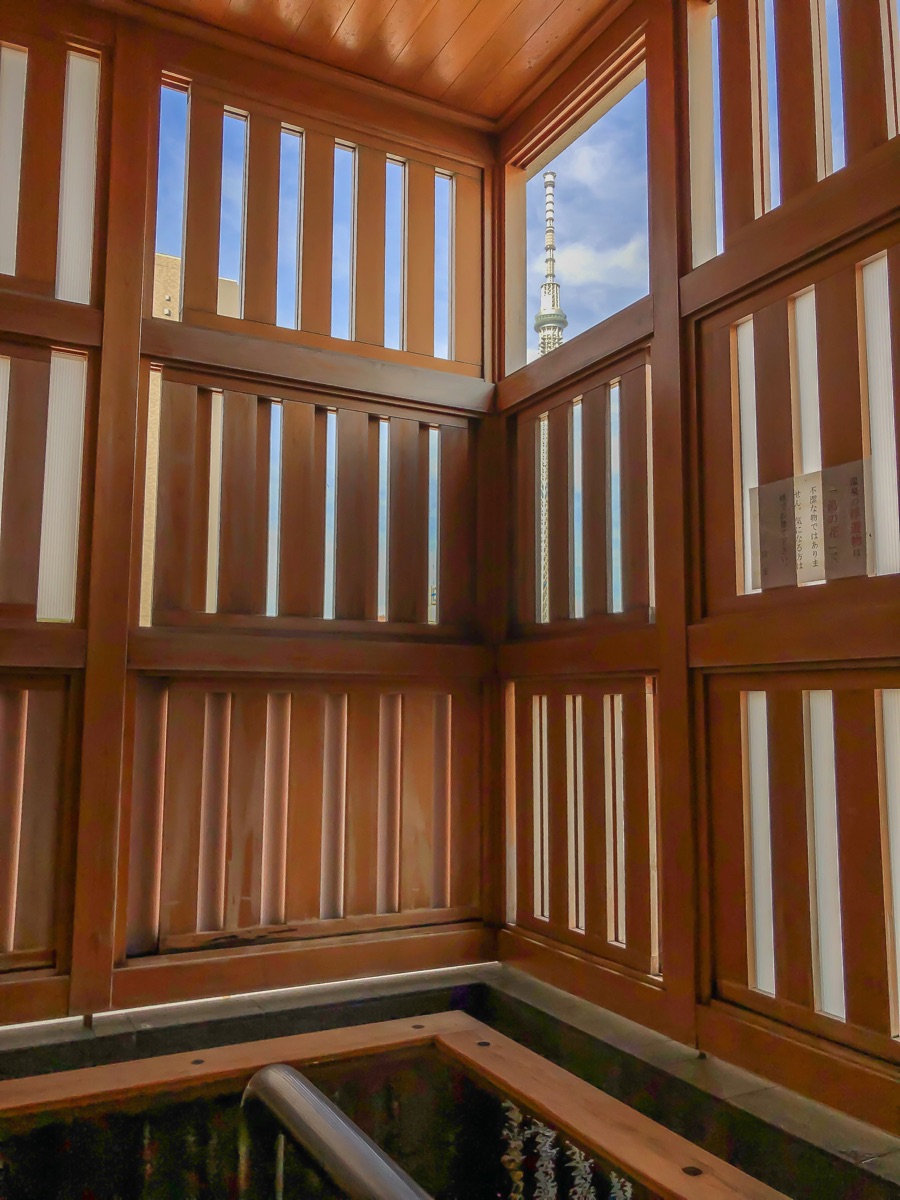 Mikoku-Yu is equipped with many different bath types including a relaxing jet massage bath, an outdoor bath, a cold bath and even a herb-infused bath.
My Final Thoughts About Japanese Baths
As a person who has bathed in public baths before, I really enjoyed the experience of sentōs in Tokyo. I do still remember how uncomfortable I was the first time I entered a public bath (Hamam) in Istanbul Turkey and I know it can be a bit intimidating for western tourists, but once you overcome that fear and awkwardness of being nude around strangers, public baths are a great way to immerse yourself deeper in local culture.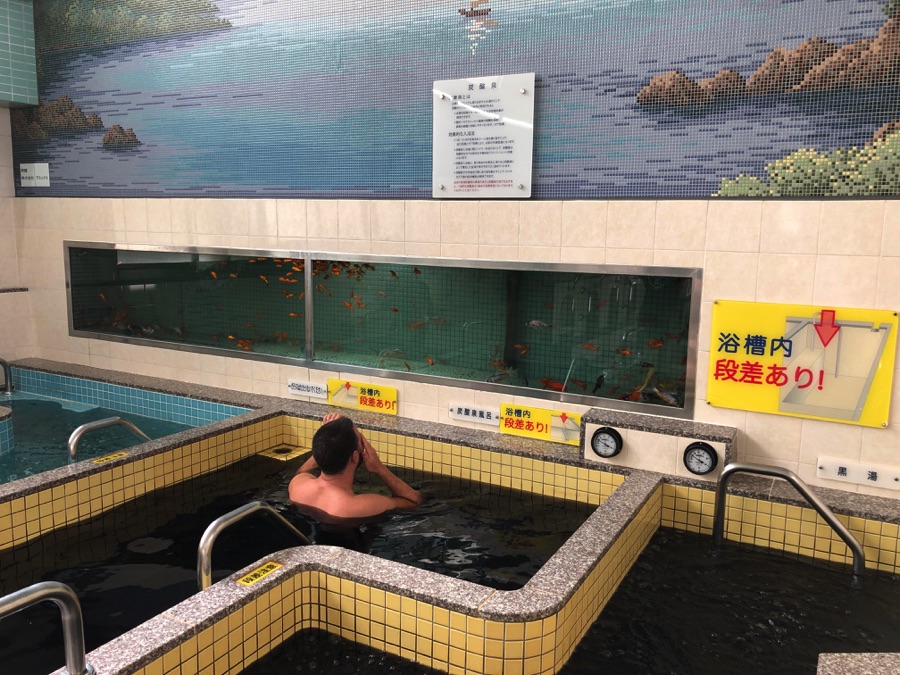 I hope this article gives you a bit of insight into the history, cultural importance and etiquette of Japanese public baths and helps you to easily experience them for yourselves.
There are still more than 500 sentōs open and operational in Tokyo alone, so they're a perfect way to relax after a long day of sightseeing around the city. Many sentōs and onsens are located inside of hotels, so as part of the experience of the accommodation you can go to the public baths there as well.
If you have any questions about public baths, the customs, the rules or the steps to enter, please don't hesitate to ask us in the comments section below.
Happy bathing!
Special thanks to the Tokyo Sento Association for inviting us to experience the sentōs of Tokyo. As always, all thoughts and opinions remain our own.
Like This Article? Pin it!