About Kenya
Kenya is my home country and it's truly one of the best travel destinations in Africa. I've lived here my entire life and traveled the country more than any visitor could possibly manage in a few short visits. I love my country and I'm excited to share it with you in this Kenya Travel Guide.
Kenya is a unique travel destination, offering an unrivaled list of safari experiences, all within close proximity to each other. As a result, it's a place for all travelers regardless of their interests, budget, and available time.
The capital, Nairobi, a place where I've spent much of my life, offers the perfect start to a memorable vacation. You can land in the country and be inside Nairobi National Park, viewing wildlife like lions and elephants within 20 minutes.
But it's the plains and savannas where most of the true entertainment lives – like the spectacular wildebeest migration.So if you're planning to visit, this Kenya Travel Guide will help you decide where to go, what to do, where to stay in Kenya, and much more.
Kenya offers a world of attractions and opportunities for every traveler – more than any other destination in Africa in my opinion.
Visitors can expect to find beautiful landscapes, a diversity of cultures and myths, alluring sandy beaches, a range of adventure sports activities, opportunities for birdwatching, and, above all, the chance to track down rare wildlife.
After the wildlife wonders in Masai Mara or Amboseli, the sandy beaches in Diani will offer relaxation. And if that's not enough, you can indulge in water sports, historical experiences, nature activities, or go for extreme adventures.
It's a country where the sun never sets on the excitement. And after spending the best part of my life in the country, I believe that wherever you go in Kenya, you'll be delivered right to the heart of the action.
Kenya will welcome you with open arms and her local traditions will fascinate you.
Latest Kenya Travel Blog Posts
Check out our posts on the blog about Kenya travel below. We do our best to cover as many different places as possible so that you can better plan your next trip to Kenya. Whether you're a budget backpacker or a luxury traveler, we have a bit for everyone in the posts below.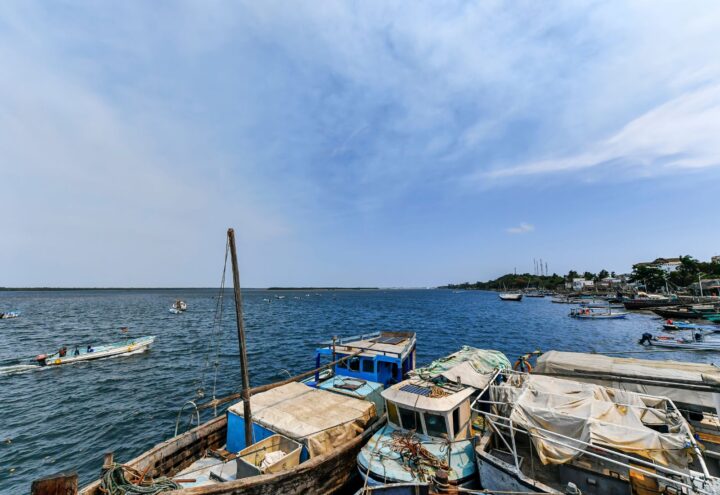 In this article, I'll share the best places to visit and things to do in Lamu, Kenya. These include exploring ...
Plan Your Trip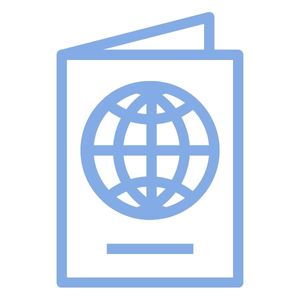 Visa Requirements
What you need to enter the country and travel for the duration of your intended trip.
Where is Kenya?
Continent: Africa
GPS: 0.0236° S, 37.9062° E
Total Area: 591,383 sq km
Coastline: 536 km
Longest river: Tana River (800 km)
Largest lake: Lake Turkana (6,405 sq km)
Kenya is located on the East Coast of Africa and lies across the equator (0.0236° S, 37.9062° E). It borders Ethiopia (North), South Sudan (Northwest), Tanzania (South), Uganda (West), and the Indian Ocean and Somalia (East). Kenya is made up of 47 counties which were formed from the former eight provinces.
The terrain of the country is diverse and varies from county to county. There are low plains in the east that rise to central highlands.
The Rift Valley and fertile plateau characterize the western side. And the Coast is home to beaches and mangrove forests.
The highest point in the country is Mt. Kenya at 5199 meters (17,057 ft) above sea level, while the lowest point is the Indian Ocean at sea level.
Kenya Travel Itineraries
Welcome to Magical Kenya. These itineraries allow you to discover the country's diverse wildlife and beautiful landscapes. Whether you have a day, a week, or even a month, your trips will start in the bustling capital, Nairobi. Afterward, you'll head outside the city and visit all the popular destinations like the Amboseli National Park, Hell's Gate, Mount Longonot, Lake Nakuru, Lamu Old Town, and Masai Mara. These places are home to thousands of wild animals and bird species. They also include incredible hiking trails and historical centers.
3-Days in Kenya
If you only have 1 to 3 days in Kenya, you'll have to be flexible enough to experience the best in the country, while sacrificing many of the lesser-known spots. This itinerary allows you to explore the top activities, even if you only have a weekend in Kenya.
Begin your trip with a short drive from the capital to Nairobi National Park. See a variety of wildlife, including the endangered giraffes, back rhinos, lions, and buffalos, in the backdrop of the city's skyscrapers.
Later, head back to the city and explore the city streets, markets, and museums. The next day, wake up early and take a day trip to the Amboseli National Park. Track down elephants and marvel at the sight of Kilimanjaro.
Before flying out of Kenya, visit the Giraffe Centre, Elephant sanctuary, and Bomas of Kenya. Also, make sure to shop for gifts at the Maasai open-air market.
7-Days in Kenya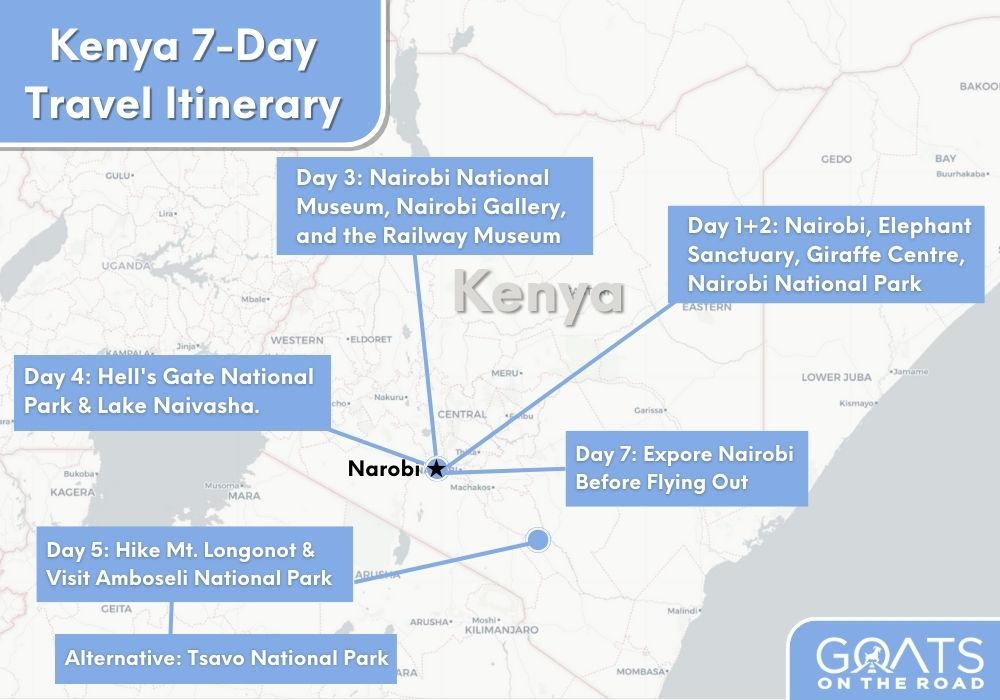 If you have one week in Kenya, it's possible to have a taste of everything the country has to offer, from wildlife to culture. Start your trip by exploring the historical and wild side of the capital, Nairobi. This is by visiting the Elephant Sanctuary, Giraffe Centre, and Nairobi National Park.
Add to the experience by learning Kenya's history, culture, and heritage at the Nairobi National Museum, Nairobi Gallery, and the Railway Museum.
In the middle of the week, plan a day trip to the Hell's Gate National Park for bike riding in the wild, and then head on to Lake Naivasha for a boat ride. Relax in one of the lakeside resorts and then wake up for a hike up Mt. Longonot.
From here, you can head down to Nairobi and then on to the Amboseli National Park, where you'll get closer to elephants than anywhere else in Africa. An alternative to Amboseli is the Tsavo National Park, but don't get too caught up by the wildlife and forget your flight!
On the last day of your trip, experience Nairobi on foot. Walk along the streets, appreciating the architecture, monuments, and how Nairobians do their business. Shop for souvenirs, take a cooking class, visit Kibera and experience the city's nightlife.
10-Days in Kenya
Discover Kenya's best national parks and beaches on this 10 Day itinerary. When you arrive in Nairobi, relax and take a game drive in Nairobi National Park the following day. You can also include visits to Giraffe Centre, Karen Blixen Museum, and Elephant sanctuary.
Next, travel out of Nairobi for a 3-day adventure in the Masai Mara National Reserve. During the drive, stop along the way and savor views of the Great Rift Valley.
The Wildebeest migration in the Masai Mara between July and September is probably the most spectacular safari experience in the World.
While in Masailand, visit a local village and experience the culture and ways of the Maasai people. After that, fly via Nairobi to Mombasa or Diani. Experience the coastal life or relax in one of the many resorts next to the magnificent beaches.
2-Weeks in Kenya
Nairobi is the best place to begin and end your 2-weeks trip in Kenya. You can spend 2-3 days in the city before heading out to the coast or the interior. While in the city, explore the Nairobi National Park, Giraffe center, Elephant sanctuary, and the city streets.
If you have time, visit Kibera or learn how to cook a Kenyan Meal. After experiencing Nairobi, head over to Laikipia through the scenic central highlands. If you're staying in Nanyuki, visit the famous Ol Pejeta conservancy and see rhinos and other wild animals.
Before leaving Nanyuki, consider taking a trek to the Summit of Mt Kenya – which should take about five days. You can also travel north to the Samburu National Park for a further wildlife experience.
After the Laikipia circuit, travel to Naivasha town. Make sure you stop at the Thompson Falls in Nyahururu and the Rift valley viewpoint in Subukia. While in Naivasha, you can consider cycling in the Hell's Gate National Park, hiking Mt. Longonot, or taking a boat ride on Lake Naivasha. The town's nightlife is also one of the best in Kenya.
Masai Mara is not far from Naivasha. Travel to this magical National Reserve, and, if you're here at the right time, experience the wildebeest migration.
From here, return to Nairobi and travel to the coast. If you're into history, fly to Lamu and explore the Old City. If you fancy white sands and water sports, take a train ride to Mombasa and then transfer to Watamu or Diani Beach.
More Kenya Itineraries
Places To Visit in Kenya
Kenya is a truly diverse country, be it geographically or culturally. No two towns or cities are the same. And that means there are plenty of amazing attractions for all types of travelers across the country. However, some destinations have a charm that promises a memorable experience every time. As a local, I have traveled around the country to such destinations. Here are my picks for the best places to visit in Kenya.
Nairobi City
Nairobi, the capital of Kenya, is like my home city. I've spent years exploring every nook and cranny of this bustling African metropolis. Nairobi buzzes with a mix of urban modernity and rural traditions. It's also a gateway to some of the most beautiful destinations in the world.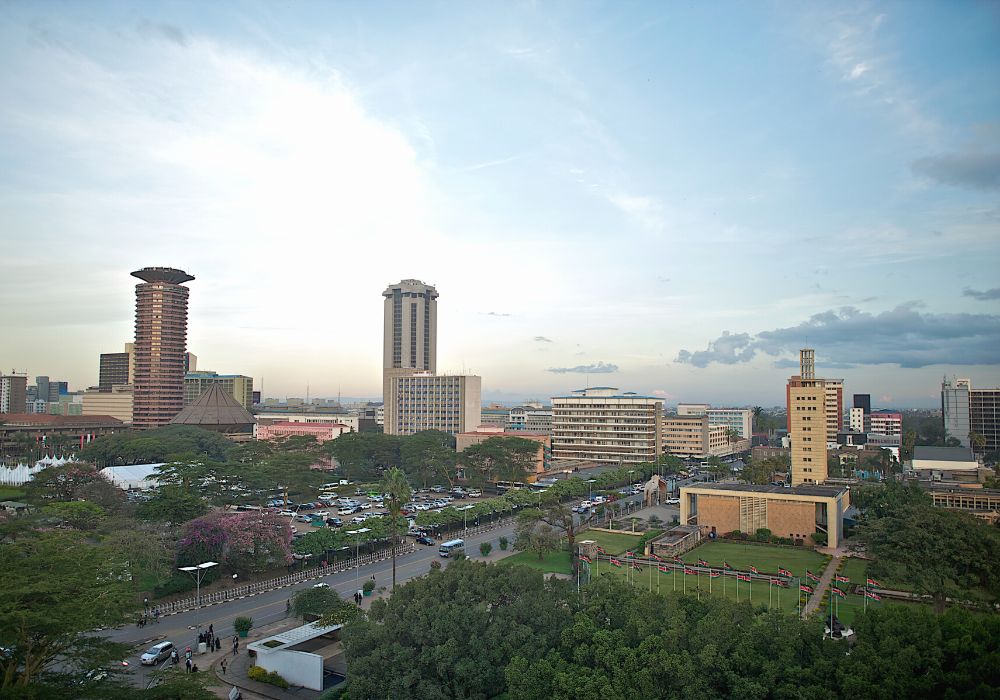 While there are many things to do and see in the city center of Nairobi like visiting markets, exploring museums, and tracking down monuments, better experiences are found just outside the city. A few minutes away, there is the Daphne Sheldrick elephant sanctuary, the Giraffe Centre, and Nairobi National Park, where you can see lions, rhinos, buffalos, giraffes, and other animals up close.
Besides the numerous activities, the city has a vibrant nightlife and restaurants with delicious food.
Mombasa City
Mombasa, Kenya's second largest city after Nairobi, is situated along the eastern coastline of the Indian ocean. Another place where I've spent much of my life, Mombasa is now a major tourist destination and boasts an international airport and a modern train station. The island city dates back to around the 12th century when trading was booming in settlements along the coast. Although it was not as prosperous as Kilwa Kisiwani and Zanzibar, Mombasa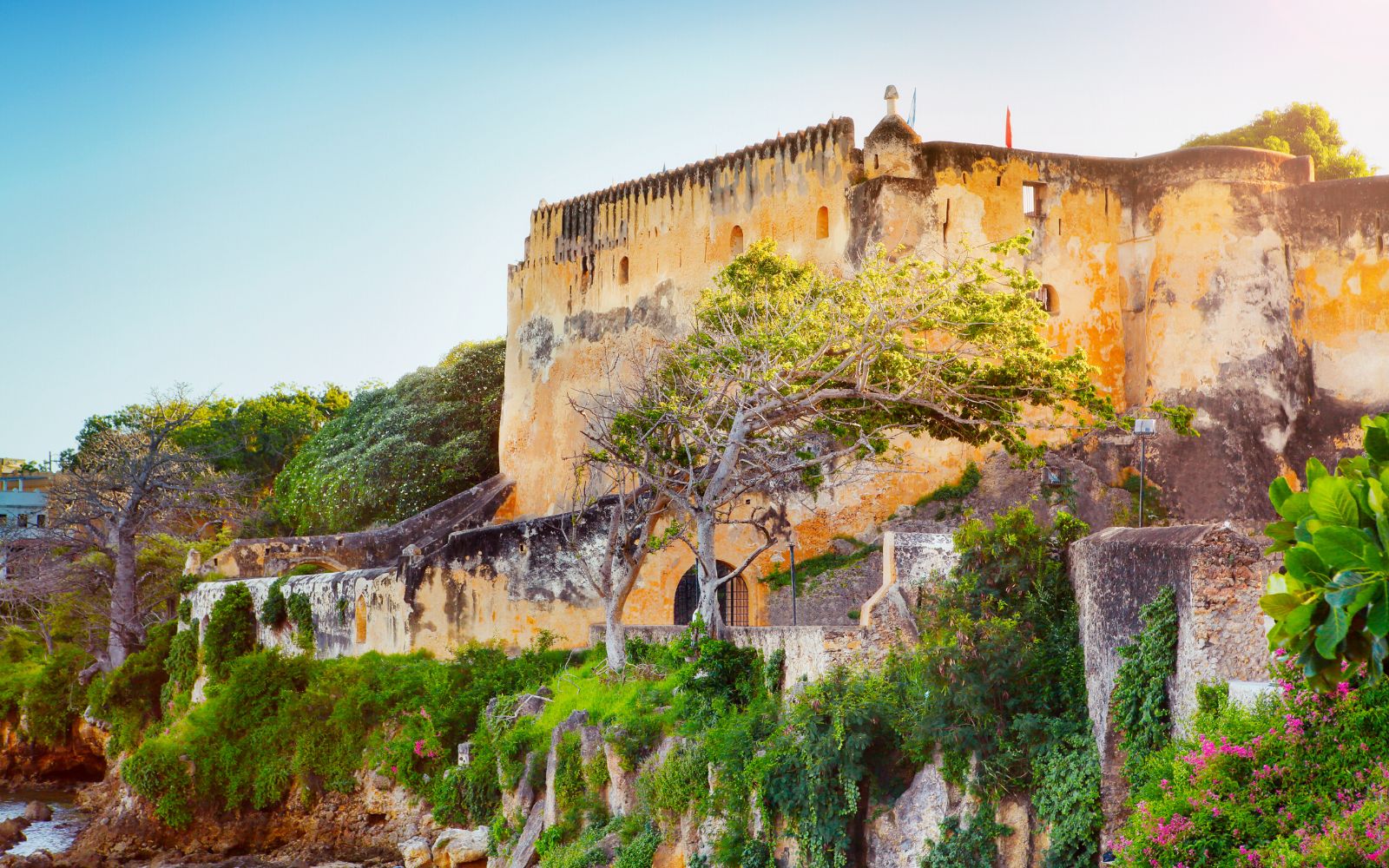 Mombasa was also important and would go on to be ruled by Arabs, Portuguese, and the British. Today, the city is popular with visitors wanting to experience tropical beaches and explore ancient settlements.
Besides the magnificent beaches, other sights in Mombasa include Fort Jesus, the Old town, Haller Park, the two tusks, Mombasa Marine Park, and the Nguuni Nature Sanctuary.
Watamu Beach
While vacationers flock to Diani for the white sands and tourists head to Masai Mara for the wildebeest migration, my wanderlust always leads me to Watamu.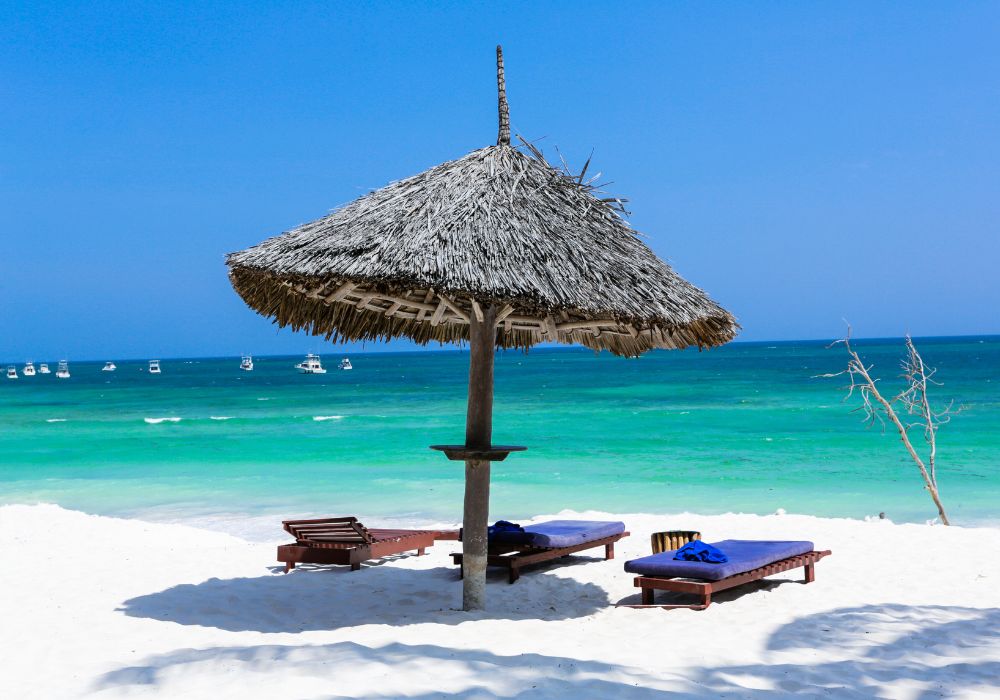 Watamu might not be the ideal destination for a local like me because most of my friends and family flock elsewhere, but my feet itch for the beach, marine life, and cultural experience.
Another town near Watamu worth your visit is Malindi. You can learn more history at the Malindi Museum or try out free experiences like visiting Vasco da Gama Pillar. Don't forget to taste Swahili dishes and drink the local palm wine (Mnazi).
Diani Beach
Diani is a small coastal town in Kenya situated about 30 km south of Mombasa. The beach town is famous for its nearby white sand beaches, blue ocean, and thrilling adventures. It's also re-known for luxury resorts, beach villas, and hostels popular with families, honeymooners, and backpackers.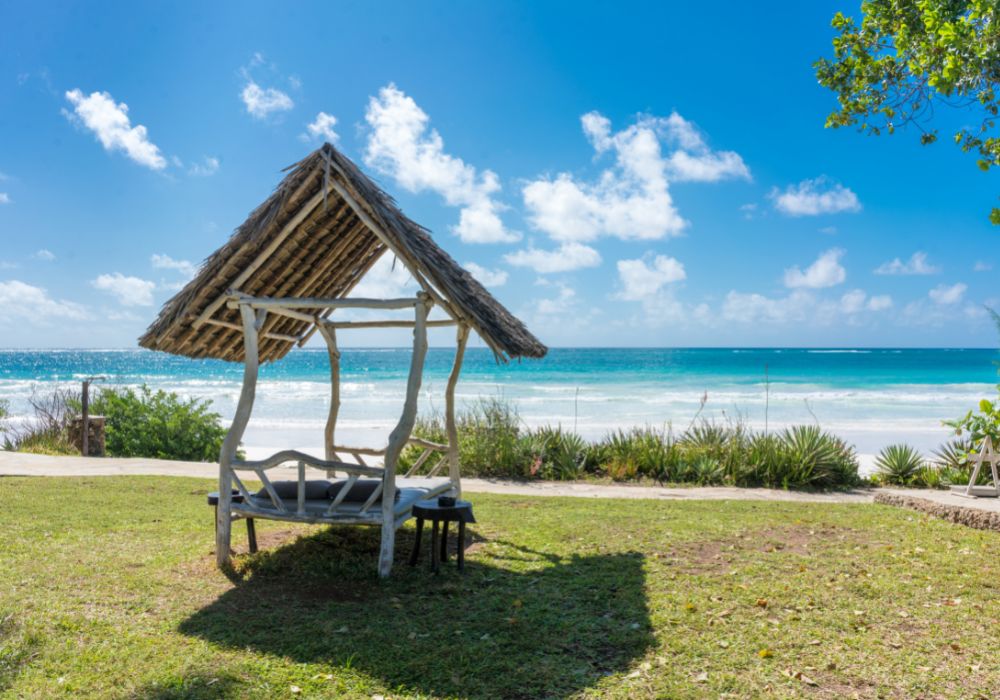 While in Diani Beach, travelers can visit Wasini Island, Kaya Kinondo Sacred Forest, Shimba Hills, Colobus Conservation Centre, and the Kisite Mpunguti Marine Park. And some of the popular activities to do in Diani include sky diving, scuba diving, snorkeling, sand bathing, dhow cruises, and kitesurfing.
Lamu Old Town
Dating back to at least the 12th century, this is one of Kenya's world heritage sites. Lamu is the oldest surviving Swahili town in East Africa and the only coastal settlement in Africa to retain its original character. The town is a heritage treasure of both architecture and town planning. Lamu Old Town is known for its narrow roads, with the only mode of transport being donkeys and handcarts.
There are over 150 historic houses clustered in the town. Among them are the Swahili House Museum, the Old German Post Office museum, The Donkey Sanctuary, the 19th Century Fort, and The Lamu Museum.
Besides the old town, the archipelago is home to the Shela beach, Manda island, and Kiwayu island. All beautiful coastal destinations.
Nanyuki Town
Situated about 4 hours north of Nairobi, Nanyuki is the tourism capital of the Laikipia Plateau and Central Kenya (Mt. Kenya region). The town is a nightlife hotspot and a gateway to several tourist attractions and luxury lodges.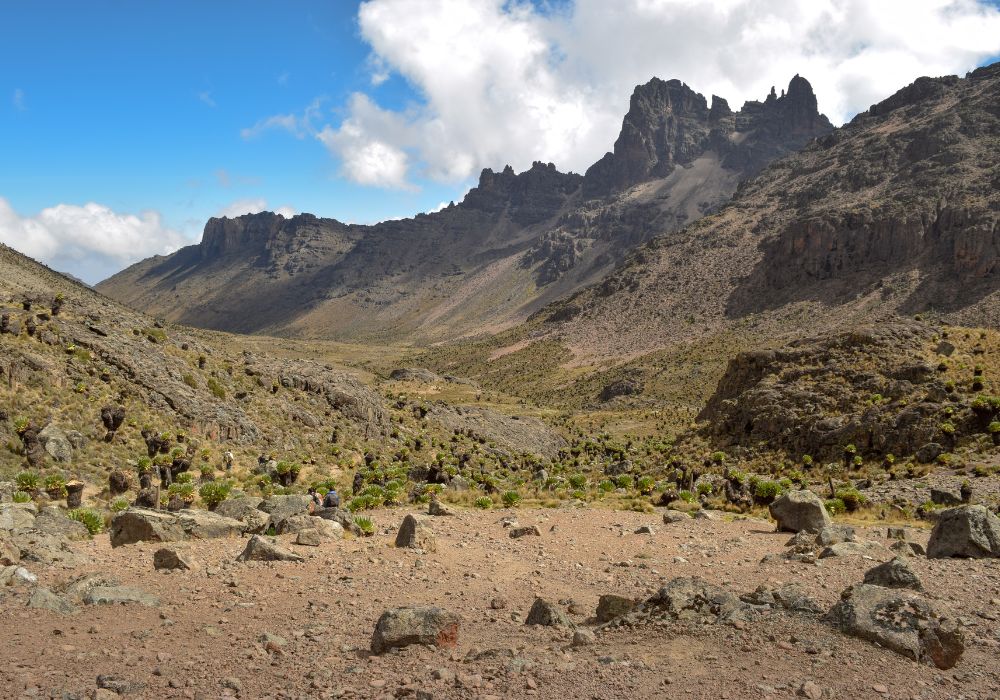 Although Laikipia does not have any National Park or Reserve, the plateau is home to Kenya's best conservancies which are equally great for wildlife viewing.
You can visit the Ol Pejeta conservancy – home of rhinos, stay at the Reteti Conservancy or explore the Ngare Ndare forest.
Nakuru
Situated along the Nairobi-Busia highway, Nakuru city is the gateway to western and some parts of Northern Kenya. If you're looking for a memorable Kenyan experience, make Nakuru your starting point for adventures.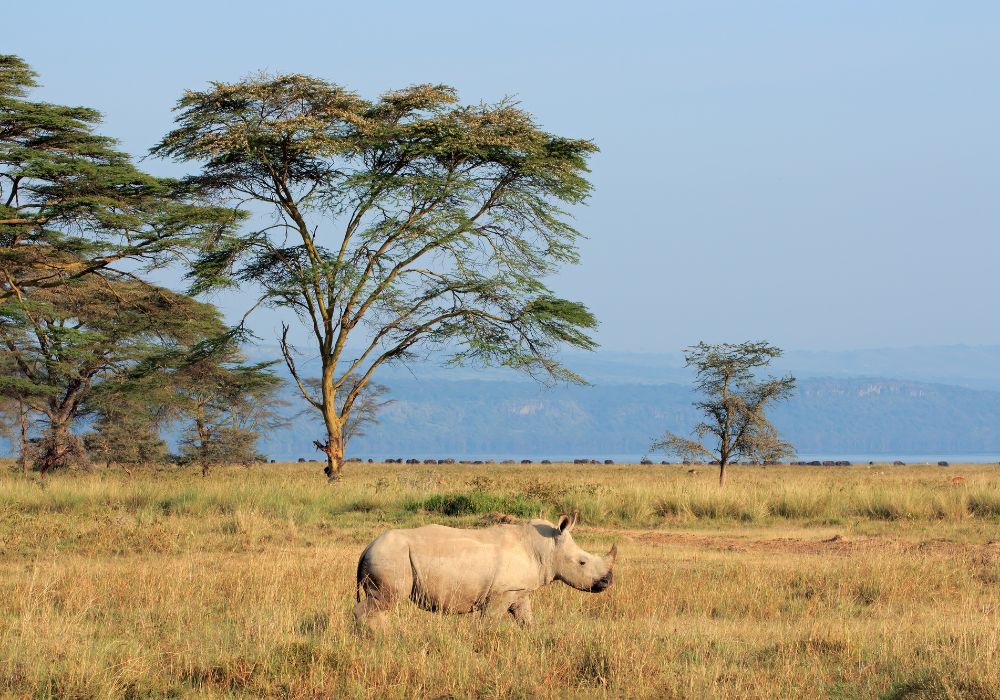 You can take a game drive in the Lake Nakuru National Park, hike at the Menengai Crater, visit the Kariandusi prehistoric site, explore the Hyrax hill museum, or travel to the Masai Mara. Nakuru also has a vibrant nightlife with many options for places to stay.
Naivasha Town
Naivasha is one of the towns in Kenya that cater to all types of travelers. Whether you're into history, nightlife, wildlife, nature, hiking, or swimming, the place has something in store for you. Beautiful Lake Naivasha in KenyaThough less known to tourists, it's a secret destination for locals and ex-pats in the country.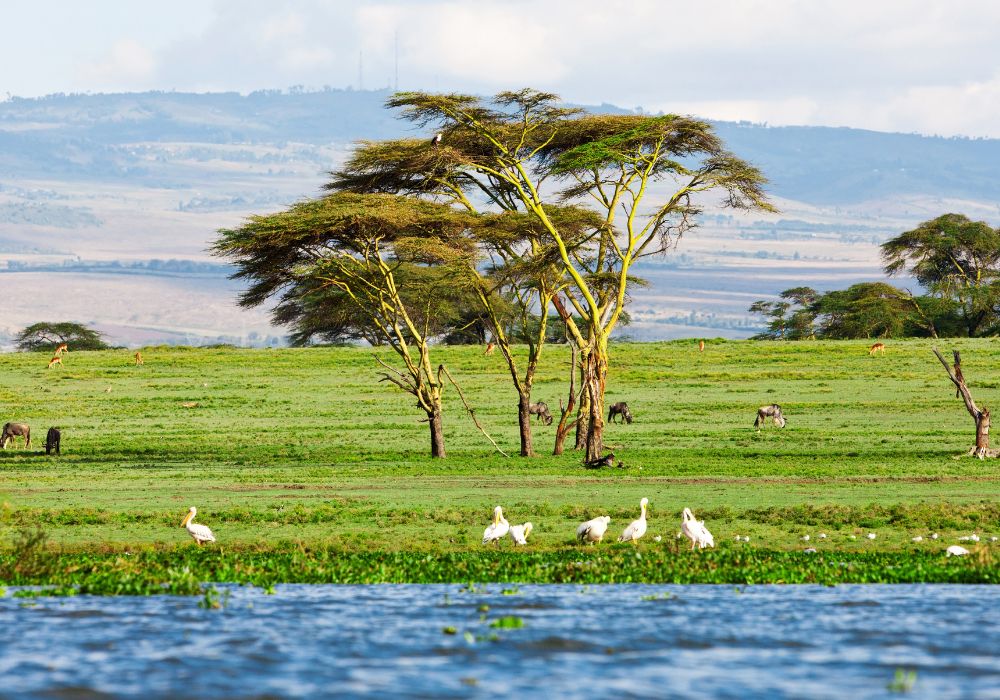 Some activities worth doing near Naivasha include partying, cycling at Hell's Gate, taking a boat ride in Lake Naivasha, hiking Mt Longonot, eating fish, or just chilling in one of the luxury resorts.
Lodwar Town
Lodwar is the main town in the Northern part of Kenya. It's a gateway to South Sudan and the western shore of Lake Turkana. Although many people don't consider the region a worthy travel destination, it's by far one of the most beautiful places in Kenya. It leads to the explored shores of Lake Turkana with beaches such as Eliye Springs and the picturesque Central Island National Park.
You can hike the Lodwar hills near the town, see The Nasura Pillar Site, and visit a Turkana village for a cultural experience. Turkana is one of my favorite destinations in Kenya; you should try it too.
Kisumu City
Kisumu is a major city in western Kenya, on the shore of Lake Victoria. Although not as popular a tourist destination as Nairobi, Mombasa, and Diani, the city is still worth visiting.
It has lots to see and do, places to shop, restaurants, comfortable accommodation facilities, and it's a great place for experiencing culture and history.
You can hike the Lodwar hills near the town, see The Nasura Pillar Site, and visit a Turkana village for a cultural experience. Turkana is one of my favorite destinations in Kenya; you should try it too.
More Posts About Places To Visit in Kenya
Things To Do in Kenya
There are so many things to see and do in Kenya. And it's virtually impossible to say you've "seen Kenya" in only one trip. So unless you've about a year of travel time stored up, you'll need to narrow down your choices. Whether you're a hiker chasing trails, a traveler searching for wine tasting and cooking experiences, or a tourist tracking The Big 5, Kenya will not disappoint you.
Having lived and traveled around the country for decades, I have countless places I could share with you in this post, but here are my picks for the absolute best things to do in Kenya.
Walk Around Lamu Old Town
Kenya is home to several UNESCO World Heritage Sites, but none are more impressive than the Lamu Old Town. It's the oldest Swahili settlement along the East Coast of Africa, retaining its traditions and cultural heritage.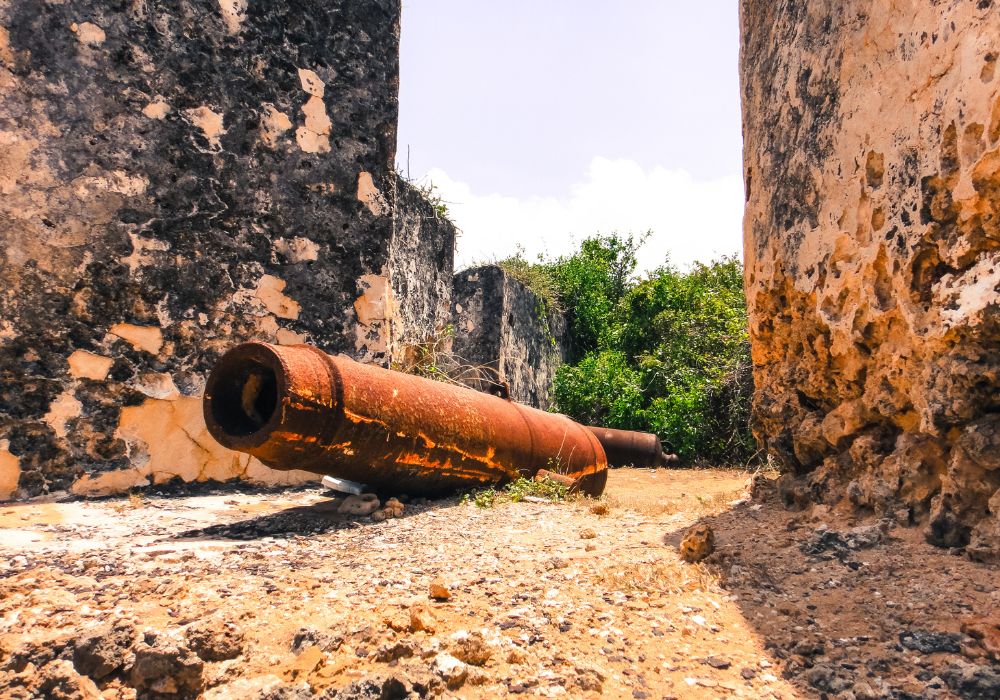 The streets are narrow, and there are no cars – only handcarts and donkeys. Take a break from the National Parks, and explore this wonderful town.
You'll learn a lot just by taking a stroll along the alleyways, visiting old buildings, or interacting with the locals.
Experience the Migration at Masai Mara
The Masai Mara National Reserve has everything you dream of when you think of Africa. It's a mix of wildlife, culture, and natural beauty. If you want to experience life in the wild, camp in the bundu, or watch the African sunset paint the sky orange, a Masai Mara Safari should be your next stop.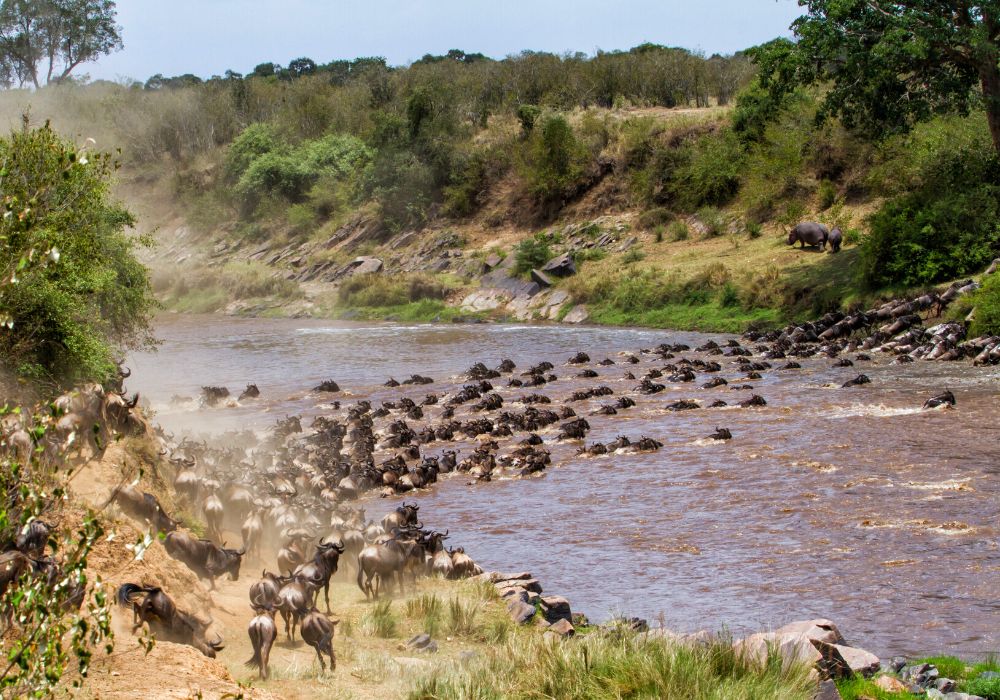 The reserve is home to elephants, lions, cheetahs, black rhinos, leopards, and many other wild animals. However, the most impressive and popular thing to do in the Masai Mara is to experience the wildebeest migration.
This spectacular scene involves thousands of wildebeest crossing the Mara river from Serengeti in Tanzania into the Masai Mara Reserve. The best months to visit are July and August, but the migration continues until late September. Other activities include staying at the tented camps, Hot-air Ballooning, Horseback safaris, and Cultural experiences in a Masai Village.
Explore Nairobi on Foot
When you think about things to do in Kenya, you probably don't think of historical buildings and monuments. But there are several city attractions for visitors to see and explore.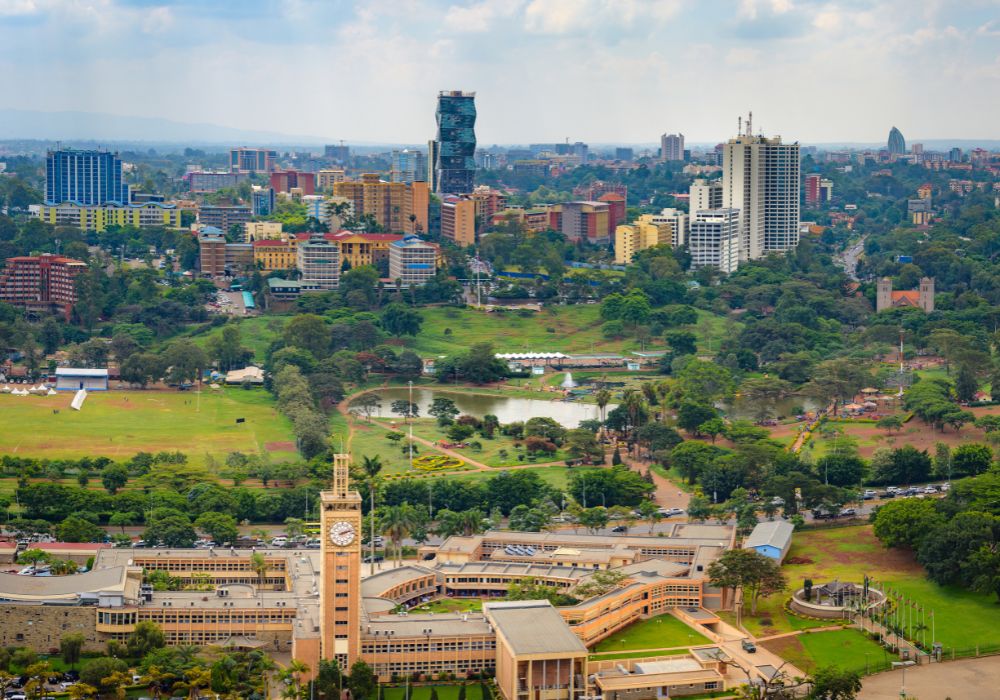 Walking along the streets of Nairobi gives you an opportunity of experiencing the raw historical and cultural side of Kenya. You can shop at the Maasai market, visit the Railway museum, track monuments like the Kimathi Statue, eat local dishes at Ronalo foods, or see old buildings like the Jamia Mosque.
Summit Mount Kenya
There are several opportunities for mountain climbing in Kenya. One of the best is trekking Mount Kenya. This mountain is often overlooked by travelers in favor of the neighboring Mount Kilimanjaro. However, many experienced trekkers and nature lovers prefer Mount Kenya because of its idyllic lakes and the challenge it offers.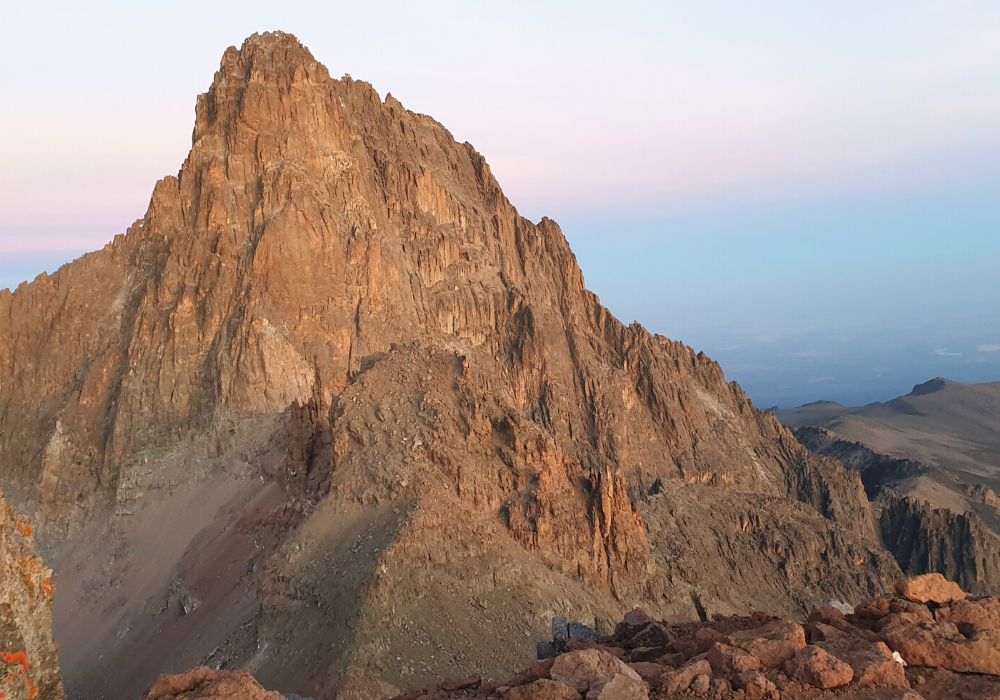 With snow-covered peaks of Lenana, Batian, and Nelion and panoramic views of the Aberdares and Kenyan plains, a dash to the summit of Mount Kenya promises an adventure of a lifetime.
A guide is recommended, you can find organized tours on sites like Viator and GetYourGuide.
Enjoy a Game Drive at Nairobi National Park
Located just a few kilometers from the city center, Nairobi National Park is an excellent option for a game drive for those on a tight schedule. This unique park is one of the few in the world close to a capital city.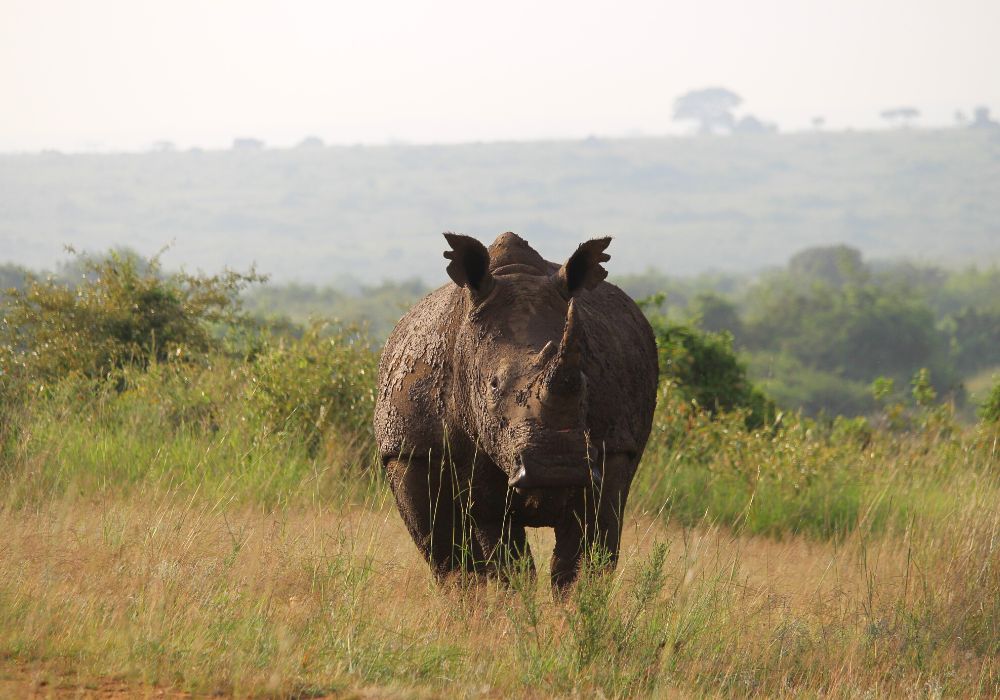 Wild animals, including giraffes, lions, and buffalos, live against a background of sky scrappers and urban landscapes.
Besides game drives, there are other things to do in the park. For example, you can visit the Animal Orphanage, go on the Nairobi Safari Walk or eat at the Ranger's Restaurant. You can book these and other experiences on Airbnb, GetYourGuide, Viator, and other booking sites.
Stay at the Giraffe Manor
Giraffe Manor is an exclusive and iconic boutique hotel in the leafy suburb of Karen, Nairobi. This historic property greatly appeals to travelers who seek luxury and unmatched elegance.
It's beautiful, idyllic, and set in an indigenous forest, which is excellent for nature lovers. As you relax in the evening or enjoy your breakfast, its other residents, giraffes, stick their heads through the window to say hello.
Although the hotel is highly-priced, with bookings made months in advance, the experience is worth it. While staying at the Giraffe Manor, try out the Giraffe Center next door.
Spot Elephants in Amboseli
With the beautiful Mount Kilimanjaro in the background, Amboseli National Park is one of Kenya's best places to visit. Most tourists visit for the up-close encounters with herds of elephants and to view the roof of Africa.
You also see an authentic Maasai village and learn about the community's culture and way of life.
Amboseli is close to Nairobi, making it an excellent destination for a day trip. Viator and GetYourGuide have plenty of tours both as day trips and as longer excursions.
Cycle at the Hell's Gate
If you're searching for unique adventures and alternatives to traditional safaris, don't miss the Hell's Gate National Park. The park is easy to visit and explore. You can drive or ride a bike inside the park, viewing wildlife and beautiful landscapes.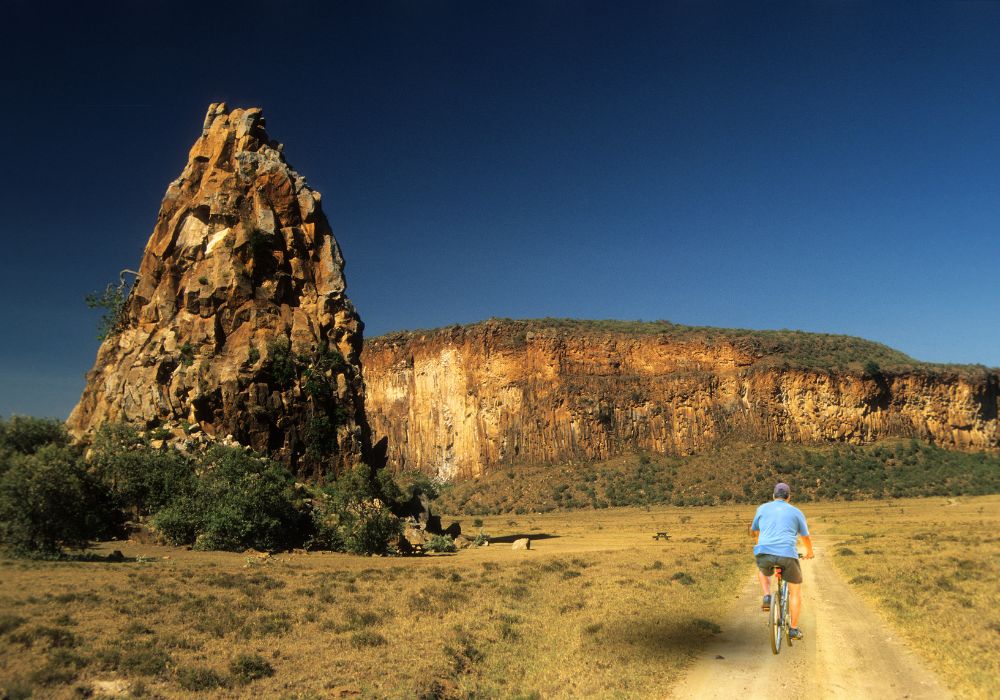 Hell's Gate is an ideal destination for a day trip from Nairobi where, besides game viewing, you can enjoy bike riding, rock climbing, and a therapeutic swim at the natural pool inside the park.
You can expect to see giraffes, gazelles, birds, rock towers, cliffs, hot springs, and gorges. This cycle tour on Viator is a blast and has great ratings.
Explore Mombasa Old City
With Mombasa town being one of the oldest settlements in East Africa, it's no doubt that every traveler visiting Kenya should explore it. You can get lost in the alleyways of the old town, marvel at the historical ruins of Fort Jesus, see the Mombasa tusks, or relax at the Mama Ngina Waterfront.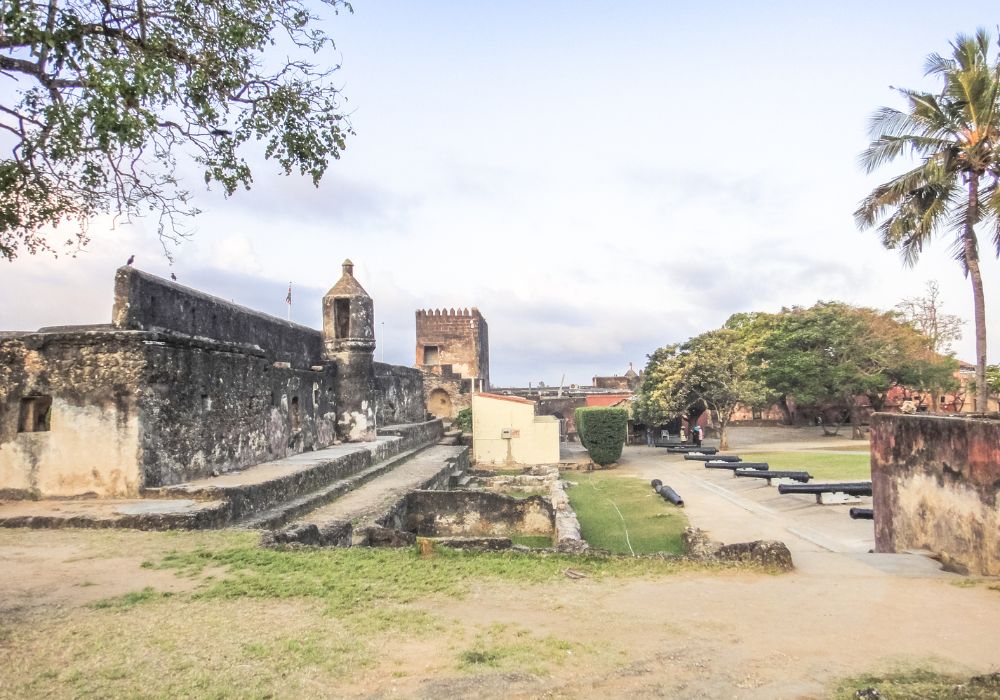 Most of these experiences are free, and the town is easy to explore, whether in a group or alone. If you want you can also join this cool food tour on Airbnb or this tour on GetYourGuide.
Hike the Crater at Mt. Longonot
Hiking Mt Longonot is my favorite experience on this list. It's a secret destination for adventurers, road trippers, and outdoor lovers. This 13.5km hike is moderate and among the most scenic in the country.
On your way to Longonot, make sure to stop at the Rift Valley viewpoint and see the tiny Traveller's Church near Mai Mahiu.
Enjoy a Beach Vacation in Diani
A trip to Kenya should not be about wildlife safaris, hiking excursions, exploring old towns, and visiting museums. For an all-around experience, relaxing on a beach is a great activity to add.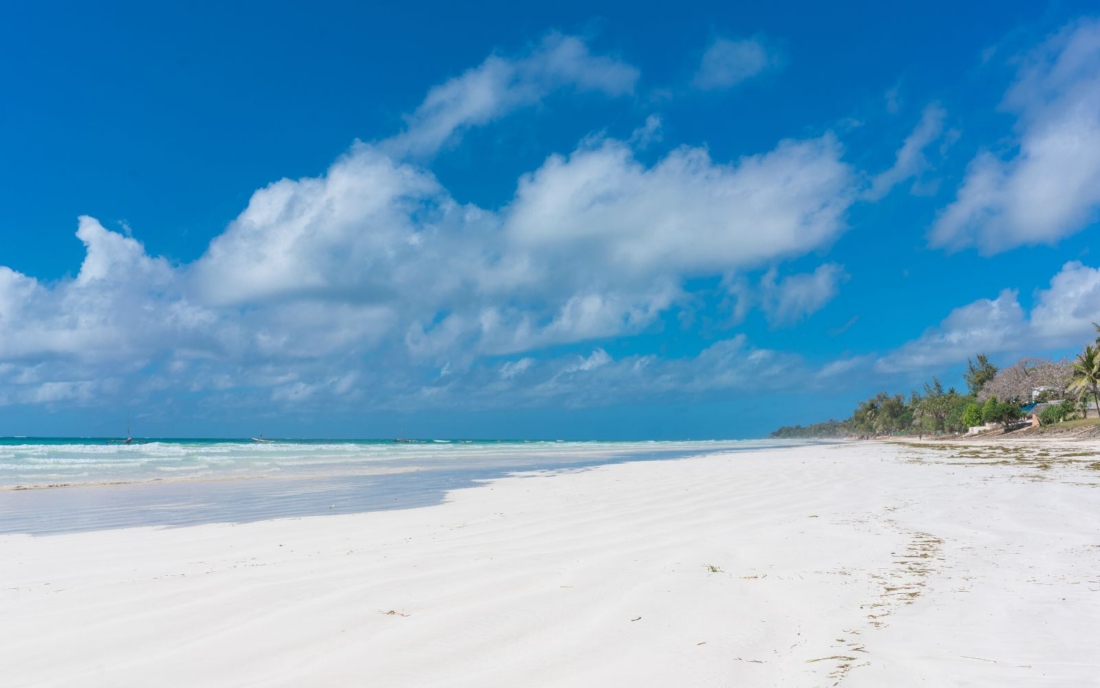 Situated along the Kenyan Coast, Diani is the perfect destination for beach vacations and honeymoons.
It has magnificent sandy beaches and some of the best resorts in the country. If you want, you can join a tour to check out the beaches here.
More Things To Do in Kenya
Best Beaches in Kenya
Besides wildlife safaris, hiking trails, historical sites, and cultural heritage, Kenya is famous for its endless array of magnificent beaches. These pristine beaches adorn its extensive coastline from Diani to Lamu. Their allure makes you hate the idea of leaving when your visit is over or even canceling other trips. If you have dreamt of such a beach, here's my list of the top 10 beaches in Kenya that would entice you to plan a trip right away.
Diani Beach
Diani Beach speaks of vacations, honeymoons, and romantic getaways. It's a popular destination for holidaymakers looking for a place to celebrate, relax and unwind.
The white sands and numerous resorts, bars, and restaurants, makes Diani the best beach destination to visit in Kenya.
But don't let the luxury put out the adventure flame in you. Besides beach walks and partying, there are many other activities to try out in Diani.
For example, you can take a Dhow trip to Wasini island, go skydiving, or engage in water sports like scuba diving and snorkeling.
Chale Island Beach
Chale Beach, Chale Island, is one of Kenya's most beautiful places to visit. It's a true gift of nature and home to an impressive resort, The Sands at Chale Island.
The island is surrounded by an indigenous mangrove forest and offers magnificent views of the Indian Ocean.
Although the beachfront is small, it's clean and less crowded, with waves breaking by the coral reefs. I love this beach island, and you shouldn't miss it either. While there, try diving or kayaking through the magical mangrove forest.
Shela Beach
Not far from the Lamu Old Town lies Shela Beach on the edge of Shela Village. It's one of the best beaches in Kenya for splendid white sands, tranquillity, and magical sunsets.
There are no cars in Lamu, and the beach is only accessible by walking along a 2-kilometer path or using a boat.
While most tourists take boat rides, local travelers prefer walking, which offers a better experience.
If you plan a Kenyan coast trip, don't miss Shela Beach in Lamu. It's unspoiled, beautiful, and alluring. Shela Village also offers a memorable experience of a culture dating back to the 12th century. Although Shela Beach is the best, there are other equally magnificent beaches in Lamu, like Manda Bay, Kipungani Beach, and Takwa Beach.
Watamu Beach
Situated along the North coast of Kenya is Watamu Beach. It stretches for several kilometers and comprises beaches such as Jacaranda Bay, Garoda Beach, Paparemo Beach, Turtle Bay, and Short Beach.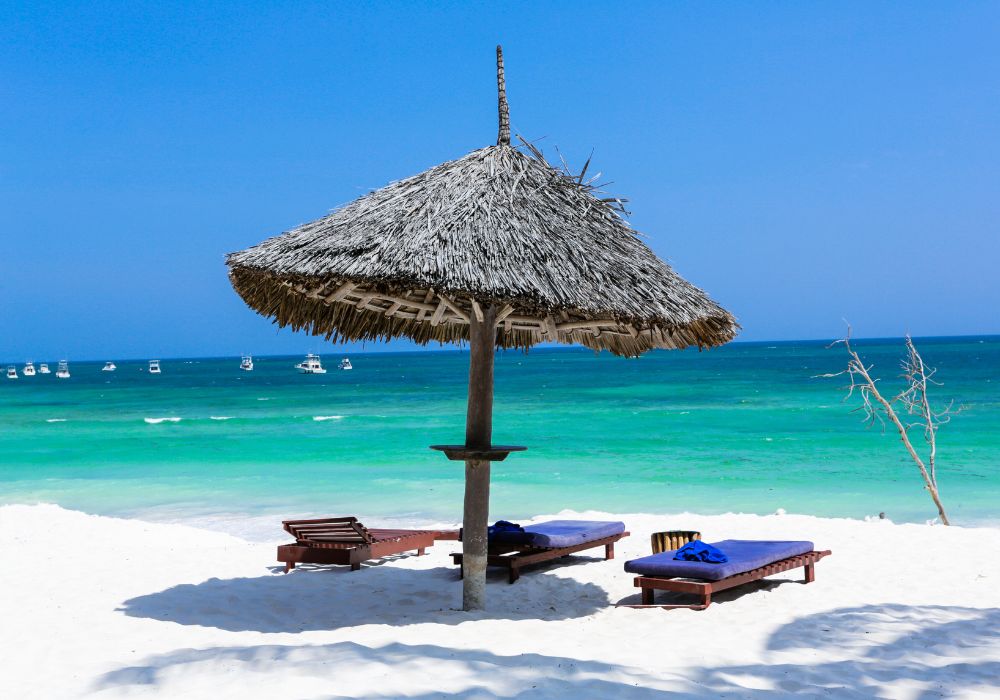 The secluded and inviting charm of Jacaranda Bay, its white sands and pools that form at low tide, make it my favorite.
There are affordable resorts, great restaurants, and relaxed local bars near the beach. Another stunning beach worth visiting in Watamu is Turtle Bay. Characterized by a clear blue sky, warm breeze, and gentle waves, the beach is ideal for long walks and water sports activities like kite surfing.
Eliye Springs Beach, Lake Turkana
In my quest to get people out of Diani, Watamu, and the rest of the Kenyan Coast, let me propose an off-the-beaten-path beach destination, Lake Turkana.
Along the shores of the lake lies a tranquil and pleasant beach, Eliye Springs. It has a calm atmosphere, a palm-fringed beach, and a resort from where you can explore the region.
Although it's only popular with local adventurers and a few explorers, the Lakeside area teaches you more about Kenyan culture than any other place.
There is history too. Flanking the eastern side of Lake Turkana is the Koobi Fora and other fossil-bearing sites, where species of early human were discovered.
Visiting Eliye Springs beach is free – except for activities like a boat ride to the Central Island National Park.
Nyali Beach
Nyali Beach is the best of the beaches near Mombasa. It's situated close to the City, making it a perfect destination for a day trip. The beach is clean, less crowded, and offers plenty of opportunities for water sports, like swimming and surfing.
Behind the coastline and white sands lie lavish resorts, beach homes, and a shopping mall.
Also, the coral reefs of the nearby Mombasa Marine National Park invite you for exploration by snorkeling or scuba diving.
Pirates Beach
An excellent alternative to Nyali Beach is Pirates Beach. This public beach attracts many travelers, especially locals from Nairobi and other upcountry towns.
Due to its proximity to Mombasa, the beach is overcrowded on weekends and public holidays. However, if you want an affordable beach with plenty of activities and places to eat, Pirates is the place to be.
Bamburi Beach
Bamburi is my favorite beach in Mombasa. Besides feeling the sand beneath your feet, the breaking waves clear your mind. Bars and restaurants along the beach invite you for local dishes and a cold, Tusker beer.
In the evening, you can relax under a palm tree or watch the sunset and ships approaching the shore. Also, don't forget to try out the nightlife in Bamburi town – the Nairobi of coastal Kenya.
Shanzu Beach
Perched along the Mombasa-Malindi road, Shanzu is a secluded sandy beach and hideaway for those who know the Kenyan coast well.
The main reason Shanzu made it on this list of the best beaches in Kenya is that it's the most scenic beach in Mombasa and less crowded than the rest.
Malindi Beach
Located in Malindi town, this is one of the best beaches in Kenya, and it's a short drive from Watamu Beach. So if you're looking for golden white sands, a fantastic local vibe, or relaxing under the shade of palm trees, this is the place to visit.
During your beach visit, don't forget to take a boat ride at the Malindi Marine National Park.
Other Beaches in Kenya
In addition to the above list, other great beaches in Kenya are worth exploring. They're all located along the Kenyan coast and include Tiwi Beach, Kilifi Beach, Galu Beach, Mtwapa Beach, and Gazi Beach.
More Posts About Beaches in Kenya
Diving in Kenya
There are 6 Marine Parks and Reserves in Kenya; Mombasa, Kisite Mpunguti, Malindi, Watamu, Kiunga and Diani-Chale. These parks are natural diving sites popular with experienced and novice divers. Listing the top diving spots in Kenya is a risky affair.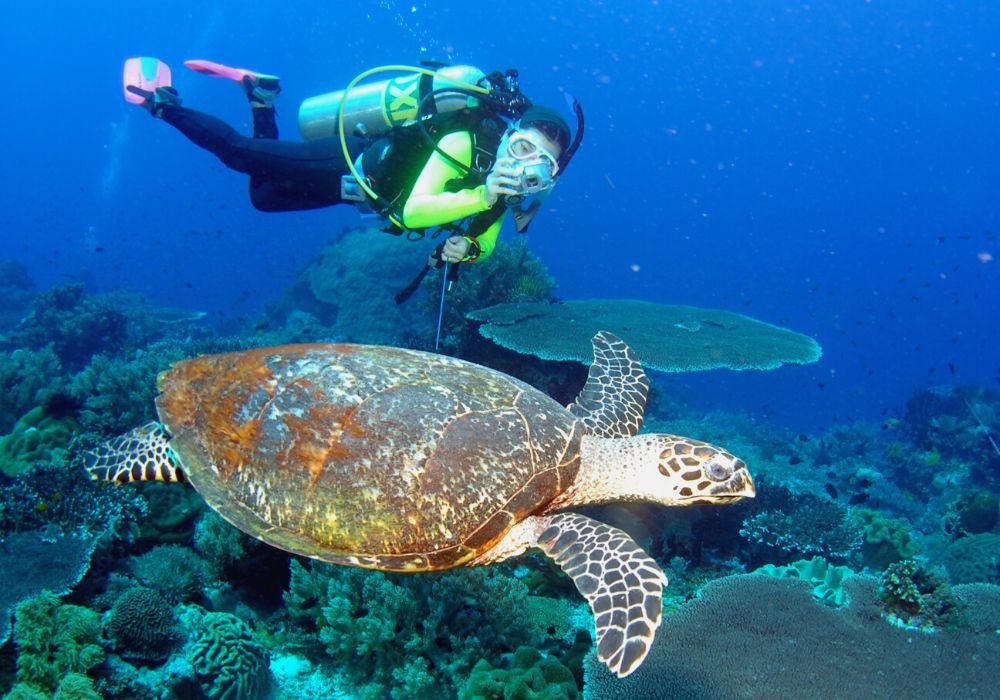 The desires of divers are wildly varied, and weather conditions keep changing.
However, several sites along the Kenyan Coast in Diani, Kilifi, and Watamu stand out above the rest. Below are my picks for the top 5 diving spots in Kenya to help you plan your next scuba adventure in the country.
Nyuli Reef, Shimoni
Nyuli Reef in Shimoni has a deep dive wall where two currents meet. A coral reef wall starts at about 28m, and the site is suitable for experienced divers only.
Look out for Napoleon wrasse, White tip reef sharks, and Manta Rays.
Turtle Reef, Watamu
Located in the Watamu Marine Park and Reserve, north of Mombasa, Turtle Reef is one of the best diving spots in Kenya.
As a novice diver, this is my favorite site. It's a shallow dive between 10 and 15 meters deep. Here you'll spot the surgeonfish, parrotfish, and green turtles.
Mombasa Marine Park
Scuba diving at the Mombasa Marine Park is possible all year round. This is mainly because of the suitable conditions of the inside lagoon. There's no need for wet suits here as water temperatures range between 25°C and 32°C. So whether you're a beginner or an expert diver looking for a diving spot in Kenya with spectacular marine life and colorful fish, try Mombasa Marine Park.
Vuma Caves, Kilifi
Scuba diving in caves is one of the most thrilling diving adventures. And the dark corners of the Vuma Caves in Kilifi offer just that. The dive spot is located about 40 minutes by boat from Kilifi Creek, north of Mombasa City.
Its average depth is 20 meters, making it suitable only for experienced divers.
You should expect to see large species of marine life, such as reef fish, green sea turtles, manta rays, and barracuda. Also, look out for reef sharks, dolphins, snappers, and groupers.
Galu Reef, Diani
Galu reef is a dive site situated only a short 10 minutes boat ride from Sands at Nomad. The reef is home to attractive corals and groups of rare fish species. With an average depth of 15m, the dive spot is suitable for divers of all levels, from beginners to experienced ones.
During the diving trip, you can see turtles, ghost pipefish, leaffish, sea horses, and frogfish.
Kinondo Reef, Diani
Also accessed from Sands at Nomad is the Kinondo Reef diving site (30 minutes away). At an average depth of 15m, the site is suitable for intermediate and experienced divers.
The diving spot is popular among divers due to its high fish population compared to other sites along the south coast of Kenya.
You can expect to see the yellow and blue snappers, triggerfish, lobsters, Napoleon wrasse, and barracuda.
Artificial Dive Wrecks
To complement the fascinating natural reefs and cave dives are artificial wrecks. These purposefully sunk ships and fishing trawlers attract marine life and are great diving spots.
They include the Alpha Funguo Wreck, Waa Wreck, and MV Diana in Diani.
Hiking In Kenya
Kenya has some of the best hiking destinations in East Africa, ranging from forest trails and rocky hills to strenuous mountains. These places are located in national parks and reserves or deep in the hinterland. Many shorter walks in Kenya can be undertaken without a guide. But for remote and high-altitude hikes, it's advisable to seek trail information from local guides, Kenya Forest, or the Kenya Wildlife Service.
If you would like to go on an outdoor adventure, the following are the best hiking trails in Kenya. As a local, I have been to them several times and find them extraordinary. However, they vary in difficulty levels, and it's worth checking them out before going.
Ngong Hills
An excellent day hike for beginners, the Ngong Hills follows a well-used path accessible throughout the year. The hills are near Ngong town outside Nairobi, a few kilometers by public buses from the capital.
You can start this hike from the Kenya Forest Service gate or Kona Baridi on the other end.
The trail takes you through seven knuckle-shaped hills, a forest, and grazing fields with sweeping views of the great rift valley.
The sunset views are especially grand, filling the horizon with a delayed yellow grow. Many hikers complete the trek in 5 hours walking from gate to gate.
Elephant Hill, Aberdares
One of Kenya's most popular hiking destinations, Aberdare's Elephant Hills, is challenging as it's rewarding.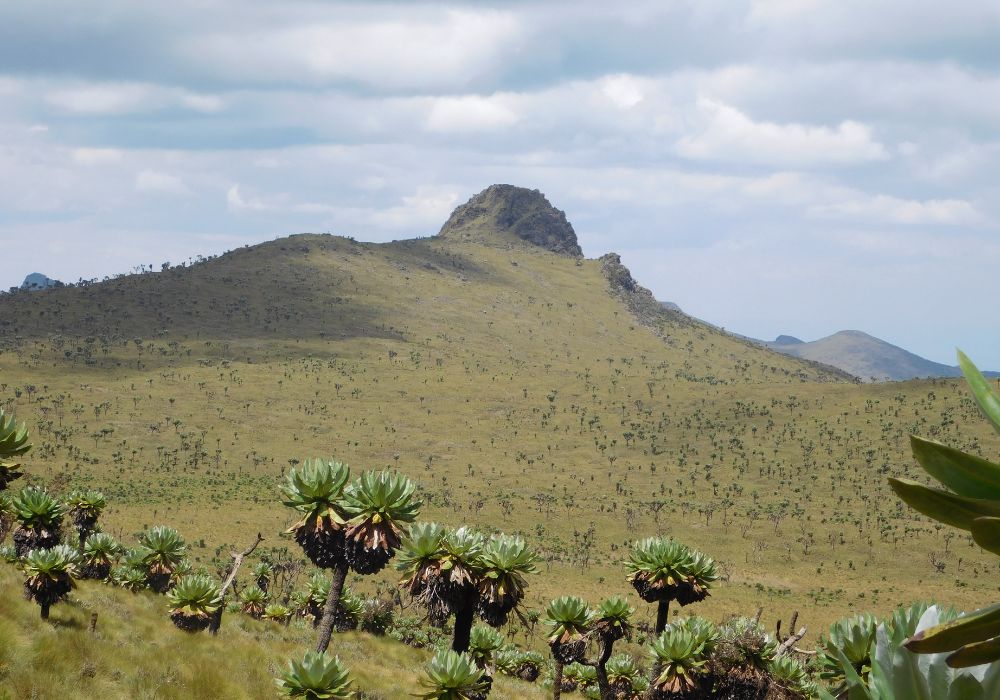 Many hikers trek the hills as final preparation for more extensive treks like Mt. Kenya and Mt. Kilimanjaro. Having hiked Elephant Hills a couple of times, I consider it the best trail in Kenya.
The starting point for trek is at the Kenya Wildlife Service gate in Njabini. The trails begin along a dirt road before taking you through the natural bamboo forest.
The hike is rated difficult and takes between 8 and 10 hours. If you're curious enough and looking for a more significant challenge, hike up to the Kinangop peak.
Mt. Satima, Dragon's Teeth Trail
At 4,000 ASL, Mt. Satima is the highest in the Aberdares. Hiking on this trail is always a challenging and exhilarating experience.
You trek past a thick forest and through marshes to the Dragon's teeth. The hike is moderate and one of the best in Kenya.
Ragia Forest Trail
Ragia Forest is truly every nature lover's paradise. The trail rewards every hiker with glorious views, a fantastic variety of flora and fauna, and two beautiful waterfalls.
This trail is easy and takes about 6 hours to finish. It starts from the Sasumua dam or the forest station gate in Njabini and takes you along a dirt road and through a bamboo forest.
Menengai Crater Trail & Caves
Situated on the outskirts of Nakuru City, Menengai Forest is considered one of the top hiking destinations in Kenya. The hike is easy, making it popular among beginners and day trippers.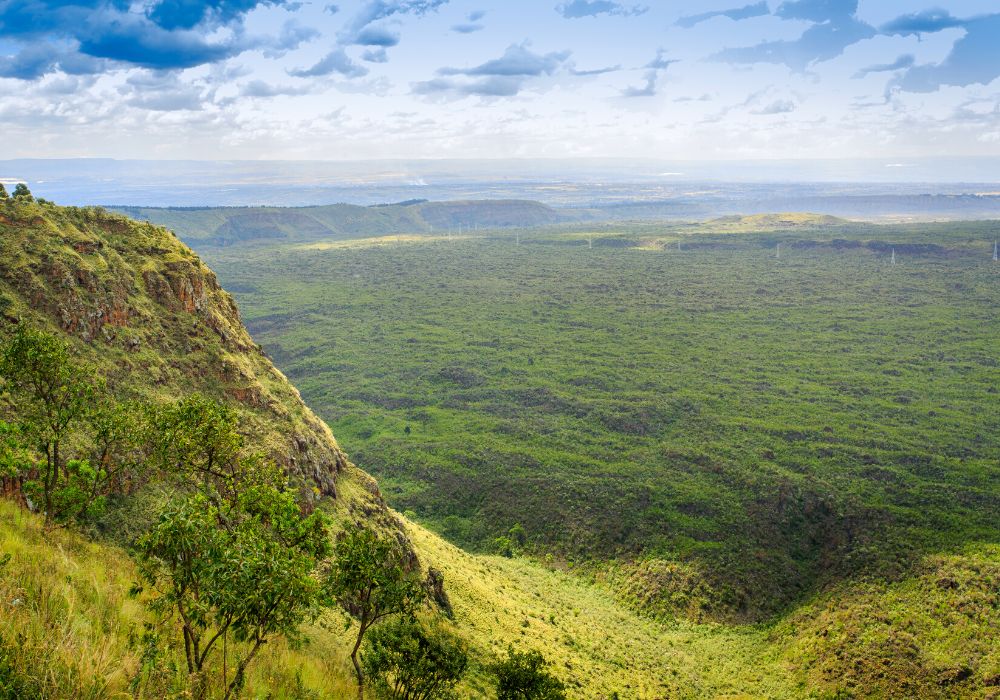 The trek starts at the crater's viewpoint. It then proceeds to the crater's floor along a forest path leading to two sacred caves.
Also, the coral reefs of the nearby Mombasa Marine National Park invite you for exploration by snorkeling or scuba diving.
Rurimeria Trail
Rurimeria, also in the Aberdares, has grown in popularity to become one of the top hiking destinations in Kenya. The trail is a favorite for trekking enthusiasts seeking a more challenging day hike.
Just like the Elephant hills, Rurimeria is considered difficult but rewards you with beautiful landscapes and nature's unspoiled beauty.
At 3,860m ASL, Rurimeria is the third-highest hill in the Aberdares after Satima and Kinangop. It's located about 2 hours from Nairobi, and several hiking groups offer weekend trips to this fantastic trail.
Table Mountain Trail
Also in the Aberdares, Table Mountain is one of the most scenic trails in Kenya. The mountain is accessible from Miharati town, about 2 hrs from Nairobi.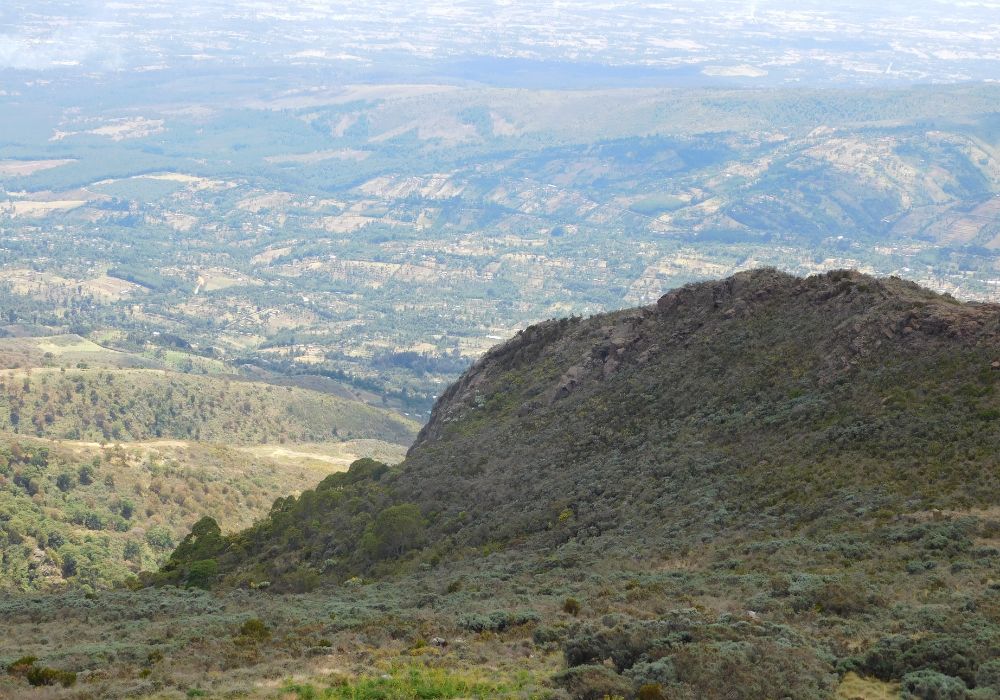 The trail rises to about 3687m ASL – above the clouds. On a clear day, other mountains like Mt. Satima, Kinangop, and Mt. Kenya are visible from its top.
Also, the coral reefs of the nearby Mombasa Marine National Park invite you for exploration by snorkeling or scuba diving.
Mount Longonot
Mount Longonot is a stratovolcano that rises from the floor of the Great Rift Valley. The hiking trail is part of Mt. Longonot National Park, located southwest of Lake Naivasha, about 90 kilometers from Nairobi.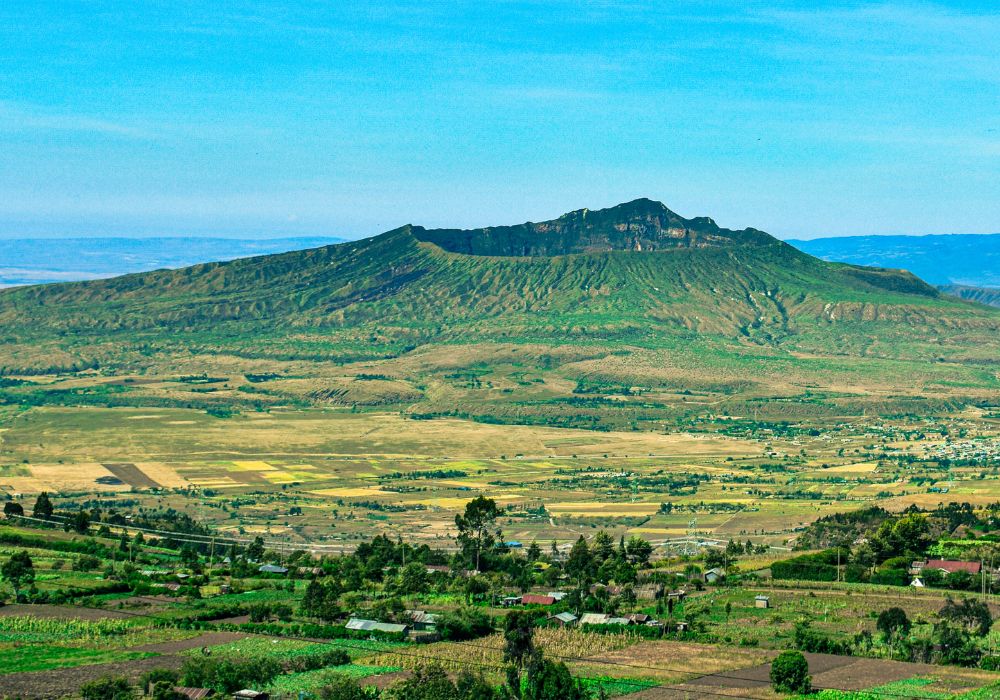 The mountain is believed to have erupted around 1860, and the ashes are still visible along the trail.
Although the trail is only 13.5 Km and takes about 5 hours, hiking Mount Longonot is not easy. Heat during the day can be exhausting, and plenty of water is required.
However, hikers can go up to the rim or walk around the crater. Due to its closeness to Nairobi, Mount Longonot is the most popular day hike in the country.
Sleeping Warrior & Ugali Hills
Sleeping Warrior is situated at the foot of the Great Rift Valley and resembles a warrior lying on his back, hence the name. The Maasai people associate the hill with Oloibon, who was a great warrior according to their legend.
The hike starts at the gate of Lake Elementaita, following a walk along its shores past the nearby hot springs. A climb up the Sleeping Warrior opens up to a beautiful view of Elementaita.
After savoring the landscapes at the peak, you begin descending toward Ugali Hill. This hill is steep, and its shape resembles Ugali – Kenyan Dish.
The trail then descends towards a dirt road that leads to the finishing point. The hike takes 5-6 hours, depending on your fitness level.
Ugali Hills
Mount Kenya is the second highest mountain in Africa. At 5,199 meters ASL, Batian peak is second only to Mount Kilimanjaro's Kibo peak in Tanzania.
Trekking this mountain is a challenge, but it's rewarding. Several routes lead to the Summit of Mt. Kenya, like Chogoria, Sirimon, and Naru Moru.
However, many hikers and guides prefer the latter because it's more scenic and easily accessible.
If you have always dreamed of trekking Mount Kenya, a 5-day expedition will take you to point Lenana, which is the main summit.
If you have limited time, a day trip to the lower edges will also offer you a rewarding experience.
More Posts About Hiking in Kenya
National Parks of Kenya
National parks and game reserves in Kenya rate among the best in Africa. The wildlife, marine species, landscapes, and activities in these protected areas make going on a safari one of the best Kenyan experiences. If you're looking for an enduring memory from your safari, make sure to visit one of the following top national parks and reserves.
Nairobi National Park
Nairobi National Park is one of the few game parks in the world, that's literally inside a city. Situated less than 20 minutes from the city center, it's an ideal place to get your first safari experience and a feel of what Kenya has in store.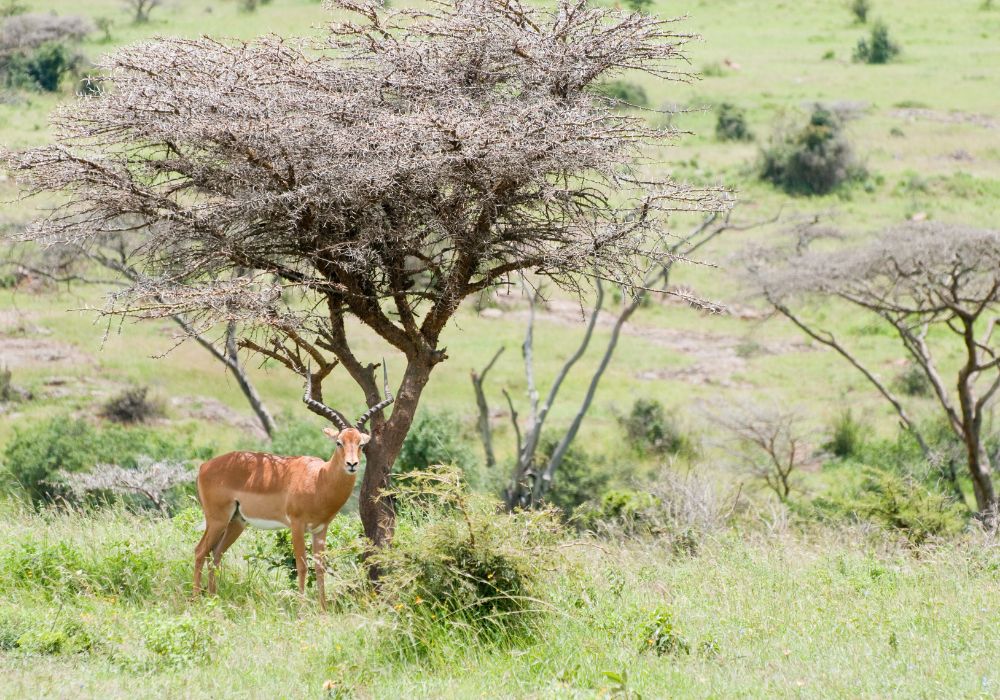 It's also a great park to visit for travelers who do not have time to explore other parks like the Masai Mara, Tsavo, and Samburu.
Although you can use a saloon car, open-roofed and four-wheel drive safari vans are preferred for a game drive in the park.
They're comfortable and usually come with tour guides who know exactly where to go. In the park, you can expect to see wild animals like lions, giraffes, buffalos, white rhinos, and zebras.
Besides wildlife, there are other attractions in the park, like the ivory burning site, picnic, and camping sites. Find a safari here.
Amboseli National Park
There is possibly no better safari experience in Kenya than watching elephants at the Amboseli National Park.
This scene is made more appealing by the view of Africa's highest Mountain, Kilimanjaro, which lurks in the background. Amboseli is located about 4 hours away and makes for a great day trip outside Nairobi City.
Hells Gate National Park
It's one thing to watch wildlife from the safety of your safari van, quite another to do so on a bicycle or foot. Hell's Gate National Park may not be home to predators, but watching other wild animals like giraffes in close range is certainly experiential.
The park also has beautiful landscapes like steep rock cliffs, canyons, and gorges.
Besides rock climbing and exploring rock outcrops, Hell's Gate National Park is a chance to cycle or walk through wildlife areas.
Bikes are available for a small fee at the parks, and travelers can hire a local guide for a better experience.
Lake Nakuru National Park
Lake Nakuru National park is one of the best parks to visit in Kenya. Game drives and animal viewing at the park are possible throughout the year. You can expect to see black and white rhinos, tree-climbing lions, and gazelles, among other wild animals.
Other activities include bird watching, camping, picnic, and lake viewing from Baboon Cliff and Lion Hill.
Tsavo East National Park
Tsavo National Park is the Largest park in Kenya. The park is divided into two – Tsavo East and Tsavo West, separated by the Nairobi-Mombasa road and railway.
Tsavo East National Park is located about 232 kilometers south of Nairobi, and it's the most popular of the two among tourists.
Some of the attractions in the park include wildlife, striking landscapes, and natural features. Travelers can expect to spot herds of elephants, see the Mudanda rock, chase the Lugard falls and explore the Yatta Plateau.
Masai Mara National Reserve
The Masai Mara National Reserve is probably Kenya's most famous tourist destination. The reserve is located in the Great Rift Valley in primarily open grassland.
Consequently, wildlife tends to concentrate most on the reserve's western escarpment. However, the eastern side is closest to Nairobi and easier to access by visitors.
The Great Migration starts in July each year when thousands of wildebeests and large numbers of gazelles and zebras migrate from the Serengeti plains in Tanzania to fresh pastures on the Kenyan side.
Masai Mara is the ideal safari destination for first-timers in Kenya because it has a little bit of everything, including wildlife, plenty of accommodation options, and activities like sunrise balloon flights.
Samburu National Reserve
Just a short hop from Nairobi, yet a world away in every other respect, is the Samburu National Reserve. Although less visited, the reserve is strong in luxury accommodation in a wild setting.
Along with Buffalo Springs and Shaba, it forms a continuous park separated only by the Ewaso Nyiro River.
Together, these reserves provide an opportunity to view five wildlife species found almost nowhere else in Kenya: the reticulated giraffe, Somali ostrich, the Beisa oryx, gerenuk, and Grevy's zebra.
Tourist activities include game drives, bird watching, bush breakfast, nature walks, and the Samburu cultural experience.
Kisite Mpunguti Marine Park
Hiding like a secret jewel off the south coast of Kenya is the Magical Kisite Mpunguti Marine Park. The park is about 6 kilometers off Shimoni, south of Wasini island, near the Tanzanian border.
The marine area comprises four small islands surrounded by coral reefs. Coral platforms around the raised central portion are exposed at low tide.
Also, the surrounding waters have well-developed coral gardens and a large variety of fish.
Due to the presence of coral reefs, the park is a popular destination for watersport activities like snorkeling, sailing, diving, and swimming.
Meru National Park
Although less visited than Nairobi and Masai Mara, Meru National Park is a pristine park located in the Mt. Kenya region. This park is home to rhinos, lions, cheetahs, and elephants, among other wild animals.
Also, it was once the home of Joy and George Adamson, of 'Born Free' fame.
Besides wildlife, visitors can expect beautiful landscapes like hills, forests, and natural streams.
Malindi Marine National Park & Reserve
Malindi Marine Park and Reserve is located near Malindi town and extends to Mida creek in Watamu. It's enveloped by a national reserve and a strip of coastal land starting from the Vasco-da-Gama pillar to Watamu.
The park has magnificent resources such as fringing reefs, coral, sea grass, mangroves, mudflats, high fish diversity, marine mammals, and turtles.
The fringing reef is close to shore and exposed during low tide but drops gradually to a seagrass bed that descends precipitously to the deep Barracuda Channel.
North Reef has developed offshore and is the main tourist center. Visitors flock to the park all year round for water sports like surfing, diving, and snorkeling.
Wildlife Safaris in Kenya
For many tourists, the first thing that comes to mind when someone mentions Kenya is safari. The word brings visions of wildlife roaming in national parks, African sunsets, bonfires in the bush, and so much more. Although on its own, the word safari means "journey", prefix it with wildlife, and you're up for one of the best experiences in the world – Wildlife Safaris in Kenya.
The Great Migration in Masai Mara
Because of its uniqueness and the preservation, it provides to so many wild species living in harmony, Masai Mara has earned itself a candidate for the Eighth Wonder of The World title.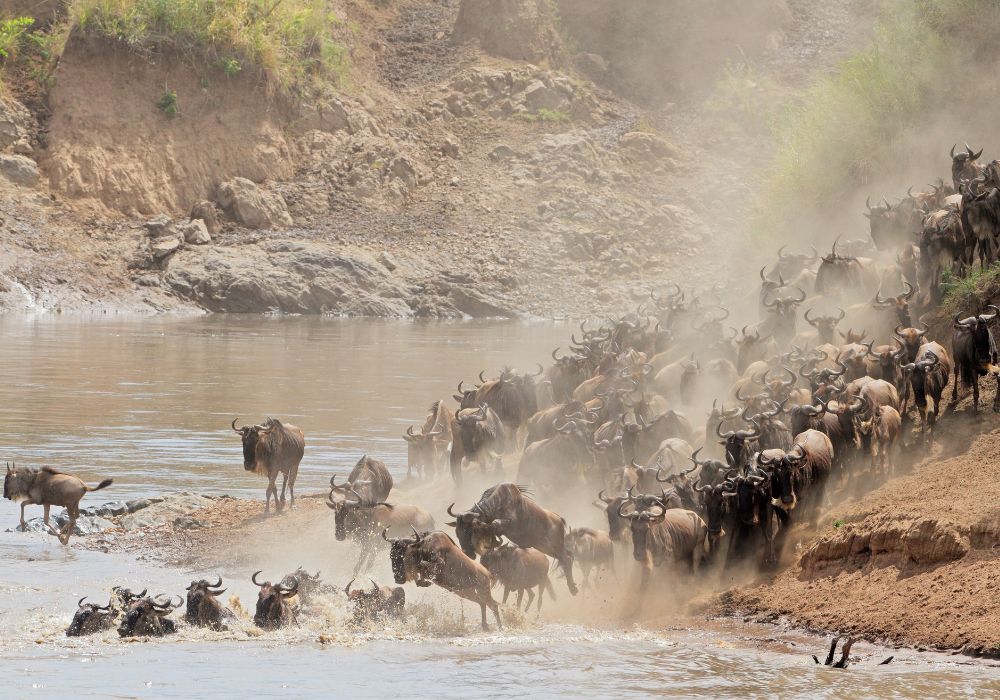 Besides watching the big five, the reserve's major attraction is the annual zebra and wildebeest migration between July and September.
The highlight of this migration is the animals crossing the crocodile-invested Mara river. Shorter safaris to the Masai Mara involve three nights in the park with game drives and other experiences.
Elephants of Amboseli National Park
There is possibly no better safari experience in Kenya than watching Elephants at the Amboseli National Park. This scene is made more appealing by the view of Africa's highest Mountain, Kilimanjaro, which lurks in the background.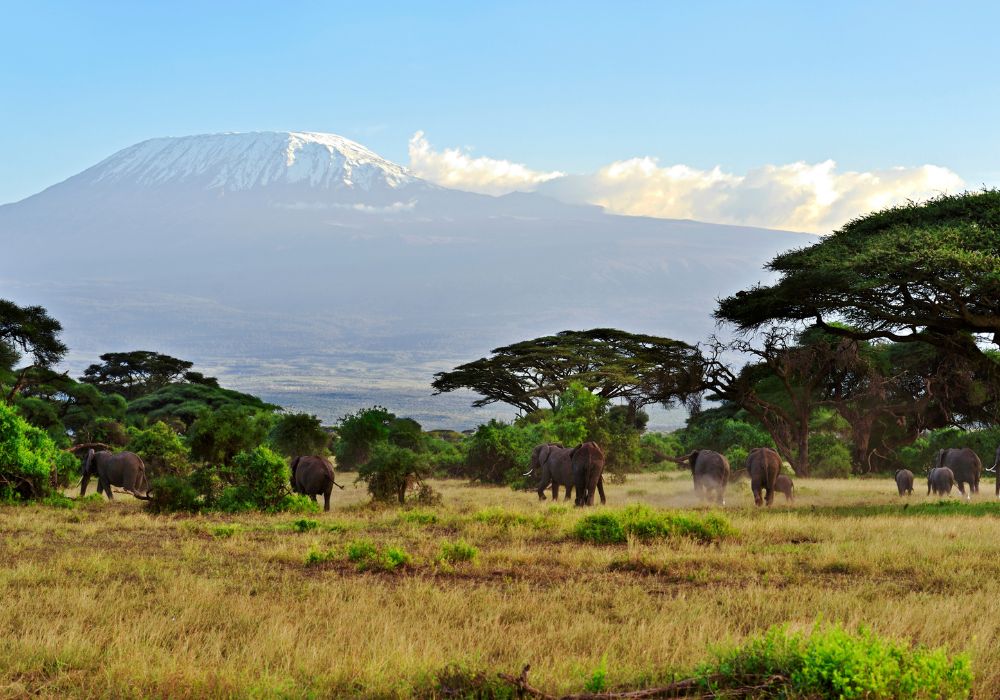 Amboseli is located about 4 hours away and makes for a great day trip outside Nairobi City.
The Big Five at Tsavo West National Park
Situated about halfway between Nairobi and Mombasa, Tsavo West National Park offers excellent opportunities for wildlife viewing and physical attractions.
Apart from the Big 5, there are a lot of other wild animals that are interesting to observe in their natural habitat.
The park is also conducive to hiking and bird-watching. Plenty of wildlife safari packages are available for exciting game drives through diverse landscapes.
Also, several campsites, lodges, and guesthouses inside the park to make your safari trip more pleasant.
Lions of Tsavo East National Park
Home of the famed man-eaters during the construction of the railways, Tsavo East, is full of legendary tales. Located along the Nairobi-Mombasa highway, this wildlife safari destination is definitely for all nature and wildlife lovers.
The game highlights in the park include herds of elephants, hippos, crocodiles, and leopards. You can also marvel at physical attractions like the Lugard falls, Aruba Dam, and Mudanda Rock.
Nairobi National Park Safari Experience
The park is unique as nowhere else in the world exists a wildlife park with such a variety of wild animals and bird species so close to a capital city. The diverse flora in the park makes it possible for different wildlife species to exist.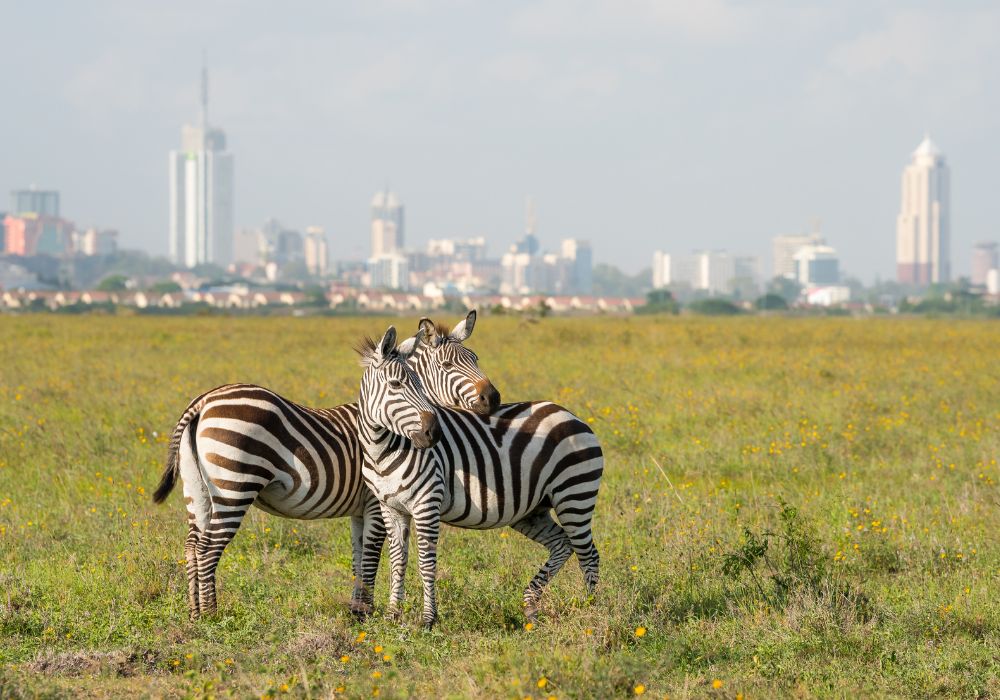 During a morning game drive, you can expect to see animals such as black rhinos, lions, buffalo, wildebeest, and giraffes against the background of Nairobi's tall buildings.
Rhinos Safari at Lake Nakuru National Park
The allure of Lake Nakuru is undeniable, and so is the safari experience in the Lake Nakuru National Park.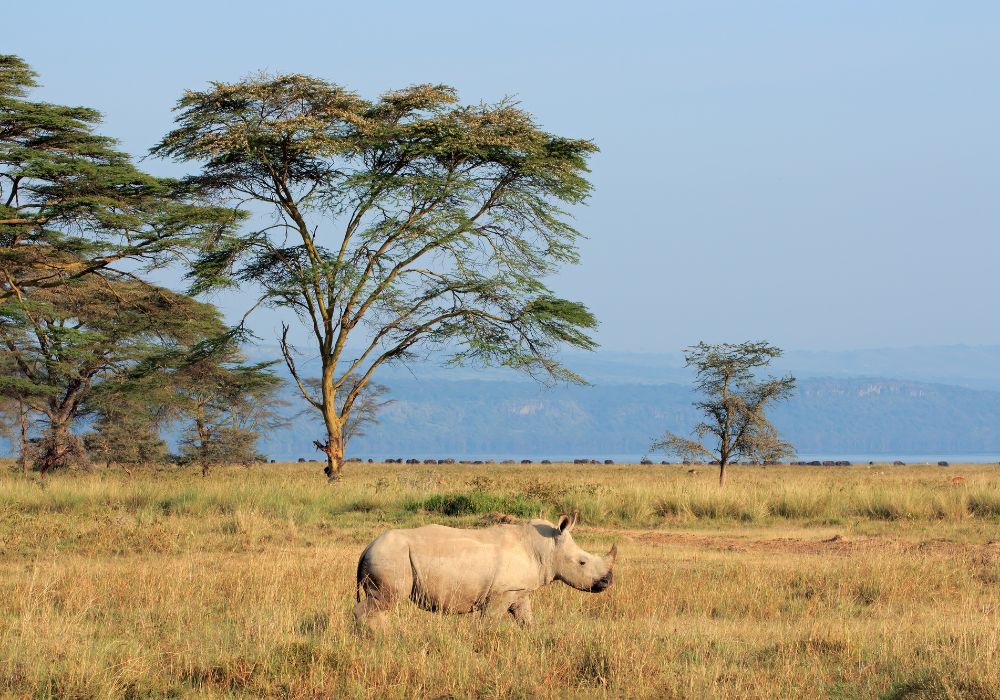 The park is rich in diverse wildlife, terrestrial birds, and other attractions. You can expect to see lions, rhinos, Columbus monkeys, leopards, and other wild animals.
The Wonders of Meru National Park
Meru National Park is slowly gaining popularity as a great wildlife safari destination.
The most popular animal species spotted in the park are the Grevy's zebra, elephants, reticulated giraffes, hippos, and cheetahs.
If you're on a leisure holiday, visit the National Park for a chance to view wildlife and other attractions such as Adamson's falls, Mt. Kenya, and river habitats.
The park also has excellent accommodation facilities like Elsa's Kopje Lodge and Leopard Rock Lodge.
Shimba Hills Safari
The reserve lies about 35 kilometers south of Mombasa city and is easily accessible from Diani Beach. It's rich in flora and fauna and hosts the highest density of African elephants in Kenya.
Other wildlife species in the reserve include giraffes, bush pigs, buffalos, and serval cats. The forest area is also a critical bird zone with over 100 species. So if you happen to be in Diani, this is one of the best places to spend your day.
Chyulu Hills National Park Camping Safaris
One of the best ways to experience Kenya on a budget is by combining wildlife and camping safaris. And there is no better place for that than the magical Chyulu Hills National Park. Breathtaking views, blue skies, wildlife, and beautiful landscapes are some of the great things in store for you at Chyulu hills.
The park is home to buffalos, elephants, elands, and reptiles such as the Puff Adder and the Black Mamba. There are two campsites at the edge of the park; Kiboko and Kathisayo.
Diving Kisite Mpunguti Marine Reserve
If someone pressured me to reveal the hidden gems in Kenya, Kisite Mpunguti Marine Reserve would be one of them.
Although the reserve does not fit in as a wildlife safari destination, it's the ultimate place for marine life and sea birds. This ecosystem comprises four small islands rich in coral reefs and forest vegetation.
Take a safari to the park for water skiing, snorkeling, scuba diving, and bird watching. And if you don't find it fascinating, travel north to Arabuko Sokoke National Reserve.
Cost Of Travel in Kenya
Kenya remains a good-value destination on the whole. As in any safari country, your most significant expenditure is likely to be on wildlife tours and accommodation.
Dining, however, remains very affordable even in better places, and public transport is extremely cheap. Museum visits, outdoor excursions, and walking experiences are cheap or free. Car rentals are relatively affordable too.
If you're on a tight budget, count on spending $30-50 daily. Those on a moderate to a mid-range budget can expect to pay $100-150 daily.
If you're on a higher level of spend, count on spending upwards of $200.
Costs also vary according to where you are in the country. They're lower along the north coast and, to some extent, in Nairobi.
However, staying in Masai Mara's tented camps or lodges in the plains of Laikipia is not cheap.
Below I'll break down the average daily budget for traveling Kenya so you have a better idea of what to expect, no matter what your budget might be.
Cost Of Accommodation
Kenya has many accommodation options, from budget hostels and basic city hotels to beach resorts and luxury tented camps hidden in the bundu.
There are also all kinds of campsites, cottages, bandas, and affordable tented camps scattered around national parks and reserves. Prices for these facilities range from $10 to more than $300.
Hotels in Kenya
If you prefer hotels to budget hostels and campsites, you can thrive in Kenya on less than $100 a day per person for full board (room and meals).
Budget: $15–$35 per night
Mid-Range: $40–$70 per night
Top-End: From $100 per night
Hostels in Kenya
The Kenyan coast is considered a backpacker's trail. This is because there's so much to do and see on a budget. Also, there are several backpacker hostels in major beach towns like Diani, Mombasa, Kilifi, Watamu, Malindi, and Lamu.
Backpackers and students can enjoy the trail by paying as little as $45 per day ($15 for a dorm bed, $10 for meals, and $20 on activities).
Apartments In Kenya
There are plenty of Airbnb apartments available in Kenya, particularly in Mombasa and Nairobi. You can usually find a nice studio for around $35 per night, a 1-bedroom for $45-$50 per night and luxury 2-bedroom places can run upwards of $300 or more per night.
Cost Of Activities & Tours
There are many fun activities and things to do in Kenya for every budget. Whether you opt for wildlife safaris, diving, local experiences, outdoor excursions, or historical experiences, the country has it all.
You'll pay about $50-$100 for splurge experiences (wildlife safaris), $30-$60 for significant activities (water sports, skydiving), and $10-$35 for minor ones (walking tours, museum visits, and cooking classes), and about $40 for Outdoor activities (zip lining, day hikes).
An overall average of $40 per day works for most people. Make sure you budget more for activities & tours. After all, these are the driving force behind your visit—you came to sightsee, enjoy, and experience Kenya.
Cost Of Food in Kenya
Food is relatively cheap in Kenya, with the average price for meals being $30. But, expensive dishes (like seafood), fine wine, and dessert can significantly increase your final bill.
When restaurant hunting on a budget, choose spots where locals go. This is because they eat higher quality foods at lower prices. While in Nairobi, Kilimanjaro and Ronalo Foods are great options. For less than $10, you can sample local dishes and eat to your fill.
Cost Of Alcohol in Kenya
Tourism goes together with partying, and the nightlife scene is part of the ultimate Kenyan experience. Most bars and nightclubs open at 4 PM, and the fun runs all night. However, alcohol is only sold from 2 to 8 PM in supermarkets. Tusker is hands down the most popular local beer in Kenya. A 500ml bottle costs around $2.5 in a liquor store and $3-5 in bars and hotels.
Although not typical, craft beer is available in big cities like Nairobi. One of the best such beers is Samburu ($4) by 254 Brewing. If you love wine, you'll find a variety of international wines. Kenya also produces Leleshwa wine, available in camps, lodges, and some hotels.
Besides beer and wine, you'll find a wide range of international spirits and local drinks like Mnazi (around $1) among the coastal people. You can have a fantastic drinking night in Kenya without spending a lot. Going out with fellow travelers and locals always does the trick.
By sharing costs, ordering in bulk, and taking advantage of discount nights, you can have a great drinking experience for less than $40.
Tipping
Tipping in Kenya is entirely at your discretion, so if you don't feel you have received sufficient service, feel free not to. However, as a general guideline, below are the typical rates.
Tipping at Restaurants
When eating out at restaurants in Kenya, you can add 10% of the bill as a tip. Alternatively, round up the bill to the nearest Ksh 200 or Ksh 500, depending on the service quality.
Tipping Tour Guides
If you're happy with the trip, give your van driver or tour guide between $10 to $20 at the end of the safari.
Tipping Housekeeping
When you stay at a hotel in Kenya, it's a good idea to leave a tip for your hotel room keeper. Count on between $1 and $5 (Ksh 100 – Ksh 500) per night.
Tipping Luggage Handlers
The unofficial tipping rate for Luggage Handlers in Kenya is about Ksh 200. But that's also up to you.
Tipping Taxi Drivers
Tipping taxi drivers in Kenya is considered a good gesture, even though it's not expected. You can offer to round up your fare or tip about 10 percent of the total.
Budget ($30-50/day)
Using public transport like Matatus, staying in low-cost accommodation, eating in local restaurants, and joining budget activities, you can keep your daily costs to less than $50.
Mid-Range ($100-150/day)
Going full board in lodges, sleeping in mid-range hotels, eating out often, and doing independent safaris will cost you more than $100 daily.
Top-End ($200+/day)
If you're the type of traveler that goes full throttle on luxury, Kenya does not disappoint. For more than $200 per day, you can stay in luxury tented camps, take private dhow rides, sleep in top-end hotels, and eat in the best restaurants. The sky is the limit here.
Money Saving Tips For Kenya
Travelers have been visiting different destinations for ages, but it takes a lot of planning to do so on a budget and enjoy the trip simultaneously. But planning is not always enough, and you may need other travel hacks. Traveling to Kenya is no exception. During peak season, huge crowds flock to national parks, increasing safari rates.
Unfortunately, it also drives accommodation facilities to full capacity, making getting a room expensive. To ensure you enjoy all sides of Kenya, from history and culture to wildlife and unique landscapes, look for ways to cut your daily expenditure. To help you brainstorm on that, here are a few money-saving tips you can use when traveling around Kenya.
Opt for Cheap Transport
You'll most likely arrive in Nairobi by plane. But after that, ditch the fancy means and get savvy right away. Instead of taking a traditional taxi from the airport, hail an Uber. Also, try as much as possible to travel overland between cities. For example, a comfortable first-class seat on a train from Nairobi to Mombasa costs Ksh 3000. A flight for the same journey costs more than Ksh 5000.
Use Airbnb or Booking.com
Accommodation is one of the most costly traveling expenses in Kenya. Trade expensive hotels and safari lodges for vacation rentals, Airbnbs, hostels, and campsites. If you book on these platforms in advance, or combine it with my next tip of avoiding peak season, then you can find some pretty significant savings on what will likely be your largest expense when traveling in Kenya.
Visit in The Off-Season
Kenya is a tourist hotspot, there's no doubt about it. During the peak seasons of July to October and January to February you will find that many hotels are booked up and those that are available have increased their rates. Visit in the off-season or shoulder season and you'll save money for sure.
Go Local on Meals and Drinks
If you're on a budget, avoid eating out in expensive restaurants or at expensive hotels. Instead, try local restaurants which, as you'll discover later in this guide, have the best food and local vibe. Also, try out street food when walking the streets. Not only is this a budget saving tip, but a good way to meet the locals too.
Try Free Things to Do and See
Exploring magical Kenya doesn't mean you have to spend a fortune. Some of the best money-saving tips on attractions include booking experiences once you arrive, joining local group trips, and traveling off-season. There are equally great free attractions in the country if you're keen to explore and engage locals.
Haggle for the Best Prices
In Kenya, we like to haggle a little. So, to get the best prices at souvenir markets and certain stores, put your bargaining skills to good use. The rule of thumb in open-air markets like the Masai market is to offer half the price for items. Most of the time, but not always, it will work.
Accommodation in Kenya
Kenya has a wide range of accommodations. Everything from budget dorm hostel beds to luxurious glamping resorts on national parks, you'll find something for your budget here.
If you're booking your safari tour through an operator, they'll normally organize your hotel stays for you. When you're in major cities like Mombasa or Nairobi, you'll have the widest array of accommodation options.
Hotels, hostels, and guest houses in Kenya are generally clean, comfortable and very nice. You can also find some great apartments on Airbnb.
Off-Track Kenya Travel
While many places in Kenya are firmly on the tourist trail, all is not lost for adventure travelers. The country has many hidden gems and experiences. As a local Kenyan, I've been to pretty much every tourist spot in the country, but my real passion is exploring the hidden gems of my own backyard. These off-the-beaten-path places are often situated in remote areas, but reward you with tranquillity and excitement. I have been to them all and can't recommend them enough.
The Chalbi Desert Experience
The massive wilderness area between Isiolo and Moyale offers one of the best Kenyan experiences to any traveler bold enough to explore. It's home to nomadic pastoralists whose rich cultures and wildlife coexist and are alluring. In this area, you can track wildlife, stay with locals, hike mountains and get so far off the beaten path, you'll start wondering if you're still in Kenya.
Besides a road trip from Nairobi to Moyale and hiking Mt. Ololokwe, exploring the Chalbi desert is my favorite activity on this northern frontier.Camel safaris take you past dunes to local villages where you interact with locals and learn their way of life. The journeys are run by experienced Samburu Morans and involve camping and long treks.
Iten, Home of Champions
Kenyans love sports, and watching football games in the evenings on the edge of villages and countryside towns is common. However, in the international sporting domain, it's in athletics that Kenya excels – especially at distances between 400 meters and the marathon. If you're curious about what makes Kenyans excel in athletics, visit Iten town (Home of champions). You might as well get a chance to train with legends and upcoming stars.
the Aberdares
If your heart beats for adventure and seeks nature, you might as well skip all other National parks and head to the Aberdares. This national park is home to Kenya's best hiking trails and breathtaking waterfalls. Elephant Hills, Dragons Teeth (Mt. Satima), and the Table Mountains are the best trails for hikers. For nature lovers, don't leave the country without experiencing Karuru, Zaina, Ragia, and Magura Waterfalls.
Gedi Ruins & Arabuko Sokoke Forest
The Kenyan Coast has many attractions – sandy beaches, local cuisine, and diving spots. But if you like taking a different path, visit Arabuko Sokoke Forest and the Ruins of Gedi in Watamu. The former holds many secrets of nature and is home to wildlife and many bird species. Gedi Ruins is an archaeological site that hosts the remains of a 12th-century Swahili town.
It's a mysterious site whose whole story is unknown. And maybe you might unravel the puzzle.
Cultural Experiences
Suppose you want a more authentic cultural experience, head to areas surrounding Masai Mara or Amboseli.
Here you'll find the Maasai people of Kenya who have retained their architecture and nomadic way of life. Such an experience will allow you to interact with the locals and learn their traditions better than in cities.
Food & Drink in Kenya
Many Kenyan restaurants rely on local farms for fresh produce to serve wholesome and freshly cooked local foods. In addition, they make use of the best meat, fish, and in-season vegetables. So if you're ready to indulge your digestive juices in convivial company cheaply, consider this your Kenyan food guide.
Ugali
Kenya's local staple food is Ugali. It's made from maize flour cooked in boiling water to a dough-like stiff solid. Tourists refer to it as thick porridge, although it's thicker than Nshima in Zambia. Ugali is generally served with traditional green vegetables. However, every community has its traditional delicacy.
For example, coastal people and those around Lake Victoria enjoy it with fish. In cities and major towns, Ugali is enjoyed with Nyama Choma, green vegetables, and Kachumbari.
Nyama Choma
This is roasted or grilled meat. Nyama Choma is one of the most favorite dishes in Kenya. It's a classic barbecue made mainly with goat or beef meat seasoned with salt and slowly grilled over hot coals. Nyama Choma is best enjoyed together with Ugali and Kachumbari.
Fish
Kenya has no shortage of delicious fish. The most common is tilapia, which is popular with communities along the shores of Lake Victoria. It's fried and served either dry or wet, accompanied by Ugali and Kachumbari.
Kachumbari
Kachumbari is a Kenyan relish (uncooked salad) made with sliced tomatoes, onions, chili peppers, and coriander (Ndania).
Githeri
In its original form, Githeri is a mixture of maize and beans boiled in a clay pot or Sufuria. It originated from the Kikuyu community of Central Kenya and is now popular across the entire nation. Sometimes Githeri is mashed with peeled potatoes and pumpkin leaves to make Mataha.
Wali
Communities along the Kenyan coast also have their delicious food, Wali. This dish is made of rice and differs depending on other ingredients and how it's cooked.
The most popular include Wali wa Nazi (rice boiled in coconut milk), Wali wa Kukaanga (fried rice), and Pilau (rice flavored with spices).
Street Foods
Besides traditional dishes, street foods are popular along neighborhood streets and markets. The more popular ones in Kenya are Roasted maize, Mutura, Mabuyu, Mayai Pasua, and Samosas. If you can pronounce these words, ask around and experience the Kenyan street foods.
Tusker
Although it's about food, this list could not be complete without a cold drink. Tusker is the most popular local beer. It's best served cold after a safari, work, or while relaxing at the beach. The beer also goes well with Nyama Nyoma.
Image right via Flickr
Best Restaurants in Kenya
Kenya is already renowned for its wildlife and incredible landscapes, but it also has a growing food culture. I love Kenyan Cuisine and I've been traveling around the country tasting the best of my home country's delicacies since I was a child.
As a result, I have a unique perspective on so many Kenyan dishes that aren't often touted in the guide books. The country has plenty of fantastic restaurants that offer a variety of cuisines. So, if you're looking for the best restaurants in Kenya, below are a few of my personal picks.
Talisman Restaurant
Talisman is one of the best restaurants in Nairobi. The multicultural restaurant offers African, European, and Pan-Asian cuisine. Defined by beautiful nomadic carpets, elegant furniture, carved wood pillars, and green gardens, this restaurant is best for fine dining, coffee nights, and great cocktails.
Trout Tree Restaurant
If you plan to explore Laikipia and northern Kenya, stop at Trout Tree. The restaurant is located before Nanyuki, about 3 hours from Nairobi. It's set in a calm environment with an unmatched ambiance. Trout Tree is known for its delicious fish and other vegetarian options.
Tamarind Restaurant
Located in Nyali, Mombasa, the Tamarind restaurant is not only elegant but also calm, with a variety of delicious dishes. Besides barbeque and other continental foods, they also serve the best seafood in the city. The Tamarind Group operates other equally great restaurants like Tamarind Dhow, Tamambo Karen Blixen, and Roast by Carnivore.
Nomad Beach Bar
Located along Diani Beach, the Nomad Beach Bar and Restaurant offers quality local and continental dishes. Their menu includes pizza, seafood, and other dishes accompanied by drinks and an extensive wine selection. What I like most about this restaurant is the view. It provides a great spot to enjoy the sunset, watch sea activities, and listen to the breaking waves.
The Currency in Kenya
How To Get Money
Knowing the best ways to exchange and take money out of your account while in Kenya is essential. The most convenient way to bring your money to Kenya is a mixture of cash and cards (debit or credit).
Western Union and M-PESA are also available for international money transfers. Please note that only notes newer than 2006 will be accepted when exchanging US Dollars.
ATMs: There are ATMs in almost all banks in Kenya where you can withdraw cash. These ATMs support international networks such as Visa, Mastercard, and Cirrus. Please note that international withdrawal fees can be high and large transactions may be declined.
Cash Exchanges: Cash is generally the best way to go while in Kenya. And although currencies like USD, Euro, and British pound are accepted in several facilities, it's best to carry the local currency. The forex bureaus in Nairobi and Mombasa are the best places to change your bills. But hotels and banks offer the services and charge a higher commission.
Credit Cards: Major credit cards are accepted in most large hotels, restaurants, and shops in cities like Nairobi and Mombasa, but not in remote areas of the country. The most accepted debit and credit cards are Visa and Mastercard.
The History of Kenya
According to archaeological dating, Cushitic speakers were the first arrivals who settled in Kenya's lowlands from Ethiopia. Then, Nilotic-speaking people like the Luo, Maasai, and Samburu began migrating from South Sudan into Kenya around 500 BC.
Bantu people arrived later from the Niger Delta. This group settled along the coast and in the central highlands of Kenya. The Bantus in Kenya include the Taita, Mijikenda, Kikuyu, Gusii, Luhya, Kamba, and Meru communities. European contact with Kenya began in 1500 AD with the Portuguese, and colonization began in the 19th century during the European Scramble for Africa.
Kenya is also home to the Swahili people of the coast and Asians who came in during British rule.
Modern-day Kenya acquired its name in 1920 after becoming a British Colony. The country became independent on December 12, 1963 (Jamhuri day), after gaining self-rule six months earlier on June 12, 1963 (Madaraka day).
Jomo Kenyatta became president on December 12, 1964, when Kenya became a republic. Besides Jomo Kenyatta, Kenya has had four other presidents; Daniel Moi, Mwai Kibaki, Uhuru Kenyatta, and William Ruto (elected in 2022).
Culture & Traditions
Every culture is unique, and with historical differences come some particular traditions and behaviors that travelers should be aware of when traveling around any country. As a local of Kenya and as someone who has traveled even to the country's most remote corners, I feel I am qualified to share with you some of my country's customs and traditions. Before visiting Kenya, you should be conscious of the following customs and etiquette:
Greetings
Every contact or meeting between people in Kenya starts with greetings. Shaking hands is normal. And after the handshake, it's the norm to enquire about their health, family, work, or business. However, Muslim women do not always shake hands with women/men.
Gifting
Kenyans love gifts, especially during significant events in life, like weddings, graduation, or birthdays. However, gifts should never be presented using the left hand. So is money.
Dining Etiquette
The best etiquette during dining is to behave normally and watch what others are doing. For example, eating before the elders and guests and moving around with food are not considered good table manners.
Gestures
Unless looking for trouble, you should never point to someone with your finger. It's also considered rude to shout/call out someone from a distance.
Dressing
Wearing shorts, tight-fitting clothes, and bikinis will not get you into trouble, especially along the coast. But it'll surely attract awkward gazes in the countryside.
Pros Of Kenya Travel
Kenya is a fantastic country to visit. I could go on and on about why I love exploring this country, but it's better to let you decide for yourself. If you're looking for inspiration to visit, here are a few pros of traveling to Kenya.
The People
Kenya's wildlife and attraction sites are accompanied by the warmest of human welcomes. In addition, visitors can experience the vibrancy of Kenyan communities through cultural exchange and tasting the kind of hospitality only Kenya can offer.
The Attractions
Where else in the world can one fly from grassy savannas to a snow-capped mountain to sandy beaches, all under two hours away from each other? Kenya offers you a chance to experience the most, even with limited time.
Most Kenyans Speak English
Besides Swahili, Kenya also has a web of local languages. However, English is a commonly spoken language in the country – a significant inviting factor for English-speaking visitors. Regarding non-English-speaking tourists, people in Kenya also try to learn languages like French and Spanish.
Good Value For Money
Since Kenya is a relatively affordable destination for foreign travelers, it's an ideal country for slow travel. After visiting popular destinations, you can throw away the itinerary and go with the flow. Spontaneity gives you flexibility and leads you to cheap places off the tourist maps. I recommend at least two months to see Kenya, even longer if you can.
Ease of Travel
Kenya travel is relatively easy and affordable with several budget domestic airlines, shared taxis, trains, and local buses. For long-distance travel to cities like Nairobi, Mombasa, and Kisumu, stick to trains and buses. However, matatus and taxis are great for short distances.
Good Climate Year-Round
The joys of a tropical climate all year round make Kenya one of the world's top travel destinations. Even during the rainy season, some world-class Parks are open, and so are hiking trails, beaches, and museums.
Cons of Kenya Travel
No travel destination is perfect, and there are several negative aspects of traveling in Kenya. A good example is Nairobi city centre. The capital can get chaotic, and no wonder some guidebooks refer to it as "Nairobery". If such a word increases your curiosity, keep the following things in mind before traveling and during your stay.
Muzungu Prices
There's a bit of Muzungu pricing (tourist pricing) in Kenya; getting ripped off by a vendor at the Masai Market or paying way too much for a wildlife safari. Of course, speaking Swahili helps a bit, but even that is not a guarantee of local prices. Also, words like Jambo and Hakuna Matata are not considered Swahili and come with a higher price tag.
Security
Kenya's overall security is relatively moderate, but movement in several parts of the country requires prior planning. For example, the road to Lamu from Malindi and parts of the Northeastern region are considered high risk. This calls for proper research and local advice before visiting these destinations.
Attitudes Toward Time
In Kenya (especially in the wild), everything happens "In Time", not "On Time", and the phrase "No hurry in Africa" probably originated here. It simply means that you can take your time, no rush. As a local, I'm used to this, but I fully understand how frustrating it can be for visitors who are used to living by the clock. So, be prepared to take it easy. After all, Hakuna Matata.
Kenya Travel Tips
As a Kenyan native who's traveled around my country extensively for my entire life, I can tell you that I know the customs and the way people think here. Over the years I've spent on the road, I've compiled this quick list of my best travel tips.
Be Patient: TIA (This Is Africa). Take your time. Be patient. Things don't always run the same way in Kenya as they might in your home country. Be patient with the local people and they will be patient with you.
Avoid Going Out Late at Night: Try not to travel on back roads or go out (particularly in Nairobi) late at night. If you end up out after midnight, you'll likely be fine, but avoid it if you can.
Give yourself lots of time: In Kenya, the buses are sometimes late, traffic jams and accidents and flat tires can slow things down. Give yourself plenty of time to get where you're going.
The People You'll Meet
With a population of more than 50 million people in 2022, Kenya is the 28th most populous country in the world. The population is diverse, with a mix of over 42 ethnic groups and a sizeable expatriate population.
Being one of the best safari destinations in the world, Kenya attracts different types of travelers. These visitors, on the whole, tend to find Kenyans hospitable, joyous, and relaxed. So, here are the locals and travelers you can expect to meet in Kenya.
The Locals
The earliest inhabitants of Kenya were hunter-gatherers. But today, the country has a diverse population of major ethnic, linguistic, and tribal groups in Africa. The local population is divided into two major categories; Bantus and Nilotes. Cushites are also a significant minority, as do Arabs, Indians, and Europeans.
The largest community in Kenya is the Kikuyu, which hails from the central highlands and accounts for more than 20 percent of the total population. Other main tribes are the Luo (from around Lake Victoria), the Kamba (Eastern region), the Kalenjin (Rift Valley), Taita and Mijikenda (from the Coast), and the Luhya (from Western Kenya).
Although the country comprises many ethnic groups and tribes, Kenyans have strong national pride and unity. They're also welcoming and beneficial to visitors. A trip to Kenya is a chance to experience the cultural heritage that makes the country one of the best African places.
Types of Other Travellers
In Kenya, you'll find almost every type of traveler imaginable, from backpackers and safari enthusiasts to honeymooners and thrill seekers. The North Coast of Kenya, which includes towns like Mombasa, Kilifi, and Watamu, is a haven for young backpackers.
It has beautiful beaches, nightlife spots, and budget hostels suitable for this group. Further north to parts of Watamu and Malindi, beach villas attract older travelers. Traveling south of Mombasa to Diani, you'll probably find newlyweds, couples, and water sports enthusiasts.
Central highlands are playgrounds for young and middle-aged adventurers. Hiking trails, waterfalls, and lush tea farms offer them a rewarding experience. It's also a chance to engage with locals.
National parks are where all ages converge. Visitors arrive in open-roof tour vans hoping to spot a unique scene like a lion preying on a kill. No matter how old or young, they all seem to agree on one thing. Kenya is a magical destination.
Kenya Travel Facts
Quick Facts Kenya
Name: The Republic of Kenya
Population: 47,564,296 (2019 census)
Capital city: Nairobi
Currency: Kenya Shilling (Ksh)
National Day: Jamhuri Day (12 December)
Time zone: GMT +3:00
Telephone Code: +254
Besides being a Kenya travel guide, this resource page gives historical, cultural, and factual aspects of the country. Below are some quick facts about Kenya.
Religion in Kenya
Kenya is a secular state, and the freedom of conscience, religion, belief, and opinion is enshrined in chapter four of the country's constitution. Based on the 2019 census, approximately 33.42% of the population is protestant, 20.6% Roman Catholic, 20.44% evangelistic, and 10.86% Muslim.
The rest of the population constitutes Indigenous religions, Hindus, Orthodox, Bahá'í, and other faiths.
With over 100,000 members, Kenya has one of the highest numbers of Quakers. Also, about 750,000 Kenyans were identified with no religion.
Their number is even higher than that of people who adhere to traditional beliefs. This latter group includes many people from communities like Kikuyu, Maasai, Turkana, Mijikenda, Pokot, and Samburu.
The Language
Swahili is the national language in Kenya, while English is the official one. Also, numerous local dialects are spoken by different communities in the country.
The two languages, English and Swahili, are used with varying degrees of fluency, but it's easy for different ethnic groups and foreign tourists to understand each other.
Kikuyu and Kamba languages have the most significant number of native speakers, while Rendille is one of the least spoken.
A Few Key Phrases in Swahili
JAMBO, KARIBU and HAKUNA MATATA! These are most likely the first words visitors hear when they arrive in Kenya. They mean "hello, welcome and no problems" and are warmly meant.
Other key phrases that'll probably earn you a discount on safari include the following:
Habari? (ha-ba-ree) = Hello
Habari? (ha-ba-ree) = How are you?
Nzuri/Njema (n-zoo-ree / n-jee-mah) = I'm Fine
Habari ya asubuhi (ha-ba-ree ya a-soo-boo-hee) = Good Morning
Habari ya jioni (ha-ba-ree ya jee-oh-nee) = Good Evening
Pesa ngapi (pe-sir n-gah-pee) = How much?
Asante (ah-sa-n-tee) = Thank you
kwaheri (kwa-he-ree) = Goodbye
Ndiyo (n-dee-yoh) = Yes
Hapana (ha-pa-na) = No
Pole (poh-lay) = Sorry
Saidia (sa-ee-dee-a) = Help!
Unaitwa nani? (u-nah-ee-t-wah nah-nee) = What's your name?
Sielewi (see-ay-lay-wee) = I don't understand
Pombe / bia (poh-m-bay / bee-a) = Beer
Maji (ma-jee) = Water
Baridi (ba-ree-dee) = Cold
Soko (soh-koh) = Market
Na (na) = With
Bila (bee-la) = Without
Kahawa (ka-ha-wa) = Coffee
Kenya Population
From the census conducted in 2019, Kenya had a population of 47,564,296. Of the total enumerated, 24,014,716 were females, 23,548,056 were males, and 1,524 were intersex. This means that females accounted for about 50.5% of the total population. The population grew to 47.56 Million in 2019 from 37.18 Million in 2009.
Nairobi County (4,397,073) is the most populated, followed by Kiambu (2,417,735) and Nakuru (2,162,202). At 143,920, Lamu County has the least population, followed by Isiolo (268,002).
Kenya's population is estimated to reach 56 million by the end of 2022.
Kenya Demographics
Kenya is a multi-cultural state which lies across the equator on the east coast of Africa. The country has over 44 officially recognized tribes. Some tribes, like the Mijikenda and Luhya, comprise more than one community. Besides the major ethnic groups, Bantus, Nilotes, and Cushites, Kenya is home to people of European and Asian heritage.
What To Pack For Kenya
Check out my packing list if you're wondering what to pack for a trip to Kenya. Most of these items are available in local markets, shops, and supermarkets.
Kenya Travel Documents: Valid passport and Visa, airline ticket, insurance card, and invitation letter if required. You're encouraged to make copies and store them in a separate bag.
Money: Make sure you carry ATM cards (Visa or Mastercard) and a few cash notes (USD, EURO, or GBP). There are many ATMs available in major towns countrywide. Money can be withdrawn in Kenya shillings and US dollars (few places).
Universal Adapter: All areas of Kenya are supplied with 220/240 VAC, and we use a 3-square pin plug. Therefore, you must pack a multi-socket adapter and electric converter if you've devices using different power.
Prescription Medicines: Remember to pack your prescription medicines in your hand luggage.
Vaccinations: Before traveling, check the latest vaccination requirements for Kenya. You may be required to provide a COVID-19 certificate, yellow fever card, and other vaccinations card.
Camera and Binoculars: Although a mobile phone is enough for capturing moments, take a camera with you. Binoculars are also essential for viewing distant action in the wild.
Clothes: Pack enough clothes and suitable ones depending on your duration and activities in Kenya. Comfortable, breathable and casual clothes are essential for wildlife safaris and city walks. And if you plan on summiting Mount Kenya, keep layering in mind.
Toiletries: Personal care items and hygiene supplies like toothbrushes, lotions, insect repellant, and sunscreen are available in local shops. However, if you use special toiletries, remember to pack them.
Hiking Boots: Whether you intend to hike Mt. Longonot or chase the Ragia waterfalls, you need a good pair of hiking boots.
Working in Kenya
The Kenyan economy has high growth potential. This has attracted multinational companies who have set up shops in major cities like Nairobi. These companies employ foreign nationals on an intra-company transfer basis. Embassies, NGOs, startups, and international schools also attract foreign workforce who come and go depending on their contract duration.
On the whole, non-Kenyan citizens rarely show up looking for job opportunities. This is because most of them are relocated to Kenya by their companies or organizations and usually don't have to worry about applying for work permits.
However, if you don't have such arrangements, you require a work permit to be eligible to work or volunteer in Kenya. Kenya is also welcoming to Digital Nomads. There are many coworking spaces in the country that allow you to work while you travel. And with the gig economy, there are endless possibilities for online work.
Volunteering in Kenya
Kenya is a regional hub for non-profits and serves as the administrative center of operations for NGOs in East Africa. This makes finding volunteering opportunities in Kenya relatively easy. Besides the popular non-profits, several companies like Go Volunteer Africa organize exciting volunteer trips to Kenya.
Some travelers prefer volunteering in villages and farms where they can stay with locals. This is also made possible by movements like WWOOF, which promotes cultural exchanges and organic farming. I prefer Couchsurfing or staying with a local family when traveling around Kenya. So a service like WorkAway is beneficial in this case.
When To Travel To Kenya
Kenya lies on the Equator, so its climate is mostly tropical. Although the annual rainfall varies yearly, the country generally experiences long rains from March to May. The short rains last from October to December. The coastal areas are hot and humid all year round, but going inland, you'll find daytime temperatures between 17°C and 28°C.
For the most part, Kenya's weather is good, making it a year-round travel destination. However, there are periods for high season and low season. Most travelers flock to Kenya to experience the annual wildebeest migration or to escape winter cold at home. However, if you're savvy enough to visit during the low season, you can have great experiences at reduced rates.
Peak Season For Kenya Travel
Although wildlife viewing is relatively good year-round, the high season in Kenya is between June and October. This is the dry weather period, coinciding with the spectacular wildebeest migration (at its best in August).
During this season, national parks and reserves (especially Masai Mara, Tsavo, and Amboseli) get crowded, and the rates are high. January and February are also dry months. Due to the lack of rain, there are plenty of wild animals to see, making the two months fall in peak season.
Shoulder Season
October to December is the season of short rains in Kenya, especially in the central highlands. This is the best time to visit Kenya. You'll avoid peak-season crowds and take advantage of lower wildlife safaris and accommodation rates.
During this period, the ocean water on the coast is warm and clear – the best conditions for diving and snorkeling. Also, parks like the Masai Mara National Reserve are not affected by the seasons, and game viewing is possible year-round.
Off-Season
From March to late May, Kenya experiences long rains. During this season, game drives in most parks become challenging, meaning fewer tourists in the country. However, travel during this season rewards adventure seekers who don't mind the weather.
The landscape is beautifully green, hiking trails are less crowded, beaches clean, and travel costs are significantly reduced. Also, Masai Mara remains accessible for game viewing and other activities like horseback safaris.
Getting Around Kenya
Getting around Kenya is relatively easy, comfortable, and cheap. You generally have many options, from long-distance buses and Matatus, trains and domestic flights to motorcycle taxis and donkeys.
By Train
Kenya has three daily train services between Nairobi and Mombasa (8 AM, 3 PM, and 10 PM). Each train has two classes, and the journey between the two cities takes just over 5 hours. A first-class seat costs Ksh 3000 while a second-class one costs Ksh 1000. There are also two other long-distance trains from the capital to Kisumu City and Nanyuki. So, if you want to experience Kenya through the window seat, try a train ride to Mombasa.
By Bus
A network of roads serves Kenya well. Many buses and Matatus (minibusses) operate within towns and cities, as well as to upcountry destinations. A bus ride within big cities like Nairobi and Mombasa costs about Ksh 100, while long-distance buses cost between Ksh 1000 and Ksh 3000.
By Plane
Perhaps the quickest and most convenient way to get around Kenya (to other cities and tourist destinations) is to get up in the air. You can get super competitive domestic flights with budget airlines such as Jambojet, and Fly540. For example, a one-hour flight from Nairobi to Mombasa costs anything from $50.
By Car
If you're considering hiring a car to drive around Kenya, there are several car rental companies in the main cities, like Nairobi. However, for off-road trips to national parks and the countryside, you're advised to rent a 4×4 vehicle.
Getting There & Away
Flying is the easiest way to reach Kenya, with direct flights from the UK, US, UAE, and many countries in Africa and Asia. The country is also easily reached through several neighboring countries. For example, travelers on a long overland trip from North Africa can enter Kenya through Ethiopia (at the Moyale border). Other land points of entry include border points with Tanzania, Uganda, and South Sudan.
By Plane
Kenya has four international airports, several small airports, and over 200 airstrips. Jomo Kenyatta International Airport in Nairobi and the Moi International Airport in Mombasa handle most major world airlines. Some airlines connecting Kenya to various parts of the world include Kenya Airways (National carrier), KLM, Fly Emirates, British Airways, Qatar Airways, Ethiopian, and South African Airways.
Although there are several direct flights from the UK, most air trips to Kenya from Europe, Canada, and the USA connect through Dubai, Heathrow, or Doha. Flights from these destinations start from around $400.
By Land
Land travel to and from Kenya is possible by bus, motorcycle, overland truck, bike, or car. If you're arriving from Tanzania, you can enter through Lunga Lunga, Taveta, Namanga, or Oloitokitok borders.
If coming from Uganda, the entry point is Busia and Moyale from Ethiopia. Most travelers use buses to major East African cities, which cost around KSH 4,000 one way.
By Sea
Cruise ships frequently dock at the port of Mombasa when passing along the East African Coast. These cruises originate from Europe and the Middle East and are usually part of sea journeys worldwide.
If you fancy arriving in Kenya by sea, check out companies like Seabourn, MSC Cruises, and Oceania Cruises.
Kenya Travel Requirements
Citizens of the East African Community and some commonwealth countries can enter Kenya with just a passport and may stay for up to 90 days. For those nationalities that do require a visa (valid for 90 days), applications can be made online via the Kenya Electronic Visa System.
Kenya, Rwanda, and Uganda issue a joint East African Tourist Visa. The Visa is applied once and allows tourists to visit any country. However, it's valid for 90 days and not extendable. A single entry visa to Kenya costs $51, and the East African Tourist Visa costs $101.
All applications are made online, and the Visa is obtained at the points of entry – airport or land borders. If you plan a trip to Kenya, please visit the official Kenya Evisa website for the latest visa requirements.
Is Kenya Safe?
Some places in Kenya, like city centers, can be overwhelming sometimes, but the country is generally safe for visitors. That said, some destinations experience security issues, and travelers should be vigilant to minimize their chances of getting into trouble.
Some main problems include petty theft, money scams, and pick-pocketing (especially in crowded places).
So it's also always good to check travel advisories before visiting Kenya. Better still, local news and social feeds like Twitter can give you an idea of what is happening. The only vaccination required when traveling to Kenya is COVID-19. However, WHO recommends several standard vaccinations like tetanus, cholera, polio, typhoid, and hepatitis A.
Also, discuss with your medical practitioner the latest advice on carrying a yellow fever certificate, which is essential when traveling to several Southern African countries. The risk of contracting malaria in Kenya is considered moderate. However, travelers should consult a doctor to determine the best antimalarial tablets for their trip. Also, be sure to bring and use mosquito repellents.
Food in Kenya is good – including street foods. However, always inform your host if you're allergic to certain foods. Visitors should also consider drinking water from sealed bottles in almost all shops, hotels, and lodges. This is because tap water in the country is often untreated. Overall, Kenya travel is safe. So, don't let this information scare you!
Travel Insurance For Kenya
Before traveling to Kenya, getting an insurance policy that covers theft, loss, and medical problems or injury is essential. A typical travel insurance plan usually also covers the loss of baggage, tickets, and cancellation of your trip. However, most policies exclude "dangerous" sporting activities like rock climbing and water sports.
It's also vital to ensure that your Travel insurance covers emergency transport that may be required to get you to a hospital in a major city or your home country by air. Safety Wing and World Nomads are some of the best worldwide travel Insurance providers. With them, you can make your application and make claims online.
Phone & Internet in Kenya
Internet connectivity is available in Kenya through mobile phones, internet service providers, and cyber cafes countrywide. Besides, most accommodation facilities, shops, and restaurants have free Wi-Fi. Visitors to Kenya can purchase a SIM card (mobile number) from any local mobile shop. However, you must present an identification document for the sim card registration.
Safaricom and Airtel are the best mobile service providers in terms of coverage, cellular data, and availability. Their SIM cards cost about Ksh 100 and are compatible with almost all mobile phone devices. You can also use their M-PESA service for local payments and internet services.
Once you buy the sim card, you need to load it with credit which you can use for making calls and purchasing data bundles. Example of Safaricom data and voice calls rates are:
International calling rates start from Ksh 40 per minute.
Local voice calls From Ksh 4 per minute.
1GB valid for 24 Hours, for Ksh 100
7GB valid for 7 Days, for Ksh 300
More Kenya Media
Great stories take us to new places and introduce us to new people even before we travel there. They're usually at the heart of books and movies and travelogues. If you've finally decided to visit and explore Kenya, here are some of the best books, travel blogs, and films to take in before you go.
Movies About Kenya
Besides travel blogs and books, movies are a great source of inspiration. They give you a visual glimpse of the destination you intend to visit. There are several great movies about Kenya shot in the country. Here are a few recommendations:
Nairobi Half Life: To better understand Nairobi, its petty scams, chaos, and street life, watch this movie. It's based on a village boy who travels from the village to the wild city in search of a better life. However, everything changes the moment he arrives. He is confronted by the big city's crimes, cruelty, and robbery.
The Constant Gardener: This movie was shot in 2005 and followed a shy British diplomat, Justin Quayle, who relocates to Kenya with his wife, Tessa. When his wife is murdered in a remote town, Justin is thrust into the world of detectives, determined to find her killers. But does he succeed? Watch it to find out how events unfold and the conspiracies involved.
The First Grader: This is a drama film based on an inspiring true story of an old man, Kimani Maruge. Kimani (a Mau Mau veteran) joined a school at age 84 to overcome his past burdens. His quest for education is faced with challenges and ridicules from society. The education board rejects his request to stay in a children's school, forcing him to join a less exciting adult school.
Books About Kenya
Chances are you'll have a long flight to and from Kenya, so why not pick up a book about the country to help kill time? Here are a few great books about Kenya that are worth checking out.
Lonely Planet Kenya (Travel Guide): Besides endless options for things to do, places to visit, and where to stay and eat, Lonely Planet's Kenya Travel Guide teaches you a lot about the country.
A Grain of Wheat: This is a historical novel by Kenyan novelist Ngũgĩ wa Thiong'o. It's set in the wake of Kenya's independence from Britain in 1963. The book follows a group of villagers in Central Kenya whose lives were transformed by the emergency and the Mau Mau rebellion against colonial rule.
Harambee Country: First published in 1970, Harambee Country is a timeless guide for Kenya. Kenneth Bolton uses humor to share facts about Kenya just after independence. It contains information on history, culture, tourism, and the economy.
Blogs About Kenya
Learning about where you're visiting is an essential part of planning. And instead of reading outdated guidebooks, most travelers seek relevant information from the web. Travel blogs are an excellent resource since they're diverse and easy to read on the go. Here are the best choices for your trip to Kenya.
Goats On The Road: The Goats (Nick and Dariece) have been to Kenya, and they have great tips, guides, and advice about traveling in the country. Their articles about a safari in Masai Mara, exploring Mombasa, and the ride to Lamu Old Town are particularly fascinating and inspiring.
Into Safaris: Francis Sove shares inspiring stories of his adventures in Kenya. He is a seasoned local traveler, and his blog contains information on all things Kenya.
Kenyan Backpacker: This is the time to slip in my blog (a shameless plug!). I started Kenyan Backpacker in 2016 to record my trips around Kenya and the rest of Africa. In the blog, I share informational posts on train travel, long-distance buses, and travel resources for backpackers in Kenya.
More Blog Posts About Kenya
Best Kenya Travel Guidebook
We can't help it, we are old school and we still love to pick up a guidebook before we travel somewhere. We love the smell of a physical book and the ease of flipping through actual pages, but these days they're also available in PDF and Kindle formats of course. Our favorite Kenya guidebook is the Lonely Planet Kenya Travel Guide.
About The Author
Leo is a writer, traveller, and local tour guide in Kenya. He was born and raised in the Kenyan hinterland. After a short sprint working offshore as a seismic explorer, he returned to Nairobi and began his adventures around Kenya and Southern Africa. From these wanderings, the Kenyan Backpacker blog was born – to share his experiences and tales from the open road. Besides backpacking and traveling, he is passionate about hiking, history, and natural building.